Whitewashed surfaces. Distressed wood. Slipcovered furniture. Muted hues. Hints of silver. Vintage charm. Floral motifs. These are a few of the signature elements of Shabby Chic, a style pioneered by designers such as Rachel Ashwell. When it comes to shabby chic, elegance is key, yet worn and weathered details create a sense of comfort. [from 30s Magazine]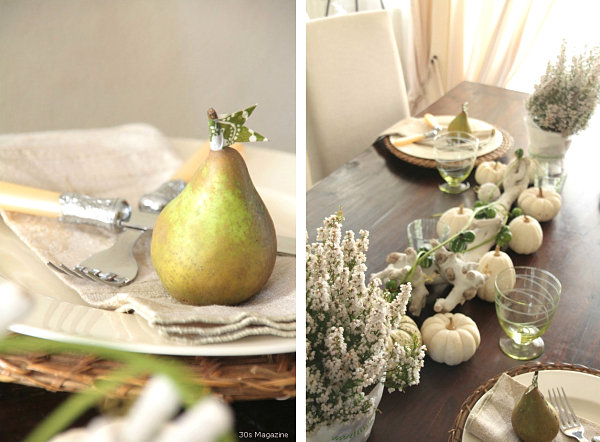 Are you a fan of Shabby Chic? Then perhaps you're looking for some Shabby Chic decorating ideas for Thanksgiving! Today's post is dedicated to this interior design style and the way it can put a unique spin on autumn decor. We begin by spotlighting some signature Shabby Chic finds from the shop of the expert herself: Rachel Ashwell. We then highlight a few other Thanksgiving decor pieces that can help create a Shabby Chic look of your own. Finally, we focus on four distinct fall Shabby Chic concepts that are perfect for the Thanksgiving table. Enjoy!
Rachel Ashwell Shabby Chic Couture
You can't hear the phrase "Shabby Chic" without crediting designer Rachel Ashwell, who has been a leader in Shabby Chic style for more than 20 years. Not only has she created a beloved brand that combines elements of vintage, country, and elegant styles, she has recently expanded her Shabby Chic empire to include The Prairie, a stunning B&B in Round Top, Texas. Here are a few finds available through Ashwell's site, Rachel Ashwell Shabby Chic Couture… We begin with the Grain Linen Single Ruffle Tablecloth, which serves as the perfect backdrop to any Thanksgiving table: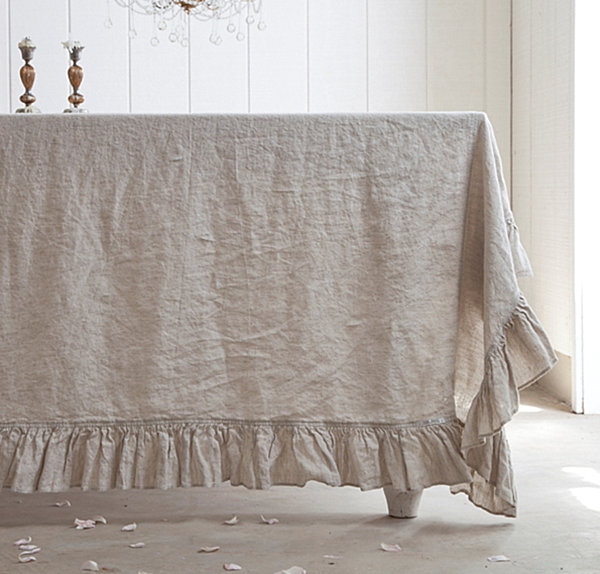 Add some charming linen napkins that evoke a weathered yet stately look, such as the Fleur de Lys Linen Napkin pictured below…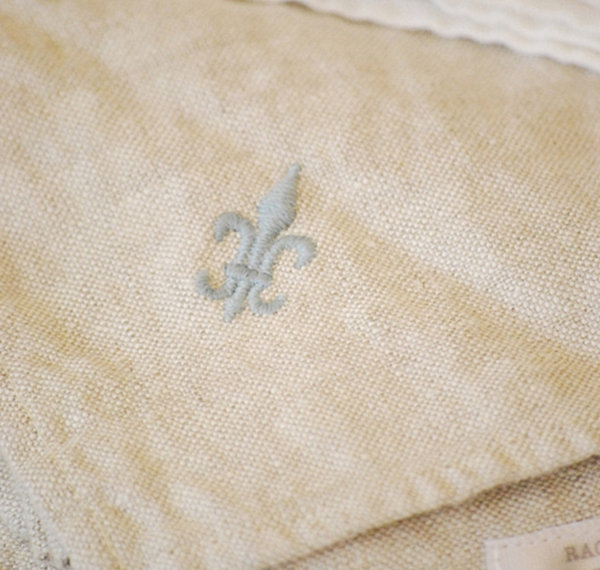 Rachel Ashwell loves adding chic insignias to her products, such as royal crowns. The Crown Mugs below are the ultimate in Shabby Chic style, especially when combined with vintage flatware for a worn yet elegant look.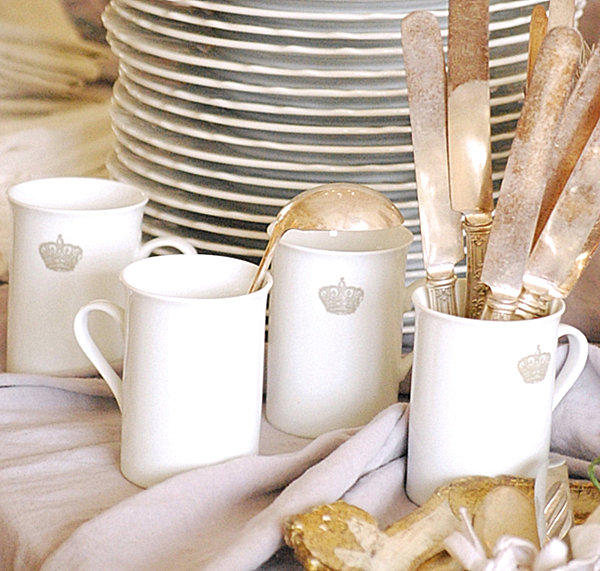 Serving pieces in white make a big statement. Autumn color pops against the crisp surface of each bowl and platter, while delicate patterns evoke the charm of vintage dishware. This Prairie Serving Bowl would beautifully accentuate any Thanksgiving table, but it's definitely not holiday-specific!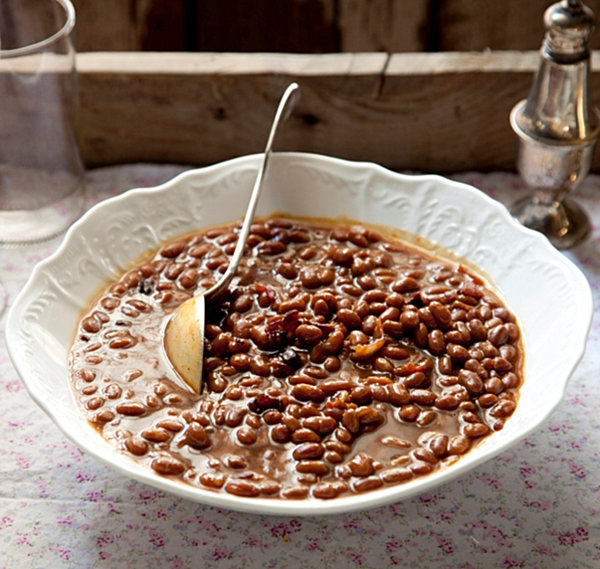 Don't forget about the power of florals! Thanksiving is the perfect time to add deep, rich tones to your interior. The English Rose Pillow below is powerful yet soft with its gorgeous combination of cream and plum: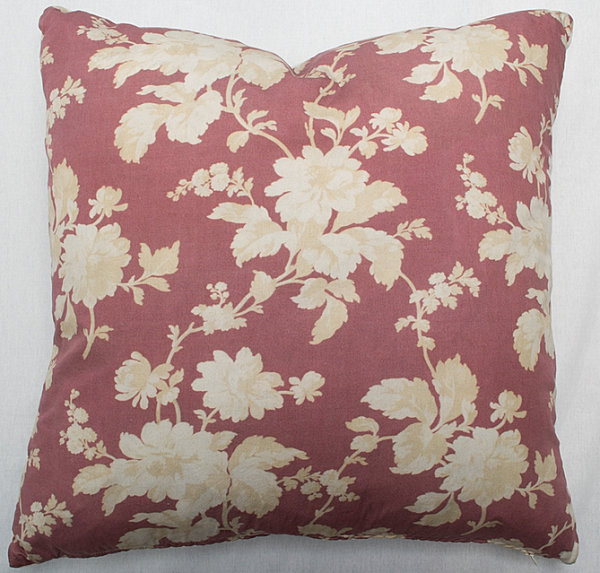 Thanksgiving Finds with Shabby Chic Flair
From the flagship of Shabby Chic to one of today's favorite retailers… Pottery Barn features affordable decor in a variety of styles. Today we've rounded up a few of our favorites–pieces that can veer into Shabby Chic territory for Thanksgiving. We begin with these Twig Turkeys, which are rustic and just plain fun!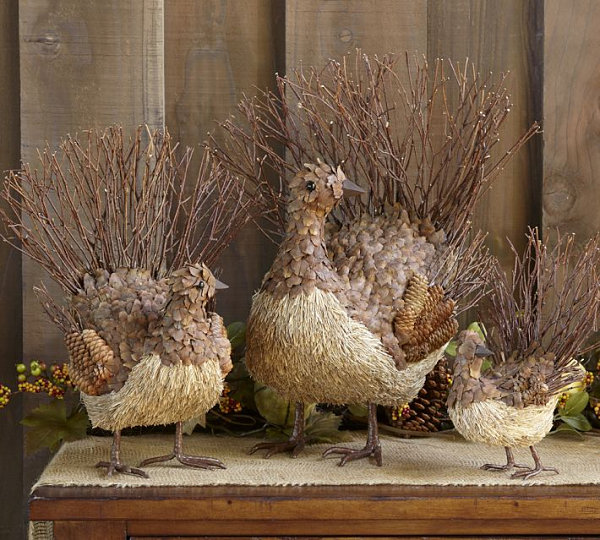 You can never go wrong with linen napkins, and this Set of 4 Cross Dyed Linen Napkins adds variety and color to the autumn Shabby Chic table: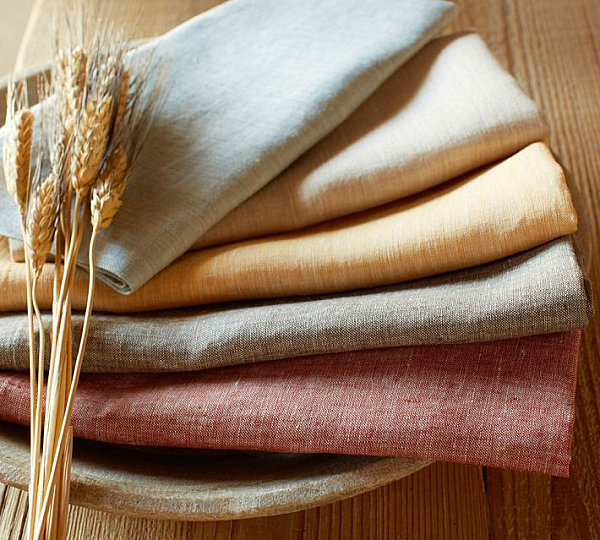 Hints of silver are a lovely counterpart to the soft tones of Shabby Chic vignettes. Plus, silvery tones often create a vintage feel, in addition to a sophisticated vibe. The perfect combination of attributes for the Shabby Chic Thanksgiving table! That's why we love these Etched Antique Mercury Glass Pumpkins, which have a slightly worn look…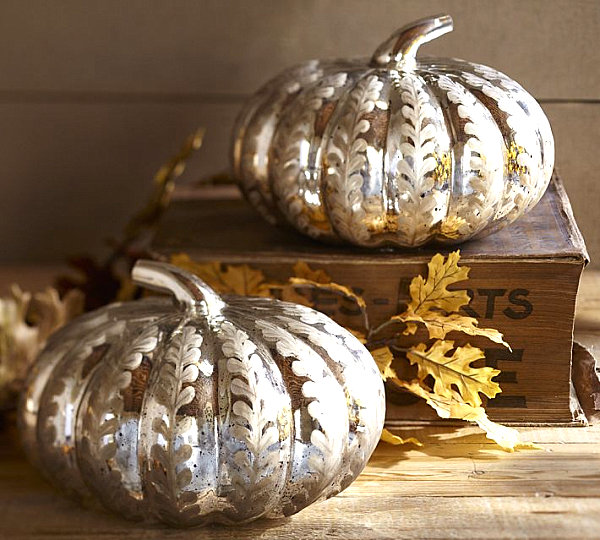 White platters are classically stylish. Make a big impact with stoneware! This Set of 3 Juliette Platters features an array of scalloped and embossed designs. Since these pieces aren't match-matchy, they evoke the feel of antique platters collected over time: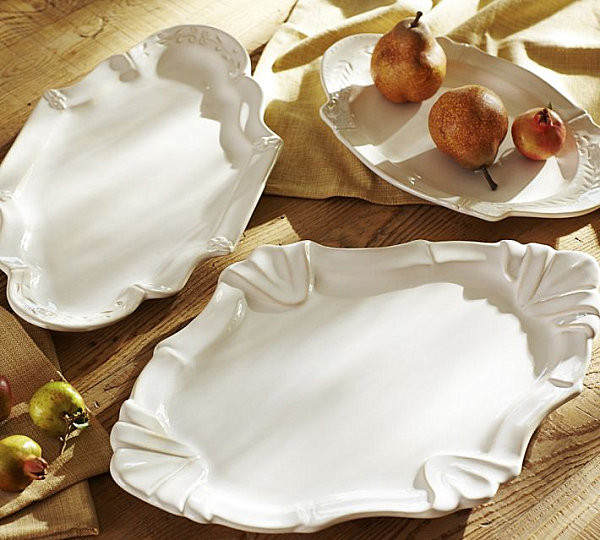 From mismatched platters to mismatched silver… For another nod to Shabby Chic style, combine different flatware patterns with a vintage feel. Or you can achieve the same look with this brand new Maxfield Serving Set, complete with a large serving spoon and a meat fork crafted of nickel with a silver plated finish: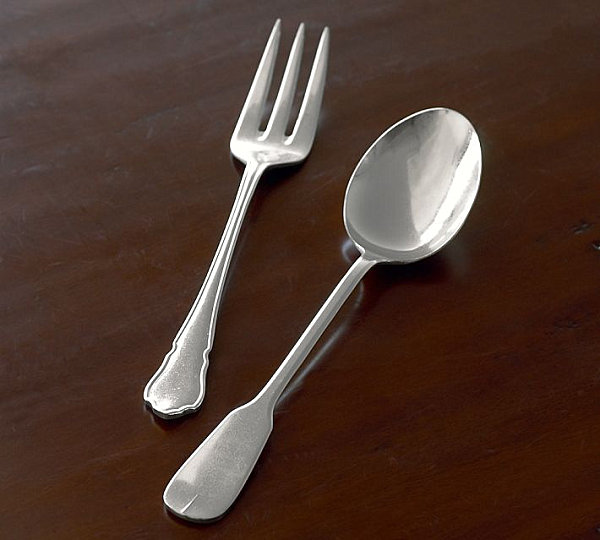 Four Shabby Chic Thanksgiving Table Concepts
Now that we've shown you some specific items that can add Shabby Chic flair to your Thanksgiving, we end today's post with a series of Shabby Chic Thanksgiving table concepts for your inspiration. We begin with this colorful table from French Larkspur, created by combining shades of blue and orange for a striking statement. Not to mention, the vivid color adds a bit of modern style to the design: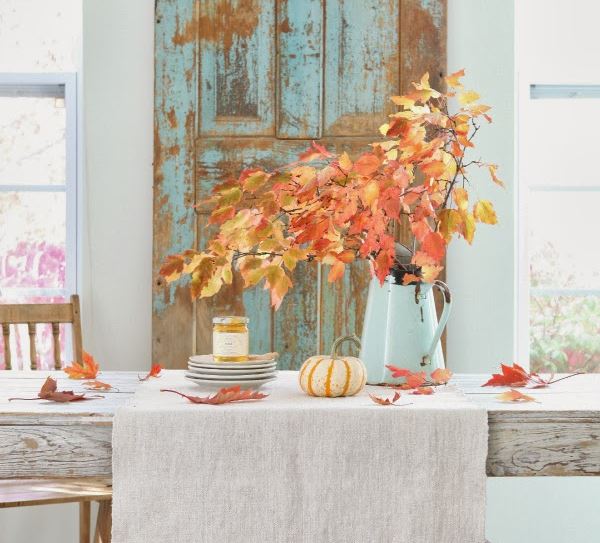 To get the look above, rely on fall foliage and produce in fiery hues. You can also try embellishing your table with these DIY Autumn Pastel Painted Vases, created by applying color to inexpensive floral vases, then distressing them. For a full tutorial, head on over to Simply Designing with Ashley: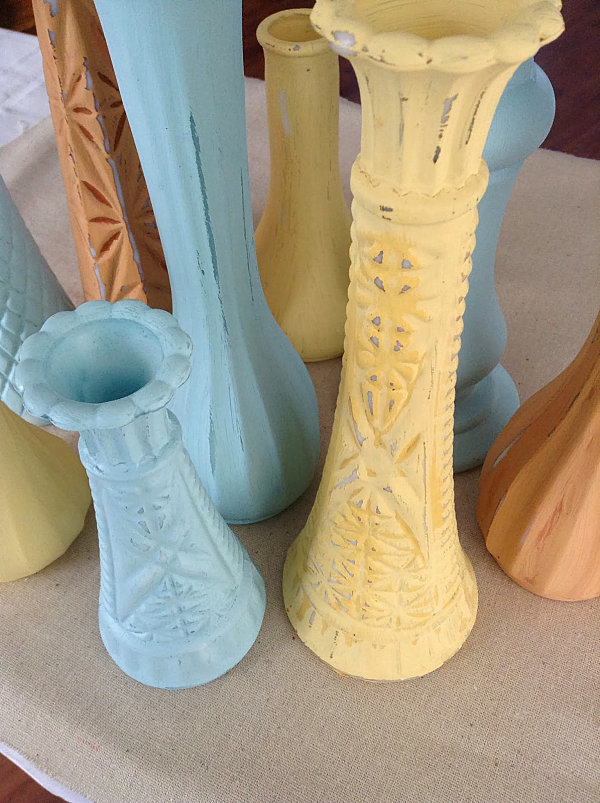 Next up: a whitewashed effect! Many a Shabby Chic table makes use of an all-white palette, created by painted surfaces, white dishware and creamy accents. We also love how vintage book pages hang from the branches below. Adapt this idea for Thanksigiving by creating a "tree of thanks." Instead of book pages, write thankful messages on white and cream-colored paper, punch holes, then slip the pages onto the branch of your choice. [from French Larkspur]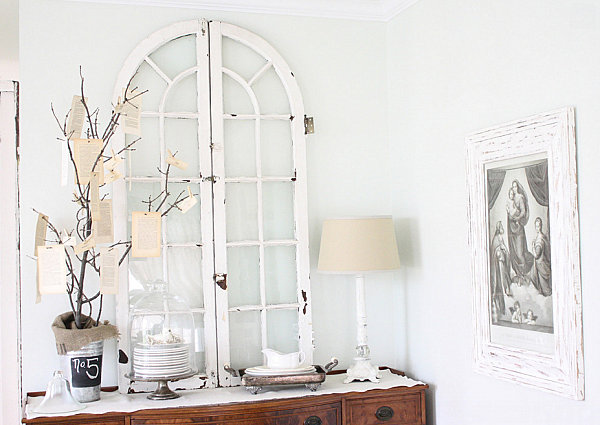 To enhance this look, choose white pumpkins instead of orange. The more markings on this produce, the better. After all, we're going for a weathered look! [from Shabby Chic Blog]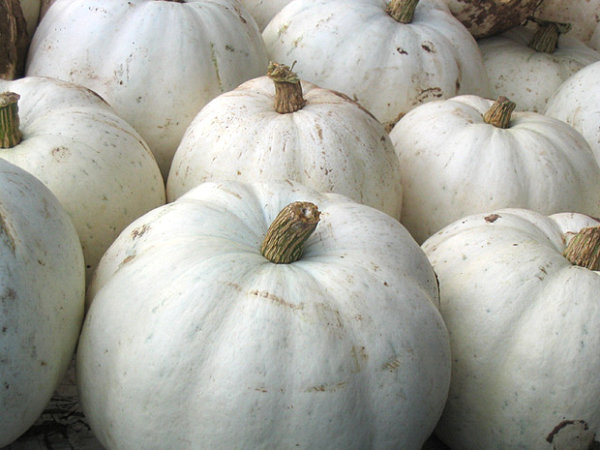 We love the unique feel of this next Thanksgiving concept. Create a Shabby Chic table with shades of brown and eggplant, as well as items from nature. Vintage linens, enamelware and pine cones create a truly earthy feel, all the while evoking the charm of autumns past. [from Nelly Vintage Home]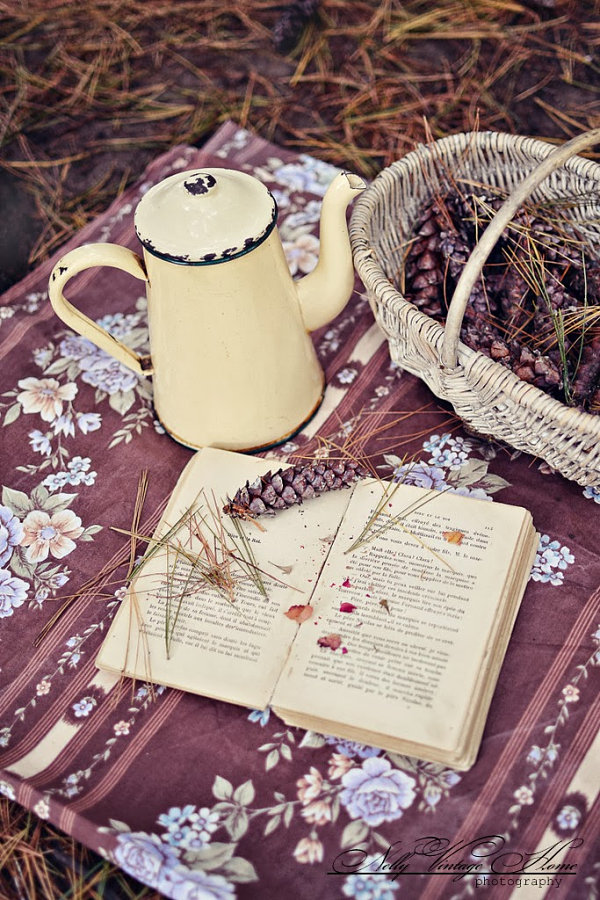 Since this palette is darker by nature, don't hesitate to add some shiny accents, such as mercury glass candlesticks and birds. The combination of shiny and natural tones will make a big impact… [from The Old Painted Cottage]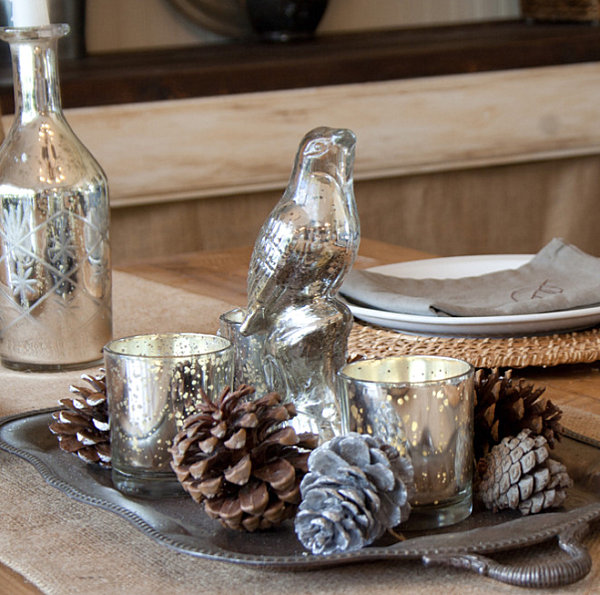 Our last featured Shabby Chic concept is created by incorporating pastel hues, yet tempering rosy shades with autumn colors such as gold and brown. Note how the fall produce in this gorgeous vignette from Nelly Vintage Home has been painted pink with a touch of lavender. And don't those glasses of bubbly fit right in?…
Aside from painted produce, this look thrives with the help of vintage fabric in autumn tones. With a hint of mauve, of course! We love the muted fall autumn bouquet fabric from Etsy shop Duckyhouse, shown below…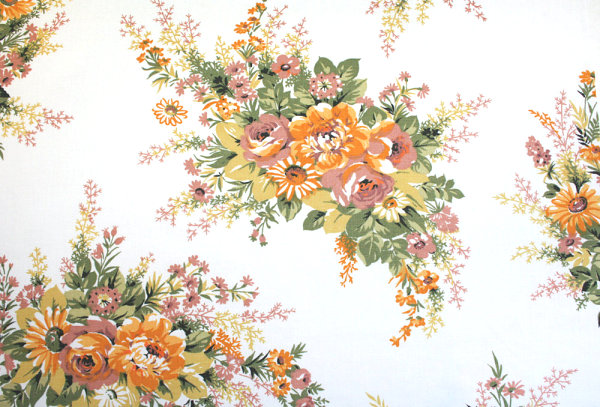 Which of today's featured Shabby Chic table concepts do you prefer? Are you a fan of combining fiery tones with soft blue? Perhaps you're partial to a whitewashed effect. Or maybe earthy centerpieces are more your style! Do you enjoy the use of pastels mixed with autumn tones? Tell us about your favorite look by sharing a comment below…