What makes a bedroom relaxing? Is it decor that conjures memories of a trip to a luxury hotel? Is it opulent textiles in designer finishes? Is it the paint color? Yes to all of the above, but there's no one right formula for rejuvenation. After all, beauty is in the eye of the beholder, right? An abundance of decorative pillows may be the ultimate in relaxation for one design enthusiast, but for another, those pillows are just one more thing to move before getting a good night's sleep.
With that said, we can't deny the power of color. There's something appealing about a soothing shade of blue or a rich shade of teal. Or the clean look of an all-white space. Today we celebrate the art of the relaxing bedroom, with a focus on the element of color. Browse the images below and see if any of the featured hues create just the relaxation response you're looking for. And don't forget to tell us about your ultimate soothing shades by leaving a comment at the end of the post…
Bedrooms in Shades of Blue
We begin with blue, a shade is known for its serenity. A strong color, blue is also quite peaceful, making it the perfect choice for interiors intended to relax and refresh. The bedroom retreat below combines shades of blue and crisp white for a truly inviting space that mirrors the calm of its natural surroundings. [from Zero Energy Design]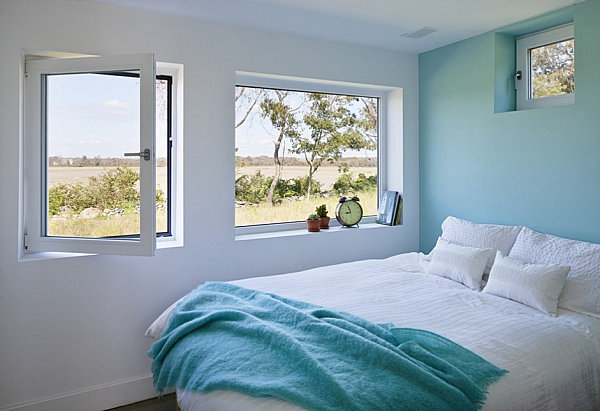 Blue can also evoke a tropical vibe, especially when breezy elements are introduced. We're loving how the space below is soothing, vibrant, beachy and contemporary at the same time. The room also reminds us that a relaxing space does not have to be a minimalist one. Some of the most interesting bedrooms combine a range of elements for a truly eclectic feel. [from Lonny]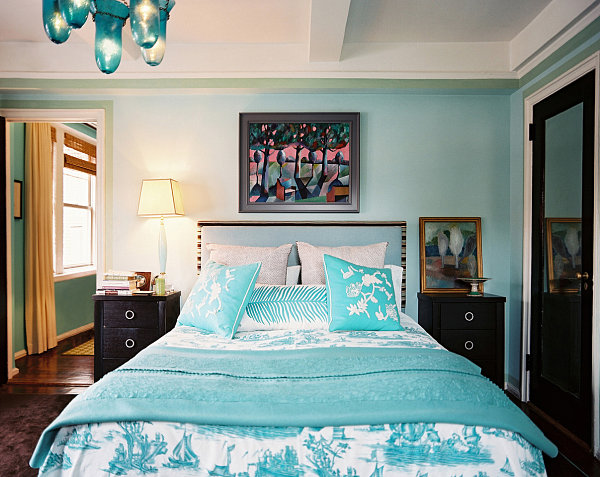 The next featured bedroom is a contemporary space in a San Francisco home. Gray meets blue and a hint of green–three undeniably relaxing colors. Not to mention, wooden tones add a hint of warmth without overpowering the room's cooler hues. [from Virtual Imaging Real Estate Photography]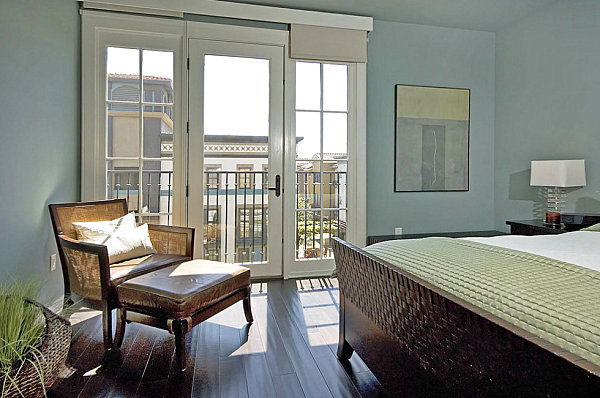 While the most relaxing of bedrooms are traditionally devoid of energizing colors such as red and orange, don't be afraid of bold touches. If you love vivid shades such as red but you don't want this hue to overpower the room's soothing elements, try using it as an accent color. In the soft blue bedroom below, we see organic bedding from West Elm in shades of red and white. The cool blue of the walls is the perfect backdrop to the room's more vibrant touches.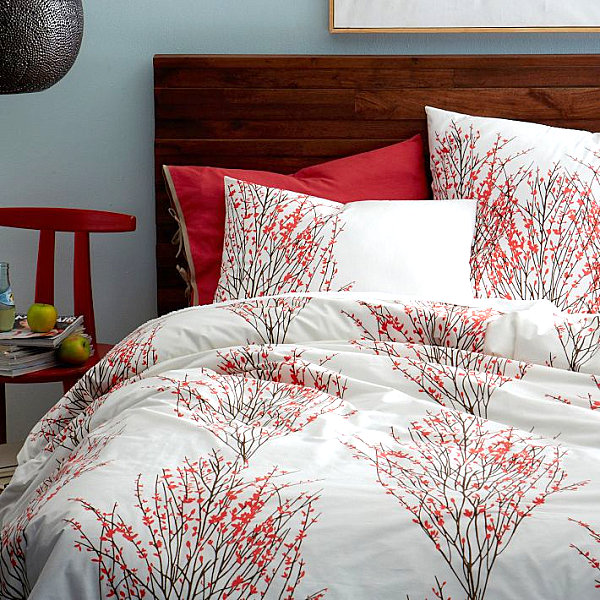 Don't think that soothing equals boring. This next featured bedroom has all the ingredients of a tropical paradise. From the white wooden accents and geometric tiled floor to the draping mosquito net and crisp white bedding, there's something undeniably refreshing about the space. But the most refreshing touch of all is the use of bedside lamps in two different colors. Unexpected and delicious! [from Lonny]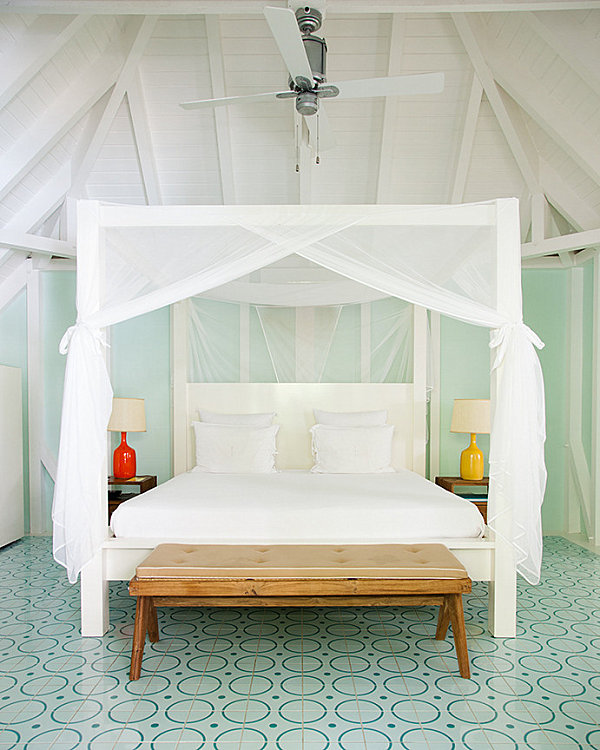 We end our blue room celebration with a space that definitely catches the eye, thanks to a striking combination of colors. In fact, this radiant room is a vision in periwinkle blue. And soft pink. And primary colors. With the help of an unconventional combination of bold hues and pastels, the bedroom below is truly unforgettable. Yet the lavender-blue color on wall, draperies, lamp shades, bed and artwork unifies the space in a tranquil tone. [from Anthony Baratta LLC]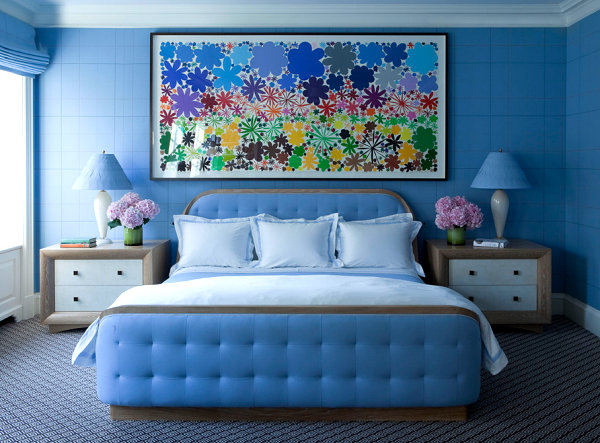 Teal Boudoirs
We couldn't feature a piece on bedroom colors without spotlighting one of today's hottest trends: teal. Once affiliated solely with 1980s interiors, teal is now back, and more modern than ever. And why wouldn't it be? It's a pleasing combination of green and blue. It's fresh and bold. And it makes classic colors such as black and white pop! Below we see a teal bedroom featuring white organic cotton bedding from West Elm: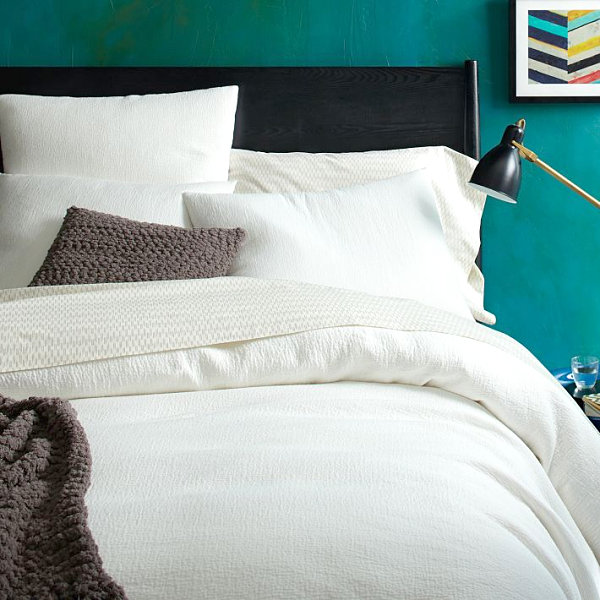 There's a richness to teal that's hard to ignore. Even the most delicate of flowers have a strong presence against the backdrop of teal, as shown below… [from Ashley Taylor Home]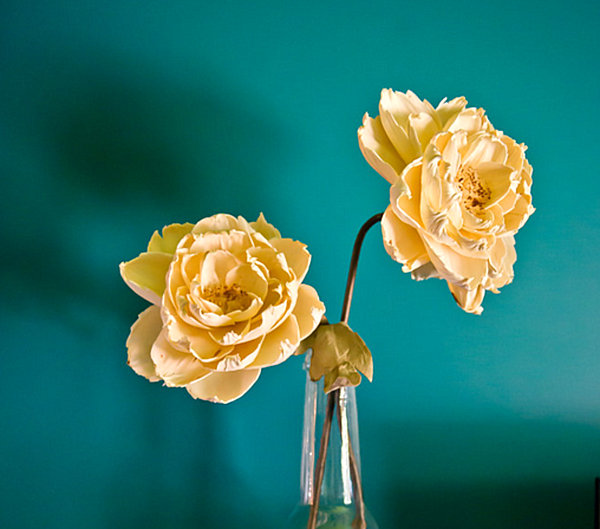 Sometimes teal comes across as more green than blue. In fact, the teal bedroom below from Home Depot can't help but evoke the majesty of emerald, Pantone's Color of the Year for 2013. Note how the hue appears on both the walls and the ceiling, beautifully offset by crisp white accents…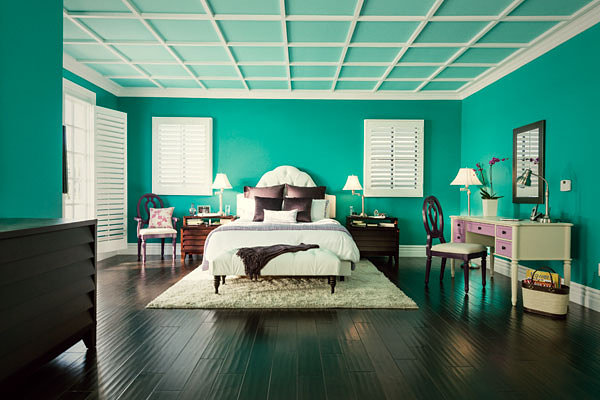 Don't forget that the bold nature of teal makes it a great choice for children's rooms. Green is a popular selection for gender-neutral rooms, but the hint of blue in teal green makes this shade a strong option for spaces going for a vivid yet playful look! [from DIN Interiorismo]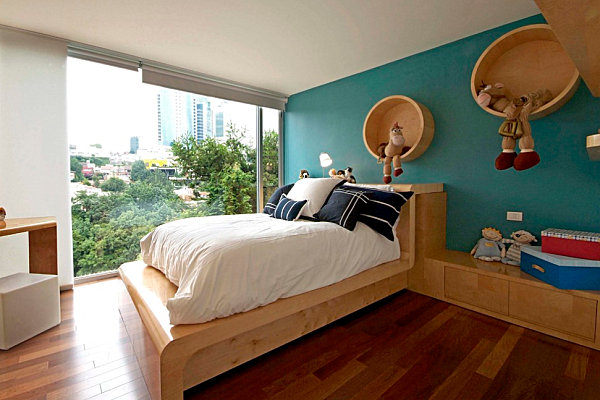 Refreshing Neutral Sleeping Spaces
Our final group of featured bedrooms celebrates the power of neutral shades. We begin with a sleeping space decked out in creams and whites. In fact, the white-on-white palette is undeniably soothing, yet black accents add an elegant touch. Check out the tufted upholstered headboard, which truly makes the space a decadent one… [from Lonny]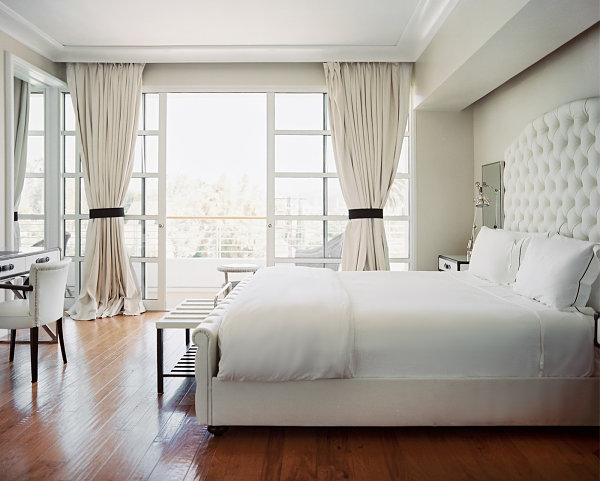 We're loving the hotel vibe of the cream bedroom below, created by sconce lighting, bordered shams, and a clean-lined headboard. Extra touches such as a chandelier and a tufted corner chair elevate the space to chic status. [from Lonny]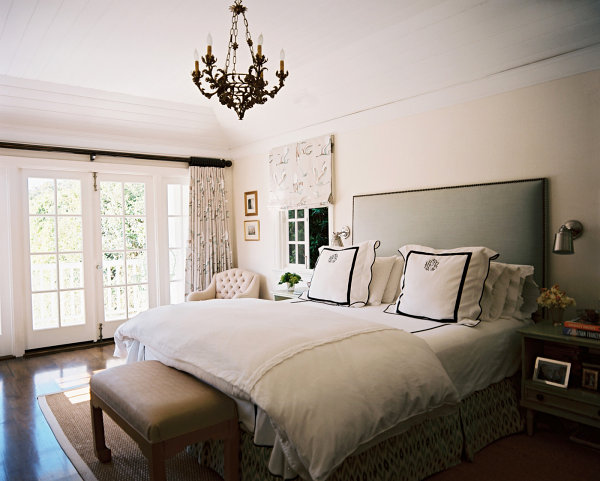 A four-poster bed. A vase of tulips on the nightstand. A grouping of artwork above the headboard. These are the features that pop against the cream tones of the next featured room. The resulting look is one of clean, crisp style in a well-appointed space. [from Lonny]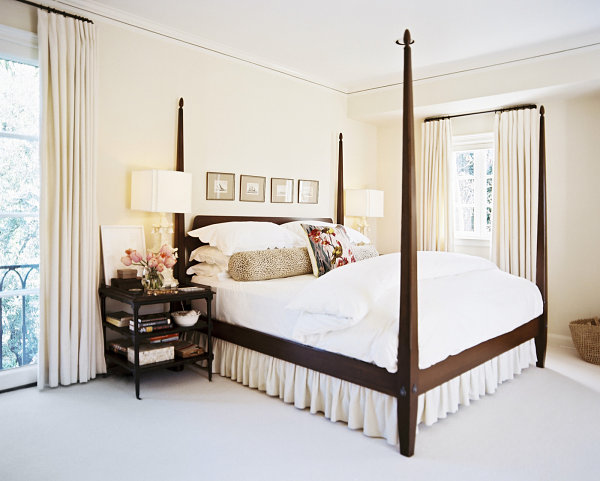 Let's move from white to gray… This neutral shade can be warm- or cool-toned. Frequently paired with colors such as lime green and gold, it also complements a variety of hues. Balanced. Sleek. Classic. These are all words that describe gray. When it comes to relaxing bedrooms, we love this color paired with white, then accented with bright colors, such as blue. Check out the unforgettable shade of the ceramic table lamps below… [from Johnson & Associates Interior Design]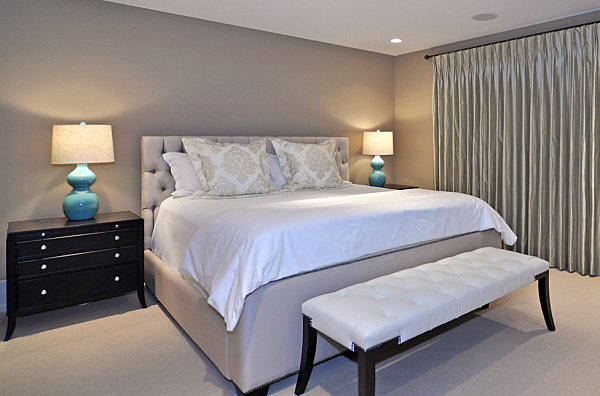 Need more proof that gray goes with an array of colors? Dusty rose, brown, and even gold are pictured in the room below, which features bedding from West Elm. In fact, gray and gold is one of our favorite current color combinations. And if you're looking for an even more stunning warm-meets-cool palette, try gold and slate!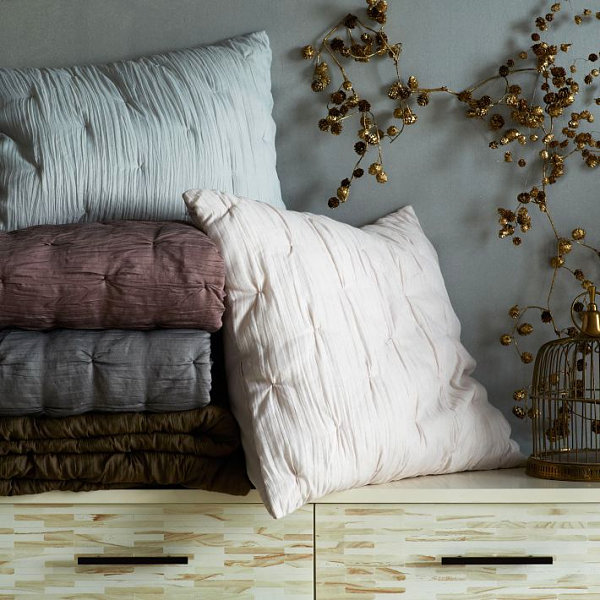 Long lines and uncluttered spaces characterize the next featured space, which seamlessly blends gray and white. Sometimes all you need is a hefty dose of neutral to induce a peaceful night's sleep! [from Becki Peckham via The Uncommon Law]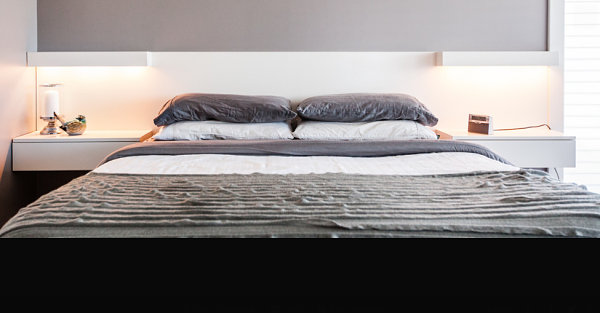 Our last featured bedroom proves that a layered look can create the most restful of spaces. An upholstered headboard with nailhead trim. A bedside table heaping with treasures. A diverse collection of art. Dark gray walls and gold accents. Ample pillows in a range of textures. Bold window treatments. White trim. This bedroom has so many of our favorite design elements, we can barely contain ourselves! And that rich charcoal shade ties it all together… [from Lonny]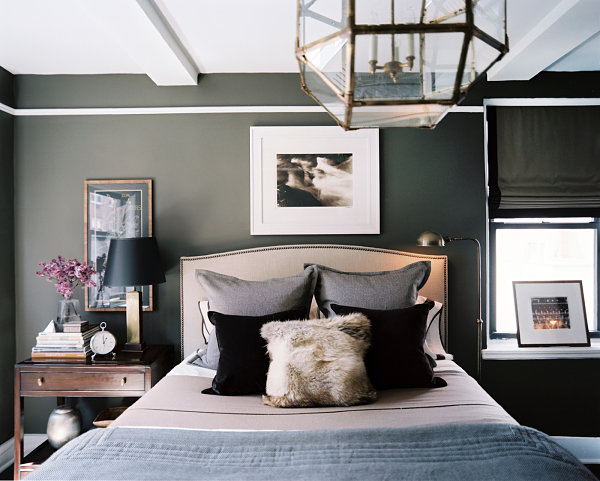 The images above prove there's no one right way to create a relaxing bedroom. As you fill your sleeping space, be sure to choose items you love, and the room will speak to you, creating a sense of familiarity and peace. And of course, selecting a tranquil color will do wonders! You can't go wrong with steadfast blue. But it also might be fun to explore a rich color, especially one that's making a comeback, such as teal. For a clean, classic look, go with a neutral shade, such as gray. What color would you paint your dream bedroom?