Do you enjoy hunting for vintage finds? Kate here, and this month I've been celebrating all things vintage. From the ins and outs of antique show shopping to the power of vintage collectibles, what's old is now new. And that statement holds particularly true for the post that follows! Today I happily shine the spotlight on 10 spaces that cleverly integrate vintage pieces. Careful arrangements, cheeky updates and oodles of color are signature elements of this eye-catching design style. We'll call it "vintage meets modern," and these rooms have the look in spades. Check out the images below, then tell us about your favorites at the end of the post…
Vintage-Meets-Modern Rooms
We begin with a colorful living space in the home of ceramics designer Nina Van De Goor. If you haven't yet become a fan of her blog Ninainvorm, you are in for a visual treat! Vintage finds combine with the best of modern design. Always whimsical and always radiant, the interiors in her home celebrate childlike wonder and vibrant festivity…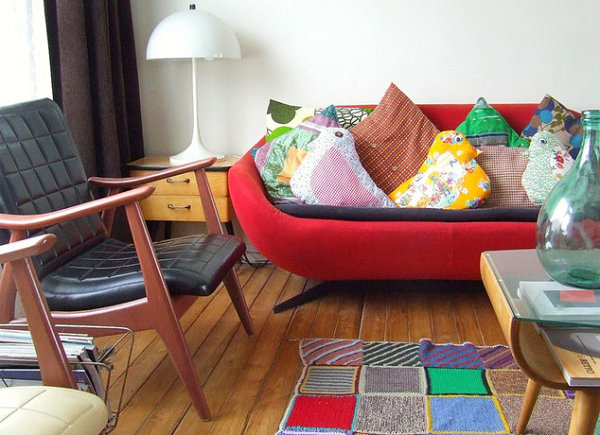 Below we see the nursery of Nina's home, which beautifully integrates the iconic Eames Hang-It-All Rack with eye-catching pink wallpaper. Want to read more about the amazing style of this blogger and designer? Check out her treasure-filled Etsy shop! [from Ninainvorm]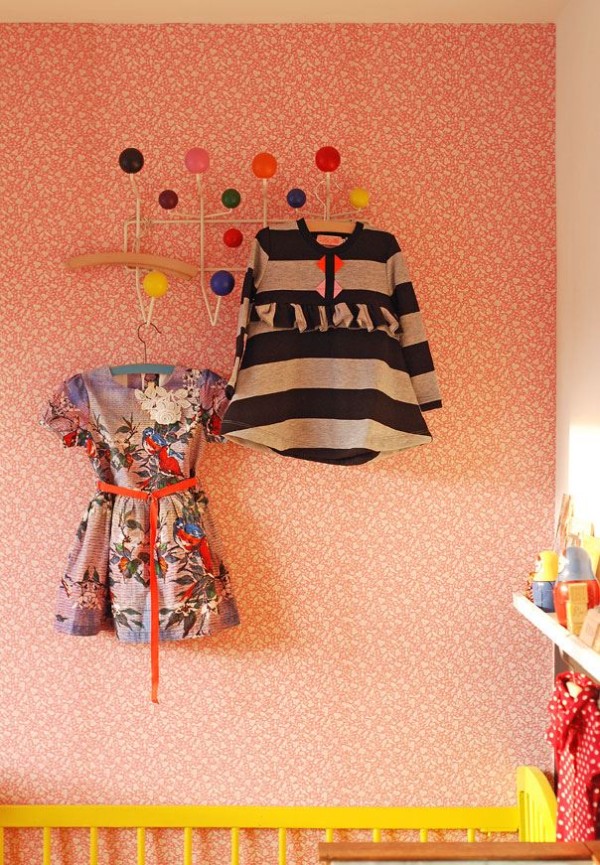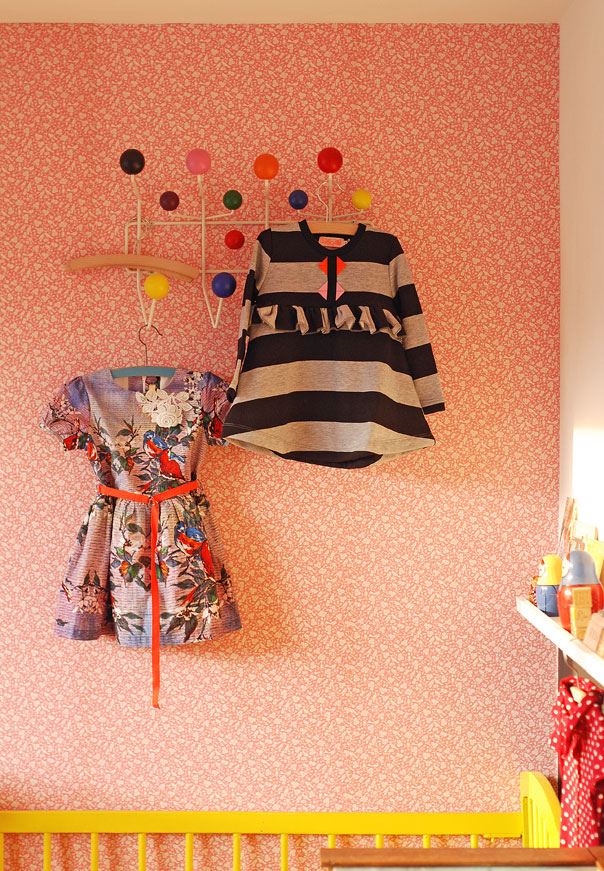 If you're a fan of quirky spaces that combine interesting modern pieces with striking vintage finds, you will love the home tours regularly featured on the highly addictive blog A Beautiful Mess. This week readers enjoyed a tour of the home of Candypop blogger Natasha Denness. And we were completely blown away by her style, which she describes as "'modern retro' with a hint of 'granny chic.'" It's amazing to see how Denness combines edgy modern statement pieces (like the pillow below) with unique vintage items. Check out the entire tour at A Beautiful Mess…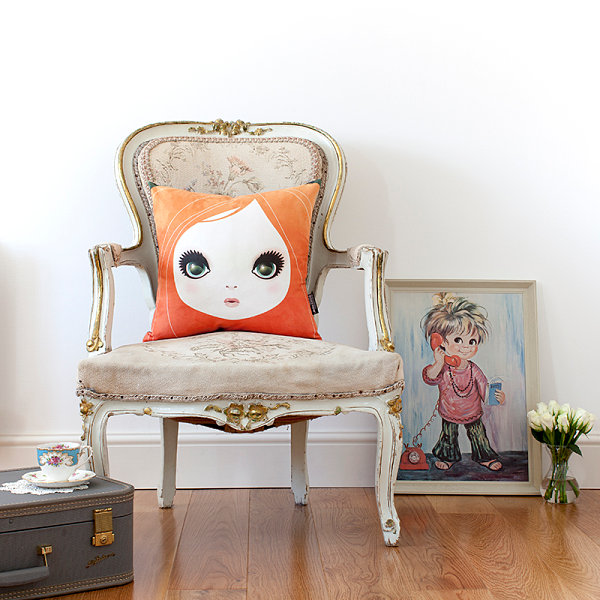 Another interior with an amazing look of its own? The home of Bram Damman! This dwelling celebrates space-age modern style at its finest, combining true retro finds with contemporary pieces that boast a similar look. For more details on Damman's stunning Netherlands abode, check out the full story by Holly Marder on Houzz: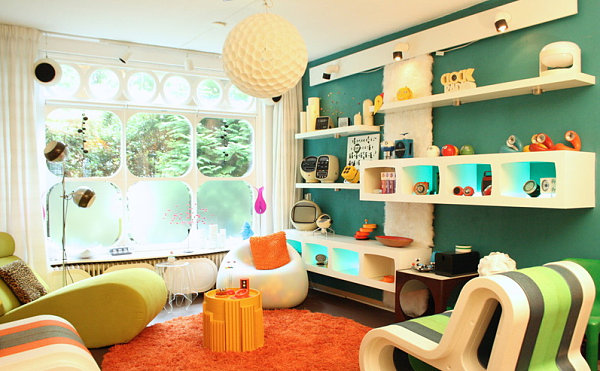 Below we see the dining room of the same home. Did you ever notice how retro modern spaces often incorporate crisp new wallpaper that pays homage to decades past?…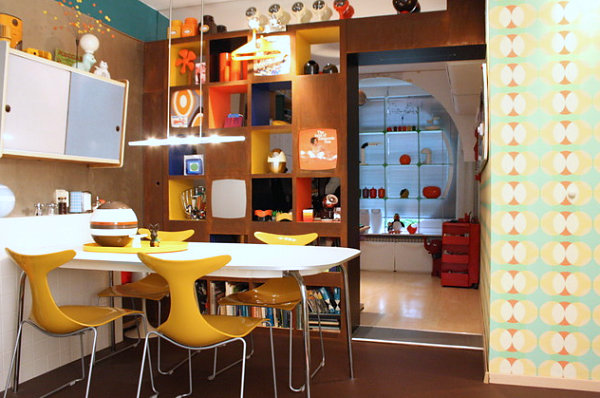 Rooms Featuring Updated Pieces
Let's talk about the power of refurbished pieces. One effective way to get a vintage-meets-modern look is by giving "old" pieces a modern pick-me-up. We can't help but admire the home of musician Sherri Bemis. In fact, we featured her richly layered space in our recent antiquing post. Today we spotlight the home's nursery, which incorporates carnival-themed vintage finds with new and updated pieces. Below we see a once-shabby dresser that was whimsically painted in a bumble bee motif for a colorful makeover. To see the rest of the home tour, head on over to A Beautiful Mess…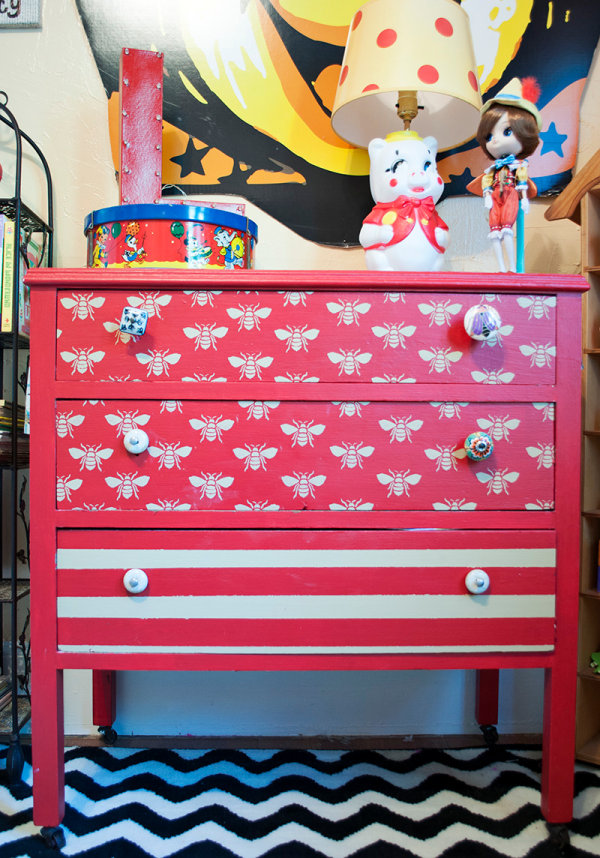 What do you get when you take an industrial stool and cover it with burlap and vintage scarves? A fresh look in seating, courtesy of Vintage Renewal! In fact, the loft space below is the epitome of retro modern style. For more refurbishing fun, check out Vintage Renewal. [via Houzz]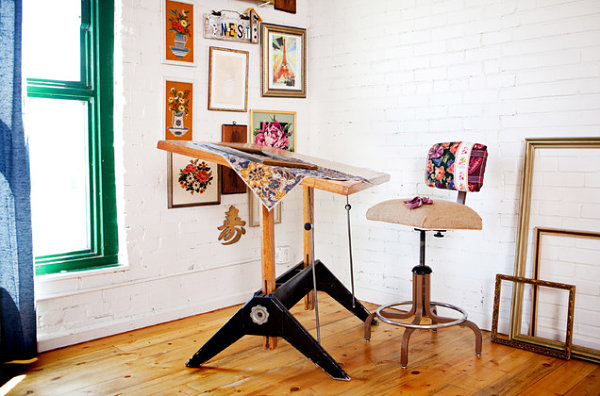 In the next featured image, we see another amazing space created by Vintage Renewal! From refurbished seating and a vintage painted screen to an Anthropologie rug and an assortment of hanging lights, this room is a shining example of retro eclectic style with a modern twist… [from Vintage Renewal via Houzz]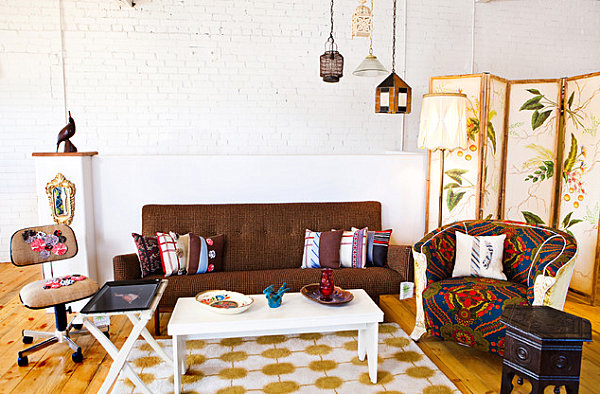 If you think creating vintage-meets-modern spaces is a task for the professionals alone, think again. There are many simple ways to put your own stamp on retro style. One idea I recently came across is the concept of turning plates into artwork. Got vintage dishes that no longer fit with your decor? Why not give them a coat of paint, strategically leaving portions of the plates exposed? For more details, check out Schoener Wohnen [photo by Ilona Habben, via decor8]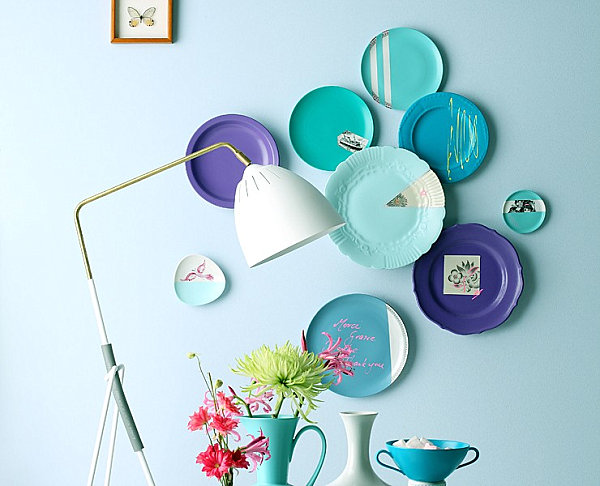 What's not to love about Jellio? This playful design house regularly celebrates the magic of childhood by creating furnishings, lighting, accessories and apparel based on popular food and toys. Get ready for a cheeky dose of nostalgia… [image from Architectural Digest via Jellio]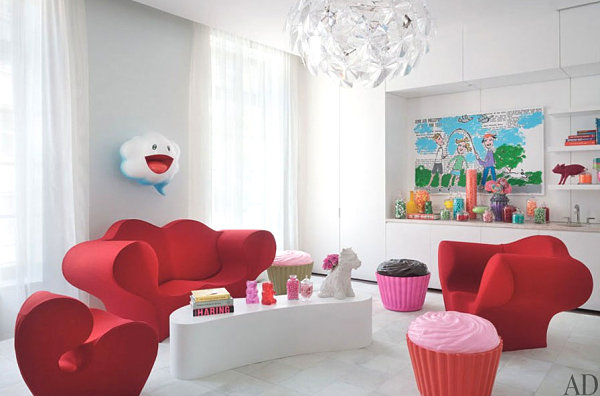 I don't know about you, but my home seems a bit dull by comparison after looking at all of these colorful, carefully crafted spaces. It's hard not to admire the thoughtful placement of vintage and modern items in a deliberate display of old-meets-new style. Which spaces from today's post were your favorites? Share your thoughts by leaving a comment below…
Liked the story? Share it with friends.