Are you a collector? I'll admit it–I definitely am! From vintage dishware to my collection of ceramic '80s Deco vases, my beloved groupings reflect a love for the thrill of the hunt, as well as the fun of displaying items in a group. For a few years, I had a booth at two local antique malls, and I enjoyed selling everything from small Mid-Century modern furnishings to groupings of glass bottles. My recent day trip to a Texas antique show got me thinking about shopping for vintage treasures, as well as the fun of displaying collections with style.
Today I thought I'd share a few vintage collectible ideas with you…in case you're hoping to start a collection of your own. Not only are vintage pieces special because of their history, they can often be purchased for bargain prices if you know where to look. Then again, sometimes it's worth paying a little more for a rare vintage piece that will be the gem of your grouping! From quirky items such as vintage arrows and porcelain hands to beloved pieces like Jadeite and milk glass, today's featured items prove there's power in numbers. Let us know if you see anything that inspires you…
Vintage Arrows
Vintage arrows are colorful and unexpected. Thanks to Etsy shops such as Gallivanting Girls, these items are readily available for purchase, and you can often specify the colors that interest you most. Display them in a vase, as shown below. They make a delightfully vivid grouping! [via Lovely Indeed]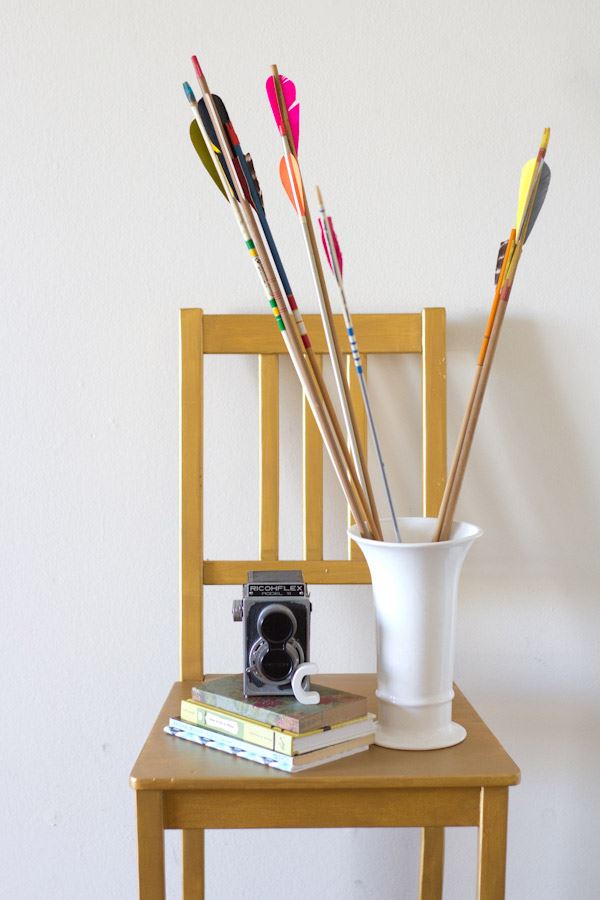 Not only will you find a variety of colors represented in vintage arrows, you will discover an array of materials, such as the wood, rubber or metal used in the construction of the tips. In the next image, we see how arrows make a colorful bouquet when displayed in a vase, as well as how they can be grouped in a straight line when leaning against the wall. [from Gallivanting Girls]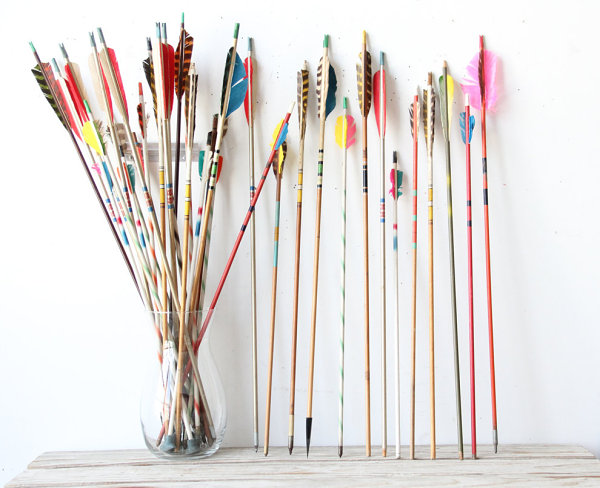 Vintage Globes
It's no secret that vintage globes are the perfect accessories for Mid-Century modern spaces. One globe can certainly stand alone, but it's undeniably fun to collect these geographic pieces and display them in a group. Watch as a sea of blues and creams decorates your space in spherical form, as shown in this Mid-Century modern living room… [from Freckle Wonder via Houzz]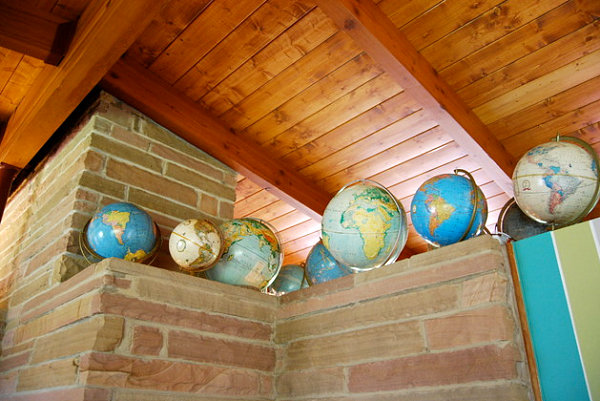 Some globe collectors seek out pieces that boast unusual colors. You have to admit, there's something intriguing about the juxtaposition of cream and black globes shown below in a home office with Mid-Century modern style. Not to mention, as time passes and boundary lines (and country names) change, it can be fun to examine a vintage globe to see the world as it once was! [from Madison Modern Home]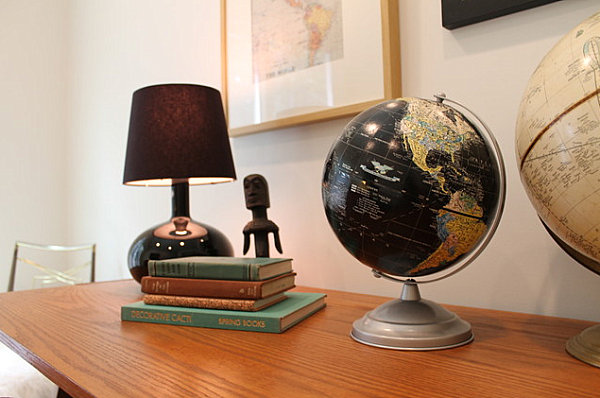 Porcelain Hands
Ah, the offbeat allure of porcelain hands! I remember house hunting with my parents when I was a child and laughing with my mom about a "creepy" bathroom at an open house. What was unusual about that powder room? The porcelain hands emerging from the wall. Nowadays, the unusual nature of these items is precisely what makes them collectible. And I'm thinking about purchasing one or two for my bathroom counter! Below we see a 1970s Vintage Porcelain Hand from Petite Katy. A hole at the palm allows this piece to double as a vase…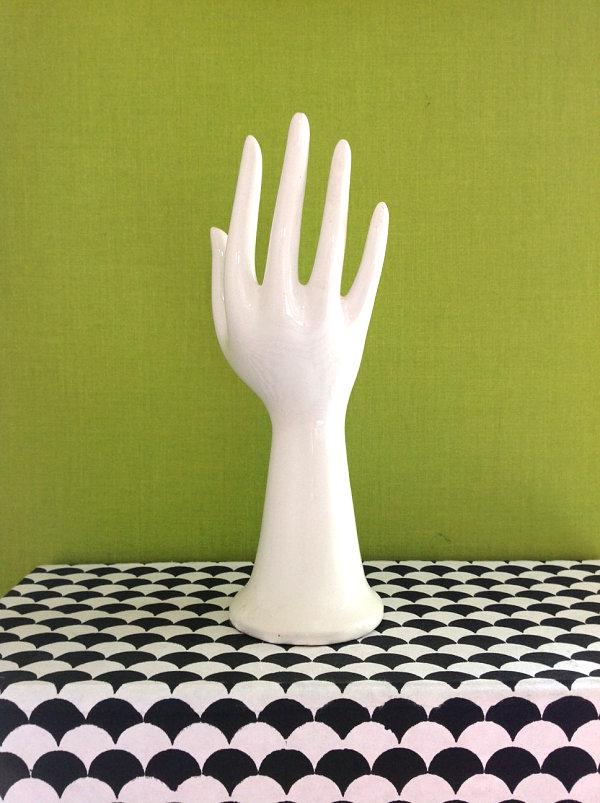 Many porcelain hands are actually vintage industrial porcelain glove molds. When displayed upright, these pieces are perfect for storing rings and bracelets! Porcelain hands are also available in a variety of colors, such as black, gold and red. [from The Vintage List]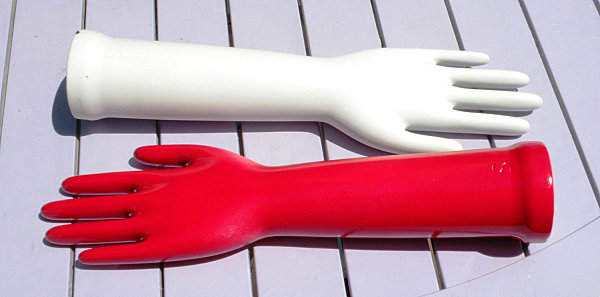 Vintage Brass
There's no denying that brass is back! You can find plenty of new brass pieces in today's popular retail shops. But why not collect some amazing brass items from the past? Pieces with a little history… These large Vintage Brass Deer Figurines from Etsy shop RustBelt Threads are sold in a pair that includes one buck and one doe: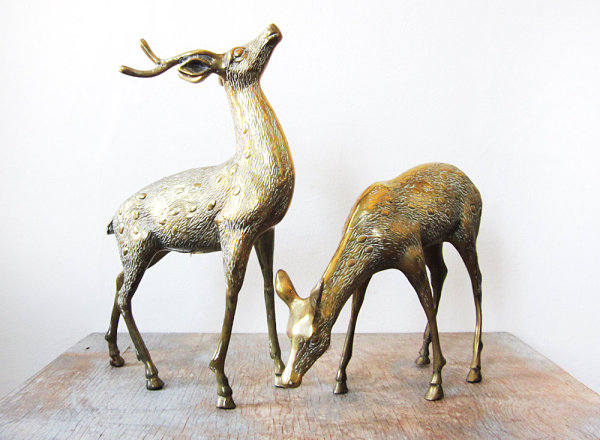 One desirable brass find is the brass pineapple. With a look that combines beachy style with Hollywood Regency glam, this Vintage Set of 3 Brass Pineapples from Etsy shop Judy's Junktion proves that warm metallic shine + a tropical motif = design perfection: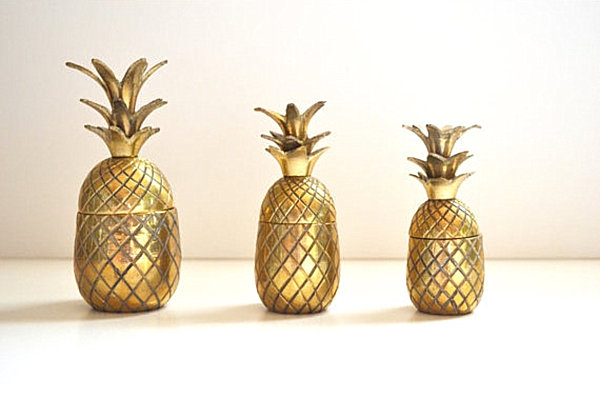 Vintage Pottery
Hull. Abingdon. McCoy. These are just a few of the many vintage pottery brands sought out by collectors. Vintage pottery fills antique malls and estate sales, and people enjoy collecting and grouping it by style or by color, as shown below in an image from Robin Wood Flowers: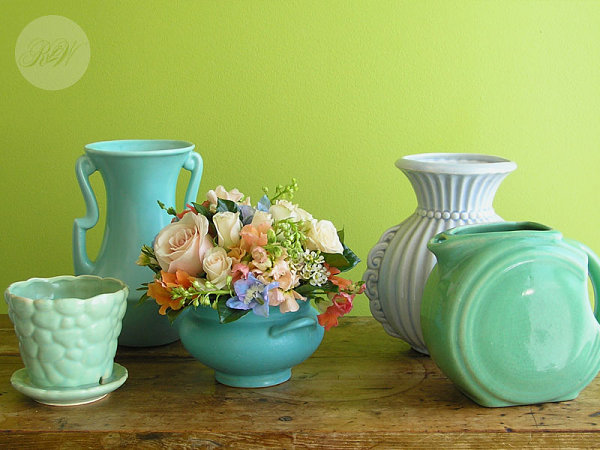 Of course, just as it can be fun to collect tried and true pottery favorites, it's always exciting to try and hunt down those rare finds that can take center state in your collection. Below we see one such find: a Mid-Century Modern Italian Pottery Bird from Etsy shop Lowdown Modern!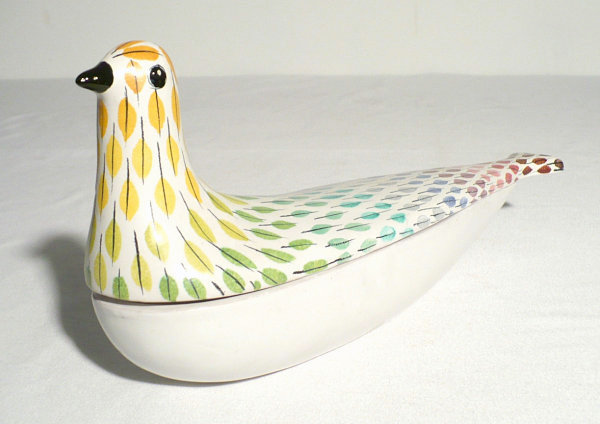 Depression Glass
Depression glass was available for little to no money during the Great Depression (hence its name). But you wouldn't know it by scanning today's prices, which show just how collectible these pieces truly are. Popular colors include pink, green, clear and pale blue. Which is why it's fun to see extra bold colors such as teal showcased in pieces such as this Jeannette Swirl Console Bowl in Ultramarine Green from Ruby Lane: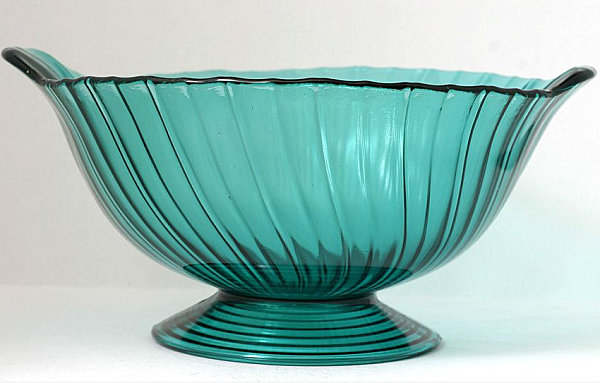 Collectors enjoy searching for items in a range of patterns, from the swirly and feminine to the clean-lined and angled. Bowls, dishes, cups, saucers and serving pieces are popular finds to add to your stash. Well-known Depression glass manufacturers include Anchor Hocking Glass Company, Federal Glass Company and Imperial Glass Company. [from Southern Vintage]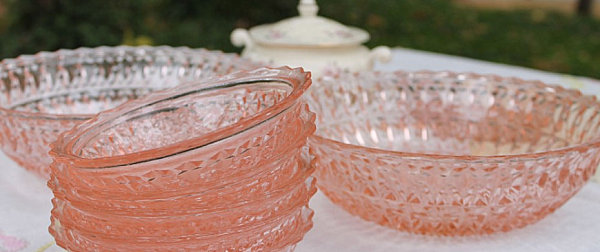 Milk Glass
There's something crisp and refreshing about milk glass! Often collected in compote form (as shown below), this material is also used to make dinnerware, lamps, and more. Designers such as Eddie Ross have brought milk glass back into the public eye, often with modern updates, such as the use of milk glass compotes to hold greenery. [from For The Love Of Skinny]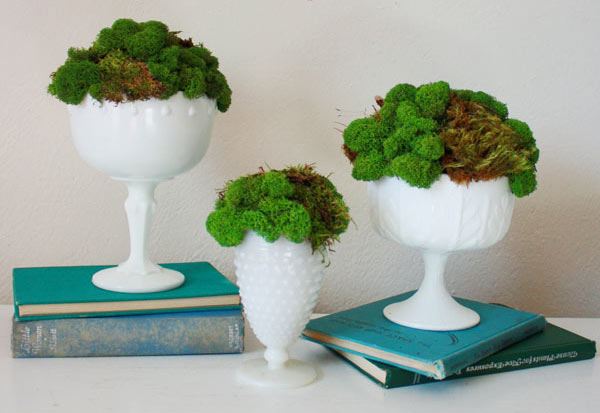 As you can see, milk glass makes an impressive statement when displayed in groups. From hobnail textures to lacy edges, the variation in pattern is particularly striking when the milk glass pieces on display feature one color, such as white. [from Thrifting Denver]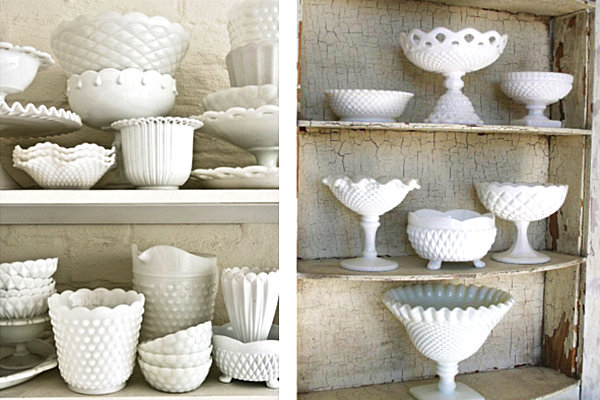 Jadeite
Jadeite is another item that was practically given away during the Great Depression. In fact, at times it was included for free in oatmeal boxes and flour bags to entice people to purchase additional products. Famous collectors such as Matha Stewart have made this vintage collectible even more popular in recent years. [from Barn House]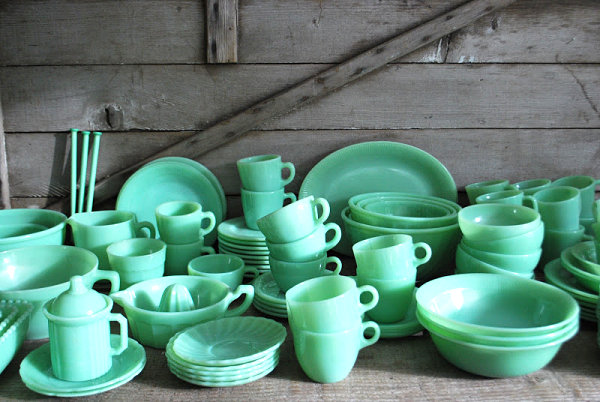 While a variety of companies manufactured jadeite, it was Anchor Hocking that took the lead. There's no denying that the product's minty green shade gives it a fun retro look. Collectors enjoy amassing pieces such as mugs and dishes. [from Parsimonia]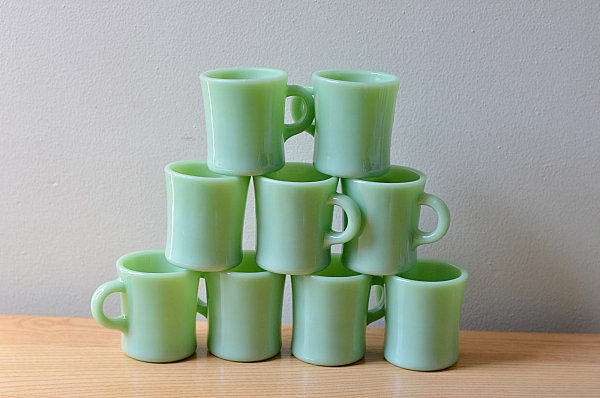 Vintage Drinking Glasses
Vintage drinking glasses are often compact, and the patterned pieces are eye-catching, especially when displayed in a group. Many of these colorful finds are also known as Swanky Swigs! Below we see Vintage Swanky Swig Tulip Glasses from Bewitching Vintage, featuring a floral pattern in light blue, dark blue and red: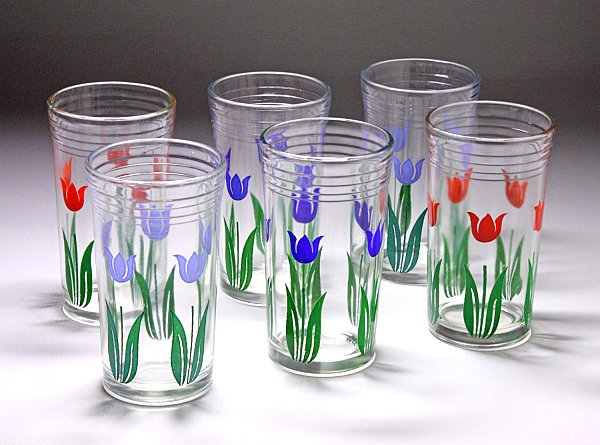 While their small size makes them easy to fit into cabinets, drinking glasses are often proudly displayed by collectors. Why hide a colorful pattern?! Below we see a Birds of Paradise Vintage Drinking Glass Set from Eclecticity. This grouping of glasses from the 1980s would add a vivid touch to any shelf or dining table!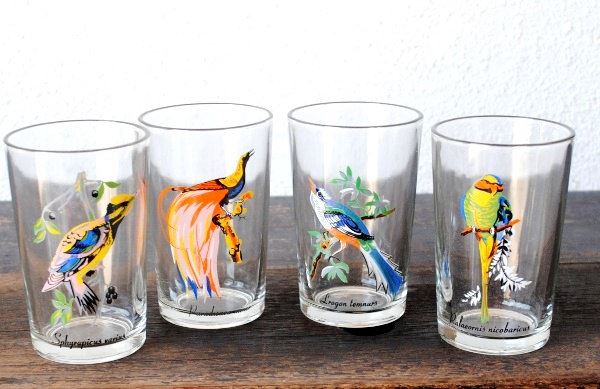 Mexican Feather Art
With a folksy look that combines radiant hues with carved wooden frames, Mexican feather art is colorful, festive and striking. Below we see a Vintage Mexican Feather Bird Tray from Etsy shop Sassydoggs…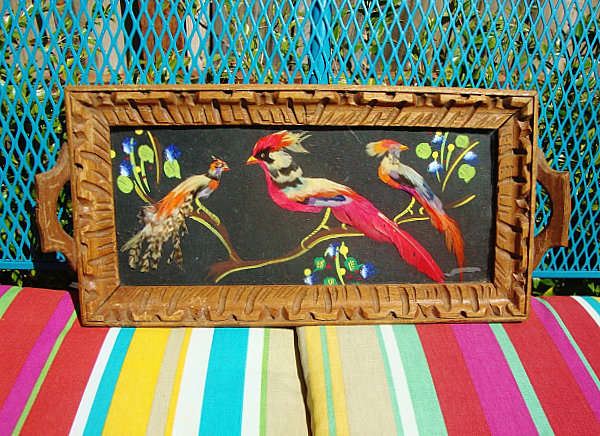 Often sold in pairs and featuring birds with distinct feathers, this artwork is perfect for adding a playful touch to your interior. In the next featured image, we see a Pair of Mexican Feather Folk Art Paintings from Ruby Lane. This set of paintings features a vibrant blue background that makes the bird designs truly stand out: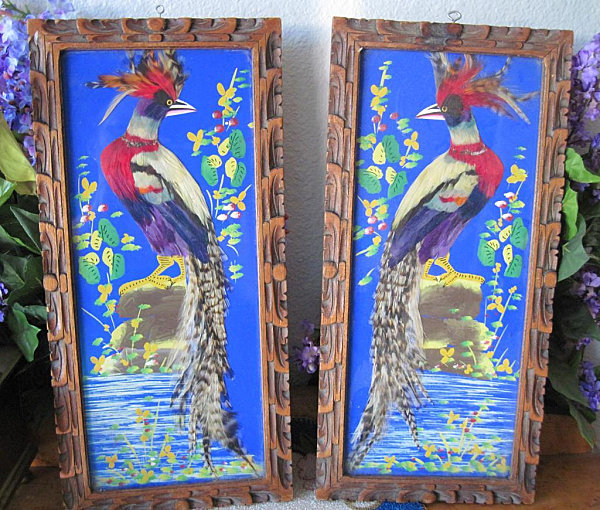 Which items from today's post caught your eye? Are there vintage items that you enjoy collecting? Share your thoughts by leaving a comment below…