All of us at Decoist love our gardens. It is just natural to provide a bit (or a lot) of unnatural lighting to enjoy our vegetative exploits at night with family and friends.
We have searched high and low and have found a wealth of ideas to help you showcase your garden when the sun goes down. Let us know about your favorites below in the comments.
Gardens To Die For
This garden by QAL Surroundings features low voltage lighting. Flower beds are highlighted to add nighttime ambiance. Notice the spotlights feature the trees larger plants from the ground. An illuminated pool adds to an enjoyable evening.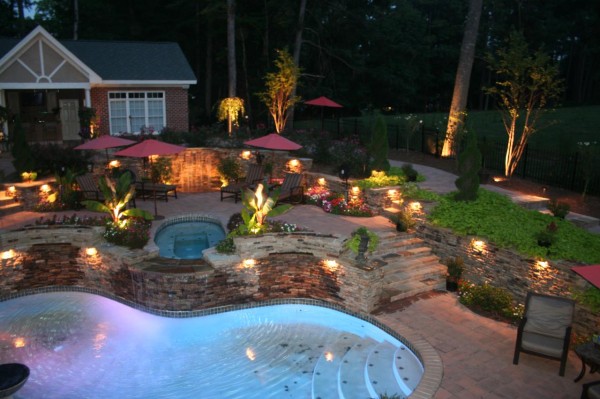 Feast your eyes upon this garden lounging area designed by Oak Leigh Manor. The lighting below the tall plants provides a relaxing background for a quiet conversation.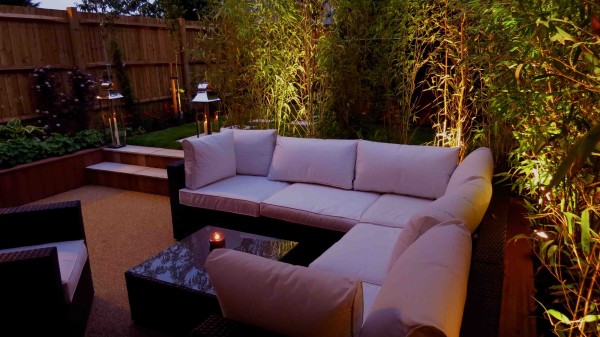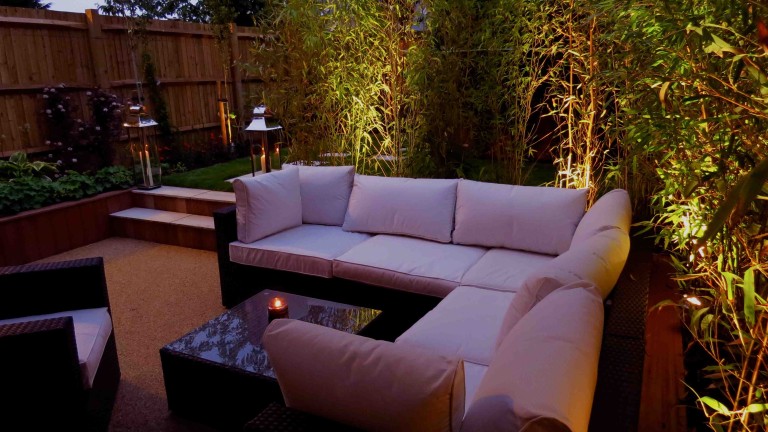 Light Positive (formerly Nancy Goldstein Design) exhibited some of their magic at the Boston Flower and Garden Show. This Blue Ribbon winner entry designed by Jameson Landscape and irrigation benefited from their lighting.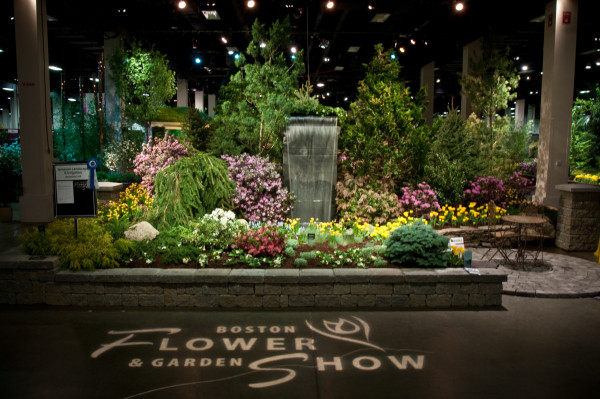 A gazebo in your garden needs to be star of the show. Outdoor Lighting Perspective's showcasing didn't ignore the trees or other plants either. The same attention goes for a pergola's surroundings.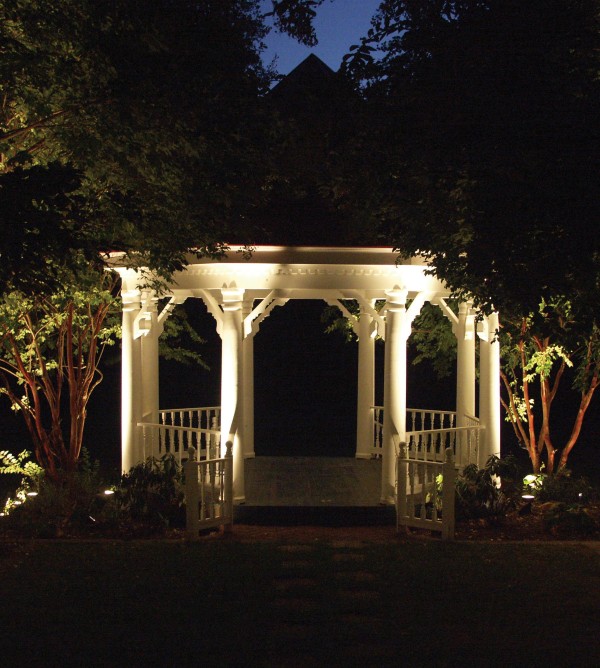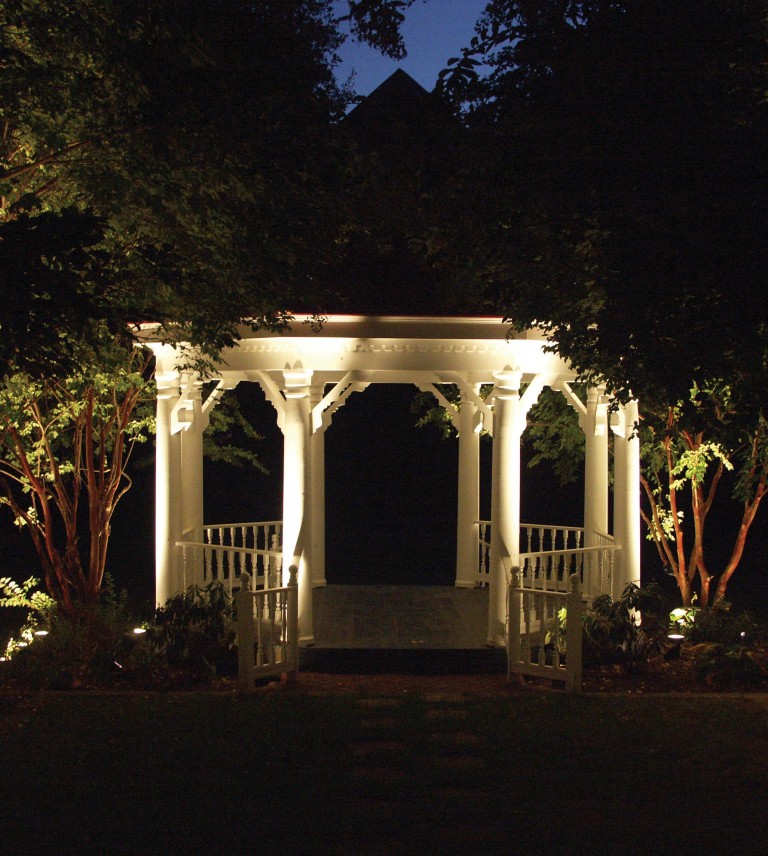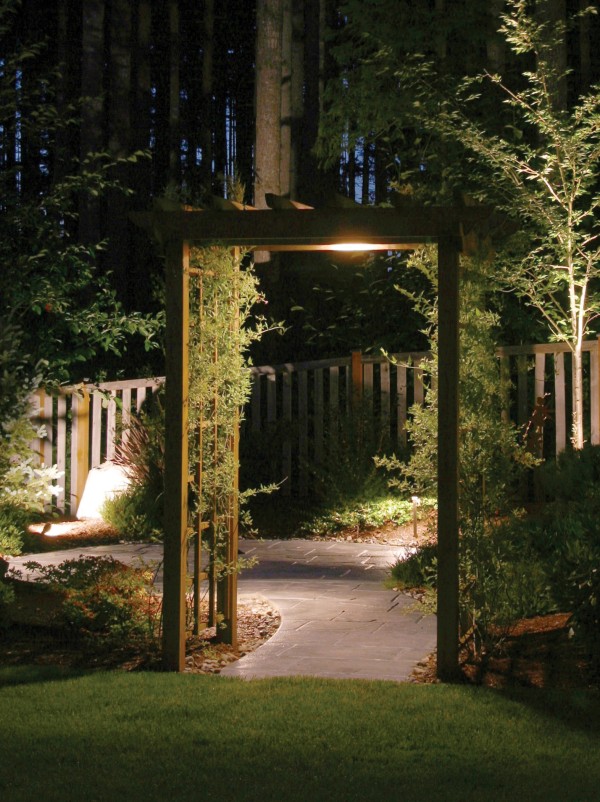 Speaking of gazebos, The Gardens at Great Oaks knows exactly how to light theirs for a nighttime garden wedding of other festive gathering. They certainly bring in the Southern Charm.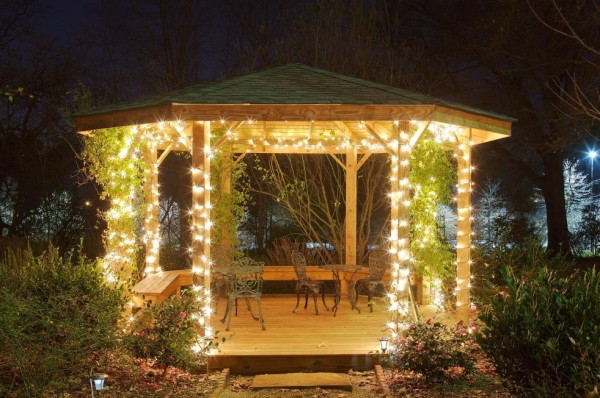 BS2H also has a great light treatment for a gazebo and the surrounding garden. In the following picture the backlit palm trees on the left provide a dramatic contrast to the palms on the right.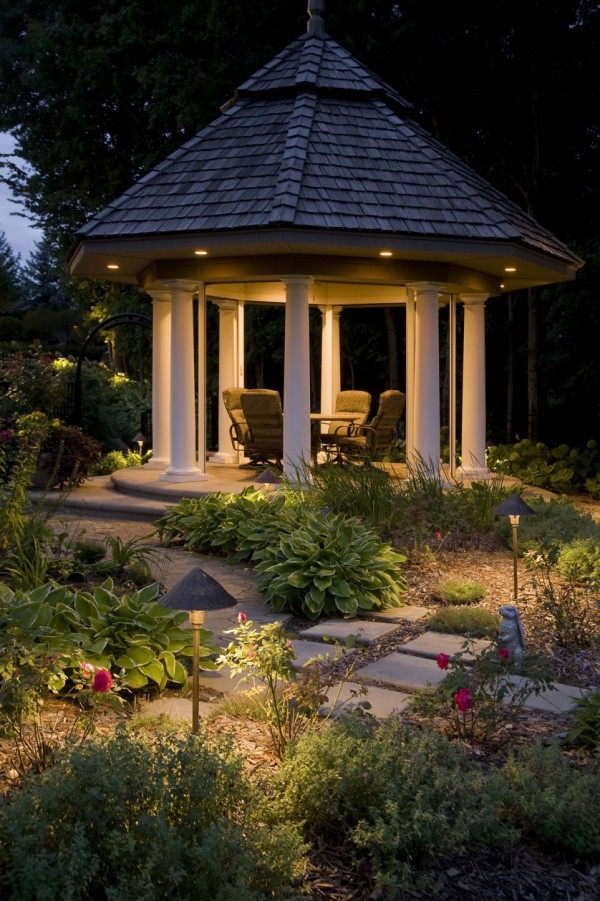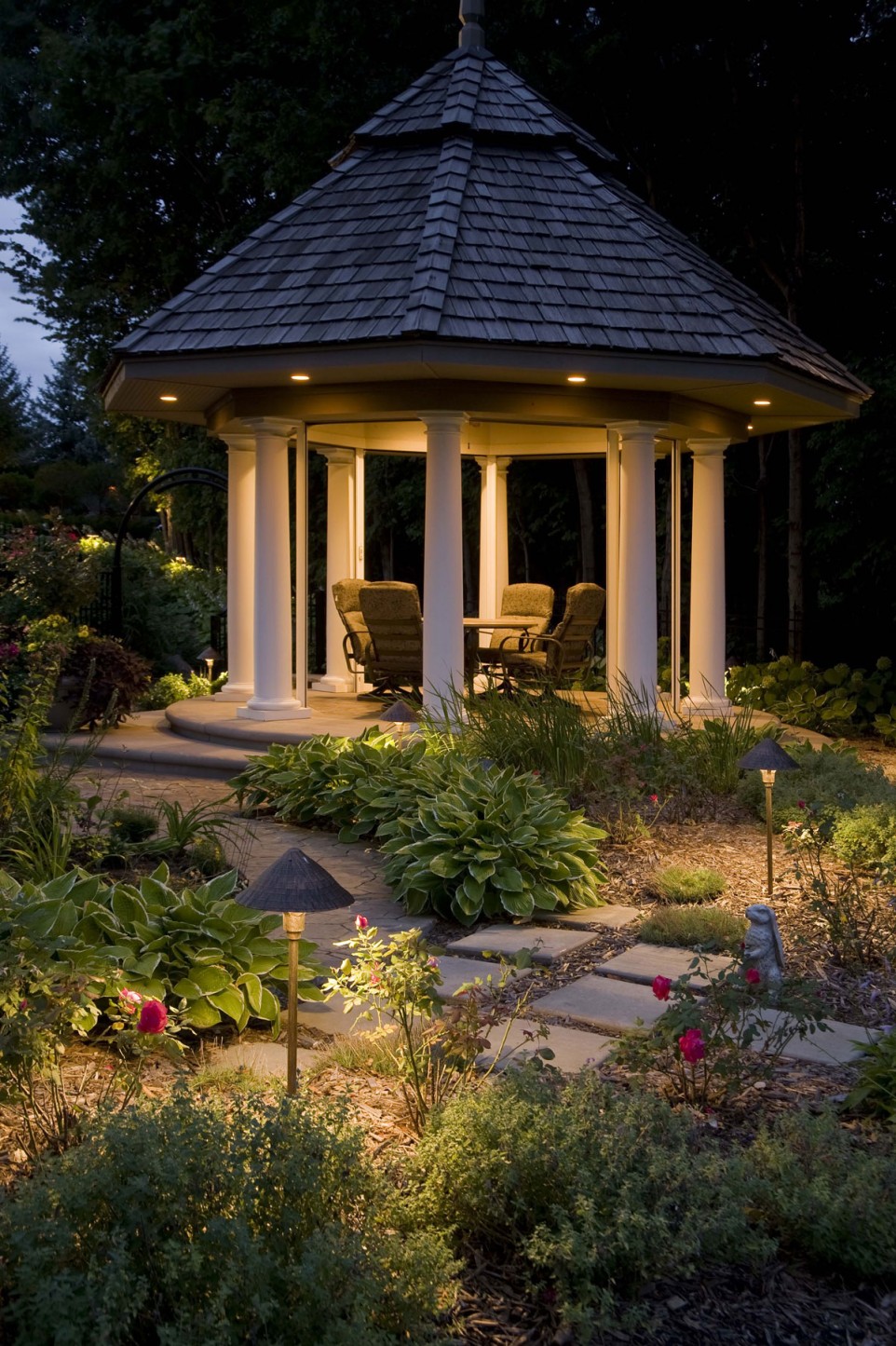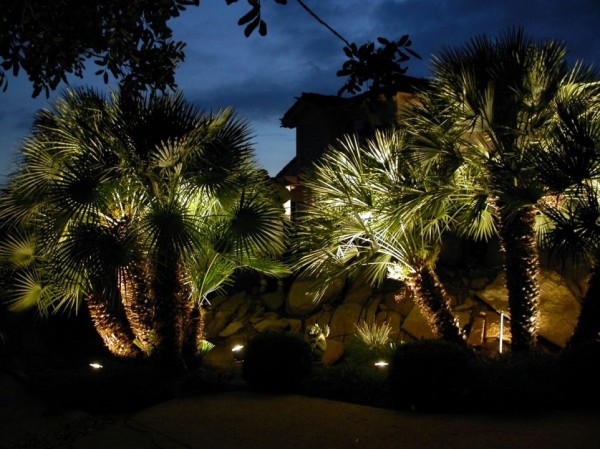 Clearwater Outdoor Lighting provides the accents for these palms. You can even get some ideas from the nature preserve they lit for visitors' enjoyment. Notice the detail in accenting some red flowers among the bamboo.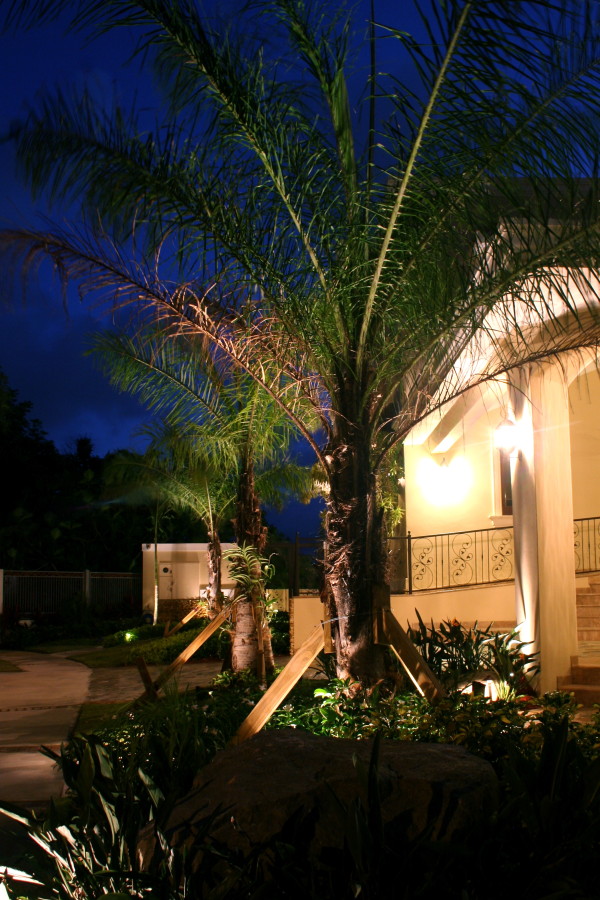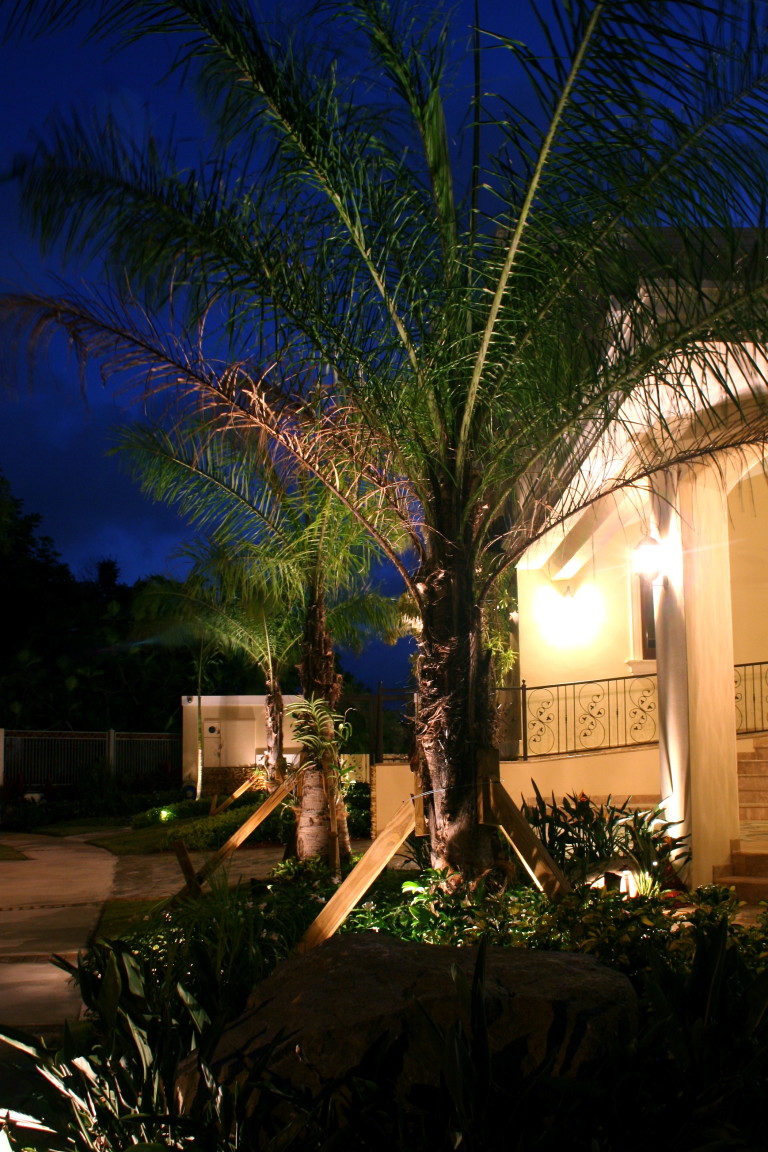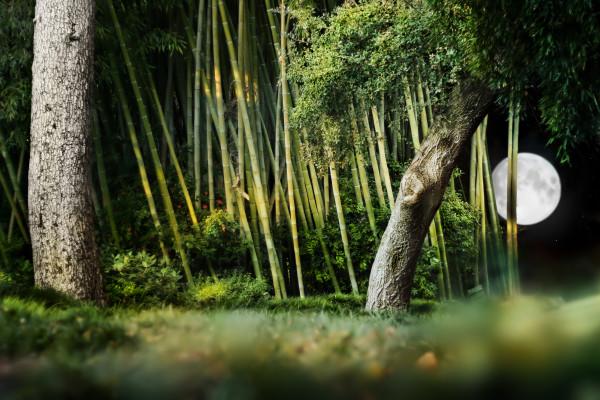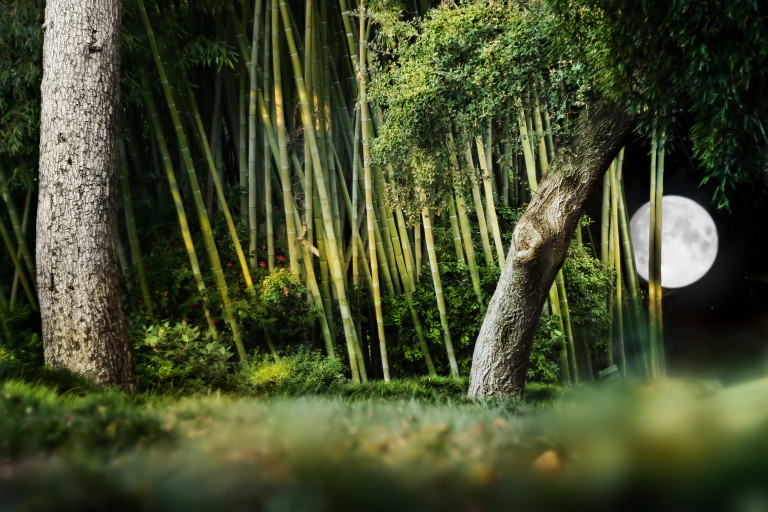 VOLT manufactures custom architectural grade lighting. They have some fantastic ideas on how to make gardens look their best in the evening.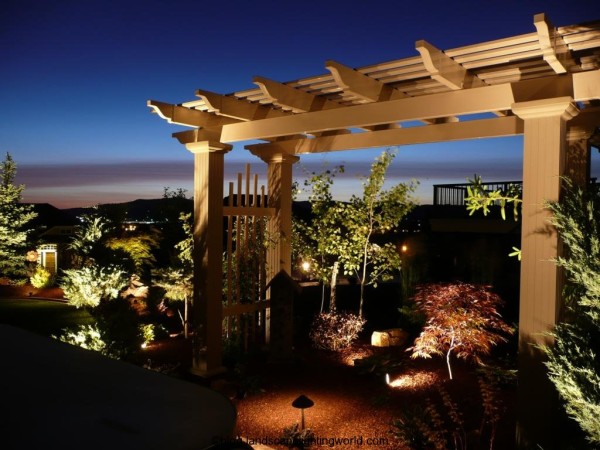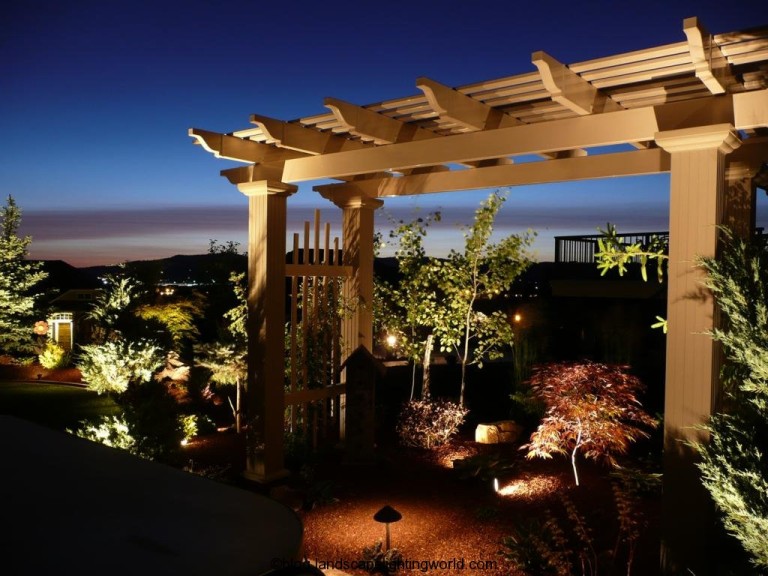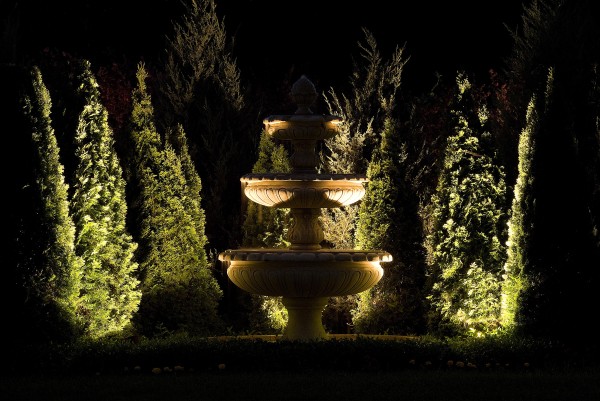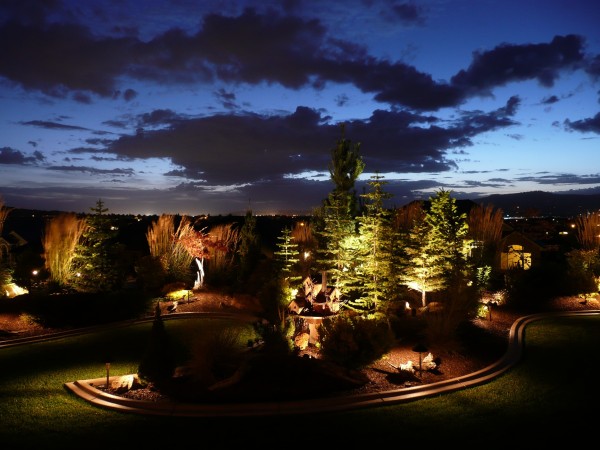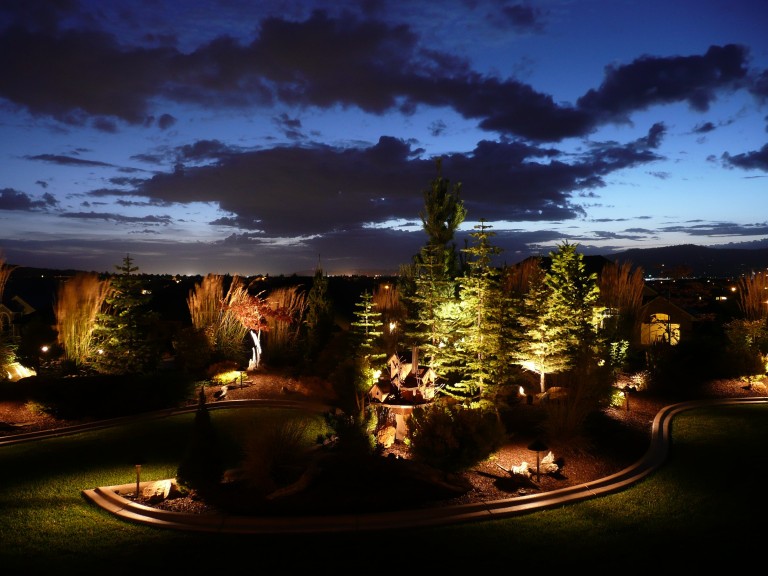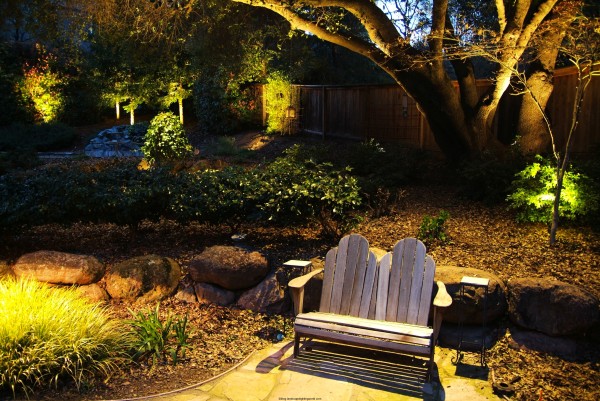 Imagine this outdoor garden seating area. Pay attention to the lighting that highlights all the grasses and plants. Your Technology Advisor could not resist adding a waterproof large screen LCD TV in this garden!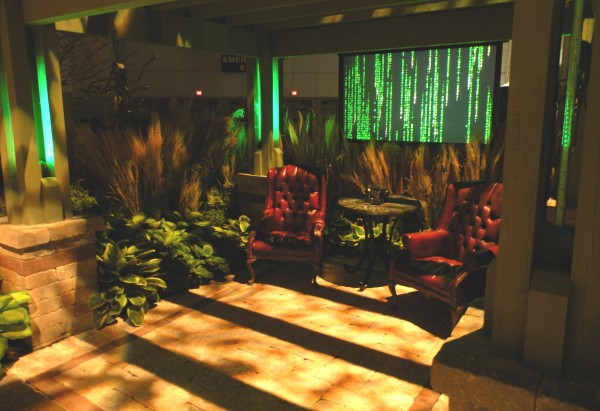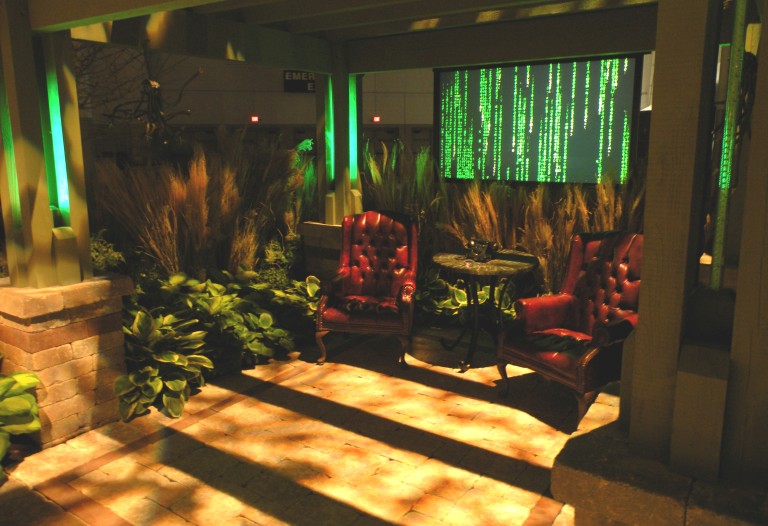 Shining bright green light onto trees gives them a bright surrealistic, bigger-than-life presence. S.A. Grows has some creative garden additions, like an old wagon in addition to the brilliant green floodlights.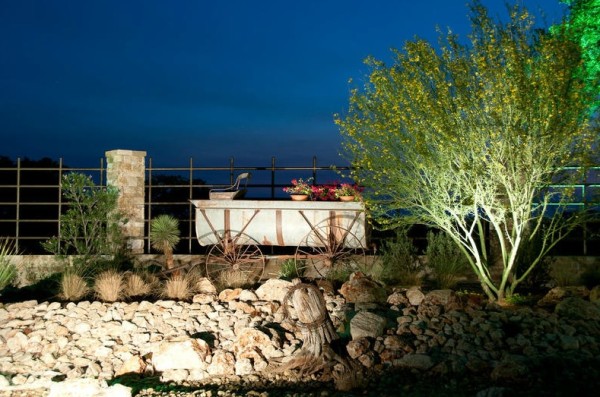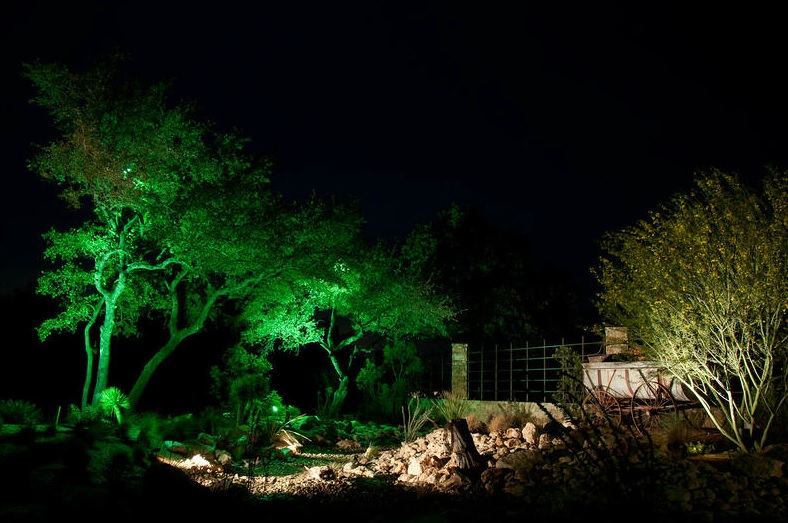 A light tucked behind your flowers can yield some dramatic results. Outdoor Lighting Perspectives of Wilmington uses this trick very effectively as well as other lighting tricks.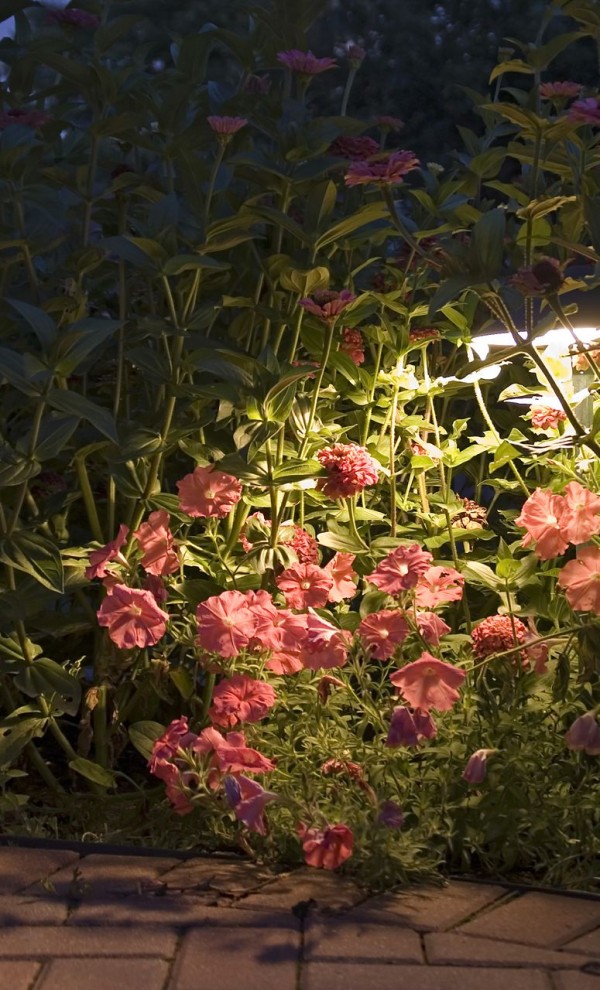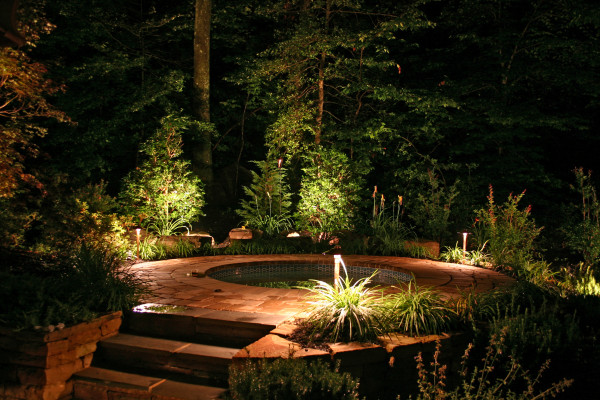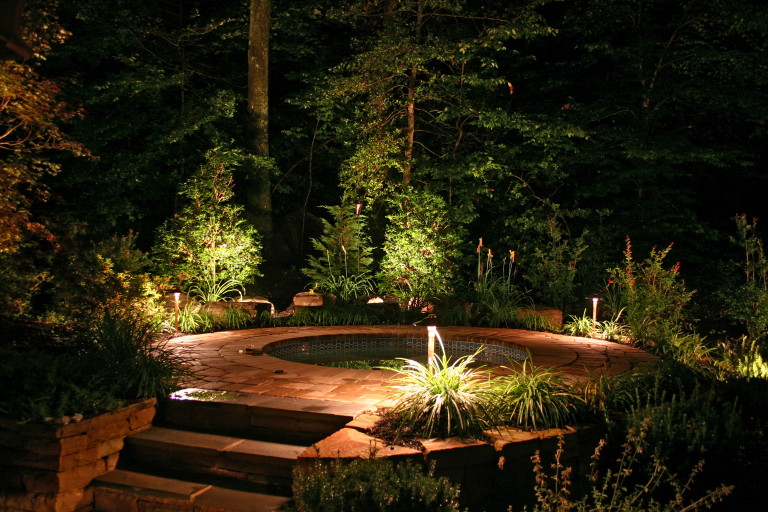 Sometimes the sitting area needs the accent in lighting. Angela garden in Ascot uses the peripheral area of the light to touch the garden. Unique Gardens found this in the UK.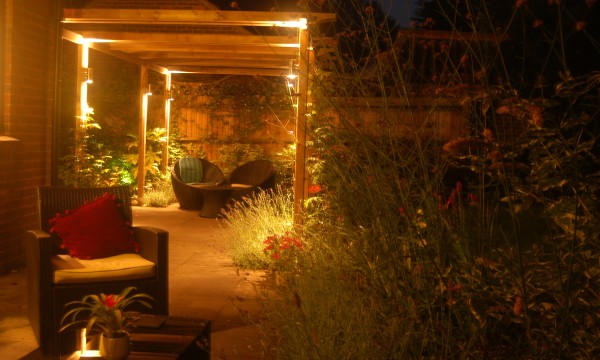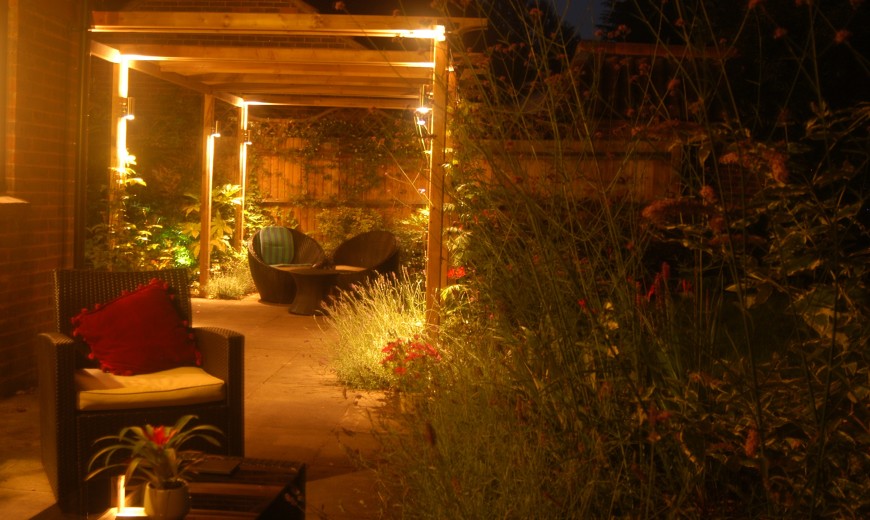 The use of colored lights can provide the eye with some intense experiences. Shankill Outdoor Lighting Garden Design uses an penetrating blue light in this garden. Combined with bright white spots and a muted green, this design achieves an out-of-this-world experience.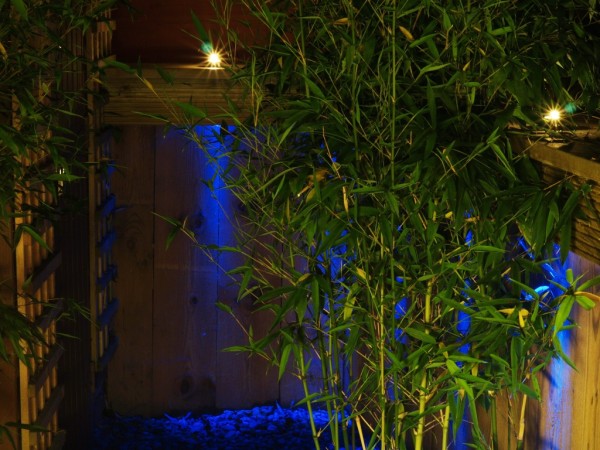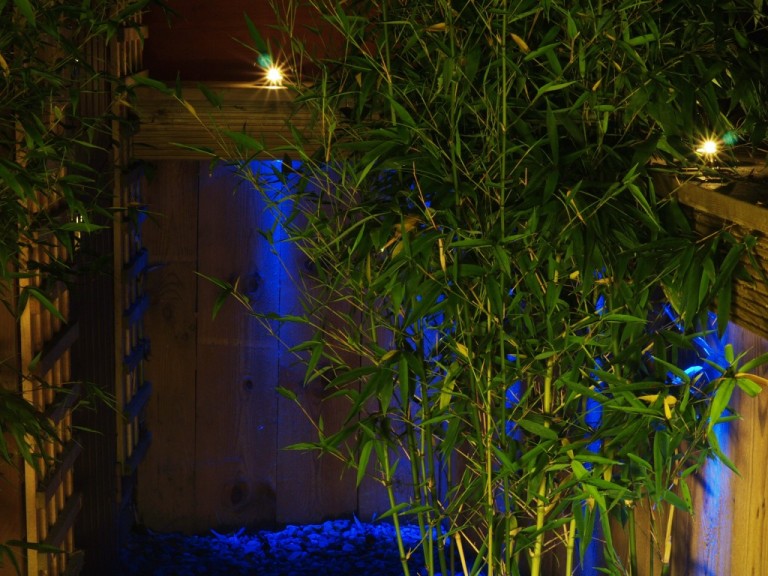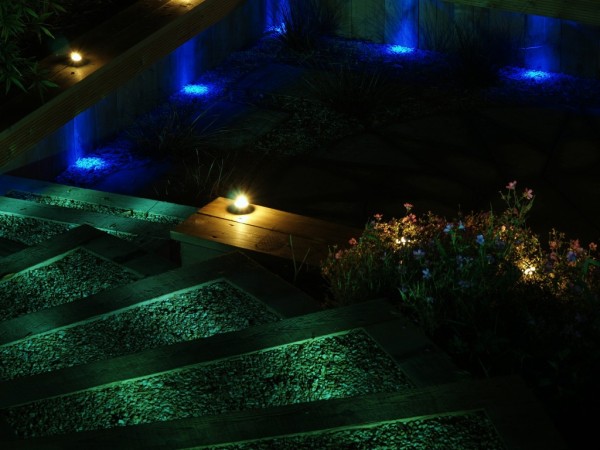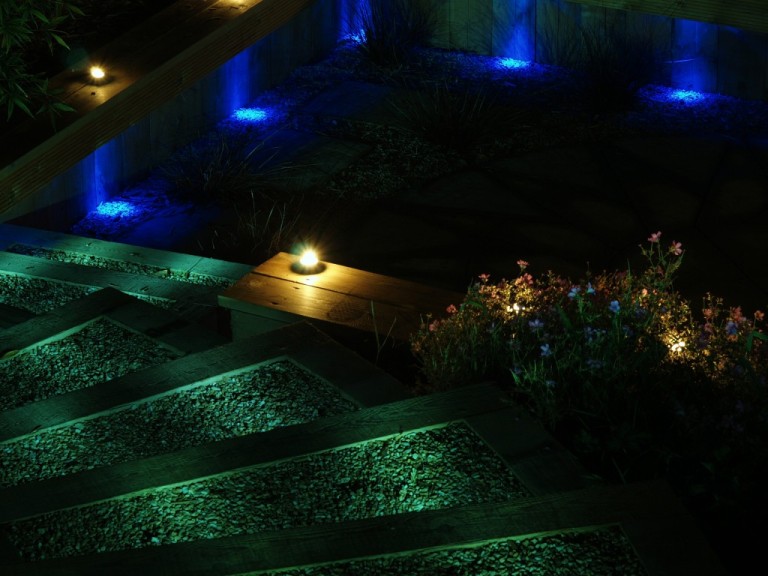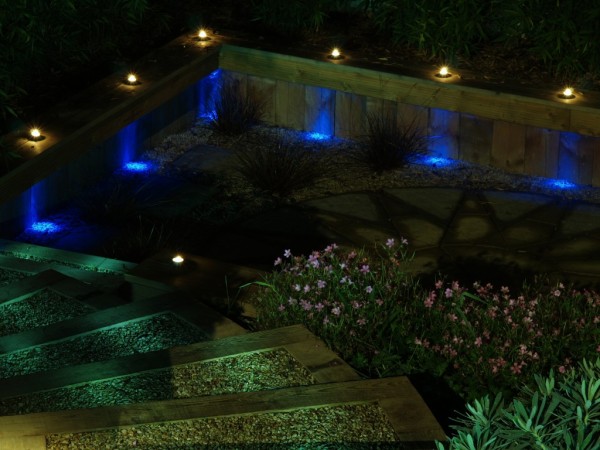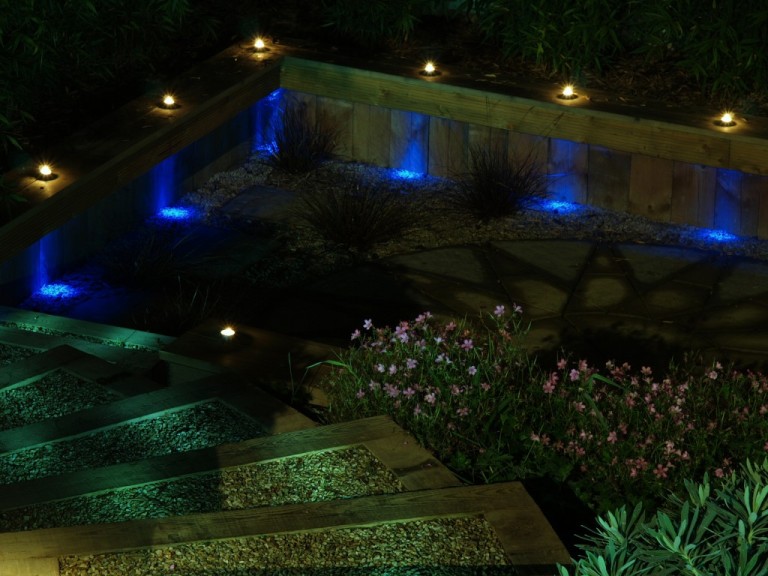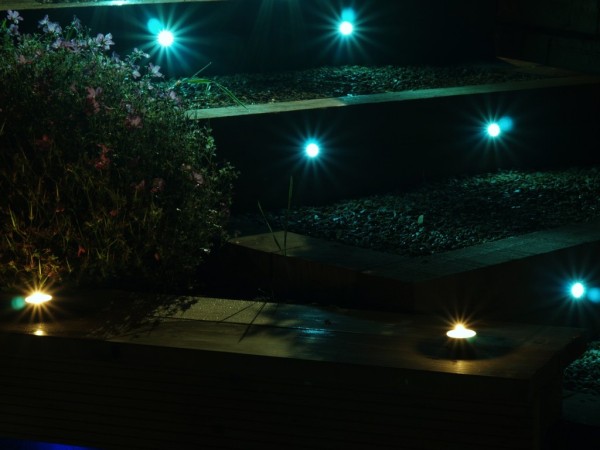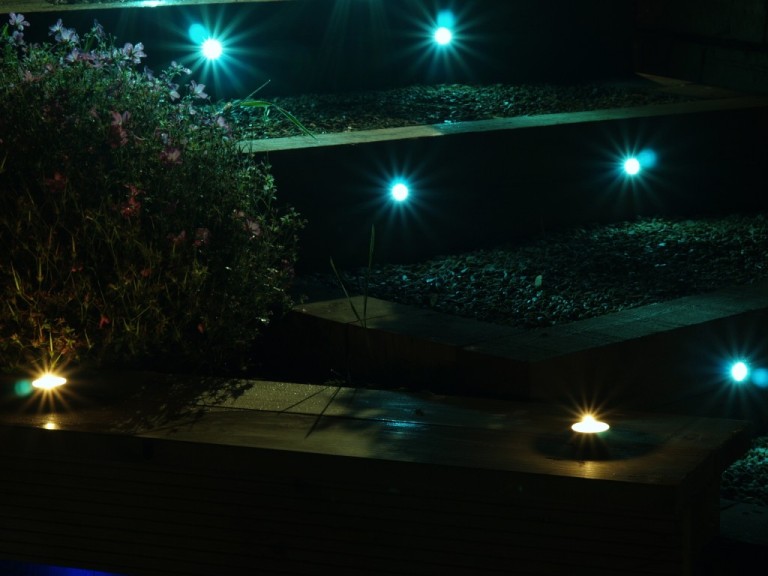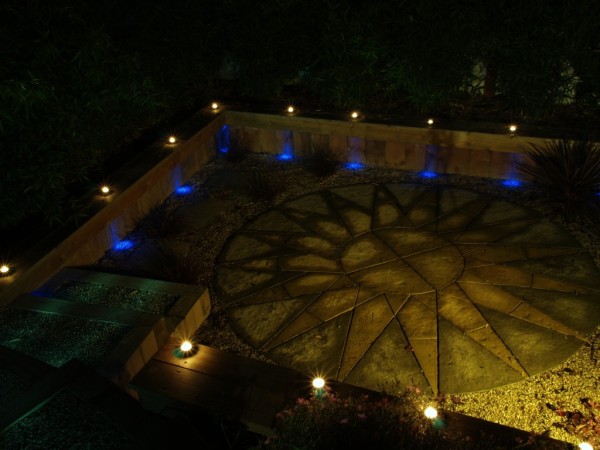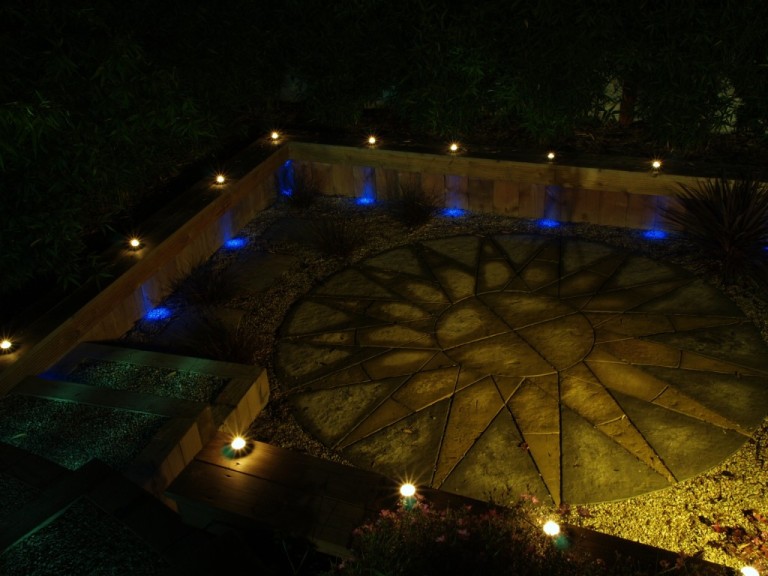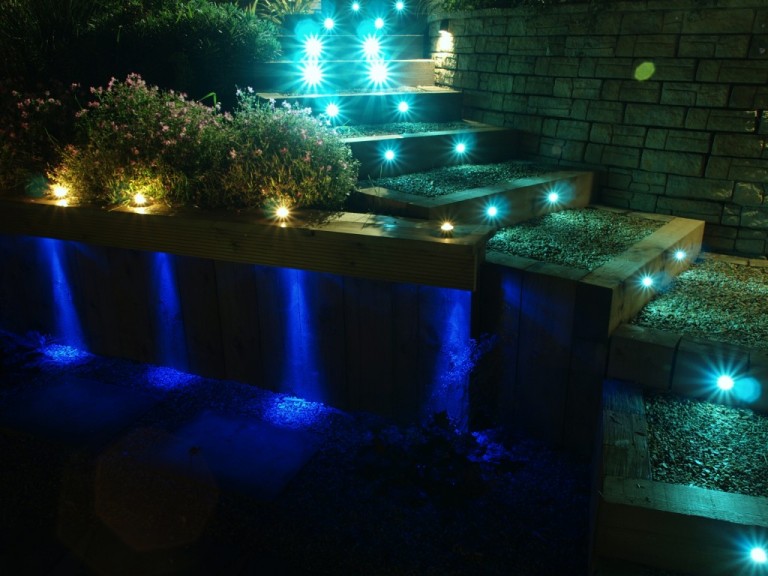 The Wellington Botanical Night Street in Gardens Roads, New Zealand takes multi-colored lighting to new heights. Just feast your vision on the creative use of different colored lighting to paint a stunning landscape. Just think how you could use this technique!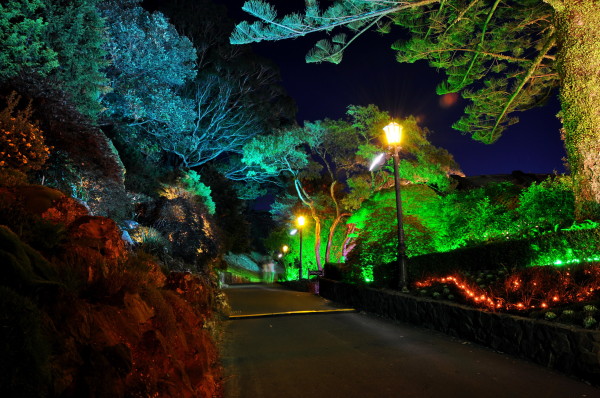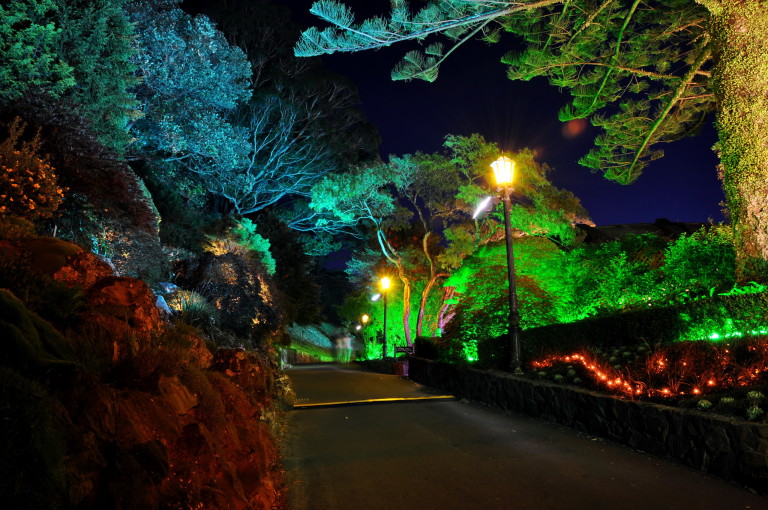 Piedmont Park in Atlanta put lights on their trees and bushes. Yes, they used different colors to create a very interesting effect, and so could you! Thirty4thirty called this to our attention.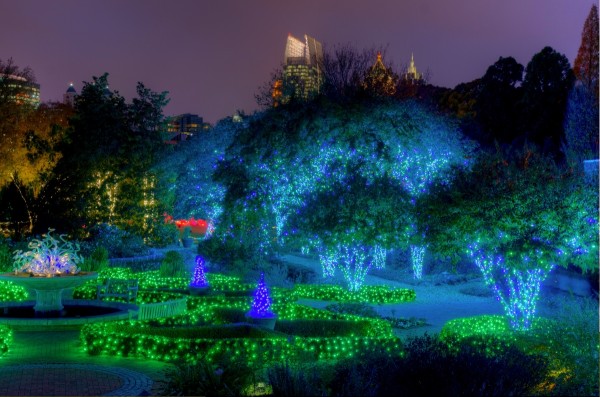 Complementary colors like red and green can be effectively used in the garden. So why not use garden lighting for the same effect? The Buffalo & Erie County Botanical Gardens did this for a vivid view and was captured by Garden Walk Garden Talk.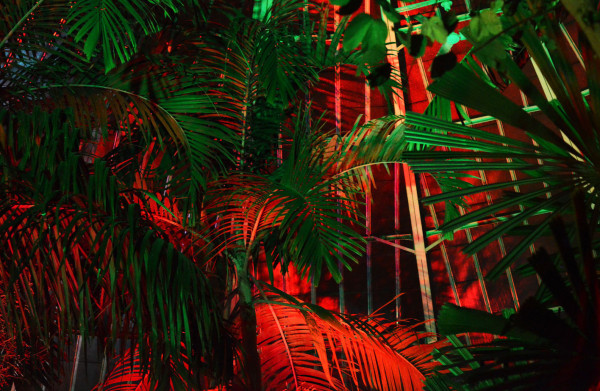 White on the trees to show off the greenery and blue in the pool are a great color combination in this garden treatment. DIYFUSE presented this good-looking garden.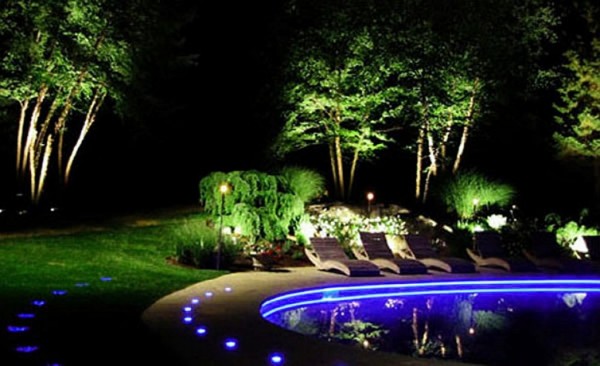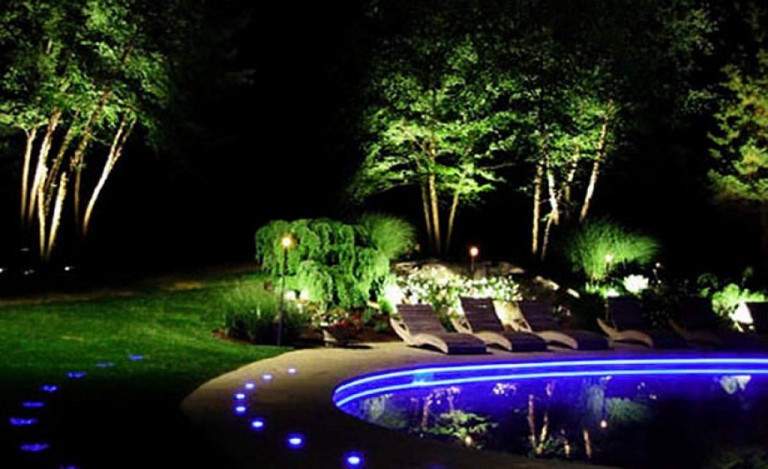 Water Features
Water features are a nice edition to any garden. And they can yield spectacular results when properly lit at night.
St. Louis Homes brings us the view of lighting that colorfully adorns the trees as well as putting on a show for the wondrous water feature. Designed by the SOHO Shop, this playful lighting is automated to fit the customer's unique tastes.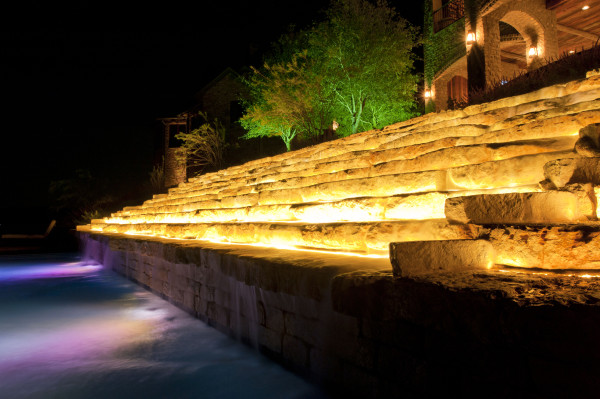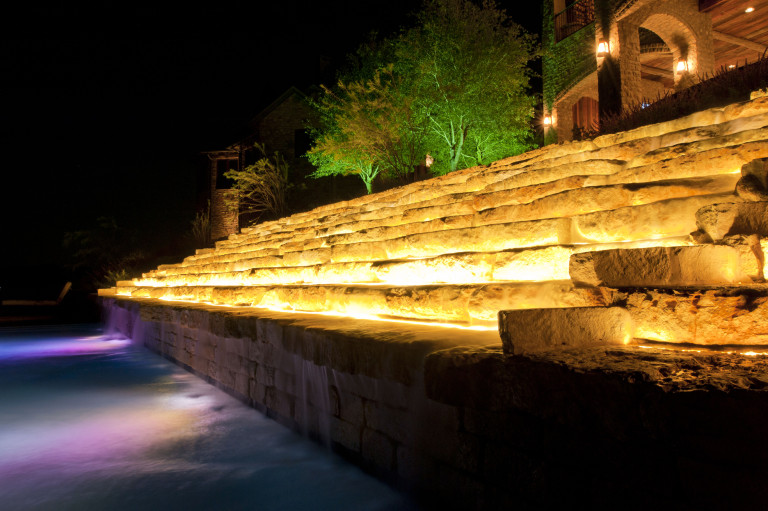 Here are some beautiful lighting treatments for water features by Outdoor Lighting Perspectives. The huge water feature lighting below is accentuated from the fog rising from the water.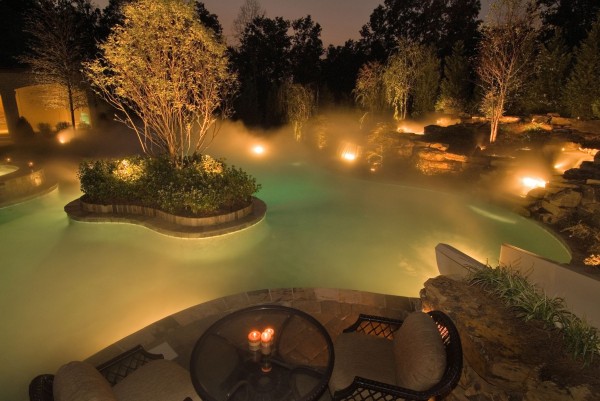 And their fountain is a welcomed addition to a well-lit garden. Pay special attention to the bridge with the color coordinated flowers. Further inspection finds other bushes and trees that are bathed in just the right amount light to reveal their ultimate beauty.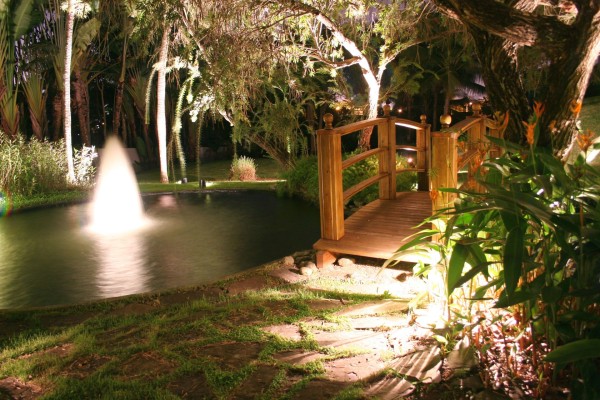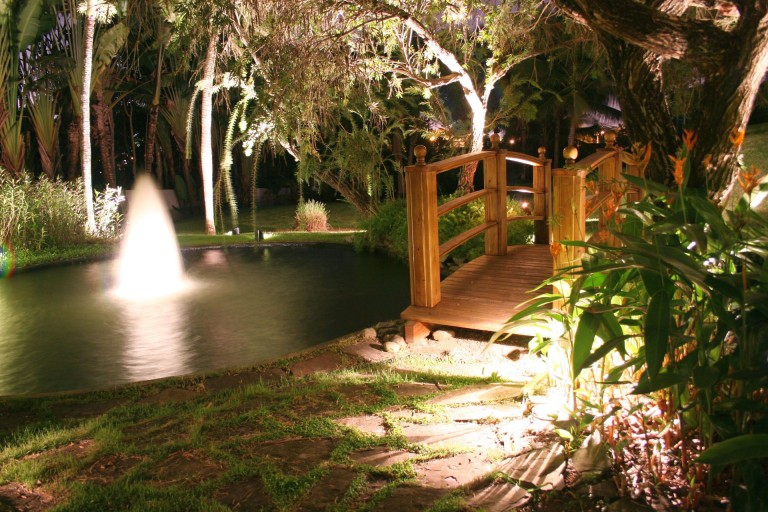 VOLT also has some ideas for water feature lighting for your garden. Just be prepared to dream BIG!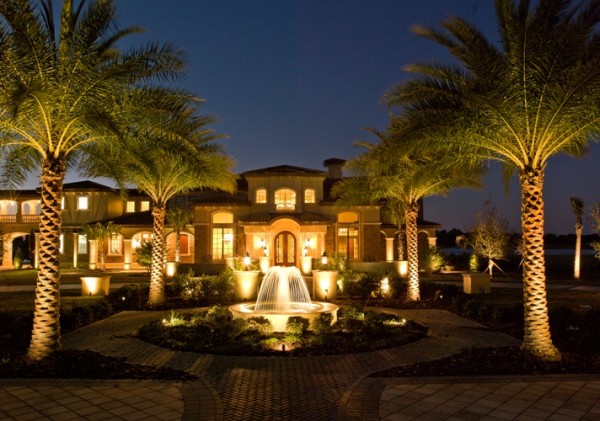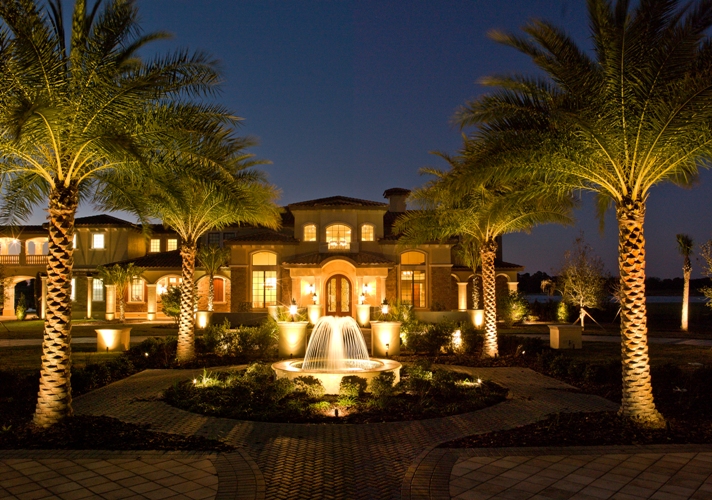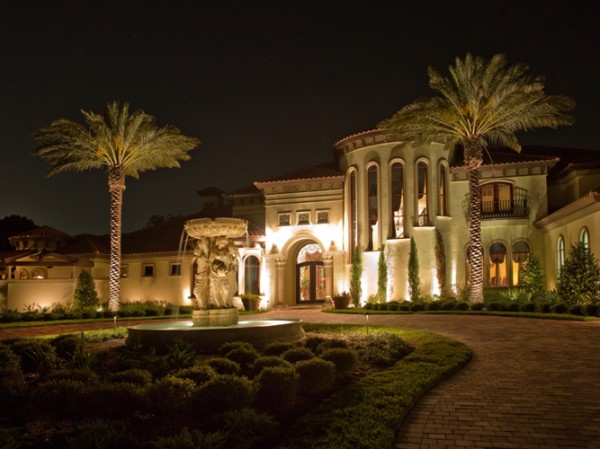 Besides the front-lit water falling from the edge of the infinity pool, we see at least three other waterfalls in this garden scene. Two of those water features have lighting behind the waterfall! The shrubbery also gets the treatment in addition to the lighted pool in this picture from Landscape Archives.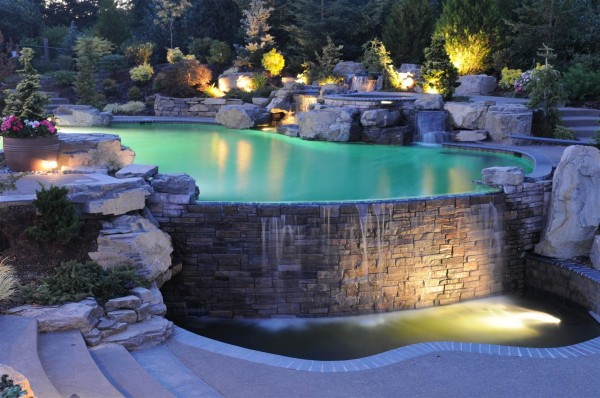 Dennis' 7 Dees, a landscaping and garden center, has a beautiful backyard water feature that is superbly illuminated. Two additional water features also provide some great lighting ideas.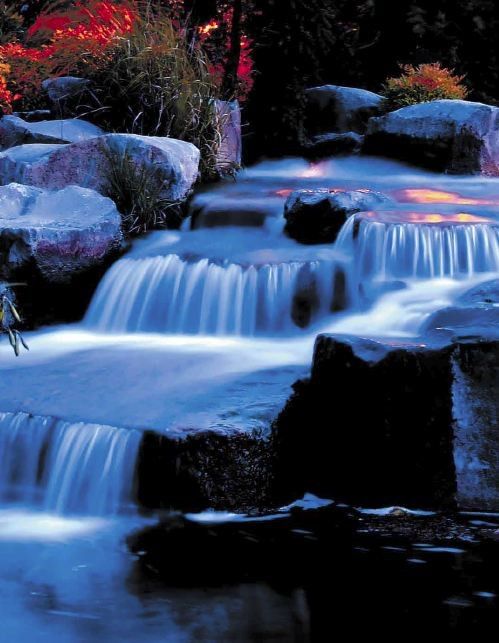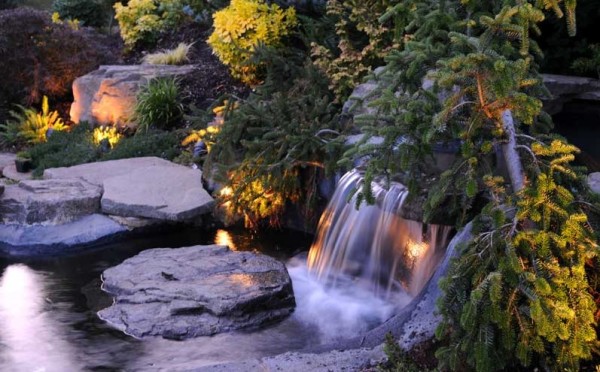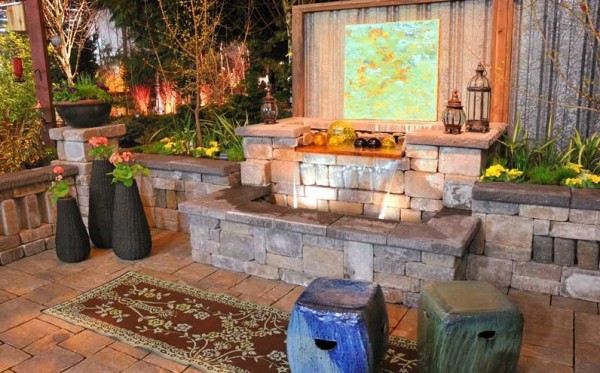 Koi ponds as addition to the garden are all the rage. This well-lit koi pond from Buds 'n Blossoms would make any fish happy. In fact, it would be pure pleasure to sit in your garden beside this illuminated koi pond just listening to the waterfall and watching the colorful koi cheerfully swim around.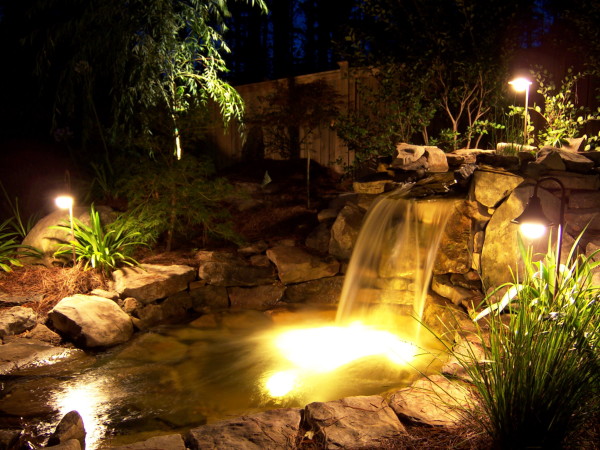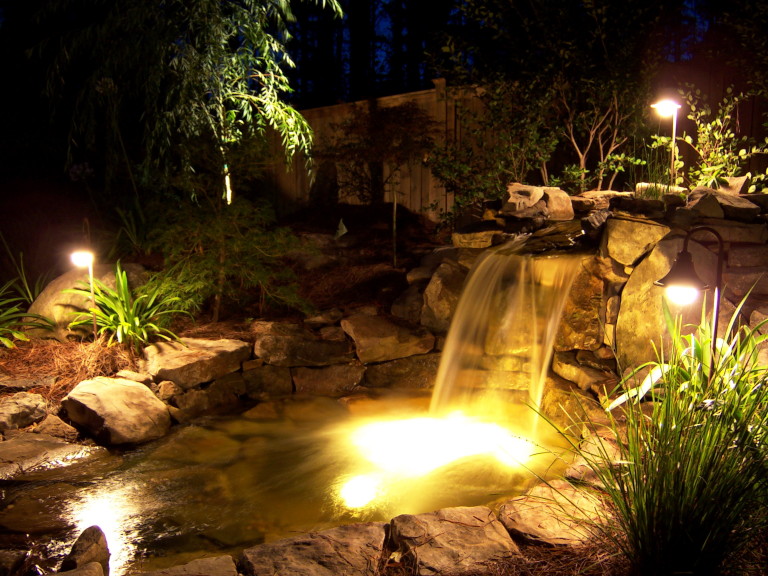 This garden water feature by BS2H is smartly highlighted as well as the other plants. Their water fountain is a nice touch in the garden seating area by the pool.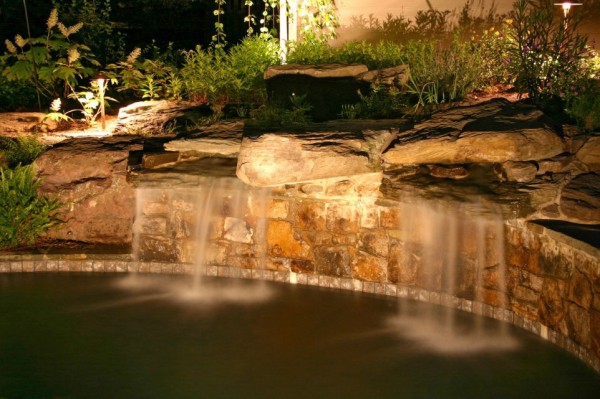 Garden Environments shows us a unique lighting treatment for a pond in the garden. It reminds us of a monochromatic photograph with a splash of green touchup coloring.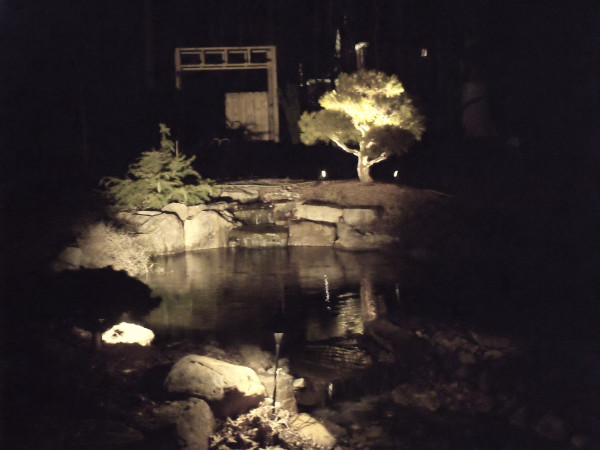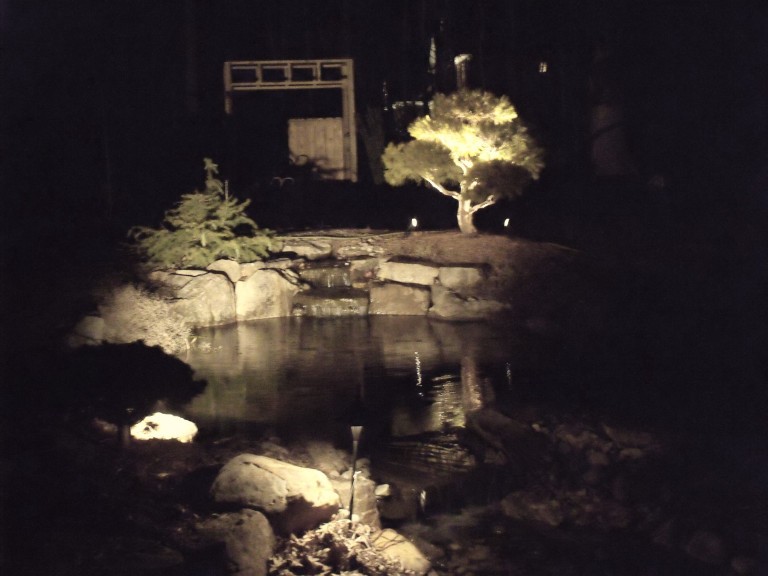 This beautiful garden waterfall was the lights in the water that provide a beautiful shimmering effect on the water. Ashland Berry Farms designed this wonderful garden water feature.