There's a magic that happens when artful objects meet practical products on a kitchen shelf. Maybe it's the way the newest in coffee press technology cleverly combines with a vase of fresh flowers. Or the way a collection of pots and pans beautifully contrasts a bowl of lemons. Perhaps it's because I have shelf space for a little display in my current kitchen…lately I've been interested in the concept of culinary decor. Big kitchens, small kitchens–they all have the power to make a statement with the contents they hold.
It makes sense that a space filled with functional items would get decorative power from the clever arrangement of those products, especially since many of them are beautifully designed. Let's face it–there's a whirlwind of kitchen innovation in today's culinary world. And if counter space is limited and storage even more scarce, why not let the cook's tools become the decor?! The result: a display that is practical, industrial and quite interesting! Today we take a look at some stunning arrangements for your decorating inspiration…
Kitchens Featuring Artful Vignettes
We begin by zooming out and enjoying an overview of several well-designed kitchen layouts. If you're lucky enough to have open shelving, you know the potential for ample display. One of today's top trends: hanging pots, pans, gadgets and tools along the length of the wall, especially the area above the stove. That way, everything you need is in arm's reach! Also note the collection of glass and ceramic items on the shelving in the culinary space below. [from Chris A. Dorsey Photography]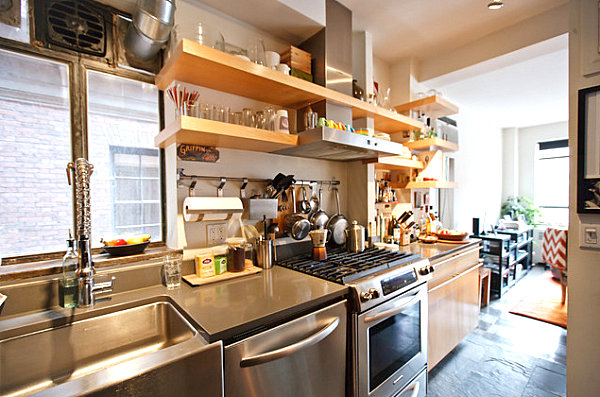 We see a similar look in the next featured space, which takes pride in its useful components rather than hiding them behind closed doors… [from Corynne Pless Designs]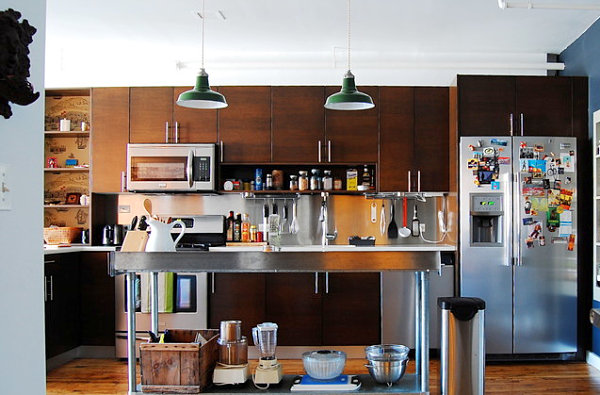 In my kitchen, an entire shelf is devoted to the display of glass cake stands. While the look is lovely, these pieces get much use at my house, especially when more than one dessert is served. We see glass dessert stands on an upper shelf in the kitchen below, along with fresh fruit that's ready to be used in the latest culinary creation! [from Lonny]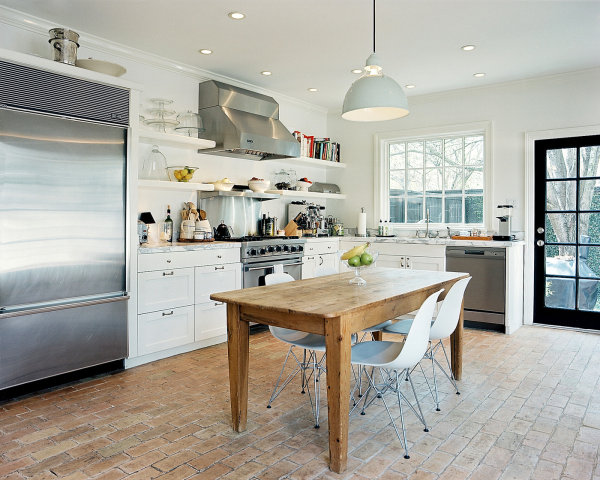 Cutting boards, knives and spatulas are on display in the space below, along with decorative items such as branches and a bowl of fresh citrus fruit. Note how it doesn't take much to turn a spread of useful products and tools into an artful collection of treasures. Some blossoming sticks and a ceramic bowl are all you need to highlight the more practical items in the space! [from Avenue]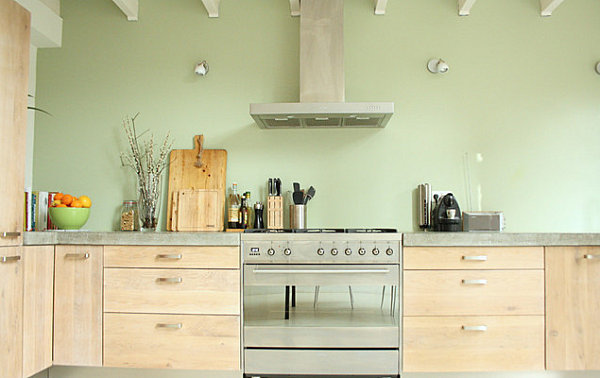 In general, it's helpful to keep the items you use most in the accessible parts of your space. For example, mixing spoons, knives and tea kettles work well on countertops. Yet the space above your kitchen cabinets can hold items that aren't in use as often. Combine these products with artwork and other decorative statements for a lovely spread that draws the eye upward. [from CSS Architecture]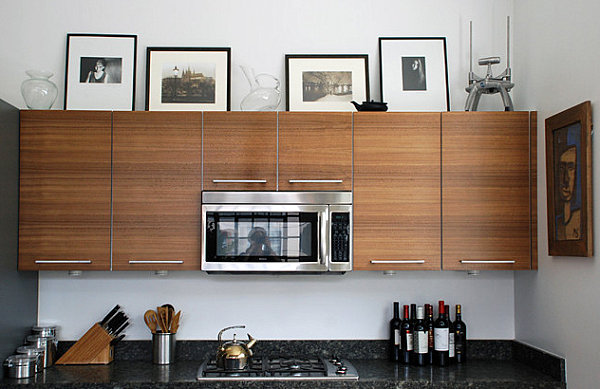 Sometimes less is more. Note how a collection of copper pots is a beautiful, stark contrast to the silver-toned accents in the white space below. A little goes a long way… [from Poggenpohl]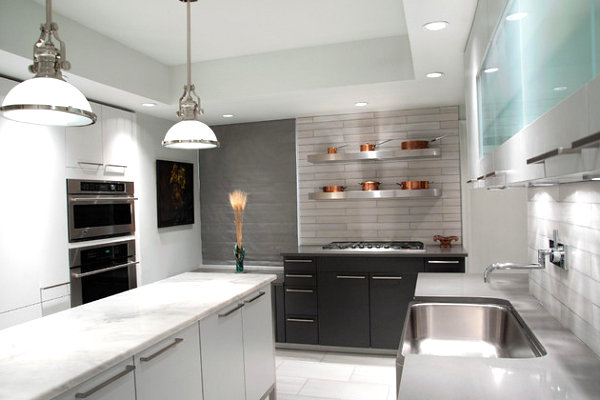 Pots and Pans as Decor
We now zoom in on some specific kitchen items that have the power to make an artful statement time and time again. And yes, pots and pans are the perfect way to fill a large shelving area, especially if cabinet space is scarce. Below we see several pieces from the Tri-Ply Stainless Steel 10-Piece Set, available at West Elm. Also note the interest created by the clay tagine lid… Don't be afraid to mix and match utilitarian pieces: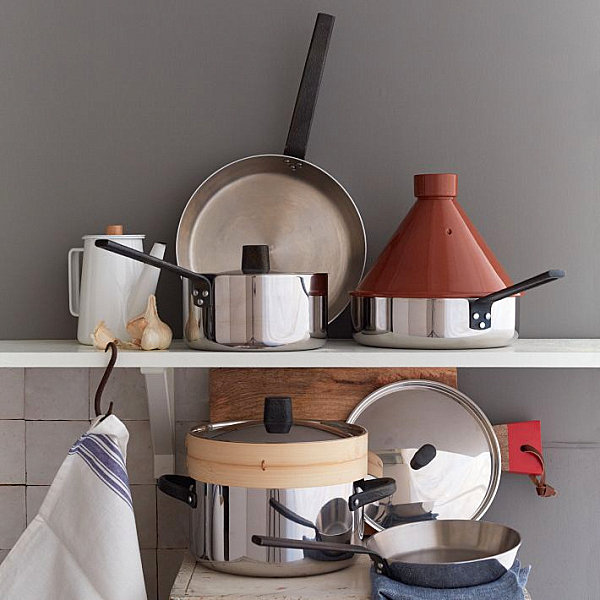 We see another vignette featuring this same set of pots and pans in the next featured image… We're loving the way sheer decorative items blend with useful kitchen products in one continuous spread on the shelf over the stove: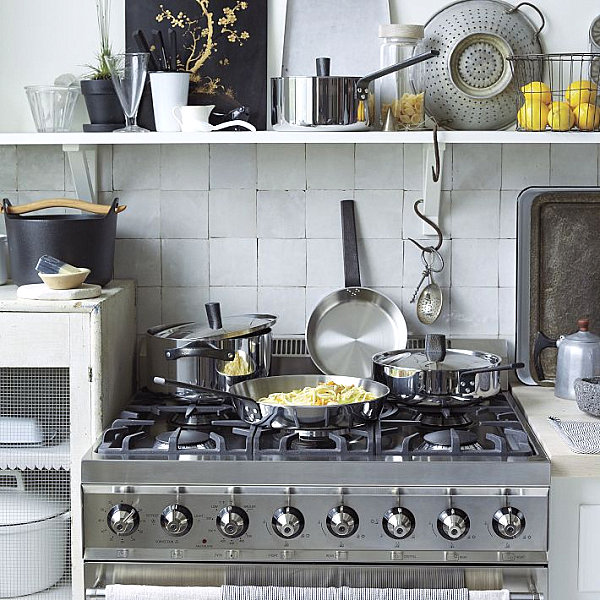 Warm metallic accents are the latest in kitchen products and decor–we're seeing the shiny golden glow on everything from coffee presses to cutlery. When used to contrast the traditional cool tones of pots, appliances and more, they definitely pack a powerful punch. On the shelving below, we see Brooklyn Copper Cookware Saucepans from West Elm: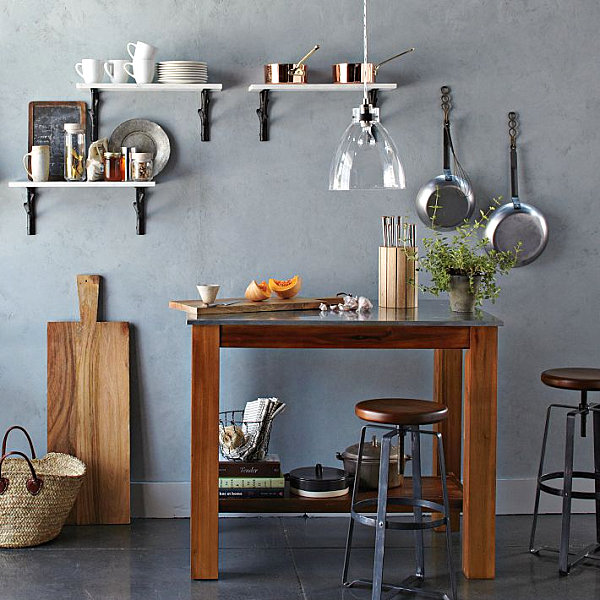 Enamelware is also making a comeback! Pots, kettles and canisters are a few of the ways this useful material is re-emerging in culinary spaces, as shown in the collection of items from West Elm featured below: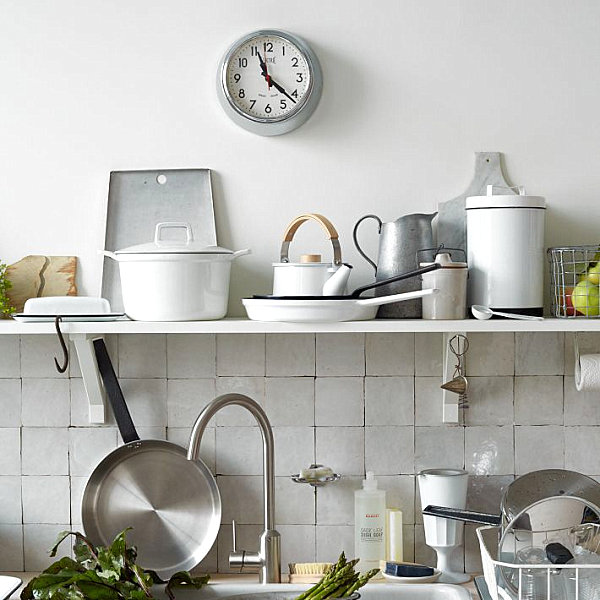 Coffee Gadgets Galore
Time for coffee talk… With department stores like JCPenney devoting an entire section to coffee presses, it's clear that the latest in caffeinated drink technology is meeting the best of product design. And the results are nothing less than stunning. If you're a coffee aficionado, use this fact to your advantage. Let your gadgetry take the decorative lead in your kitchen… [from Bridal Guide]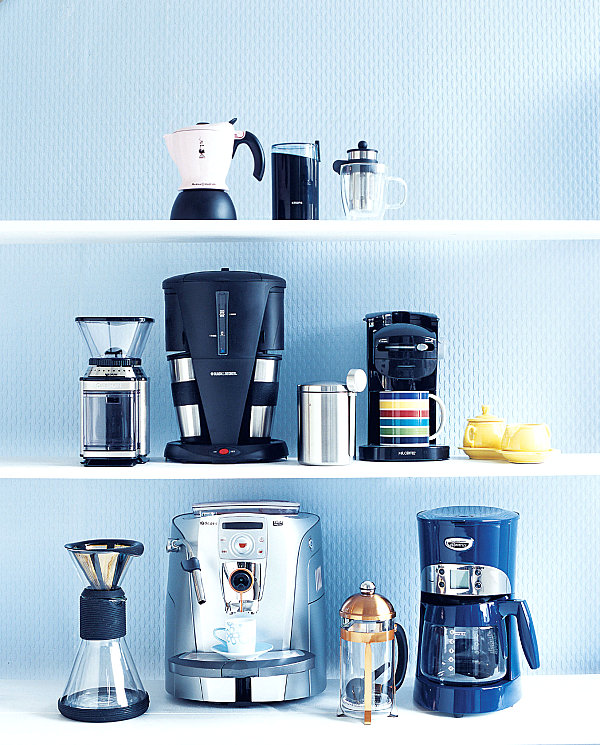 Foodies all over the world are delighting in the latest kitchen obsession: the golden coffee press! Companies like Bodum are making each product count, especially when it comes to the design and the finish. And there's nothing like a dose of gold to greet you in the morning with your milk and sugar! Why would you hide an item like this behind closed cabinet doors?! [from M Loves M]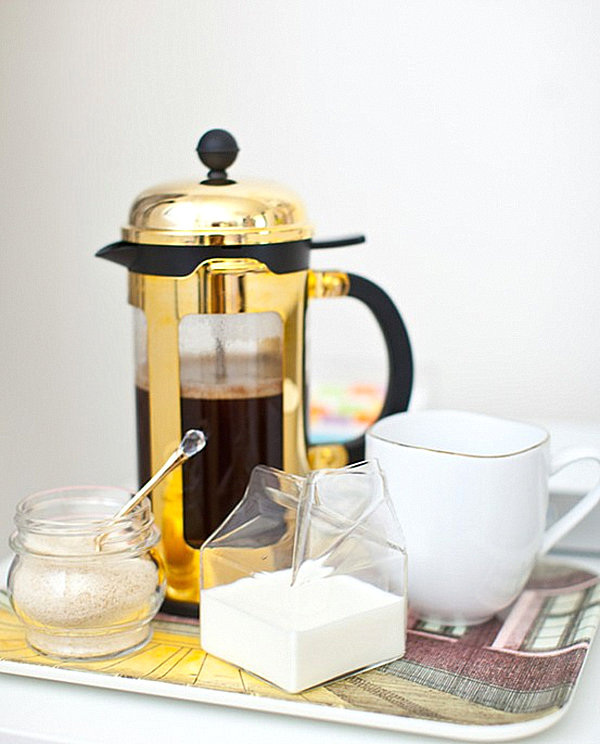 Don't forget that vintage coffee pots and tea kettles can make a strong statement in your space, even if they aren't in heavy use. One of my favorite kitchen items is an Art Deco teapot that I display on my shelving, along with the coffee press and glass teapot I use on a regular basis. It's the perfect artistic statement to tie all three items together! [from Lonny]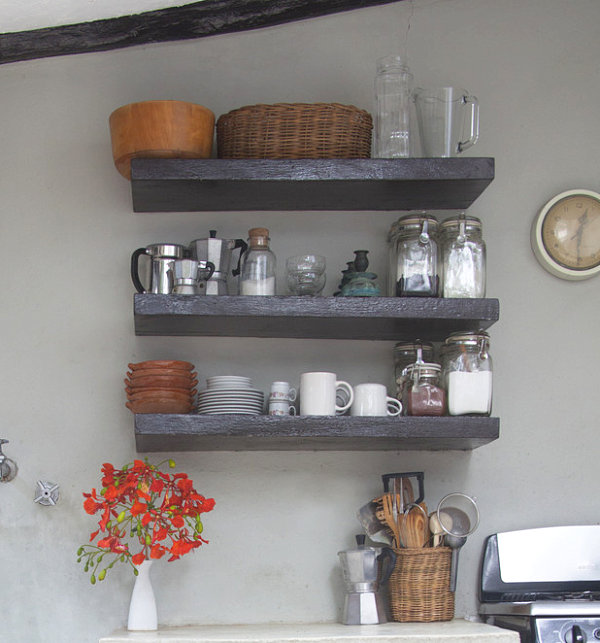 Containers Take Center Stage
Try and contain yourself. Or better yet, don't! Some containers are meant to be out in the open. For example, these red Rectangular Biscuit Tins from West Elm are the perfect blend of function and style. Display them wisely…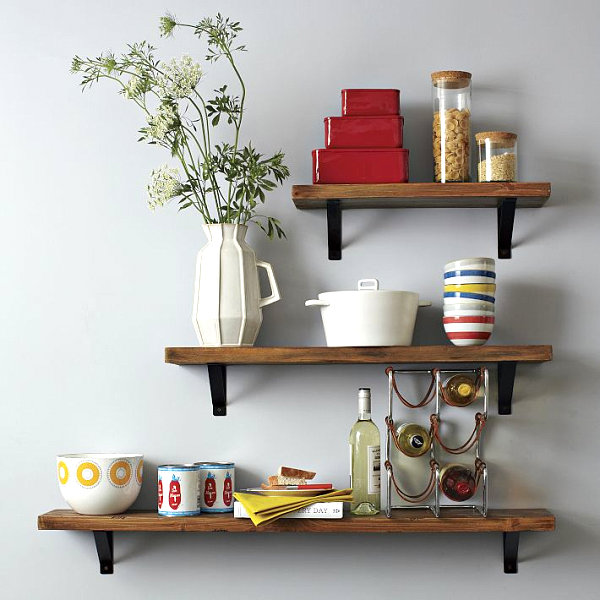 And I've never hidden my affection for stainless steel canisters, especially since they keep items such as flour, sugar and grains within arms reach. I'm partial to the ones that come with little attached spoons for easy scooping! [from Lonny]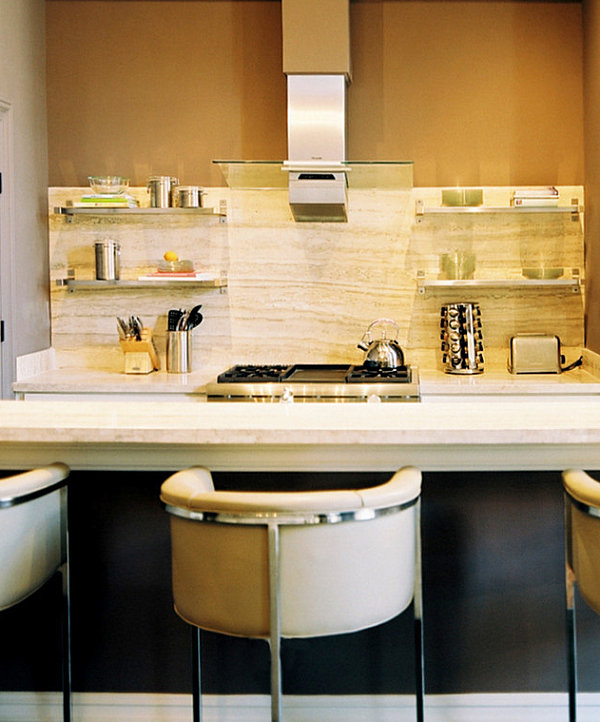 Kitchen Tools on Display
Finally, we end with gadgets and tools that hang on wall-mounted strips in a continuous line. Ladles, oven mitts, stirring spoons–you can keep them off the counter while making them a part of the decor. And there's something about the modern, industrial look that results from a collection of well-designed utilitarian items. [from No Drilling Required]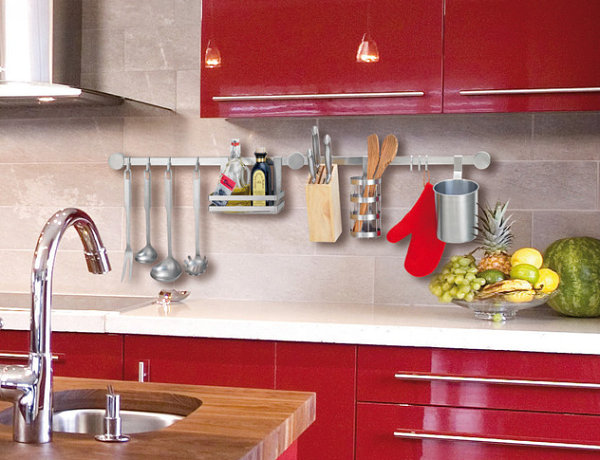 We see a similar (yet more sparse) look in the stylish kitchen below. White cabinets and black gridded tile–a backdrop like this was meant to be complemented by gadgetry in stainless steel, black and white! [from ADARC]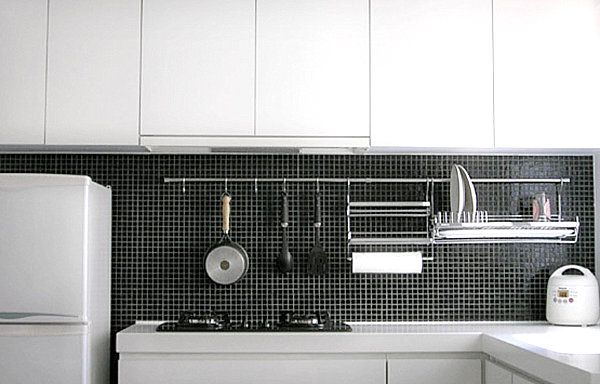 We end with one more kitchen that takes pride in the equipment it holds. We're loving this "hanging gadget" approach to galley kitchens, which are traditionally short on space. Note how a clean-lined display of pots and tools in rows helps the room to stay clean and uncluttered. [from Lonny]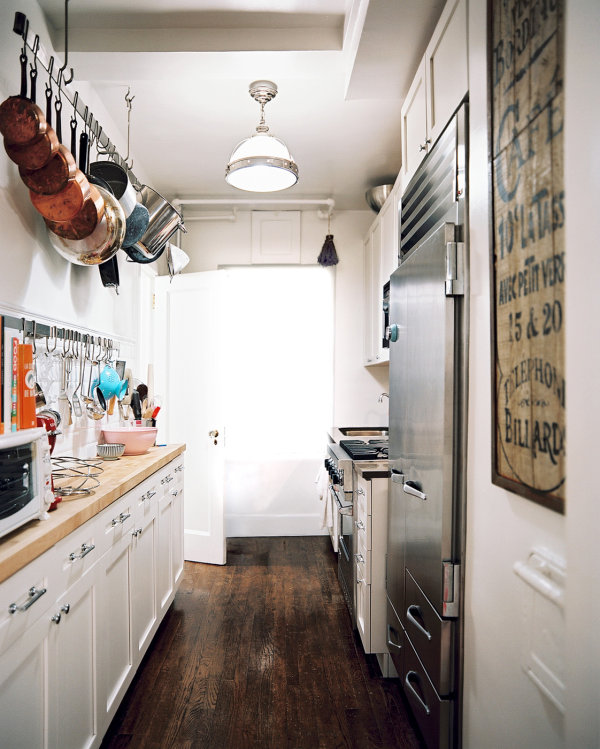 What shall we call this display-heavy approach to kitchen design? "Culinary chic"?! Whatever you call it, we're definitely fans! How do you add functional style to your kitchen? Share your thoughts by leaving a comment below…
Liked the story? Share it with friends.