Product and interior designer Philippe Starck shared some interesting predictions about the future of design while in New York in 2012. Addressing a small crowd in Manhattan that March, he claimed, "There is no future [of design]. When the product becomes bionic, in the end there is no product." Referring to the phenomenon as "the elegance of the minimum," he imagined that eventually we would all be implanted with microchips. In other words, we would become the product!
Okay, so it might take quite a few years for anything close to this predicted future to present itself, but what does all of this mean for the future of furniture? We've seen just how concepts like smart home technology are changing the design world, but how is technology changing the design of home furniture and the role of these products in our lives? Today we address these very questions by taking a look at some futuristic finds that may hint at what's to come…
When Furniture Accommodates Technology…
When you imagine the furniture of the future, you may envision slick or industrial pieces that resemble the set of your favorite science fiction film. But consider the possibility that instead of products looking more technological, furniture may be adapting in subtle ways to accommodate technology. And with electronics getting less bulky and more sleek, it would only make sense that home furnishings would follow a similar path. [image from The New York Times]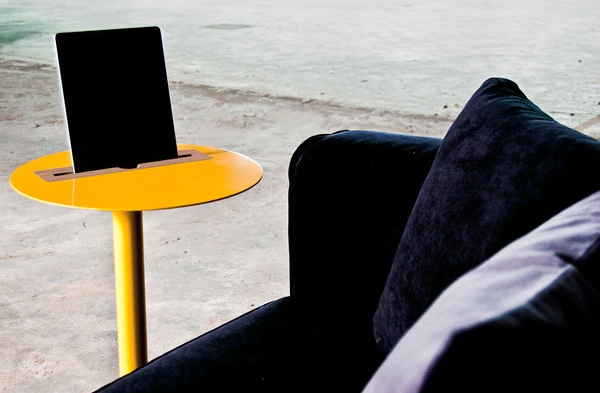 In other words, before we move onto furnishings that look like they came from the future, let's take a look at one way the future of furniture might present itself. As journalist Steven Kurutz has written, "As technology rapidly remakes most parts of our lives, the furniture industry remains largely slow-moving and low-tech."
The result: products based on tried and true designs, but with sleek forms and slight tweaks to make room for the increasing use of technology in our daily lives. For example, gone are the heavy entertainment centers of yesterday. Below we see the Pearson 72″ Media Console from Crate & Barrel. Crafted of walnut with a brushed stainless steel base, this piece prides itself on being able to hold the largest of plasma TVs. There's plenty of room for electronic components, as well as drawers for the storage of audio and visual media.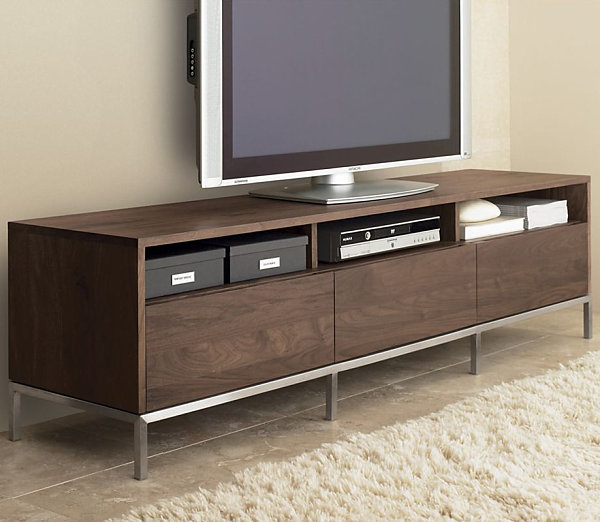 All in all, furniture design seems to be getting much more space-efficient, as well as open. And why shouldn't it? When it comes to today's electronics, there isn't as much to hide. This Sloane Grey Leaning Desk with 2 Bookcases from Crate & Barrel features a ladder-style design that's perfect for the display of decorative items. Does the desk portion need to be expansive? Not when a laptop is involved. All you need is a work surface! In the future, this surface may only get smaller as computers become more compact…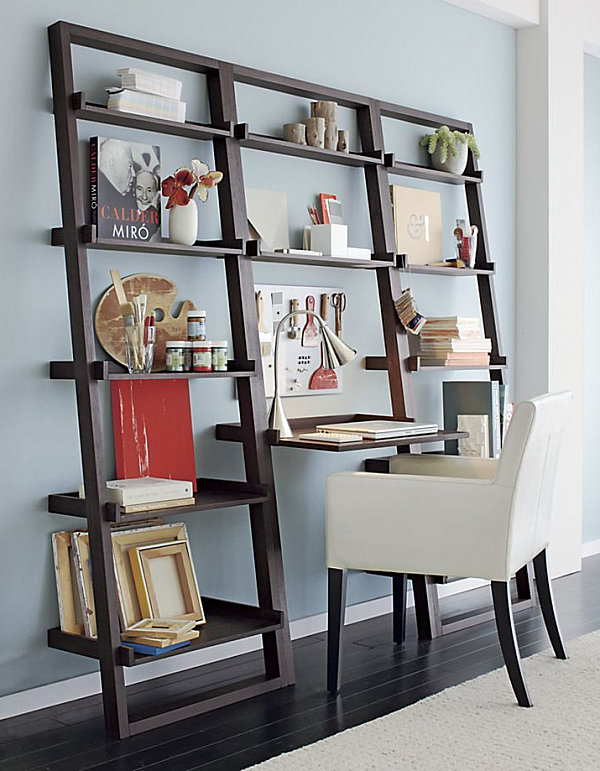 Speaking of compact, it's hard to top the Peekaboo Clear Media Console from CB2. A light and airy design gives it the appearance of floating. And we love how acrylic furnishings create the illusion of space with their see-through style. Would a piece like this have worked in the '80s? Absolutely not! But with the shrinking size of electronics, all you need is a bit of surface space and a lower shelf for storage, as shown below…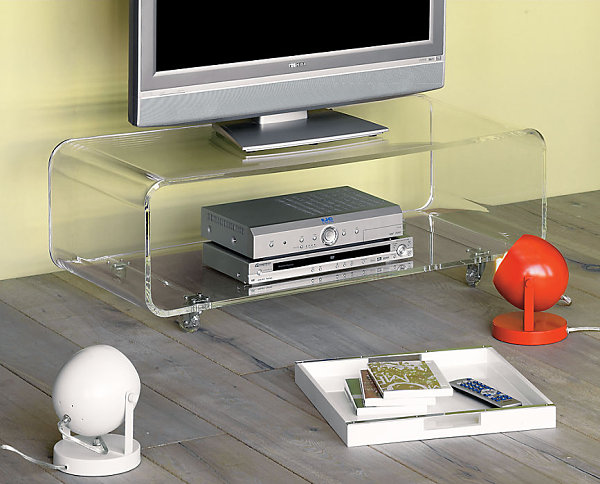 Even the larger, more "traditional-style" pieces reveal small tweaks that make room for technology. This Clybourn Desk from Crate & Barrel is handcrafted by a small Wisconsin woodworking company. Walnut and brushed stainless steel combine in a display of modern earthiness. Completing the contemporary look is a slide-out shelf with storage for a keyboard or a laptop….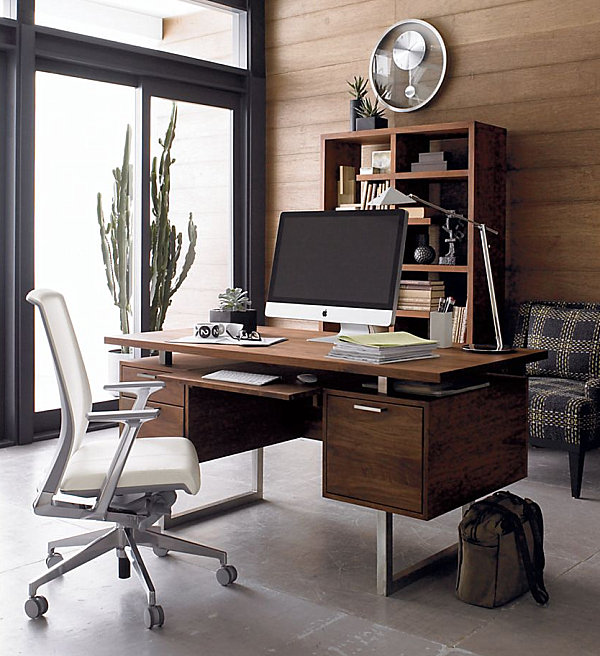 We now present the ultimate in furniture design that accommodates technology. In fact, this product was designed to incorporate a specific piece of technology… Introducing the AT-UM Horizon table by François Chambord in collaboration with Lenovo! This item is a desk, stand and easel in one, designed around the Lenovo IdeaCentre Horizon 27 Table PC. Not only can it be used as a traditional PC, it can also be used as a flat, interactive tablet for multiple people. [image from Apartment Therapy]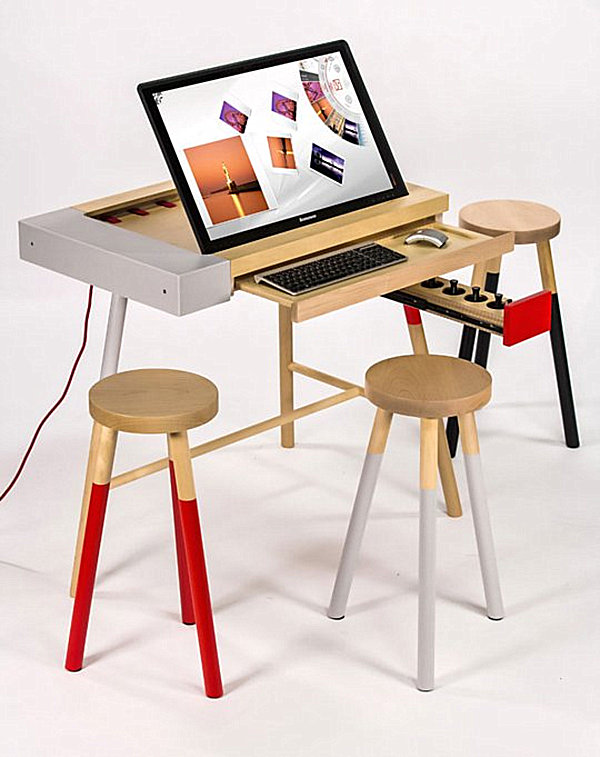 In a recent Lenovo blog post, Chambord shared his thoughts on the future intersection of technology and traditional home decor. He states, "The digital age is a reality. Devices and technology are less intrusive, and do not need to have a different look and feel from other artifacts in the house. More and more technology and computers will be integrated with more traditional designs and materials, yielding a style that will combine cues from the old analog world and cues from digital technologies, hopefully with a sense of playfulness." [image from UM Project's Facebook page]
 Futuristic Furniture
…And then there are those furnishings that look like something out of a sci-fi film. They're everything you've imagined and more when you ponder the furniture of the future, and they bring technology into realms where it hasn't gone before. For example, the piece below made its debut in 2009. It's the Hi-Can, a high fidelity canopy multimedia bed… [from If It's Hip, It's Here]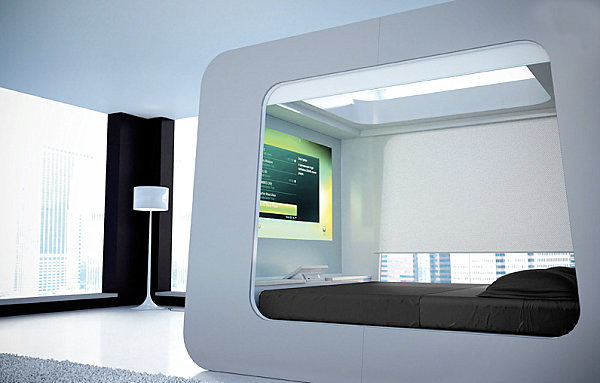 So what's the big deal about Hi-Can? Designed by Eduardo Carlino for Hi-Interiors, this furnishing allows you to enjoy the perks of being online–all from the comfort of your bed! Watch movies and play games, thanks to a built-in projector, projection screen, sound system and DVD player. Did we mention that the bed also features the Xbox 360? [from Blog of the Bedroom Sets]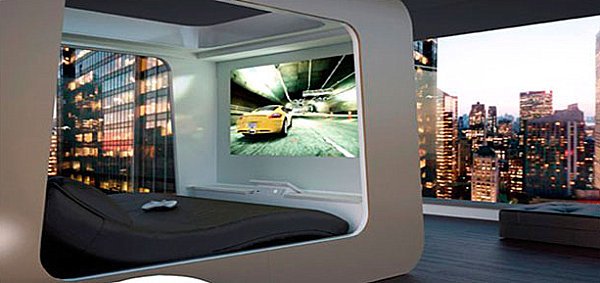 As it turns out, 2009 was a great year for futuristic furniture design! It also introduced the world to the Athena Sofa, thanks to the design genius of Switzerland's Artanova. In fact, a September 2009 Gizmag article showcases the piece, which incorporates a computer, a wireless MP3 player, an iPod/iPhone dock, a subwoofer and loudspeakers! [from Steve Park]

There's also a non-multimedia version of this sofa, which has a slightly different look. While the piece received a lot of attention, some have noted the fact that for the sofa's substantial price (over $15,000), you could purchase both a designer couch and designer electronics separately on your own. Then again, it's nice to have one piece that perfectly incorporates the technology that you need… Which sofa below is your favorite? [from Apartment Therapy]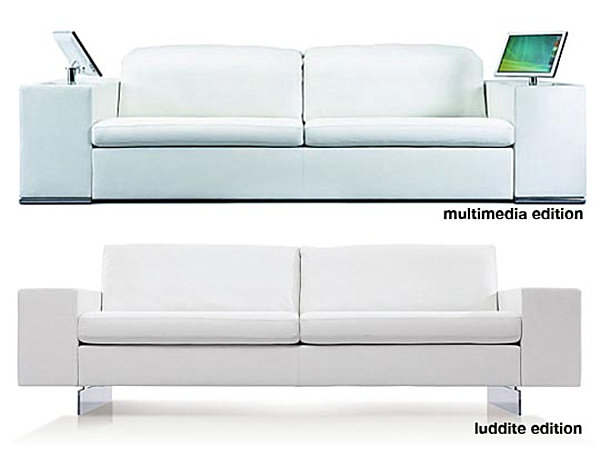 Sometimes the design of a furnishing mirrors the perfection of a well-designed piece of technology. We can't help but be mesmerized by the Volna Floor-Mounted Table by Nuvist. In fact, a piece like this can't be created without the latest in furniture technology. And it's hard to imagine anything more beautiful for the display of your favorite devices and gadgets…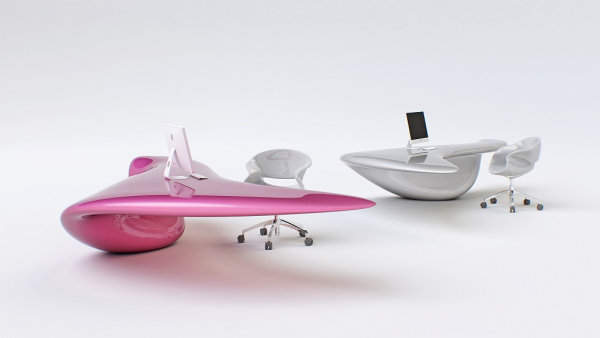 But a piece like this shouldn't be overloaded with clutter. Sleek design is also about a sleek display of objects. One monitor and one decorative item should do the trick, as shown below… [from Caspost.com]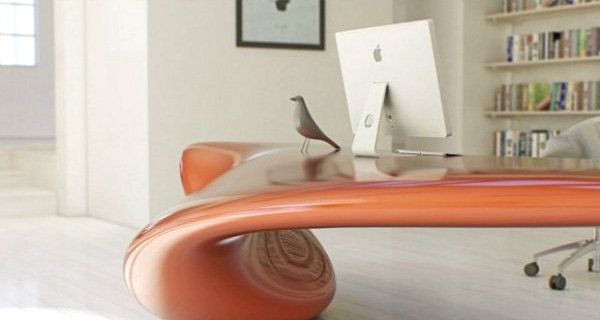 Time to get a little more outrageous! Meet Cocoon 1, which takes the concept of "living in a bubble" to a whole new level. A clear exterior is met with colorful interior pieces that fit together in Lego-like fashion. This item reminds us that in a world where technology increasingly connects us with others, it never hurts to have some personal space. [from Trend Hunter]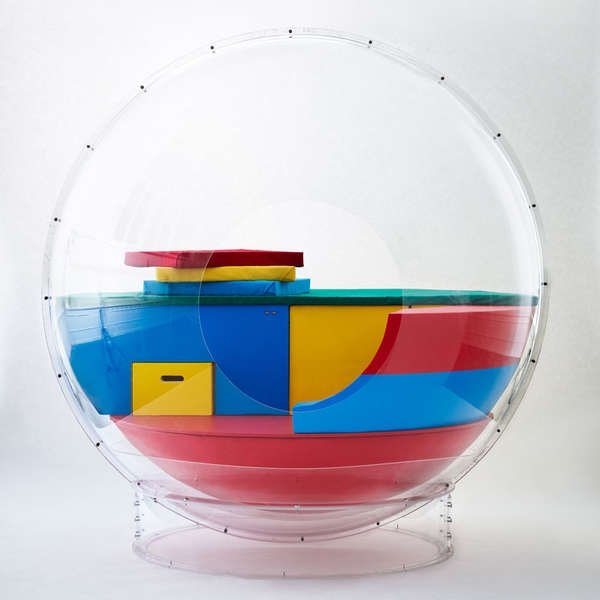 Micasa Lab refers to their spherical creation as "furniture you can live in." Maybe that's why you can purchase modules that add a stove,  faucet and sink to this orb… [from gizmag]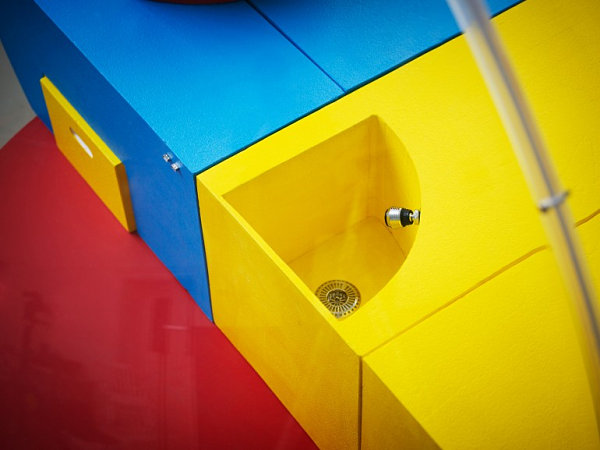 Our last featured product is a lighting item rather than furniture, but it celebrates the power of LED lighting in an innovative way. Say hello to the Vortexx Chandelier, which features two acrylic light spirals, as well as a recessed LED light strip that allows for programmable light sensations… [from Evolo]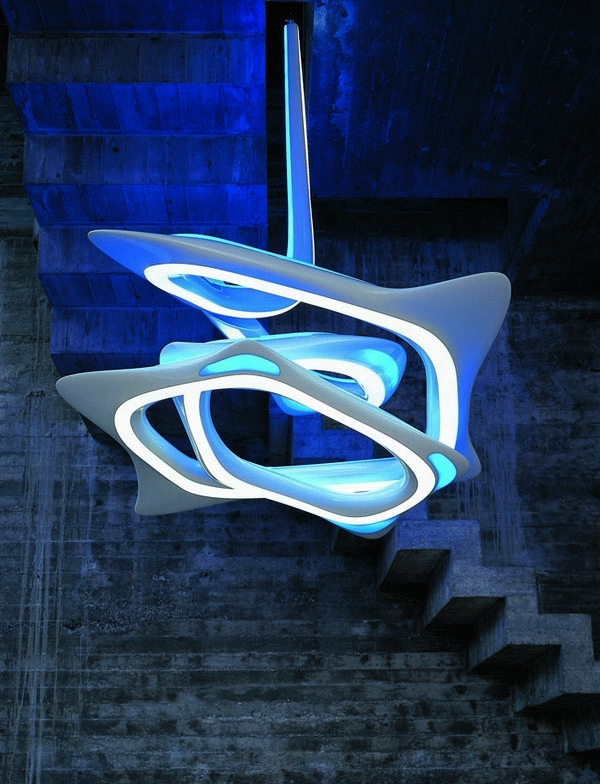 The piece is an amazing example of futuristic design at its finest, consisting of more than 60 individual mouldings that merge to form a string that is 12 m long. It also illustrates what happens when great design meets earth-friendly principles. After all, LED lighting lasts longer and saves energy. It's hard to imagine a future that doesn't involve the use of energy-saving technology! [from Evolo]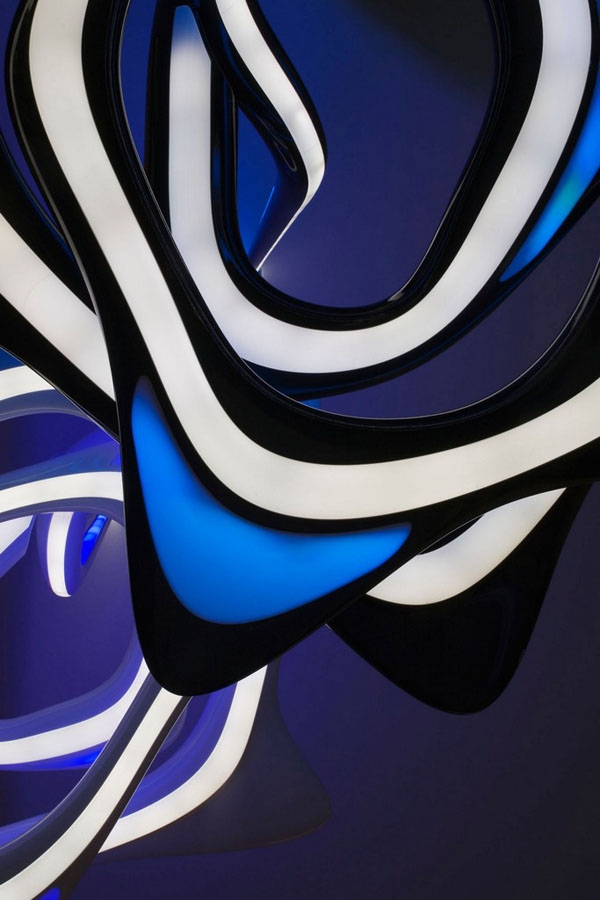 We know that furniture is evolving to accommodate very the technology that is becoming an all-encompassing part of our lives. We also know that technology is making the creation of innovative, futuristic pieces a reality.When you imagine the furniture of the future, is it dramatic in appearance, or do the pieces have a more subtle design? Share your thoughts and predictions by leaving a comment below…
Liked the story? Share it with friends.