Maybe summer is not the greatest period for makeovers… But if you are planning to refresh your home instead of going on holiday, you can easily enjoy it and adapt it into a wonderful time full of creativity! You will be proud of the results if you follow our tips for summer walls renewal.
Today we joined hands with our creative friends from PIXERS and came up with a few ideas that we hope will inspire your re-decorations this summer.
1. Brighten your walls with pastels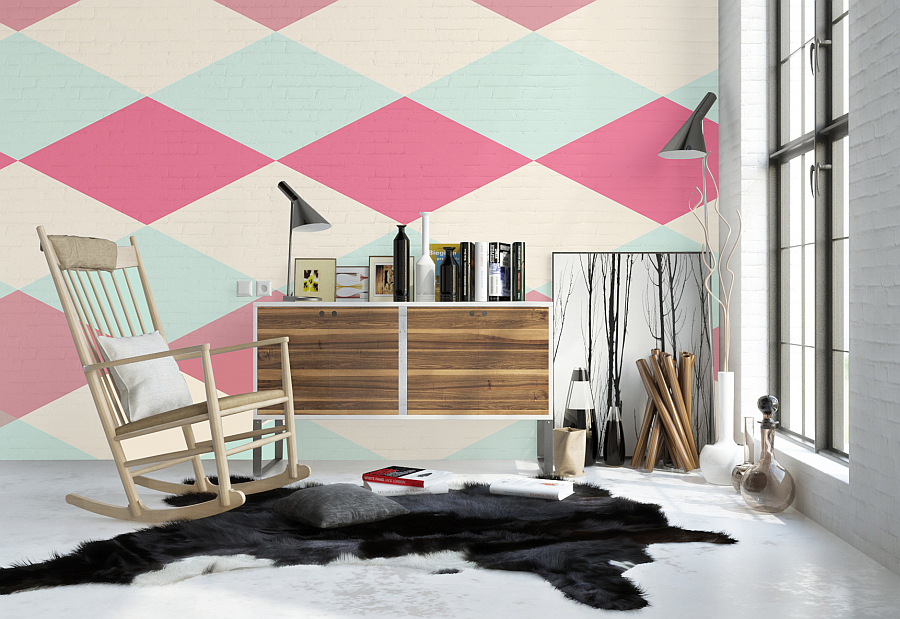 Light pastel colors are obviously an essence of every summer: summer dresses, pistachio ice creams, pastel balloons on pastel blue sky, and warm sun beams between all this. Pastel hues on walls will cool and freshen every interior with a wintry stroke – you will feel in heaven with this palette on walls. Such wall murals are an alternative for white paint, favorite color of minimalism-lovers. Sometimes it is really more intriguing and original to put white aside and try something new!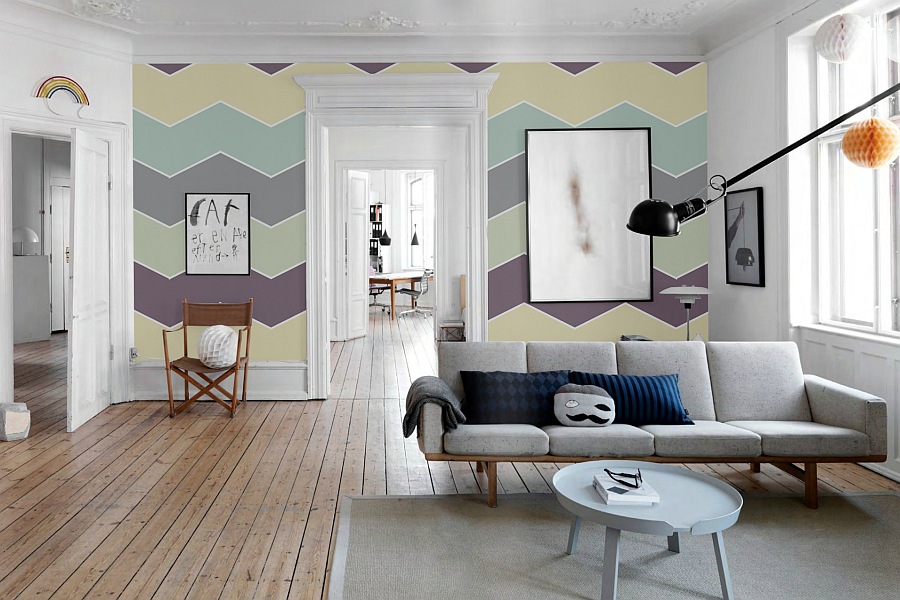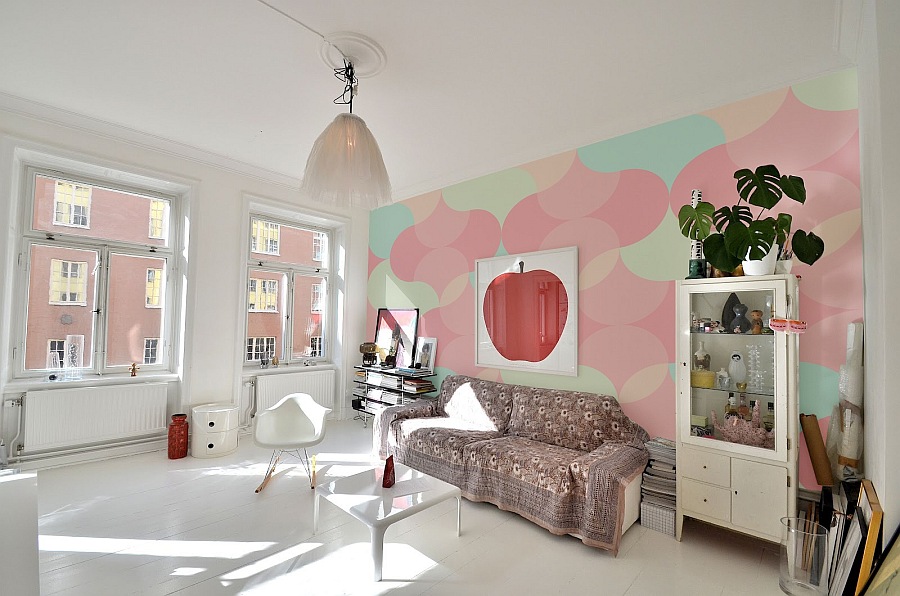 If you like to experiment with shapes you can use wall mural instead of simply painting walls with your favorite pastel color. It is recommendable for you to follow trends and try a little bit of extravagance: pastel wall murals with geometric patterns depicting minimalist style of 70's design.
Such pastel geometry will produce a real modernist "feeling" – especially when placed together with iconic designs of Verner Panton, Eero Saarinen, Eames Brothers or Arne Jacobsen. You can be sure that this will transform your room into a paradise.
2. Personalize your walls with wall decals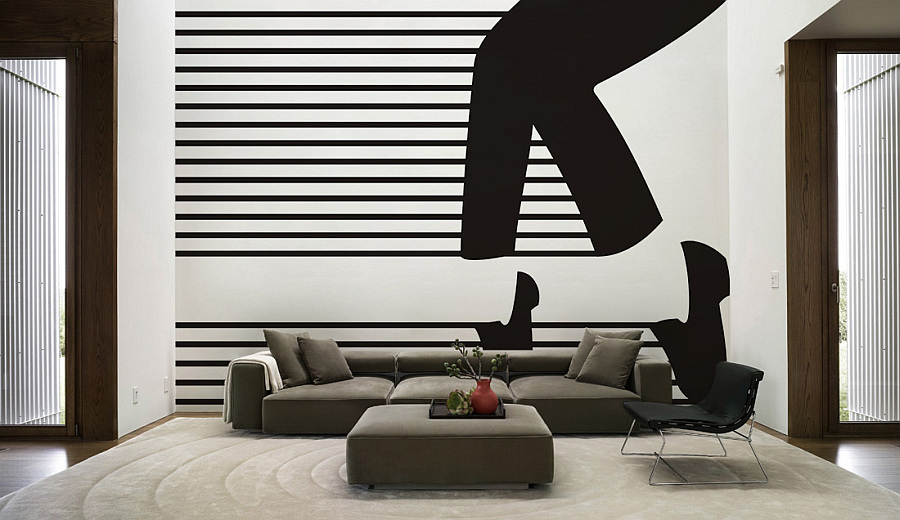 When you are too lazy to undertake a radical redecoration of your room, you can also use a stress-free and fast option offered by wall decals and stickers. Just peel and stick – if you are not sure what to choose just look for some inspirations, for example, in PIXERS online shop, where you will be lavished with bunch of interior design creative ideas!
You can choose from wide selection of options: from black, delicate silhouettes and simple geometric shapes to expressive and vivid neon motives that will create an atmosphere of real summer holiday in your room. It is though quite easy to find a motif that will fit to your style.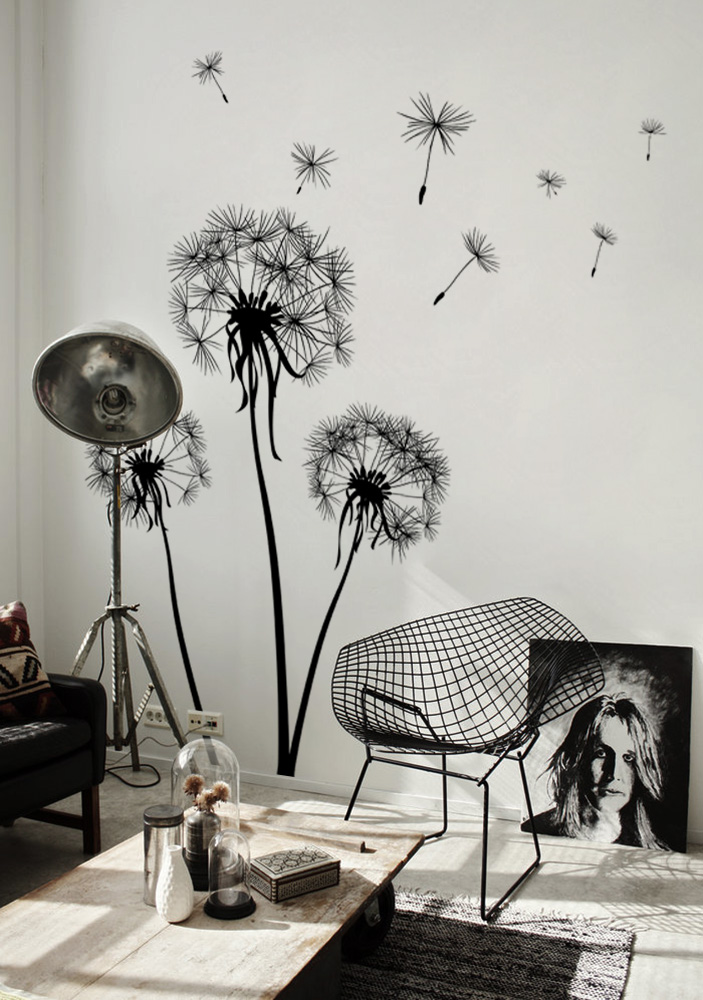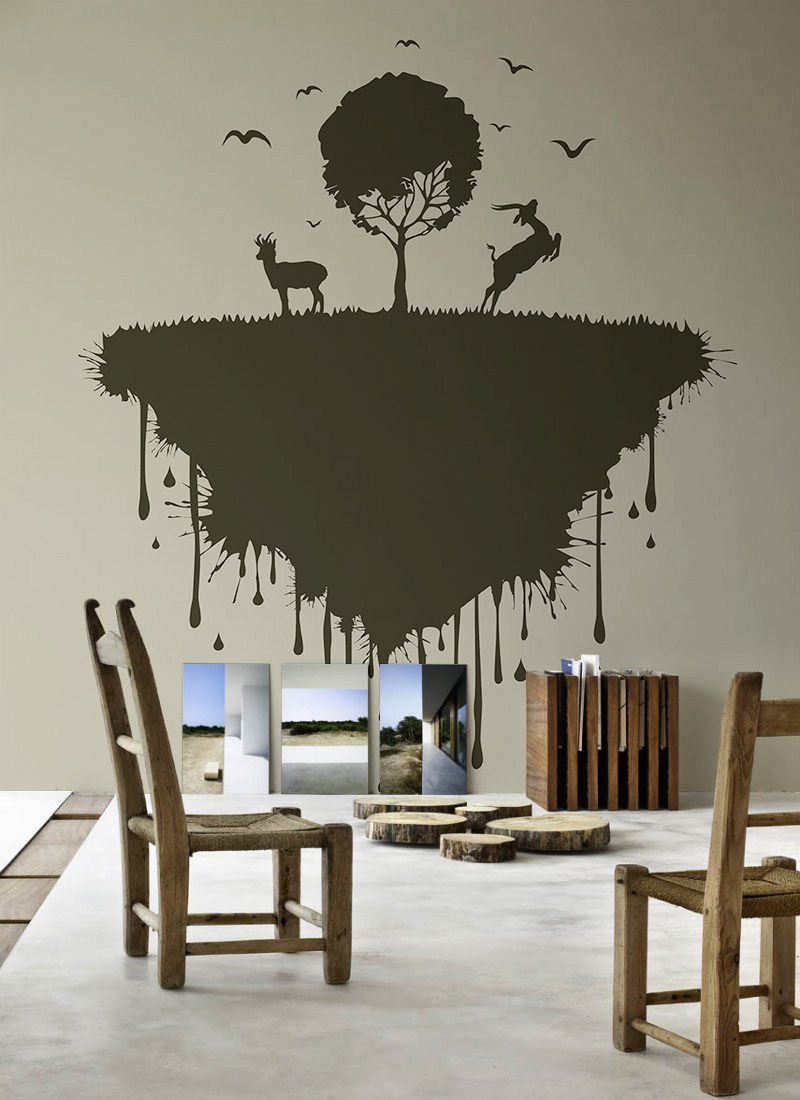 The advantage of self-adhesive stickers and decals is that you can put them not only on the wall, but also customize your furniture or even the ceiling (!!!). If your furniture is heavy, it will be difficult to transform the interior without an emphatic change. In this situation, you should think about stickers that can easily make the wardrobe or commode a little bit less conspicuous.
And – last, but not least – according to some researchers, we spend almost one third of life lying down, so it's worth to take care of the beautiful views also in this position, especially because it helps not only to relax. Often, while staring at the ceiling, we come up with the most brilliant ideas. It would not hurt to stimulate the mind with interesting images.
3. Make your walls glow!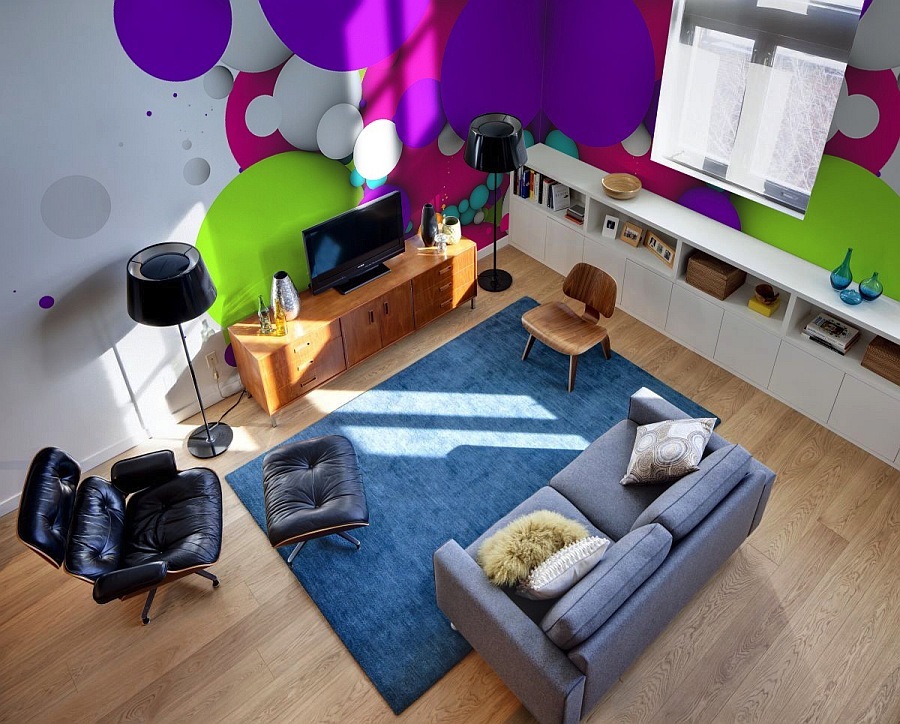 Bright walls are something essential during hot days of summer, when everybody is looking for a little bit of shadow. But you can also make your walls glow with neon wall murals and decals. It is a wonderful solution if you want to make your wall a truly remarkable part of your room. It will stand out if you use wall decorations in vivid colors that are reminiscent of disco fever nights.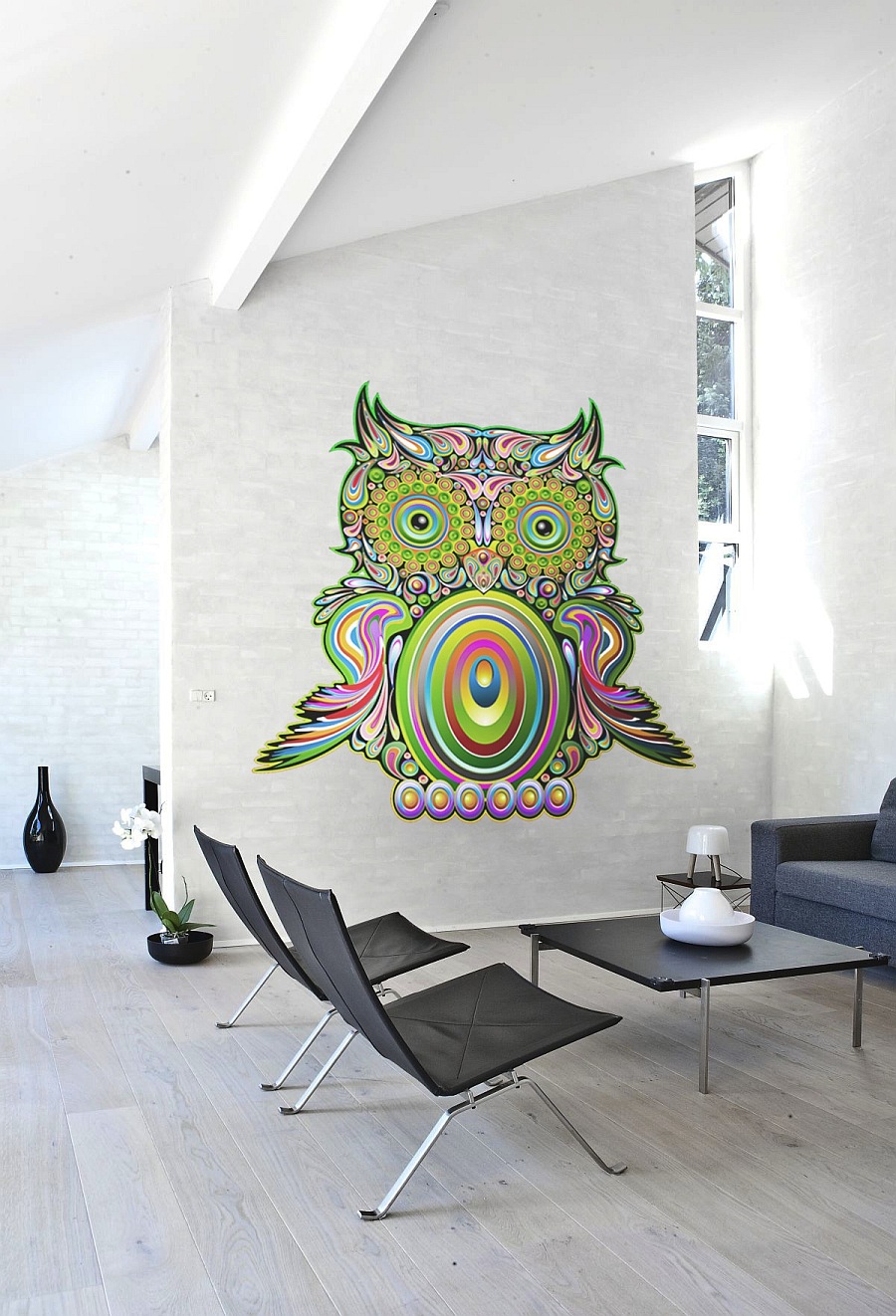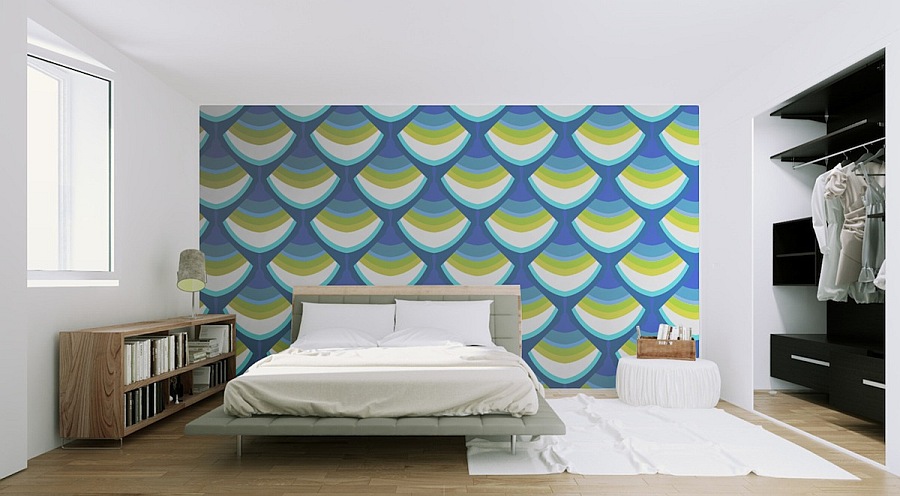 Recommended especially for those who like summer raves and will rather enjoy summer parties than lying around on a beach.
4. Enlarge optically your room with mesmerizing wall mural
You can also easily deceive your eyes with properly selected photography for your wall mural. If you choose a wall mural with a proper architectural perspective or with a representation of forest, you will be stunned by the results.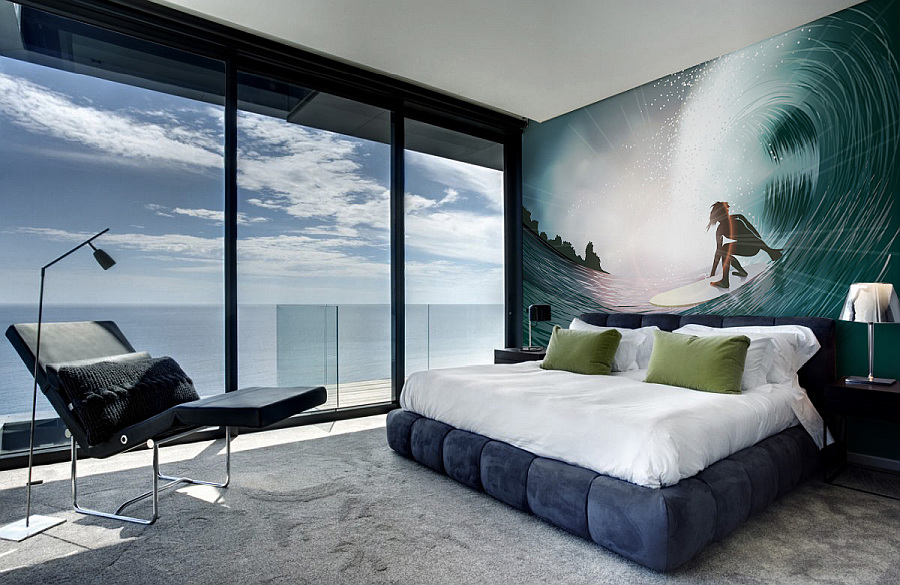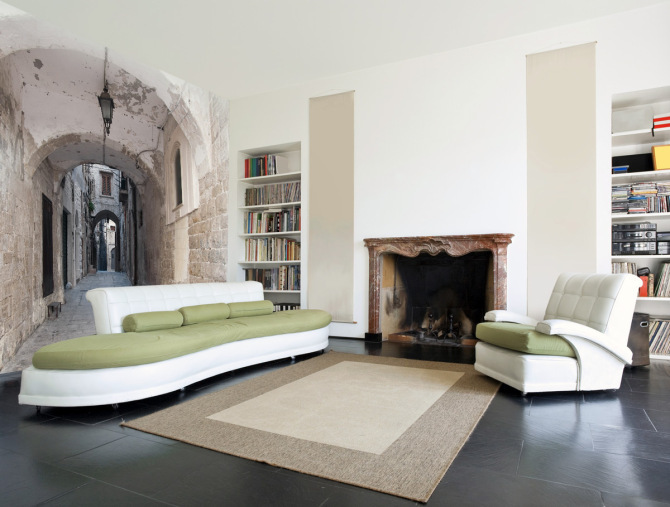 5. Go back to the roots – use lurid folk patterns
While folk motives seemed to have been in decline during the last season in interior design, there are still some great possibilities of inspire yourself with folk art. Believe it or not, those kinky flowers and birds are not just for crazy folklore lovers! And, what's more, they can be used not only as pattern for dowdy shawls and skirts, but also, in macro version, on walls, preferably white ones.
To prove the worldwide fascination and long-lasting fascination with folk art, let us just mention that during EXPO 2010 in Shanghai the pavilion that attracted the majority of the audience and journalists was the Polish Pavillon designed by the trio of architects: Wojciech Kakowski, Marcin Mostafa and Natalia Paszkowska. The whole coverage of the building was based on the cut-out motif – the modern technology let architects cut off the details of fine and, at the same time, tough material of the external layer of the pavilion…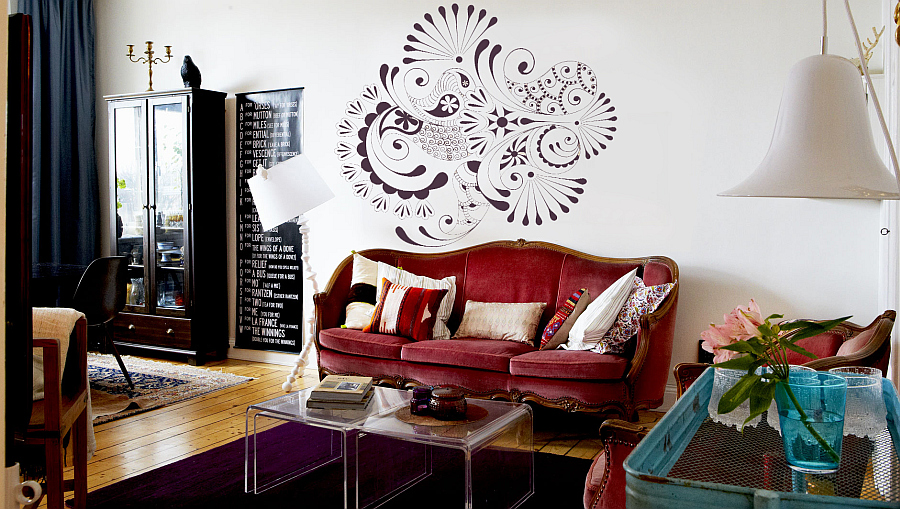 Remember then: stickers and wallpapers with details taken directly from the folk artist's wardrobe fit perfectly in the modern interiors, as well as in the cozy rooms full of colours. Modern folk is the folk which is tasteful but not necessarily moderate – every considered exaggeration has its own charm!
6. Hide from the world in your own world covered with window film
Window stickers are a quick, affordable and effective way to decorate windows. They are often treated as an alternative to curtains and blinds, because they also protect against the sun and prying eyes. Their advantage lies in the fact that, unlike them, window stickers let in the light, so they don't totally darken the room and you will be still enjoying the sun without any obstacles.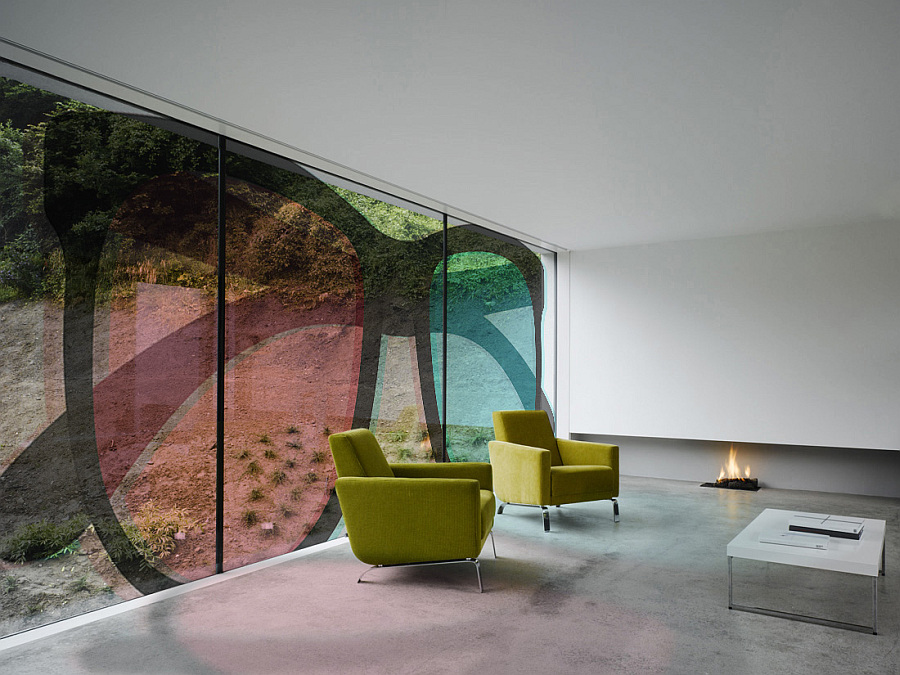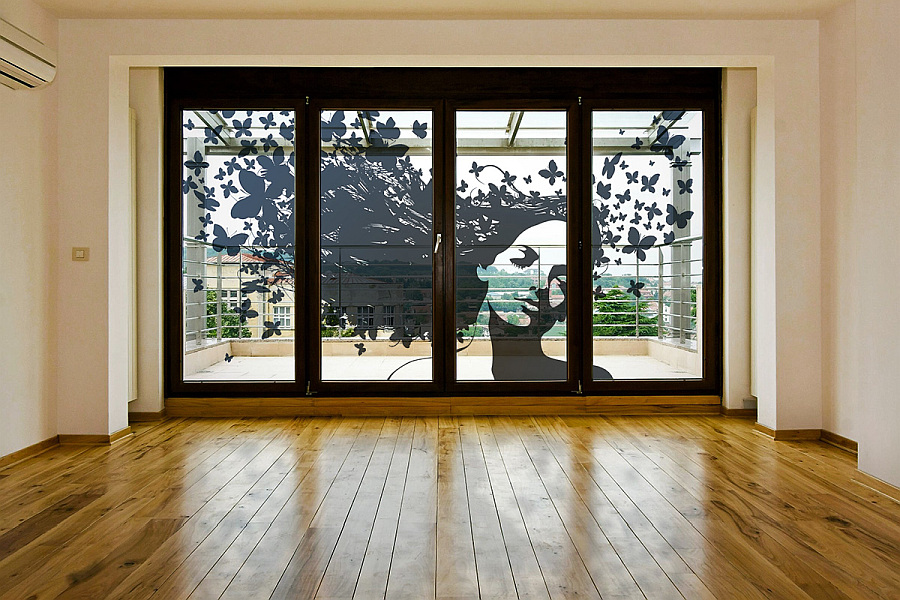 Window films expose perfectly both large and small windows, but you can also use them to adorn other glass surfaces, such as tables or glass fronts of the furniture. You can try to put in on the wall too! Just make sure that the surface is smooth and bright. The effect will surprise you.
7. "Plant" some grass in your office
For those who are so busy that cannot afford going on holiday: bring holiday into your office and experience summer ambient for the whole year long.
Grass, as a symbol of harmony and development, works great in office spaces. The green colour relaxes your eyes, refreshes your mind and inspires. No matter whether you work in a corporation, or independently at home office, it has a positive effect on your productivity and stimulates brain cells. Moreover, it adds energy and clears the mind marvellously. Green is the colour that you should definitely have in mind while decorating the workspace.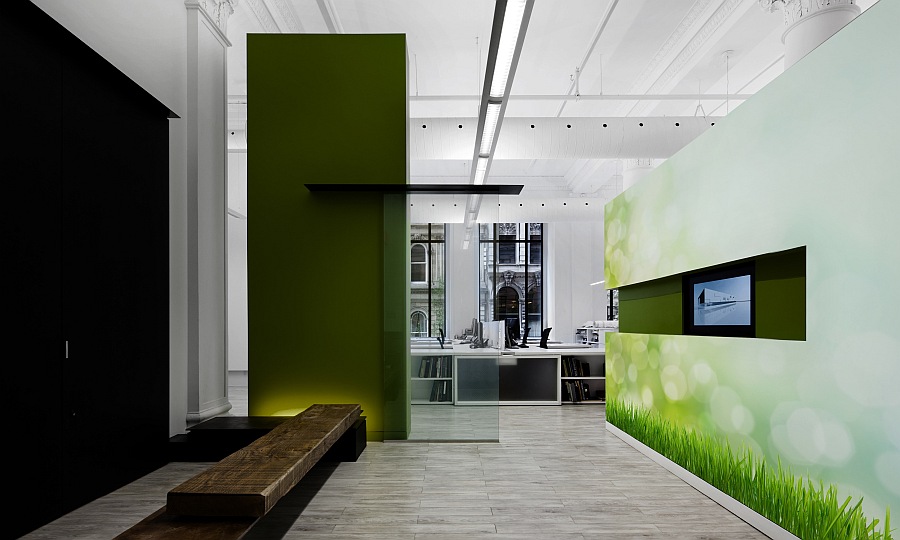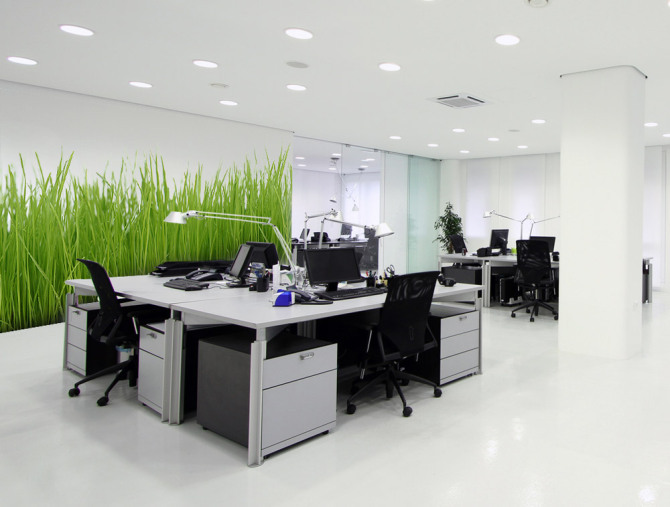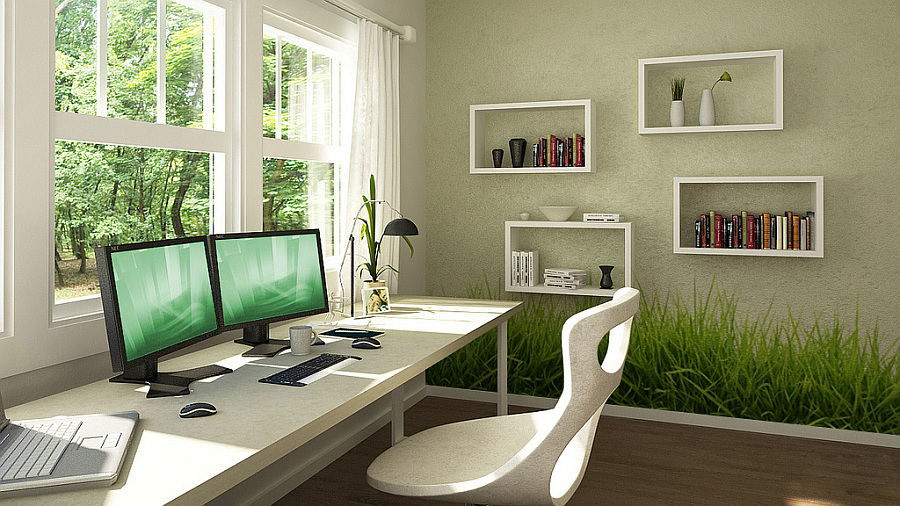 Luscious green grassy wall murals and stickers will convert your room or office in a pleasant meadow. Grass on wall looks great both as an additional decoration or background, for example for furniture, and as the dominant design element.