Are you contemplating a water feature for your modern yard? You're in luck! Today we've rounded up the 12 best images we could find to help with your search for ideas. Looking for technical details about installing a garden pond? Consult an expert for that information. Today it's all about the inspiration, and we've got some great pics to get those creative juices flowing!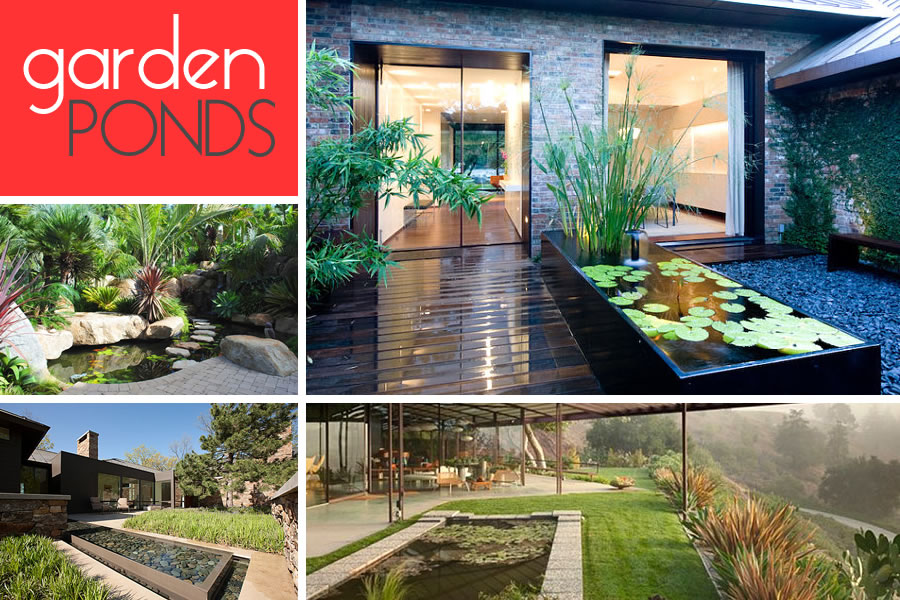 In fact, through the images that follow, we explore the use of stone, water and plants as key tools in the creation of a memorable garden pond. There are many things to consider when pondering the installation of a water feature. Of course, there's the budget. Yet there's also the design of your garden and pond. Is there a particular shape that interests you? Will your garden pond feature stepping stones? Will it be surrounded by plants? Check out the images below, then tell us what you think at the end of the post…
Stone and the Modern Pond
What would a pond be without stone? And there are many uses for this material, including the containment of water and the definition of the pond's shape. We can't help but love the sleek form of the garden pond below, which makes use of clean lines and right angles. [from Behr Construction Company]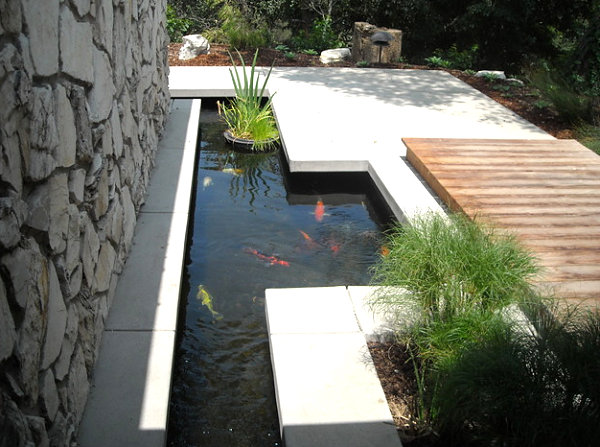 The San Francisco pond below showcases a different use for stone–stepping stones, that is! These stepping stones seem to float on the water, yet they are supported by poured concrete bases. They provide a steady path across this contemporary water feature while adding visual interest. [from Huettl Landscape Architecture]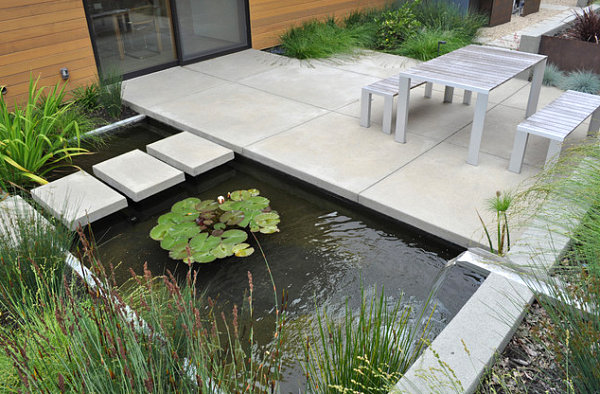 Speaking of stepping stones, they have an amazing ability to unify a space, even an incredibly grand one. Grass and water are united by a line of rectangular stepping stones in the sprawling yard below. We're loving the way they allow pedestrians to "walk on water." [via Houzz]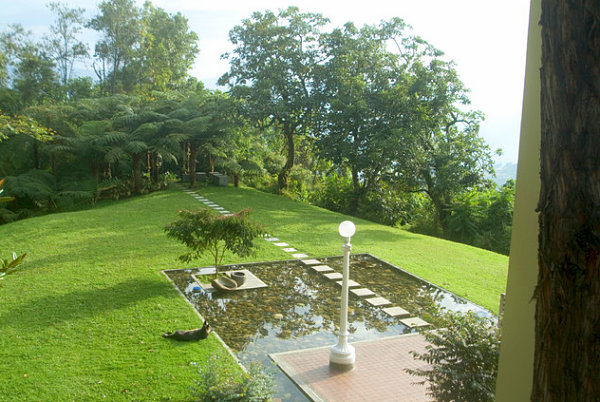 Stepping stones can even serve as the focal point of your water feature, especially if they spread across the surface, as shown with the hopscotch-style display below. Is this a pond or a stepping stone collection? Either way, it represents design perfection… [from Nature Designs]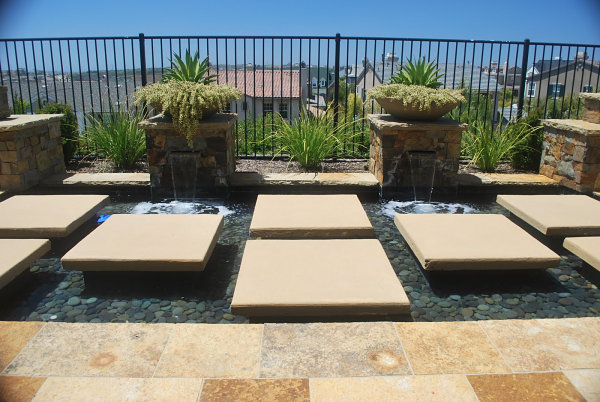 Don't forget about the use of stone in the form of pebbles! Note how the large pebbles below fill the bottom of the water feature, creating a smooth bed of rocks while celebrating a sleek gray palette. No plants are needed here–the stones say it all! [from Rugo Raff Ltd. Architects in collaboration with Hoerr Schaudt Landscape Architects and Leslie Jones & Associates]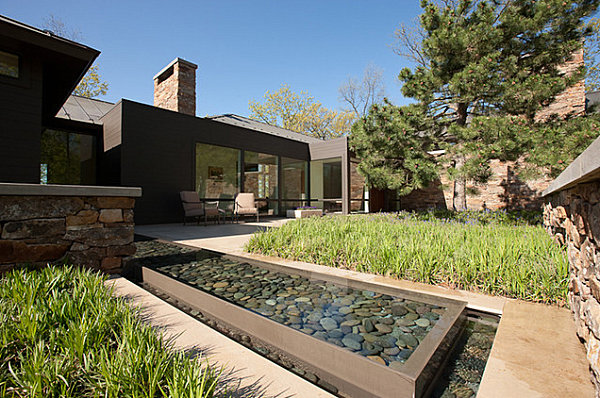 Flowing Water
Does your pond need flowing water? It certainly prevents the water from getting stagnant! And there are many ways to incorporate the flow of water, including a waterfall effect created in part by an indention in the ledge of the pond, as shown below. We also can't help but notice how modern design meets the wildness of nature in this water feature vignette! [from Huettl Landscape Architecture]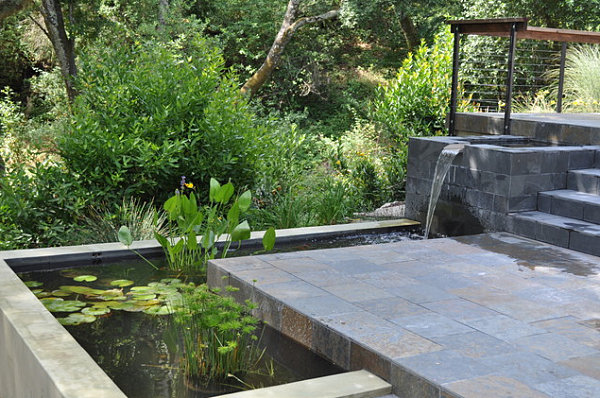 Let the water pour from pipes! That's the strategy for this next water feature from Big Red Sun. Note how skinny the "pond" is. But it's more than enough space to catch the flow of water and create a stunning modern statement!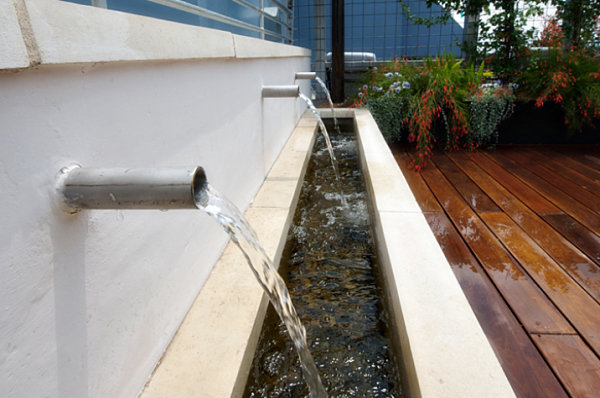 Don't Forget the Plants
Stone is a key ingredient for a garden pond. But remember that plants can define the space as well. Asian style meets English garden flair in the water feature below. Note the use of lush plants and interesting greenery, such as grassy Miscanthus (second from the right). We also find the segmented pond design to be quite alluring… [photo by Robert Trachtenberg for Garden Architecture]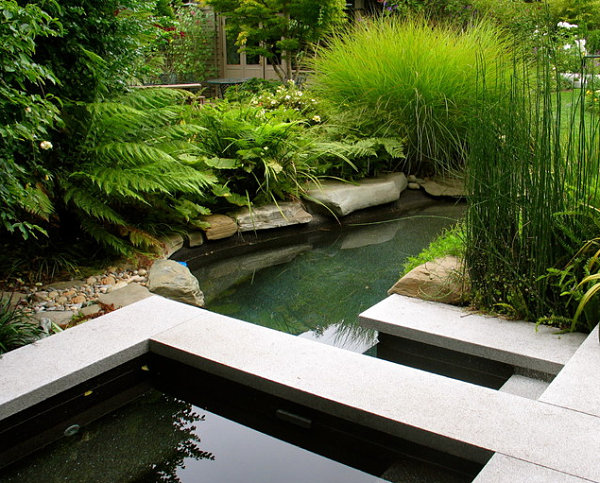 A touch of the tropics can be found in the next image, thanks to an abundance of plant life. Palms grace the rocky landscape, providing privacy as well as beauty. [from Nature Designs Landscaping]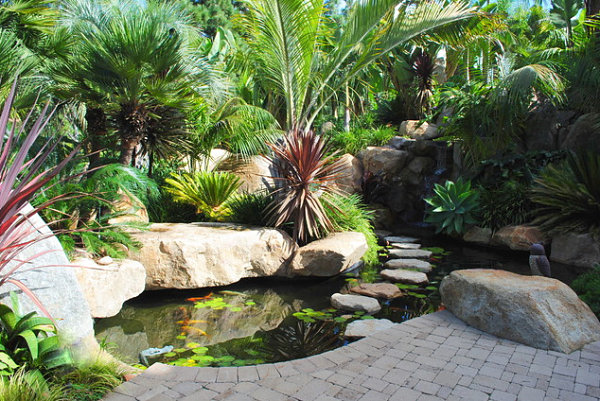 When the greenery is this lush, the pond must be filled with it! The ultra-green lawn below provides a verdant backdrop for this Ojai water feature. And then there are those stunning plants, which give way to natural landscaping on the hillside. Yes, the plants truly rule this space, but that doesn't mean there isn't plenty of room for the pond to shine! [from Big Red Sun]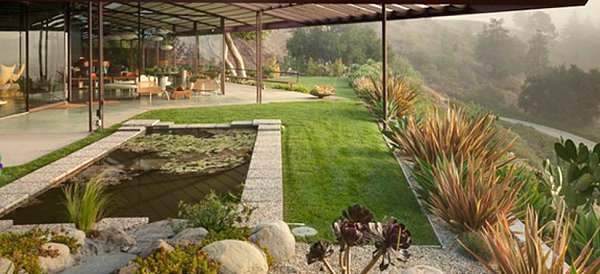 Unique Garden Pond Designs
We end today's post with two unique pond designs that can't help but make a splash. The artistic water feature below consists of a round form and an abundance of colorful tile. We wonder if this was a salvaged piece… [from Big Red Sun]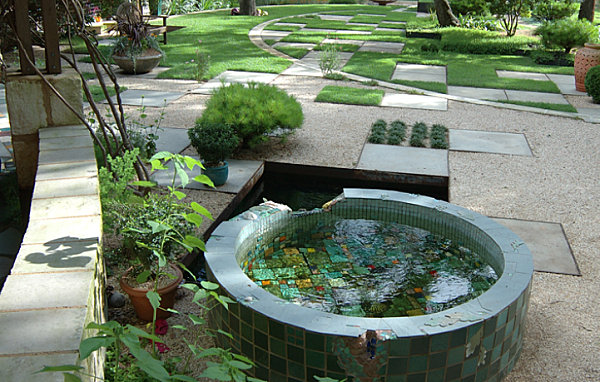 Sometimes getting creative is the answer to your pond design dilemma. The water feature below is made from a custom-designed planter. Note how it's raised from the ground, creating another level of greenery for this outdoor space. Lily pads are especially enticing on the glassy surface of the water, especially since you don't have to stare all the way to the ground to see them! [from Bercy Chen Studio LP]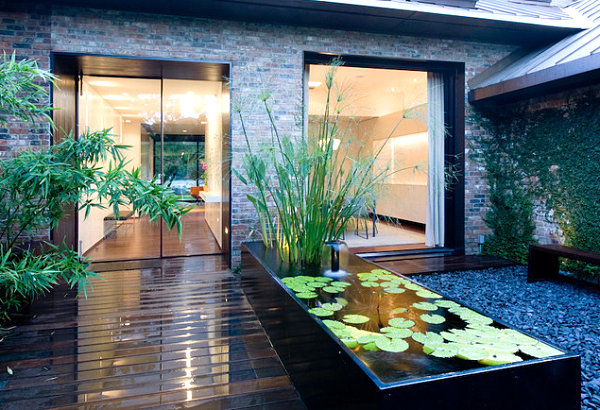 Did you notice that the majority of today's featured ponds involve straight lines rather than curves? Do you prefer square and rectangular water features, or do you enjoy the look of a round pond? Which of the images above caught your eye? Share your thoughts by leaving a comment below…