For some, jewelry is for locking away and securing, out of sight and out of mind until it's time to wear. If you have a hidden jewelry box, you know this philosophy. For others, jewelry is for displaying and integrating into the decor of the home! It's this second option that we profile in today's post. After all, if you've got it, flaunt it, right?!
You can keep priceless baubles in a secure location if you wish. But sometimes it's fun to make your less formal pieces a design-happy part of your interior. If you're a DIY-er, you'll find several projects in the mix to get that creativity flowing.
Jewelry Trees
We begin with jewelry trees, which help to create artistic displays of strands and bangles. Some enjoy making the jewelry tree a centerpiece for a powder room, closet or dressing area. Below we see a DIY jewelry tree made from branches and twigs, twine, and other supplies. Check out Mr. Kate for all the details: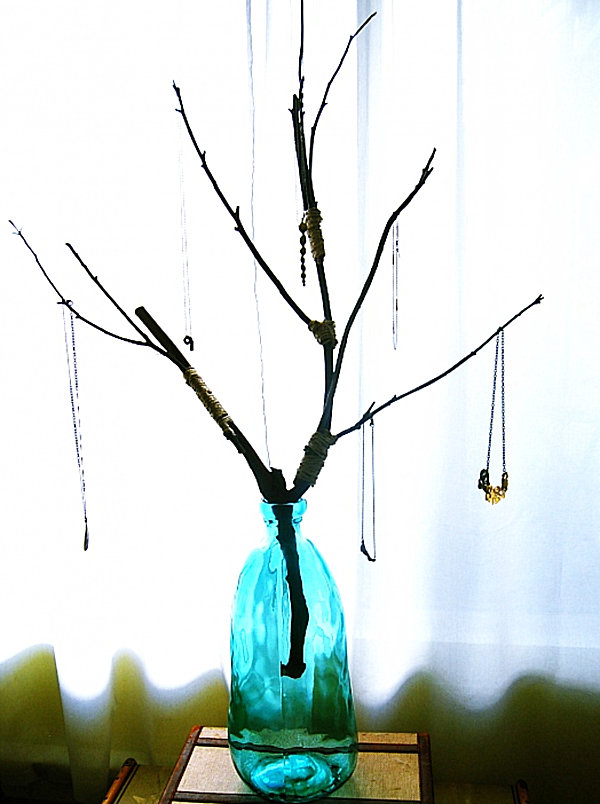 Don't forget that you can spray paint your jewelry tree to give it an extra special shine! This next project (featured in a previous Decoist post on DIY jewelry organizers) is as easy as placing a few subtly painted branches in a sturdy vase. Check out all of the design details at My So Called Crafty Life…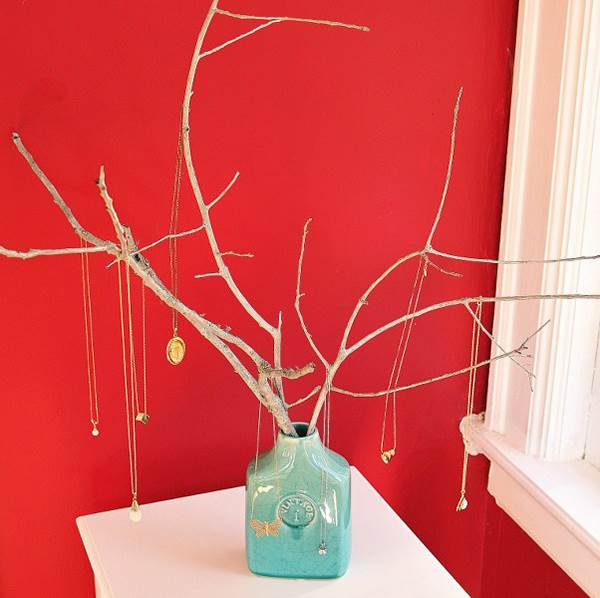 Perhaps spray painted branches are the way to go! In fact, this next DIY jewelry tree from Centsational Girl is crafted from painted oak tree branches. A delicate look and a multitude of places to hang jewelry from necklaces to bracelets are highlights of this finished product. For details on how to craft the base and more, check out Centsational Girl.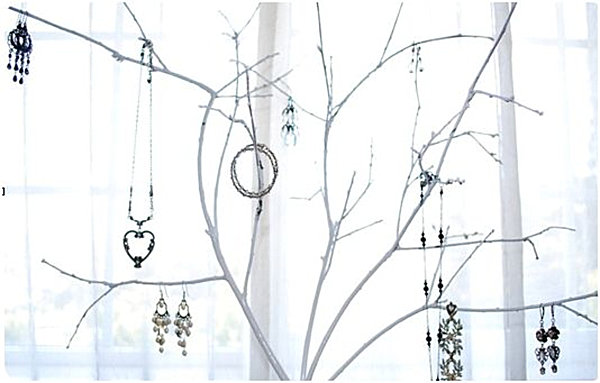 Are you a fan of the smooth, sleek look of Manzanita? Rhis DIY Manzanita jewelry tree may very well be right up your alley. A modern look is achieved, which is the perfect contrast to the ornate jewelry this item holds. Check out My Right Brain for all of the DIY details, then head over to Hollywood Housewife to see how one blogger envisioned the project, as shown below: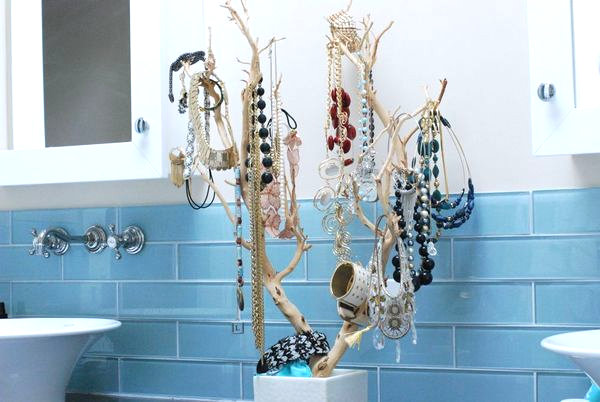 Next we turn up the color with this Tall Manzanita Jewelry Tree from Etsy shop Red Bark Designs. A vivid shade gives this jewelry display option the look of coral, and an abundance of branches makes it perfect for larger jewelry collections. While this particular tree sold, the shop has many more designs to choose from!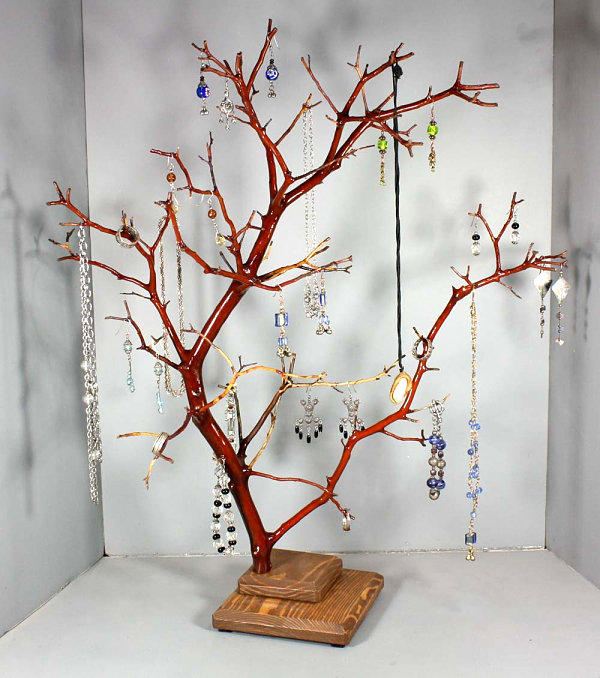 Jewelry in a Bowl
Next we showcase a jewelry display technique that makes your most beautiful pieces a part of the decor. In fact, designers such as Nate Berkus are big fans of this strategy and frequently use it as a way to maximize the effect of trays, bowls and other stylish smalls. The key often involves choosing a few special pieces to showcase, taking their impact on the room at large into consideration. Below we see an ikat bowl from Anthropologie cleverly filled with bangles and integrated into the decor of a master bedroom. [from Centsational Girl]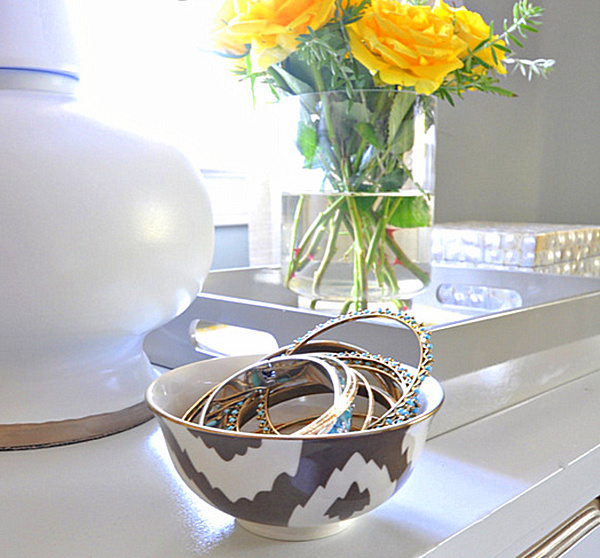 In fact, ikat bowls are a popular choice for jewelry collections, as shown in the next image, which features the same bowl shown above! This time the jewelry displayed is in the form of rings rather than bangles. These rings appear in a cluster, yet somehow each piece makes a big impact! [from Style of Sam]
Also from Style of Sam and Anthropologie is the vignette in the next featured image, which cleverly uses a teacup to hold small jewelry such as rings and earrings. What goes in the cup itself? Perfume samples perhaps… For more great jewelry storage details, check out Style of Sam: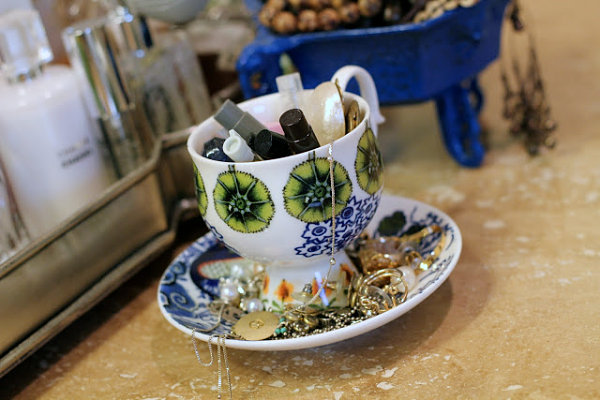 We're loving the innovative display below, which makes use of a bowl's edge for the hanging of earrings. This is one way to ensure that your baubles don't get tangled! Plus, the earrings have an interesting decorative effect on the bowl, don't you think?! [from Fresh Coat of Paint]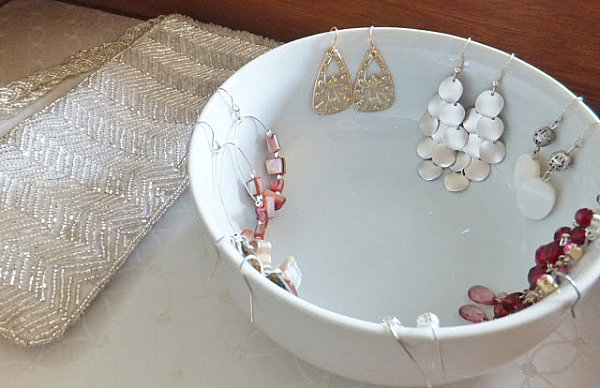 It appears that the display receptacle below is more of a dish than a bowl, but the same principle applies. Check out the soft bands of glass that carefully frame the jewelry collection. It's interesting how rings of color enhance rather than fight the jewels that they embrace, likely due to the strategic selection of pieces for the center of the dish. [from Fit Fab Cities]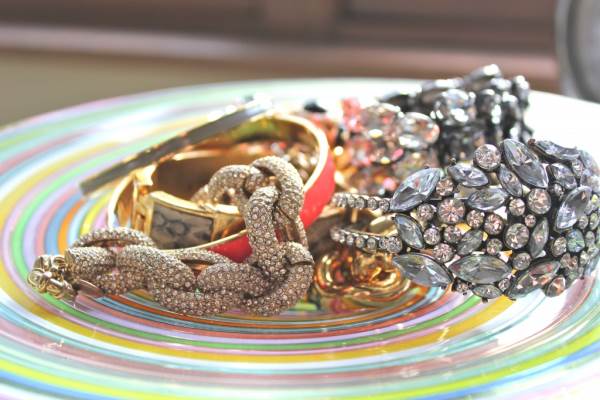 Framed Jewelry Displays
We now spotlight the power of the frame–can you think of a better way to put a stylish border around your jewelry collection?! Take some time to paint and/or distress the frame of your choice. Then make sure the inside is filled with a material to which your jewelry can easily adhere. Check out the use of wire mesh in the next featured image, then get the DIY details at Eternal Eden: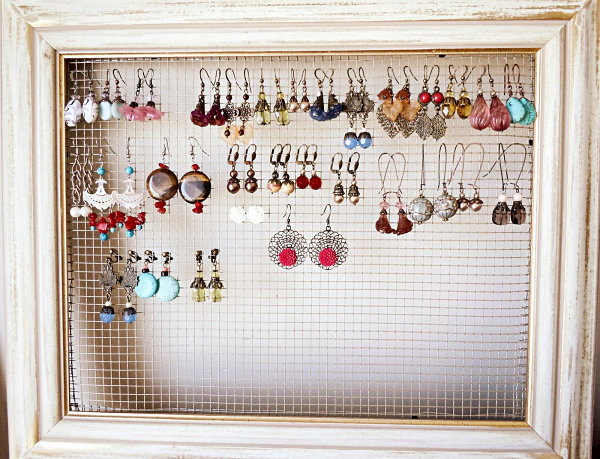 The metallic filler in the jewelry frames below conjure the geometric patterns of tile work. These unique display items were showcased on Texas Farmer's Daughter, and they are also available for sale in the blogger's Etsy shop. There's no shame in purchasing your framed jewelry display piece rather than making it yourself, especially when the results are this stunning!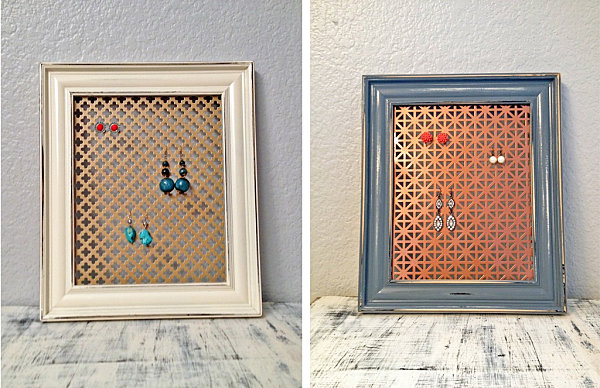 We're loving the modern look of this next frame, which features soft blue, white and red on the sturdy fabric in the center. In fact, these hues stylishly anchor the earrings that fill the space. [from Billie Monster]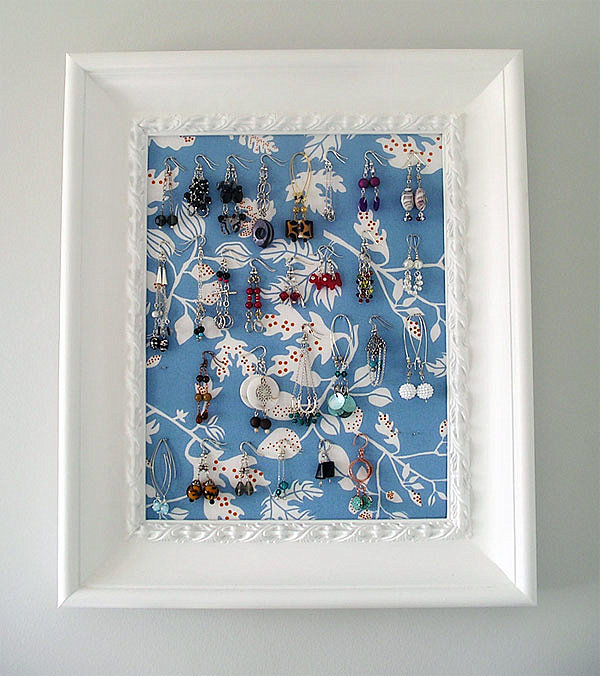 For a vintage look, select a floral fabric in striking shades such as peach and green. The Mod DIY Jewelry Organizer below is crafted from a frame, fabric, and pearl pins, among other supplies. It's the perfect backdrop for jewelry such as pearls and vintage brooches. Check out the how-to at Story by Modcloth: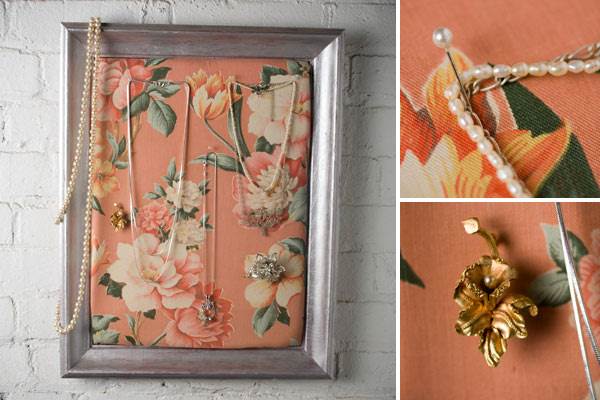 The framed jewelry displays in the next image remind us that you can enjoy using more than one frame, taking the opportunity to group jewelry by type. Necklaces look clean tidy when hanging next to other necklaces, don't you think? [from diycrafts.blogspot via T & J Designs]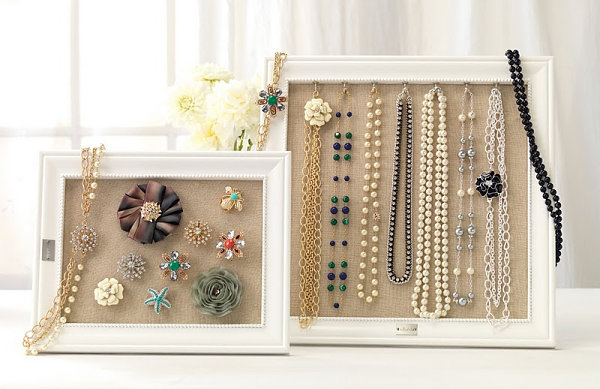 Unforgettable Jewelry Storage
We end with a series of jewelry storage and display solutions that will knock your socks off! Who wouldn't love the built-in jewelry case in the roomy closet below? Note how translucent doors make each piece visible. And did you notice the watch display case by the mirror?! [from The Interior Place]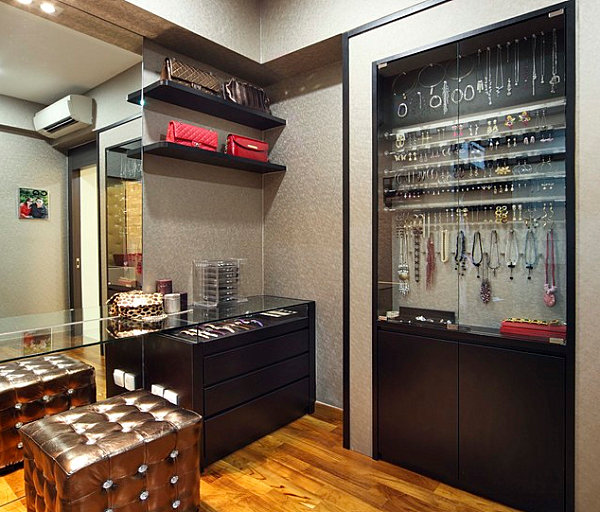 In another closet from The Interior Place, we see a freestanding jewelry display case in the center of the space. The effect is museum-like. At the very least, retail-like in the most glamorous of ways!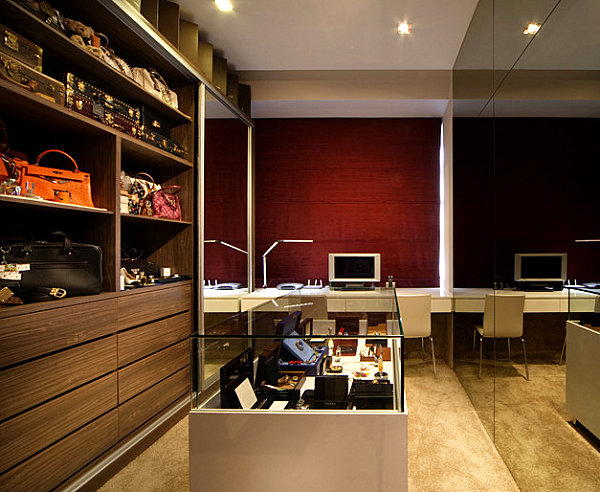 Don't have a decadent closet with built-in jewelry display options? Don't fret! You can make your own display area using a few stands, as well as a mirror that serves as a central focal point. Colorful, stylish and powerful! [from Astleford Interiors]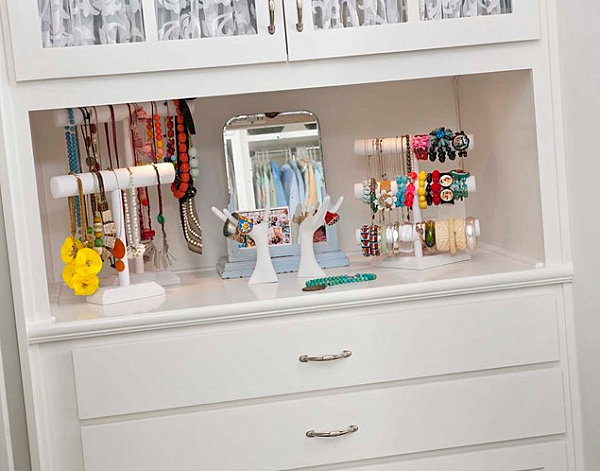 The image below reminds us that jewelry can be elevated to the level art when displayed on the wall with other framed pieces. Especially when the jewelry is carefully selected on the basis of color and style, as shown below. The textures and forms of the necklaces are a welcome addition to this eclectic space from Nubi Interiors: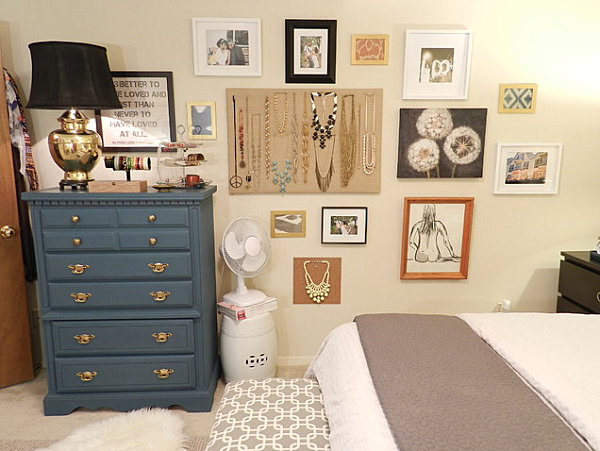 Let's hear it for the minimalist design shown in the next featured image! Trays are the perfect backdrop for a jewelry collection. Note how the pieces are arranged and combined with a variety of fabrics for an artful presentation. [from A. Malson Interior Design]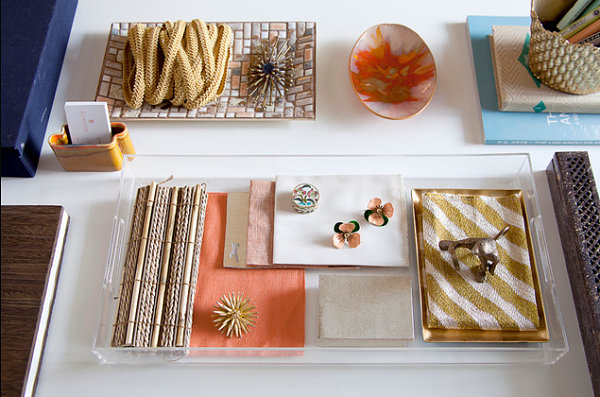 Do you have a jewelry storage and display technique that maximizes function and style? Tell us about your creative solution! Share your thoughts by leaving a comment below…