If you're like many people who long for more balcony space, take comfort in the fact that you're not alone. Considering the millions of individuals who live in the world's biggest cities–often in multistory dwellings–you can bet there are some amazingly creative balcony decorating solutions out there. Today we showcase a collection of them for your inspiration.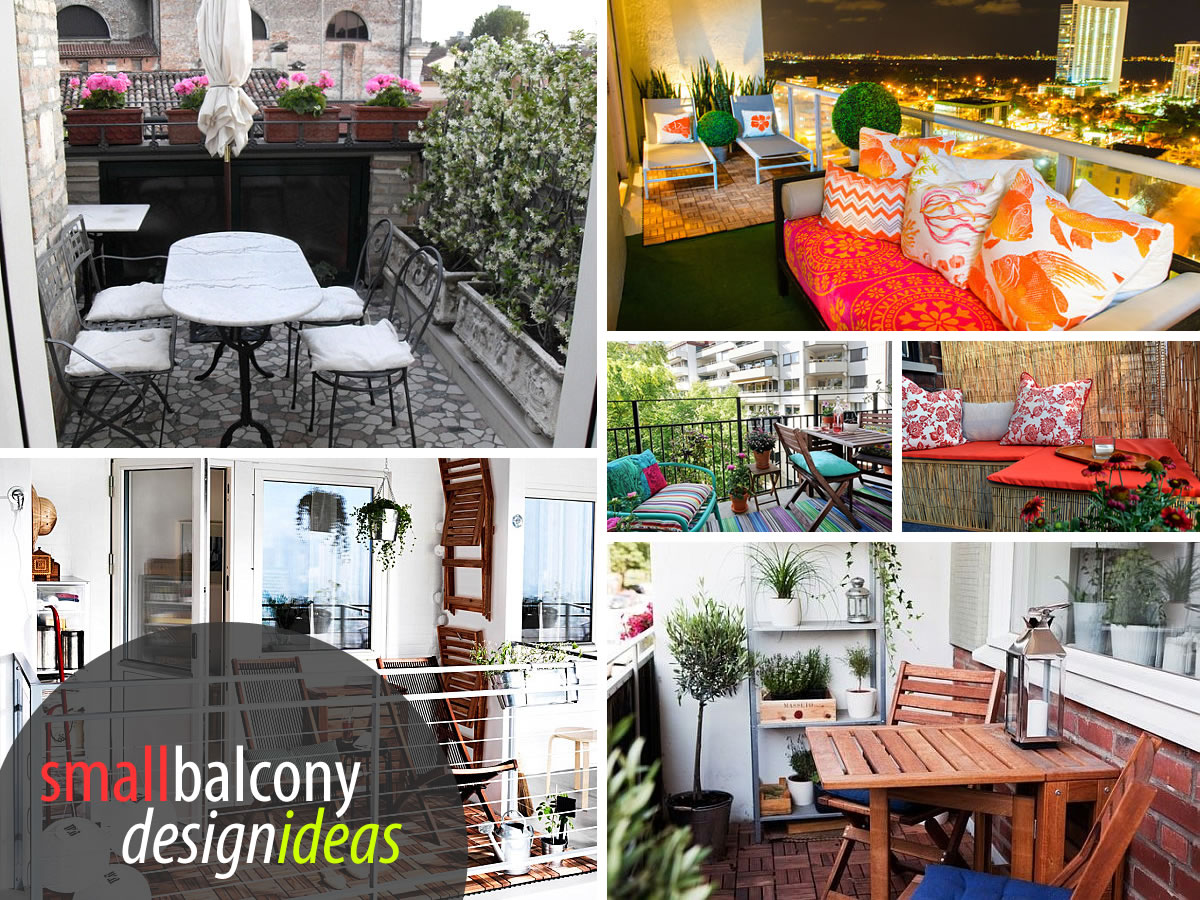 Whether you live in an apartment with a tiny balcony or you reside in a home with a compact second-floor outdoor space, the images below will give you a slew of clever ideas for you try out on your own. It often all boils down to plants, comfy seating and a solid design. Believe it or not, maximizing your space doesn't have to be tricky. And don't get caught up in the mindset that your balcony is too small to enjoy. If everyone with a compact balcony thought that way, the world would be deprived of some amazingly innovative outdoor spaces…
It's All About the Plants
The key to creating an amazing outdoor space: signs of the outdoors! There's nothing worse than a bare balcony. Yet if you bring the plants a few stories up from the ground, your balcony will have an element of natural beauty that reinforces the wonder of spending time in nature. Below we see a collection of potted plants on a small balcony. Not only do plants add an element of privacy, they bring a sense of color and depth to the space. [from HomeMyDesign.com]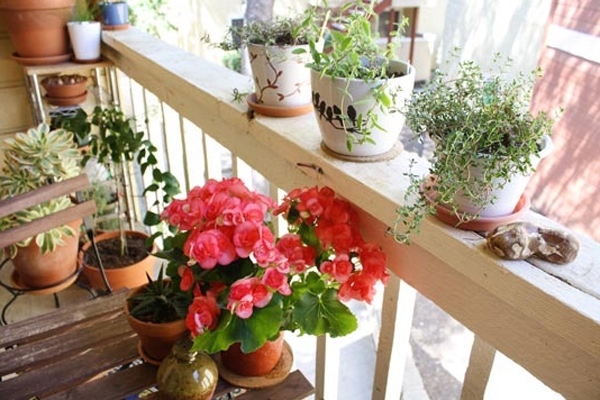 In fact, this balcony celebrates plants from floor to ceiling. Speaking of the floor, below we see tiers of plants, from greenery displayed in a plant stand, to a violet selection on a folding table, to a cactus that rests on the ground. Tiers of plants create the illusion of being in a decadent garden. Then again, why shouldn't your balcony be its own decadent garden?!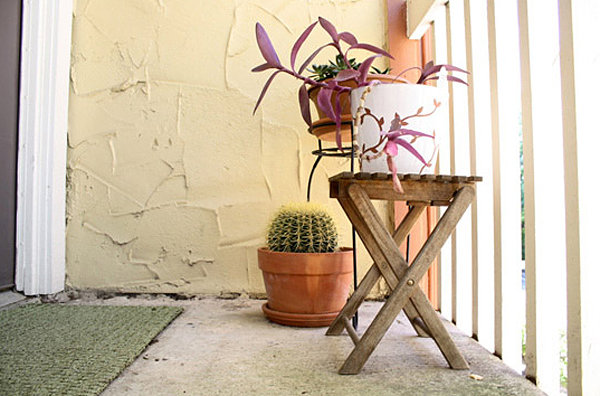 Sometimes just a few carefully selected plants can make a big statement. In the Moroccan-style space below, we see a beautiful orange tree that transforms a stone wall into an opulent canvas. [from Lonny]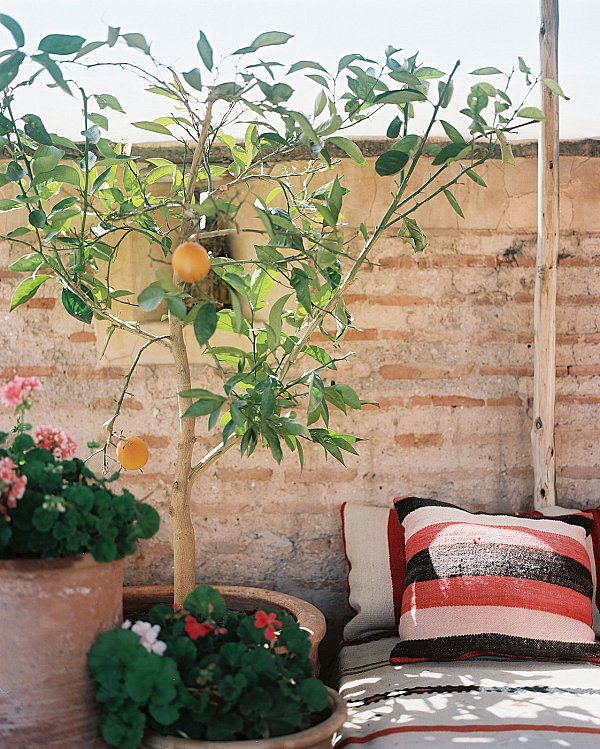 Did you know that you can use the same amount of design detail on your small balcony that you can employ in a large yard? It's all about making each flourish count. In the modern outdoor space below, we see contemporary succulent planters decked out in a range of interesting configurations. Note how the planters are placed along the windows so residents can enjoy them from the indoors. The result: a succulent garden effect! [from Glenna Partridge Garden Design via Houzz]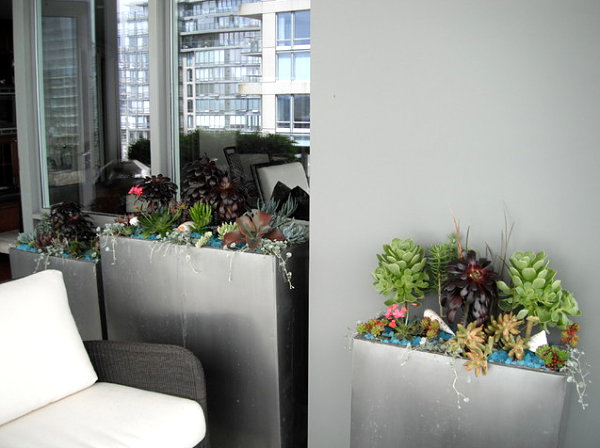 Remember that every detail counts. Don't fret about not having flowerbeds to embellish with your favorite blooms. Treat each planter as a flowerbed. In a close-up of the space above, we see oodles of carefully selected plants, as well as strategically placed seashells. In fact, each planter holds a landscape of its own, which adds intricacy and depth to the balcony.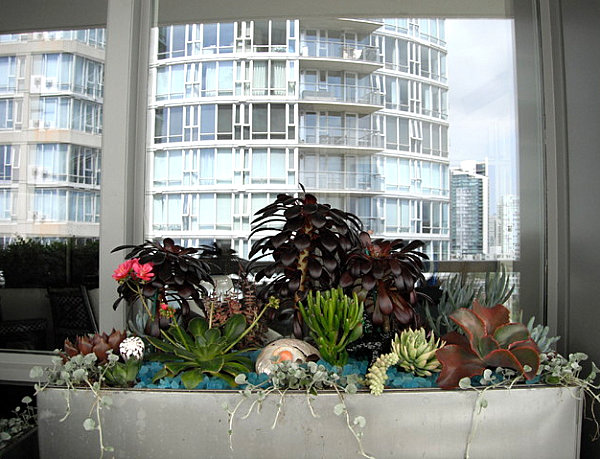 Just as there is power in the intricate, there is power in the monochromatic! This next narrow balcony celebrates the beauty of red, from the hanging lanterns to the rosy blooms that line each side of the space. [from Savio & Rupa]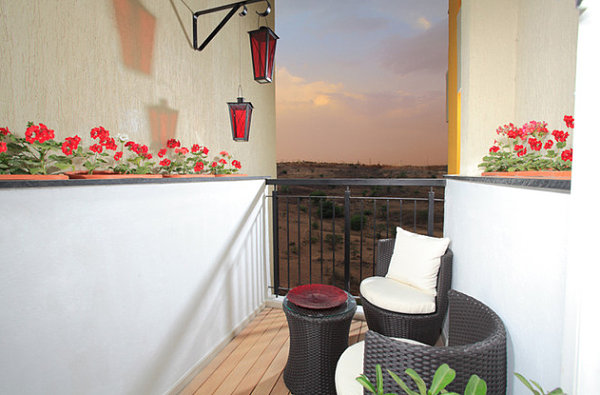 Comfy Seating is Key
The plants are in place, but what about the rest of your space? Don't you want to thoroughly enjoy spending time on your balcony oasis? Turns out you need some seating in order to truly sit back and relax! If you're on a budget, don't think that good seating options have to be expensive. In fact, the bench below is crafted from plastic storage containers, plywood and reed fencing. For more fabulous design details, check out the tutorial video from Engineer Your Space.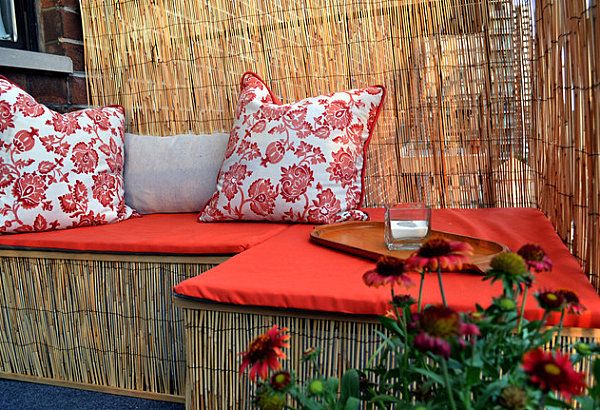 If your patio has a tad more room, you may be able to fit a table and chairs for outdoor dining. And why not?! Who wouldn't want to savor some great food and refreshing drinks on the Mediterranean-style patio below? [from Alice Masin via Houzz]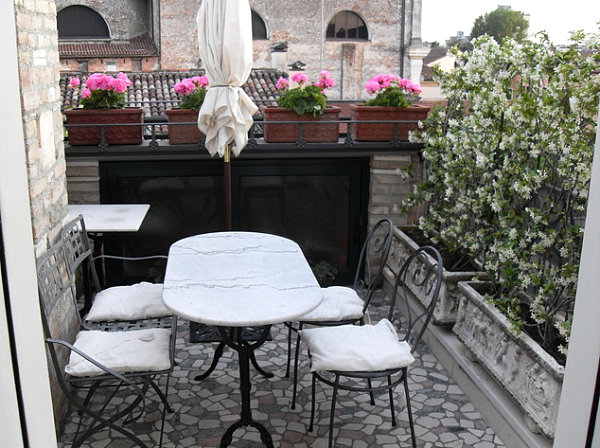 In fact, even a small table and chair set can give you plenty of room to enjoy a glass of wine and some tasty nibbles with friends and family on a mild evening… [from Gleicher Design Group]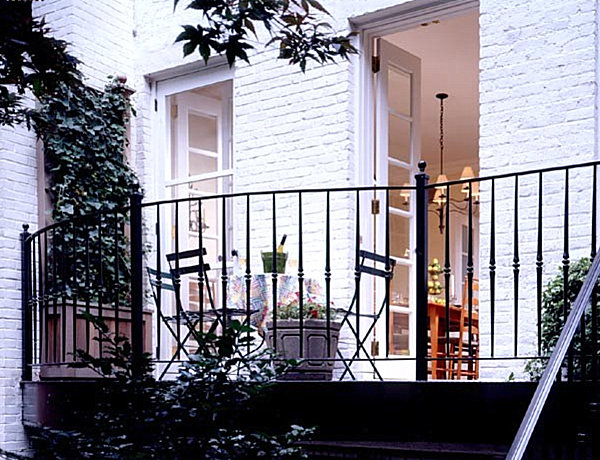 A big part of patio design involves clarifying your priorities. When it comes to the smallest of spaces, you may have to make some crucial choices. Are plants your first love? Do you want a place to sit and enjoy the view, or is dining the deal-breaker? Don't be afraid to fill the space with the things you love. For example, the table and chair set below may be a tight squeeze, but it's well worth it. In addition, built-in planters allow residents to enjoy a bit of greenery as well! [from Aloha Mirasierra]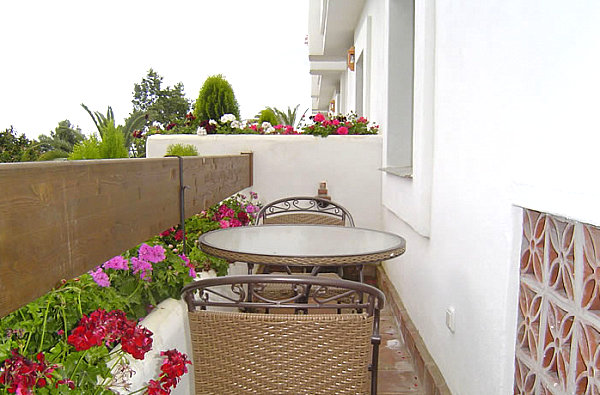 There is also power in simplicity. If all you want is a quiet place to take in the view with a friend or a loved one, resist the urge to clutter your space with trinkets. Note the chic elegance of the Miami balcony below. A couple of white modern chairs make a big statement, mirroring the interior's white decor. [from FORMA Design]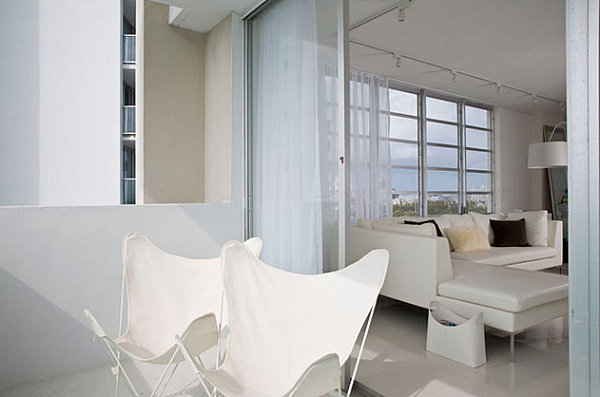 However, you may be surprised about how much you can actually fit into your balcony space. Below we see two comfy chairs, a side table for setting down books and drinks, and a collection of potted plants. Also note special details like a striped rug and an elephant watering can! [from Christopher A. Dorsey Photography and Design]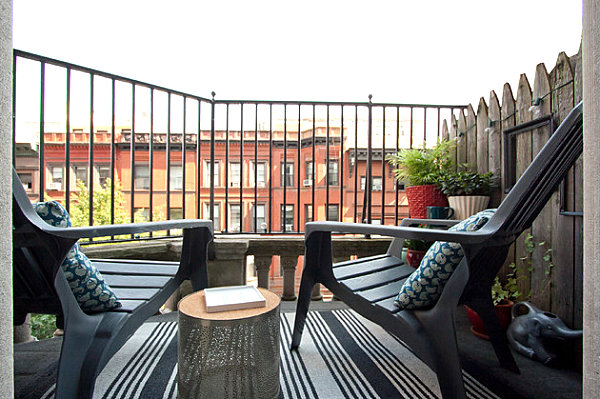 Don't underestimate the power of seating on the perimeter of the balcony. Leave the middle open to create a sense of space, but place a bench on the side so you can enjoy the view from a stylish resting spot. [from Flashdecor]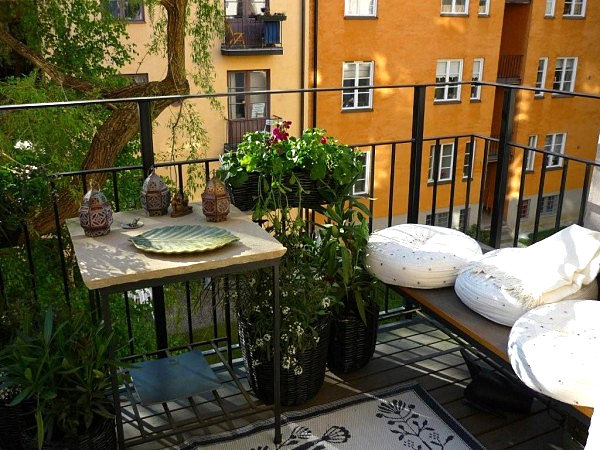 Don't forget that you can add color and pattern to your balcony with the strategic selection of seating. In the next featured space, we see a colorful blue-green seat cushion, as well as a vibrant bench decked out in stripes and scrolls. Blues, greens, reds and other radiant shades add interest (and style)! [from Casa de Valentina via The Small Garden]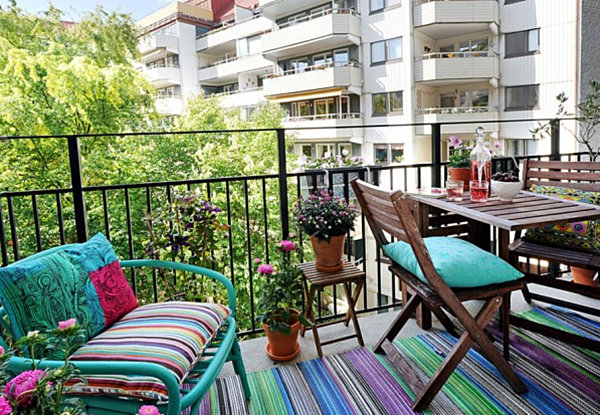 Designing the Space
We end our post with a reminder that when it comes to outdoor design, thoughtful consideration can go a long way… Take some time to design your space. Plan the layout of features such as seating and plants, and strategically incorporate color to create the vibe you're after. Below we see a balcony with a view of the Miami skyline. The style: manicured elegance. [from Errez Design]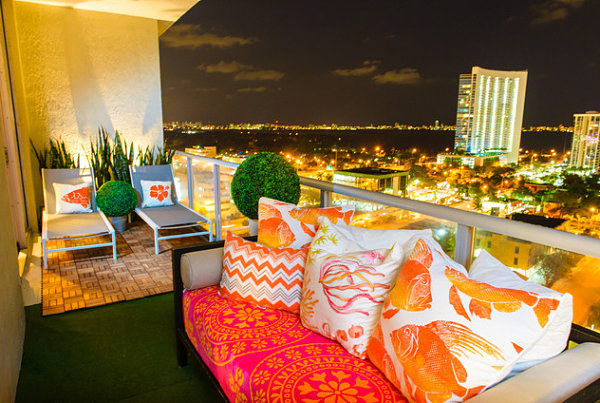 Paying special attention to the design style you're trying to achieve truly pays off. For example, trimmed boxwood and white bistro-style patio furniture combine to create a true French look on the charming balcony below. [from Lonny]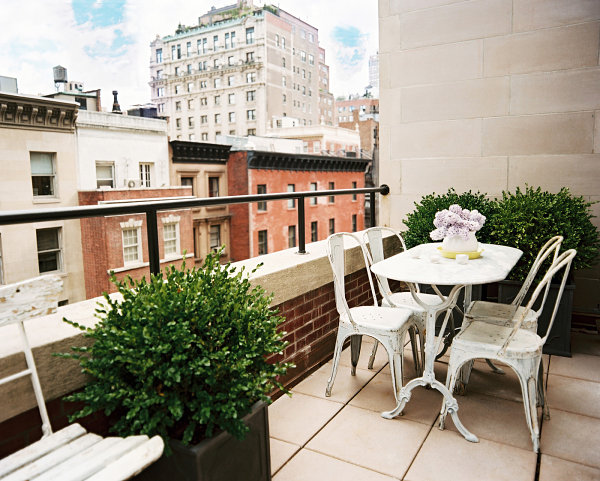 Incorporate design details of various heights to add interest to your space. For example, below we see tall metal shelving that holds fresh, green details. A wooden patio table and chair set adds a dose of warmth. A potted topiary reinforces the garden-style look of this balcony. In fact, it's the green details that together serve as the unifying force for this outdoor haven! [from Homedit]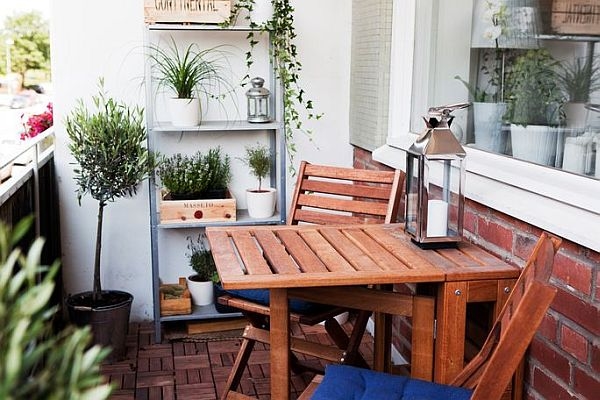 While many balconies proudly showcase a few carefully placed items, don't forget that your balcony can also hold practical items as needed. It's all about how you incorporate them into the space. For example, below we see two folding chairs creatively stashed out of the way with the help of wall hooks. In addition, shelving holds a sun hat and other useful items. [from Livinais]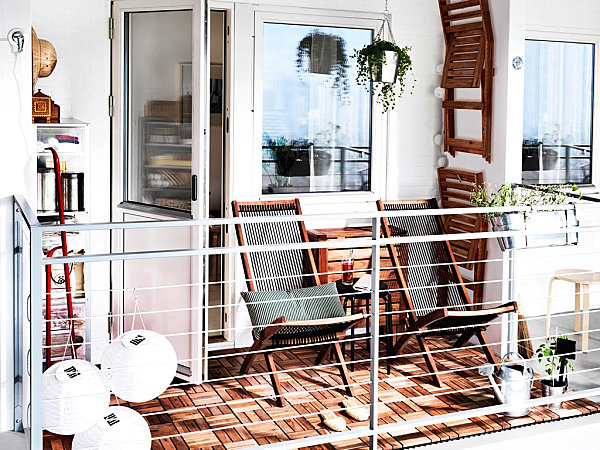 Don't underestimate the value of privacy. On the balcony below, we see how reed fending creates a wall around the space, as do well-positioned plants. The result: a balcony that serves as a true retreat! [from Stylish Eve]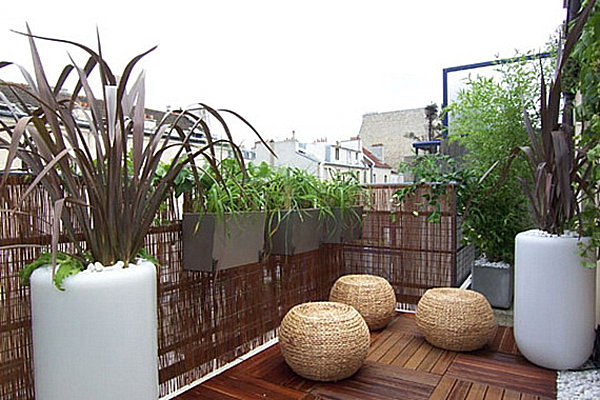 We'll leave you with a balcony makeover filled with amazing design highlights and easy DIY ideas from Mandy Pellegrin of Fabric Paper Glue. Black, white, Kelly green and pink create a refreshing outdoor palette, and crafty details like handmade herb markers help you put your own special stamp on your space. For more details, including some amazing DIY how-tos, check out Home Depot.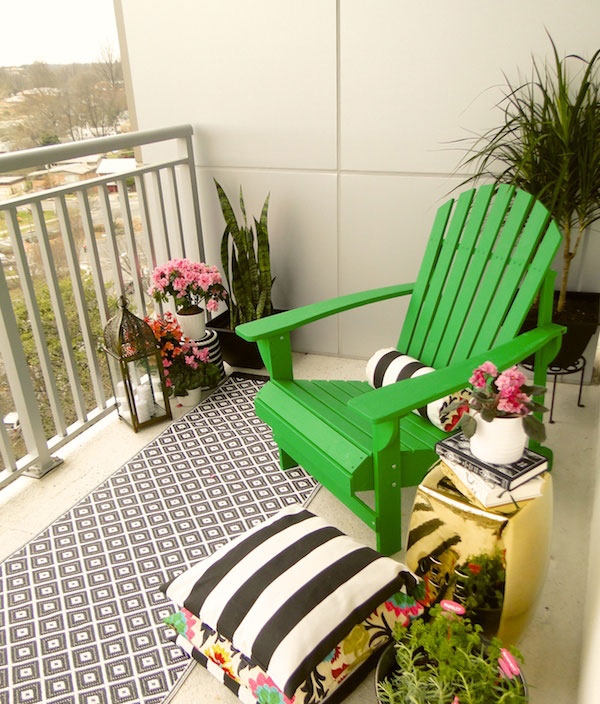 Now it's your turn! Have you used a clever design technique to decorate a small outdoor space? Or perhaps you have a favorite idea from above that you just can't wait to try out! Share your small balcony solutions by leaving a comment below…