There are a handful of designs that have survived the test of time, like Mies Van Der Rohe's Barcelona Daybed and Barcelona Chair. These two modern furniture items preserve the quality and sleek lines of a timeless design, taking into account that they were originally designed and released in 1929. The Barcelona Daybed alongside Barcelona Chair are two of the most elegant additions any home could display ever since their first appearance at the World Exposition in Barcelona.
These iconic pieces speak about the talent and creativity showcased by the famous designer in his architectural works. Mies Van Der Rohe's iconic Barcelona furniture was revolutionary for its time and continues to upgrade the interiors of many contemporary homes. Defined by quality of materials and structural simplicity, the renowned designer's works lift the design of many rooms, from living spaces to modern bedrooms.
Daydreaming on the fabulous Barcelona Day Bed
Seen adorning a penthouse in Stockholm, the Barcelona Day Bed seems to be the piece that carries an unmistakable invitation to relaxation and brings all design elements together. Caressed by natural light, this beautiful white daybed welcomes its master near the window and invites to moments of daydreaming in a spacious and open home.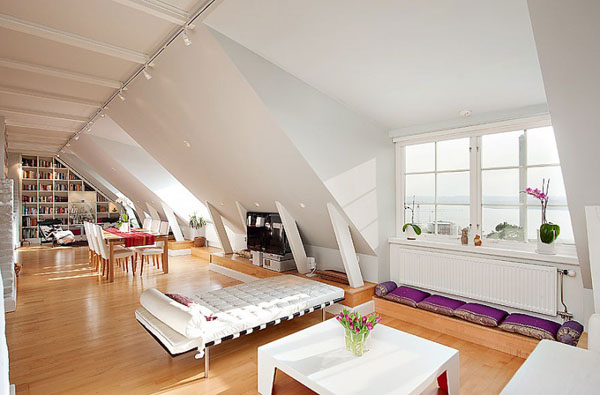 Another example of a light-flooded room showcasing a white Barcelona Day Bed can be seen in a private residence designed by Christiano Homes. Opening to the backyard pool, a glass wall allows the owner to enjoy the outdoors from inside, laying comfortably on the detailed design of the Barcelona day bed. Contrasting the walnut wood wall that incorporates the bar at the end of the room, the iconic white daybed rests on polished concrete floors that add a slightly industrial feel.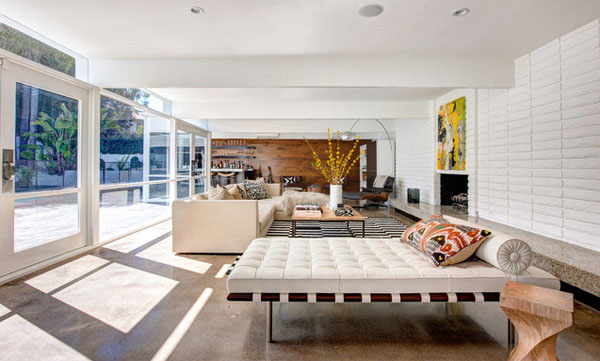 Modern bedrooms are not limited to furniture we have gotten used to – like the bed, side tables or closet space. Adding an inviting fireplace gets anyone in a romantic mood, not to mention the warmth brought on by a tamed natural element like the fire. Laying on a sophisticated Barcelona daybed in front of the dancing flames could make a boring evening turn into an introspective sequence of moments.
Imagined by California-based John Maniscalco Architecture, this bedroom was completed only after the designers chose the best suited lounge item – Mies Van Der Rohe's Barcelona Daybed.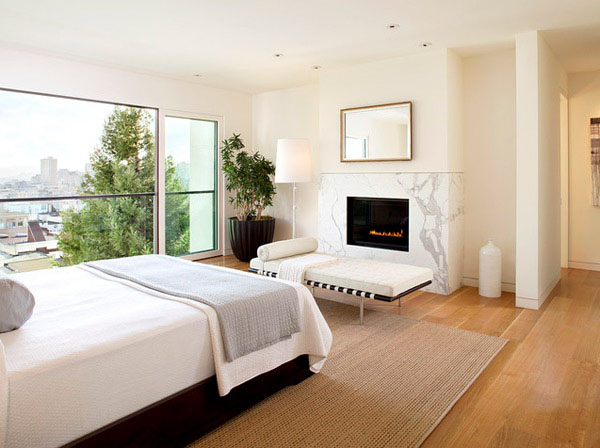 And what other way to enjoy an urban apartment dressed in glass than on one of the two white Barcelona Chairs? Completed by the daybed and a sofa, this living space is reminiscent of natural surroundings. Blending pure white furniture, warm wooden floors and natural light in a light-flooded duplex penthouse, Marie Burgos Design created a welcoming, sophisticated social space that acts as a viewing platform for the colorful Manhattan.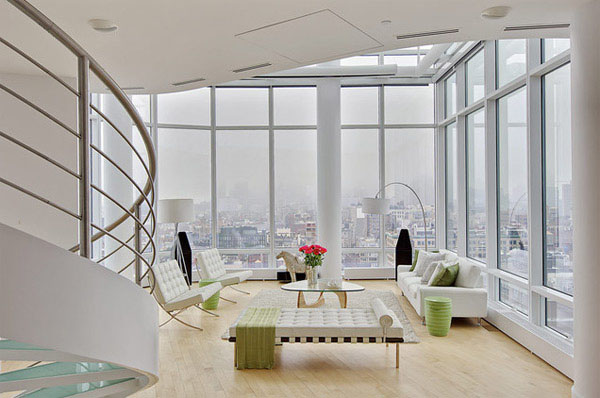 Showcased in its black version, the Barcelona daybed and chairs in this dream home by Strening Architects were the best choice for relaxing while enjoying sweeping views of Napa Valley. Materials like stucco and wood were combined with the subtle elegance of the iconic furniture – the chairs bring their sophisticated stainless steel design lines to the mix, while the hardwood platform on which the daybed rests blends in perfectly.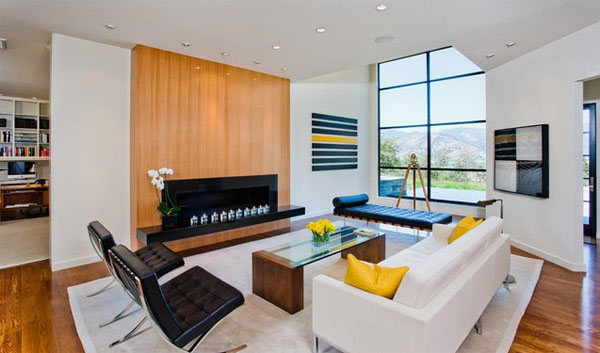 Modern open spaces in residential projects carry the promise of social happiness, as well as solitary introspection. With two Barcelona Chairs to accommodate your tired body, a living space seems more than what it is accentuated by the astonishing design of these marvelous pieces that act as the room's focal points. Seeing that John Maniscalco Architecture knew how to mix and match all the design elements, we get to draw inspiration for our own modern space arrangement.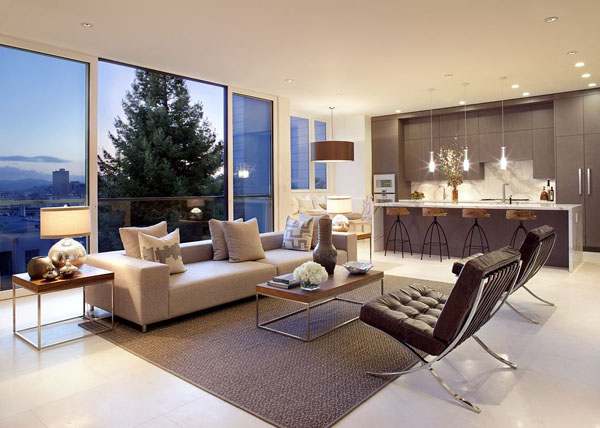 Tubular steel with polished stainless steel finish support the beautiful Barcelona bed, allowing it to blend in with contemporary design based on modern materials. To exemplify this, the private luxury rental villa known as the Mwanzoleo residence boasts a glass wall overlooking the sea. And what better way of enjoying such a stunning view than from the comfortable Barcelona daybed?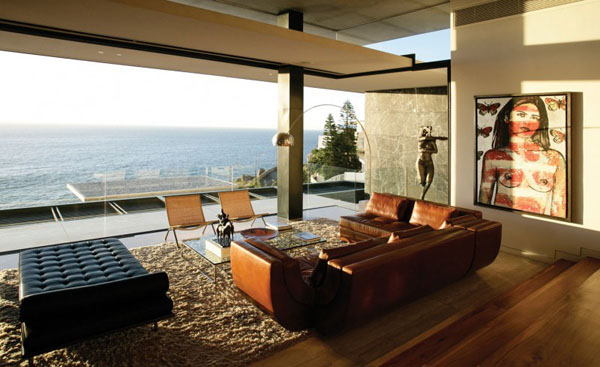 Captured in between white and grey, this space arrangement shows how simplicity and elegance go hand in hand when creating an intimate bedroom. With glass walls flooding the space with natural light and the splendid panoramas, this bedroom imagined by SPF Architects marries a metal coffee table with a Barcelona Chair duo and a pure white daybed from the same collection.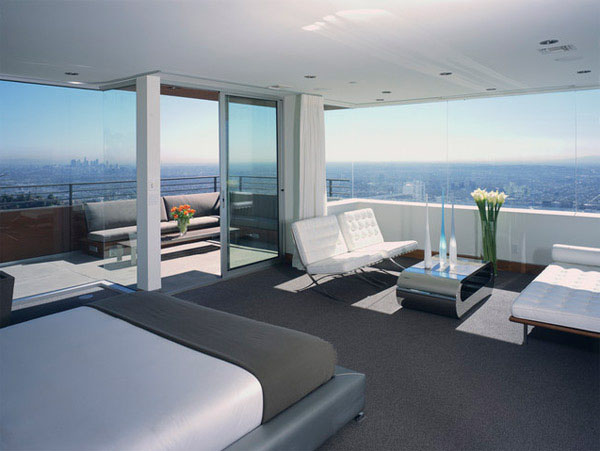 Sophisticated interiors displaying a mix of classic and modern are perfect settings for Mies van Der Rohe's stunning daybed. There is an enlightening feeling about this picture perfect room – an elegance that can only be filled by great designs, as well as experienced daily by those who appreciate historic beauty.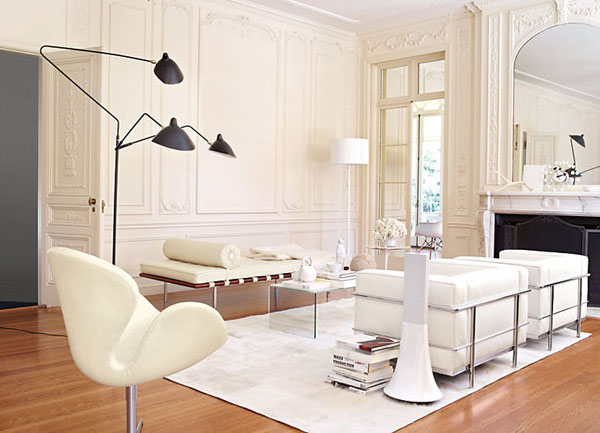 Concrete details and sleek design go well together, as seen below in this part of the Briones House designed by Mexican studio RP Arquitectos. Focusing on showcasing the surrounding beauty, this space was adorned with two Barcelona Chairs that bring warmth without slicing through the carefully studied design.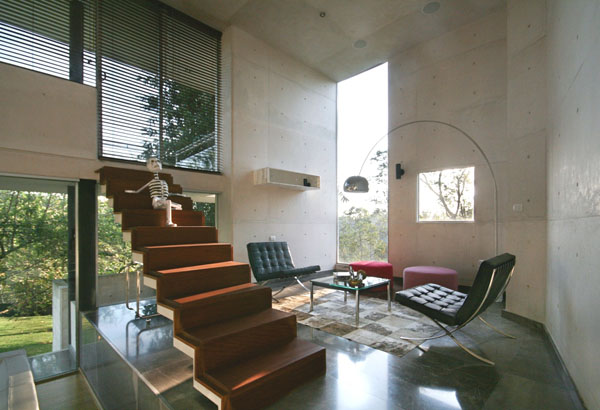 So you see, there are a myriad options for showcasing the Barcelona Daybed and Barcelona Chairs in modern residences – it depends on you and your collaboration with the designer to get the best out of every space in your home.
But it also depends on history to provide you with the best resources. Enjoy the possibilities!