With an abundance of spring flowers all around, many people have found a renewed desire to bring some of those beautiful blooms indoors to brighten the house. Since the flowers are usually the star of the show, vases often get overlooked. However, there are many simple, inexpensive DIY ideas to transform your average vase into a beautiful statement piece that gives the flowers a run for their money!
Have a few basic clear vases lying around? Well, so did Little House Blog, and with a little painter's tape and gold spray paint, gave them a metallic makeover. Beautiful on their own or in groups with alternating stripes, these shiny vases will surely turn heads!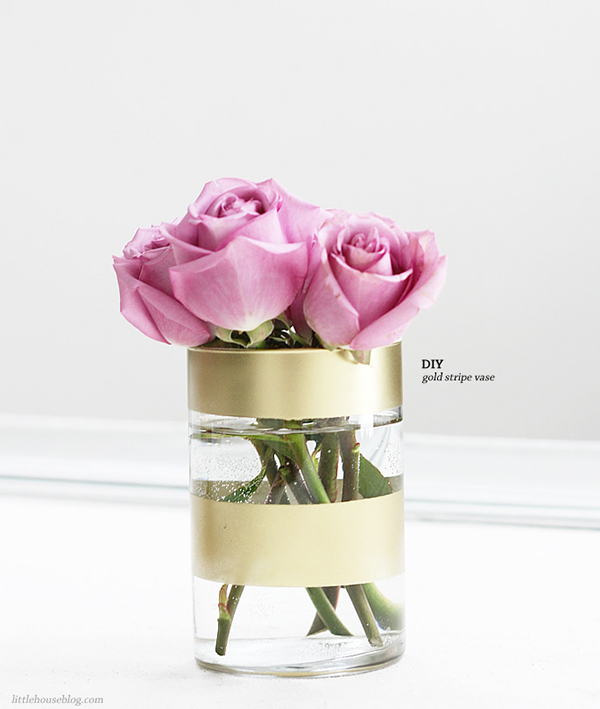 Our next DIY vases, by HomeMade Modern, are stunningly sculptural and geometric. Using the templates they so kindly posted on their blog, this project simply requires a little cutting and gluing to create a mold, followed by some wet concrete and a bit of drying time. Make one of each template and line them up together to create a breathtaking focal point in any room.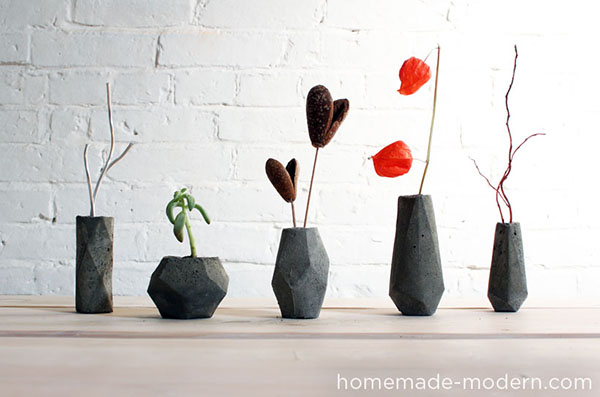 Our next DIY vase by Centsational Girl will put your sculpting skills to the test! By attaching a hand-sculpted flower made of stone clay to an existing white ceramic vase using liquid nails, you will get a classy, elegant vessel for your favorite flowers. Even try adding some color of a bit more fun!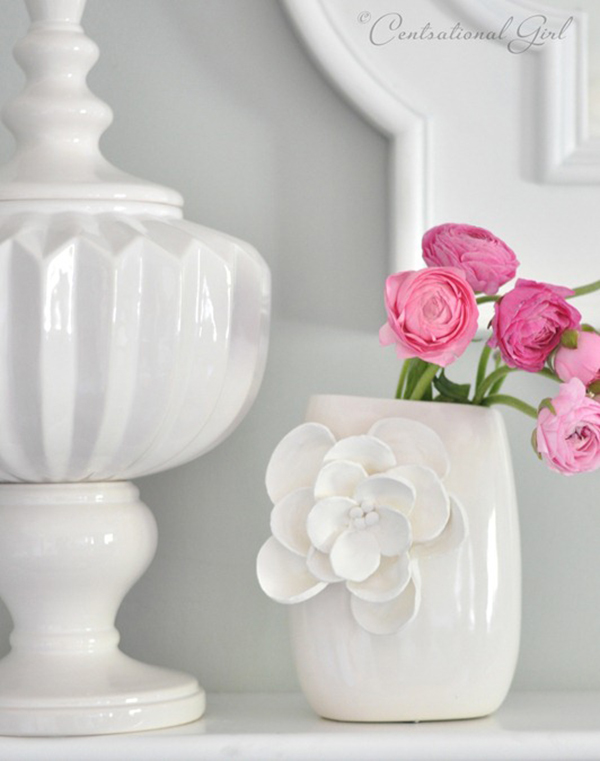 Looking to add a little height and whimsy to your home or garden? Why not hang some vases? And why not make those vases out of old light bulbs? Yes, light bulbs! Originally created by Free People Blog and featured on Desert Living Today, these adorable and quirky mini vases will certainly be conversations starters!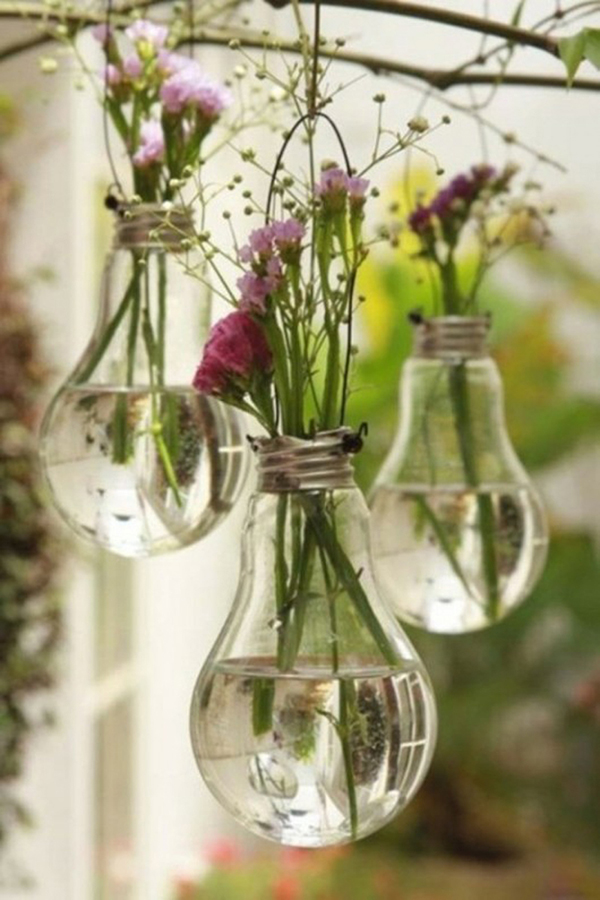 While we are on to subject of hanging vases, I want to share one of the most gorgeous, awe-inspiring DIY vase projects I have every seen. Perfect for a dinner party or outdoor event, these hanging bottles from Eat Drink Chic are an incredibly simple DIY project. Acquire or gather a collection of bottles and hang them at various heights with twine. With a little water and some fleurs, you will wow your guests with a spectacular floral display.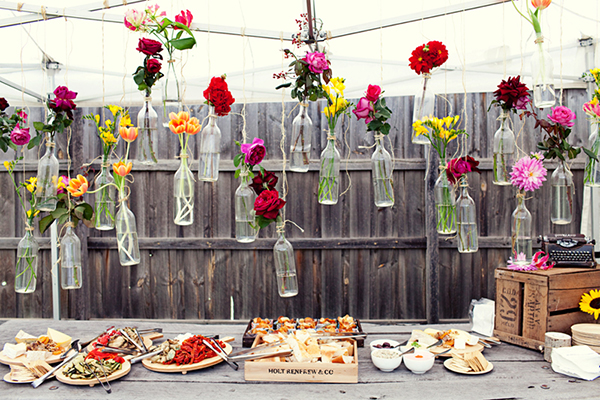 I don't know how to knit but I would be willing to learn just so that I could try our next DIY vase project! The Girl on the Go knitted an adorable cozy for her vase to give it a warm, homemade look. I think this is unbelievably cute and would certainly give any basic vase more character!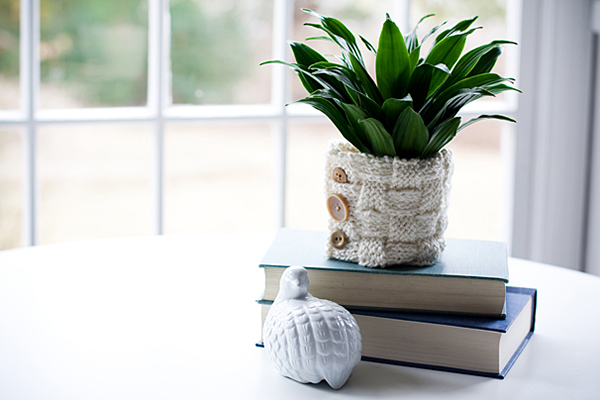 Our next DIY vase, by Bayside Bride, is made by simply wrapping a coffee can in rope. This easy project will leave you with a rustic, nautical vase with a lot of texture and charm!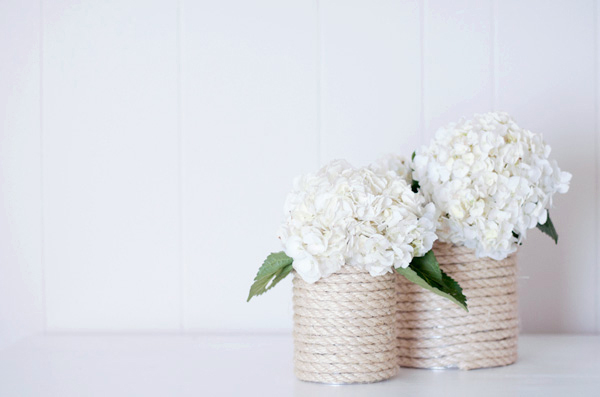 If you are feeling more ambitious, our next DIY planter by Lowes requires a little bit more time but is worth the effort. By making a box out of PVC trim board and clear Lexan, you will have a unique, handcrafted vase with a personalized flair. Handcraft two or three in various sizes to make a lovely table centerpiece.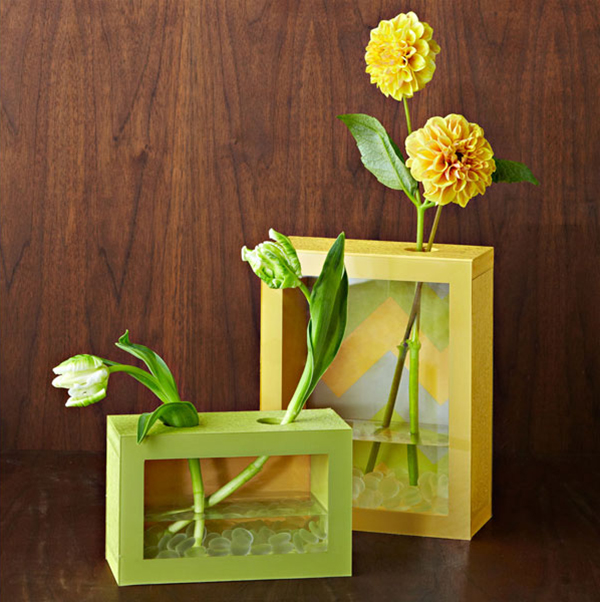 Another easy DIY project to class up your basic vase is to wrap it with a vintage doily. In order to create this vase, originally by Country Living, simply surround a clear vase with a doily and hand stitch the sides together to achieve this fantastically intricate container for your blossoms.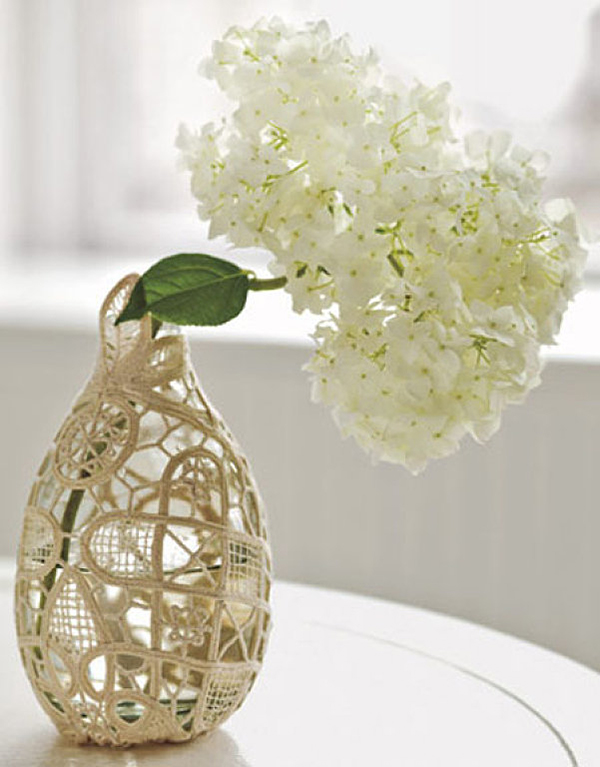 People seem to think flowers are, by nature, feminine. However, our next DIY vase, originally designed by Family Chic and featured on Lamps Plus, shows us that a little leather can create a masculine flower vase that is warm and unique. Gather a few leather belts (try your local thrift store) and wrap them around a basic vase for this amazing (and kind of sexy!) look.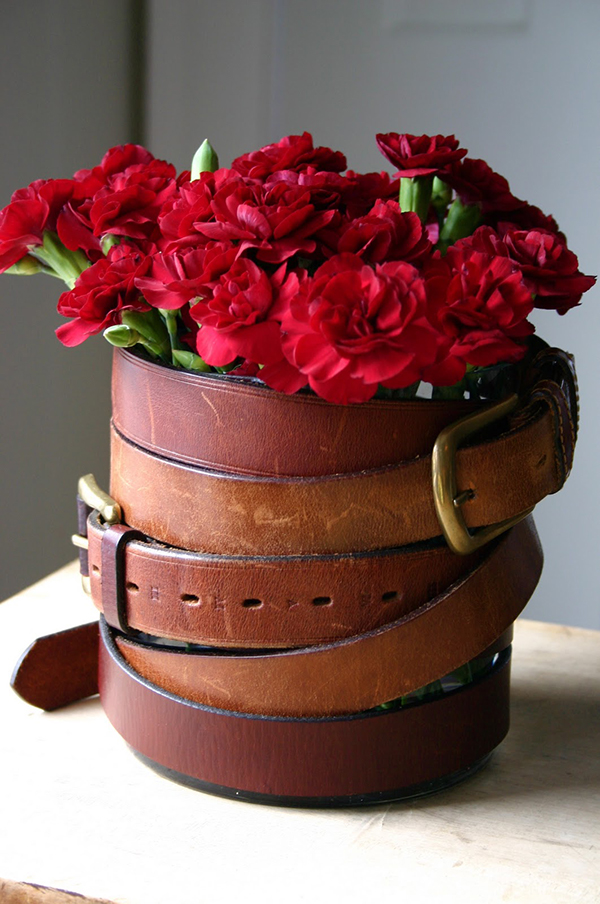 Our next vase by Tidy Mom uses etching cream and painter's tape to create a lovely chevron pattern etched into the glass of a standard vase. Talk about an inexpensive makeover making a basic vase look expensive and regal!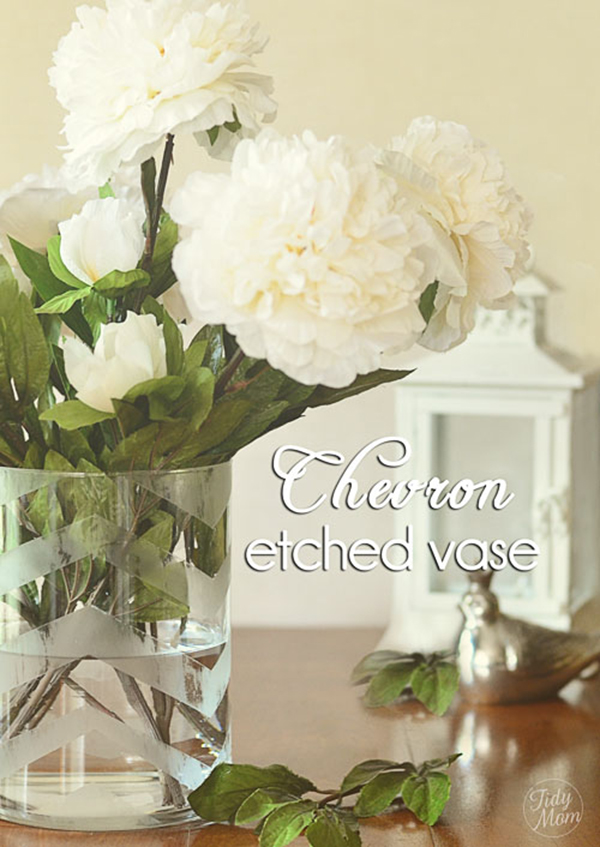 Looking to add a little sparkle into your home? Ruffles & Stuff painted the inside of a bottle and then added beads and vintage clip on earrings to create a flirty, fun vase for her favorite spring flowers.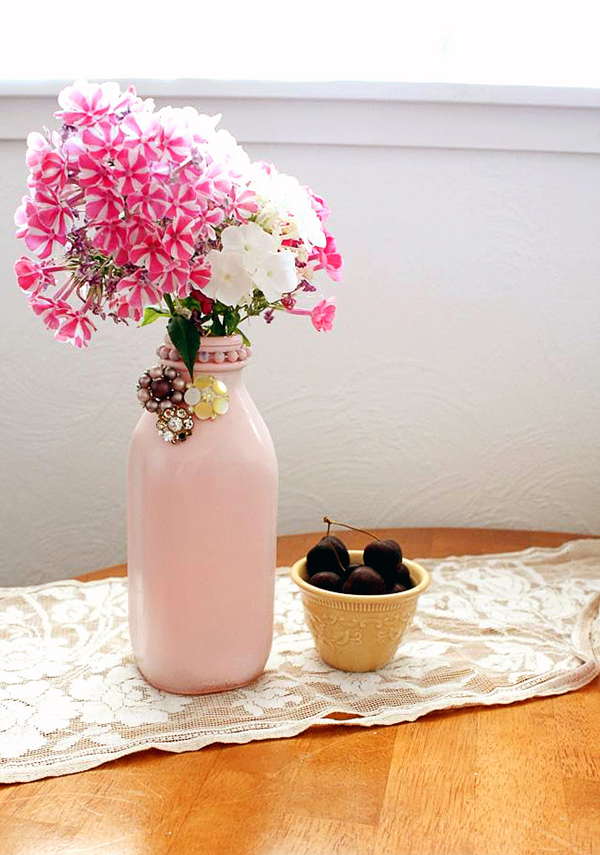 If you want to add a bit of elegance and interest to your mundane flower vase, take a look at this tutorial by Hooked on Decorating, which uses lace as a spray paint stencil. I love the upscale look that this inexpensive (or free!) transformation can give to an everyday terracotta container!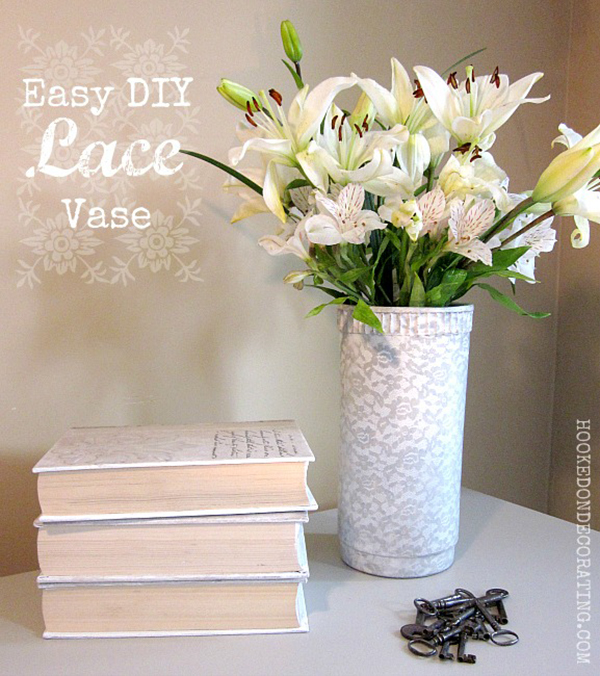 Artist, teachers, and parents alike will love our next DIY flower vase by Stay at Home-ista that uses unused pencils to line a glass vase. Fun variations would be using paintbrushes or fountain pens to achieve the same incredible result!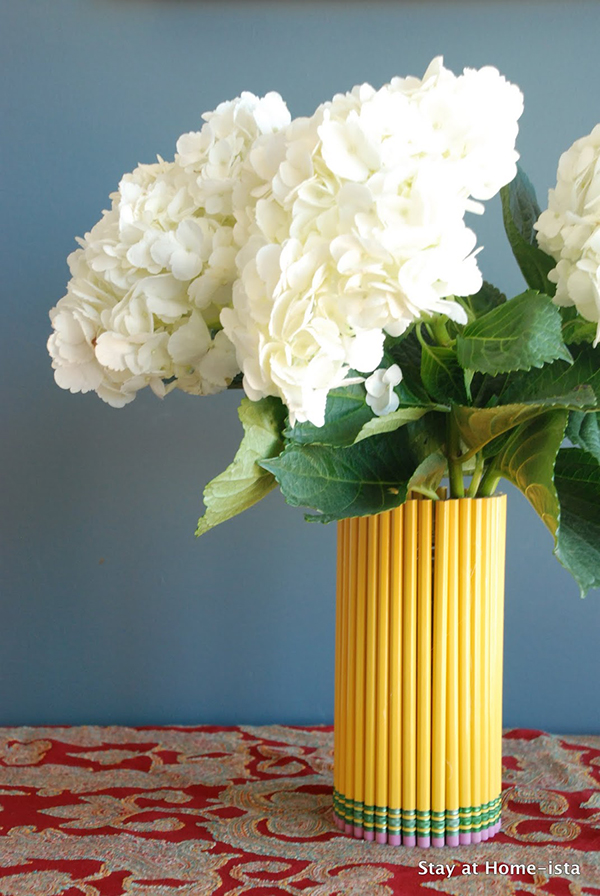 Last but not least we have our final DIY vase project, shared by Mod Podge Rocks, which used mod podge to attach printed photos to PVC pipes. Not only do these vases look wonderful grouped together as a table centerpiece, but they would also make incredible and thoughtful gifts for the people you love.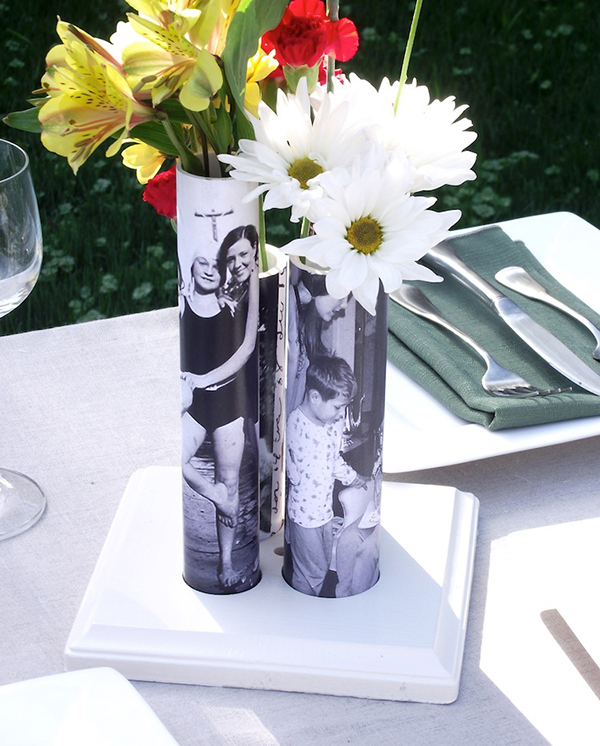 Now, what are you waiting for?! Get out there and give those boring clear vases a spring makeover! Do you have other great DIY vase ideas? Please share them with us in the comments section below!