If anyone asked me what the most frequently used piece of furniture is in my home, I would have to say that it is my coffee table. As a landing pad for books, remotes, keys, knickknacks, tissues, food, drinks, and about a million other things, I practically live off of that table! But what happens when your beloved coffee table needs to be replaced or upgraded? Here are 12 ideas for beautiful DIY coffee tables.
The Rustic Look
One of the current trends in DIY coffee tables is the rustic, worn look of reclaimed wood and industrial hardware. Our first stunning DIY table gives us all of that and more! Created by Dan Faires of HGTV's online video series DanMade, this table requires only four pieces of reclaimed wood, a few nails, brackets, some sanding, and four casters. In a few simple steps, that basic list is turned into a gorgeous rustic coffee table.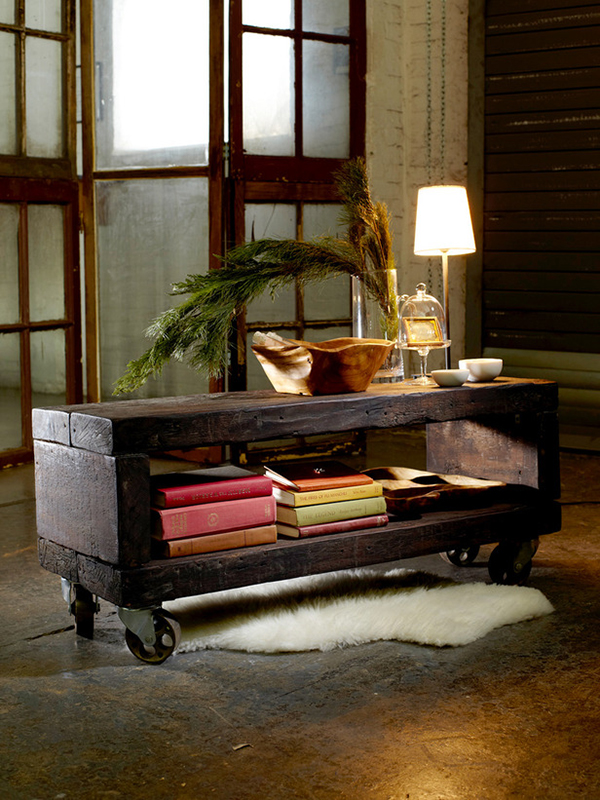 Another creative take on the rustic coffee table is this fun wine crate table made by DIY Vintage Chic. Created with crates purchased from the craft store, some vintage wine labels transferred onto the wood, a bit of handmade tea stain, and a few casters on a solid base, this unique table is certainly a beautiful conversation starter.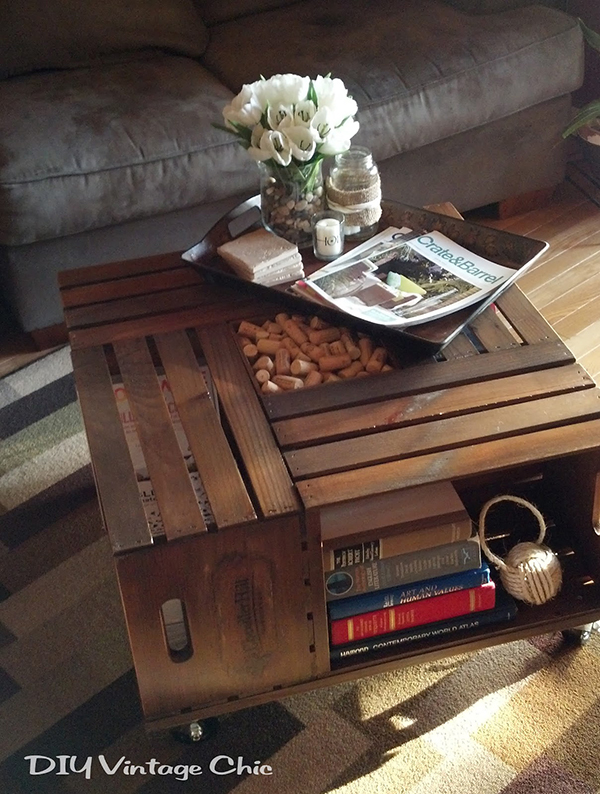 Built entirely from scratch, our next DIY coffee table by Ana White and The Friendly Home is absolutely breathtaking with its rustic hardware and grey weathered finish. This large, sturdy table is certainly meant to be lived on and enjoyed!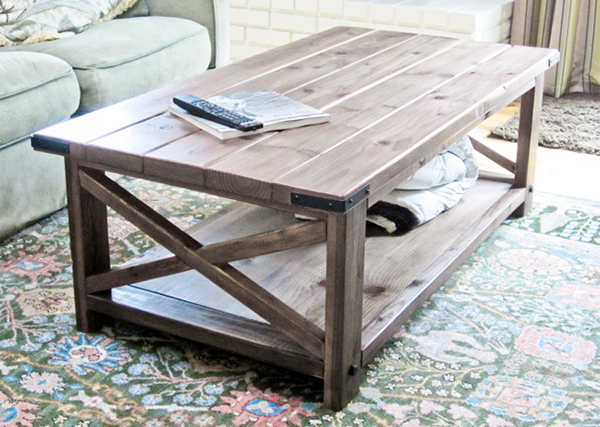 The Modern Look
Rustic not really your style? If you are looking for a sleek, modern coffee table, there are DIY ideas out there for you as well! Our next DIY coffee table, handmade by Adventures In Creating, uses welded steel tubing for the frame and stained wood for the table tops. Inspired by an Anthropologie table with a much higher price tag, this pair of DIY nesting tables will only cost you about $100 to make!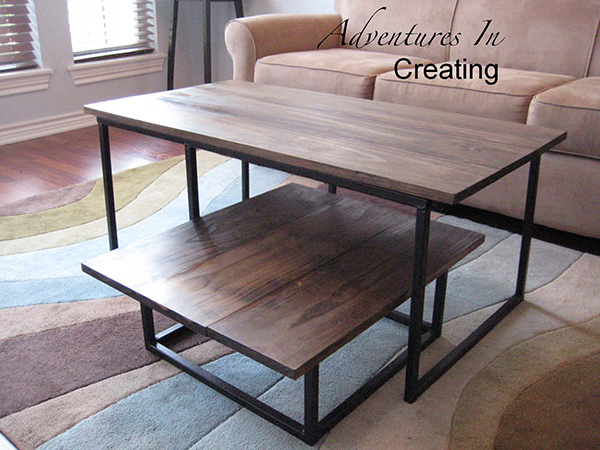 If you fall in love with mid-century modern furniture, then this next table is for you. With its stunning hairpin legs, this simple, elegant coffee table from This Old House is a pretty serious piece of eye-candy!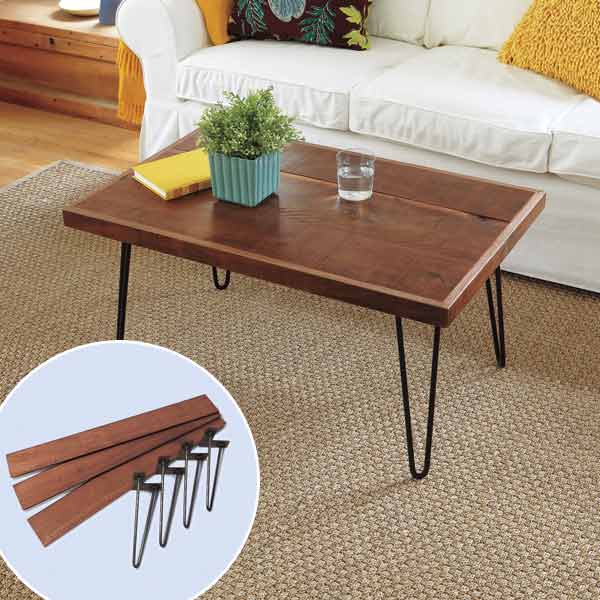 Our next DIY table is perfect for a modern, industrial style home (I'm talking to you lucky loft owners!). Perfect in pairs in order to create a flexible entertaining space, these coffee tables are made with plated slotted angles and a bit of plywood. The project was developed by Lowes and would cost under $100 to complete.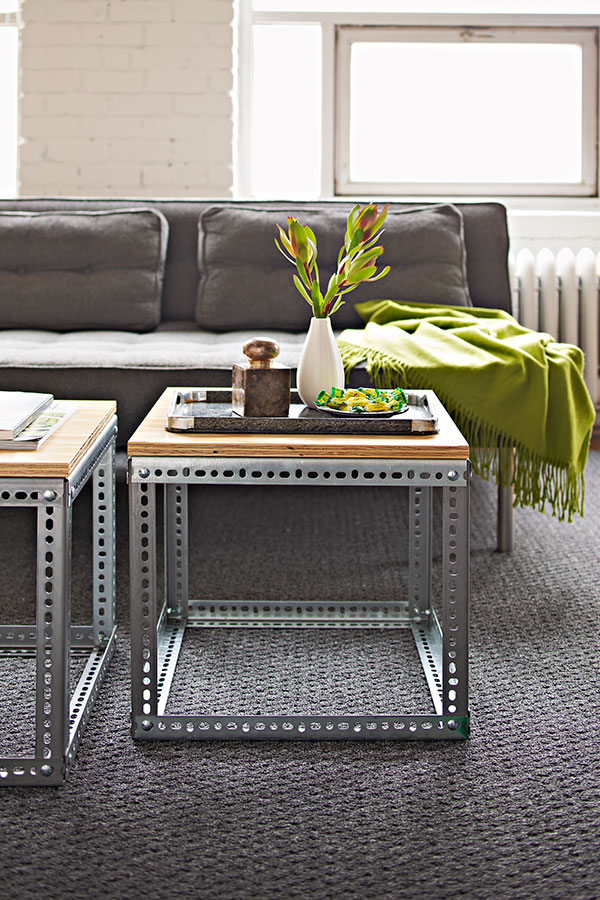 Fun With Prints
Each of us has seen the $20 Ikea Lack coffee table before (in fact, I used to have one in my living room!), but have you ever seen it looking this fantastic? With some printed wallpaper and nail head trim, Pretty City Things gave this basic Ikea table a fun and glamorous makeover without breaking the bank.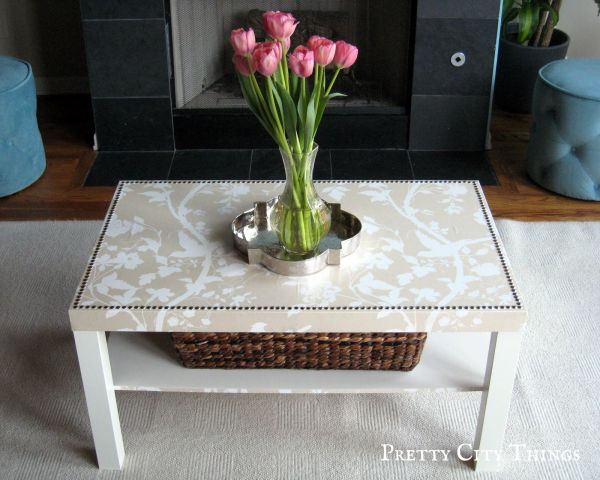 In many people's minds (although I know some of you disagree), one of the main reasons for a coffee table's existence is to have a place to kick up one's feet after a long, hard day. So why not make it padded and comfortable…. like, say, an ottoman? Not So Newlywed McGees created a beautiful tufted coffee table ottoman by upgrading an old coffee table with some foam, batting, gorgeous printed fabric, nail head trim, and a lot of love.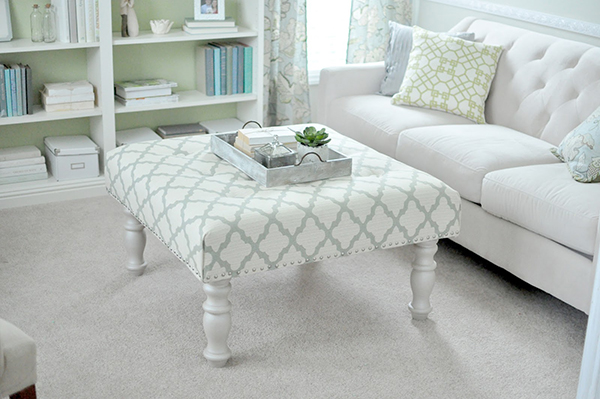 Re-Purposed Objects
Our last few DIY coffee tables are made with miscellaneous objects, resulting in unique and creative furniture. Using a leftover shipping pallet and a custom-cut piece of glass, Paige of Design created this lovely coffee table with rustic charm.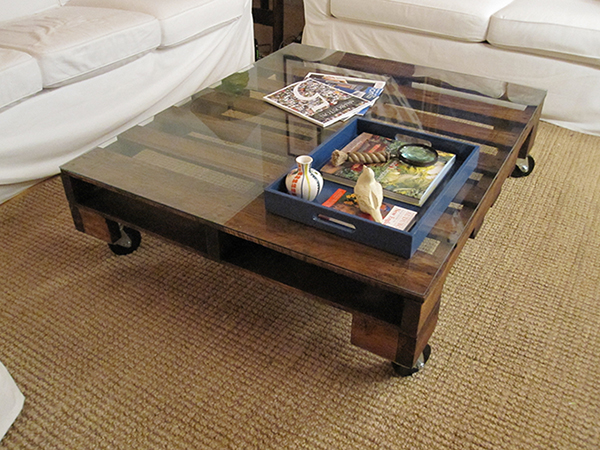 By recycling an old wooden spool and inspired by an idea from Country Living, The Crafter's Cottage made a magnificent library coffee table to show off their favorite books and treasures. Since the entire table is on wheels, you could spin it around every few days to get a new, fresh view of your favorite things!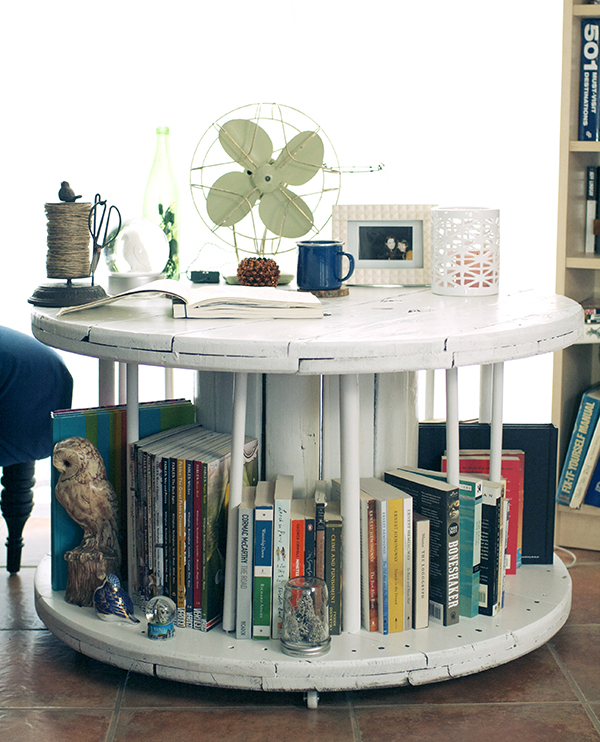 By simply adding four painted legs to the bottom of a vintage suitcase, Ruche Blog devised this radiant and delightful mini coffee table that would be ideal for a small space. Plus, in addition to having a one-of-a-kind table, you would have storage automatically built in!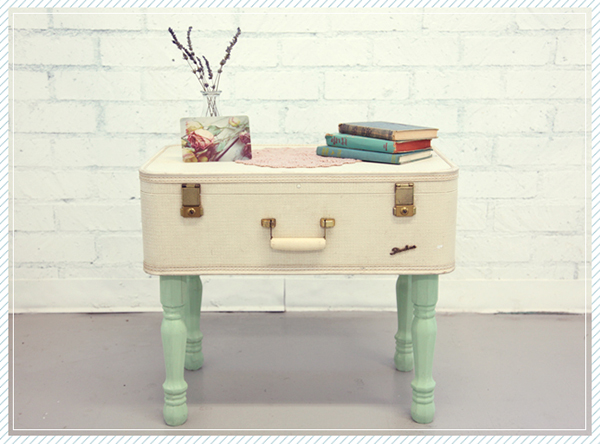 Our final table, hand-crafted by Better Homes and Gardens, stopped me dead in my (internet) tracks because of its beauty. Birch logs and sanded grout were used to construct this incredible, woodsy coffee table, which would look perfectly stunning in my imaginary cabin retreat!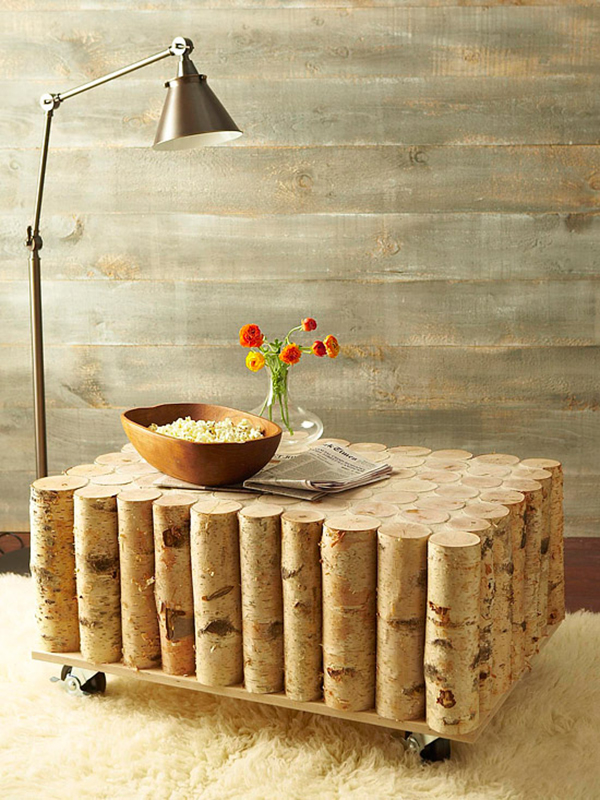 Have you ever made your own coffee table? Do you have any DIY coffee tables that you are currently eying? Share them with us in the comments section below!