I woke up early in the morning. Had my buffet breakfast and then off I went. A beautiful Scandinavian scent was in the air when I reached outside. Flurries, a good deal of wet snow and a killer wind blowing from all directions were clear signs that this is going to be a great new week. Because the 2013 edition of the Stockholm Design Week started today, meaning that it's party time for designers and design bloggers or lifestyle enthusiasts.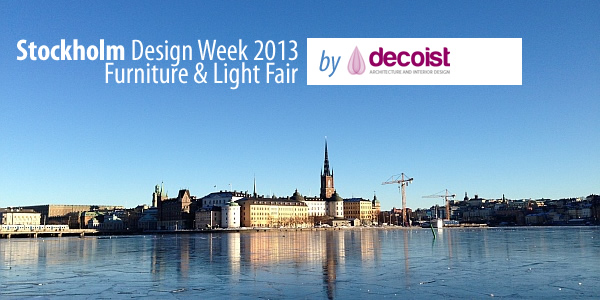 Known as the world's biggest furniture trade fair for Scandinavian design (with furnishings for both home and public environments, if you were asking), the very much awaited Stockholm Furniture & Light Fair will open its gates tomorrow, promising to be one of the most inspiring events of the region. Our expectations are high. We're going to meet some of the biggest actors in the interior design industry, coming from more than 21 countries across the globe, and we're going to feed our need for functional, beautiful looking pieces of furniture.
And for those of you who can't attend the Furniture & Light Fair in Stockholm, Sweden, this year, rest assured that we're here to deliver the inspiration right to your monitors.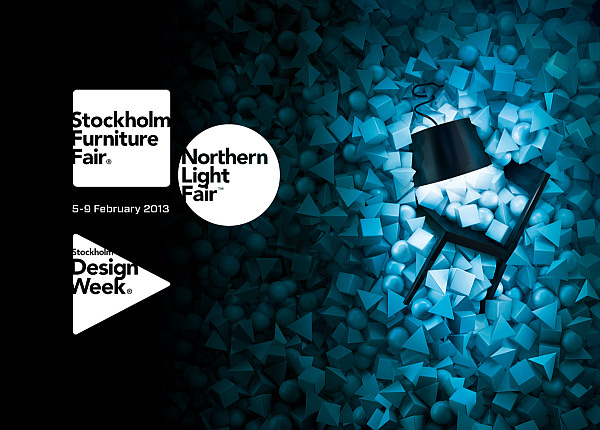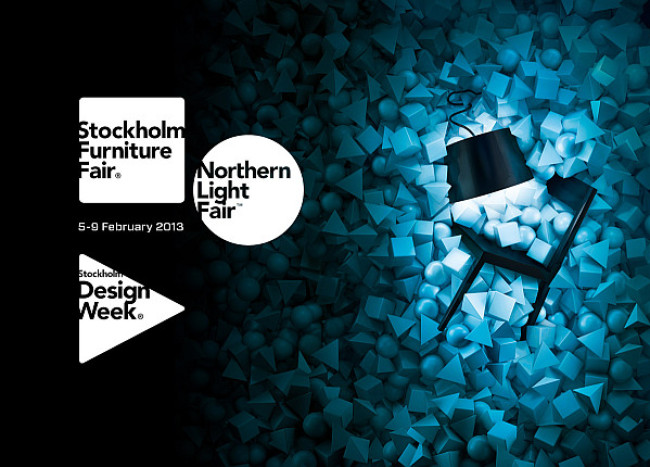 On a first glance, it seems that this year's event concentrates on creative ideas that are being built with simple lines. I am sure that most of the products which will make their debut this year will infuse a harmony of form and material. They will be highly functional and beautiful at the same time. And since this is Scandinavia, prepare for a lot of neutral materials and bright colors – just watch this video from last year, and expect it be even bigger.
Below are just a few products that will make it to the show, foreseeing what we're about to experience in the coming days.
Pendant lamps by Yoshiyuki Hibino + beets inc
Yoshiyuki Hibino is a Japanese designer who took his minimalist approach onto creating a stunning pendant lamp. His latest creation is a hanging lamp made with an elastic shade that is rolled-up in uncoated metal, helping create different variations of the design. Definitely gets the eye with its eclectic personality, don't you think?
Homework table by Tomas Kral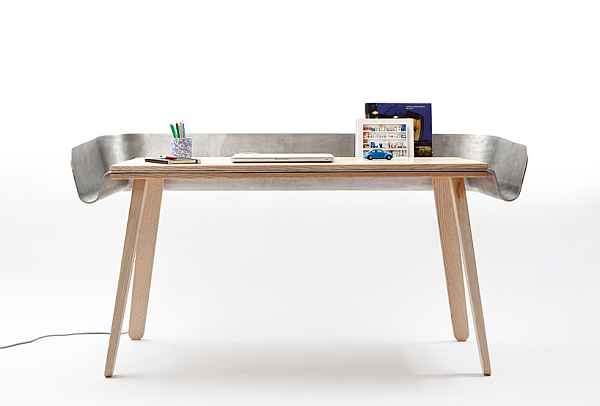 It's been a while since I last did homework. But looking at Tomas Kral's new "homework table", I reckon that it urges me to get that old geometry book out from the coffin and start doing some sketches. And for some strange reason, I also reckon that it makes for a hell of a home office. Meant as a way to organize and accommodate the debris of creative work, the studio desk is fabricated from aluminum and ash, and comes with a metal fringe sandwiched in-between the wooden tabletop for some extra storage when needed.
"Homework is a work table which has been set to be even more functional: an aluminium cloth is placed on a wooden table then folded to form a refined extension, a toolbox to store documents, objects, photos…that you need or simply desire to work. The tilted surface enables you to lay down open books and continue reading like with a desk," Tomas said.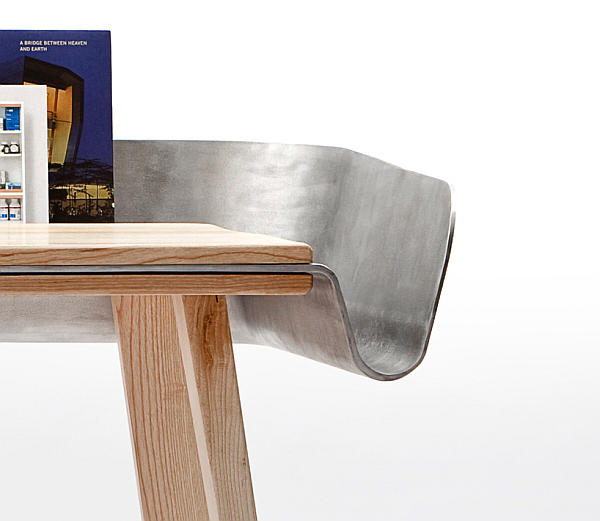 The Slovakian Swiss-based designer said that the table will be produced by furniture company Super-Ette. We hope to get a closer look at it and maybe some time to write a quick blog post to tell you how it is? :) Deal! [images © felipe ribon]
Rondell stationary mail-hub by Note Design Studio for Boxit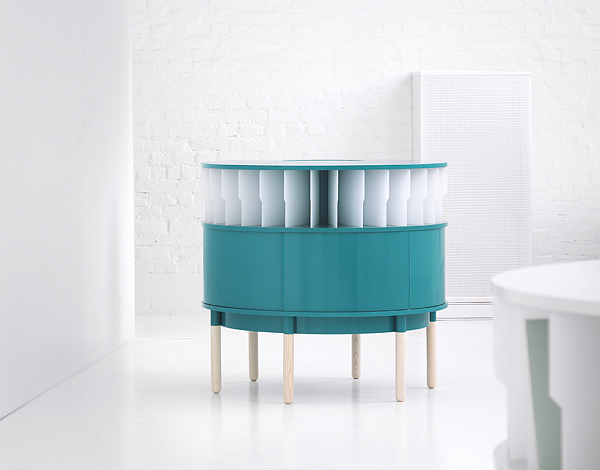 Swedish Note Design Studio wants to somehow revolutionize the handling of office mail. Their latest creation is called Rondell and is a stationary mail-hub which incorporates a collection of 30 trays into one piece of furniture.
The interesting part about Rondell is that it won't just act as a functional-organizational piece of office furniture, it is also meant as a hub that will spark conversation between co-workers — a natural meeting place for sorting post and letters. Yes? [image © mathias nero]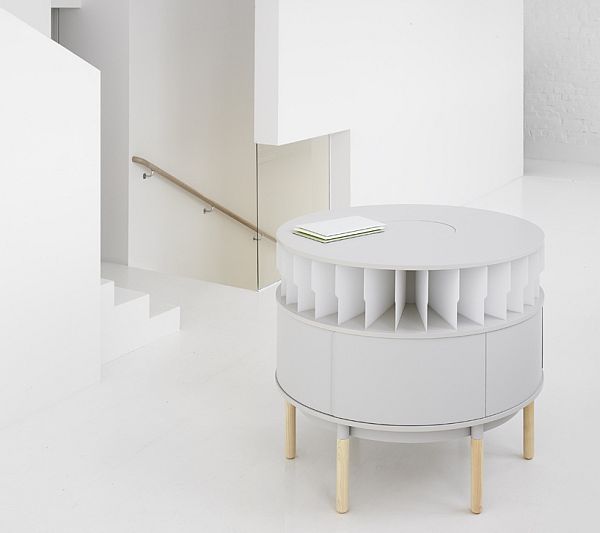 Givarps launching their new line of furniture
We won't go too deep into this. I guess their own text says it all: "Givarps is a Swedish furniture design studio. We design and build fun and functional furniture that is crisp and clean in design and gives joy when used in your home. This video has been filmed during a 2 day photoshoot. It gives a glimpse of how we work and the pride we take from it." [Givarps]
That's it for now folks.
It's late around here, so I guess I'll call it a day. Stay tuned for more and remember to follow me (Alex Ion) and Decoist on Twitter – coz we'll be busy there in the next few days.
And while I am it, I just want to say Hi to a bunch of people that we'll gladly shake hands and luxuriate in having some fancy cocktails, while socializing and having a good time — Peter Makela, folks from ArperSPA who'll throw a cocktail party and were kind enough to invite us, Anna Carroline of designstudio210.com, KriskaDECOR, Tim Bogan the UK director of Modenus, Sven Isaksson who's working with Givarps to launch their site and furniture, the guys at WoodStockholm and many many others.
Guess that's the trait of being a blogger, right? ;)

From Stockholm with love …
Alex Ion