April showers bring May flowers…
But who says you have to wait until May to enjoy the blooms of the season?! In fact, the current floral pattern offerings celebrate vivid colors and interesting forms. Today we spotlight the best floral patterns for 2013. From modern abstract blooms to watercolor-inspired prints, these selections will catch you off guard in the best possible way!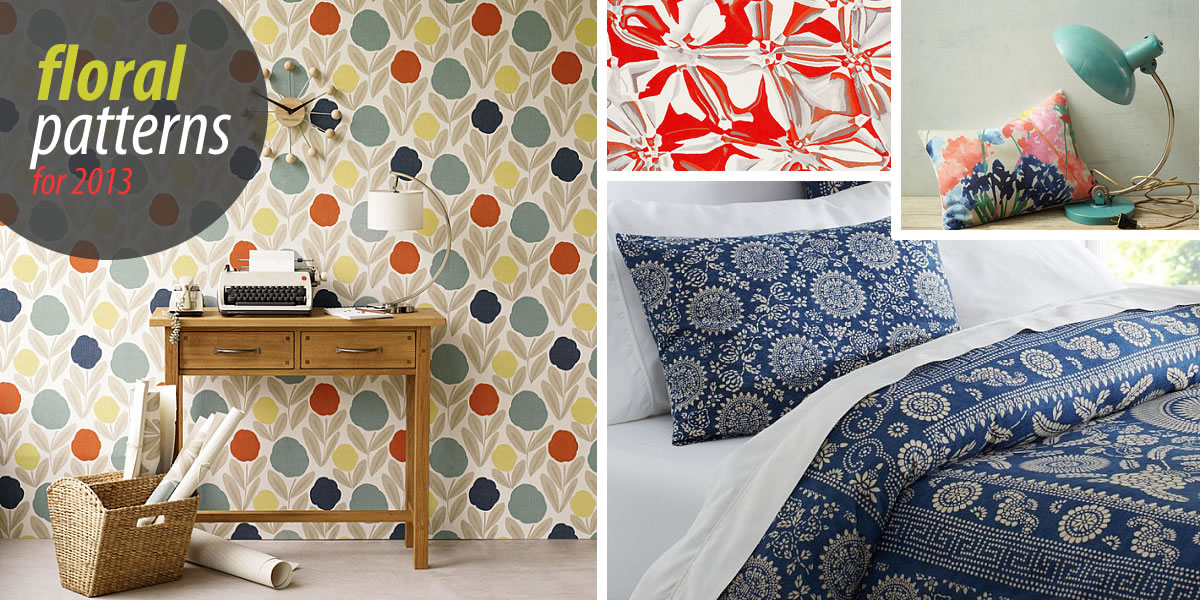 You can always find a traditional pastel floral if you know where to look, but why not go with a modern twist on a classic pattern? Even retailers that typically offer more conventional designs are throwing in a contemporary item or two. As you scan the images below, see what catches your eye. It may not be the brightest of colors or the most abstract of designs that steal the show. Some floral pieces simply have an irresistible quality that is hard to describe! Most of all, don't assume that "spring florals" are a seasonal cliche. As today's post proves, there's more to this style than meets the eye…
Floral Wallpaper and Curtains
We begin with a vibrant offering from Laura Ashley: Serena Natural Multi Wallpaper. As mentioned in the product description on the Laura Ashely site, this pattern is a "contemporary stylized flower design with accents of colour." And that it is! What's most impressive is how this pattern strays from the Laura Ashley norm and introduces some retro style to the mix!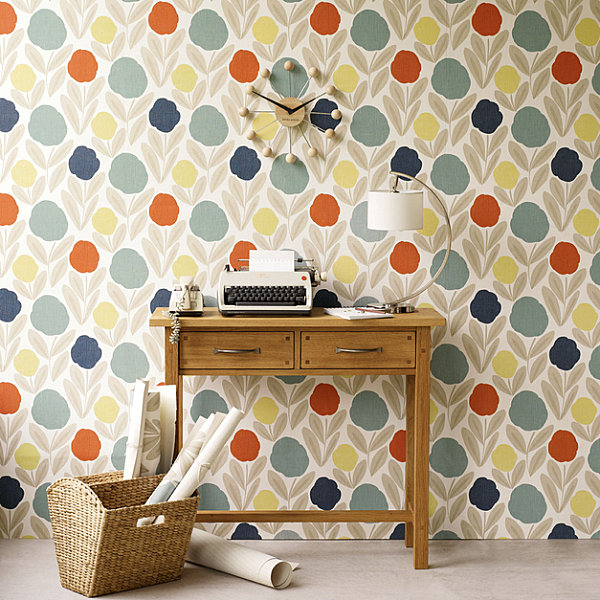 It's hard not to be drawn to these abstract floral curtains from IKEA… Simply called Janette, this pair of curtains catches the eye with a chartreuse hue, as well as a bold design. FYI: The pattern also comes in gray.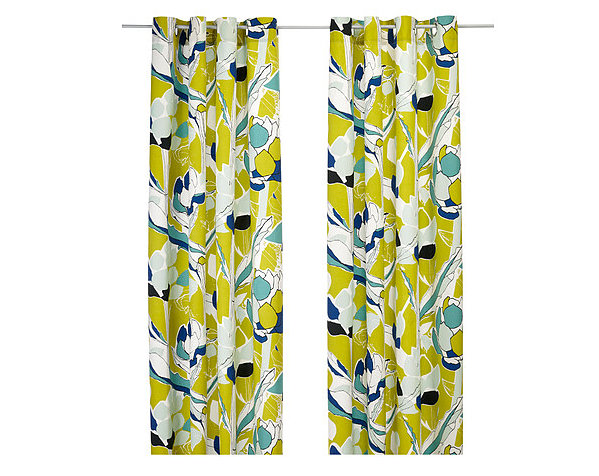 Below we see the DKNY Winterbloom Shower Curtain from Donna Karan, with a slight close-up on the right. Roses seem to take flight on this deep purple item. In fact, it's the amethyst tones that truly set this shower curtain apart, creating a decadent look. A bronzing finish gives the piece an overall pearlized shine…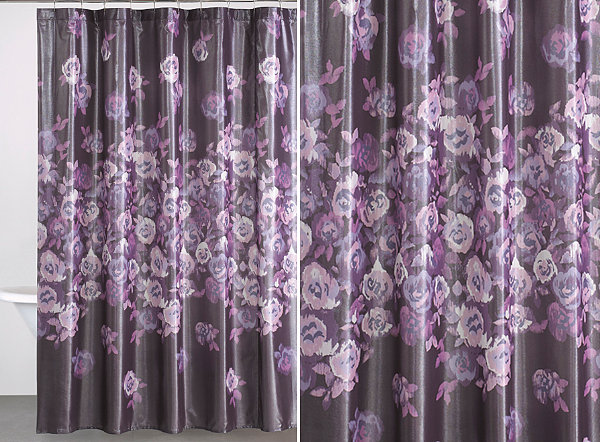 Floral Pillows
Throw pillows are the perfect way to inject a dose of floral style into your space. We're crazy about the ikat look of the Jacqueline Pillow from Z Gallerie, shown below. This abstract floral combines shades of mint, blue and cream. The item also comes in citrus and steel. Did we mention that this pillow is down-filled to maximize comfort?!…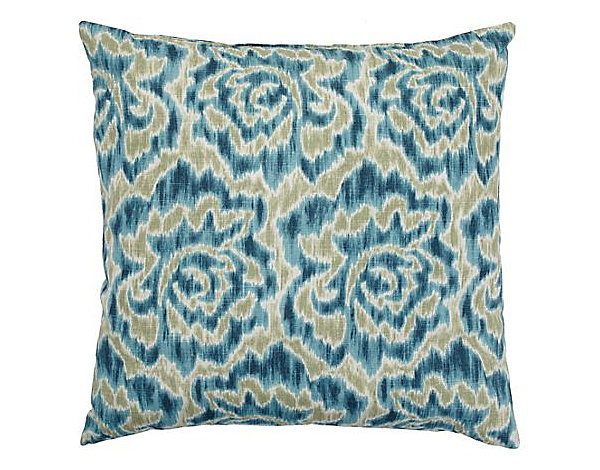 There's something chic and vintage about the Siesta Floral Pillow Cover from West Elm. Maybe it's the way the item has the look of a vibrant watercolor, or perhaps its the use of eye-catching shades like coral, pink and blue. This pillow cover is made of 100% cotton, and the insert is sold separately.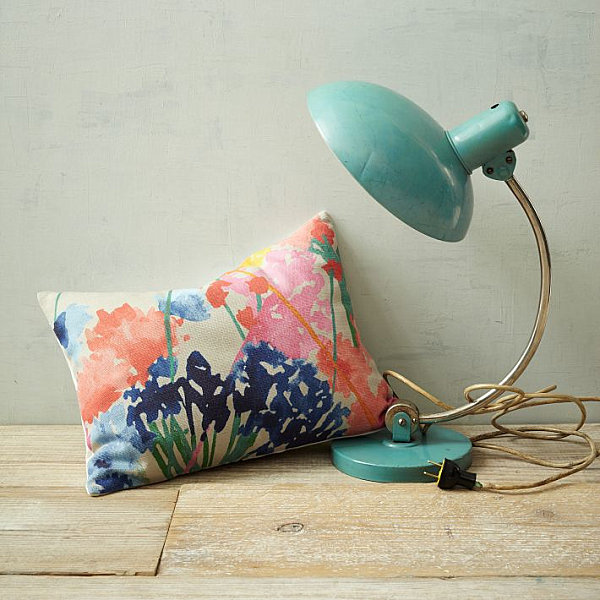 Speaking of vintage style, nobody brings it into the present quite like Jonathan Adler! A new offering from the designer, the Brasilia Flower Pillow is inspired by the shapes and colors in nature. As an added bonus, this retro-fabulous item is hand-embroidered!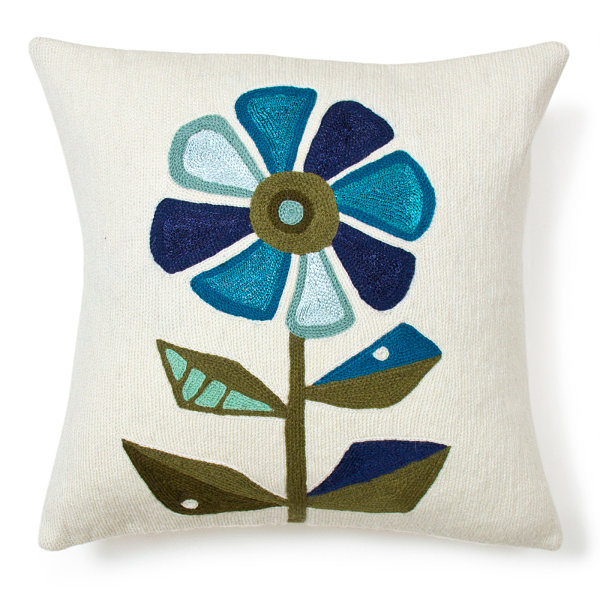 Floral Bedding
There's no time like spring to spruce up your bedding! And why not go with a floral print? Especially one as unexpected as the pattern that graces the Marimekko Kevatesikko Black-White Bed Linens from Crate & Barrel. Created by Erja Hirvi, the design is based on the structure of the cowslip flowering plant. The result: a refreshingly modern twist on the botanical concept!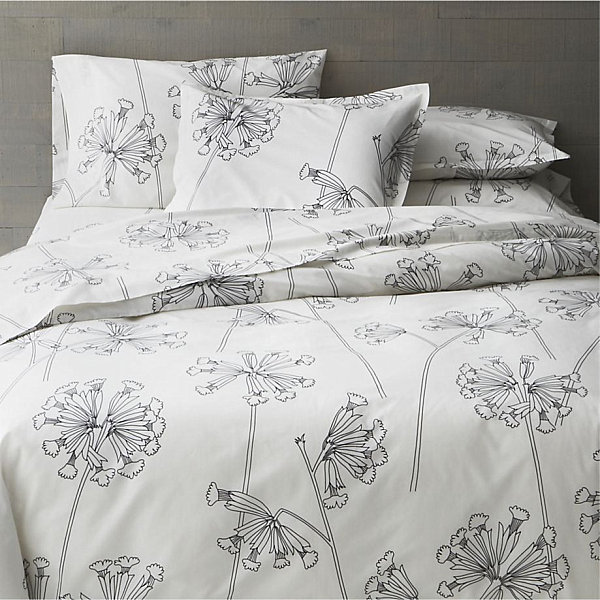 A bit more clean-lined and stylized than typical Pottery Barn offerings, the Calista Floral Duvet Cover & Sham is made of a cotton/linen blend. The design conjures the look of a bandanna, as well as the piece-y style of a mosaic. And is there anything more refreshing than a blue and white palette, especially for transitioning to the summer?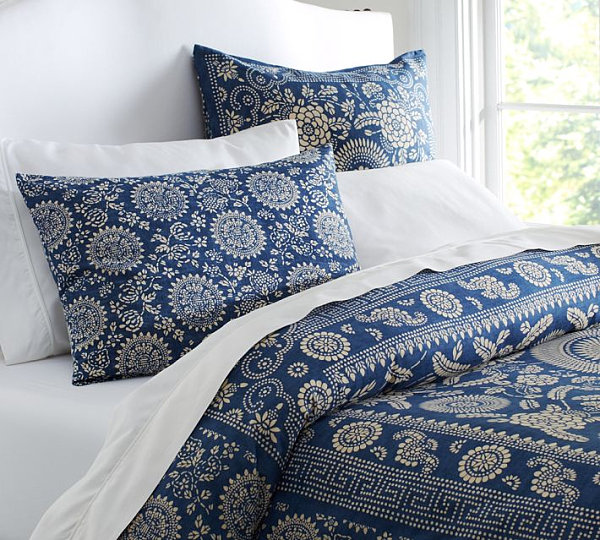 Floral Rugs
Floral rugs can serve as the centerpiece of a room, or they can tie everything together. Let's just say the pieces below are more of the centerpiece type… Say hello to ÅKERKULLA, a new offering from IKEA. This low-pile rug has a folksy, traditional look, yet bold outlines and shapes assert a modern sensibility.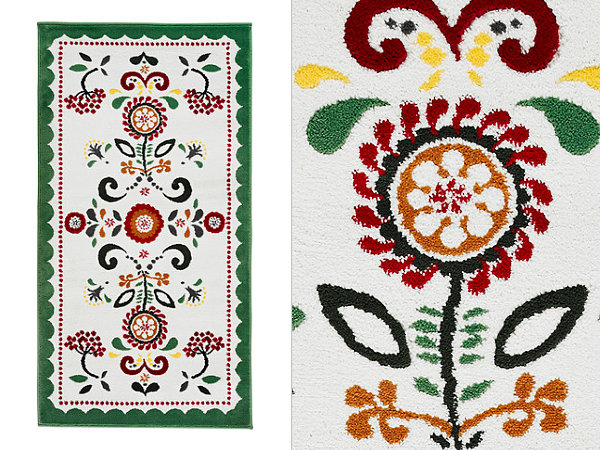 It's hard not to be drawn to the Botanical Burnt Orange Rug from CB2, especially since its bold design and fiery hues are true scene-stealers! From artist Matthew Lew, this rug was inspired by a trip to the Chicago Botanic Gardens. A surrealist pattern of optic blooms is the result, and the rug is sure to captivate with its grey, taupe and linen shades on a bright orange background…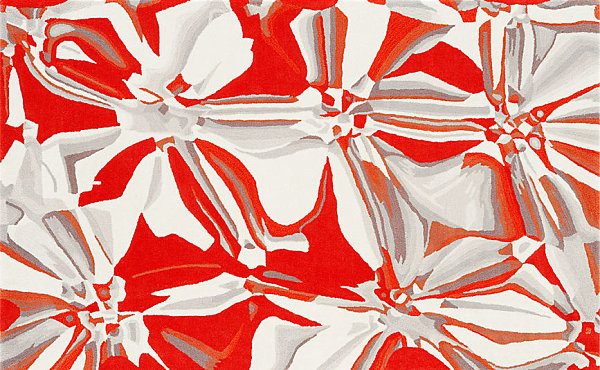 Our last featured item is a rug that is wonderfully surprising with its abstract design and unconventional shape. The Garden Hand-Tufted Wool Rug from Angela Adams is from the "Pathways" series. Inspired by a walk in the garden, this piece is crafted of 100% New Zealand Wool. Whimsically gorgeous, don't you think?…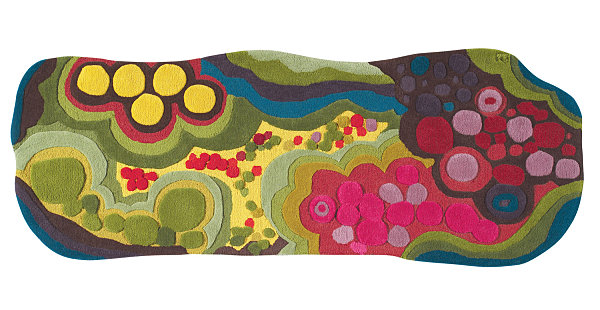 We hope today's post has proven that florals are not what they used to be. And that's quite refreshing! There's nothing like a new take on a classic concept. By going abstract, veering into retro-modern territory or being extra bold, you can make a floral statement that celebrates the latest in spring design trends!