Brett Michaels has been back in the news a lot of late. With his recent termination, it's hard to remember that he's more than a fired contestant from the premier of Celebrity Apprentice.
This believer that every rose has its thorn is absolutely no match for ingenious New York Designer Michelle Slovak who believes and lives by a motto that every space has its potential. And after tuning into an enlightening episode of SpacesTV (Thank God I Hired a Designer) and getting a chance to chat with her, we'll see why.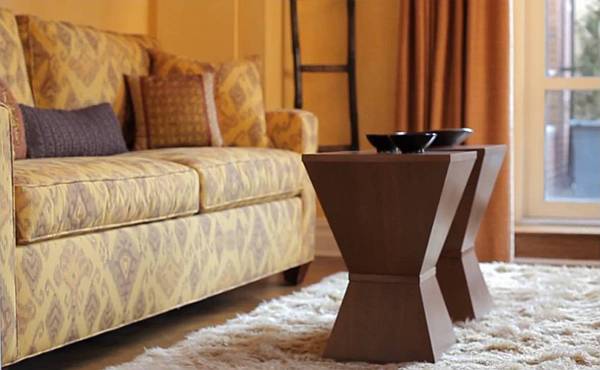 Homeowner Beth joined forces with Slovak, an esteemed Allied Member ASID and Board Member IFDA, giving both women an opportunity to show us how much fun the experience of transforming a room holds.
One has to applaud and admire Beth for not just seeking advice and hiring an interior designer but knowing that even if she didn't have the confidence to boost the bare walls on her own, she was ready for it. Which left both her and her husband being thrilled and thanking God they hired a designer!
Beth, a homeowner new to the Upper East Side, saw her den as a blank canvas. She knew that with the right mood, warmth was lurking, just needed support to guide it through its stunning metamorphosis. Enter Michelle Slovak who wisely takes this apartment out of its pale cocoon and gives it wings through textiles and textures. While Beth was saying goodbye to suburb living Slovak was saying, let there be color!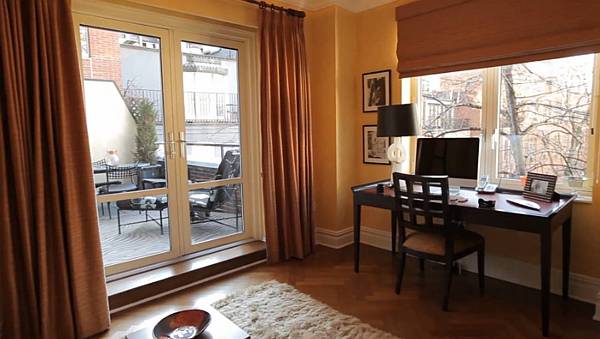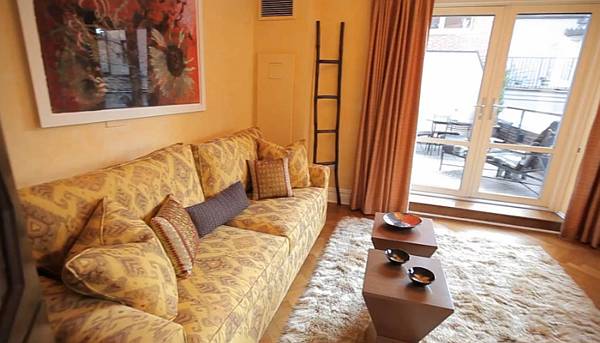 From beginning to end, each design introduction from Slovak presents a journey to giving a small space a chance at beauty so Beth can accomplish office work and her visiting children can rest while in a renewed atmosphere..
One way Slovak accomplished this overall success was beginning with things Beth already owned. This assisted in making the space comfortable for everyone by establishing pre-existing familial object d'art amongst fresh concepts.
In closing Beth happily shares, "I take a deep breath every time I walk in and feel like I've escaped from the busyness…"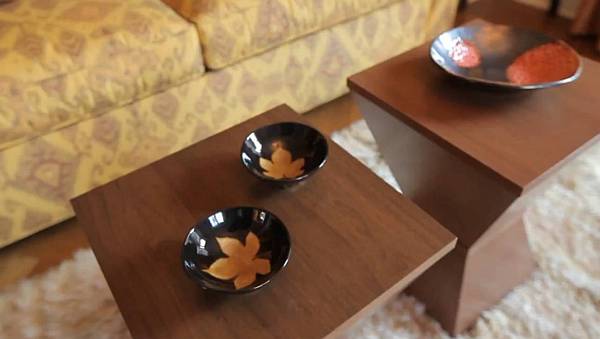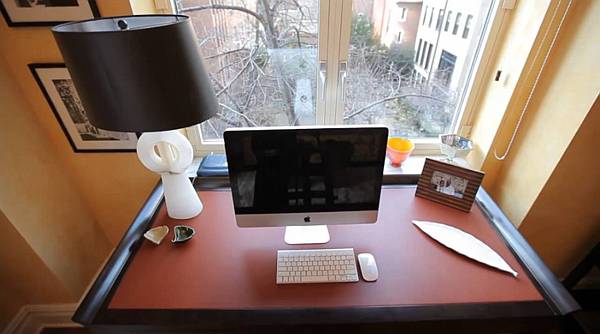 Feeling inspired to achieve an escape from your hectic schedule? Want to turn your pied-`a-terre into a place of potential and possibilities with a pop of color?
Slovak is dynamic in helping people "be comfortable with color." But she also wants to help us help ourselves be comfortable with colored design and thus has been kind enough to express some secrets to share with you on how this can be obtained!
Q: You were invited by Beth Levine into her home and saw potential. Do you have a tip to pass on to others who aspire to give their space a makeover on seeing potential and qualifying a space as having potential?
Slovak: Every space has potential! Ask yourself, 'How do I want this space to function for me? Do I want this to be for relaxing, for working, for entertaining? Does it need to be multi-purpose…feel warm and cozy or sleek and minimal?' Then you can start planning.
Q: You mention incorporating a color palette that works for the homeowner. What are ways families or individuals can avoid trends that may be topical, mass appealing but, as you say, doesn't work for the homeowner?
Slovak: Color is definitely subjective! You pick up a magazine and the hot trend might be purple and green – you think, ' I love it, but will I get tired of it?' If you have a neutral palette to begin with, it's easy to satisfy your whim by adding pillows or painting one wall in that topical color!
Q: Incorporating flow from indoor to out side real estate is aesthetically pleasing but can be a challenge whether dealing with large or small areas. The first thing to take into consideration when approaching this project, in your experience, would be?
Slovak: When incorporating the flow from inside to outside, consider first, the traffic flow – not blocking passage between the spaces. The décor should relate but doesn't have to be the same style. Color should be harmonious.
Q: Beth has come to trust you, which enabled you to bring her imaginations to life. For those who plan on DIY, what are ways they can trust their instinct so they too can bring to life their thoughts and expectations?
Slovak: DIY can be a daunting experience! Start with magazines and tear out your favorite rooms for inspiration. Make a wish list that includes what your expectations are for that space. Go to kitchen, bath showrooms and home stores to view, in person, the type of space you plan to renovate.
Q: I was excited to see the sofa with Ikat print as a focal design feature. Are there other prints or fabric styles for any aspect of the room that can offer a bold asset and do you have any predictions of patterns that are making a comeback or being introduced in the coming seasons?
Slovak: I love [Ikat print] and it is timeless- available now in many colors and scale: big and small, bright and neutral. Also, coming up strong are 'mineral prints' that are inspired by malachite, lapis, agate.
So are you excited about anything? As Michelle Slovak encourages, begin repurposing your page-turner magazines into page tearing episodes of preparation!