Mixing the casual modern styles with a touch of rustic charm is not the easiest to pull off. It might not always be a style that is instantly appealing to most. Yet, the interiors of Nussberg Penthouse decorated by Beef Architekti seem to have a certain calm and soothing look about them. Neatly nestled on top of a hill, the penthouse promises some wonderful and unabated views of the city of Vienna. That in itself is a view that most home owners would gleefully accept. But there is plenty more as you step inside.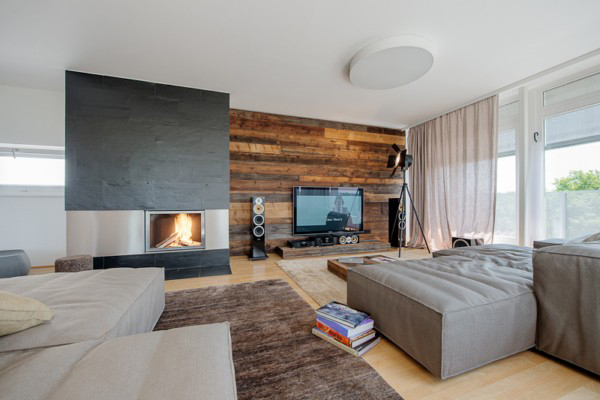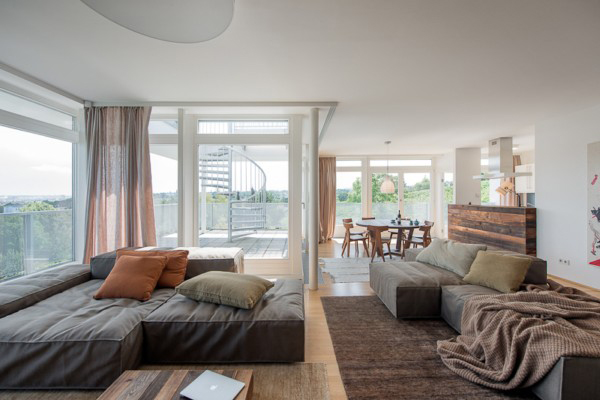 Balanced use of wood throughout the living and the dining area give the home its rustic essence. Even the ergonomic dining table, the chairs, kitchen countertop and a few wall surfaces here and there are covered in wood to bring out this distinctively 'traditional and rural' appeal. The rest of the home though is clad in neutral white walls, sleek décor and a dash of color here and there to liven up the rooms.
The kid's bedroom and the master bedroom employ stylish shelves, plush furnishings and a touch of bright color here and there to offer a beautiful contrast. Extravagant use of floor-to-ceiling glass windows means there is literally a 360-degree view all around. Add to this a cool terrace area with comfortable seating and the penthouse seems more like a cottage or a log cabin among the woods. Some interesting art work and a stylish modern fireplace add to its unassuming elegance.