This cool contemporary home Down Under in Melbourne has been designed to blend in cool natural tones with sophisticated modern design to perfection. Conceptualized and brought to life by designer Robert Simeoni, the residence achieves this by using beautiful shades of wood along with the right blend of stone and glass. The exterior of the house is adorned by vertical wooden tiles that give it a distinct appeal. Step inside and you will see chic and sophisticated interiors that are largely clad in neutral colors.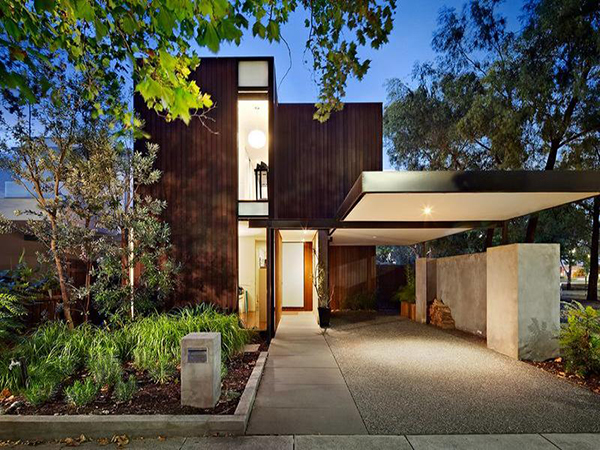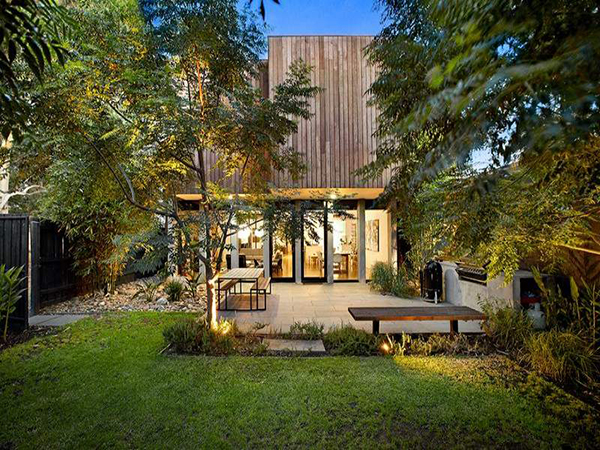 The presence of wood is felt even indoors as the flooring and sporadic presence of the material in exclusive corners gives the home a warm and welcoming appeal. Spacious living and dining areas are separated by a courtyard, allowing for ample natural ventilation. Extensive use of glass in the form of sliding floor-to-ceiling windows also offers for visual connectivity with the gorgeous garden in the back. Stylish pendant lighting and plush décor in darker hues offer a pleasant contrast to the white walls present throughout.
Sleek modern kitchen along with the daft dining area have been designed keeping in mind the modern trend of clean and well defined spaces. The dark wall behind the headboard of the bed gives the bedroom an exclusive look, while interesting art work throughout the home helps take the style quotient up a notch or two. A perfect urban dwelling that strikes a balance between elegance and ergonomics!