People invest so much time and money in their cars that it is little wonder they pamper their vehicles as much as their loved ones. Well, some of us do and for such auto heads, the parking spot for their favorite set of wheels is equally important. We have already seen these awesome home parking garages in the past, where avid car lovers have turned their homes into unique and exceptional garage space. Now, it's time for commercial parking spaces to steal the spotlight.
Here are 11 such stunning designs that bring together contemporary form with ample space and plenty of safety for your car. While some look like futuristic metal palaces, others employ quirky designs to bring a whole new experience for drivers. So let's have them …
Autostadt Car Towers in Wolfsburg, Germany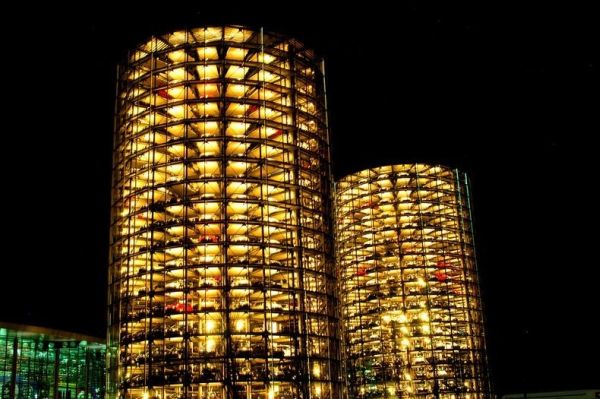 There is arguably no other parking place on the planet for cars that is akin to 'car heaven' as the Autostadt Car Towers in Wolfsburg, Germany. These 200 feet tall twin glass silos are used exclusively for the storage of new Volkswagen cars. A trip to these giant towers is like traveling to some sort of 'Car Matrix', that is simply out of this world.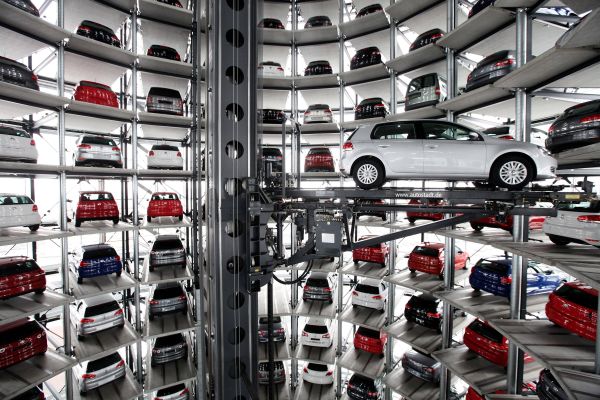 Some select dealers in the Europe allow customers to pick specific car models from Autostadt itself and in case you take up this option, you can not only see a robotic elevator bring out the car you have chosen, but also get a special visitors experience at Autostadt. Here are twin towers where cars come ahead of men!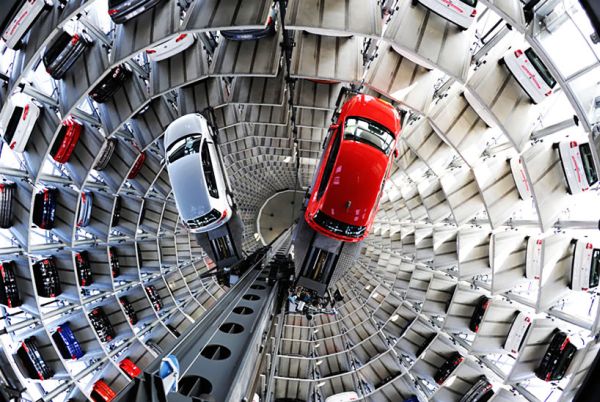 1111 Lincoln Road Parking Space, Miami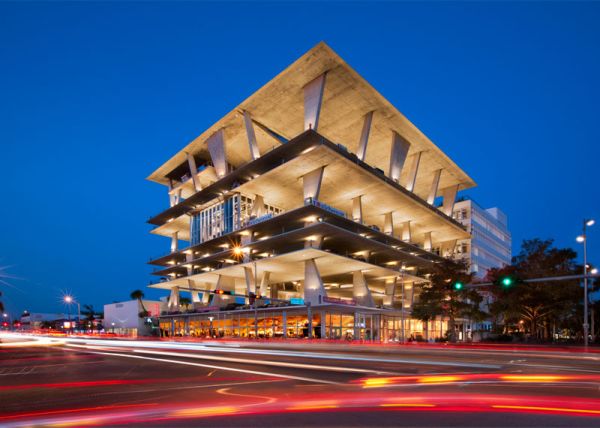 One would assume that a parking garage created by the designers of the 'Bird's Nest' stadium for Beijing 2008 Olympics would be something special and it truly is. The 1111 Lincoln Road parking garage by Herzog & de Meuron is as much an example of stylish modern design as it is a spacious parking lot. Set in Miami, Florida, the 300-car garage is made largely using concrete and glass and with a parking complex, a cool restaurant and ocean views from the terrace, it is a lot more than just a garage.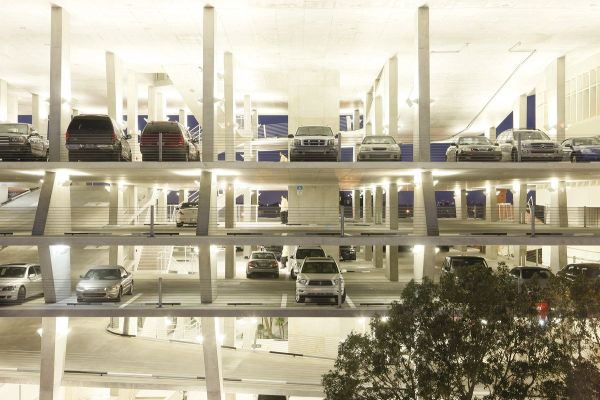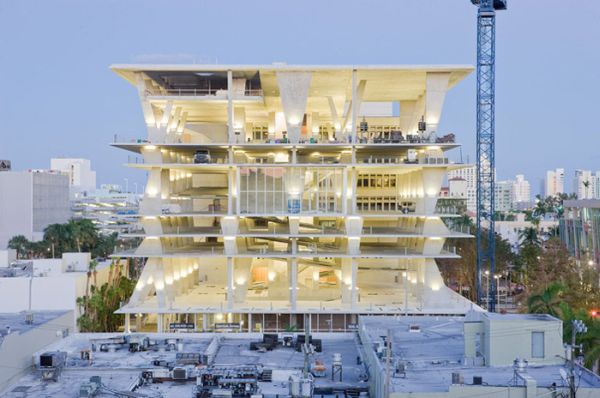 Car Park One, Oklahoma City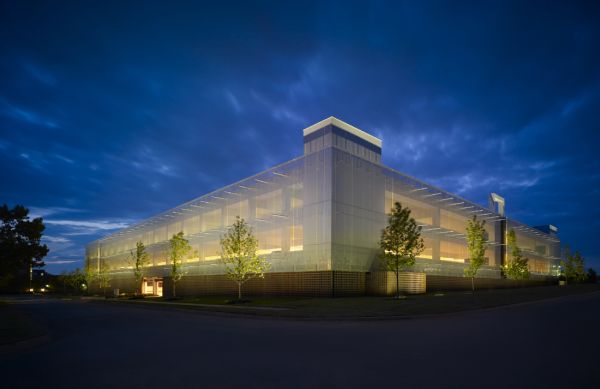 This parking lot designed with a sense of flair by Elliott and Associates Architects is a fine example of meshing together modern design with the classic parking garage structure. Covering an entire city block and housing 791 cars, the Car Park One is more like a park and less like a garage. A creative mesh that covers the building allows for plenty of natural air and ventilation, while hiding the cars visually from the world outside.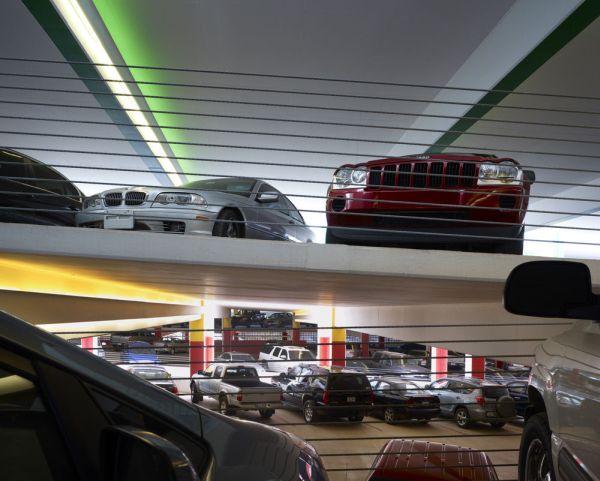 The beautiful metal mesh also plays with sunlight and reflects various hues in different times of the day. Color-coded levels and elegant aesthetics on the inside ensure you have a nice time and never get lost inside this modern behemoth.
Herma Parking Building, South Korea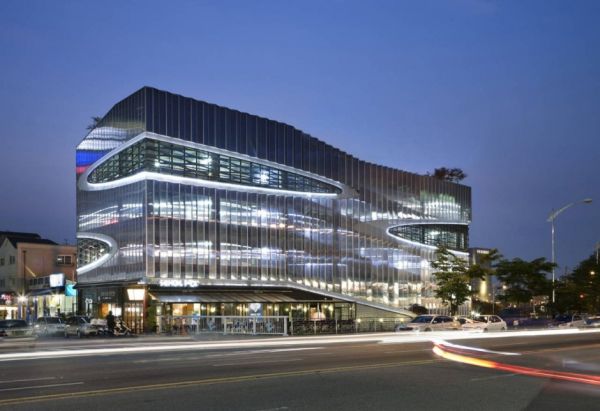 If you are looking for sleek and streamline contemporary parking garages, then look no further than the Herma Parking Building. Bordering on a sense minimalism, this amazing building pretty much looks like it dropped out of the future. Set in Seoul, South Korea, this parking building designed by JOHO Architecture steals the show with its cutting edge design. Designers of the space say that over 600 polycarbonate and 900 stainless steel panels were employed in crafting its unique exterior.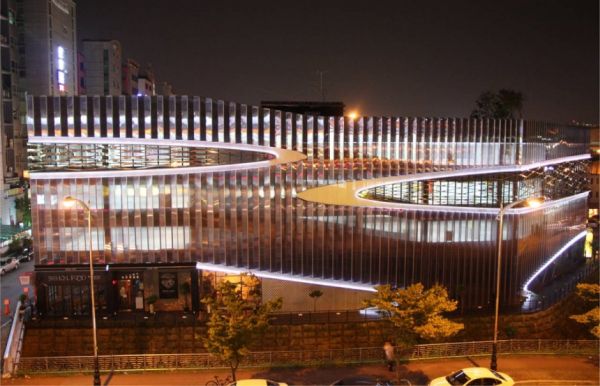 The resultant edifice allows for ample natural ventilation and plays off the sun in the sky to create many wonderful hues inside. A parking garage that looks more appealing than many modern homes and villas we stumble across!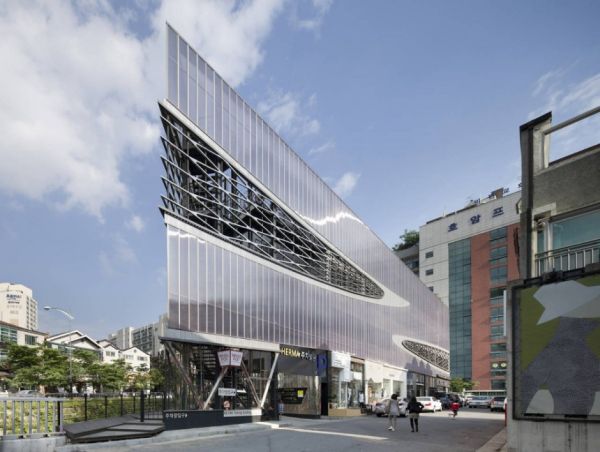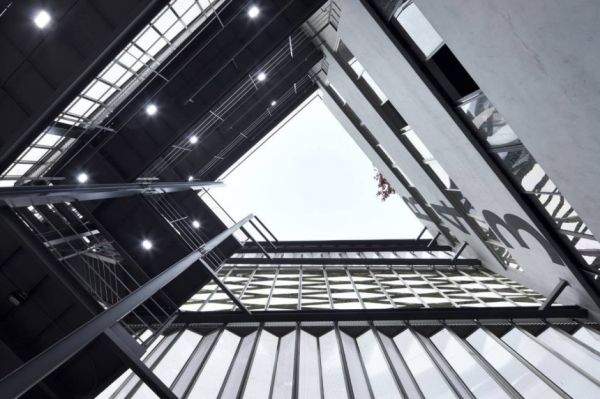 Greenway Self Park, Chicago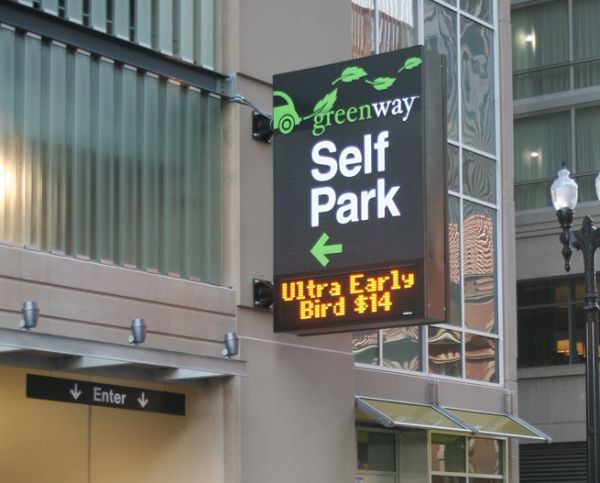 A great modern parking garage is not just all about cars alone and some of the parking spaces are thinking beyond the conventional. This is not just in case of design, but also the way they utilize alternate energy sources. Chicago is not known as the 'windy city' just for nothing. Many vouch by this moniker after a walk on the streets of the city on a cold winter day. The Greenway Self Park space taps into this awesome wind power by using spiral turbines that are laced thought its structure.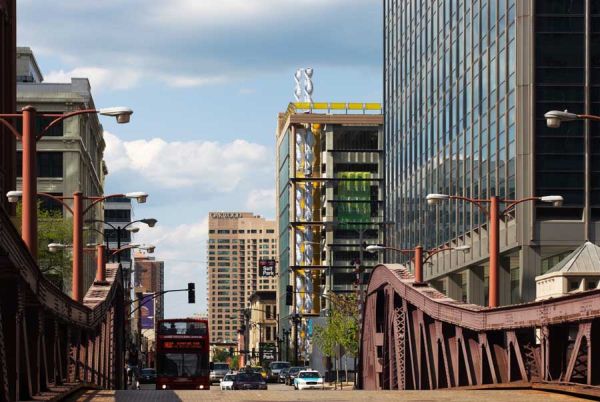 The innovative spiral turbines extend from the base of the parking space to the roof and their corkscrew design taps into whatever wind power is on offer. Designed by HOK Architects, the parking space also uses a rainwater harvesting system to score more brownie points on the 'going green' scale. All that apart from the ample space of offer inside!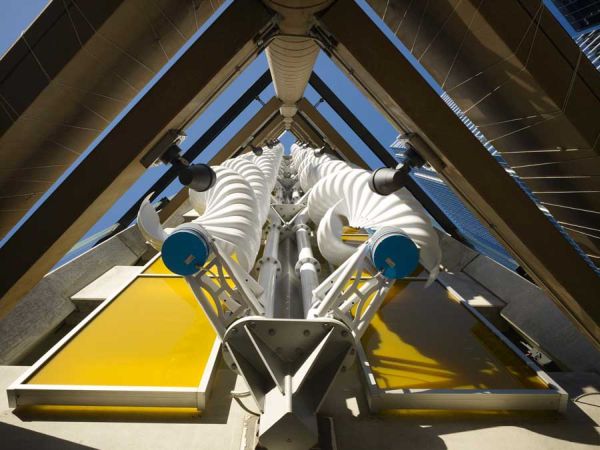 Veranda Car Park, Rotterdam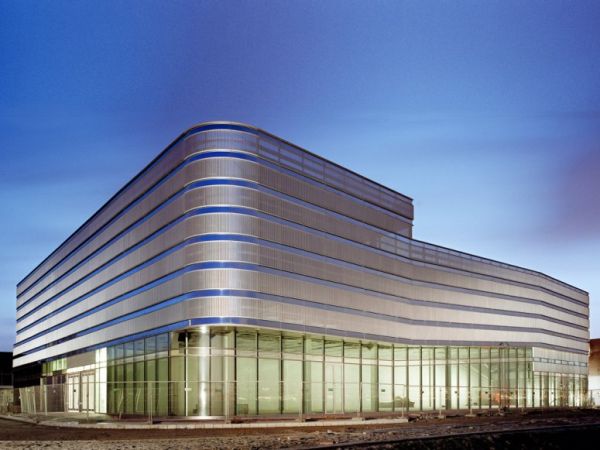 When architect Paul de Ruiter was asked to come up with an idea for a modern parking space in the uber-busy Veranda strip close to the Feyenoord stadium in Rotterdam, he decided t create a parking space that would alter the image of all such commercial buildings. The Veranda Car Park is a stunning and sleek structure that uses aluminum and glass exterior with rounded edges to create a futuristic look.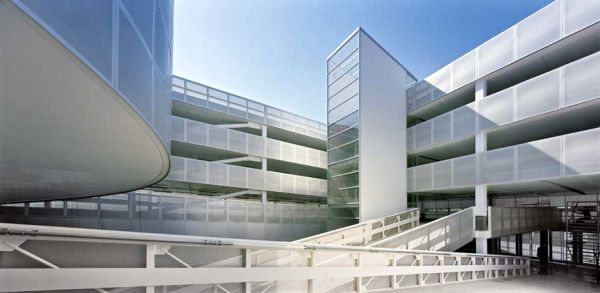 Apart from ample space for 650 cars inside, there are also shopping areas, a restaurant and a whole lot more inside this contemporary edifice. Each trapezium-shaped floor has flowing runways that allow you to move up and down easily, while ample daylight and a refined interior clad in metal give this space an airy and fresh look. This is one parking lot that actually lifts your mood with its design!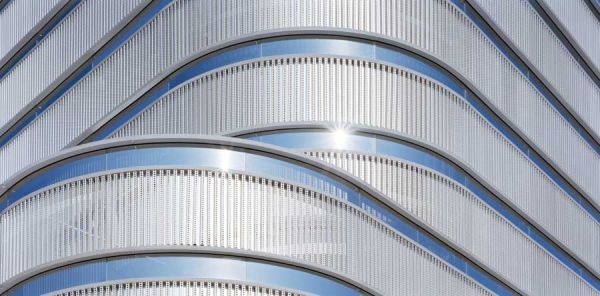 Santa Monica Civic Center Parking Garage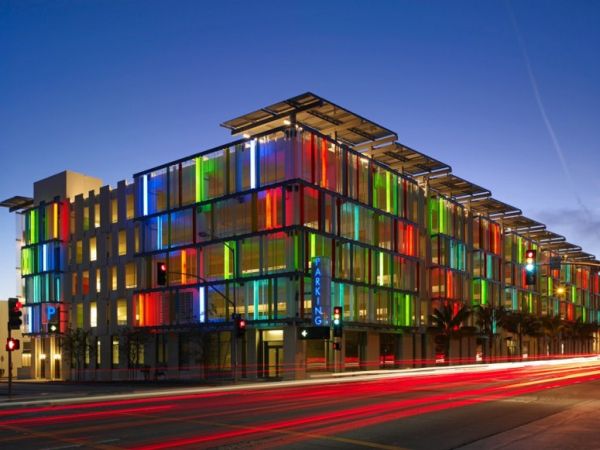 California has been a leader in green energy usage across the US and the Santa Monica Civic Center Parking Garage is another of its clean energy innovations. This beautiful and colorful parking garage is one of the first on the planet to be LEED-certified. This comes thanks to the apparent and brilliant use of LED lighting, reliance on clean energy, smart design and 14 specific parking spots that are reserved for electric vehicles!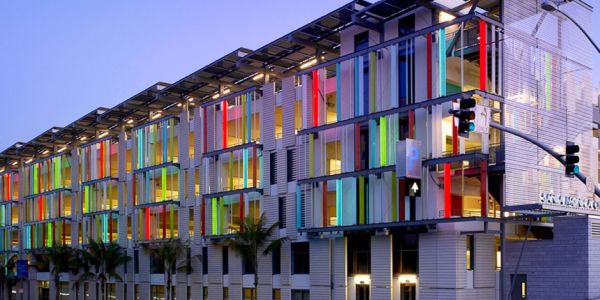 The 300,000-square-foot vivid structure stands out during the night and can accommodate over 900 cars along with also offering a bicycle parking area. Innovation both in terms of form and functionality come to the fore here in California.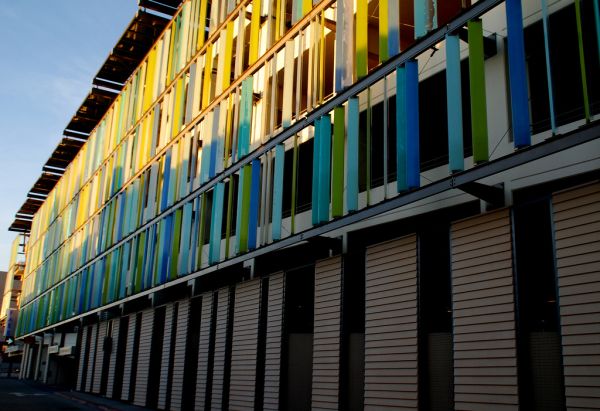 Eureka Car Park, Melbourne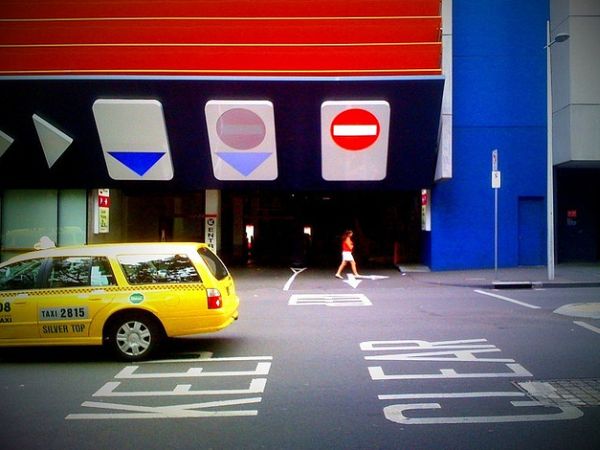 Another car park on our collection of beautiful modern parking spaces and this one comes from Down Under in Melbourne. (Seems like the cars are having too much of fun in there!) This one is well and truly a colorful, contemporary delight that really stands out from the rest. Designer Axel Peemoeller took the whole color-coding of parking garages to a new level by creating a vivid atmosphere where different colored lines lead you to various exits.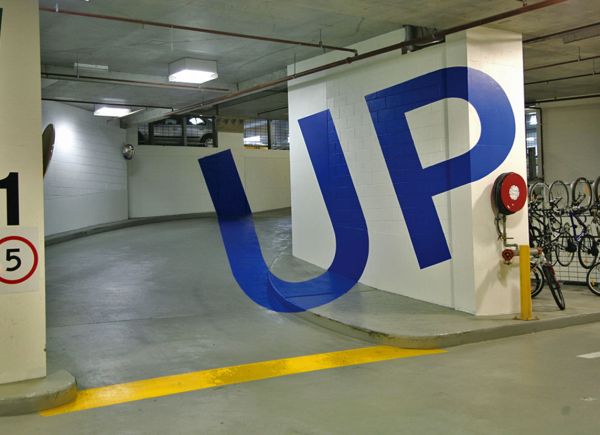 As you approach the desired exit giant painted words in similar color signal its arrival for you. A sensible and fun system that ensures you never get lost again in the parking lot. Red is 'Out', Green signifies 'in', blue is for a level 'up' and yellow for a level 'down'; it is all that simple!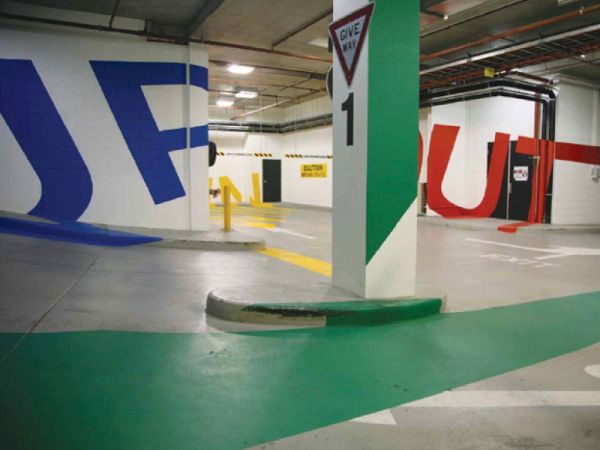 Marina City, Chicago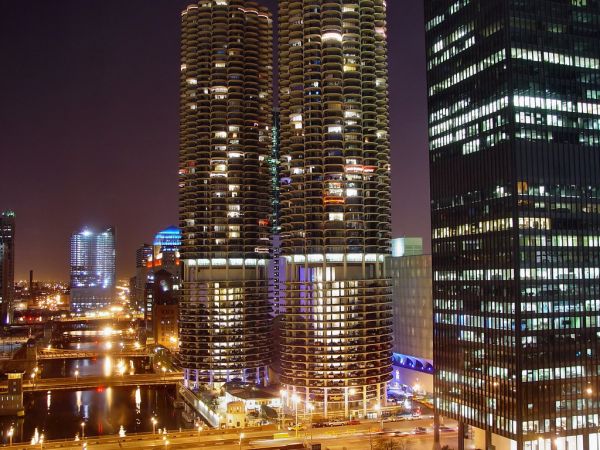 We can already hear a few people muttering "But this was finished in 1964". Absolutely right and designed by architect Bertrand Goldberg the twin towers we well ahead of their time. Still as popular as they were a few decades back, Marina City sports a couple of 65-story, 587-foot-tall buildings apart from other structures. Apart from the many amazing apartment spaces above and commercial complexes that offer views of Chicago River, the lower half of the buildings can hold 896 cars in its parking lots.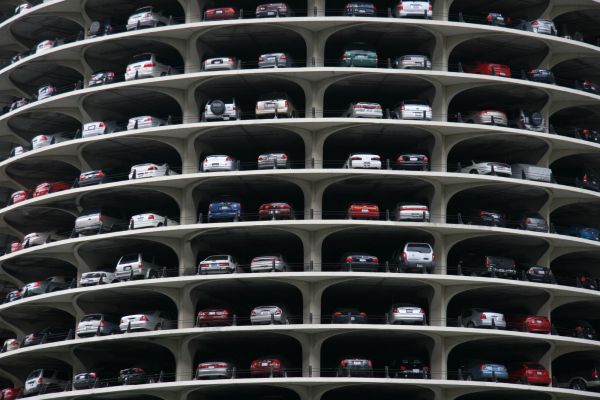 A symbol of Chicago and prominent features of its skyline since long, the towers are a tribute to the creativity of their architecture and his foresight.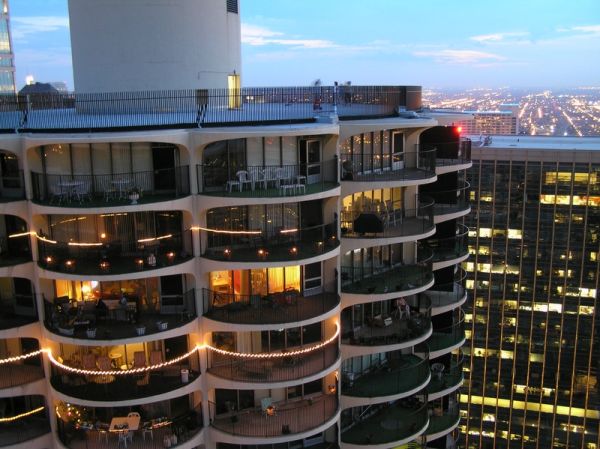 Kansas City Public Library's Community Bookshelf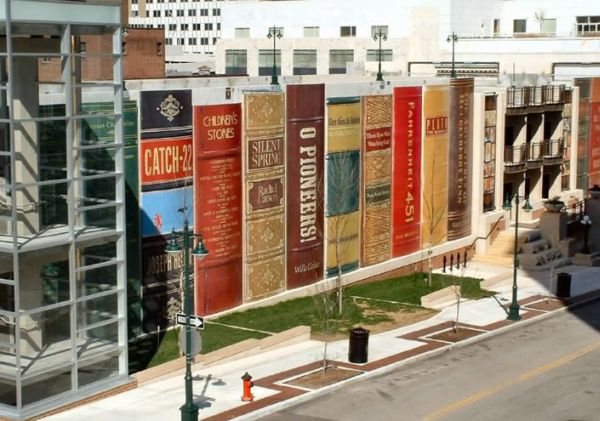 Book reading as a habit is dying down and with the whole e-reader and tablet revolution; many of us have not picked up an actual book in quite a while. Kansas City Public Library though seems to have come up with a unique way to draw in more readers. Their parking garage is adorned by giant book titles that have been painted on to the building. Appearing like spines of classic books, 22 titles were picked to decorate the garage wall based on nominations from the locals.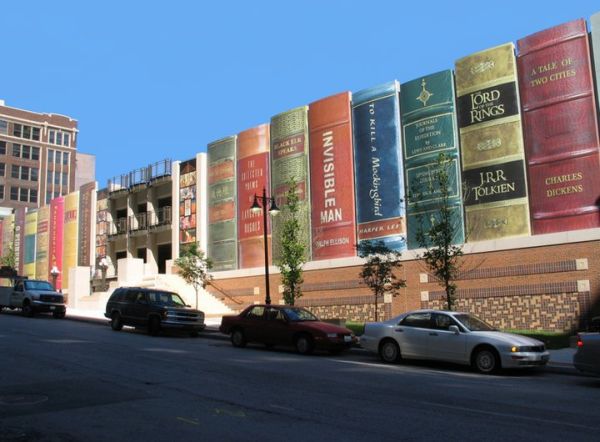 From 'Lord of the Rings' to 'Invisible Man', from 'A Tale of Two Cities' to 'Romeo and Juliet' you will find this parking garage to be quite illuminating and informative! With two metal stairwells that form the visual bookends, this is a parking lot that you need not hide away in the back of the building.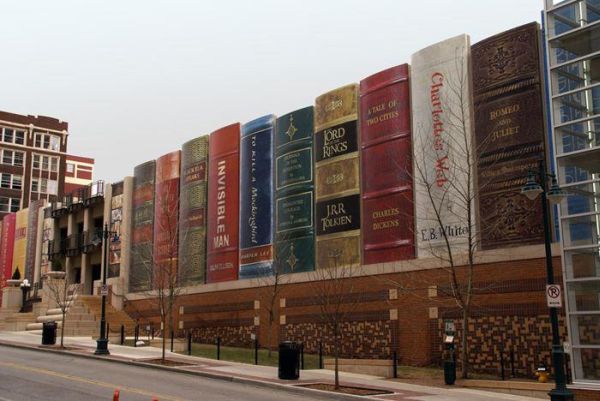 Parkhaus Engelenschanze, Germany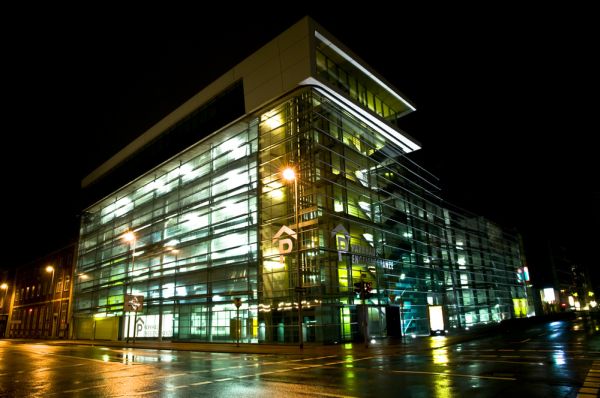 Germany is where we started our look at stunning parking garages and Germany is where it will all end. This glassy beauty though is in the busy little city of Munster. There is a lot here than meets the eye as at the heart of this modern parking space is a open courtyard with an Oriental touch. You can even find a tranquil pond and a waterfall as you drive to your parking spot.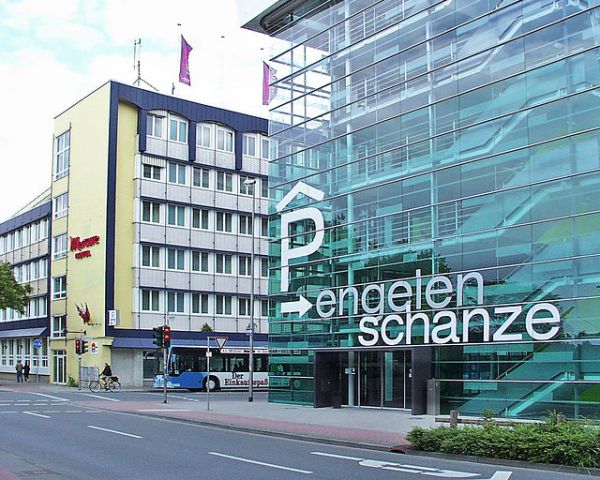 Beautiful interiors with separate ramps for both entering and leaving mean there is little room for getting lost. The transparent nature of the building ensures that you never feel claustrophobic; like in the case of many other old parking lots. Beautiful and brilliant!