We live in a DIY world! Do you want to frame your own artwork? There's a DIY project that can help you with that. Are you looking to reupholster your favorite chair? There's a DIY project that can help you with that, too. But what if you're wanting to remodel an entire room? You can bet there's a room planner tool that will allow you to do it yourself. In fact, there are many for you to choose from!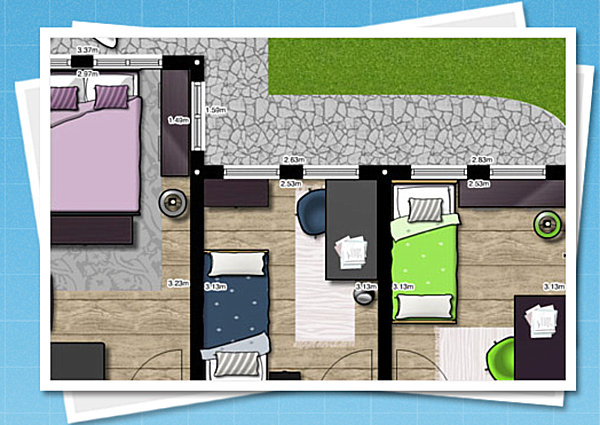 Today we explore seven room planner tools that make life easier for design enthusiasts. These are the best of the best, and they range from being free resources to apps that you can download for a few dollars. They will help you envision the layout for a room, give you the most optimal color options for your space and simulate the experience of having your own go-to interior designer.
Get ready to be wowed by today's technology —
ColorJive
We begin with a couple of room planner tools that focus on color! The first featured resource is ColorJive. Are you searching for a new paint color for the exterior of your home?

Are you curious about how a shade of paint will look in a specific room of your house? Are you struggling with living room paint color options? As stated on the ColorJive site, "Just upload a photo, choose your color, and Colorjive does the rest." It's all waiting for you online. There's nothing to install, and it updates automatically. The fee: $12 a month. But you can try it for free!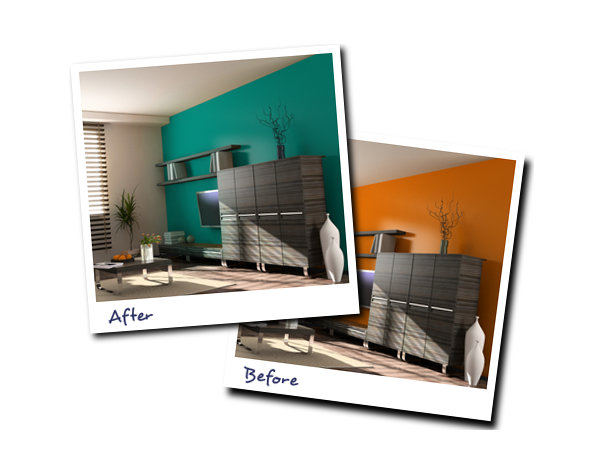 ColorJive is stocked full of resources, including the fandecks for Sherwin-Williams, Benjamin-Moore and Glidden, as well as the worldwide-used Natural Color System.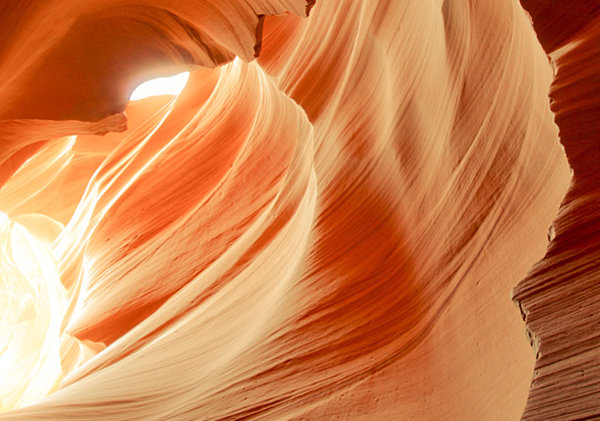 Color Capture by Benjamin Moore
Color Capture by Benjamin Moore & Co is your personal color assistant! This app for iPhone, iPod Touch and iPad allows you to
"snap a picture of any color inspiration that catches your eye and instantly get its match from Benjamin Moore's more than 3,300 paint colors"…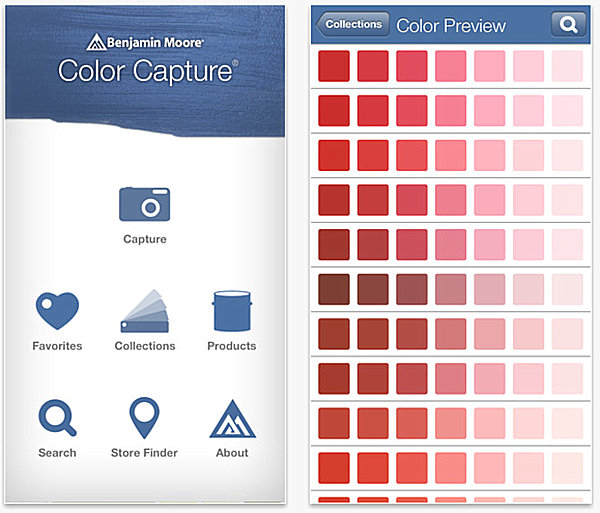 Searching for the perfect dining room color? With Color Capture, you can access color swatches and get the details of Benjamin Moore's specific shades. Download this app for free at the iTunes store. [from Decor by Denise]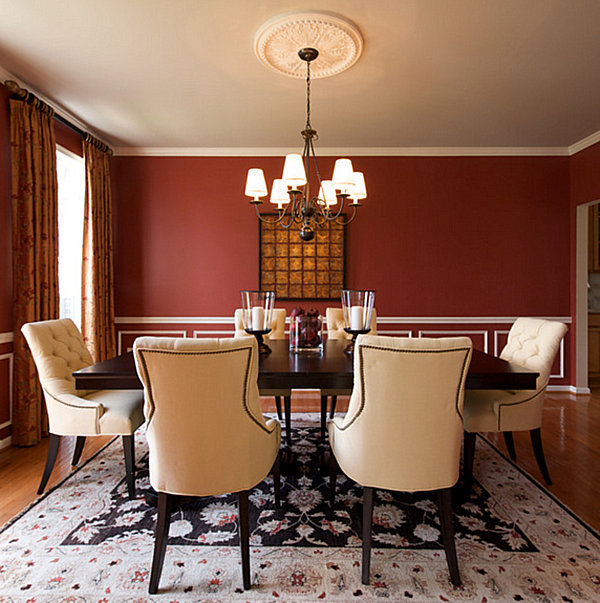 New updates for Version 3.1 include a Paint Calculator addition, a QR code reader update and a capture mode update. One user review noted the helpfulness of the app in matching fabrics and art to ideal paint colors. Color Capture is a great reminder of how paint companies are making their own apps that give customers the ability to access an entire library of color at their fingertips.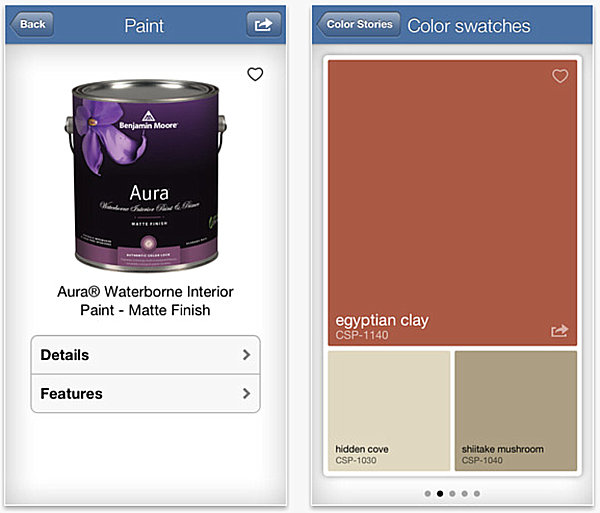 Mydeco 3D Room Planner
We now move into the territory of resources that assist the user with room layout. "Design your home in realistic 3D." According to mydeco.com, that's exactly what you can do with the Mydeco 3D Room Planner tool! [from Mydeco.com]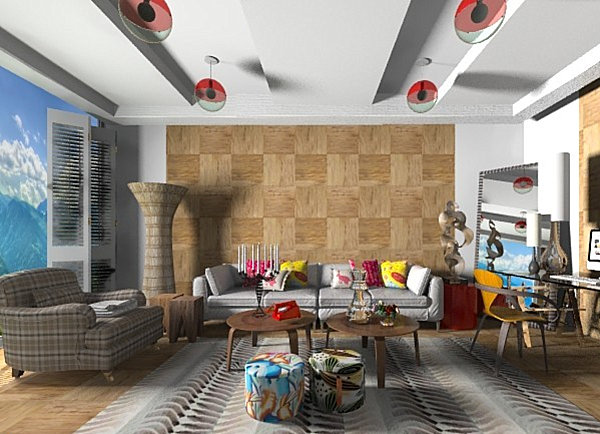 Choose from 120,000 real products in 3D to design your dream room. Upload your floor plan for free and get it back in 3D only one business day later, and enjoy connecting with other interior design enthusiasts. Plus, a range of video tutorials will help acquaint you with the room planner's capabilities…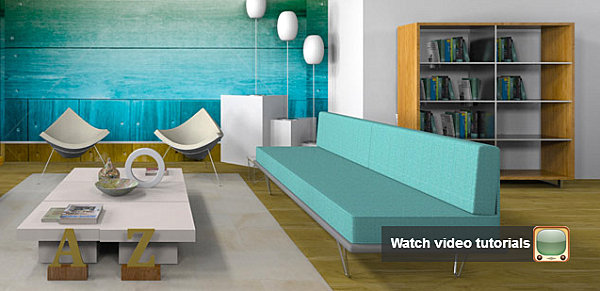 Mydeco's 3D room planner also allows you to perform helpful tasks such as resizing a room shape, adding and deleting walls and doors, and painting a room. Below we see a screen shot from one of Mydeco's tutorial videos on adding/splitting/resizing and deleting walls: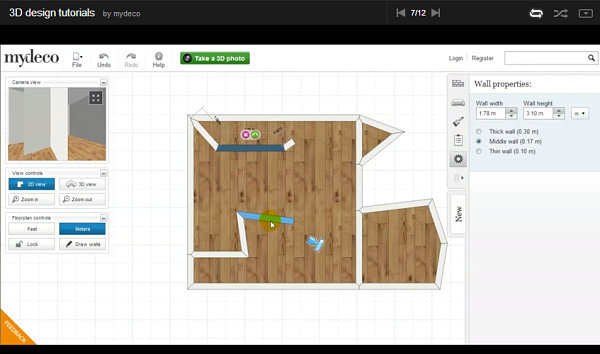 Sweet Home 3D
Another room planning user favorite is Sweet Home 3D. This free interior design application "helps you draw the plan of your house, arrange furniture on it and visit the results in 3D."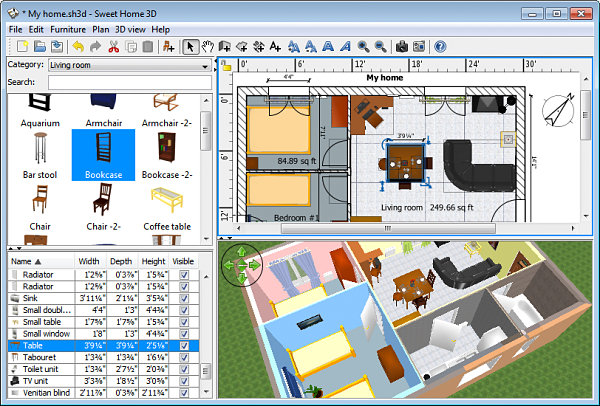 Sweet Home 3D is available in English , French, an 21 other languages for your convenience! Plus, it can run under Windows, Mac OS X 10.4 to 10.8, Linux and Solaris. In addition to an extensive catalog of furniture, you can choose from a library of user-generated furnishings and accessories, some of which are shown below: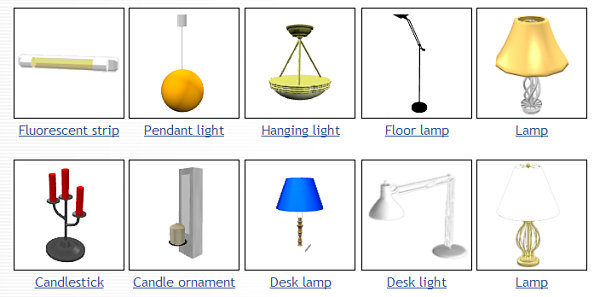 Import a blueprint of your home, draw and edit walls, and add doors, windows and furniture. A range of additional features gives this app true power, including the ability to create photos of the 3D view. A handy User's Guide teaches you how to effectively use Sweet Home 3D. Before you know it, you'll be designing your own interior…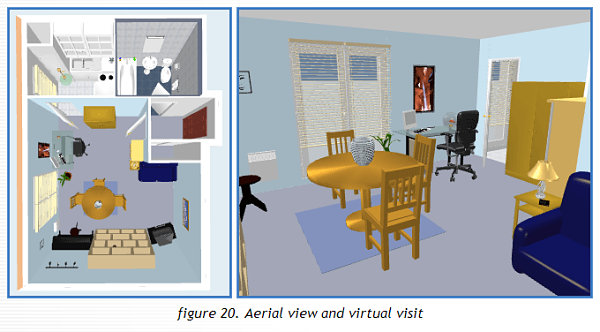 Floorplanner
Floorplanner does exactly what it says–it allows you to make and share floor plans online! Create your own floor plans, then furnish the space using Floorplanner's library of objects…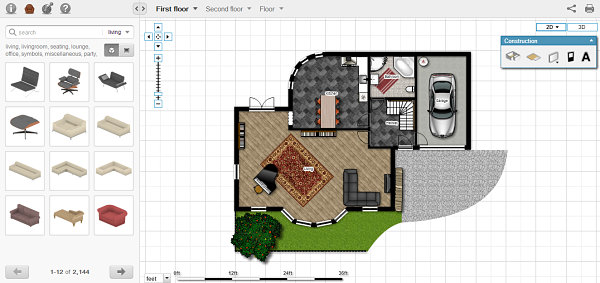 A range of pricing options allows you to pick the plan that's best for you. Sign up for free to try one project, or pay monthly or yearly to gain access to a larger range of projects–you decide! The more you pay upfront, the less you spend on extra projects you add on over time. Moving windows, walls and doors is no problem with Floorplanner. Great for newbies!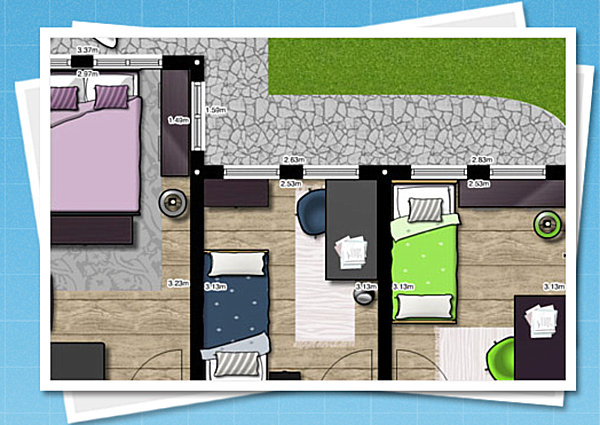 IKEA Home Planner
A web-based application that uses a browser plug-in, IKEA Home Planner allows you to select your favorite IKEA furnishings and see just how they'd look in your home. Wondering if that clean-lined buffet will fit into your dining room? Curious if you can fit an extra table into your kitchen space? Wonder no longer!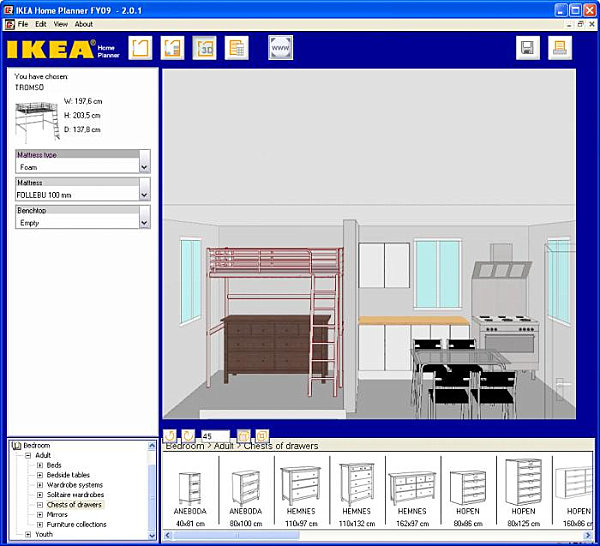 Not only can you select IKEA furniture and fit it into the exact measurements of your home, you can rearrange it, view it in 3D, and calculate the cost of the products. What sets this program apart from others is the way it provides detailed information about the furnishings. And that's because the program strictly features IKEA products. [from IKEAFANS]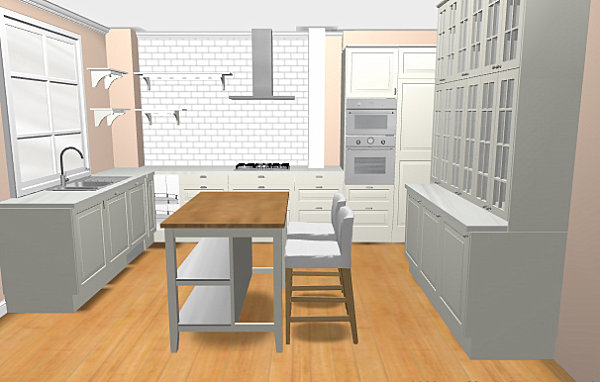 And just why would you want a program that's narrowly focused on one brand of furniture? Um, because it's IKEA, of course!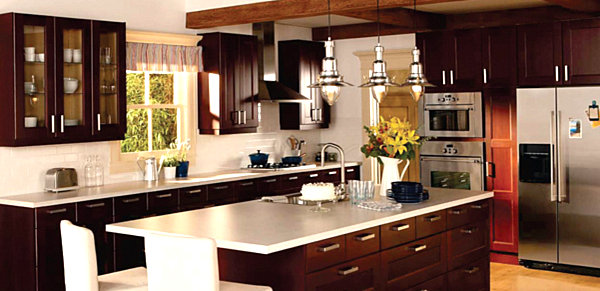 Mark on Call
We end with the next best thing to having your own personal interior designer. It's Mark on Call! The app's tagline is "Home Design in the Palm of Your Hand." What's not to love? In fact, this app is now available in HD for the iPad. No iPad? No problem! Use it on your iPhone or iPod Touch.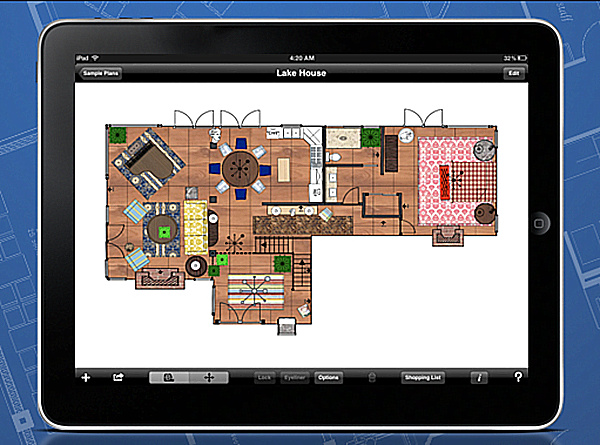 Created by interior designer Mark Lewison, the app allows users to perform many helpful tasks, such as photographing actual rugs, fabrics, finishes and more, then "skinning" them onto surfaces of the room! Create detailed room plans, become the designer you've always wanted to be, and stay on budget.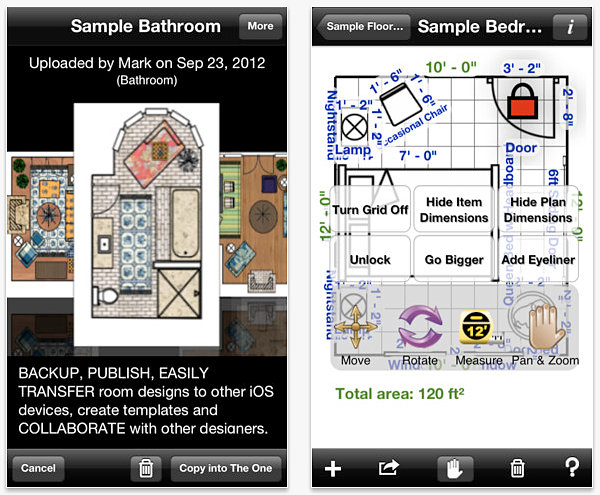 Other highlights: the ability to instantly measure any two points in your room, make shopping lists and inventories, and even apply Mark's Ten Commandments of Interior Design to your space.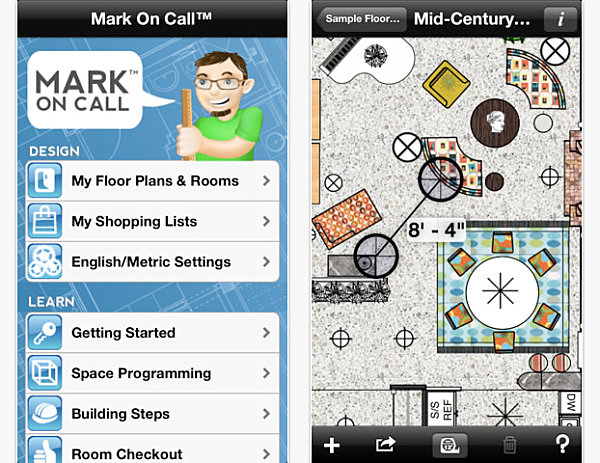 Have you used any of the room planner tools above? Were there any that proved particularly helpful to your interior design endeavors? Share your thoughts by leaving a comment below…