For those of you who don't know it, Gamla Stan is the Old Town part of the historic city of Stockholm. Stills sporting the cobbled streets, narrow alleys and large squares, this area carries much of the 'old world' charm, along with it.
Located in the heart of this traditional setting is this beautiful and vibrant modern apartment space that blends in the local architecture with contemporary design principles to offer the very best of both worlds. This 112 square meter, two-floor Stockholm apartment is all about great views amalgamated with stylish interiors.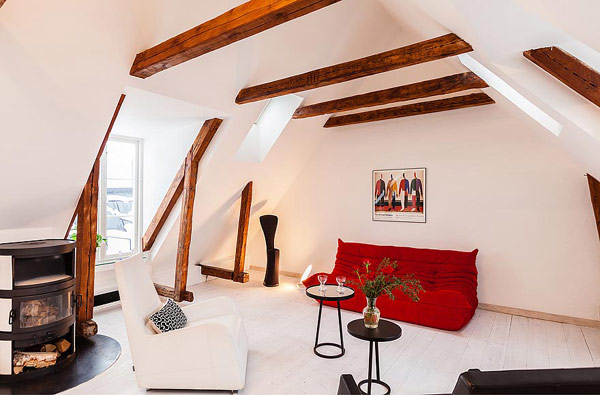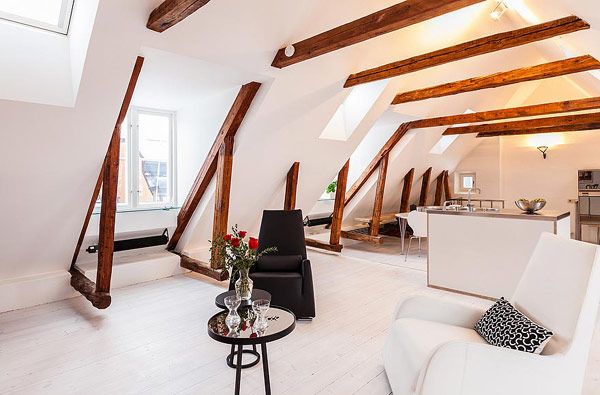 This lovely home welcomes you with a large hallway that sports a very open design and down the hallway are the cozy main bedroom and a well-organized storage space. The second level houses both the living and the dining areas, which are both sufficiently spacious and ergonomically crafted. Elegance is the key to the success of this Nordic style, while the exposed wooden beams in the top level of the house give it a distinct and bold personality.
The designers wished to bring in a sense of sophistication without taking away the native 'Scandinavian' touch. The use of white for the walls throughout the apartment ensures that this happens and vivid accents of red, black and beige in form of décor and furnishings offers the necessary splurge of color here and there.
Skylights and windows bring in plenty of natural ventilation as even the refined kitchen blends in with the rest of the apartment. The location of this place and the contrast it offers to its immediate outdoors is simply a treat to behold and savor. A perfect balance between a storied past and the exciting future!
The apartment will cost you some 5,500 euro per month to rent, but you should see their salaries in Sweden ;)