The classic concrete jungle is a mad land filled with tension and the euphoric feeling that we inhabitants of this domain are on the precipice of success. The exciting acknowledgement that this success is both inevitable and imminent precedes all other tragedies such as smog, congestion, and crime and so the list goes on. Every moment is an adventure of anticipation for the next moment.
Rooftop, sidewalk, streets, all densely populated with people from the most diverse cultures, and unknown walks of life make up a jungle that Alex, Marty, Gloria and Melman-fictitious animated cinema characters-only grew to appreciate after being exposed to a real jungle.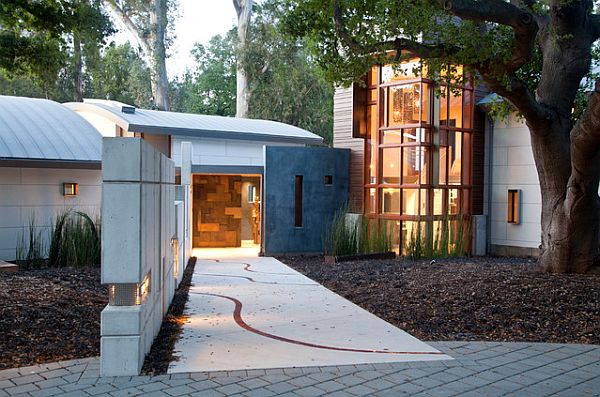 by WA design
I'm sure many of us homeowners can empathize with that. And then we've encountered our concrete walkway leading up to our front door and the back yard patio. Both lost under weeds and discoloration that (let's be honest) makes us think of one word: Drab.
In just eight steps you can revitalize your concrete and make it a shining example of your exemplary DIY skills.
Step One: Kerf your Turf
Those decorative slots in the sidewalks that as children we chanted would break your back or mother's spine need a makeover. Measure the areas you want to cut a ridge into and then using a two by four as your guide and cut. To decrease the potential of dust spray mist the saw to dampen the edge.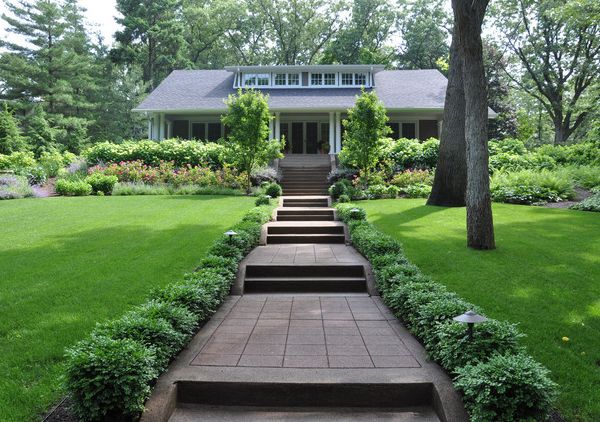 by Leslie Rohrer
Step Two: Get Mean and Clean
Think of something that makes you righteously angry. Then taking a wide, stiff broom transform that anger into energy by cleaning the space. Wash, rinse, repeat until you are satisfied with the cleansing ritual and hopefully your anger will have subsided by now. Really dirty areas may need a good power washing.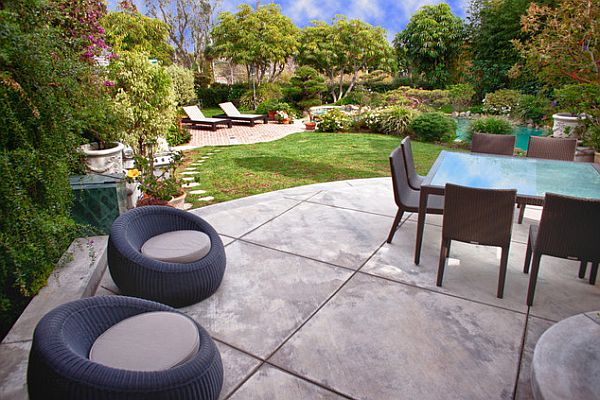 by Kathryn Waltzer / Photo by Peter Duke
Step Three: A Coat of Color
Using a pump sprayer, apply your first coat of outdoor concrete stain by spraying evenly and consistently circular motion until the top of your surface is colored. Unlike most staining projects you apply your coat while the concrete is still wet.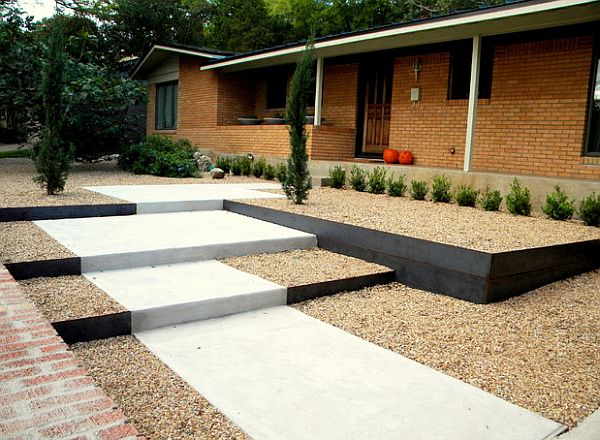 by Robert Leeper Landscapes
Step Four: Marbleized with Motion
Again, don't allow the concrete and your first coat of stain to dry as you begin to add your second coat. If you miss a spot, that's okay, as this will just add to the marble effect of motion in concrete.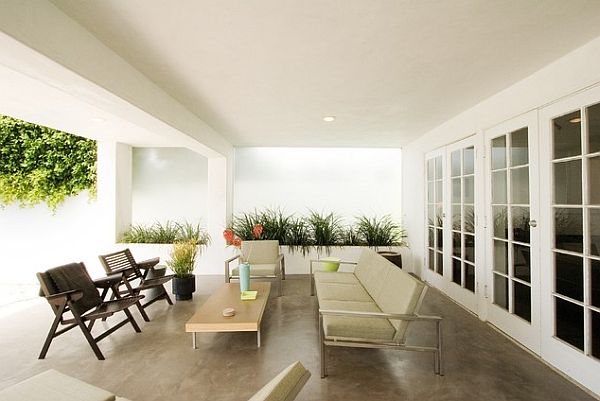 by emily jagoda
Step Five: Swish and Swirl
Using a gentle spray of water from your hose, use the current to mix the two stains until they start blending and marbleizing. Use the water to your advantage to push the stain into dry, bare spots until you begin to see the concrete patter form to perfection.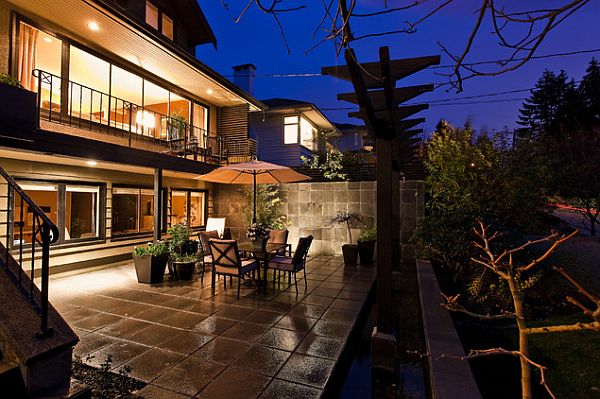 by Synthesis Design
Step Six: Dry and Damage Control
Now when everything is dry look around for areas that are lacking vibrancy, color and stain. Spray your stain on a dry clean cloth and dab the target areas as this will help blend and continue your marble surface. Once you have attacked any stain free space with this method allow 24 hours of drying.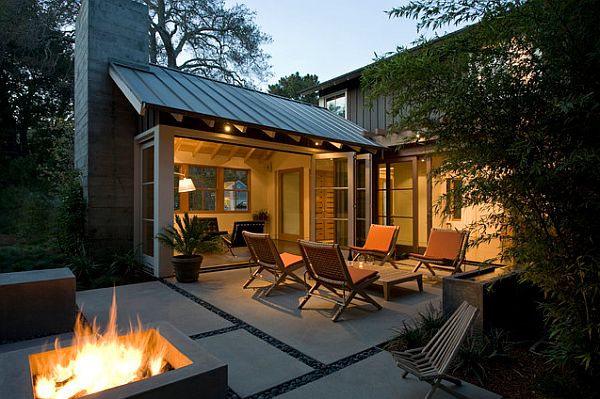 by Arcanum Architecture
Step Seven: Seal the Deal
Using a roller apply a sealer to your dry concrete surface to prevent fading. This sealer can be applied every 3 to five years to upkeep your patio and walkway to maximum potential.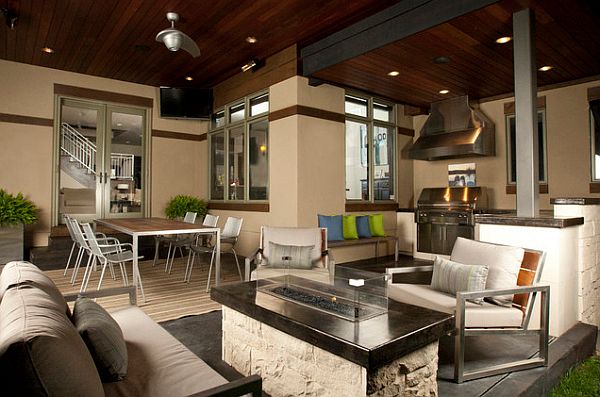 by Design Platform / Photo by www.zornphoto.com
Step Eight: Grill and Chill
When your sealer has set and dried to crisp perfection roll your grill back on the new resurfaced patio and fire it and the tunes up for some outdoor backyard party fun. Add a freezer chest of ice and drinks to the mix, a couple of lawn chairs and your buddies who helped exact this project and do yourself a favor after your DIY project: Chill. Just chill.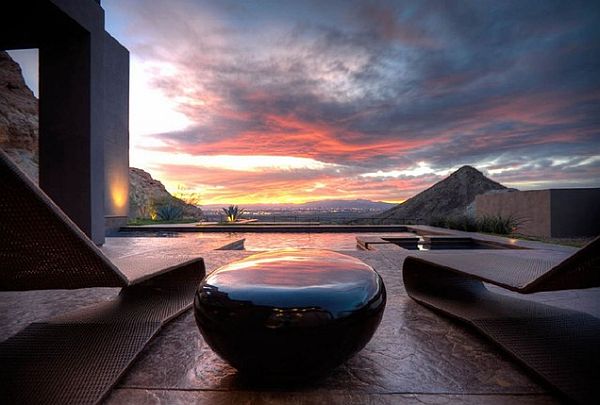 by Phillips Collection