Flowers. Candy. Jewelry. We know the ever-popular Valentine's Day gifts that are tried and true favorites! While it's undeniable that certain items are clear winners, what about the diamonds in the rough? Those unexpected gifts that take your Valentine by surprise…
Today we focus on gifts that defy expectation. Whether it's an out-of-the-ordinary idea or a slight twist on a well-loved item, these gift suggestions make a statement by being fresh and original. Not to mention, many of the gifts below are ideal for friendships as well as romantic relationships. As you'll soon see, it's all about being creative!

Valentine's Day Gifts for Her
What should you get that special lady in your life? Or that good friend who is there for you time and time again?… Valentine's Day is a time to enjoy indulgent treats. Many of the most cherished gifts remind recipients of the sweetness and warmth evoked by this special day of love.
Instead of Red roses…
Red roses are a Valentine's Day favorite. They are classic, and most of the time, you can't go wrong with these blooms. But what if you cranked it up a notch by gifting your special someone with a monochromatic floral arrangement that celebrates a bold color such as red or violet? Below we see an exotic arrangement that is sure to catch the eye and win the heart! [from Everything Beautiful]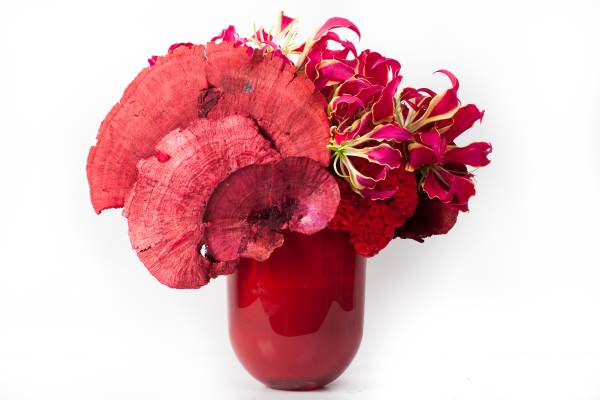 Why not go with a piece that has some history, like a vintage vase? In fact, this Vintage Red Vase from Etsy shop 1001 Vintage showcases a unique ripple design that reveals a probable 1980s origin. A glossy glaze gives this item an extra special shine: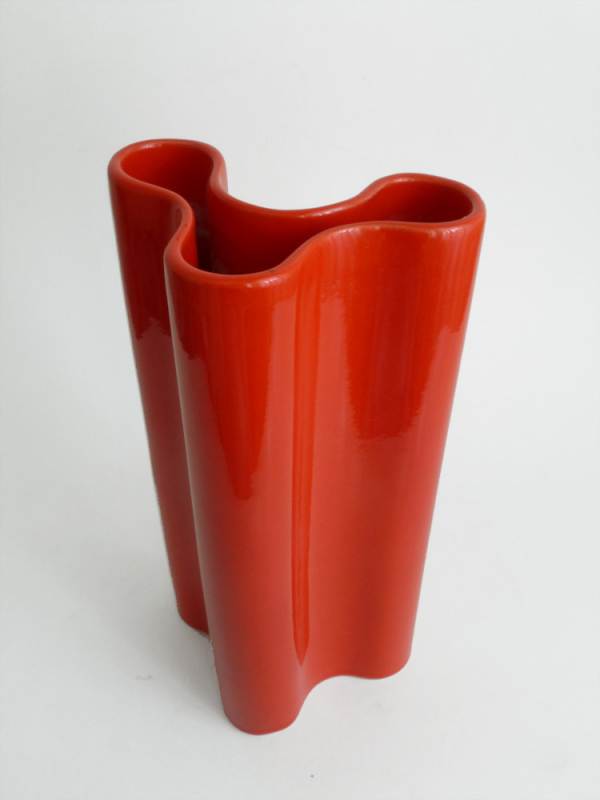 Terrariums are one of today's hottest design trends. The perfect way to showcase an indoor garden, they also leave plenty of room for creative flourishes. The Wire Terrarium below is crafted of glass that's hand-blown into a metal frame. A truly organic look nicely complements the mini-garden that will soon rest inside. In fact, you can put a creative spin on this gift by creating a plantscape for your sweetheart. Add a heart-shaped stone or another romantic token for an extra special touch. [from West Elm]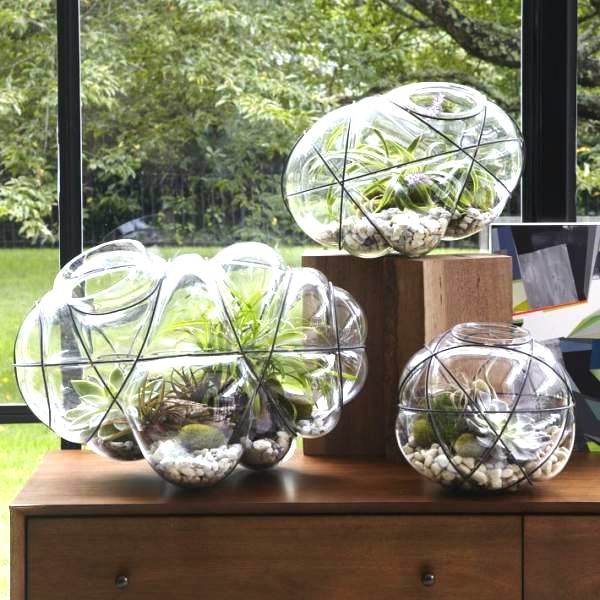 Still wanting to show your love with red roses? Why not take your sweetie by surprise with red rose paper flowers from West Elm, which come in a set of 12 hand-folded paper blooms?!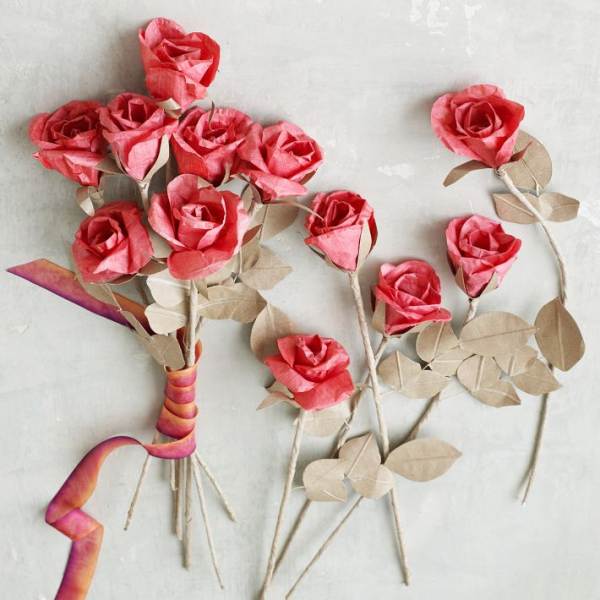 Instead of Perfume…
Perfume is romantic. And indulgent. And kind of hard to buy for someone unless you're really sure of a favorite scent! So why not go with a perfume alternative, such as this Scarlet Red Heart Soap from Gianna Rose Atelier? After all, it's not as big of a fragrance commitment as an entire bottle of perfume. Gorgeous packaging makes this special treat the perfect size, shape and color for Valentine's Day! Give as a gift to a friend, or say "I love you" to your special someone with scents of citrus, lavender, jasmine and rosewood. [via Papyrus]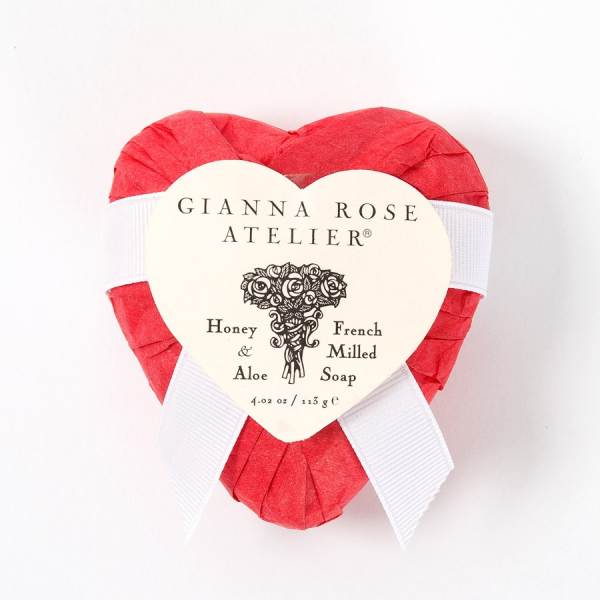 What's just as lovely as perfume yet ready to be filled with the scent of one's choice? An interesting perfume bottle, like this geometrically stylish selection from Z Gallerie. Made of glass crystal, the piece is surrounded by a chic black gift box as a bonus!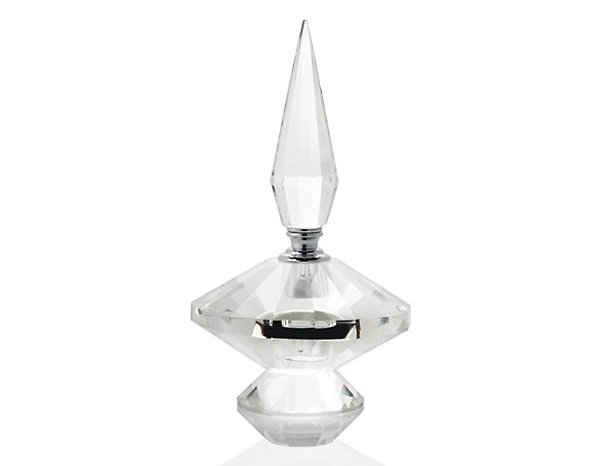 Instead of Jewelry…
Jewelry is a heavenly gift… It's romantic. It sparkles. It shines. But why not surprise your loved one with a gift that is heartfelt like jewelry, yet slightly unexpected! Like plates that evoke gemstones! The Clarity Plate from CB2 features a faceted design that creates the illusion of crystalline sparkle. Also check out it's companion plates, the Refract Plate and the Quartz Plate, which can be combined for variety.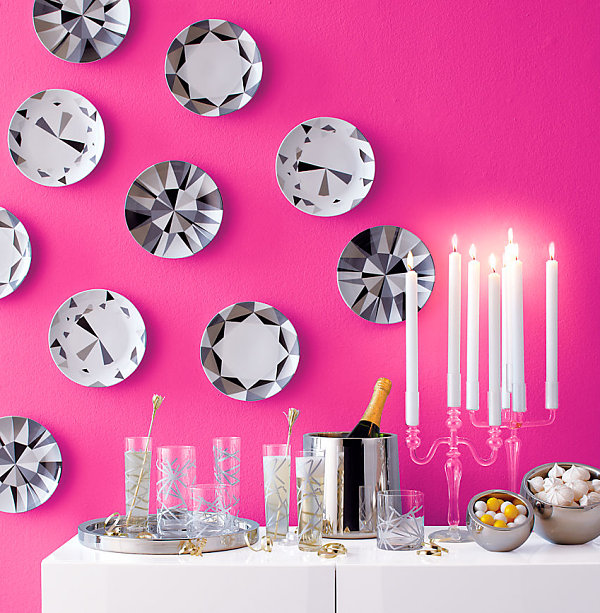 A ring holder is a clever way to stash bands of silver and gold, and this Jacks Ring Holder from CB2 adds a sculptural element to an otherwise practical item. In fact, a chrome finish is truly eye-catching, while each leg of the piece can fit several rings. This gift idea is great for friends. However, if your girlfriend is expecting a proposal, don't give this gift without an engagement ring attached…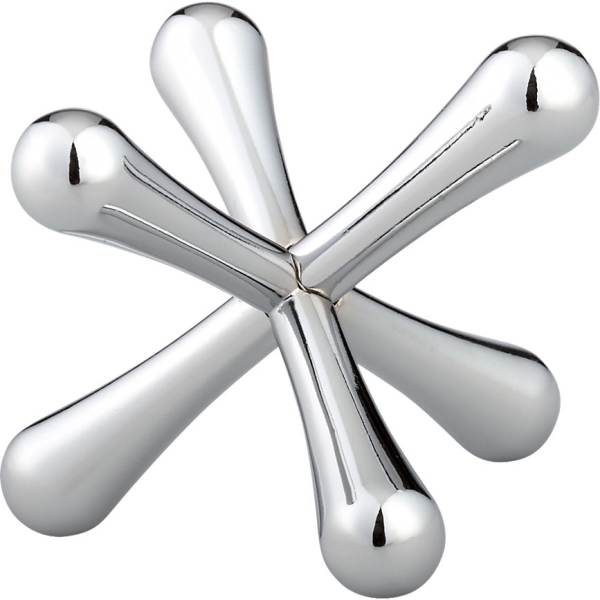 What's crystal clear like a diamond and personal like a locket? A display box for treasuring items that are close to the heart! The Format Cube from CB2 is crafted of clear acrylic. To make this gift truly special, fill it with memorable tokens of your love…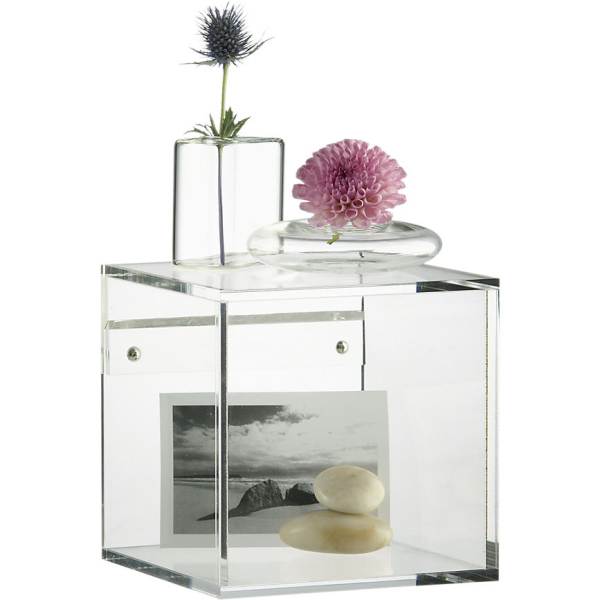 Instead of a Teddy Bear…
Stuffed animals are warm and cozy. Yet so are a variety of other goodies that put an interior design spin on Valentine's Day. Like the Favorite Throw in begonia from West Elm, made of super soft acrylic and finished off with fringe.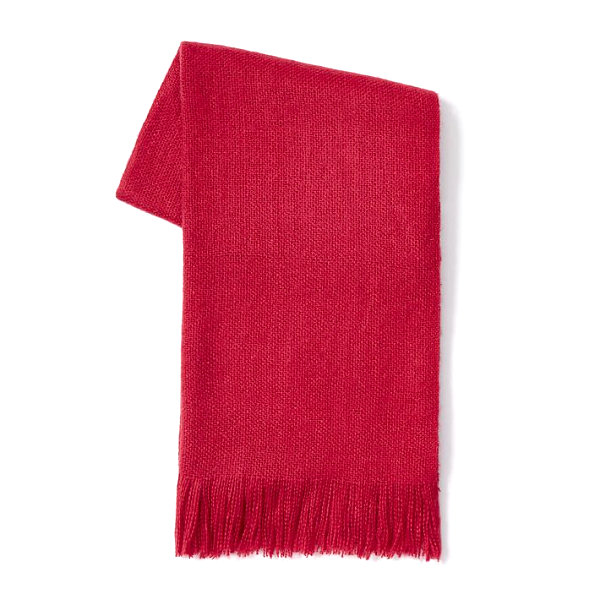 If you know the design style of your sweetie, go with a bold, unforgettable gift like the Leah Durner Abstract Pillow Cover, designed by painter Leah Durner (as its name implies). This silk covering is backed in flax linen, and it's conveniently machine washable. The pillow insert is sold separately.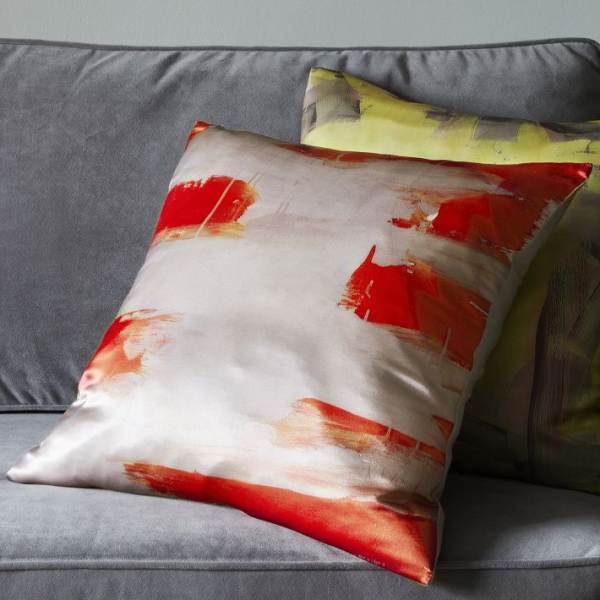 For a cushion-y item with a slightly tribal twist, check out the Nos Da Pillow from Design Within Reach, created by Scottish designer Donna Wilson. In fact, this woven item is named for the Welsh phrase meaning "good night."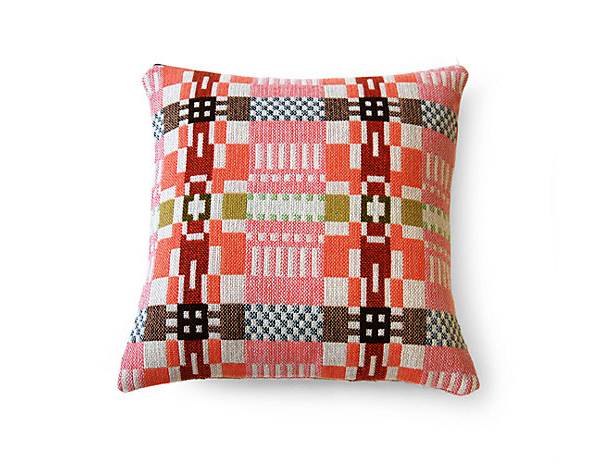 Valentine's Day Gifts for Him
Now we move on to the men… In this section we feature an assortment of nifty gifty items, from the practical to the purely fun. While many insist that guys are hard to shop for, perhaps gifting them on Valentine's Day doesn't have to be such a challenge. Check out the unique selections below:
Instead of Cologne…
Cologne is fabulous. But sometimes it's nice to change it up with another scented item. Like the Swedish Dream Sea Salt Soap, with its mineral-rich formula. An eye-catching package is a true highlight, as is the fact that this soap is perfect for both bathing and shaving! [from CB2]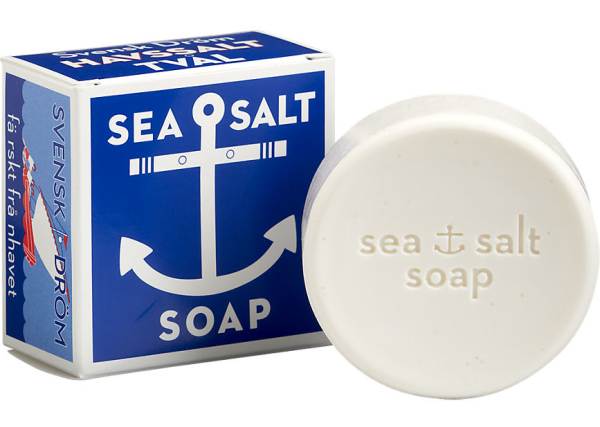 Men love practical gifts. And you can't get more practical than a cleansing item that does three jobs in one! Like Jack Black All-Over Wash for Face, Hair & Body. In fact, this gentle scented cleanser may be mild, but it's definitely not short on thick, rich lather! [from Vibe]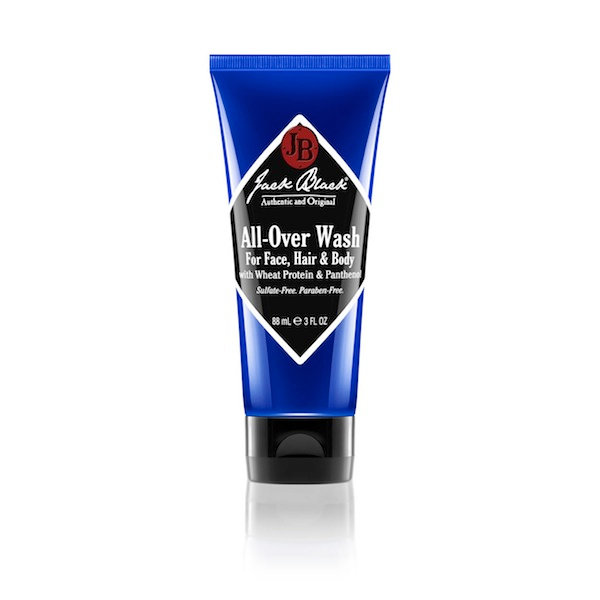 Instead of Liquor…
A case of beer. A bottle of liquor. A favorite beverage can be the perfect Valentine's Day gift. But why not mix it up by treating the man in your life to the Gatsby Bar Tools with Ice Bucket? In fact, this set is complete with Deco style, shiny stainless steel construction, and helpful items such as tongs, a strainer, a jigger, a bottle opener, a spoon and a muddler. [from Crate & Barrel]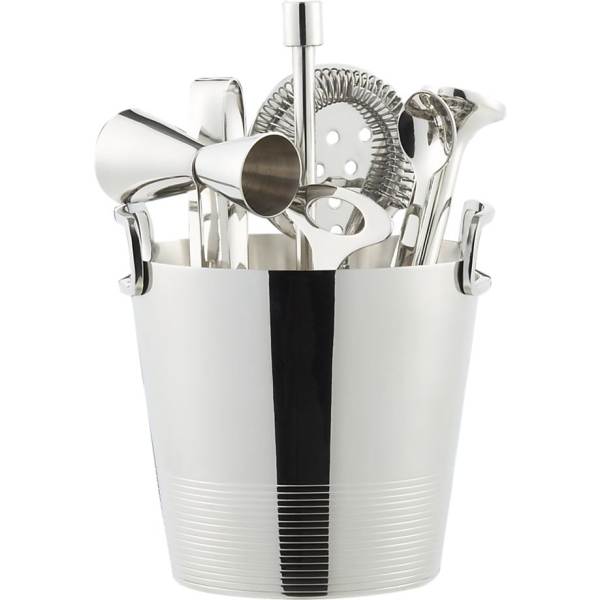 Or gift your sweetie with Double Wall Double Old-Fashioned glasses from CB2, unique in their "glass in a glass" effect. These stackables create the illusion of a suspended drink. Not to mention, a double-the-fun design results in helpful insulation for extra cooling or warmth.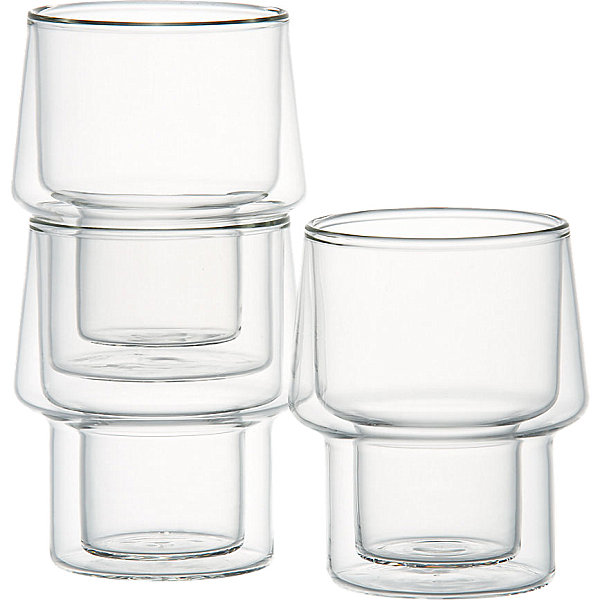 Instead of a Watch…
A watch is a practical gift that can make a stylish statement. If your loved one already has a favorite watch and he happens to appreciate good design, give him an iconic gift like the Nelson Asterisk Clock. Designed in 1950 by George Nelson, this piece was inspired by a typographical symbol. Luckily it has been carefully reproduced by the Vitra Design Museum! [from Design Within Reach]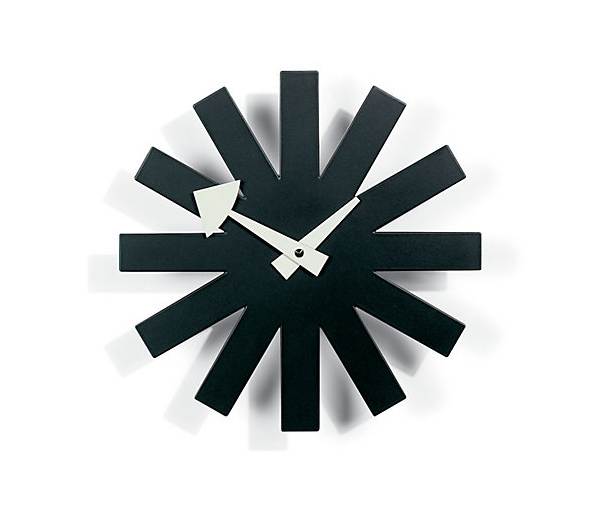 A reminder of time can be matched by a stunning reminder of place. The Mint Table Globe by Design Within Reach is a sleek combination of green and silver, complete with an aluminum base. Plus, you can always use the line, "This Valentine's Day, I'm giving you the world!"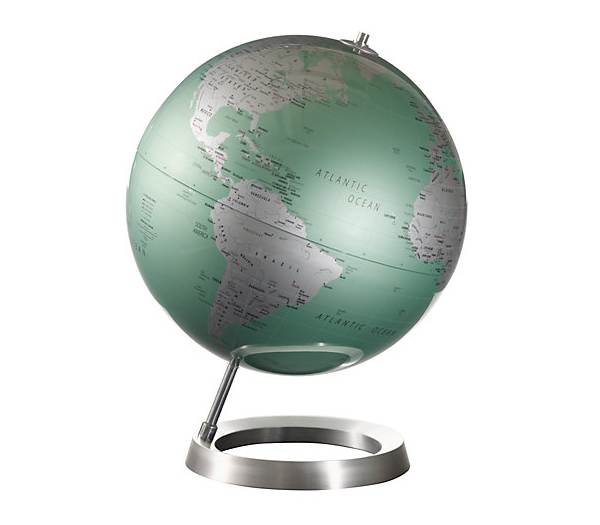 Instead of Baked Goods…
They say the way to a man's heart is through his stomach. A homemade treat is always a loving touch, but if you're not in the cooking mood, there are plenty of gourmet goodies for you to choose from. Like these delicious chocolate bars from Chuao Chocolatier! Go with unusual flavors like the Maple Bacon Bar and the Potato Chip Bar, which evoke comfort food and originality at the same time…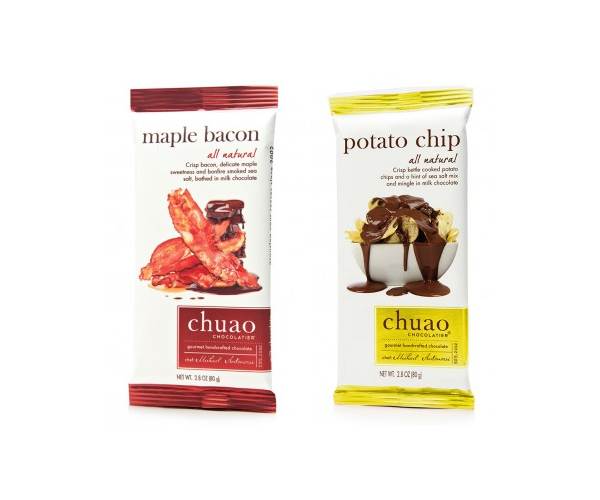 We end with one more delicious selection… Joseph Zotter Chocolates offers delectable gourmet chocolates, like this French nougat hand-scooped bar, which looks like a work of art when you break it open! [from Chocolate Log Blog]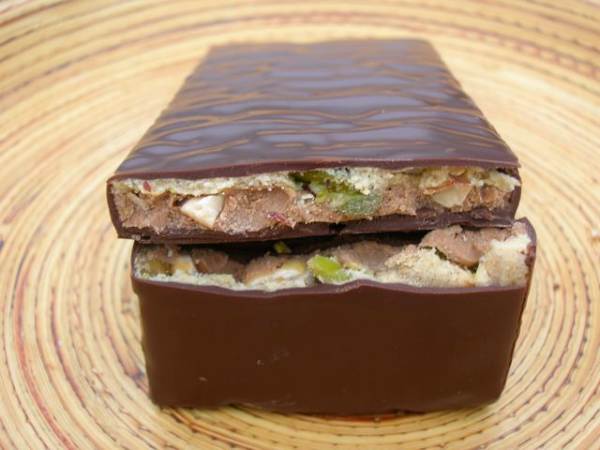 What are some of the best Valentine's Day gifts you've received? Now think about the best V-Day gifts you've given! Share your creative ideas by leaving a comment below…