Red is a signal color, with a strong personality and attraction potential. Red is also thought to stimulate hunger — which is why those very stylish restaurants that wow us with their stunning decor use these simple rules of color psychology in their design. Many of us love red and want to take this passionate color into our home design, but its strong and agitating nature makes it rather unsuitable for our bedroom or study rooms. Today however, we welcome red into the kitchen for some cooking with attitude.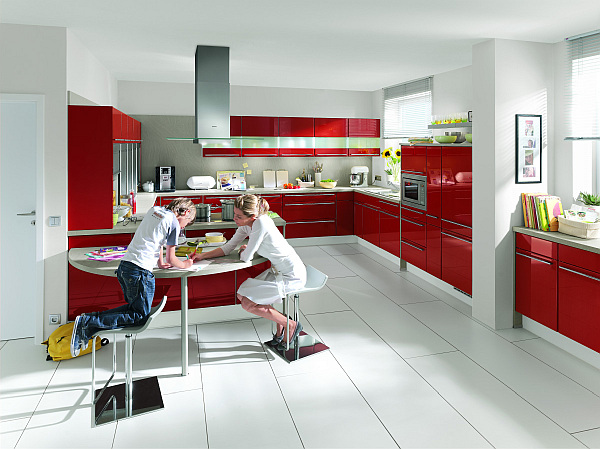 Stunning build by Illya Kitchens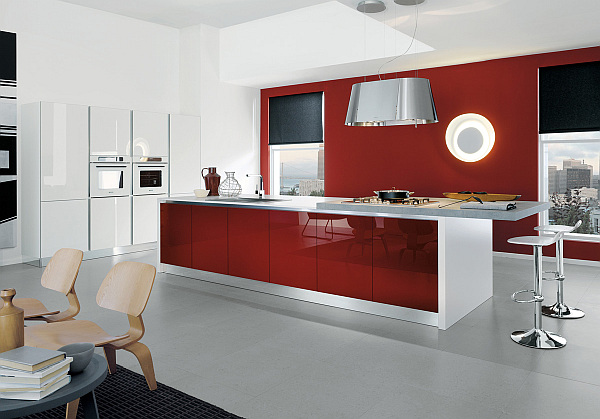 Lady Collection – Zecchinon Cucine
The increasingly popular red kitchens are boldly stating that they deserve undivided attention. At first, it would have seemed a privilege to bring such richness and individualism into a utilitarian cooking space, but a strong color is indeed at home there.
There are a plethora of textures and nuances to go with, from sleek and shiny to matt surfaces. Consider the unbeatable combination of red and stainless steel, or those gorgeous tiny mosaic tiles that slowly conquer the maintenance-free walls and our hearts.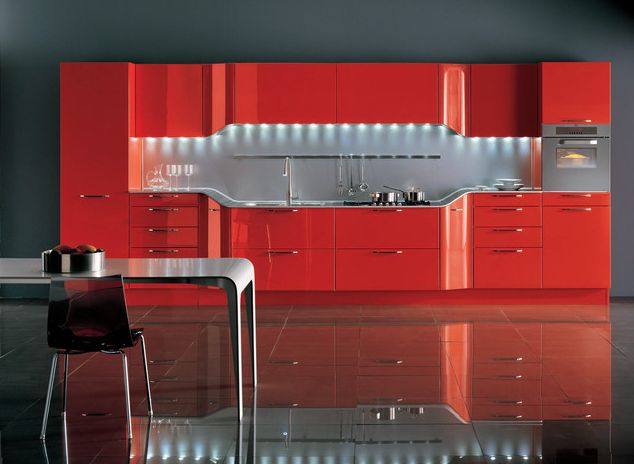 by Snaidero (VENUS x Pininfarina design)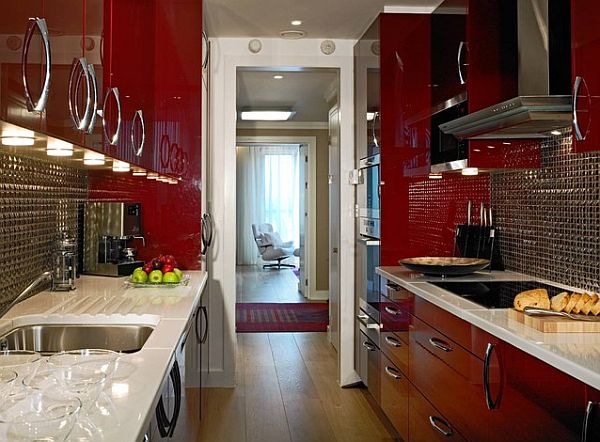 by David Churchill – Architectural Photographer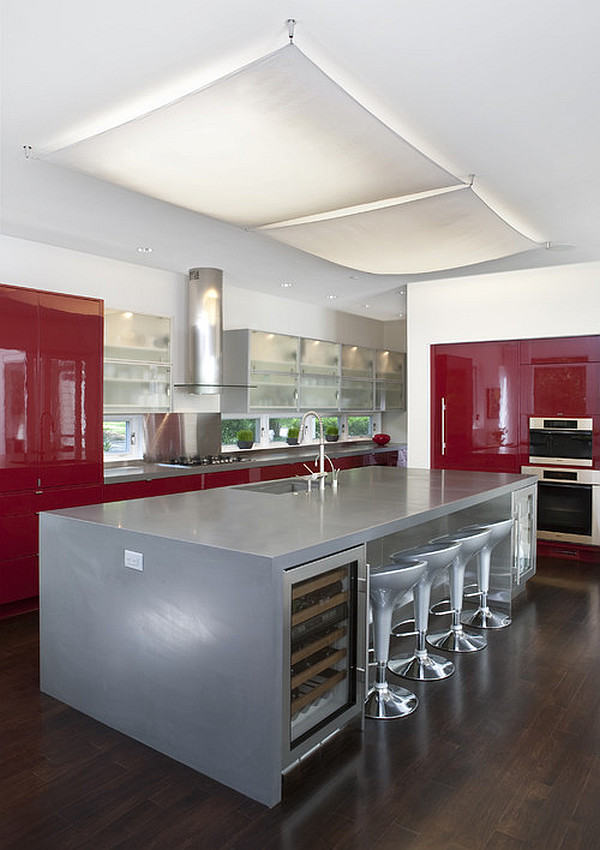 by Anthony Wilder Design/Build
Taking some red into the mix with no pressing consequences: apply the advertising rule stating that a composition may contain a 5 to 10 per cent amount of red. Make it a compact and intense red element that will instantly turn into an eye catcher, like the kitchen island.
Red bar stools as accents can be just as stylish with a white kitchen suite, not as intense but more subtle. Undoubtedly, a touch of red design makes for a plus to a delicious meal with friends.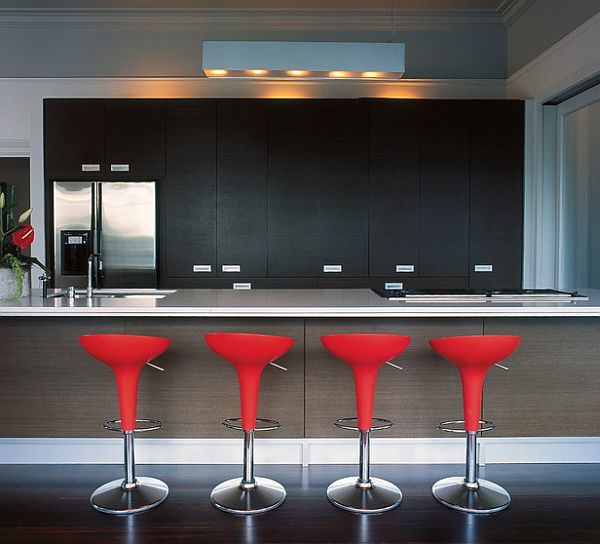 by jessop architects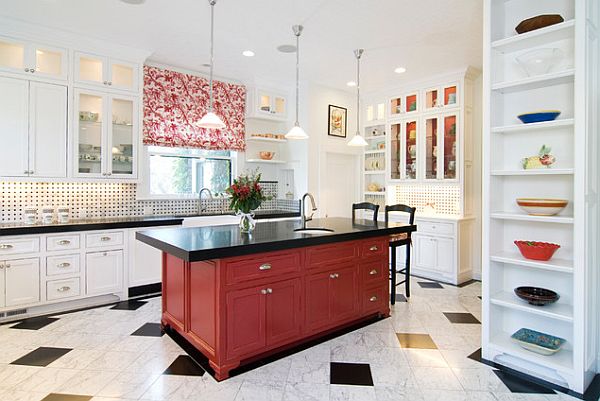 by Precision Cabinets & Trim
Tired of your classic wooden cabinets? Go bold with a brush. By sprucing up the cabinet doors with red paint you can achieve a bold design without falling into the minimalist streak if you don't want it, even give them an individualizing and slightly retro touch.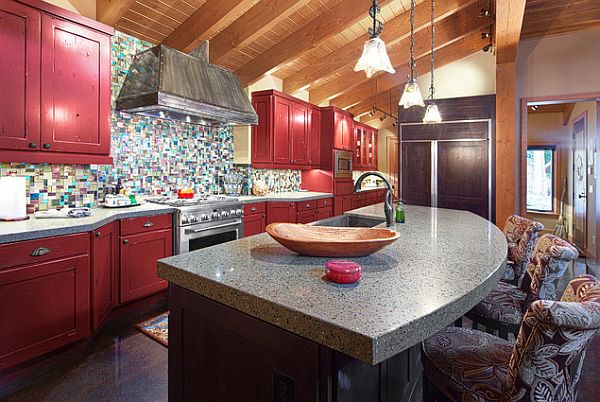 by Gelotte Hommas Architecture
With red, it is preferable not to overdo it: a temperamental red kitchen furniture suite is best complimented by a wall of a neutral color such as white, cream, beige and naturally, many nuances of wood. Red and black is ultra modern, while red and grey is a rare and very effective combination. If you want to mix 2 colors, pair red with a pale green, both in moderate amounts, on a background of a neutral color.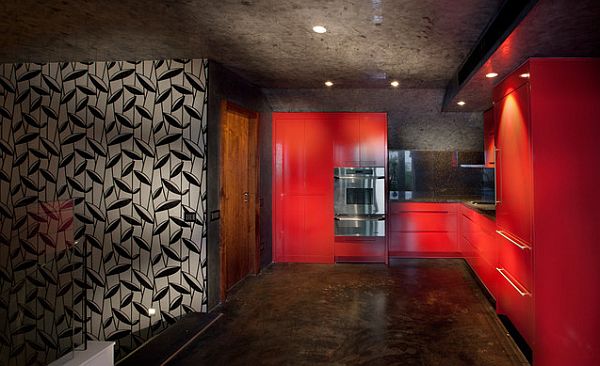 by Elad Gonen & Zeev Beech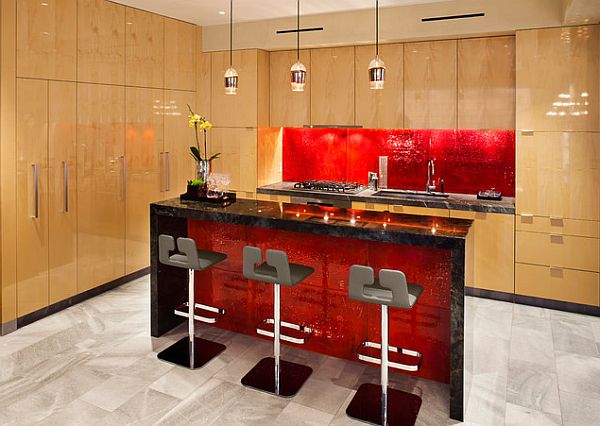 Avant Garde Harbor Home by About:Space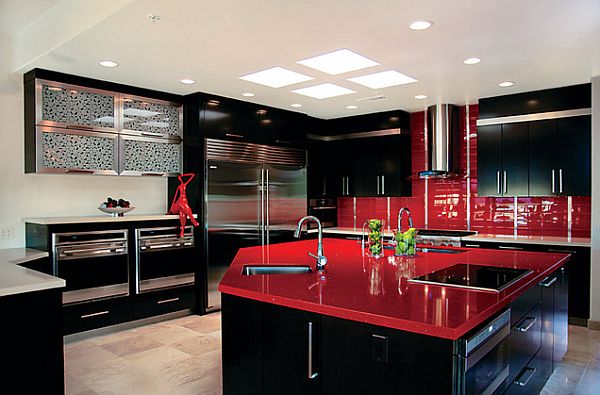 by Rysso Peters
Sleek and shiny red aluminum cabinets are lately becoming very popular. They are as contemporary as it gets, with a hint of both stylish and industrial. Minimalist and easy to maintain, they are timeless and can be a choice for a lifetime.
A shiny and intense red inspires a youthful and slightly techno atmosphere, while a burgundy red brings a tinge of royal and elegant. Either way, it makes the kitchen honored with such nuances impossible to overlook.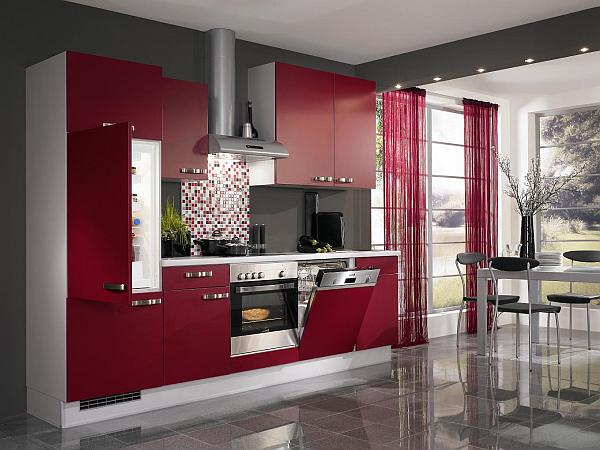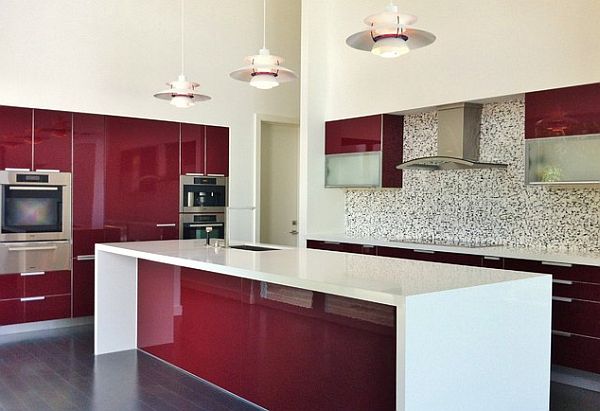 by tuthill architecture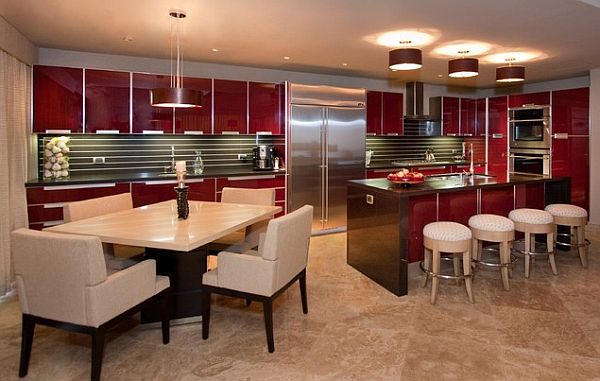 by Peg Berens Interior Design / Dale Hanson Photography
Tiny mosaic tiles in red are maintenance-free and bring some orient-inspired glamour.
A real force in color psychology and advertising, the color red brought to a kitchen sometimes makes Coca cola and chilli peppers come to mind. Combined with the right textures, it works with everything, from industrial to retro design. If you love red, dare to build or decorate your kitchen with this color which makes for glamorous surfaces and stimulates conversation and appetite.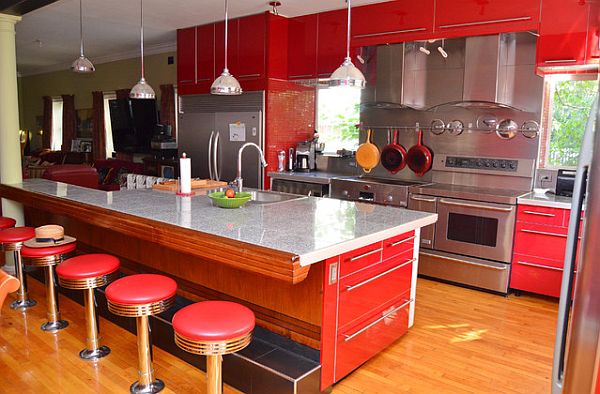 by Amy Renea / Allenaim Photography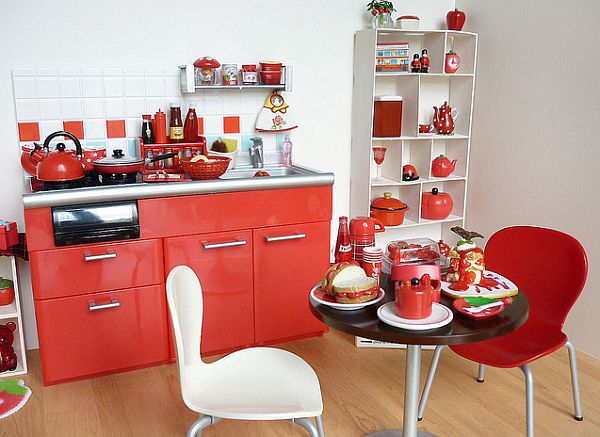 Beautiful shot by Flickr user karenisme08
So would you decorate your kitchen in red?