If you are looking to add a little drama and elegance to your kitchen, deepening the color palette contrast is a great solution. Black kitchen details – like cabinets or dark kitchen islands – can expose that elegance your kitchen needs, add a touch of modern in your home and challenge you to adapt the kitchen design to this pretentious color.
Black kitchens have the undeniable power to create a story-like look for your cooking space, lending a bit of glamor to the overall feel. By choosing the right lighting to compliment the black details, you create not only a comfortable space, but also a creative, inviting atmosphere for those moments spent cooking for your loved ones. Whether you replace the kitchen cabinets and details altogether to make room for a new kitchen design or simply decided to upgrade the look of your kitchen by painting or covering up the cabinets, black is definitely a touch you should try.
Be it modern or traditional, with different design influences or focusing on inherited furniture items, a kitchen should always be warm, inviting and perfect for entertaining (even entertaining yourself counts).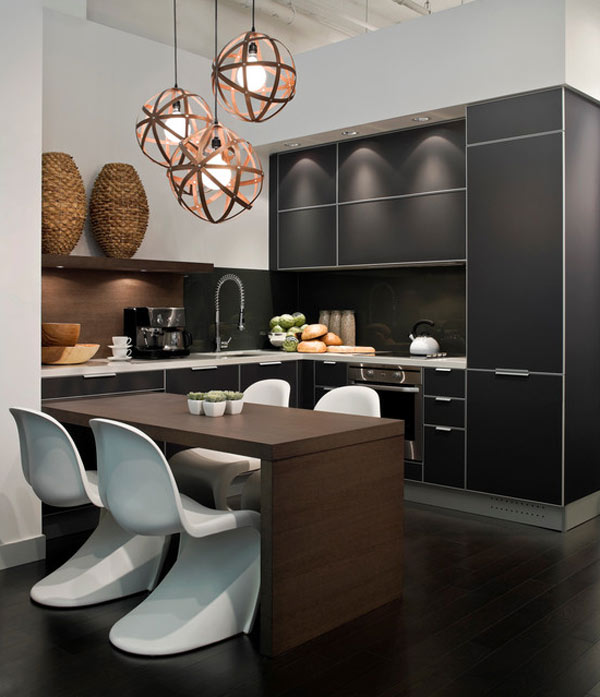 by kodu design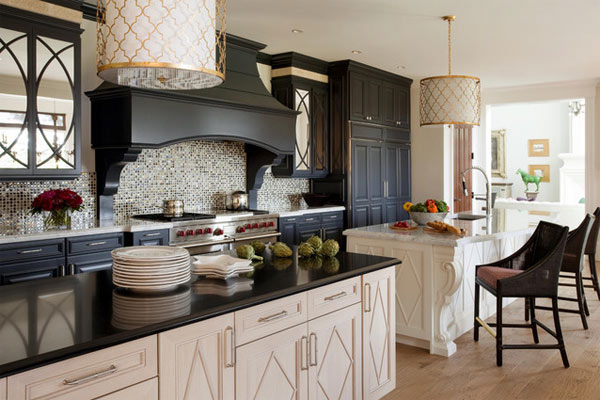 by Robin's Nest
Dark interiors with vivid popping colors
A fresh color choice to go with your black kitchen cabinets and stainless steel appliances is yellow – a vivid, dynamic color that uplifts your mood. Yellow upholstery for the chairs or maybe a yellow toaster and coffee machine will add that unexpected focus point and create a cheery atmosphere.
Integrating golden wood walls in your kitchen can become the perfect excuse to choose black kitchen cabinets, especially in a kitchen flooded with natural light. After seeing how natural and vivid colors can create stunning kitchen color schemes, focusing on a black alternative makes it even more fun. After all, the kitchen that displays more than a dark color creates a deeper visual intrigue.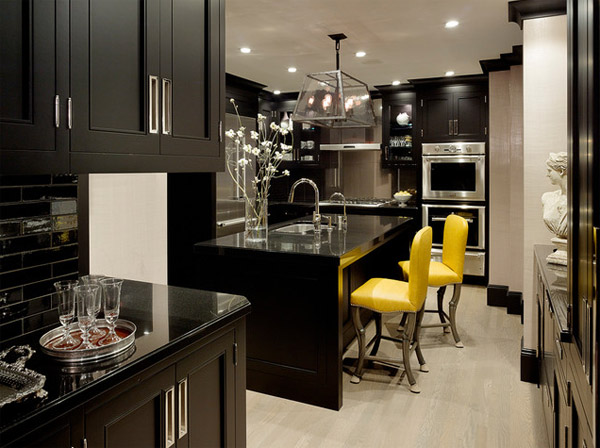 by Design Line Construction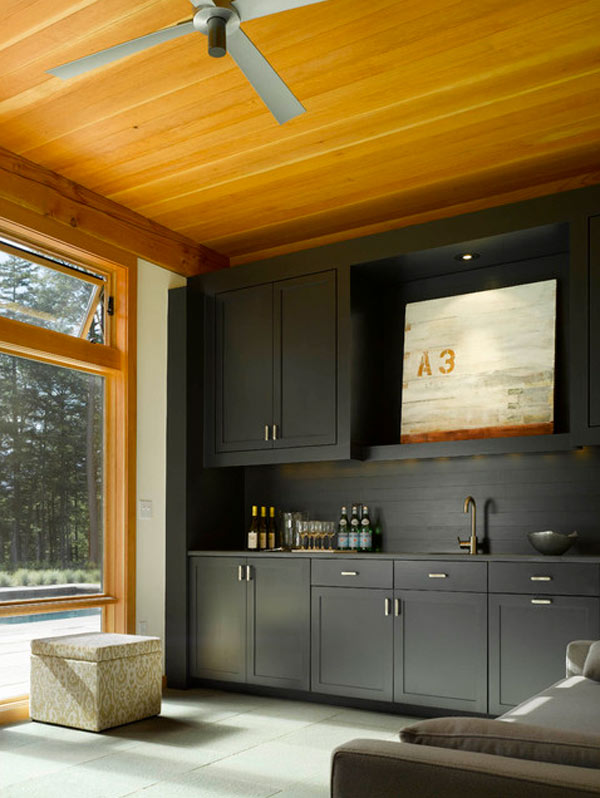 by H. Keith Wagner Partnership / Image Credit: Westphalen Photography
Masculine open kitchen in natural colors
Minimalist kitchen cabinets in black complemented by a carefully chosen kitchen backsplash are the perfect way to create an updated masculine atmosphere. Natural colors, patterns and textures alongside an interesting floor choice shape an inviting interior design. Floors, cabinets, backsplash, countertop and appliances are all part of the same "conspiration" that updates your kitchen to a contemporary level. Lighting contributes a great deal to the overall result, so make sure you know what effect you want in the end – a star-struck ceiling can become another focus point in an open kitchen leading to a relaxing social space, while hanging lights over the bar creates an intimate feel.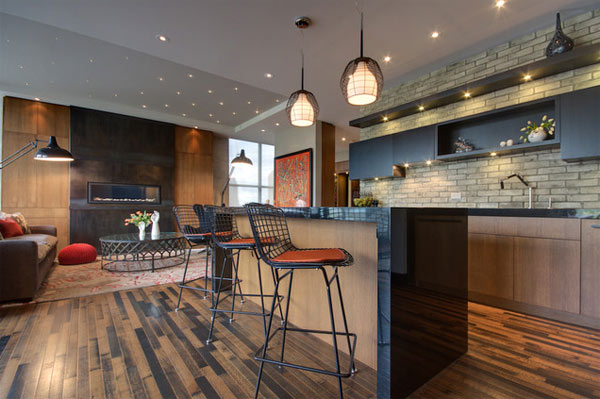 by Avalon Interiors
Adding interest with tile and wall decals
You can go with a dark blue facelift for your cabinets if black is still too deep to experience in a small space. If your long and narrow kitchen ends with a white wall, consider adding an inspired tile wall to create a visual appeal. Refacing instead of replacing your kitchen cabinets saves time and money, but also gives you a creative project to learn from.
Then again, if you like white walls but think they might need a new interpretation, wall decals are there to help you update your interiors. Your love for nature can become an inspiration for your kitchen design – a flock of bird silhouettes showcased on your walls can easily become the element that balances the white walls and black kitchen cabinets.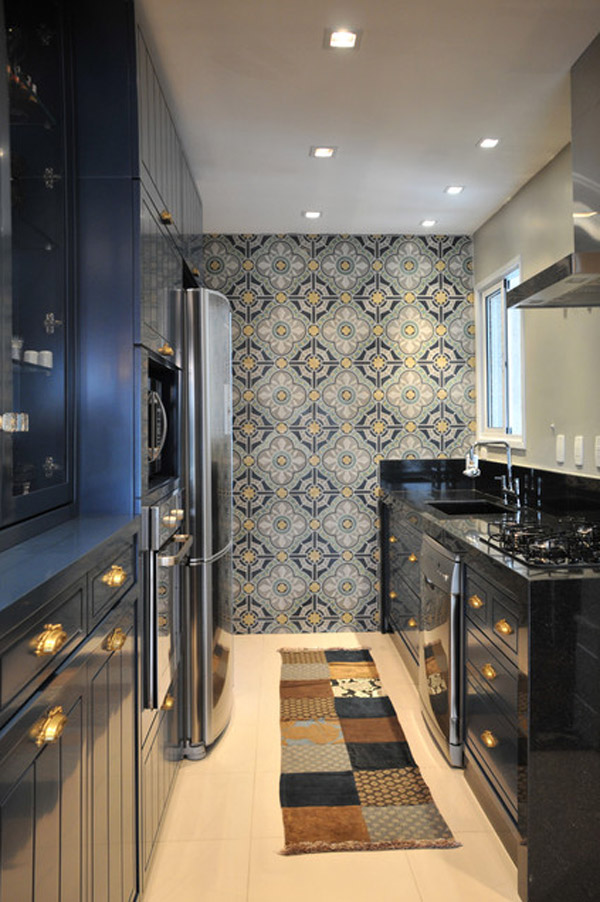 by elegueller arquitetos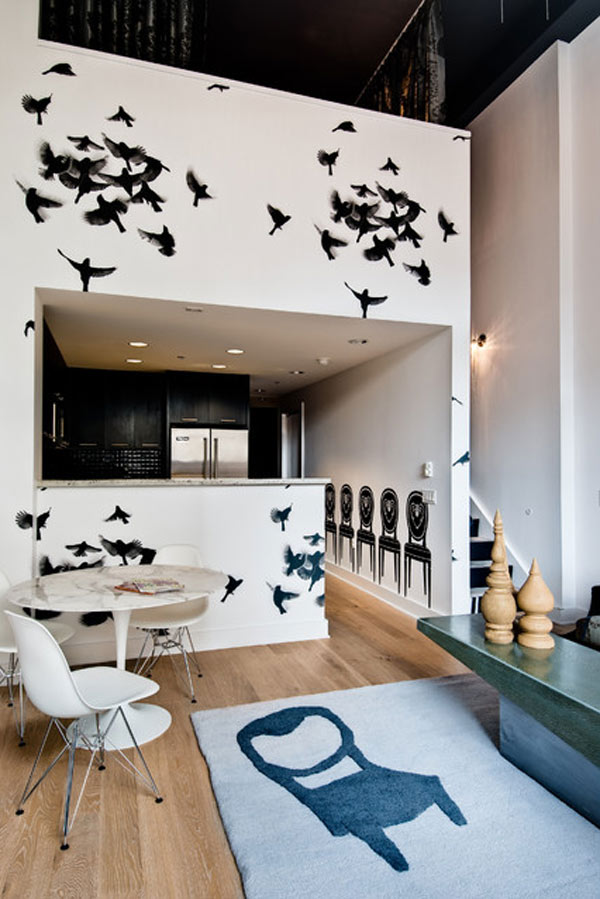 by Applegate Tran Interiors
Black and white choices in the kitchen
Playing with black and white can result in different types of kitchen decor. Combining white kitchen cabinets with white counters and a black kitchen island also showcasing a white counter adds an interesting refuge for the eyes. I especially like the example below, where the kitchen table seems to be part of the island's design, boasting a white tabletop resting on black legs.
Another way of displaying black and white in your kitchen is to have all the cabinets black, complementing a white kitchen island or the other way around – a black kitchen island alongside white kitchen cabinets.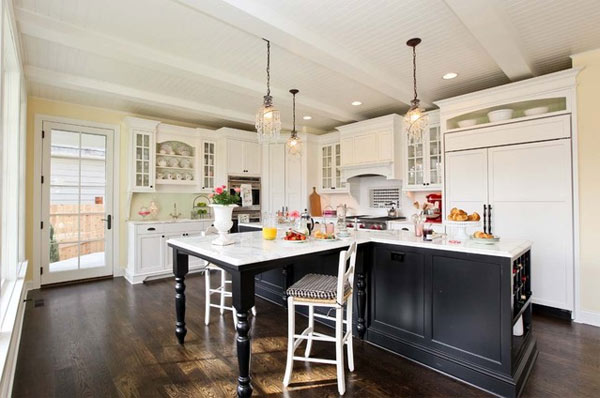 by REFINED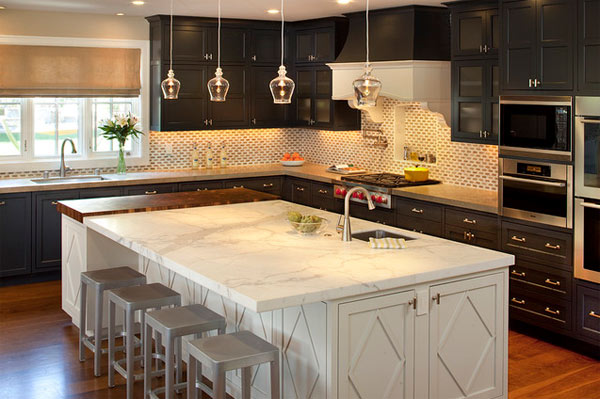 by Artistic Designs for Living, Tineke Triggs
by CliqStudios Cabinets
Integrating existing architectural elements
An edgy effect can be created in the kitchen with the help of black design elements empowering the visual appeal of existing architectural details, like a stone wall, arcade or exposed beams. An industrial feeling given by metal wall details and skylights construct a fantastic effect on black kitchen furniture.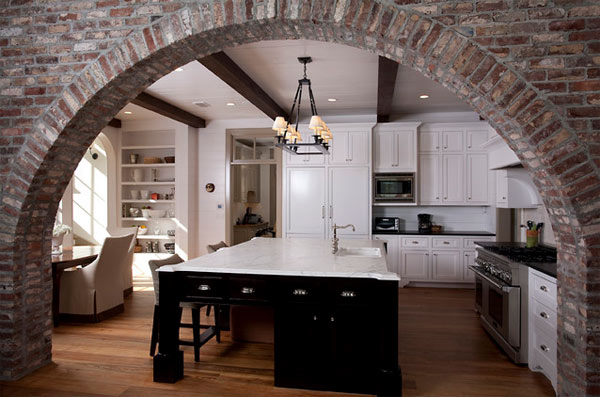 by Thomas Thaddeus Truett Architect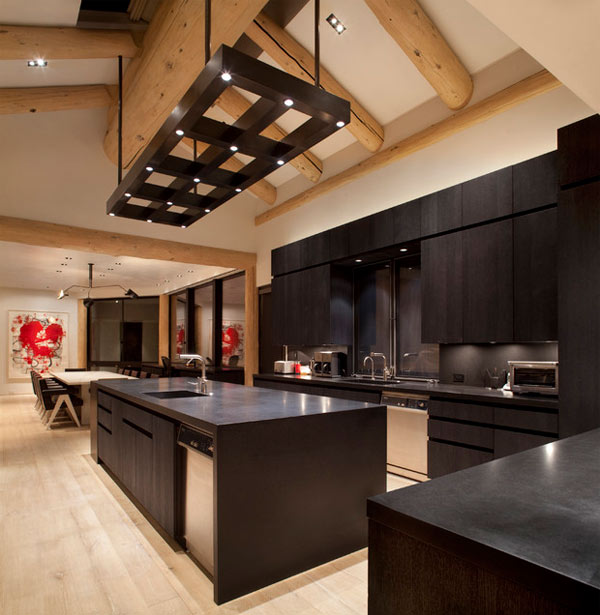 by 186 Lighting Design Group – Gregg Mackell / Photo by Brent Moss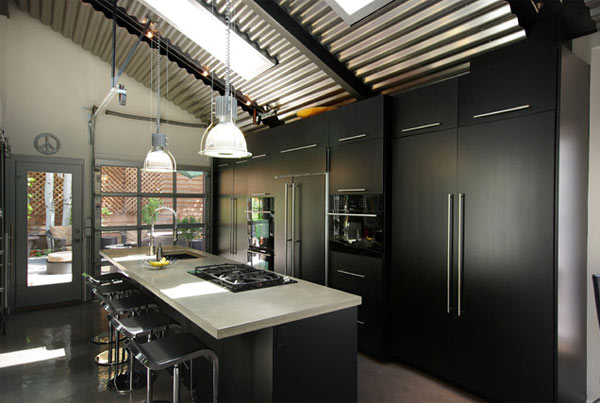 Photo and copyright by Renovation Design Group
Minimalist kitchens are the perfect place to play with dark details – wood looks amazing alongside black kitchen furniture and white walls are almost a requirement in this combination. Straight lines and natural wood create that need for a color that brings out their beauty without overwhelming it – this is where black comes in. In a naturally lit kitchen, black seems less like a bold choice, it actually seems to be the obvious choice.
Which idea of black kitchen elements would you rather use in your kitchen?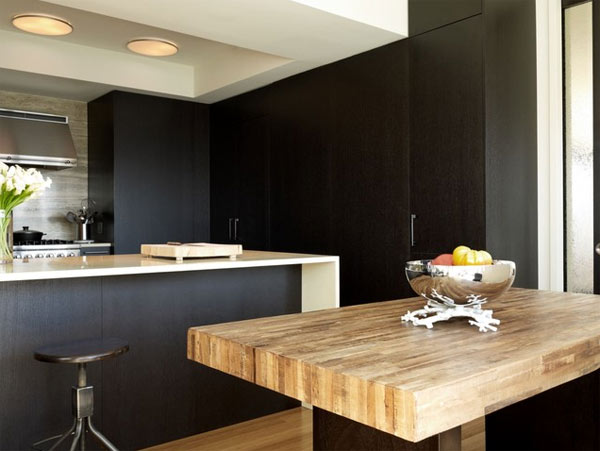 by Incorporated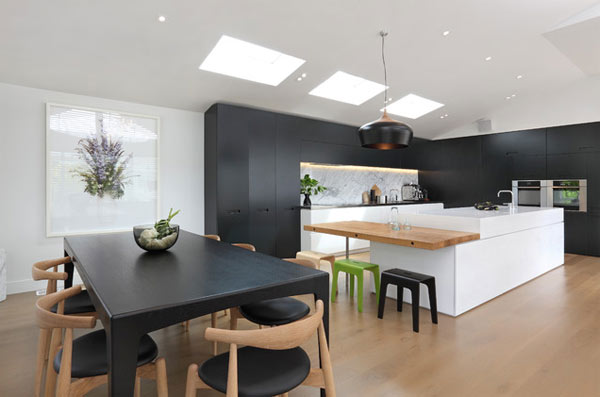 by jessop architects