Being traditional by definition, rugs have come to play a smaller role in modern design since it's all about the floor finishes. Especially, it is characteristic for the lovers of modern architecture to renounce any aspect of comfort in favor of a minimalistic visual effect. However, nothing says homey like a nice smooth rug in a friendly color. The possibilities are endless and each of them gives a plus of comfort and a welcoming accent to your home, be it classic or modern.
Each of our rooms could well use a carpet for an added accent and a touch of coziness to make our feet happy. Here are a few ideas that definitely restore rugs to their former glory.
Rug ideas for the living room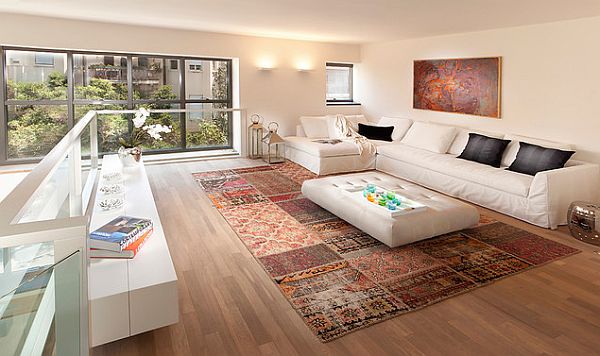 by Elad Gonen & Zeev Beech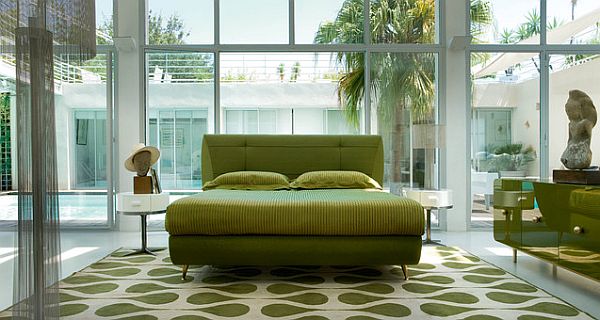 by Imagine Living
The living room is, let's face it, the place we wish to show off the most, where we want to spend memorable and pleasant hours with friends and family. We put a lot of thought into the right lighting, the furniture and the decorations, with a predominantly artistic eye.
When adding a rug to a living room layout, 2 things are to be considered: geometry and color. The geometry rule? The size of the carpet should pretty much encompass all furniture pieces.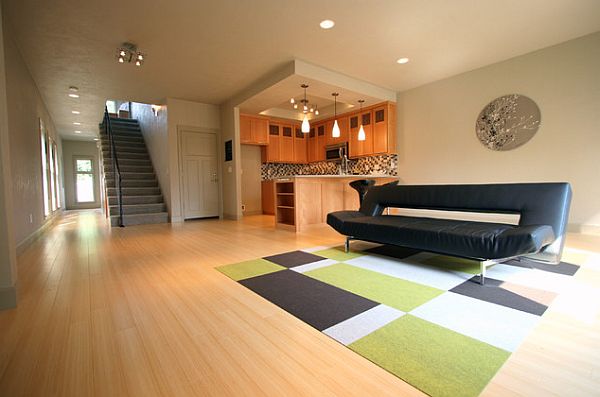 by Jordan Iverson Signature Homes
The existing color scheme of the room is very important. If it's vibrant, we add a rug with a simple design and a reserved color so we don't collide. A milder hue of an already present color is a good way to go, as are white, black or beige, conveying elegance through simplicity.
If you have a virtuously monochromatic room in white or cream hues and want to make it seem less plain, add a rug in one vibrant color that can resonate with other lively colored objects such as vases, pillows, etc.
Multicolor or neon carpets can be a spectacular accent to black leather furniture, bringing about that crazy 80's feel. Combine it with some 80's disco tunes for a one of a kind living room ambiance.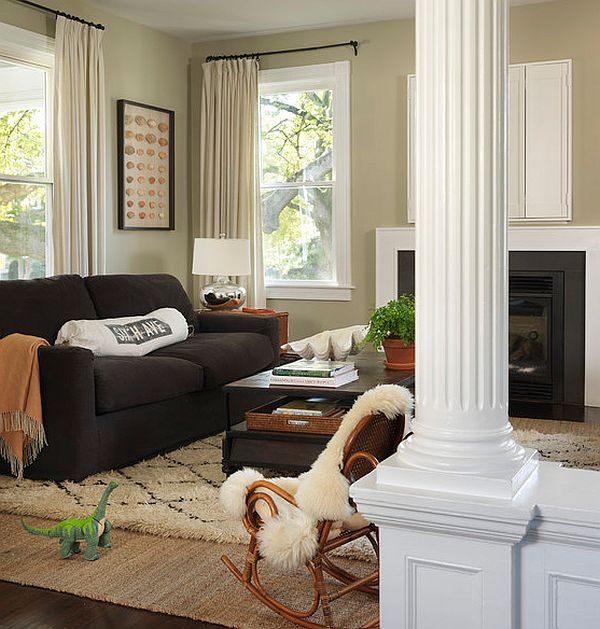 by Kate Jackson Design / Photo by Nat Rea Photography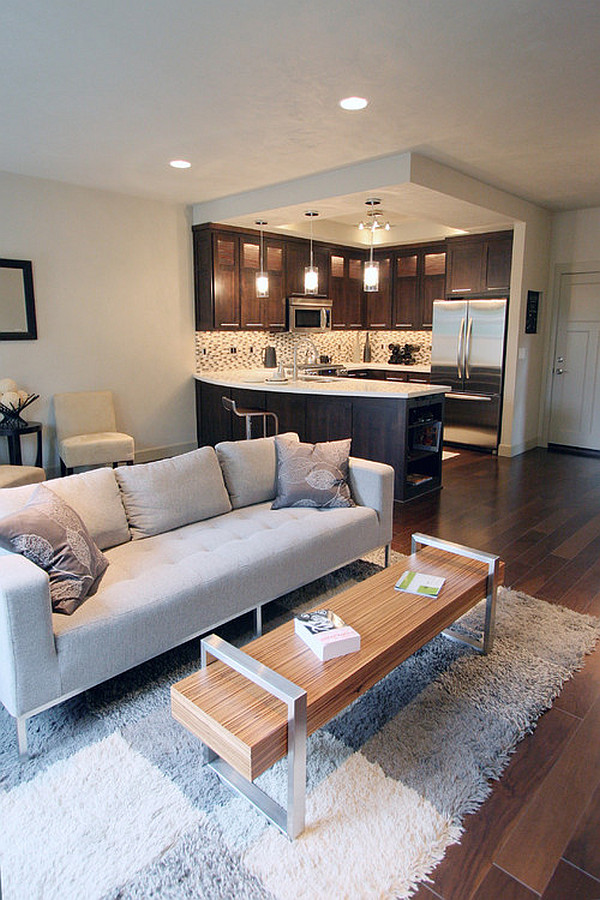 by Jordan Iverson Signature Homes
While neon colors catch the eye, the other way to go is a fluffy rug for the touch. It is a very popular option, especially in white, cream or black, making for a welcoming visual effect. It practically makes seating furniture obsolete, and you will be grateful to such a rug at a big friendly gathering. How would you like to welcome your guests on this sea of cuddly?
Dining room rug ideas
Depending on the geometry of your dining layout, you can pick rectangular, round or square rugs to furnish this space. Many dining rooms use rich wood furniture, which would be well complemented by rugs with more complex geometric forms. For the color choice, obtaining a color chart and holding it up to the wood in question solves the dilemmas.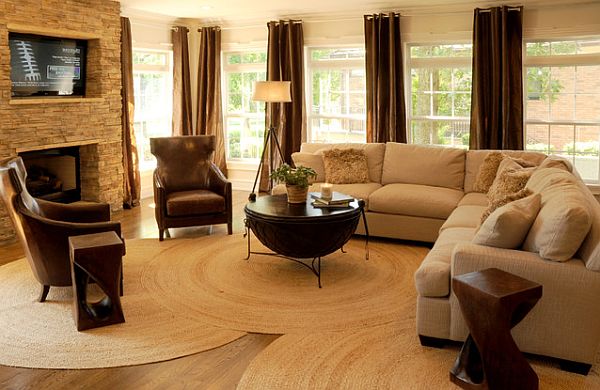 by I.O. Metro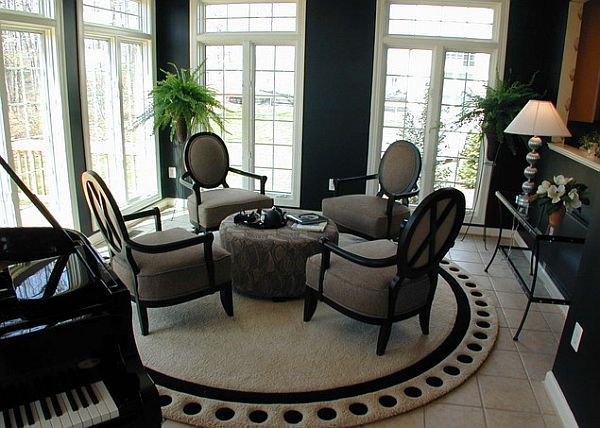 by Laura Manning Bendik
Next to dark wood, it could be gold and beige hues for timeless elegance. With brighter wood, it could be turquoise for an exotic touch. The visual effect of a turquoise table centerpiece to a rug of the same color is unmatched. Round rugs are naturally suited for a round dining table. If you have a good eye for antiques and are brave enough, picking a right Oriental or vintage rug brings an extravagant twist to a minimalistic and rectangular dining space.
Kitchen rug ideas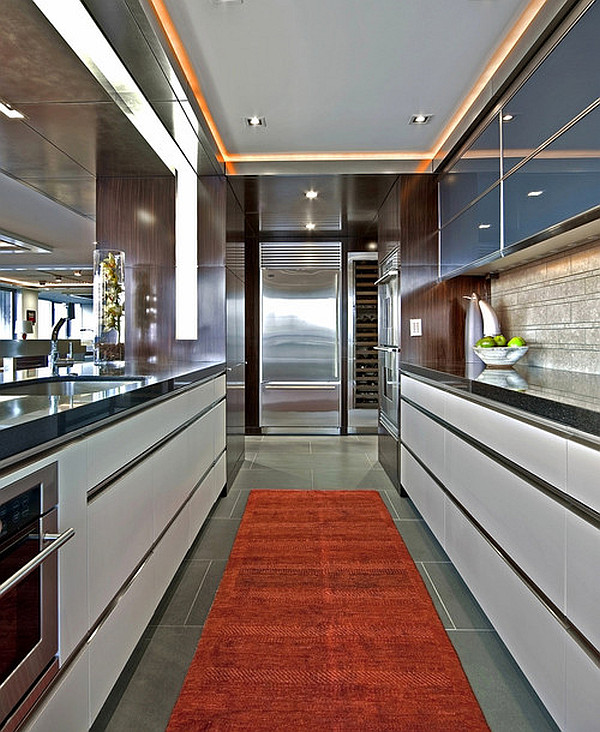 by Garret Cord Werner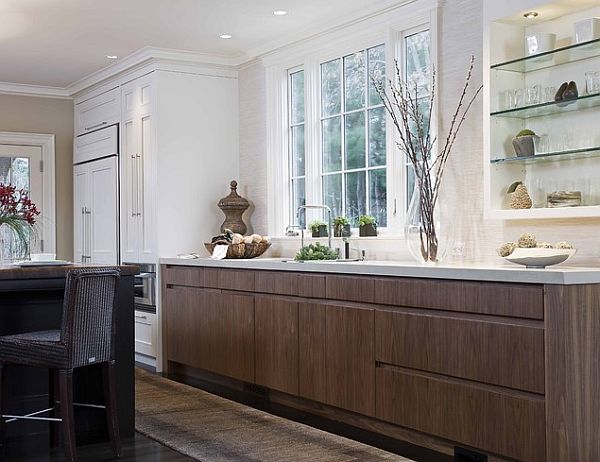 by Venegas and Company / Photography: Michael J Lee
Whether or not it is considered the heart of your home and an intimate place for the family to gather, the kitchen is by default a traditional space. Textile rugs are not as practical in the kitchen and they can get messy easily, but how about a tatami mat to bring an ethnic and exotic touch to your cuisine? If you like retro style and the natural wood finishes and hanging pans are not absent from your kitchen, consider adding some colorful braided rugs to the breakfast area.
Entryway rug ideas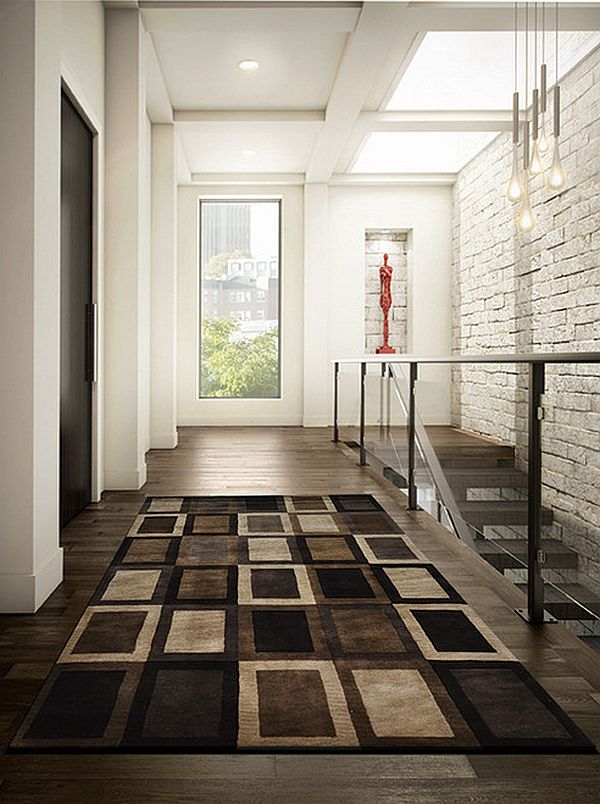 by Alexanian Carpet & Flooring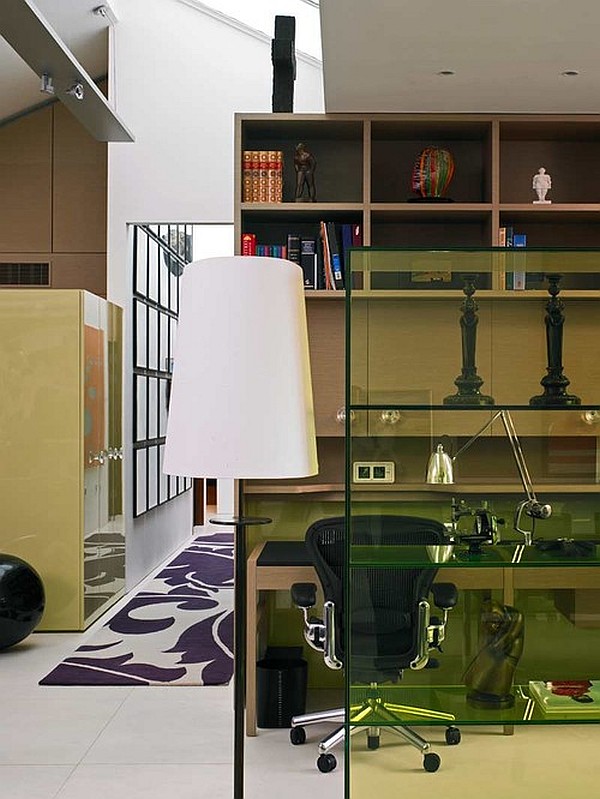 Designed by Gerard Taylor Design Consultancy / Image by David Churchill – Architectural Photographer
Nothing says welcome like a nice tiny rug and perhaps a cat in the lobby. And while it is an often easily overlooked space, the entryway or staircase can be given a warmer and nobler look by adding rugs. Not to mention how a stairway carpet diminishes the squeaky noises of threading on wooden stairs. Have a spot of welcoming vibrant color receive you on a cold evening when you slip out of you shoes.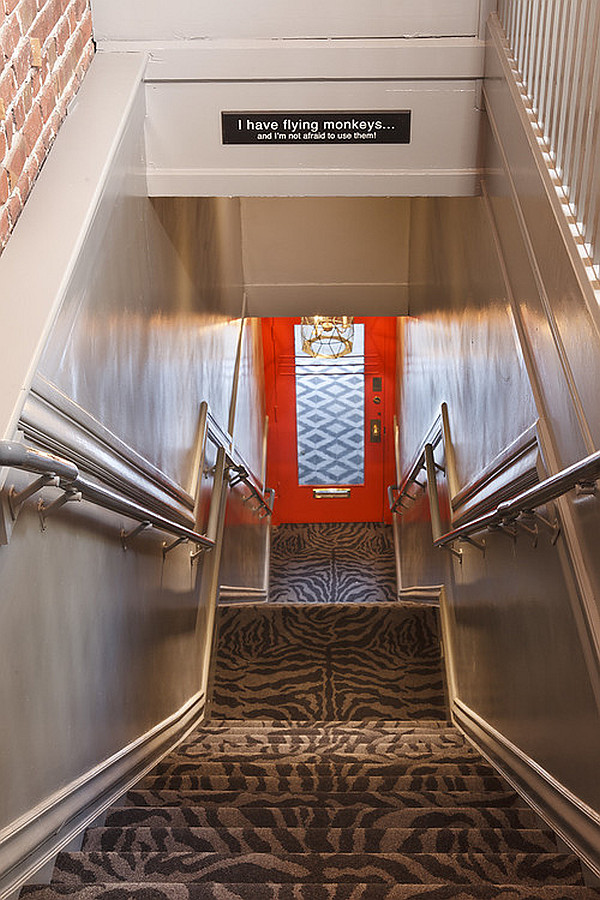 by Artistic Designs for Living, Tineke Triggs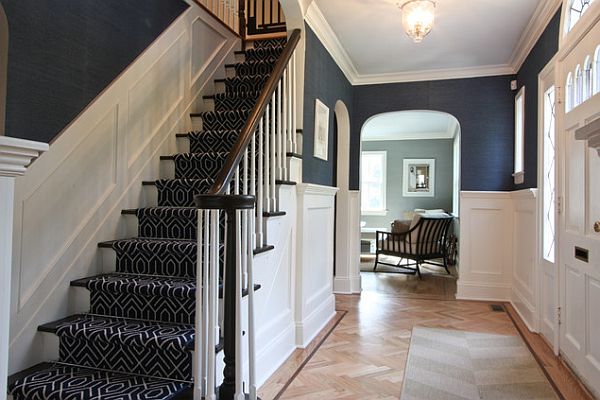 by Michael Robert Construction
Bathroom rug ideas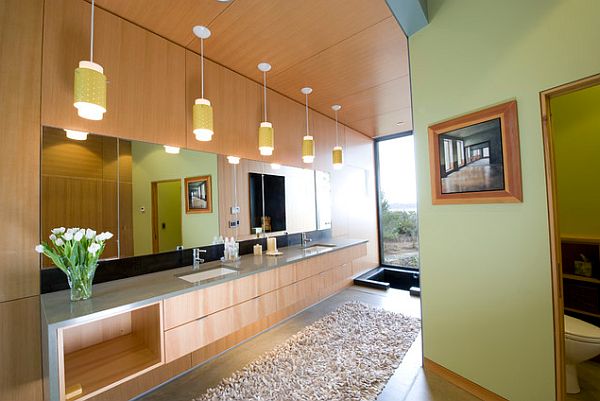 by Coates Design Architects Seattle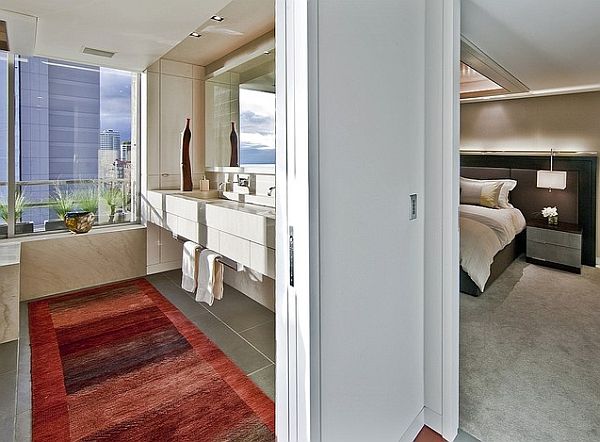 by Garret Cord Werner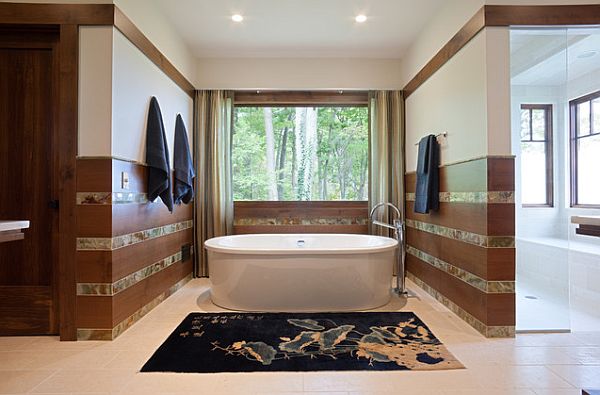 by roomTEN design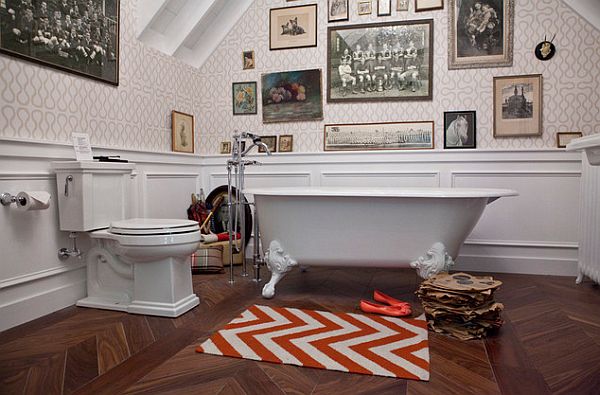 by Kohler
Rugs are a welcome twist to the cold and sleek surfaces of a bathroom. Since it's a place to indulge yourself after a long day, spare no fantasies. How would you like a carpet with a Japanese theme by the minimalistic tub decorated with candles and orchids? Or even a (tasteful!) animal print rug. If you're a rather well-behaved dreamer, consider very soft rugs in baby blue.
Bedroom rug ideas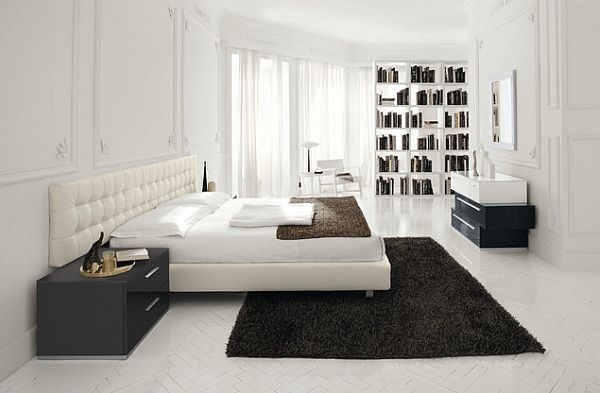 by Imagine Living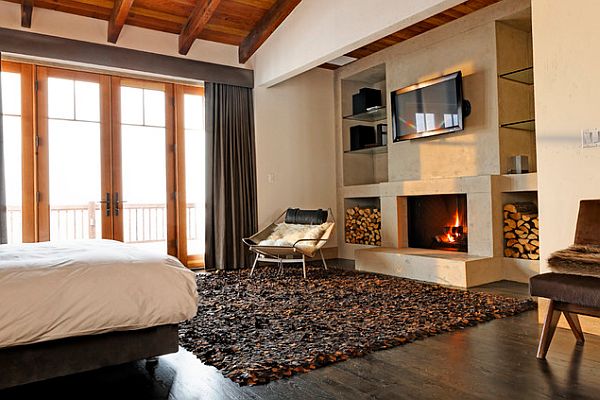 by d'apostrophe design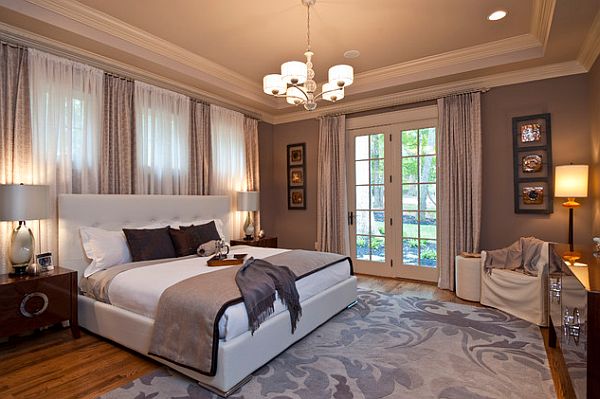 by Dillard Jones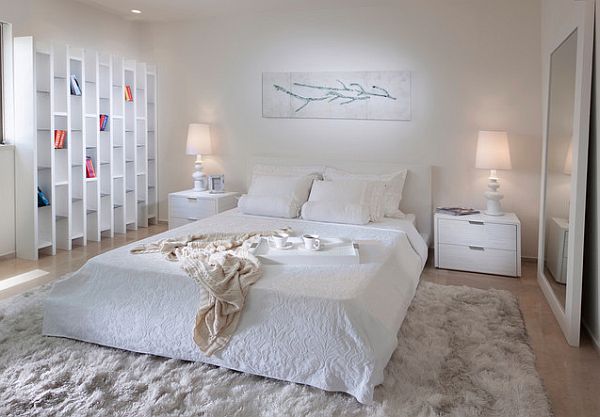 by Elad Gonen & Zeev Beech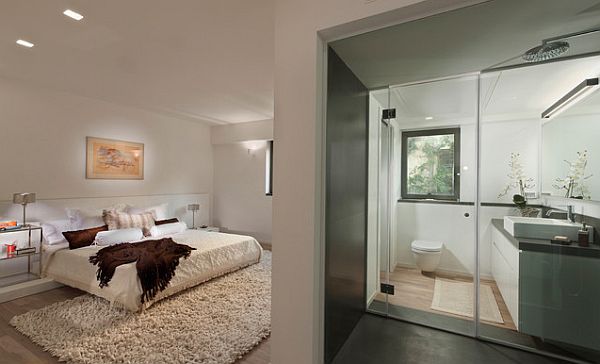 by Elad Gonen & Zeev Beech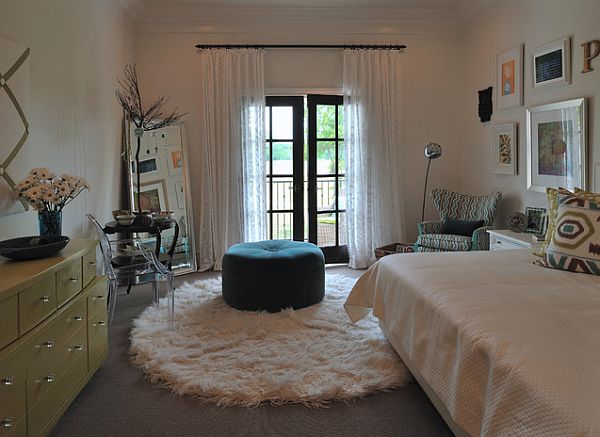 by Carla Aston / Miro Dvorscak – photographer
What do your feet like to touch in the morning? Being the relaxing, uprooting, floating place where we like to lose ourselves, a sleek and shiny wood finish for the floor is suited in the bedroom. Our spoiled morning feet like it sometimes cool and sometimes warm. That's why a round island consisting of a soft and lovely rug to thread on is always welcome by the bed and by the dressing closet. What are your rug fantasies ?