A very special tropical home, the so-called Winged House in Singapore was built on a triangular and rather narrow piece of land. It's formal difficulty was overcome with grace and phantasy by its creators, K2LD Architects.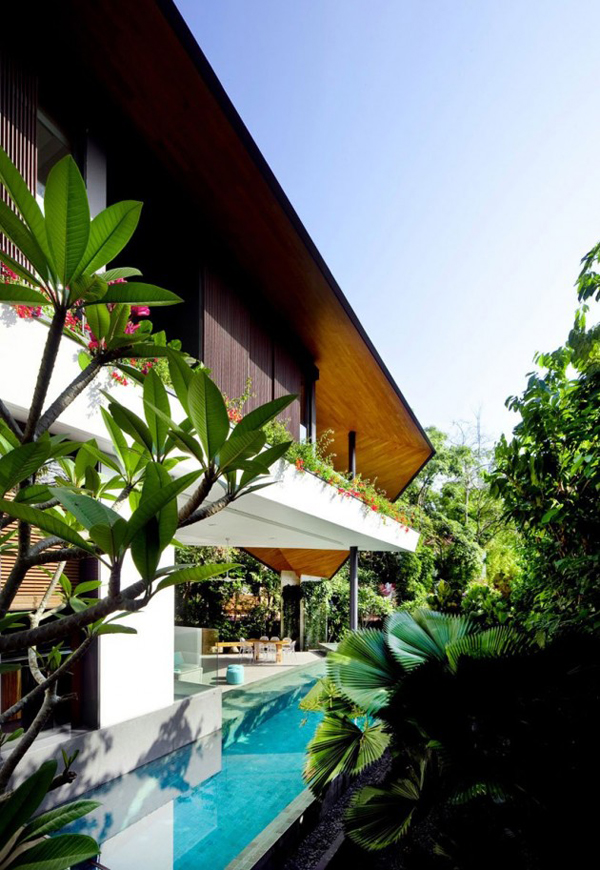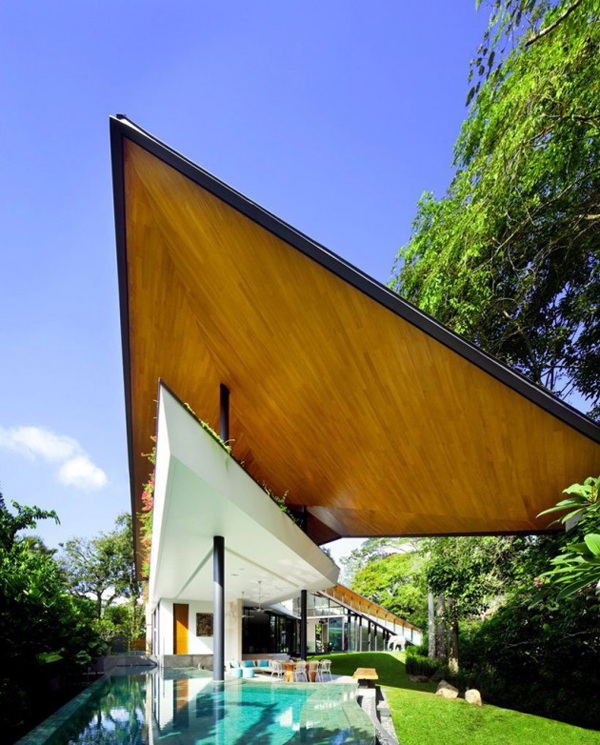 Rather than the large rectangular areas that contemporary luxury architecture traditionally uses, the Winged House is made up of successive trapezium bodies in pavilion style. This home has an impressive entrance with wood latticework and flanked by 2 granite walls in a traditionally Asian symmetry. Upon entry, the building seems to gradually grow weightless and narrow toward the comfortable and private garden and recreation area by the pool. This approach to the use of space is more expressive and ingenuous than vast rectangular rooms.
An intimate and suspenseful experience of space is created, that culminates in a prominent, cantilevered  corner balcony with exotic flowers, overlooking the irregularly shaped pool and the palm trees in the garden. An even more impressive and intriguing element of this building is the roof, extending in a long and narrow overhang over the pool. It is detached and elevated above the white and glazed house body, with cut-outs, splits and overlaps such as to filter the sun on a scorching day and create pleasant isles of shadow underneath.
With its white surfaces, warm colored wood finishes with a hint of traditional, its peculiar roof geometry and its colorful plethora of flowers, the Winged House expresses the pure exuberance and holiday feel of tropical Asian homes, which fill us with a nameless nostalgia.