Acting as accent chairs, these 10 wonderful string-inspired furniture pieces you are about to see will transport you into the world of creativity and help you decide which material combination you prefer. Using acrylic and natural cotton rope, electroluminescent wire, polymer thread, latex and bungee cord, elastic silicone string or UV protected vinyl cords, designers manage to transform strings into original home furniture. Choose a modern string chair that would dominate the interior design, accentuating the space arrangement and color palette. There are so many great designs out there – you just have to find the perfect string chair for your home!
Vermelha Chair
Campana Brothers "Italian pride" Vermelha Chair was designed for Edra to display a special color trio available only on request. This special chair is based on a complex knotting system only performed by one of Edra's employees. The modern armchair has 500 meters of acrylic and natural cotton rope entangled in a wonderful chair design showcasing a patriotic Italian color trio – an inspiring handcrafted piece of furniture for design lovers!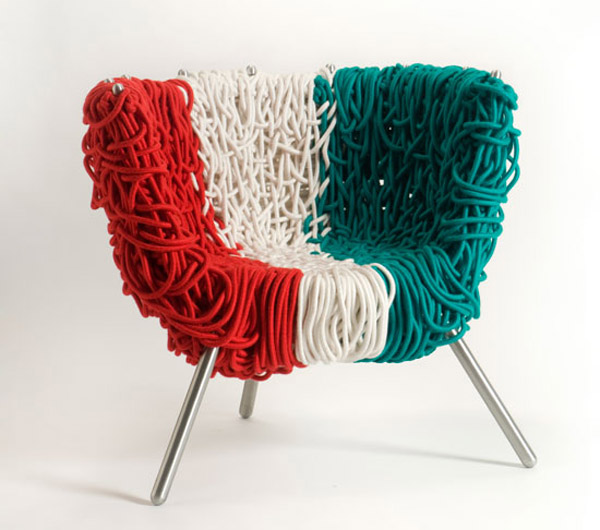 Tropicalia Cocoon Hanging Chair
Strings can inspire more than shape – colors intertwine to compose a canvas for your modern lifestyle, as the Tropicalia Cocoon hanging chair shows. Designed by Patricia Urquiola for Moroso, this colorful egg-shaped string chair is made from polymer thread stretched over a geodesic frame. Building its comfort reputation by encompassing hammock elements, the exotic hanging chair showcases color and minimalist design in an unforgettable shape. A sunroom adorned with one of these beauties will energize your days and color your emotions.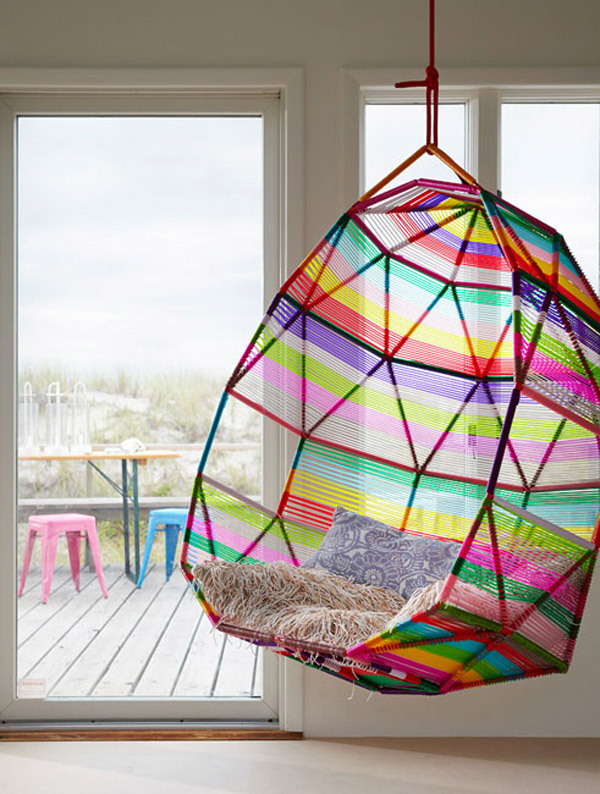 Disco Chair
Perfect for entertaining nights when all you want is to have fun with your friends, the Disco Chair by London-based Kiwi & Pom brings colorful neon into the spotlight. Furniture meets lighting in a fascinatingly modern lounge chair needed by disco fans and rainbow colors lovers. Using 200 linear meters of strings of electroluminescent wire to create a disco feeling, the contemporary piece of furniture can be set to a pulsating mode that intensifies its stunning effect. Lighting up in a colorful rainbow, the woven armchair incorporates modern technology in a glamorous seating unit/disco installation.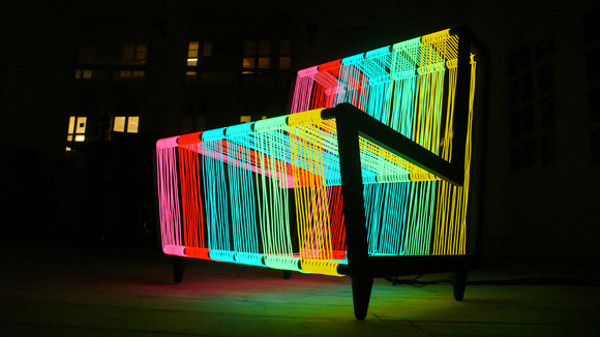 Stretch Collection
Brooklyn-based designer Jessica Carnevale used latex, bungee and rope to create this stunning set of chairs, part of her debut collection known as "Stretch". Creating a bubble of exuberance constructed out of comfort and elasticity, the designer experimented with different materials before getting the combination just right. Hand-made in the artist's Brooklyn studio, each of the chairs in the collection invites to colorful daydreaming while offering an artistic interpretation of a comfortable lifestyle.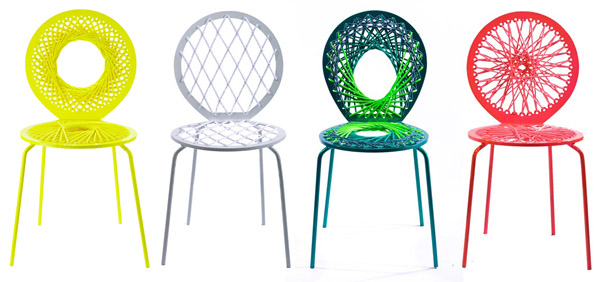 Bounce Chair
Built for a comfortable seating experience merged with visual appeal, the Bounce Chair fabricates a world of comfort captured in a single bouncy chair. Designed by Fenny Ganatra, the ultra modern elastic string seat fits in perfectly in a contemporary interior design. Molding after the user's body, the elastic strings offer a delicious silicone bounce. Clenched on a light and sturdy polycarbonate frame, the silicone strings are the result of many hours of ergonomics study – form and function spring from this amazing minimalist chair to shape your relaxation moments. Easy to stack and store, these unique chairs are available in three versions – white, black and transparent, with a selection of black, blue, white, red, pink and green strings.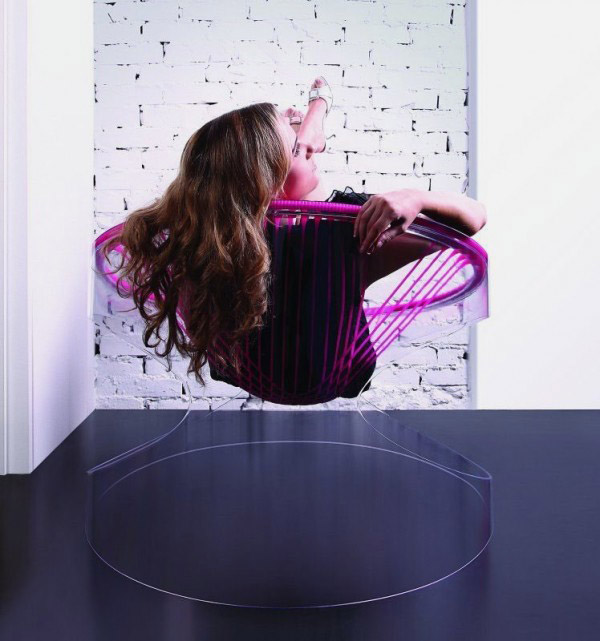 Silkchair
Next up – the Silkchair – a modern piece of furniture showcasing a carefully designed shape. Imagined by Swedish designer Åsa Kärner of Alvi Design as an eco-friendly furniture piece, this modern string chair showcases a FSC-certified oak frame with silk threads carefully strung through the minimalist wood base. Shaped out of the bridges constructed by strings, the seat offers an informal transparency mirroring its lightweight body in the string's shadows.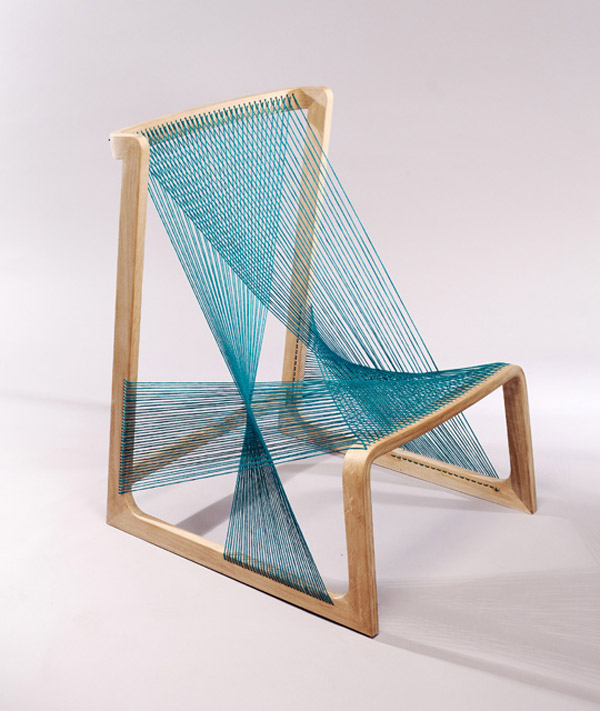 Texelaar Ottomanis
Imitating the shape of a rope ball, this intriguing pouf design brings a well-known object into focus under another function. Thomas Eyck's Texelaar Ottomanis, as all of the designer's creations, is made of a continuous yarn from sheep grown on Netherlands' Texel island. The original color of the sheep's wool gives each piece its unique palette, blending tradition into our contemporary world of modern furniture. The ottoman comes in three natural colors – brown, white and gray – and offers comfort alongside a transitional display of natural materials captured in an oversized shape.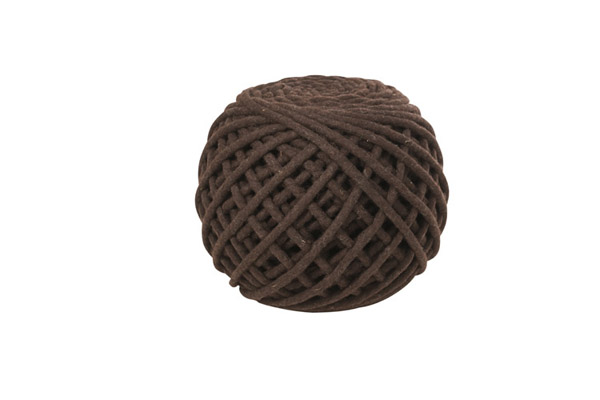 Cord Collection
The Cord Collection by California-based Ilan Dei Studio brings a modern touch to your daily routine. Gathered under a name that hints towards the use of materials, the lounge chair, ottoman, sofa, dining chair and bench are all made of durable vinyl cording stretched over powder-coated steel tubing. The lounge chair looks pretty inviting, sculptural and minimalist at the same time. Perfect for either indoor or outdoor use and available in a collection of vivid color options, this set of string furniture pieces are ergonomic, inspiring and simple in their modern elegance.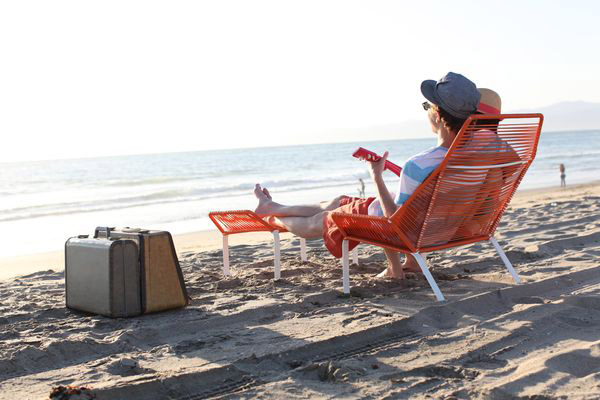 Knotted Chair
The Knotted Chair by Marcel Wanders for Cappellini is yet another striking example of how designers play with string and end up creating inspiring and unique furniture pieces. Carbon, aramide fiber cord and epoxy were used alongside technical innovations to create a lightweight chair. The knotted fiber seating was impregnated with epoxy and framed until it hardened, giving life to an ultra-thin chair displaying an interesting design concept.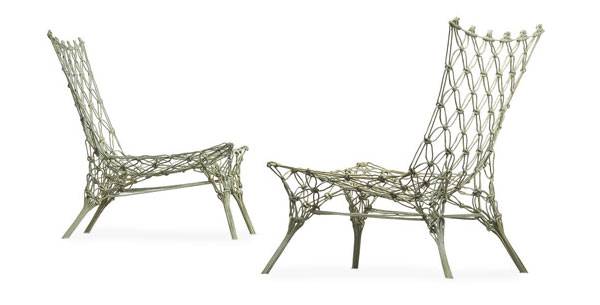 Acapulco Chair
You might remember Ocho's Acapulco Chair as a modern indoor/outdoor piece of furniture created using ancient Mayan weaving techniques and innovative iron fashioning. Re-interpreting an original 1950s Mexican design, this string chair imitates that comfortable feeling of a hammock. Anchored to a powder coated galvanized steel frame, UV protected vinyl cords shape an alluring seat resting on three legs. There are also a number of color combinations available to make sure you choose the perfect Acapulco Chair for your home.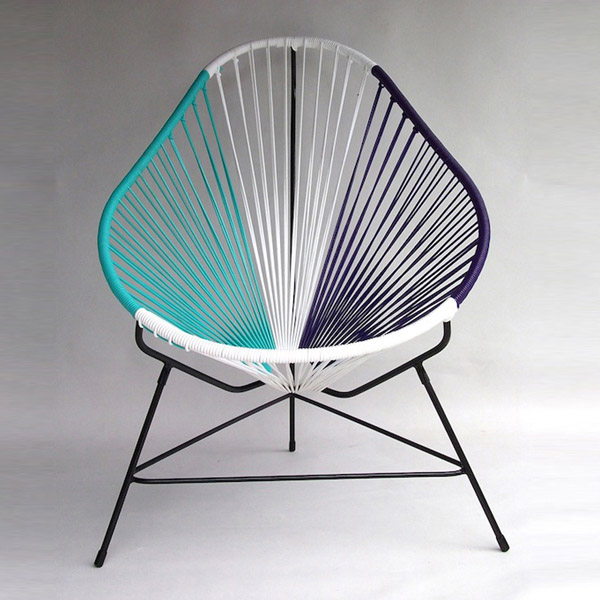 Surely you already have a favorite – we'd love to know which one it is.