Ready. Set. Craft Wars! Tori Spelling has been hosting a unique show on using the ingredients of home and life to make original artwork. As a DIYer you should be a pro at this when I say today's tools will be paper!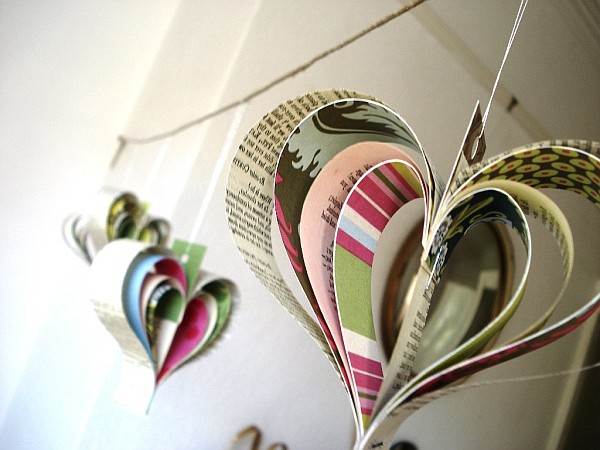 In a day where everything has been "E" formatted we are loosing appreciation for paper. We rarely fax, the newspaper industry is in a sad state and the beloved love letter is sent via acronyms in a simple text message. Sometimes, the greatest purpose we have given our paper is to fuel the campfires on a warm summers eve under a sky filled with stars. (project above by ArneriInspirations)
Our Kindles and Nooks hold hundreds of books and thousands upon thousands of pages that at one point and time would have line our personal library shelves. But while the purpose of paper may not ever be restored to the same original calling, there has risen a beautiful trend that will bring dimensional joy and life into your home.
Recently nationally recognized is an artist who has found this joy and life in paper and her purpose is to make paper the main focus of our technologically advanced era. Yulia Brodskaya is one of few who have found that paper holds many secrets even if ink never graces its surfaces.
And even thought there isn't a real Dunder Mifflin to supply all our paper needs, we can easily fall in love with these fast doable paper inspired décor items from our home recycling what we already have or using the fictitious Dunder Mifflins very real competitor, Staples. Are you ready?
How to decorate with paper
1. Paper Chains and Banners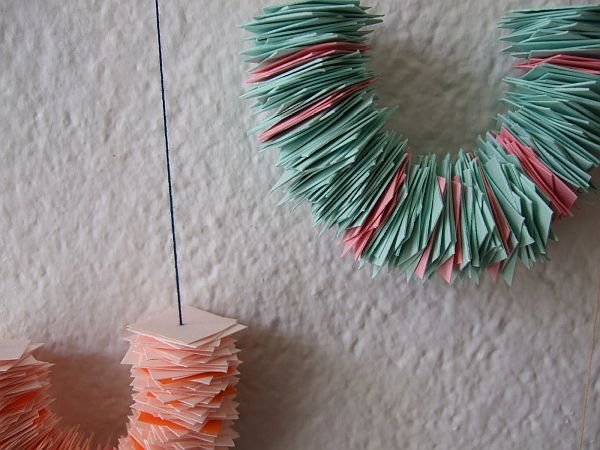 There is something very romantic about string lights and miniature Chinese lanterns strung from tree to tree at the first sign of dusk. Birthday parties, patriotic holidays, neighborhood BBQ's, even wedding showers can be have be animated in simplicity by triangular paper flags on a string bearing the guest of honor or noted day. Bring back a childhood craft with some timeless paper chain making that can be turned into a family activity. Or you can always make some paper bag party lights? (image project by studio mhl)
2. Wreaths and Vases Adorned With Paper Flowers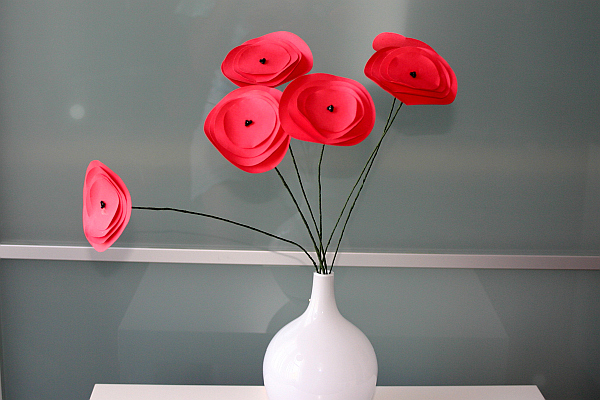 Made popular by scrap-bookers and paper crafters this is the origami we've all been waiting for. Just using simple tools like a hot glue gun, paper and scissors you can create your own dozen of roses to grace the table. Take a regular piece of paper, cut out a circle and then spiral cut that circle. Start wrapping the paper loosely around a pencil and voila! You have a flower!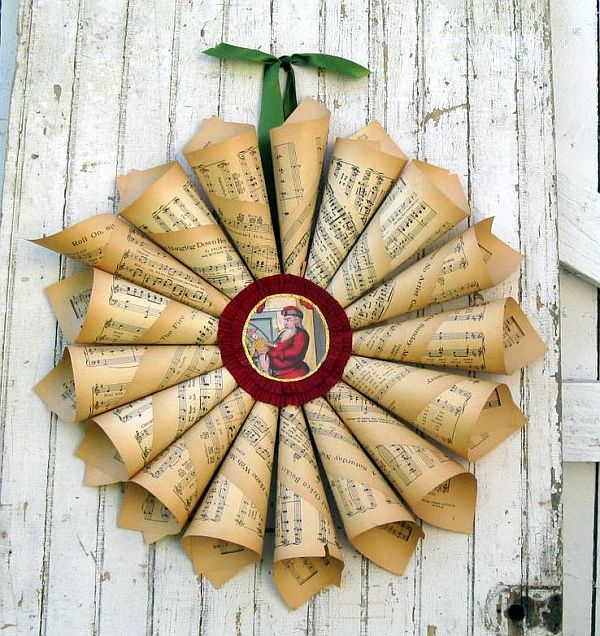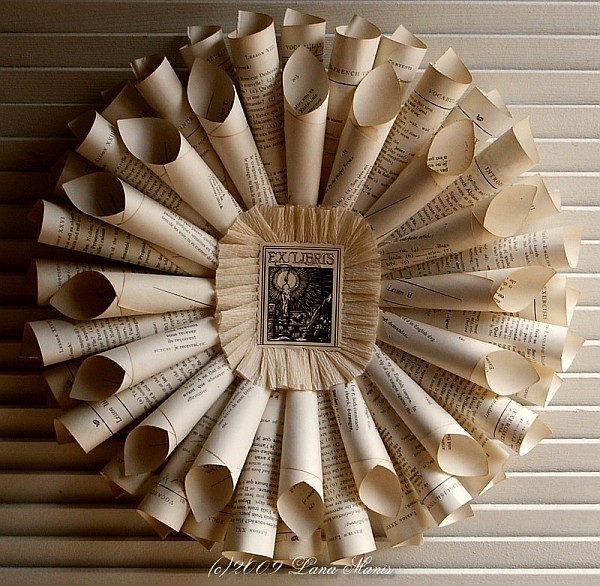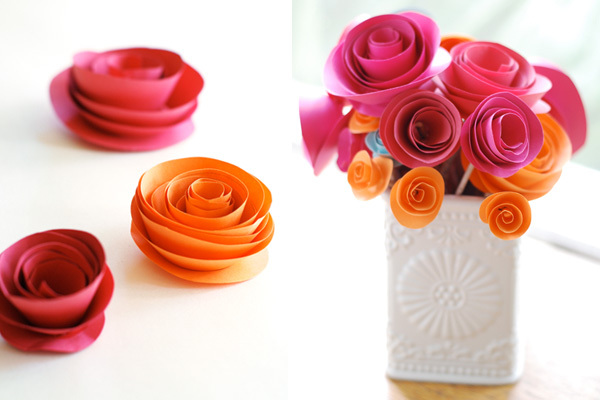 Add some stemware, glue it together and you can plant your own indoor garden that never needs watered! Dress up a wreath, or other ornaments around the house that are missing the spark that only paper can strike. (Projects can be found at GabriellaDesign, Etsy, MitziCollectibles & BridalGuide)
3. Doily Lanterns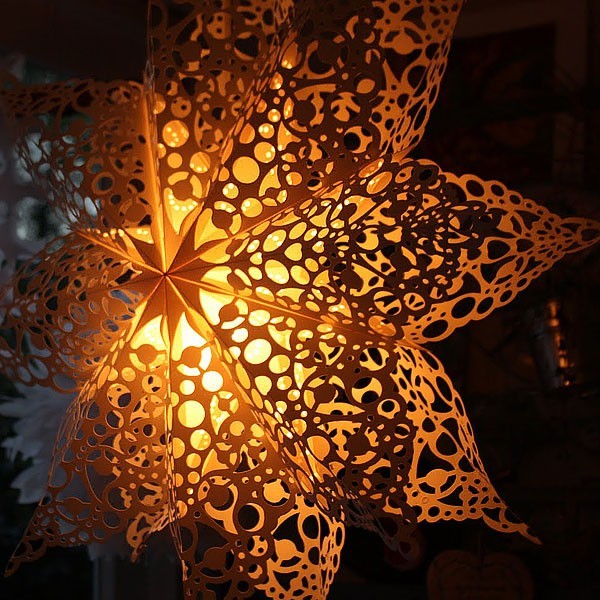 This may take a little more time, but the end result is elegant and beautiful. Blow up a balloon, hang it on a string and paint your lace and crochet doilies heavily with some wallpaper glue. Place carefully on the hanging balloon, careful to ensure that the doily is stretched properly. As you place the others on to cover the entire surface try to have the edges overlap so that they can create a full sphere.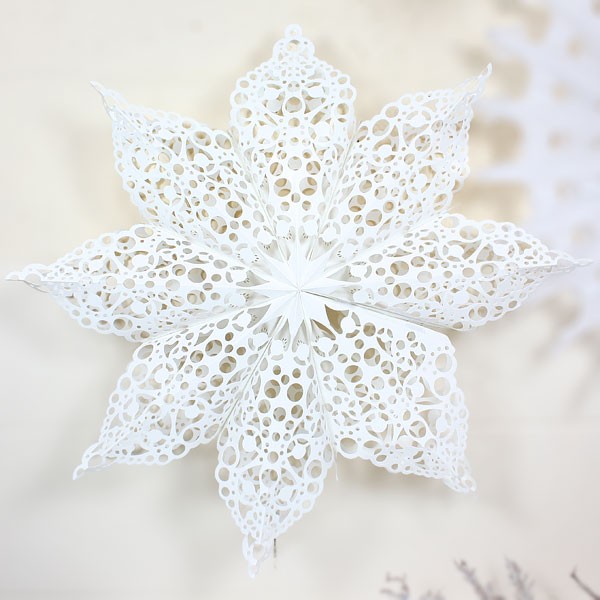 Once you are done applying your doilies, you can add an extra layer of glue as a precaution. Let dry for several hours and when the doilies are stiff and completely dry pull out your sharpest pin and pop the balloon and you should find in your hands a perfect doily lantern. (Lights and batteries not included) If you can't find any vintage doilies you can use paper doilies found in the wedding section of a craft store or head to Pipii in the UK and grab these for 20 pounds each.
4. Wall Art Galleries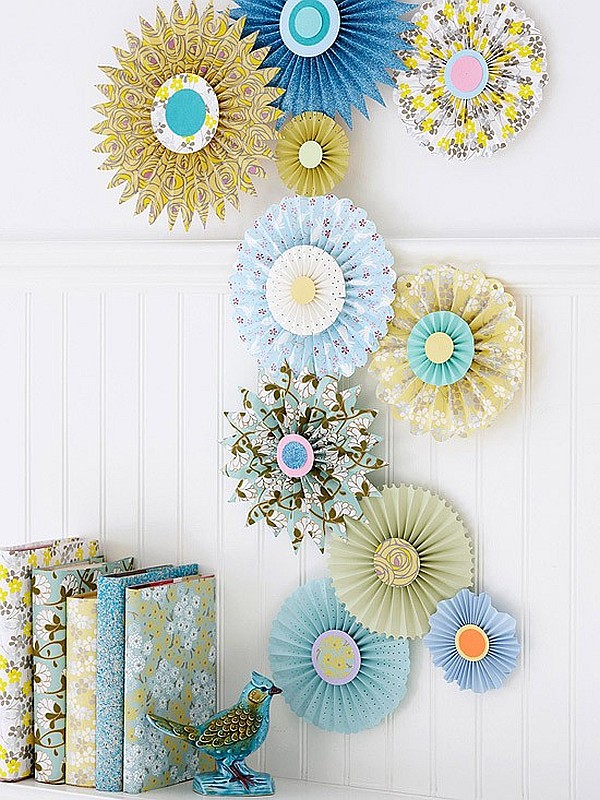 From refrigerator art done by the crayon clenched hands of your young ones to recycling old books, you can add some unique and hand made art to spice up your walls in an easy, affordable way. Print black silhouette pictures on the pages of an old book, slip in a floating frame and you have a story within a story. Scan all your children's images into your compute and shrink to smaller size and fill one page with many of their pictures to create a gallery of many worthwhile images. (Guilty for this creative project is Sweet Paul)
5. Interactive Table "Cloth"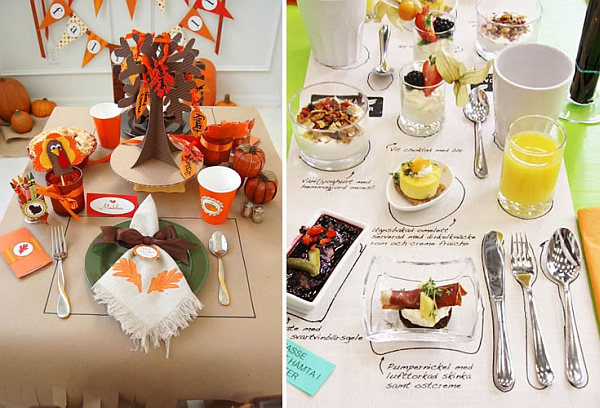 Ever wish you could get that three pack of crayons and activity sheet that the 6 and under receive at the local restaurant? Capture the thoughts and doodles of your guests by setting out paper tablecloths and settings with permanent markers so they can give voice to their wishes for the host and hostess. This makes a guest book a bit more personal and allows the creative juices to flow more freely and unless somebody spilled the milk, will make for fond memories when you cut out your favorite pieces and frame them. Who knows, there just may be a budding artist among you and yours! (Projects by CatchMyParty + Sanna&Sania, and below by vtwonen)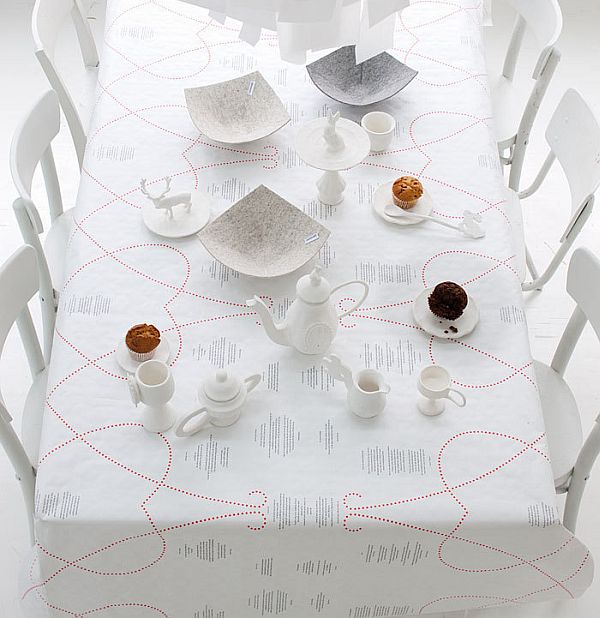 Maybe paper football and paper airplanes are a thing of your past, but give paper a second chance and it will give your room a second opinion!