Whether you're hosting a party this fall, or you're having a few friends over for dinner, it's always nice to offer guests a drink or two. And no, barware does not need to be used exclusively for alcoholic drinks! Whatever you wish to serve, why not pour it into festive glassware accompanied by a selection of stylish pieces, from coasters to gorgeous decanters?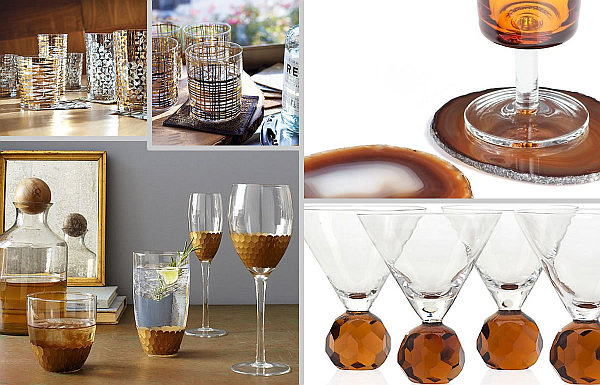 Today we feature an array of glistening barware selections that can add sparkle to your autumn, especially as Thanksgiving draws near. More good news: many of today's pieces can transition seamlessly into winter. Metallic details are oh so popular, along with materials that conjure the feel of natural elements, such as wood and stone. Enjoy browsing, and have a festive fall!
Glassware for Fall
Let's start with the basics. Your guests must sip their drinks from glassware. Why not ensure that they hold style in their hands as they experience the festivity of the holidays?! Mingle Bar Glasses shimmer with gold and silver detailing, as shown below. Shiny vertical and horizontal lines add texture to each piece. [from Crate & Barrel]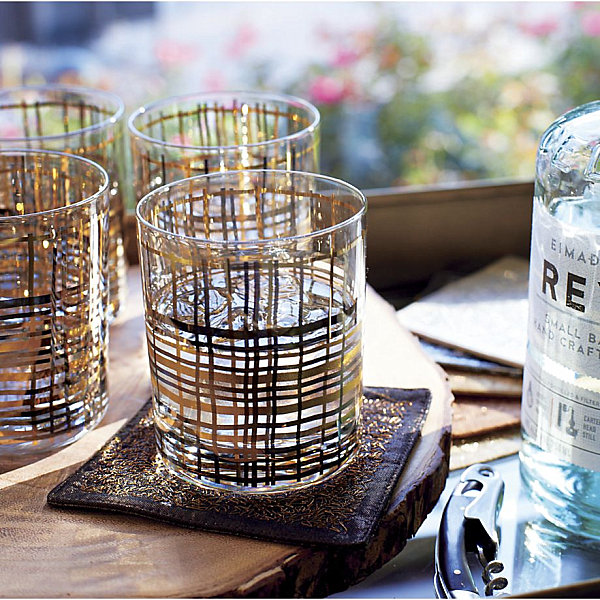 For a matte silver shine, check out the Crackle Barware featured in the next image. Diagonal lines channel the look of broken glass, fireworks and other festive motifs. Undeniably modern, the design is powerful without being overwhelming. [from CB2]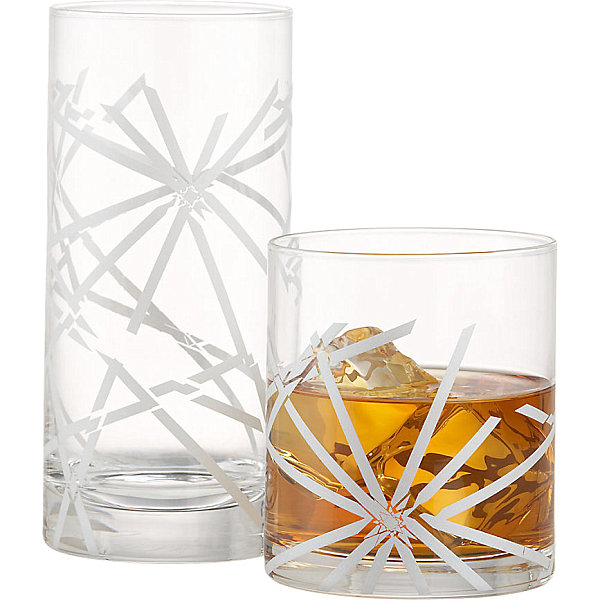 Geometry has never been so chic! The Honeycomb Glassware Set below consists of hand-painted pieces that are intricate with their hexagonal forms. This is jewelry for your table! [from West Elm]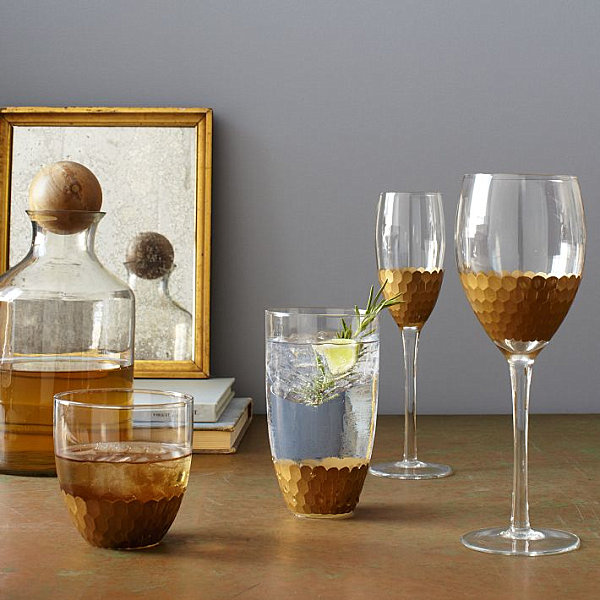 We now take a turn for the sculptural with a set of martini glasses that evoke the sparkle of gems. Sphere Martini Glassware is sold in sets of 4, complete with amber-toned jewel-cut bases and clean-lined conical forms. The perfect color for fall! [from Z Gallerie]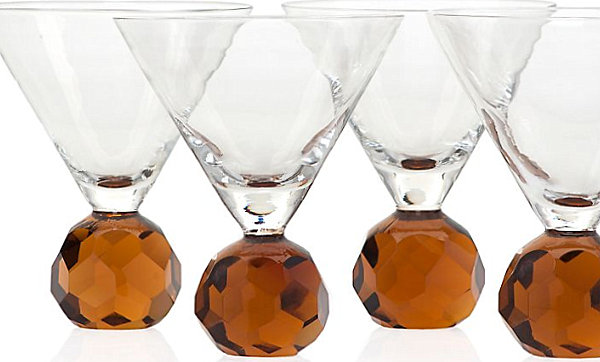 We polish off our glassware collection by combining the best of silver and gold and juxtaposing lines and forms. Triangles and ribbons gleam on drinking glasses from Dwell Studio. Order a set in one design, or mix and match colors and motifs for a two-toned, layered effect.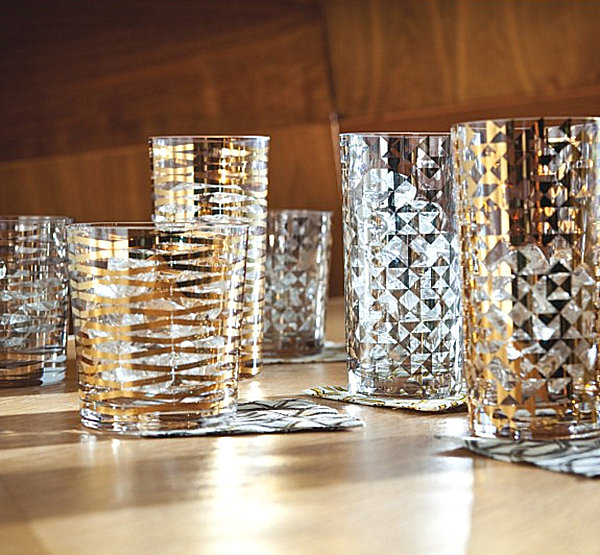 Festive Bar Accessories
Glassware is essential, but we can't forget about the serving pieces and accessories that are a part of any stylish bar setup. For example, from what receptacle will you pour your drinks? Why not store them in classy containers decked out with golden lines? The Crosshatch Decanters from Dwell Studio are available in globe, cylinder and cone shapes. Collect all three and dazzle your guests with a variety of options.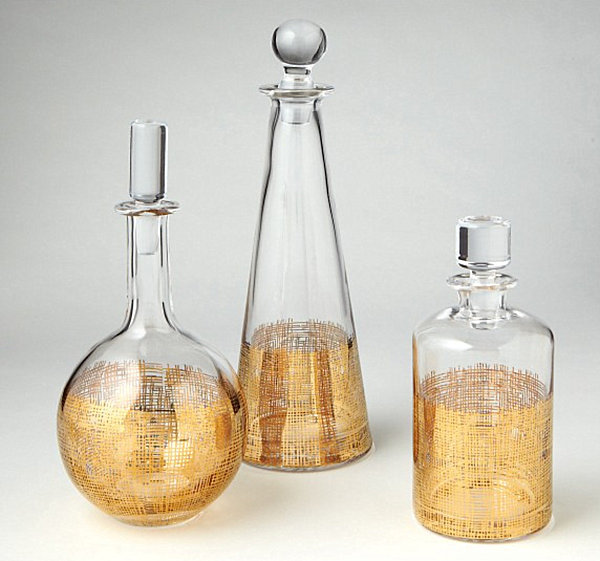 For a fun touch, offer guests playful paper straws for their mixed drinks and non-alcoholic beverages. This Set of 25 Orange Paper Straws features prominent spiral striping in one of fall's most popular colors. And yes, the straws are disposable! [from Crate & Barrel]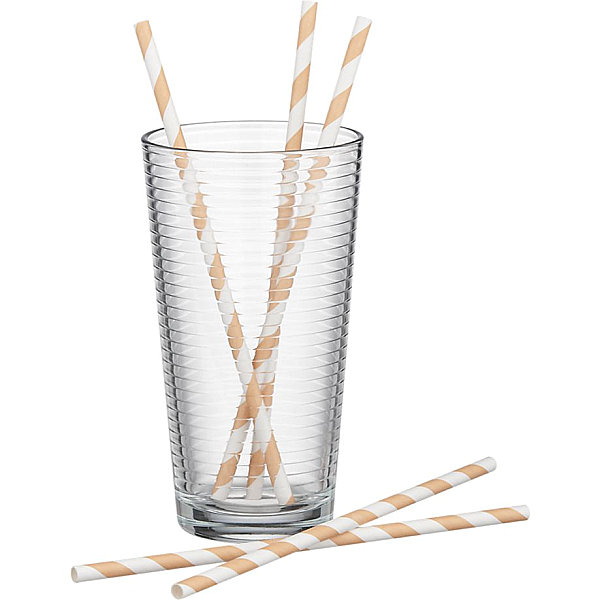 Add warmth and style to your barware with wooden coasters. The Olivewood Coasters below evoke the earthy feel of a tree trunk. Like the trees of the chilly forest outside, each piece is one-of-a kind. [from West Elm]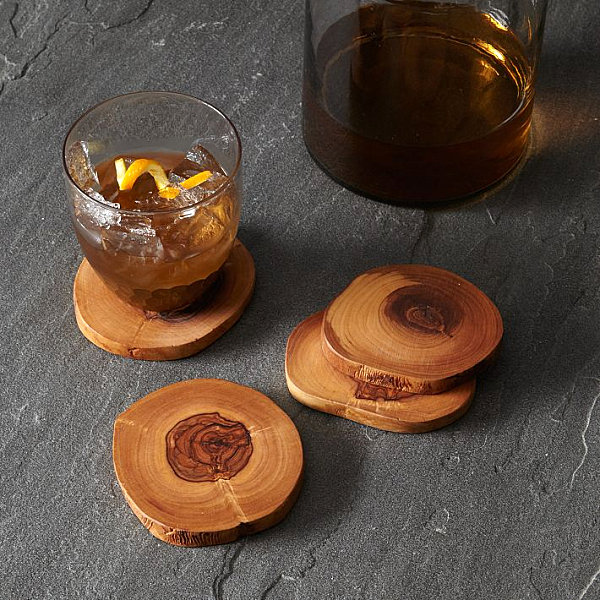 If wood is not your material of choice, try featuring stone in your barware vignette. The Terra Agate Coasters below feature shades like amber and tan, which bring a golden glow to the fall table. [from Z Gallerie]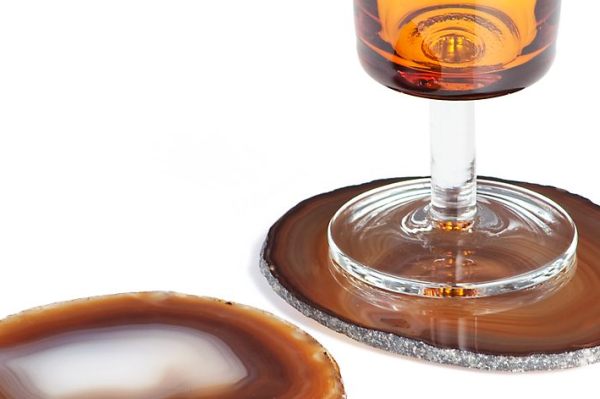 The veins of fall leaves are evoked by the Brown Marble Wine Cooler in the next image. This substantial cylindrical piece is crafted of volcanic marble from mines in India. Add a little texture to your table! [from Crate & Barrel]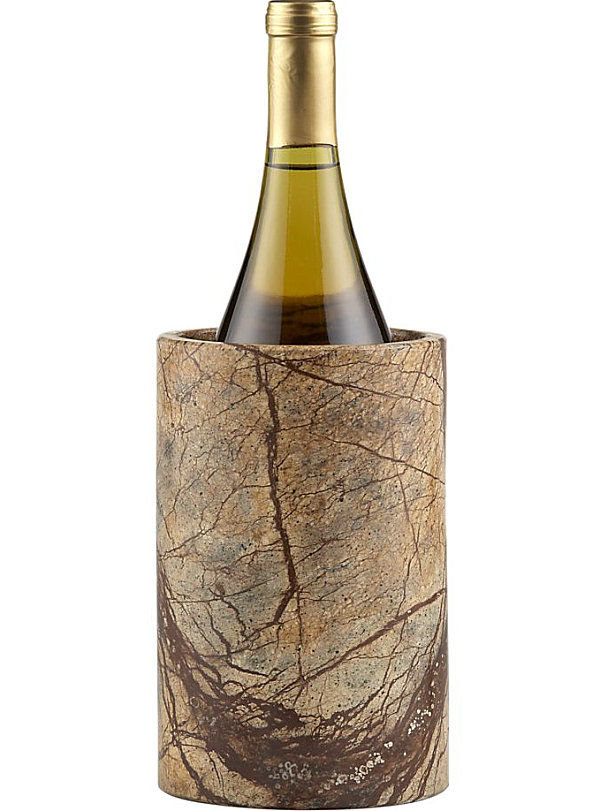 Try serving your drinks on these Small Rectangle Lacquer Trays, which are just the right size for grouping collections of cocktails. Shades like orange, green, brown and gold are perfect for autumn entertaining. [from West Elm]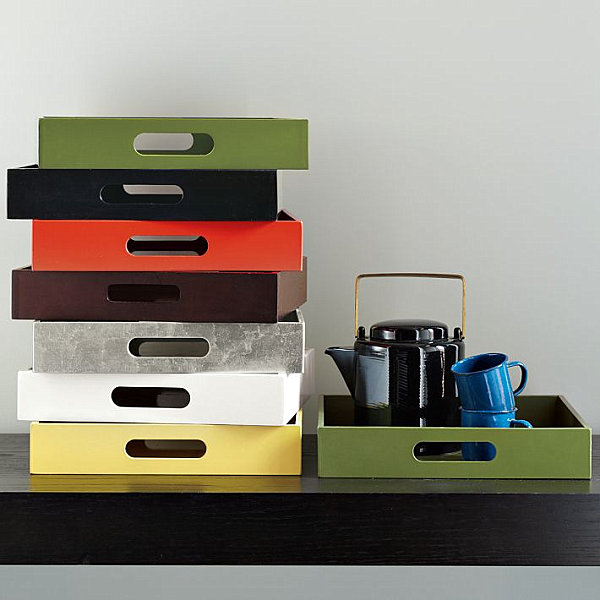 We can't forget about the munchies! To accompany your holiday drinks, serve nuts, gourmet crackers and other goodies in Diamond Cut Nesting Bowls. These golden pieces are crafted of ceramic with electroplated glaze. Have no fear–they are food-safe! [from Dwell Studio]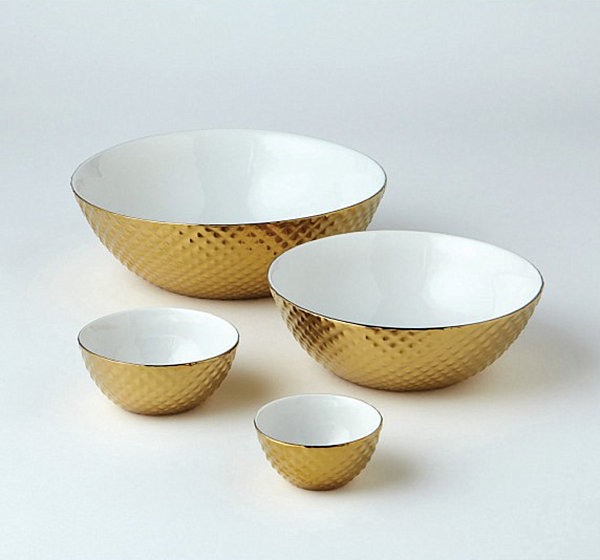 When it comes to barware and other entertaining accessories for the fall season, do you prefer pieces that glisten, or do you go for the more natural look of wood, stone and marble? More importantly, would you ever mix the two?! Let us know what you think by leaving a comment below…