What's white, round, and comes in many dimensions? The main ingredient of our special project I've got simmering! Here's a hint: it's different, edgy and artsy…
Today art is defined by how you make something out of unexpected materials. While once mediums consisted of ink, pencil, watercolor, or oil, now we melt crayons, weld metals, craft wood and contort average resources into breathtaking results. As an interior designer, a DIY'er or just a passionate home improver, you are the curator and your home is the museum, the showroom for which to display your art. And that art makes up a huge part of functional and practical furniture and décor. What's our medium today? Polyvinyl chloride. Or as we know it by its lovingly nicknamed and always abbreviated term: PVC piping.
1. The PVC Curtain Rod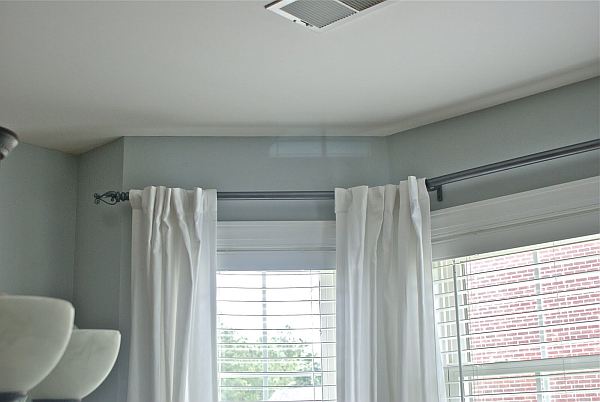 A very stylish project by Christopher & Anne
This project is easy, fun, and no one will be the wiser. Measure the desired length and circumference of your PVC pipe. Take two tennis balls and cut an equal hole out of both of them so that the PVC will slide in the fitting. Wrap your desired fabric around the tennis ball ensuring there is enough salvage to tuck the edge into the tennis ball hole.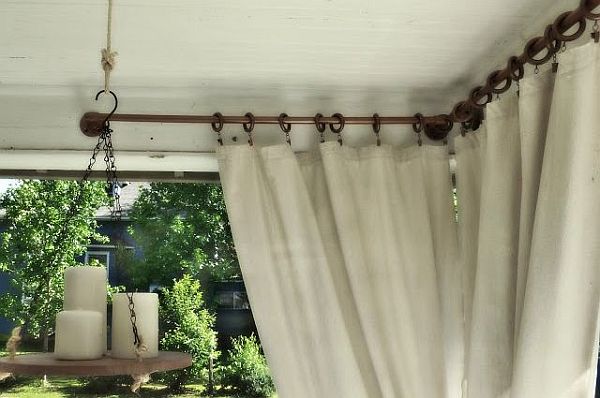 And this is how you add a tinge of vintage to your curtains / by OurVintageHomeBlog
This will create a small pouf over your tennis ball similar to a pouf ottoman. Stick your PVC ends in the holes and you have a sturdy, curtain rod that is sleek and one hundred percent (wo)man made!
2. The PVC Wine Rack/Shoe Rack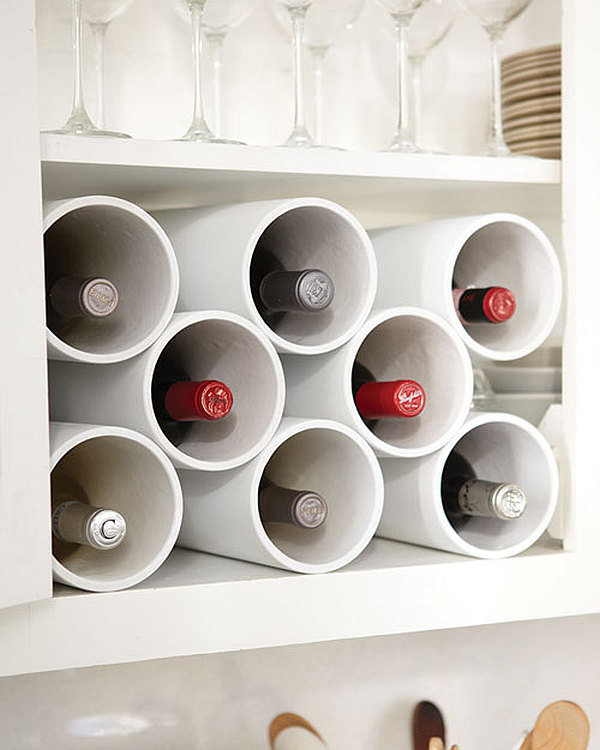 Martha Stewart will tell you how to do it, exactly!
Sometimes starting a new hobby must begin with tentative steps. We are told go big or go home, but frugality must be kept in mind. Perhaps you have the desire to take your newfound amateur love for wine to the next level. Well don't just follow a trend in your new endeavor, start one. Start a new way to store you beloved gooseneck bottles using PVC pipe and balancing and adhering them until you have the correct amount and height needed to store all your bottles.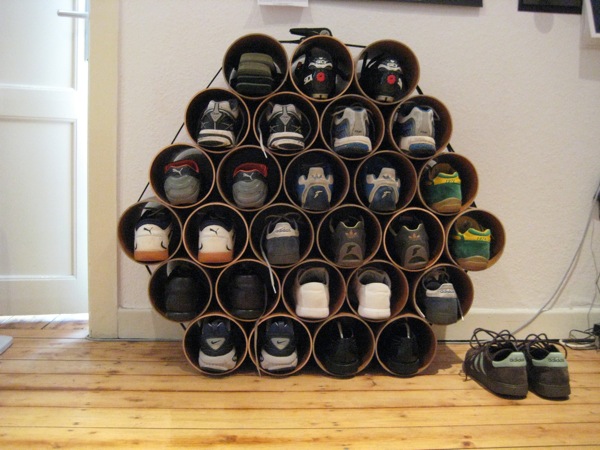 A creative design by Jost Litzen from Hamburg, Germany / via ApartmentTherapy
This same approach can be meted out to make a shoe shelf and since PVC piping comes in many widths, your shoe collection can be accommodated accurately.
3. The PVC Wall Mural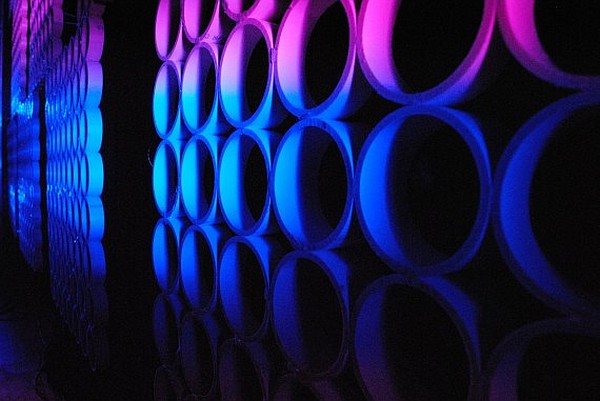 Cut down multiple sizes of PVC piping to less than an inch in width so that your masterpiece is appreciated for more than its protrusion from the wall. Let your imagination soar as you bring to life a concept- a vision with PVC piping. You can make an entire wall mural, an abstract piece or eye-catching sculpture. Wreath, frame for your mirror; the possibilities are nearly endless. (a very creative project by ChurchStageDesignIdeas)
4. PVC Pipes Vases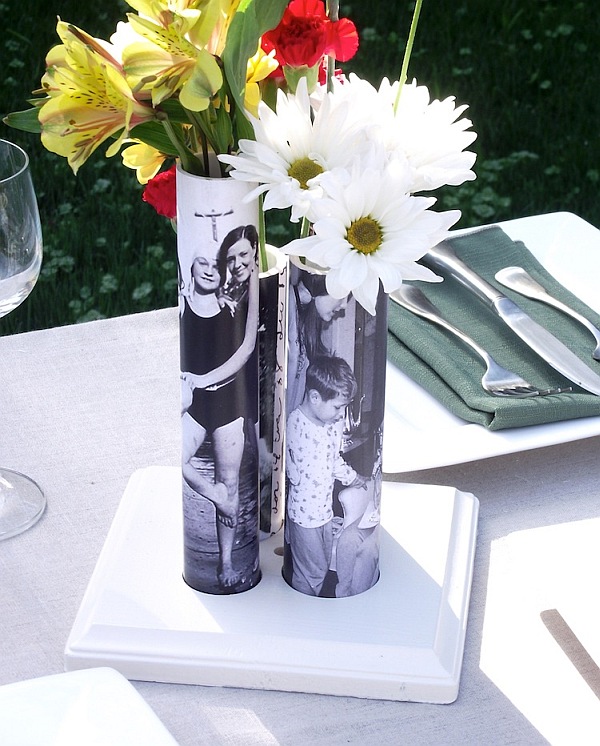 Not ready to make PVC piping such a bold part of your home? Or perhaps you want to start out at a smaller and quicker scale? No problem. PVC has a way of fitting in many lifestyles without losing its undeniable uniqueness. Paint it, plaster it with a photograph or add some PVC elbows and your eclectic tastes now include polyvinyl chloride. A more detailed look at the project above can be found on the modpodgerocks blog.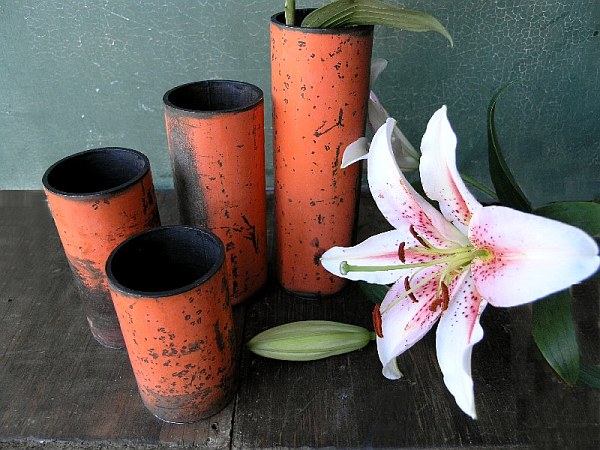 And if you're into a bit of retro, you can go for this one. It's been done by Paula on selftaughtartist! Nothing short of creative, I must say!
5. Wall organizers from PVC pipes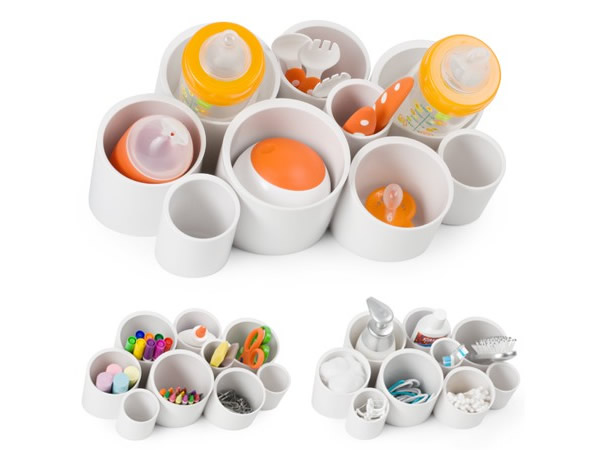 How about a sleek wall organizer made from PVC pipes to make sure that you keep a clutter free office desk? These great crafts organizers can be wall or countertop mount, just make sure you cut the right angle so that they actually keep your things. Folks from HappyToBeAtHome will teach you how.
Once your hands feel the power of cutting, conforming and connecting PVC piping it will not only bring back fond memories of the intrigue of Legos, K'Nex and other strategic building toys, you'll find that the bug of PVC is addicting. There are so many other empires your home could host if only you give PVC a chance!
So, what project will you do?