Sometimes the best way to add modern style to your home is by getting crafty… Yes, we're talking about that empowering phenomenon known as the DIY project. Can you really create a spectacular one-of-a-kind art piece with supplies you find around the house? Is it possible to follow a few simple steps and end up with a spectacular result? As today's DIY projects prove, the answer without a doubt is "yes!"
We've rounded up 12 of the best modern DIY projects on the internet, screening them for one important quality: ease. If this is a project we felt confident that we could do ourselves, we included it. But these projects do take time. After all, you can't snap your fingers and get an instant result. You may need to take a few bold risks, such as doing your best to sew one straight line or being willing to view a cane chair as a cross stitch canvas. Think outside of the box and go for it–the dazzling results will be your reward!
DIY Art and Decorations
Sometimes a room needs a dash of color and a touch of style. Like the vivid artistry of whimsical Paper Ball Chains, featured in an easy tutorial at Made. Inspired by the colors of dusk and dawn, this project involves little more than art paper, a circular punch, and a sewing machine. Can't sew? No worries–we're talking straight line sewing here. In fact, grouping and sewing the circles in collections of six creates the "ball" effect you see below. A great tutorial! To discover the project that inspired it, click here.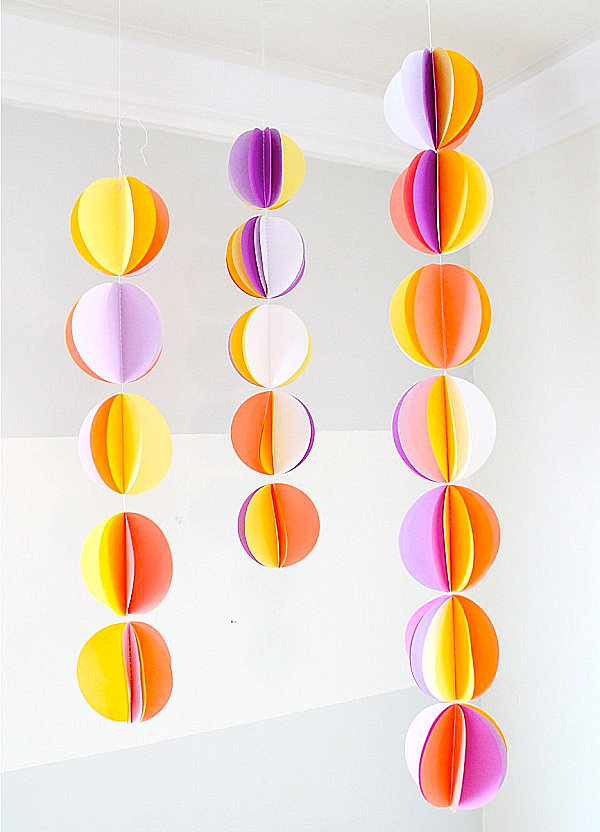 Do you ever find yourself grabbing paint sample cards at the hardware store because you know one day you'll think of something amazing to do with them? Well, that day has arrived, and the fabulous idea comes from A Beautiful Mess. This modern paint swatch wall art also features vinyl letters that take the project to the next level.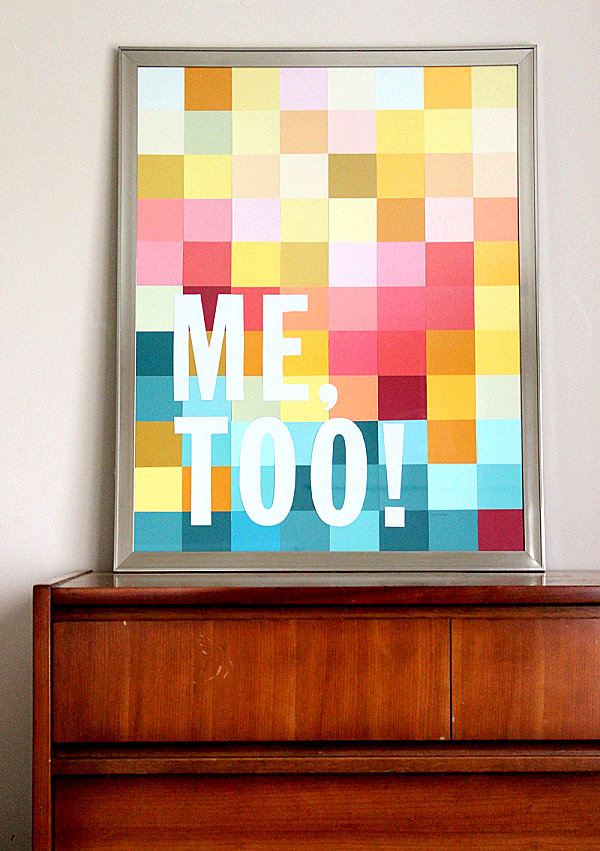 For an art project that seems to jump out of the wall, check out this DIY idea for Dimensional Geometric Wall Art, shown below. Inspired by the work of Alex Menocal, this interesting project is from Design Sponge. The secret to its success: balsa wood, hot glue and a little creativity!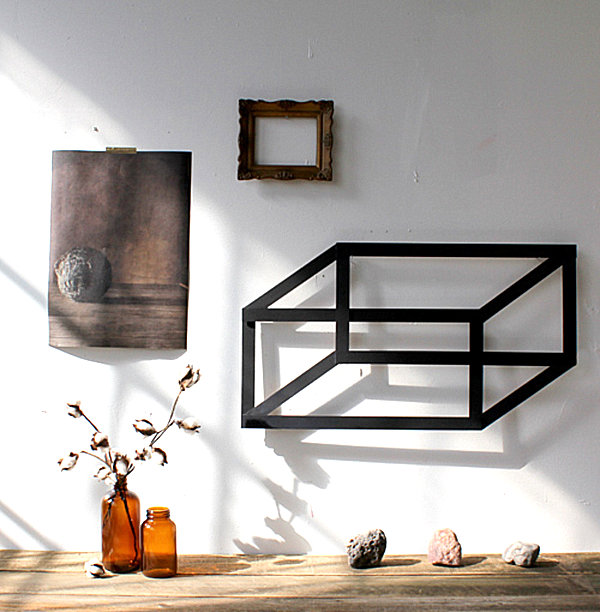 If you are looking for a unique way to display the pictures you take with your camera, try constructing a DIY photo ledge. Plastic cap molding is the supply of choice, and since it's easily available at hardware stores, shopping for materials should be easy! [from Photojojo via Curbly]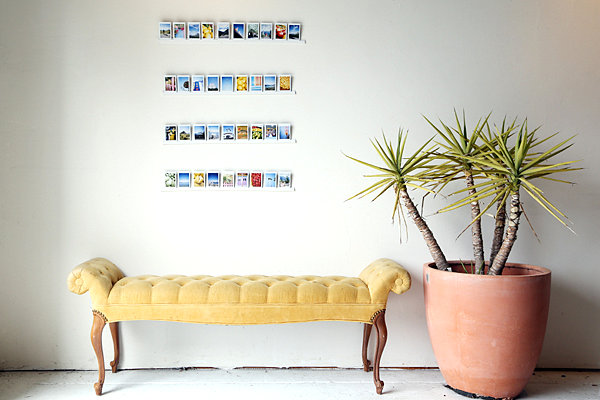 DIY Furniture Projects
There's nothing like the feeling of pride that comes from making your own furniture! You'll love the projects below, because the furniture is already assembled. All you have to do is decorate it. Just how will you do it? How about with paint?! The painted dresser in the next image was created with the help of white and blue paint, as well as masking tape, which ensures that the triangles have neat, straight edges. Check out the full tutorial at Hitta Hem: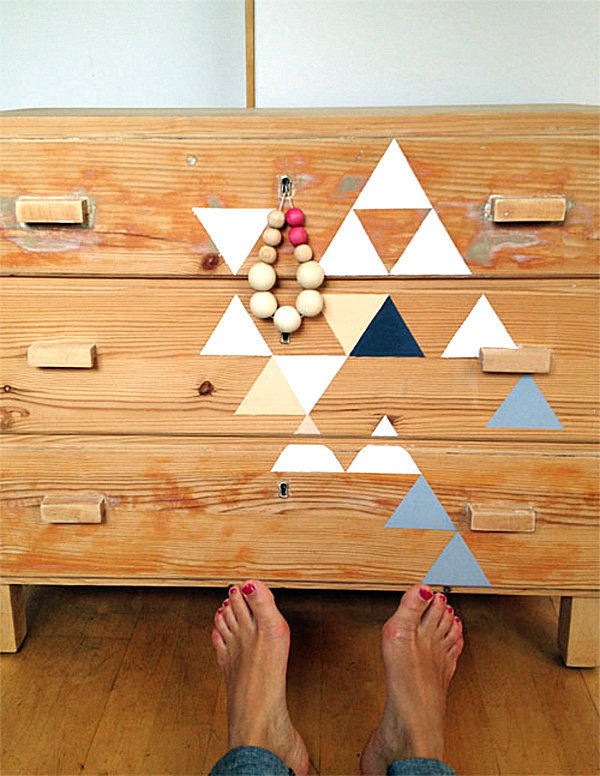 If you have a work table that could use a face lift, why not give it a tape life? That's right–cover it with strips of tape. After all, tape is a lot less messy than paint, and the ends of each tape strip can be neatly tucked under the edges of the table. Inspired by Lady Croissant, this project comes from Enjoy It.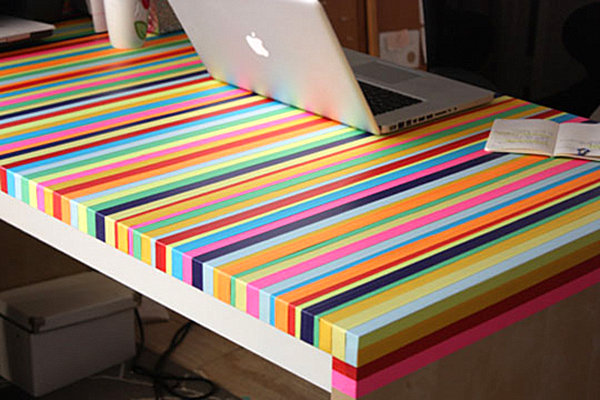 How can you embellish a chair without painting it? Use it as a cross stitch canvas! Cane chairs are perfect for this endeavor, and the Cross Stitch Chair below proves it! Any cane chair will do. Use yarn to create the signature cross stitch look, and you're set! For a full tutorial, check out My Poppet.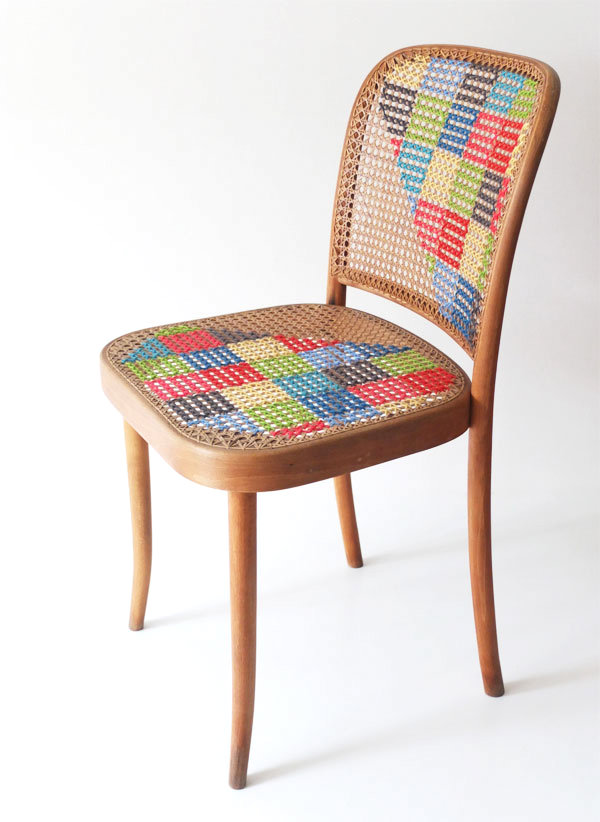 Need a headboard? Instead of buying it, try painting it. On your wall, that is! The DIY painted headboard below can't get any easier. Simply paint a rectangle, slide your bed against the wall, and voila–instand modern headboard! [from Alexandra Angle Interior Design via Apartment Therapy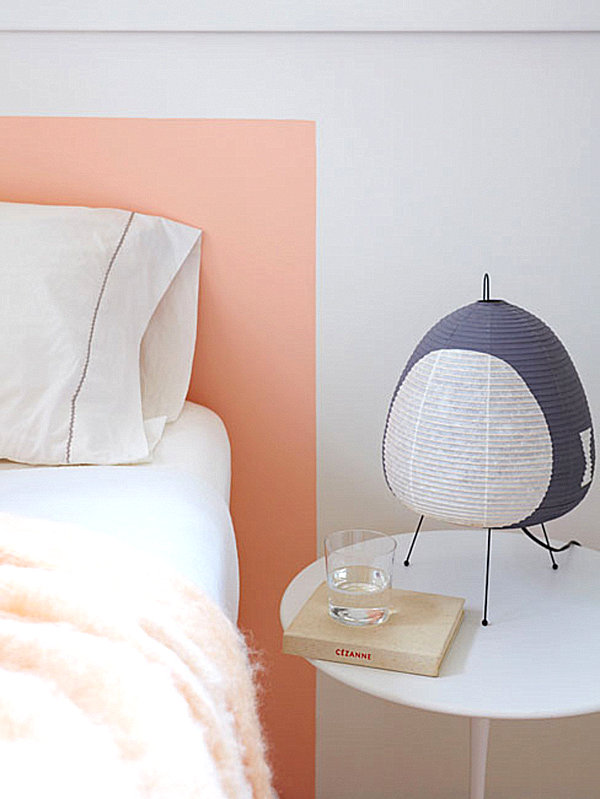 DIY Accessories
A little paint, fabric, wood or glue can assist you in crafting the vibrant accessories in our last batch of projects. For example, the no-sew Triangle Pillow below is created by adding felt triangles to a pillow of your choice. And yes, this can be done with fabric glue rather than stitches! For more info., check out Creature Comforts.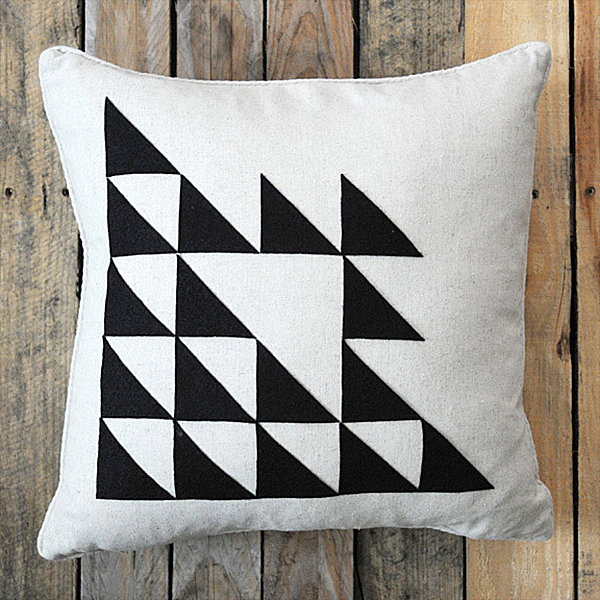 Want to create a lampshade with an unexpected design? Try using strips of balsa wood and hot glue! The DIY Balsa Wood Lampshade in the next image is easy to make, and even easier to love. [from Pomp & Circumstance via Design Sponge]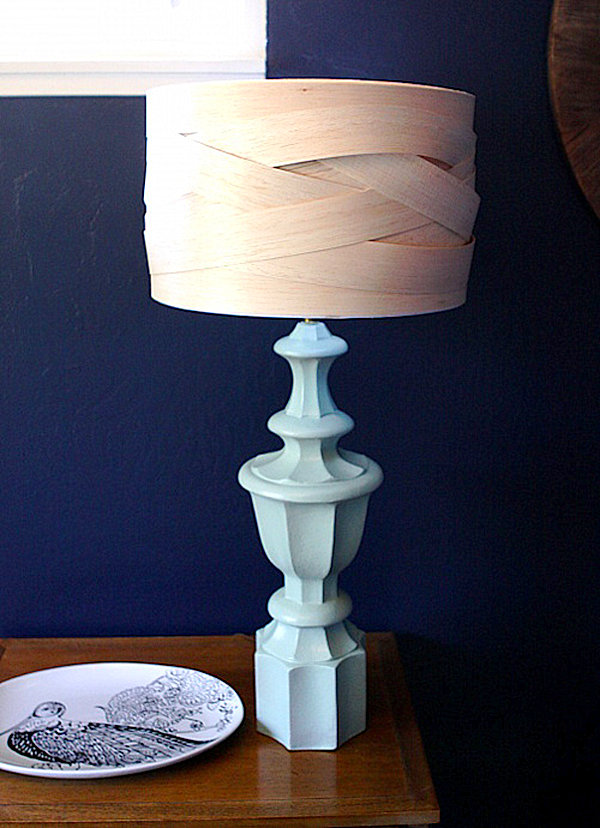 Sometimes it's the little things that attract the most attention. Have you ever had a plant so interesting that it needed an extra-special container? If the standard terra cotta fare just won't do, create the Color Block Terra Cotta Pots below with the help of craft paint. Yes, it's that easy. Don't forget the succulents! For more information, check out A Beautiful Mess…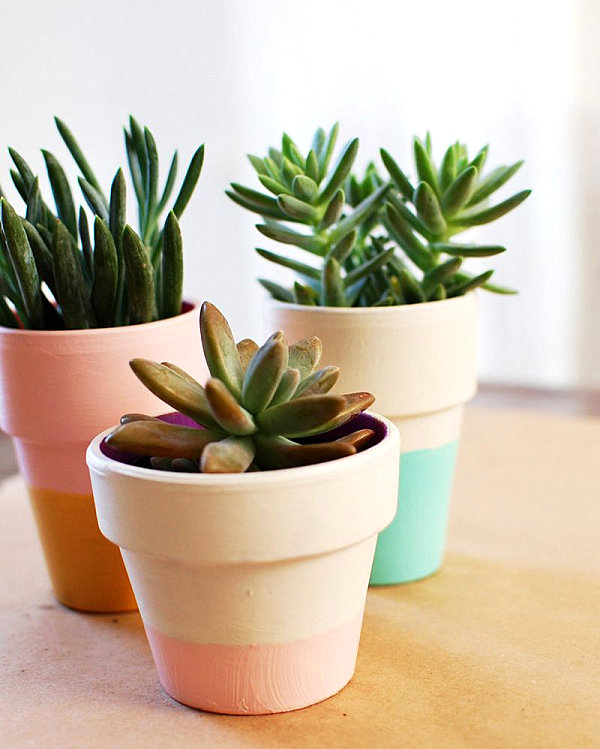 We end with another plant-happy project, this time inspired by the creations for sale at Mister Moss (where you can buy one of the selections below). If you'd like to take a shot at making one or more of these living works of art, craft your own DIY Moss Ball Hanging Plants using soil, sphagnum moss and bright string. Simply follow the instructions at Apartment Therapy and let your creativity take over!
Did any of the projects above spark your creativity? Don't forget that you can always customize a DIY project to achieve the results you desire. Swapping out a paint color or supply can make a big difference, giving you the exact style you seek. Happy crafting!