There is something mysterious and dramatic about a dark colored bedroom. Whether you are looking for a way to lighten up your dark boudoir or trying to add sophistication to masculine sleeping quarters, we will present you with some ideas and tips to help you along. We know that dark colored bedrooms do not have to feel gloomy and closed in.
While you may enjoy going to bed in a dark salon, many think that waking up in one could be less inviting. On the contrary, dark bedrooms need not be that way because they can be lightened up with flooring, bedding, wallpaper and more. If you are intrigued by dark colored bedrooms but can't figure out how to add lighter features, here are some ideas to get you started.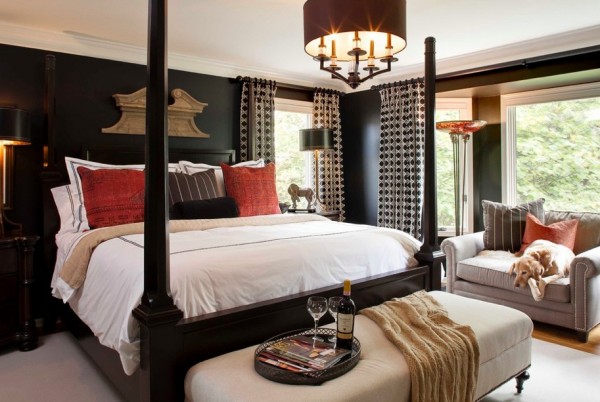 Image via
Lighter flooring will make the room feel brighter:
Whether you enjoy dark colored paint for the bedroom or even dark wallpaper, the room can instantly feel closed in without a way to lighten up the floor, ceiling or even both. The eye will feel less closed in if you can lighten up the floor with lighter wood, carpet, or consider an area rug to add color and pizzazz without redoing all of your flooring. Similarly with ceiling colors, opt for a keeping them light and neutral to avoid a closed in feel.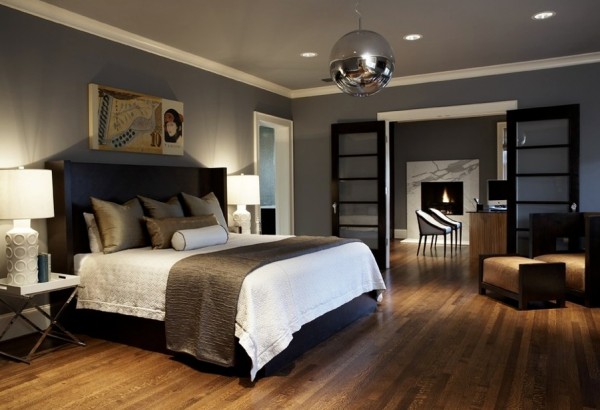 Image via
Let in natural light:
Windows and lighting play a major role in making your dark colored bedroom enjoyable. During the daytime hours let in as much natural light as possible. If using window treatments, opt for sheers that diffuse natural light; lighter weight drapery in coordinated neutral colors are a must. In the evening what is nicer than beautiful sconces beside the bed, a gorgeous pendant fixture or even the addition of a chandelier? Light, whether it is natural or artificial, can create a balanced room that is enjoyable to inhabit.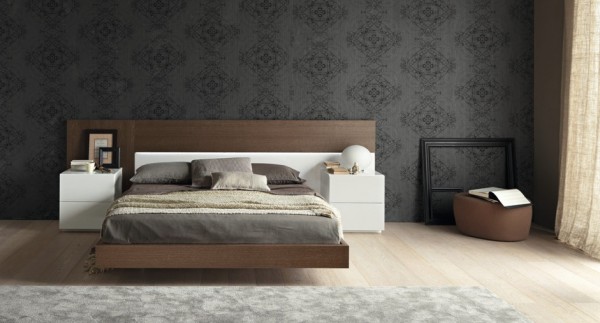 Image via
Lighten up with contrasting dark accessories:
If you would prefer to introduce dark accessories in your bedroom instead of presenting totally dark walls, look to light wallpaper, a light headboard/footboard, dark wall art, darker side tables and more in dark hues. Using decor to bring out your bedroom's dark side is a creative way to brighten what could have been a gloomy, dark colored bedroom. Add reflectance to the room with iridescent wallpaper to spread striking geometry, patterns and textures throughout the room. Don't forget about the bedding!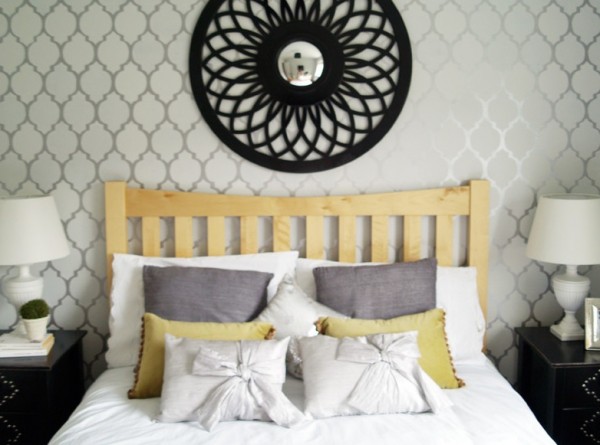 Image via
Lighter bedding in a dark bedroom:
Brighten your dark colored bedroom with linens that contrast beautifully with your existing color palette. Lighter and neutral colored duvets, comforters, throw and accent pillows along with shams can make the focal point of your bedroom. Choose to find coordinating colors to your dark wall colors and pick this color up in small amounts in your bedding, throw blankets, and bed ruffle. You will be surprised how your bed can always act as the anchor of the room. Once you outfit the bed in coordinating colors to the dark room, instantly see your bedroom come alive with warmth.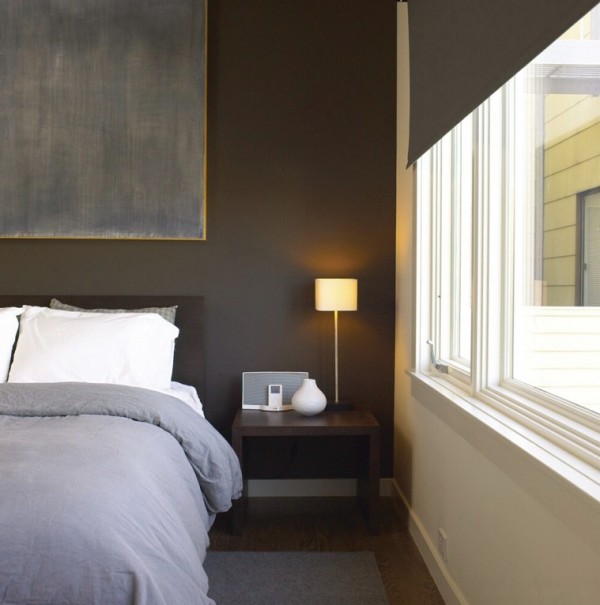 Image via
While you may not have thought of it before, dark colored bedrooms can be sexy, intimate, private and dramatic. Although, without a balance of brighter neutral colors, lighter flooring, and natural light, the room can instantly feel cold. Use these ideas to create a bedroom that you love to retreat to every night and wake up to a wonderful morning!