Fall is upon us, and for many, this season marks the beginning of festive get-togethers, from autumn gatherings to Halloween parties. If you like to entertain, chances are you may be arranging a fall centerpiece for your next event. The problem is, the more you search for autumn table topper ideas, the more they start to look alike. How many acorns and faux leaves can a person put on a tray?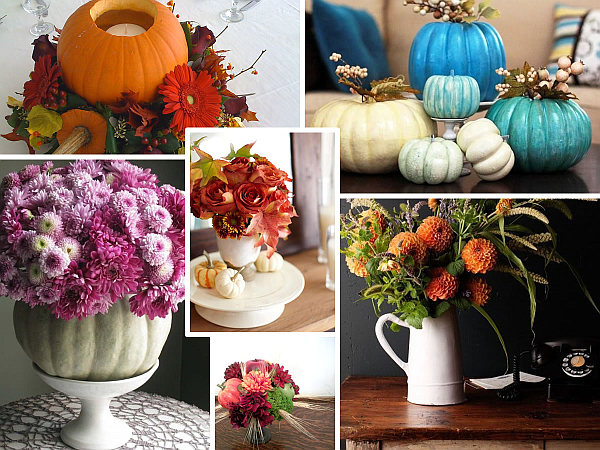 Today we stick with the classics, but we give them a little twist. You can't go wrong with pumpkins. But what if the pumpkins were painted, or used as containers? Nothing beats a vase of flowers. But what if the bouquet were extra vivid, unexpected or monochromatic? You've gotta love the power of a fall vignette. But how about a fall vignette that incorporates an amazing accent color, or even clear glass ornaments? Our featured centerpieces are a breath of fresh air, much like the fall breeze outside! Enjoy…
Pumpkins and Flowers
We begin with arrangements centered around pumpkins. Like the candle holder below, created by carving out the center of the pumpkin in this vignette. For a lovely touch, the pumpkin is surrounded with an array of fall flowers. Bonus points if you can spot the pumpkin top! [from Love-ilies]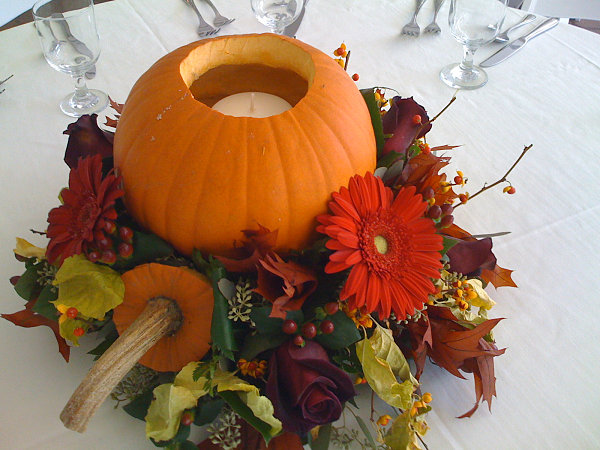 For a different look, try putting the flowers inside of the pumpkin rather than around it. Below we see fall blossoms in shades of yellow, red and orange, plus curly willow for a touch of height. [from The Flower Girl Blog]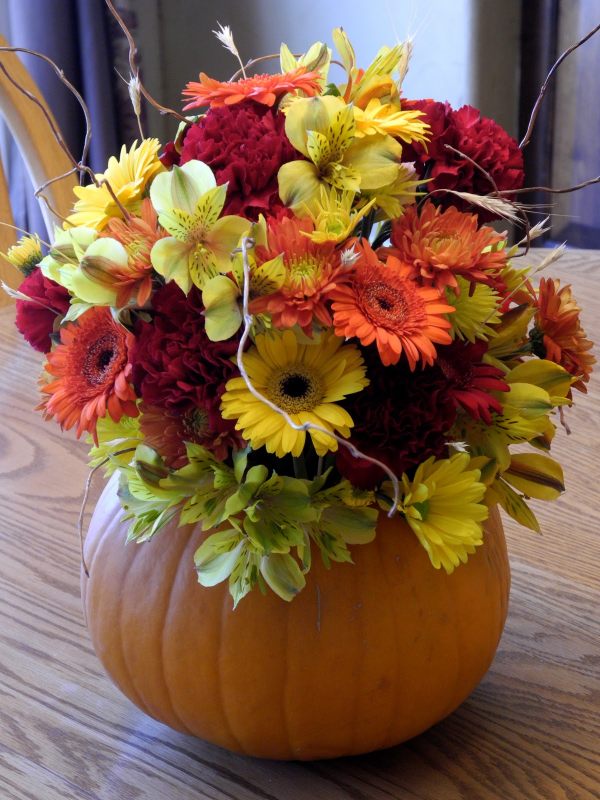 Tired of all the warm tones? We know–sometimes you need to catch people by surprise! Begin by selecting an unconvenetional shade for your pumpkin. Like the gray-green hue below. Then fill it with blossoms that are anything but autum-toned. Like purple mums! Now place the arrangement on a compote to add height. For more details on this easy project, check out the tutorial from Eddie Ross.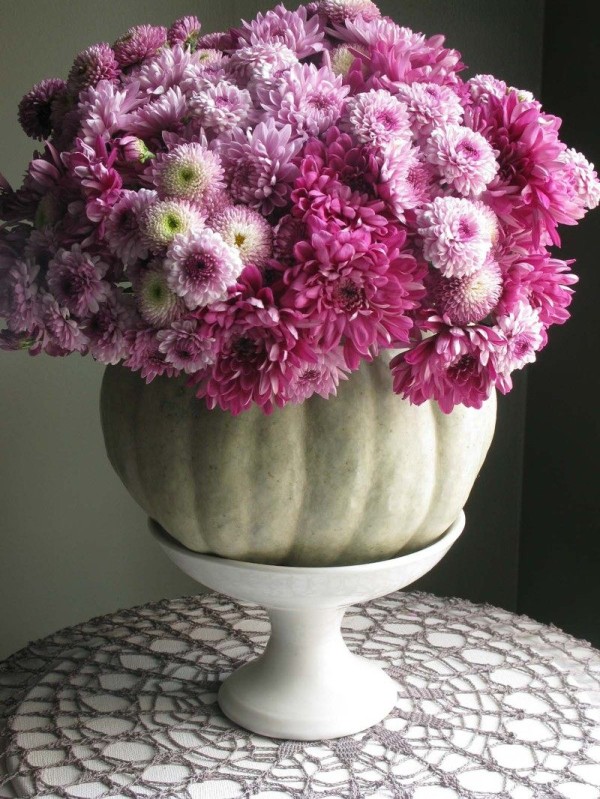 Can't find the pumpkin you want in nature? Create your own dream shade with the help of craft paint. The centerpiece below makes use of faux pumpkins and berries, but you could certainly use real pumpkins for this arrangement as well. View the full tutorial at HGTV.com.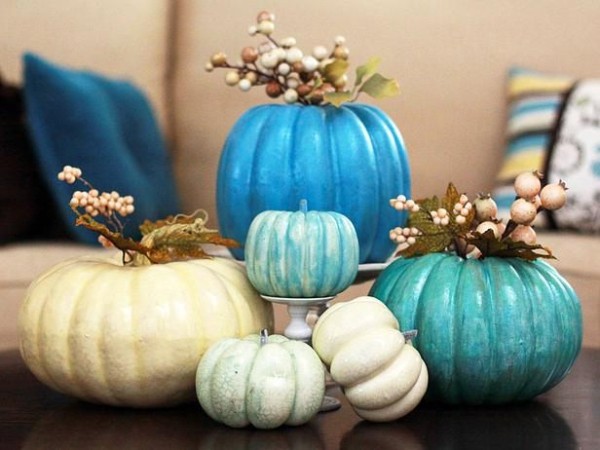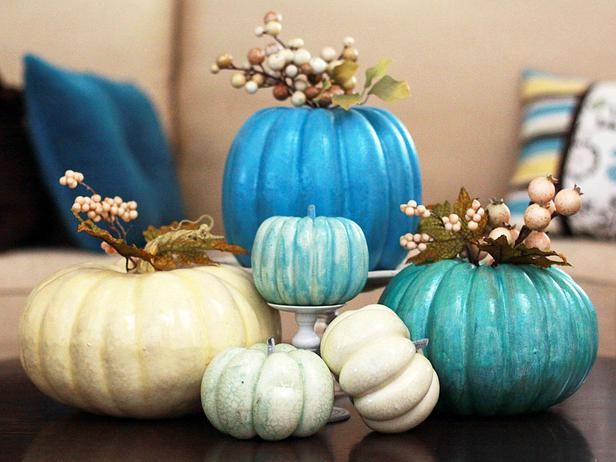 Fall Arrangements in Vases
Sometimes it's as simple as a beautiful vase of flowers. Especially when the featured blooms are as stunning as the arrangement below! Orange dahlias, orange parrot tulips, maple branches, burgundy astilbe, and purple smokebush combine to create a container of fall bliss! [from Petalena]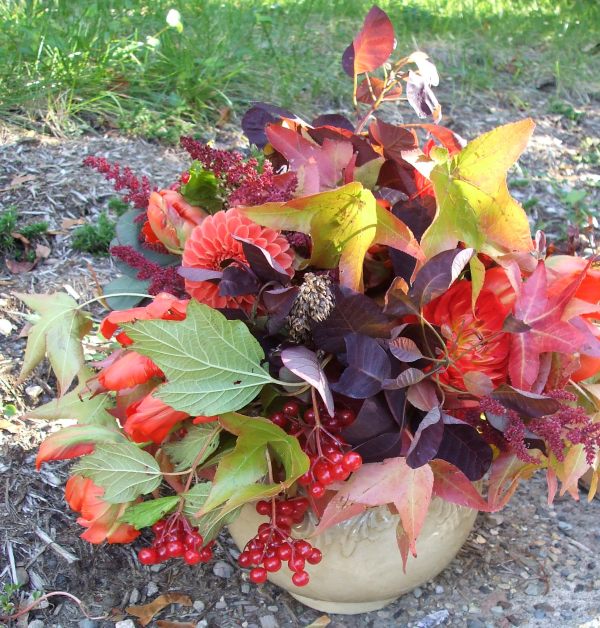 Other times, the vase is as big of a star as the blossoms it holds. It's hard to imagine this next arrangement without the ceramic pitcher. Note the simple, elegant charm it adds to the tabletop. [from Camille Styles]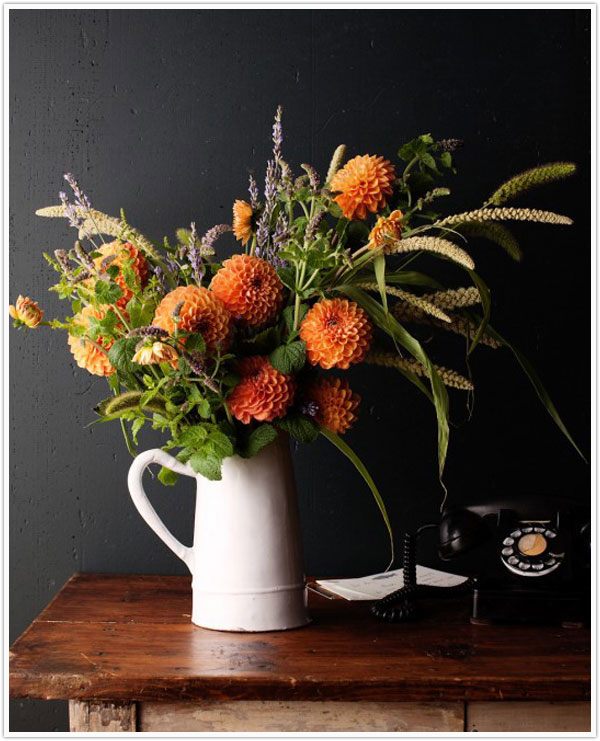 Bring on the fruit! And the wheat! The next centerpiece incorporates apples, pumpkins, hydrangeas and wheat, all faux. You can buy it from SILKMAMA.com, or try making your own from real ingredients and display it in a narrow vase.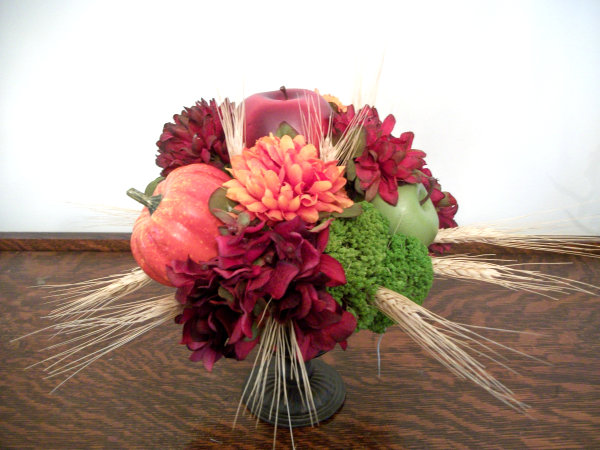 For a similar look without the fruit, create a hand-tied bouquet using flowers like cockscomb and alstroemeria. Once the blooms are secure, place the arrangement in the container of your choice. We think it would be stunning in a clear modern vase. View the full tutorial at HGTV.com.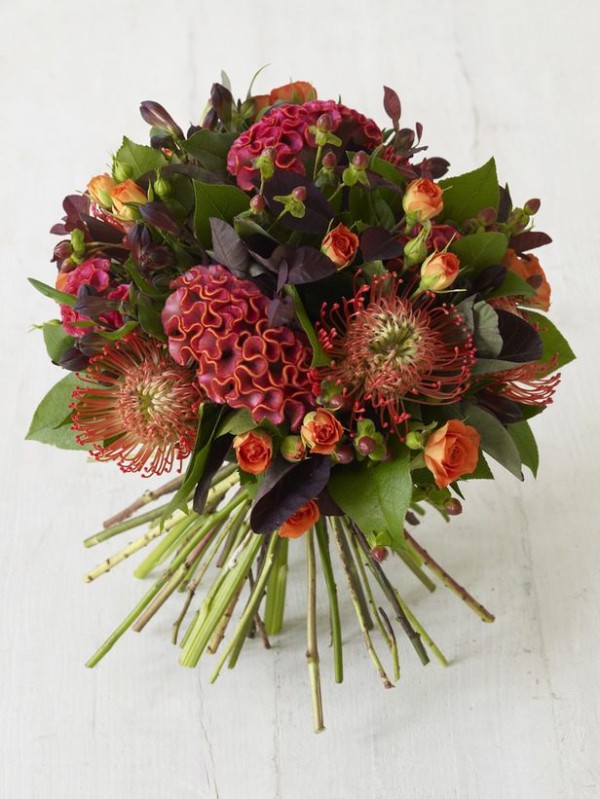 Autumn Vignettes
When you want your centerpiece to combine a variety of elements, go for it! Create a true vignette that sets the tone for your gathering (or makes you smile each time you pass the table). The fall lantern centerpiece below is from Scentsational Events, and it cleverly incorporates roses, mums and delphiniums. We love the way touches of blue and purple make the fall tones pop!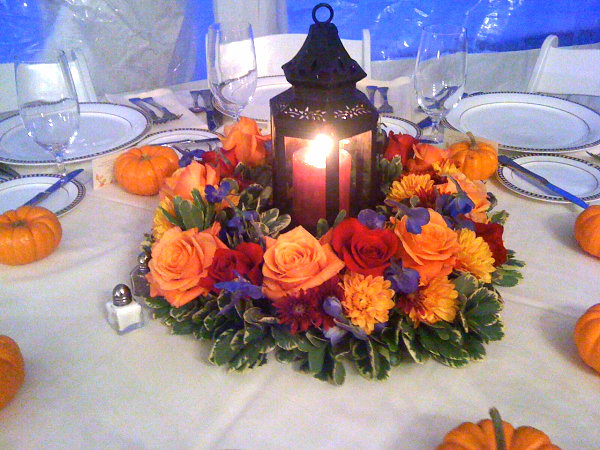 It may not be Christmas yet, but there's no reason why you can't use pine cones and ornaments for your autumn tabletop. In fact, this vignette can stay up as winter takes hold, especially if you add touches of silver or red. The pine cone ornaments are created by hot gluing loops of fishing line to the cones. Hang them on a large branch, and use clear glass ornaments as a vase filler to help keep the branch in place. [from Better Homes and Gardens]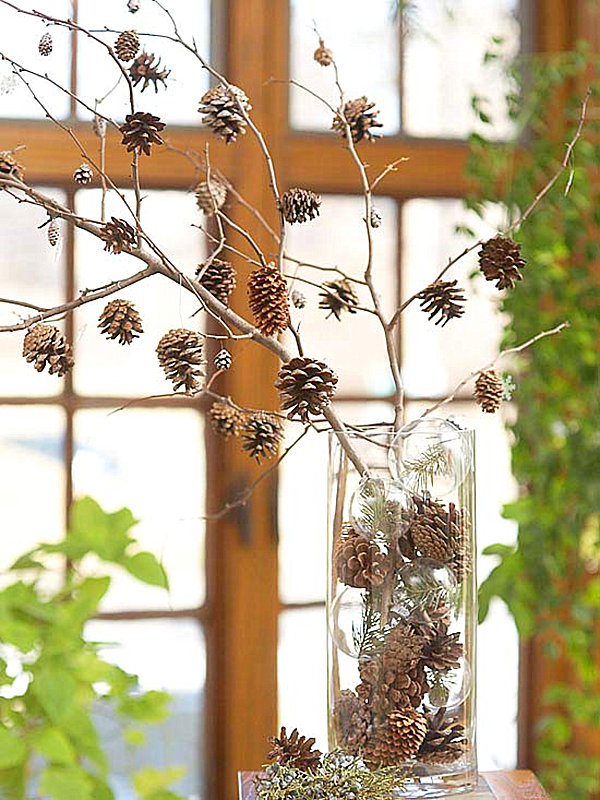 This next arrangement is as easy as setting out a bowl of fruit. Except instead of a bowl, there's a tray! Group pumpkins and squash on a flat surface, and add a vase of greenery for height and texture. Organic and inviting, don't you think? [from Jonathan of Happy Mundane via Apartment Therapy]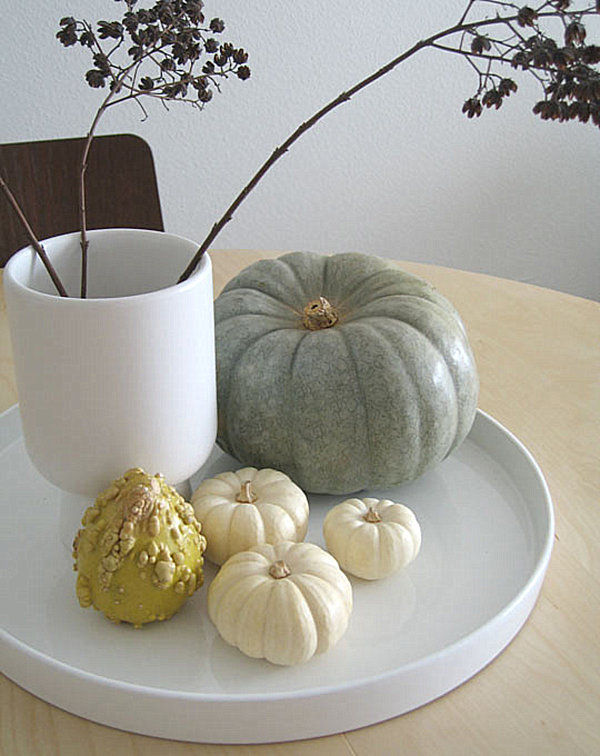 We end with an arrangement that celebrates the monochromatic. Gather roses, leaves and other blooms that share a reddish-orange tone and place them in a white vase. Set the vase on a cake stand and add a few baby pumpkins. Voila! Fall has come to your dining table. [from Homedit.com]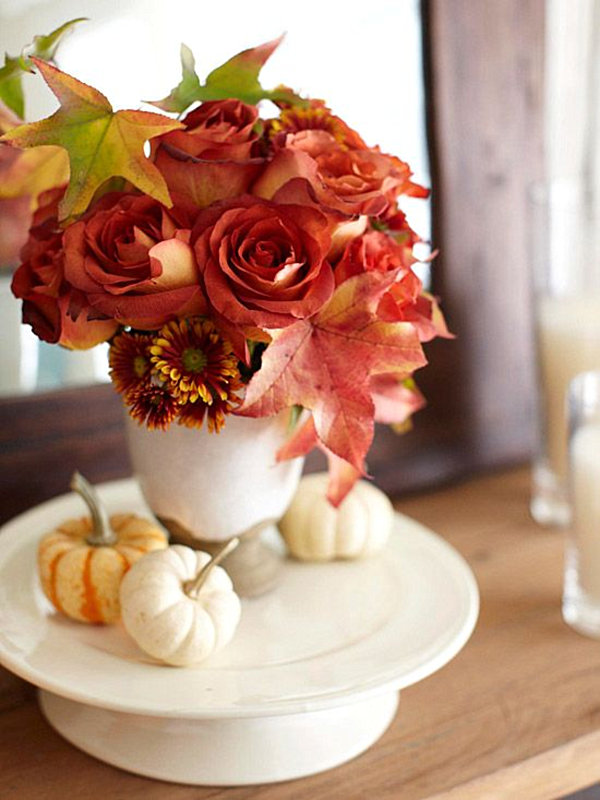 Don't be quick to dismiss a centerpiece that isn't exactly what you're looking for. Use it as a jumping off point for incorporating your own style. For example, if you don't want to display baby pumpkins on a tray in your vignette, try pears or apples. If you don't like blues and purples as fall accent colors, go with another unexpected shade, like green. Make the centerpiece your own, and your guests will love how it reflects your personality!