Moving into a new place can be an intimidating undertaking. But as then new homeowner to a very microscopic 500 sq. foot in the middle of big New York's East Village, Michael Pozner — a recognized business consultant — saw this as an exciting opportunity.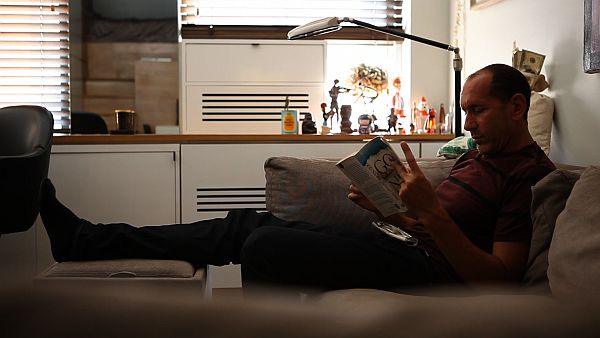 Working closely with Darrick Bowoski, the creative director at Jordan Parnass Digital Architecture, they transformed an ordinary apartment into a distinguished piece of livable art, making it the perfect subject for SpacesTV "Tiny, Eclectic Amazing Spaces." Their mission was simple: To establish an environment where, as Pozner requested, he could go on, "living day to day which includes working here at my desk." And as later reveals a place where he can entertain at night.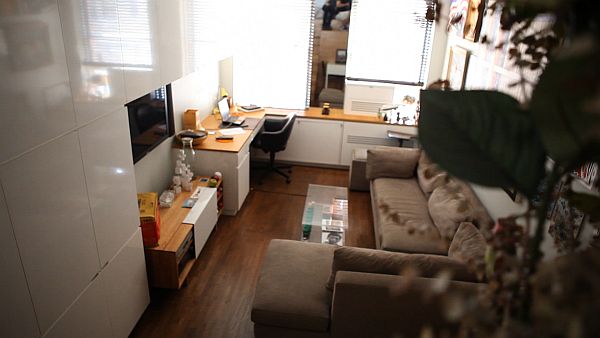 To accomplish this Pozner confessed to an unorthodox approach. "Sometimes you have to explore your options….[it's an] exploratory demo…don't be afraid to punch holes in the wall." He laughs.
For Pozner this metaphoric punch led to the discovery of a wall that was hiding a volume of nearly 30 inches of empty space. This began the concept and construction of wall paneled cabinets and the steps to the lofts becoming discreet drawers.
Ingenuity and brilliance are most prevalent in the infrastructure. Bowoski and Pozner made the room and its very walls work for them with every detail bespoke. These special requirements in combination with Pozner's illustration of his personality with vivid touches have made Pozner's space a success.
From the green gorilla collection to the apple artistic vignettes and my personal favorite the black embossed toilet paper there are touches of a very real homeowner. Want to start illuminating the nuances that make you, you? "It evolves actually. I'm always putting things away and redoing. I'm also super conscious of it getting too cluttered." Some days Pozner simply "pushes all the apples in the cabinets…for a completely clean look." So take the challenge and let your room and style evolve into entertaining ways:
1. Plan Ahead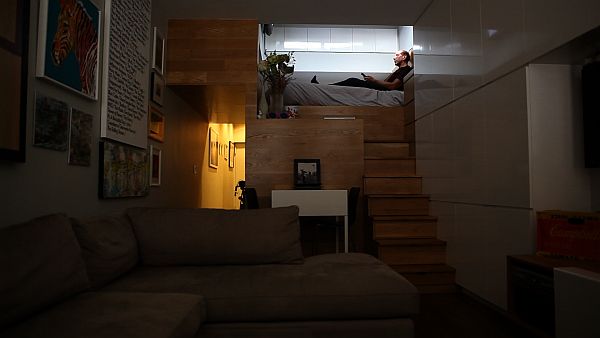 We can't always foresee dilemmas in the interior world or how our textile choices will hold up against daily living but give your purchases, designs and choices valid consideration beforehand. For Pozner this meant designing a way to hide wires to avoid the haphazard mess of cables, chargers and excess cords tangling up an otherwise stoic room. It also meant that he primarily wanted, "To make it like a home [and] I'll work around the office." This was his abode, small though it be, so managing a workspace whose drawers could hide files and a printer made the room more homey, which was Pozner's ultimate goal.
2. Look For New and Different Opportunities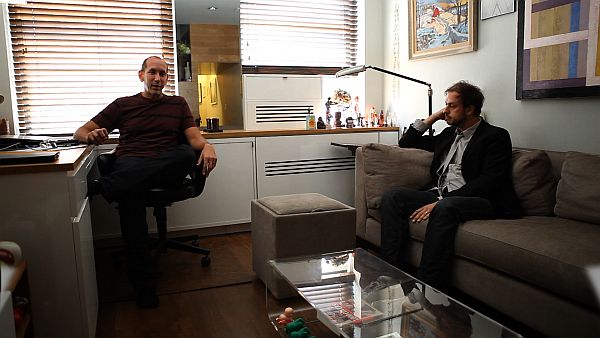 "The big thing we learned," Pozner recollected of himself and Bowoski during our conversation, "there might be opportunities, when you look behind walls." Small spaces may at first glance reveal all their depths and prove uninspiring, but for Pozner he was able to find a unique setting in the bathroom. It was too small for the luxury of bathtub-which Pozner admits is a great way to relax- a great soak in the tub. Since a shower was the only viable option a hunt ensued for something notable. Their treasured find was a stainless steel hinged bench that sits flat at his convenience. Pozner encourages us to dig deeper. "When giving something up in a small space, ask how you can get it back!"
3. Put Things Away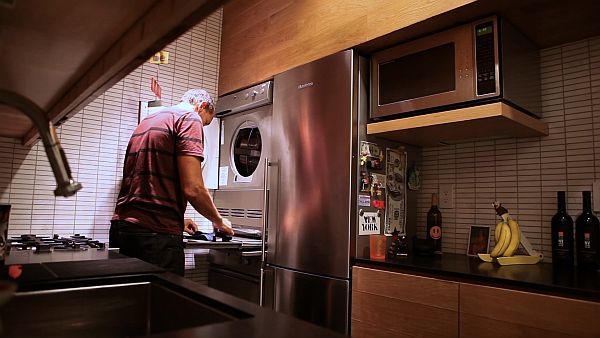 "Don't be neurotic," advised Pozner. "You don't have to put a book away every time you get up. But just have a place where things go." This advice is given to help those who love to entertain or find our home filled with spontaneous guests. Pozner recognizes that if you can keep a tidy and serviceable home, when it's time to host a party or intimate get-to-together you can easily transition from your work and living space to make it festive. Keeping a well-balanced approach to clean living, and as Pozner strives toward a smaller carbon footprint you can always have a fresh interior canvas for all your living and hosting needs.
Here's the video. Let us know what you think (there's a comment box below) !!!