White and even walls with accents of color here and there are a nice and minimalistic approach which impresses with no effort. However, it is my opinion that in most cases a home needs more in order to appeal to more tastes and generations. Especially since there is such an interesting range of materials to choose from, whether natural or semi-processed, for outside or inside.
Materials and textures used wisely in finishes confer personality, style and a certain refinement.
Wood Textures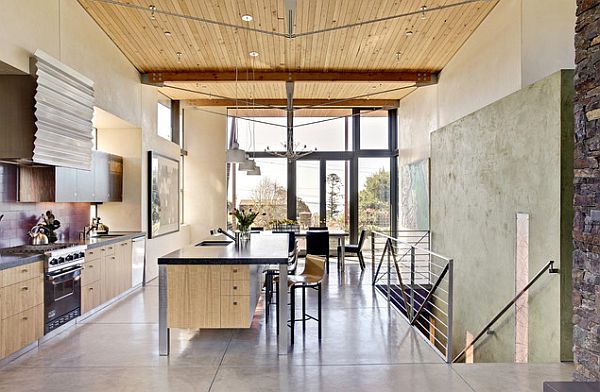 Wood is a beloved material which is making a comeback in home design, partly also in structural design. It is solid and visually highly decorative. Exposed wooden beams are a retro and beautiful design element which should be seen, especially over an elegant dining space.
A blonde wood floor still reflects the light and brings warmth to a room like nothing else, when used in bright hues it can even make a small space seem bigger. It is what our feet like to touch most in the morning in pretty much every season. It comes in various beautiful hues, such as a dark mahogany or a reddish cherry wood and has positive influences on a home.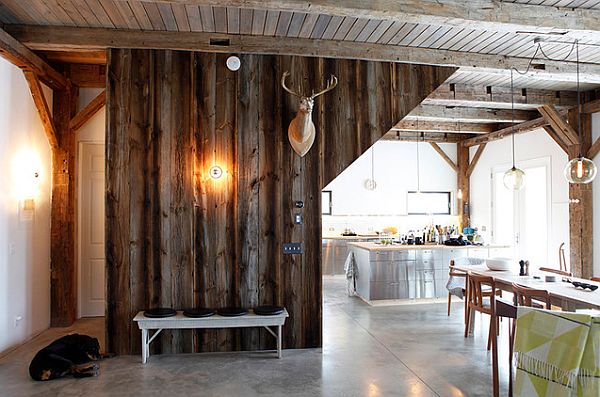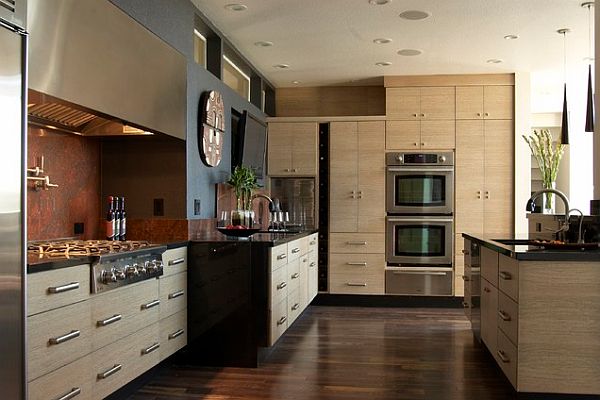 Swiss pine wood is very beneficial for health. A modern product is the wood floor slab with carved patterns, which bring a very stylish and artistic touch to your home and literally make carpets useless.
Cultured stone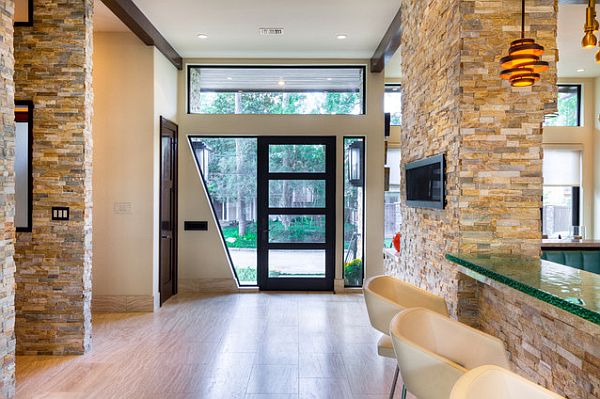 One of the roughest types of finishes, cultured stone can be fabricated in many shapes. Until recently, this kind of stone was mostly used structurally and decoratively in hunters' lodges, but it can do much more. The modern cut, strip-shaped cultured stone fits well in a contemporary living or dining room, highlighting the fireplace or an art wall.
A newer approach, cool rather than retro, is painting the cultured stone wall in one single color, especially black, for a fine lined rectangular relief texture. Also, check out a nice polished stone bathtub for an extravagant and feng shui feel.
Exposed brick
One of the most popular rough finishes, exposed brick – whether red or brown – is timeless, refined and rich. Red brick is meant to be seen and admired. It can be finished in various degrees of roughness, for example a rawer finish for the living room fireplace and a smoother finish for the bedroom headboard wall.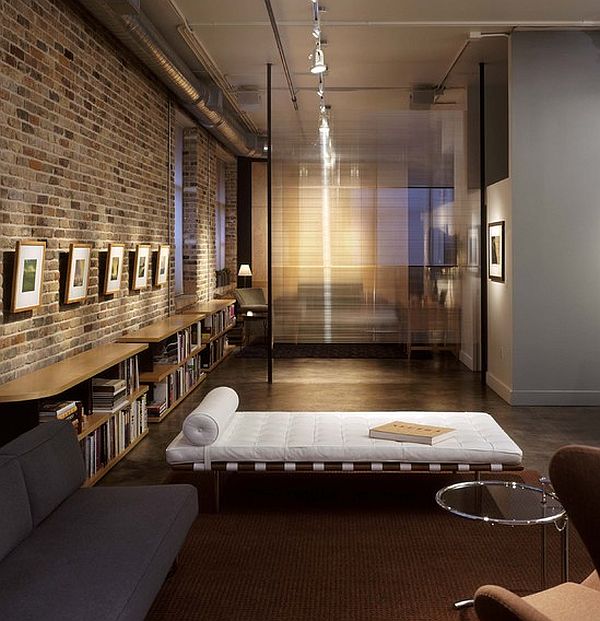 If the exposed brick wall is thick enough or has no bearing structural role, you can carve openings into it by removing bricks and create cool shelves. A brick wall fits well into any room, works great in combination with wall lighting and is an instant eye-catcher, even a piece of conversation.
Exposed concrete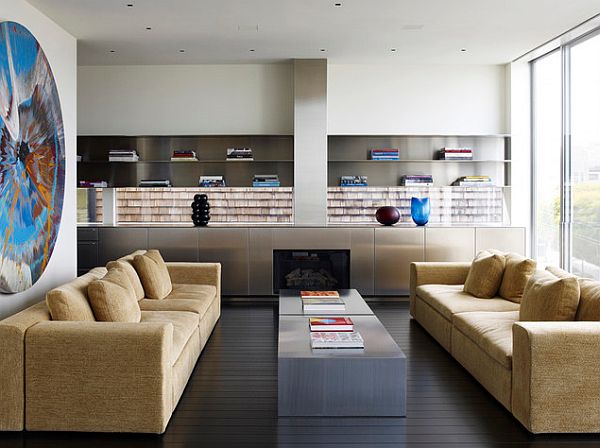 This smooth and masculine material is the effigy of minimalism and modern architecture ever since Le Corbusier promoted it through manifesto. Today, it has wormed its way into our hearts and homes and enchants us with its lack of expressiveness. But this is the skill of exposed concrete: too look modern, durable, even stylish without impressing or expressing.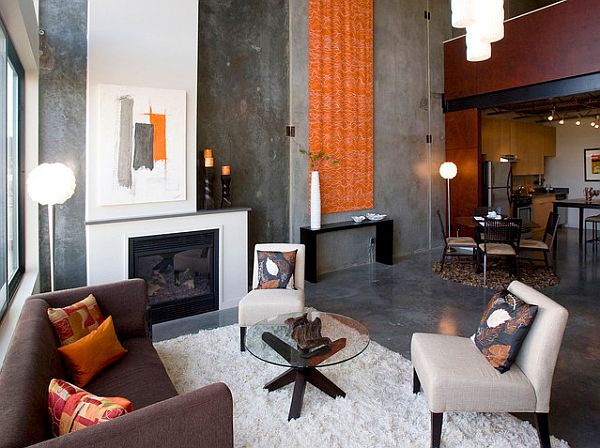 Even the small casing holes of exposed concrete slabs have become an accent of design. While this is not a very positive material to design rooms for living with, it is unpretentiously fabulous for a façade as well as for workshop rooms or lofts. Its bare grayness is cool without having to do anything to it.
Rammed earth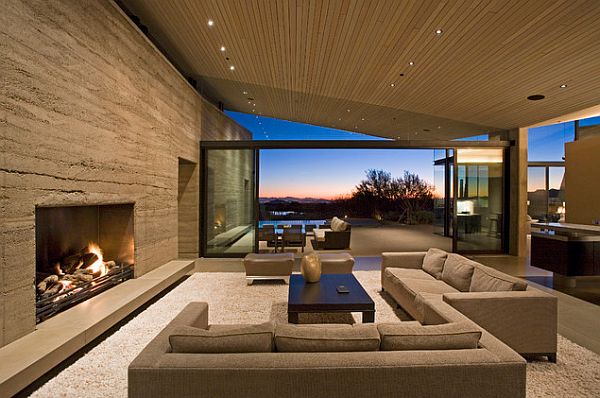 Rammed earth is one of the most excellent materials to build a home with. It has optimal physical qualities and also performs nicely on a structural level. Although it has no degree of prefabrication, it is still easy and cost-effective to build. After it's built, it saves a lot of heating and ventilation costs since it is an excellent interior climactic regulator in any season.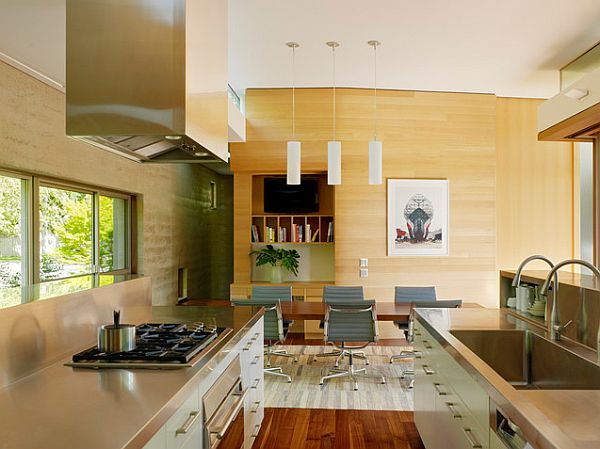 Moreover, it has a surprisingly beautiful texture. When not used with straw, it can be finished extremely smoothly, with an aspect of a soft gradient in brown, yellowish, reddish and sandy hues disposed in soft waves. It appears as smooth and as modern as exposed concrete, but with more substance and personality, as well as it is more beneficial from a construction physics point of view. It's best suited for interior, but also for the exterior walls in warmer climates. It can be also be used in the moderate continental climactic area, with a proper rain protection.
Rusty metal
A bold material, rusty metal could be the object of a controversial aesthetics. It is, in fact, a type of metal which has lost its structural and visual qualities and has become more interesting bordering on artistic exactly thanks to that fact. Actually, protection against rust on structural steel elements is achieved nowadays also by coating these elements in a layer of rust that, logically, prevents further oxidation.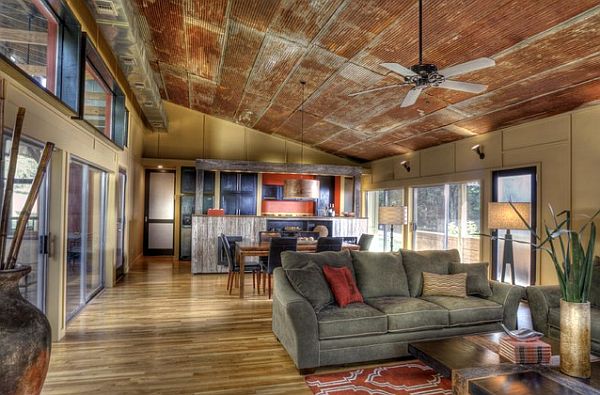 However, rust can be highly decorative, with its rough texture in a beautiful auburn color. Sadly, it is rarely used as such. We have seen examples of modern homes having rusty slabs on the facades, with a slightly retro or industrial touch. The appearance they can bring to an interior is bold and vintage, as finishes in a hallway or by a stairway, as rusted iron furniture on a terrace, in an outdoor living room or as a recycled material nicely combined with repurposed wood for an improvised holiday home.
Marble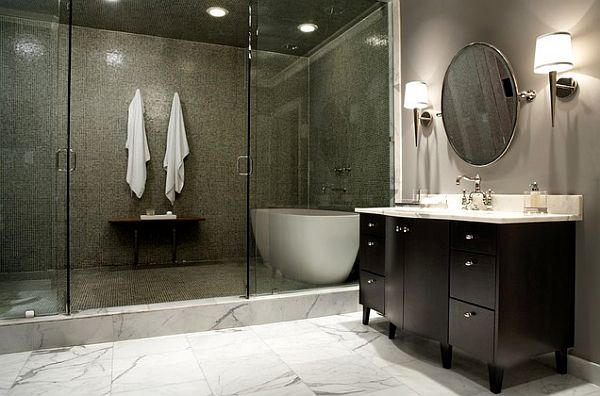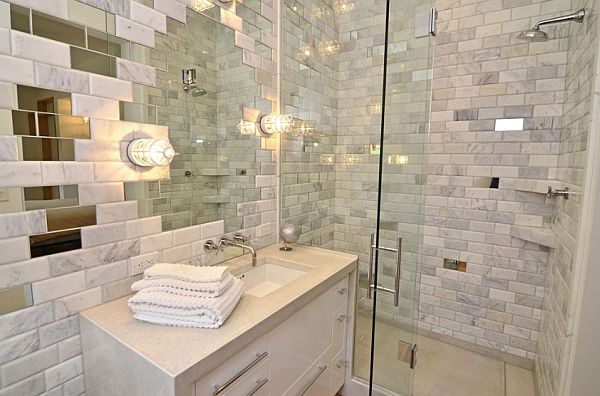 One of the most precious stones in the history of architecture, marble is entering our humble homes and, with a small twist in our conception, it is becoming part of our everyday modern design schemes. Used not in large quantities, but skillfully placed as accents, it can very nicely fit into a modern dining room as tabletop or even as a kitchen working surface, thanks to its durability. White, with soft grey or red streak patterns, it can skillfully decorate a bathroom with a classical feel.
Travertine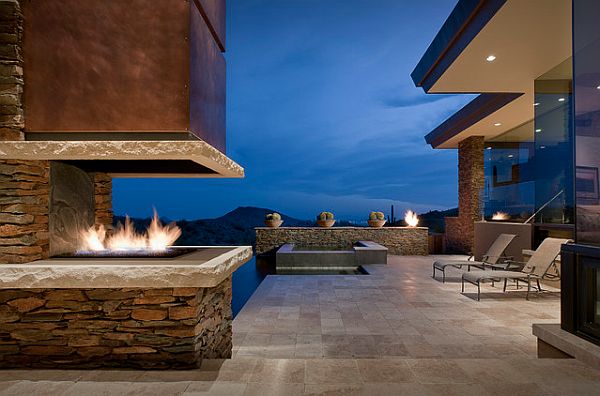 The more unpretentious relative of marble, travertine has a texture between marble and limestone. It is a rough material with a beautiful fibrous, sedimentary appearance in beige-cream hues. It is suitable for indoor and outdoor finishes, installed in shape of slabs for both walls and floors and conveys an Italian design accent to refine an indoor or outdoor living room or a wellness bathroom.