Are you ready for fall? The temperatures are already dropping, and if you're inspired by the chill in the air, you may be ready to bring a bit of nature indoors. Perhaps in the form of autumn colors?… Today we feature fabulous decor finds that represent the best in modern design. From tabletop treasures to textiles in warm tones, these lovely items are subtle and contemporary.
For some folks, adding fall blooms to the table is all it takes to welcome the new season. For others, pillows are switched out, autumn tabletop decor is purchased, and new art is placed on the walls. Maybe you fall somewhere in the middle… Whether you're looking to add one small touch or transform your home into to a fall paradise, enjoy browsing the seasonal items below!
Fall Tabletop Treasures
We begin with a geometric statement in orange! The Mod Dot Salt & Pepper Shakers from Jonathan Adler are crafted of high-fired porcelain. Simple circles outlined in gold make a big statement on a modern table: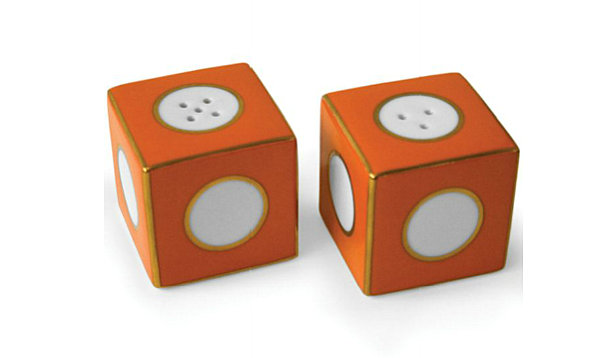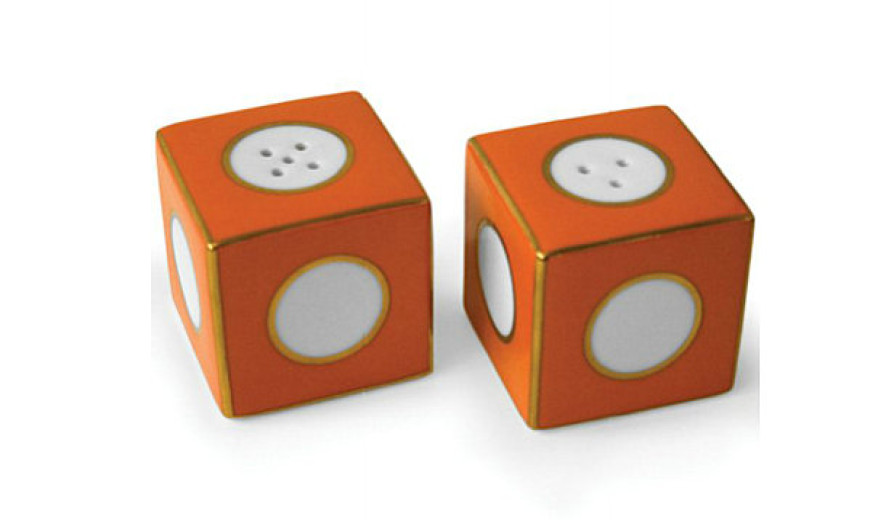 Are you a fan of owls? These birds have certainly returned to fashion and decor in the last few years, and they show no signs of flying away! Bring them to your table by purchasing an Owl Butter Dish from West Elm. Made of stoneware, these dishes evoke retro style and come in a variety of colors for your convenience.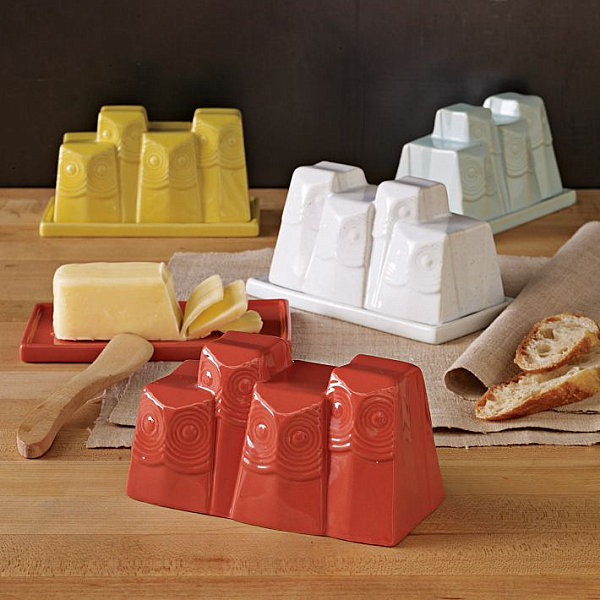 There's nothing like fresh flowers on the dining room table! But sometimes you just have to go faux. And if you find yourself looking for blooms that will never die, you can't do much better than Z Gallerie's Set of 3 Magnolia in Burnt Orange. Each set includes three stems, and each stem holds 6 large blossoms, as shown below.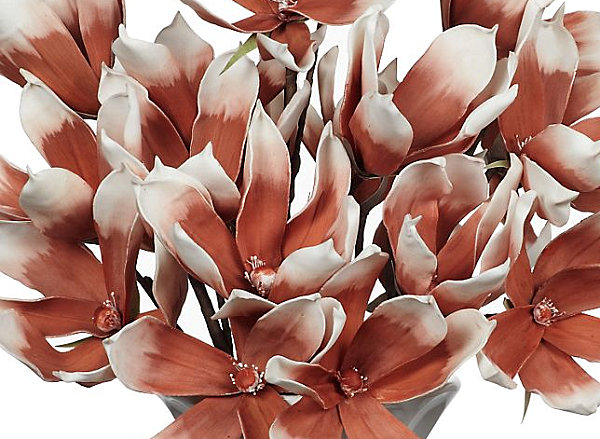 Bring a little PVC to your tabletop with Basketweave Placemats from CB2. If the surface of your table is already an autumn shade, stick with neutral placemat hues like shale and carbon. If you're looking for a pop of color, these woven items are also available in hot orange and chartreuse. The best part: the placemats are waterproof and fade-resistant.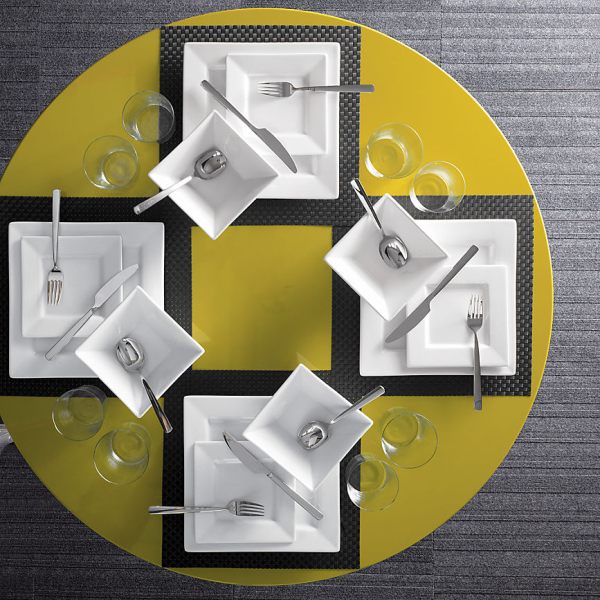 Autumn Textiles
If you're looking for new rugs and pillows, why not have your purchase coincide with the new season? And if you're hunting for earth tones, there's no better time than fall to buy! The Ksara Rug from Crate & Barrel features a tessellated design. Hand constructed of a wool-cotton blend, the piece boasts an array of colors that add dimension to a room without overpowering it.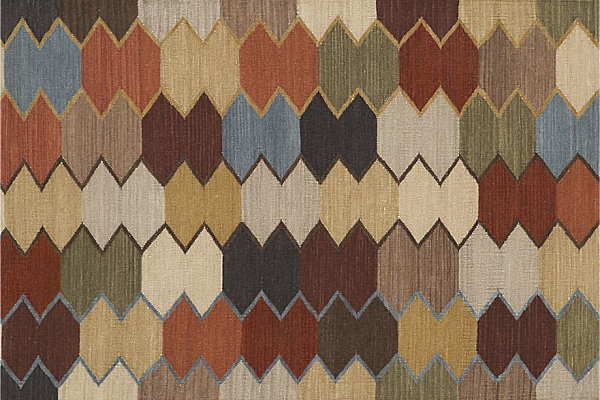 Also from Crate & Barrel, the Barnes Pillow features a digitally marbled pattern in 100% cotton. The swirls are wonderfully retro, yet they manage to be contemporary at the same time.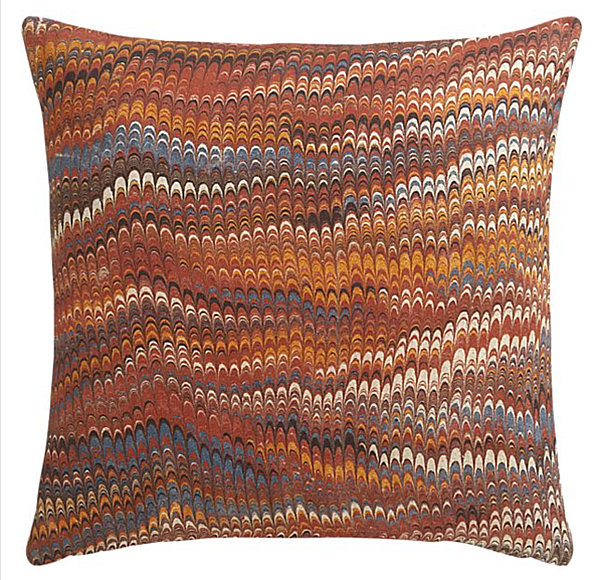 Remember our recent mention of an owl revival? Here's more proof that these wise birds have found a steady perch! The Three Owls Pillow from CB2 is designed by Selene Perez and features a velvety cotton front. Shades of chartreuse take center stage, and a sketch-like design brings a contemporary touch to the seating or bedding of your interior.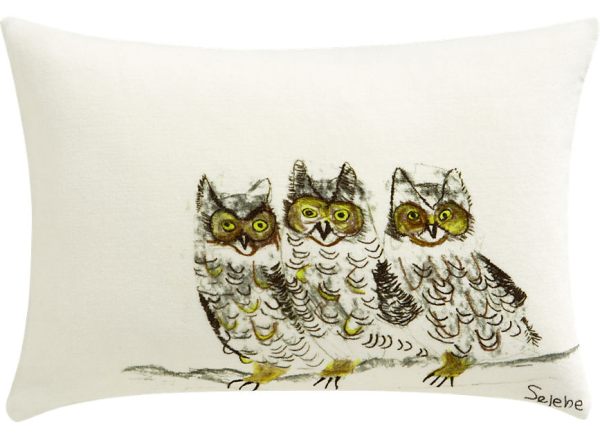 Fall Furniture and Accents
Sometimes a few accents can set an autumn tone! And if you're in the market for some larger purchases, why not go with orange as the color of choice? Get ready to zig and zag! The Block Printed Barstools from CB2 feature a geometric design in reddish orange. The cushions are block printed by hand, and these items are available in two heights so they can be purchased either as barstools or counter stools.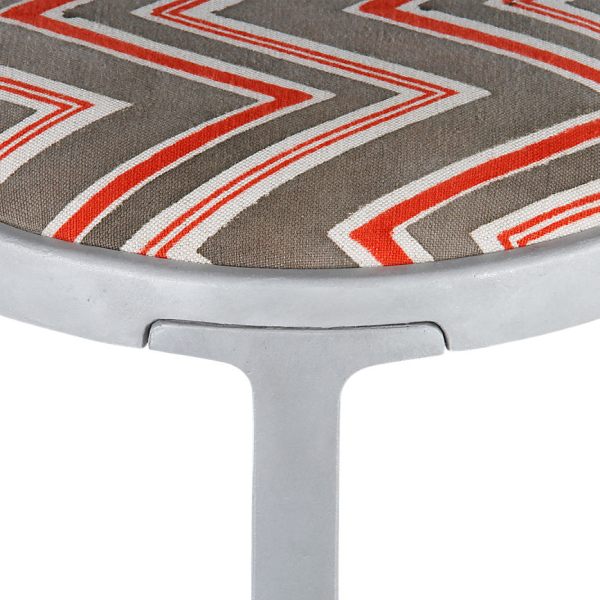 Keep clutter out of sight with the Bodega Storage Boxes in Flame from Z Gallerie. Each purchase includes a set of 2, and why wouldn't you want more than one of these stylish statements? The wooden boxes are covered in embossed vinyl, and nail head detail adds a metallic design element to the mix!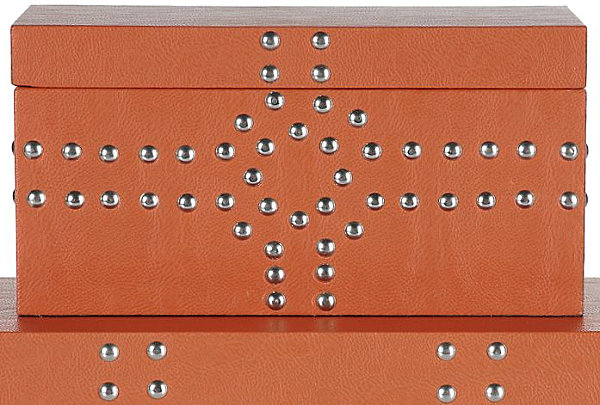 Ready for some fall art? The Geometric Tree Art Print from Etsy shop Niko + Lily is an 8 x 10 inch print in shades of gold, pumpkin, brown and olive green. Not to mention, this piece can be ordered in a larger size in a range of colors. The frame is not included.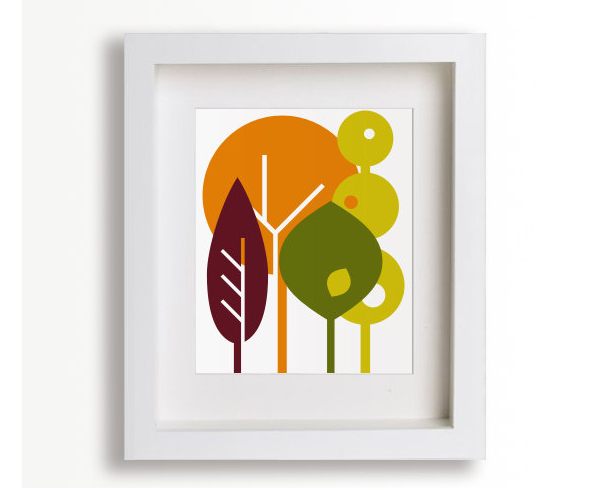 We end with a work of art that is both playful and elegant. The Fall Leaf Baby Crib Mobile from Etsy shop Nouvelle Lune Studios features 9 different plushes based on actual tree leaves. Bring some autumn festivity to the nursery with this shimmering find!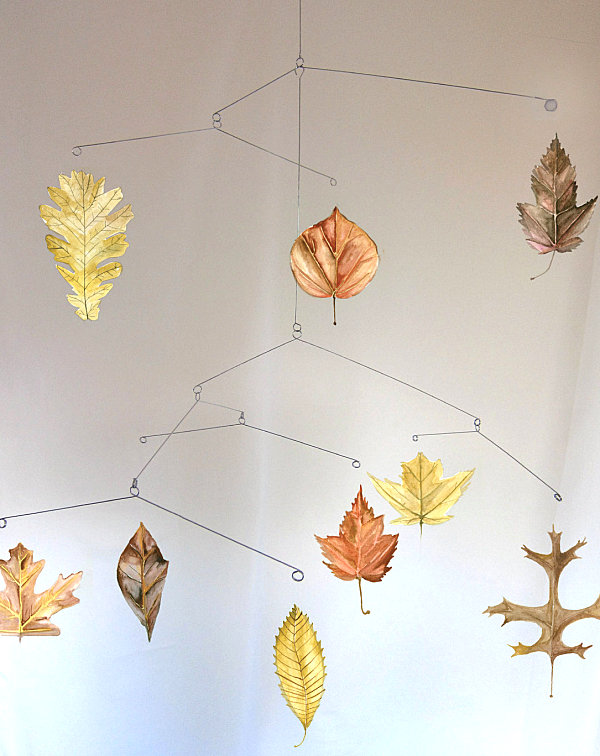 Today's fall finds are a great reminder that there's room for seasonal decor in the most contemporary of homes. From geometric textiles to clean-lined tabletop serving pieces, autumnal style can be incorporated into each room of the house. Not to mention, earth tones are neutral, so you may find that a rug or pillow in fall shades can decorate your interior year-round, providing a subtle backdrop for other vibrant accent pieces. That's right–the season of fall just might inspire you year-round!