What do you get when you shake a can and mix colors? No, not brown. You get graffiti. And if you appreciate it on the outside of a building, you can now enjoy it inside the building. It's a wave of design implementation that if we all hop on board, we could have a new school of thought regarding graffiti.
So my dear graduates, here's some more school of thought. They tell you life begins now and hat you are in charge of your destiny. Nothing can stop you unless you permit it to and now the best is yet to come. And despite the letters you've accumulated at the end of your name, unless you have some street smarts, those letters will be nothing but a relative to soggy alphabet soup. Hate to break it but it's back to the classroom for you. The good news is you can turn your own home back into a classroom for this assignment. Get street smart with street art.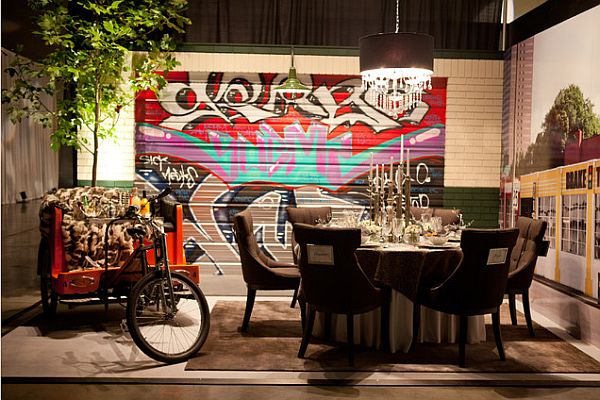 Embrace the kaleidoscopic culture of spray paint that creates the wonder of graffiti. From railway cars, to building fronts, to billboards, we associate graffiti as a criminally vandalizing attempt as a cry for help, or as a method for pushing social boundaries with depictions of life at its worse. It's earth's industrial tattoo and with inventive ways you can make it your homes unique fingerprint!
Here's how in three astounding and unique ways!
1: Let's Make Like Your Personality and Split!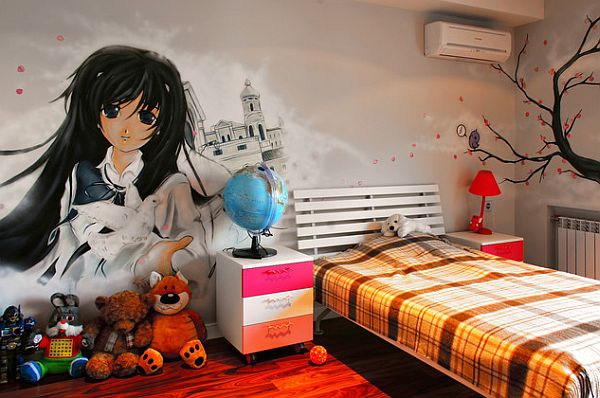 Several years ago Robert Downey Jr. and Jamie Foxx broached the misunderstood subject of schizophrenia as they delved into the real lives of those touched by it and brought it to life and awareness on the big screen. Well Tilt Ober has offered us another glimpse into what he deems a schizophrenic mind in his Panic Room located in in Marseille France at the Au Vieux Panier Hotel. And while we don't have to approach our home design so aggressively but bring in a bold stroke of graffiti mural on one wall, with subdued colors creating a similar environment. (image above by Studio VyhodecDesign)
2: Raising the White Flag of Green Goodness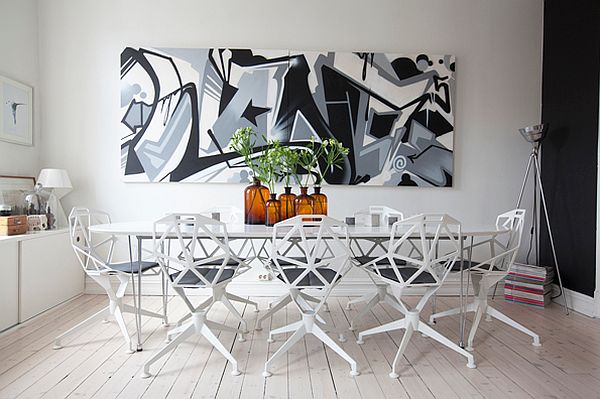 The fumes. The toxicity. The empty aerosol metal cans with the lone pea clanking around. This is the dark side of graffiti. But you can easily remedy that with an earth friendly literally green approach. While normally we paint nature, moss and a few additional ingredients-buttermilk, moss, and sugar- have given us opportunity to paint with nature. No more still life here, you can bring to life your wall graffiti. This is the only graffiti that requires daily misting. (Image above by citylifer.co.za)
3: Give the Silent Voice in Your Room A Voice Lesson
Lamps shades, closet doors, curtains, ceiling fan blades, framed art, these small elements that are such expected, taken for granted items need a larynx adjustment to grab the attention they deserve for all the hard work they do. Covering light bulbs, hiding our haphazardly hung clothes, enshrouding us in privacy, our everyday home designs need some pop via street art as you graffitize your home and your space with small or big touches and embrace one of the most elemental approaches to art. (Image above by citylifer.co.za)
And maybe we can't emulate the wonders of artist Banksy whose work has been displayed since the early 90's. An enigma who has created a new venue for his social and political activism that ignites a bubble of laughter, a smile, but leaves us impacted with a message. This message we can, however, dash our walls with when we vandalize our homes some good wholesome graffiti.