Are you ready to escape to a world of glossy interiors, ornate architectural detail and luxury flourishes? So are we! Today we spotlight the best in modern Arabic design by featuring seven stunning villas. These properties stand tall and proud in Dubai and Abu Dhabi. Don't be surprised to see breathtaking views, sparkling pools and marble entryways!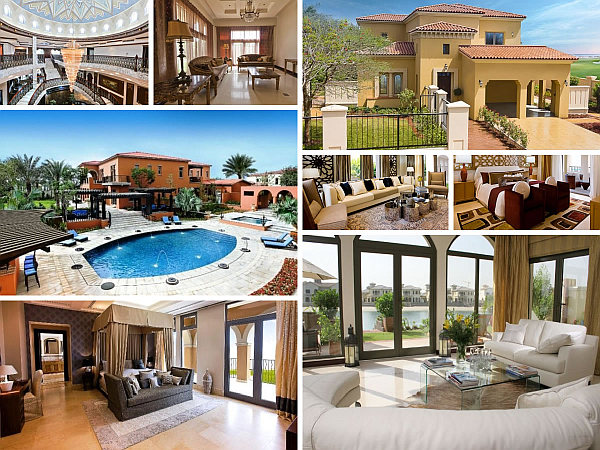 Even if you're not looking to buy property in the United Arab Emirates, we think you'll be inspired by these opulent images! Note how the modern and the traditional combine to create contemporary statements that draw on traditional motifs. Not to mention, details like domed ceilings, light-filled corridors, and elegant chandeliers will transport you to a tranquil setting where grandeur reigns.
A Dubai Villa
We start by traveling to the development of Al Barari, where luxury and striking architecture reign! The furnished property below includes 6 bedrooms and 9 bathrooms, plus a study, independent kitchen, maid's room and more. Offered by Luxhabitat, the residence features marble flooring and floor-to-ceiling windows.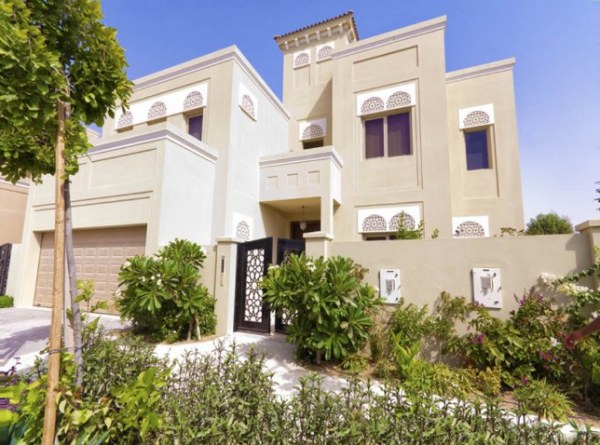 Ornate staircase railing is a nice contrast to a contemporary entryway that features clean lines and gleaming tile: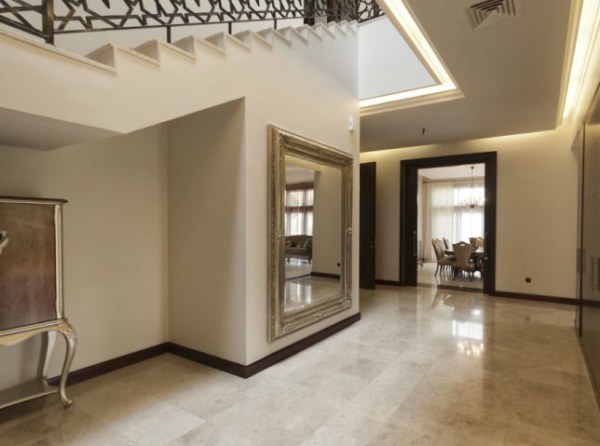 Yet this residence boasts a touch of the traditional. Check out the tasseled lamp, crystal chandelier and marble-top furniture below.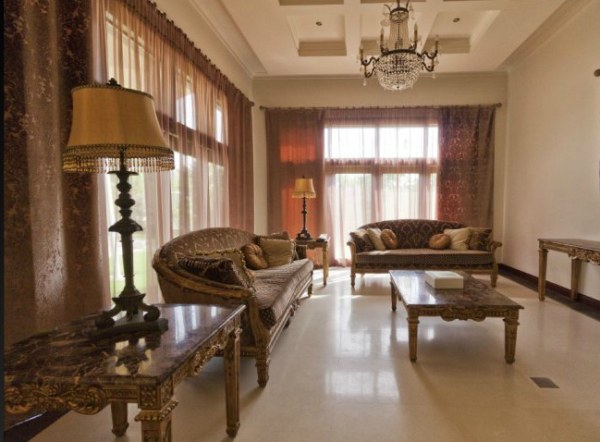 The property's black bathroom tile is bold and rectangular. Would you guess that a bathroom this modern would be in an Arabic villa?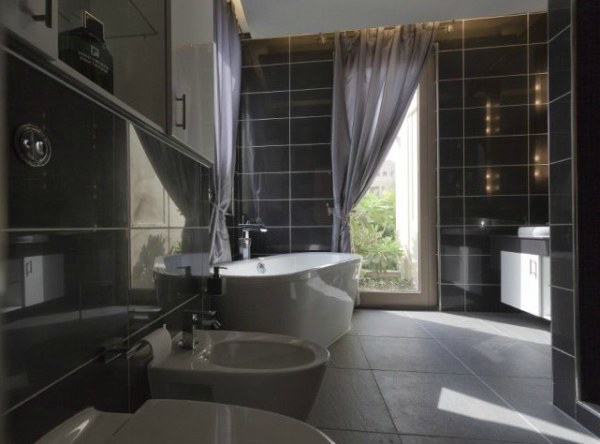 Step outside, and you'll find an inviting lap pool bordered by lush landscaping. Also note the covered patio, as well as the terrace overhead.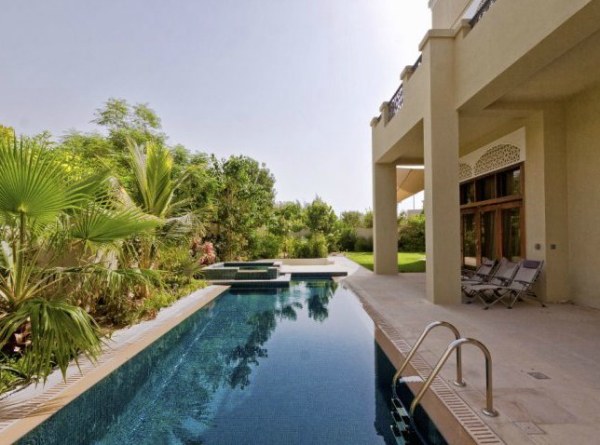 A Grand Dubai Delight
We now head to another Dubai property from Luxhabitat, yet this enormous residence includes 9 bedrooms and 9 bathrooms, a private pool, a jacuzzi, a landscaped garden and much, much more! Marble flooring, a steam room and a sauna enhance the "palatial meets vacation" vibe. Five parking spaces easily accommodate residents and guests.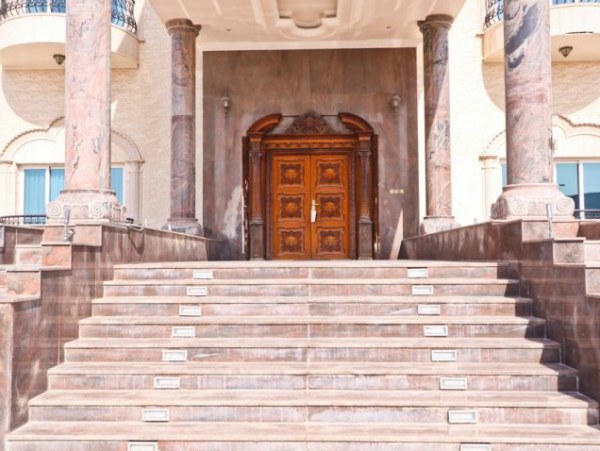 Step inside, and you'd think you were in a grand hotel lobby. Shiny floors, intricate railing and peacock blue upholstered furnishings contribute to the luxurious feel.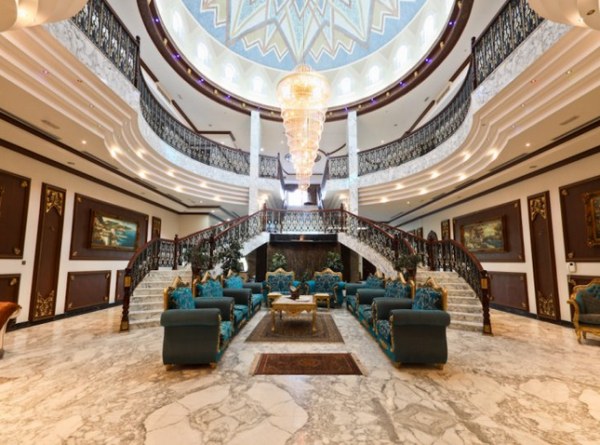 A view from the second floor gives us a closer look at a 12-tier chandelier and the domed ceiling filled with angular designs. Also note the small arched windows that border the rim.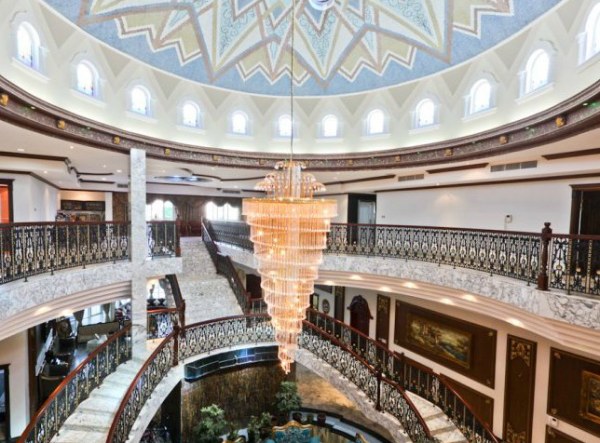 What could be better than expansive windows and an impeccable view? Glamorous draperies and a sectional sofa to accommodate a room full of company!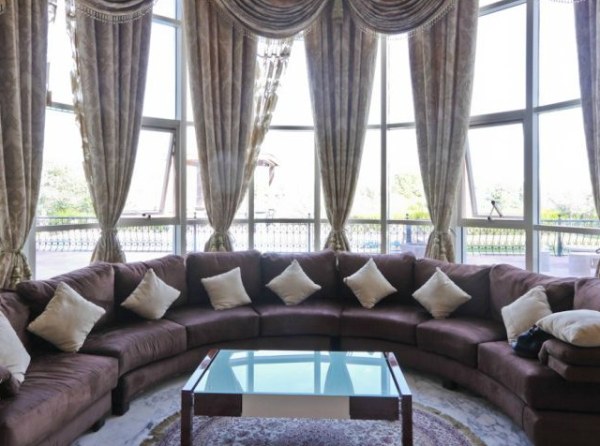 The property's terrace features ample seating options and a skyline view: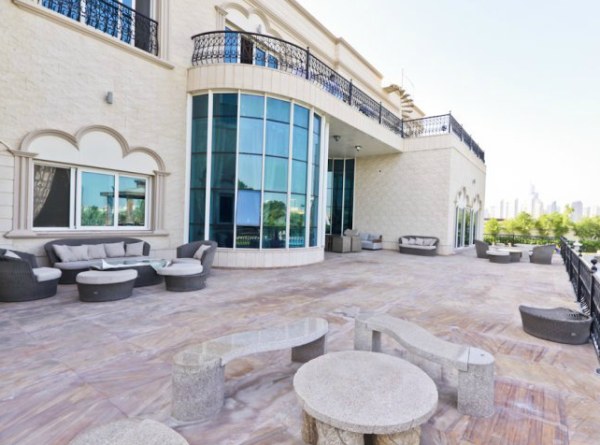 A Palm Jumeirah Villa
We now travel to Palm Jumeirah, a faux archipelago in the shape of a palm tree. This famous destination in Dubai is home to many exquisite villas, like the one below offered by Luxhabitat.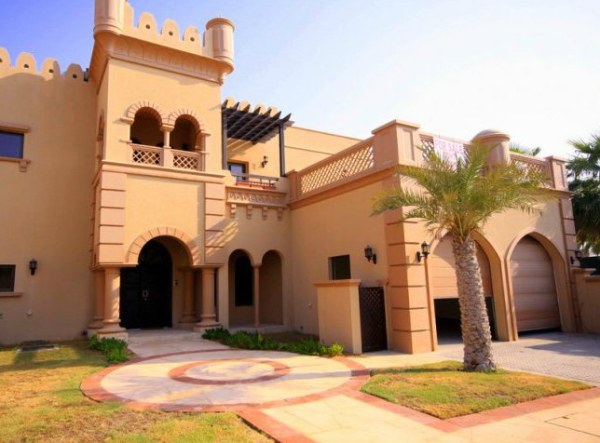 The interior of the residence features creamy yellow walls, black borders and white tile: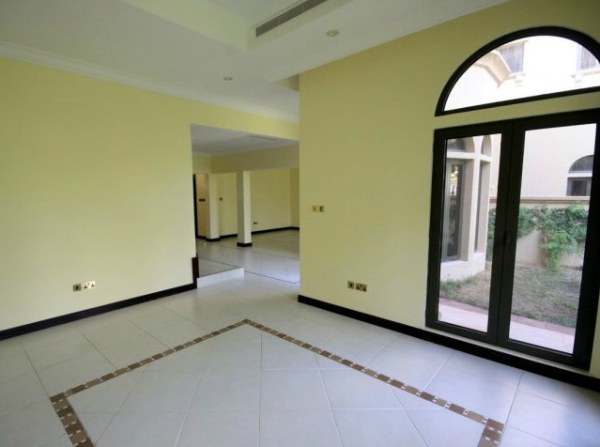 A golden glow is cast by light streaming in from a plethora of windows: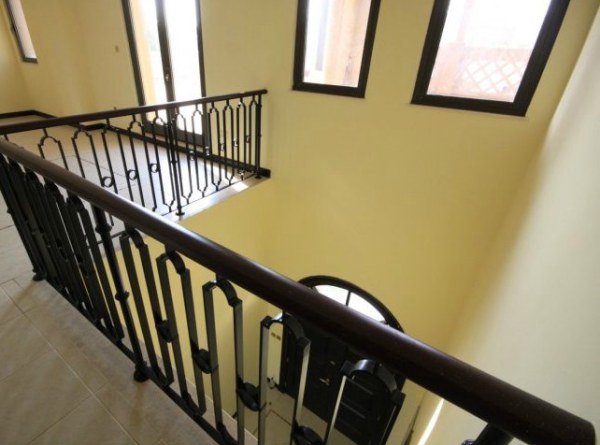 Beige tile and granite counter tops add elegance to the bathroom below. His and hers sinks are another property highlight.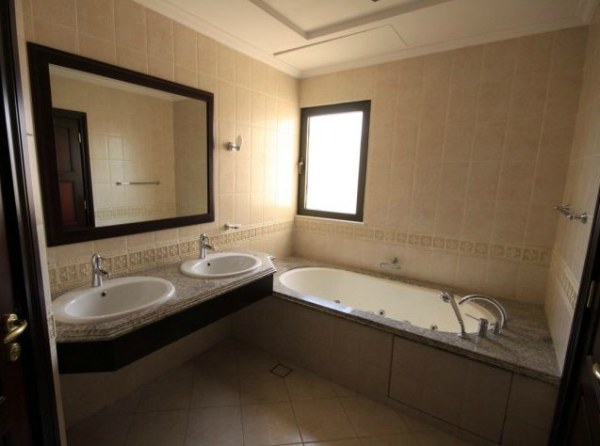 The view outside is filled with palm trees, water and villa architecture. An iron fence reinforces the property parameters.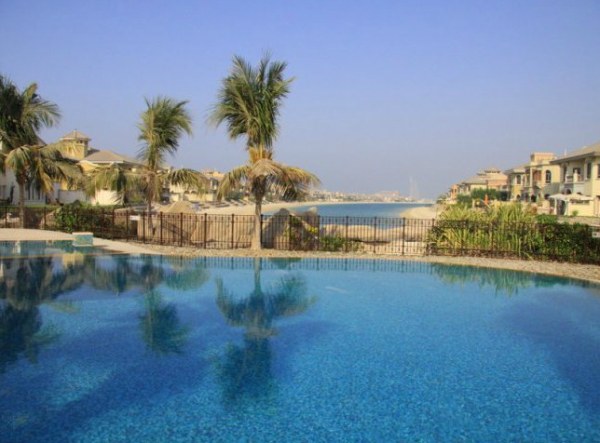 A Modern Twist
Also located in the Jumeirah Island development, our next furnished property features lake views and modern interiors. In fact, the contemporary feel of this villa available through Luxhabitat may surprise you. Amenities like marble flooring and built-in wardrobes create an environment of both grandeur and comfort. Also included: a terrace, balcony and floor-to-ceiling windows.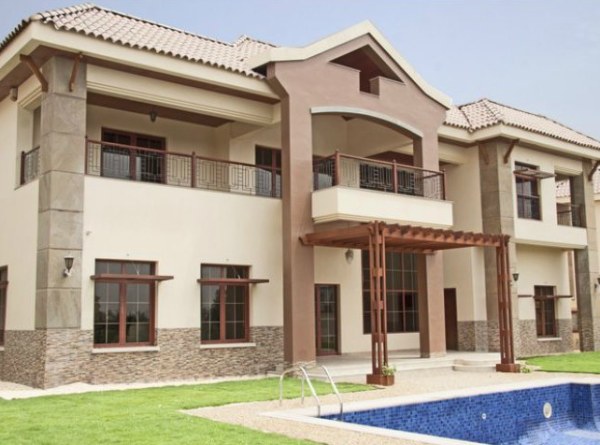 A boxy capiz shell chandelier is the centerpiece of the room below, which is striking with its stone accent wall and shiny wooden floors. Boxy seating mirrors the modern look of the chandelier.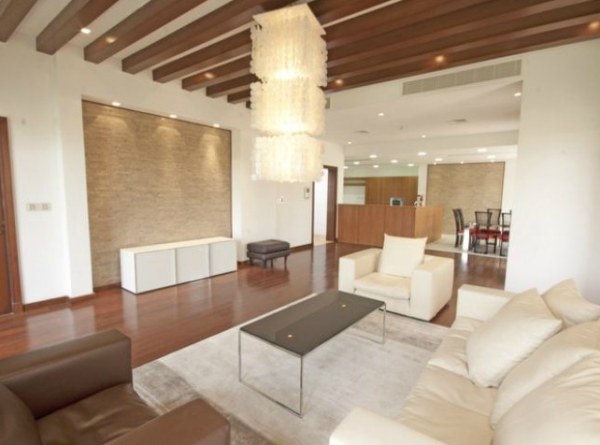 Just when you thought things couldn't get more modern, we're introduced to another living space, this one a bit more stark thanks to white walls and seating. Contemporary pillows and shiny black coffee tables are the icing on the cake.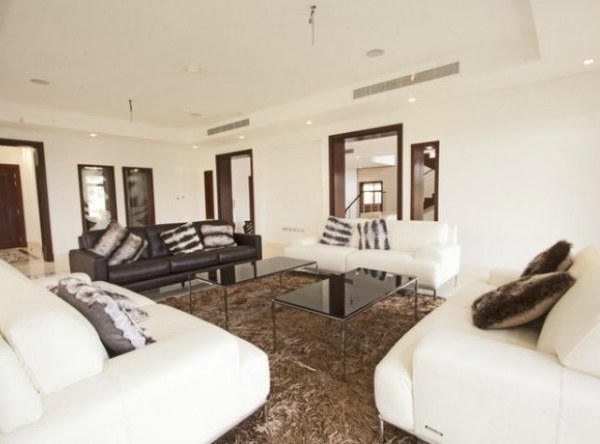 An eye-catching kitchen incorporates wooden and glass details, as well as glistening counter tops and modern appliances: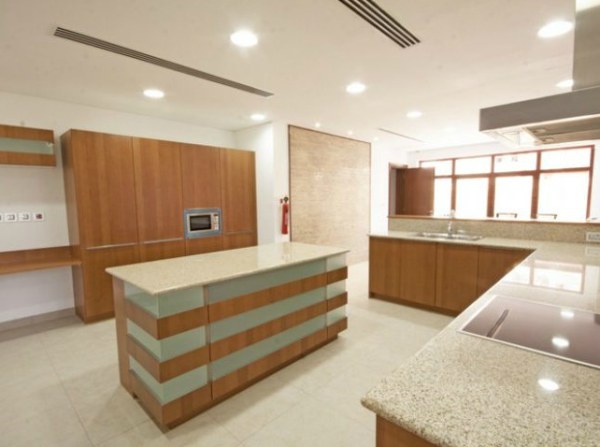 Two-story windows bring the outdoors in. Metal railing enhances the modern staircase, which overlooks the pool!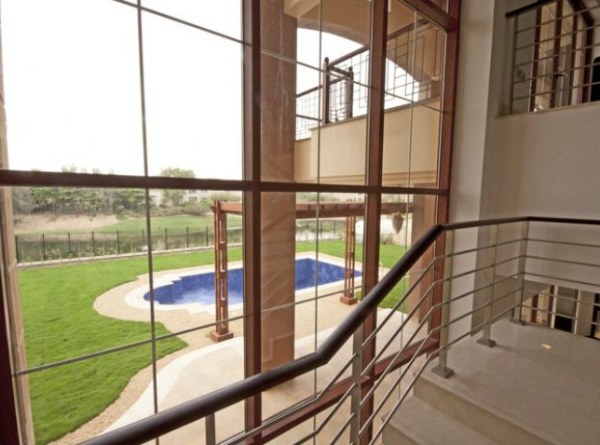 Villa Mariella
It's time to showcase Villa Mariella, located close to the Palm Jumeirah Marina development in Dubai. In fact, the villa is located at the beginning of Frond P of this archipelago. This stunning property has four bedrooms, as well as balconies for enjoying drinks and the view.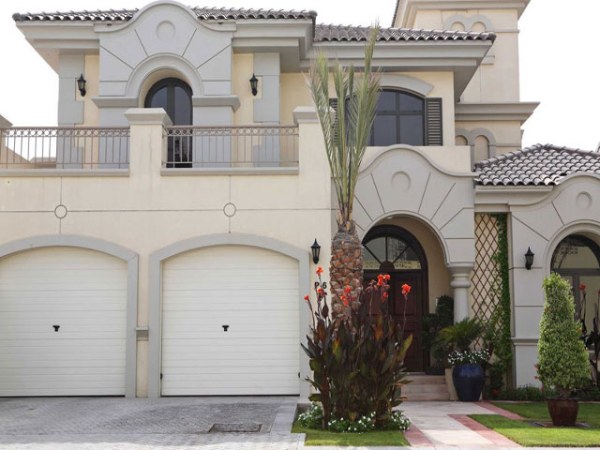 The property boasts cream and white antique stucco wall coverings that create a light and airy feel. Floor-to-ceiling windows also brighten the interior.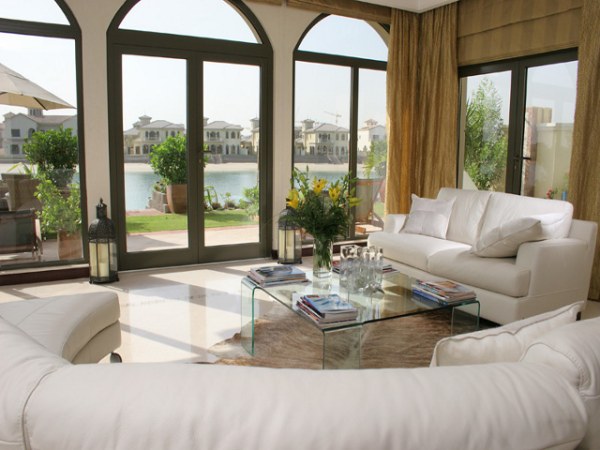 The villa's modern kitchen features white cupboards, stainless steel appliances, and an island that doubles as a bar: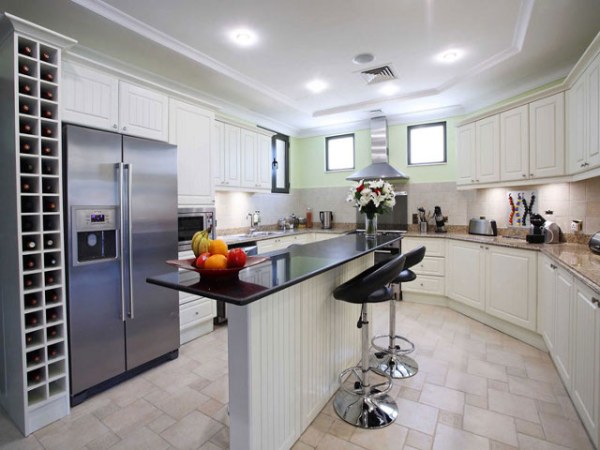 The master bedroom includes a four-poster bed, as well as a master bath with a walk-in shower, jacuzzi tub, and his and her bathroom sinks.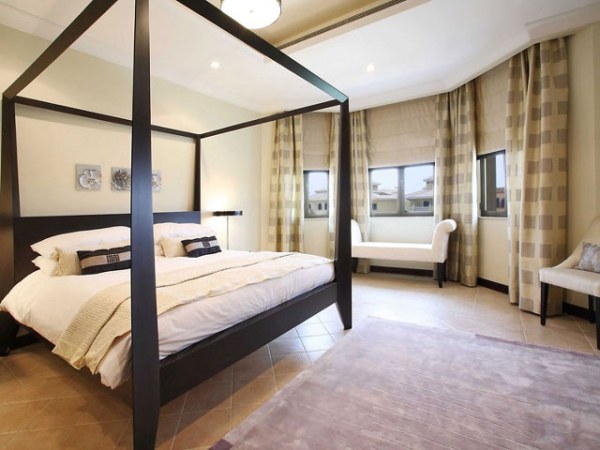 The entertainment room houses an office area with computers, as well as a sitting area perfect for watching TV and playing video games.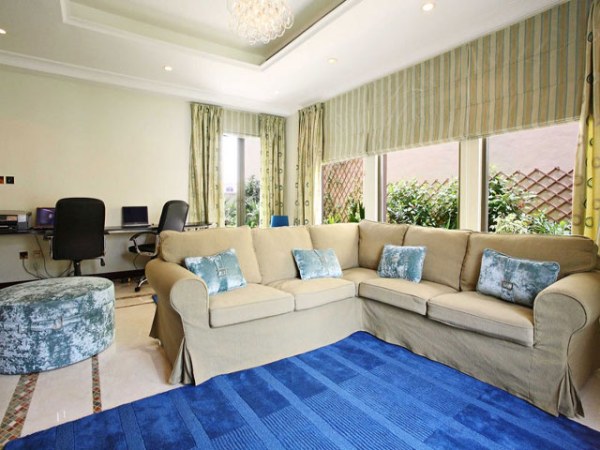 Abu Dhabi Decadence
It's time to travel to the UAE capital of Abu Dhabi, where we find a Mediterranean-roofed Arabian property offered by TDIC. In fact, TDIC offers many properties for sale and for rent, and below you will see examples of their Arabian interiors.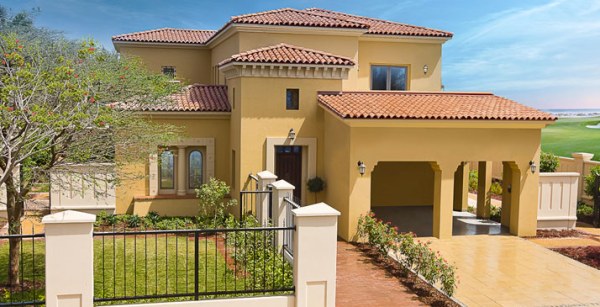 Are we seeing a theme with today's featured villas? Once again, we have an architecturally interesting iron railing. The entryway then continues, leading to a series of arches that introduce the dining area.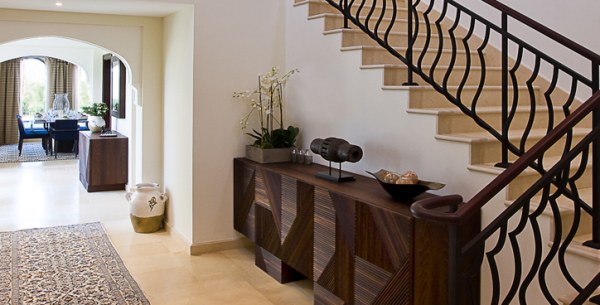 Below, a collection of metal cylinder coffee tables modernize a living area with walls featuring elaborate patterns:
Next we see a modern Arabic bedroom that boasts a balcony with comfy, stylish seating and a view: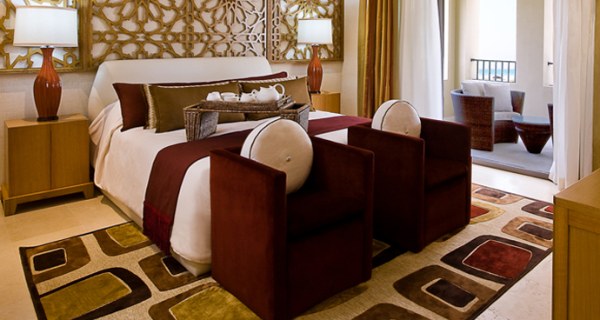 Golden counter tops shine in the bathroom below, along with dark wooden cabinetry and a decorative arch over the tub.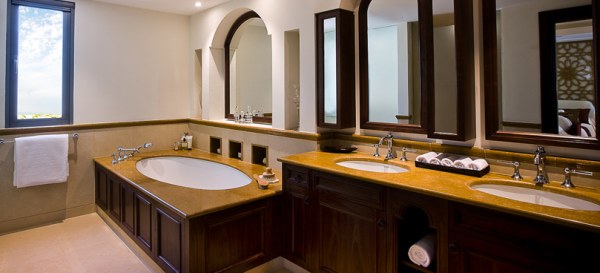 Saadiyat Island Splendor
We end with a residence in Abu Dhabi's Saadiyat Island. This Mediterranean-style villa is available through propertyfinder.ae, and it offers plenty of space with five bedrooms, family rooms, an office, a gym and more. The property's exterior is refreshing with an inviting pool, verdant landscaping, and lots of room for poolside lounging. Love those palm trees!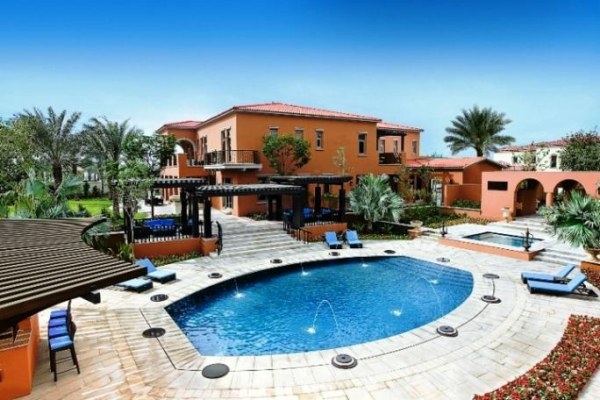 An open kitchen is complemented by an equally open dining area and nearby living space. This property is perfect for entertaining guests.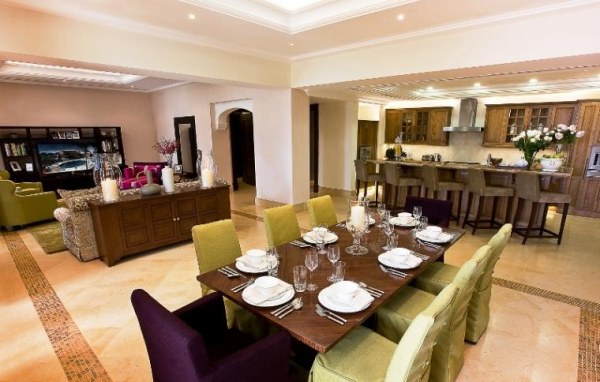 An elegant bedroom features a canopy bed, two walk-in closets, and glass doors that open onto an exquisite balcony.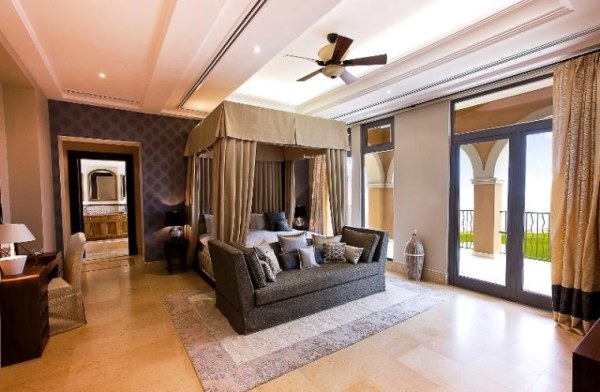 Elegant draperies set a formal tone in the dining room, which features two chandeliers that hang from a recessed ceiling: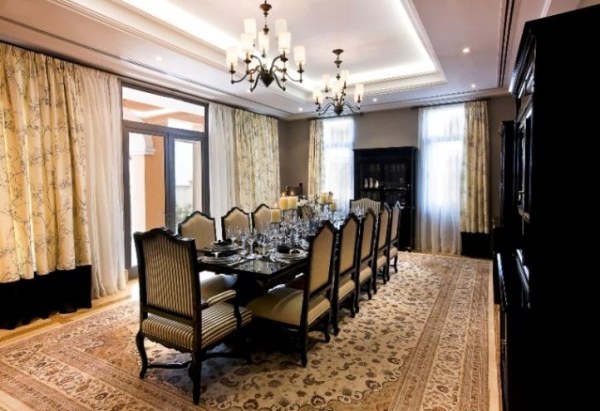 As you may have noticed, many of today's Arabic villas don't revel in Arabian tradition. Instead, Mediterranean roofing and clean-lined architecture often take center stage, leaving room for a few traditional flourishes that honor the Arabic culture. Furnishings range from the antique to the contemporary. What do these varied properties have in common? Exquisite views, a plethora of windows, and of course, opulence!