Feng shui is the ancient Chinese art of balancing the energy of a space through the arrangement of items. The goal is to maximize the flow of the chi, or the energy around us. Obstacles such as a piece of furniture in front of a doorway or a cluttered closet suppress this energy. You may be an enthusiastic proponent of feng shui, or perhaps you enjoy picking up a tidbit here and there…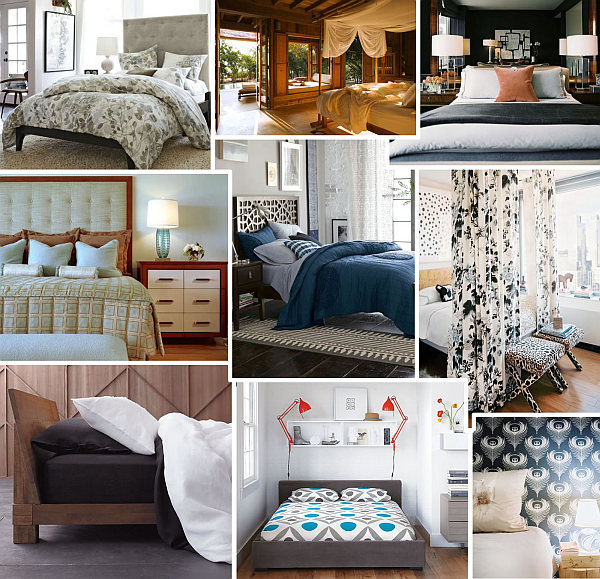 Whether you subscribe to the philosophy or not, feng shui principles serve as great design tips for your space! Who wouldn't benefit from a clutter-free, open room that soothes the soul? When it comes to your bedroom, doesn't it make sense that this area of your home should be a rejuvenating haven? Check out our helpful feng shui tips below for hints on how to improve the flow of your bedroom's interior.
Strategically light your space
Let's start with the lighting! Natural light is a wonderful way to illuminate the space and energize you as you wake first thing in the morning. Sunshine pours into the soft room below, designed by Rachel Ashwell. [from Lonny]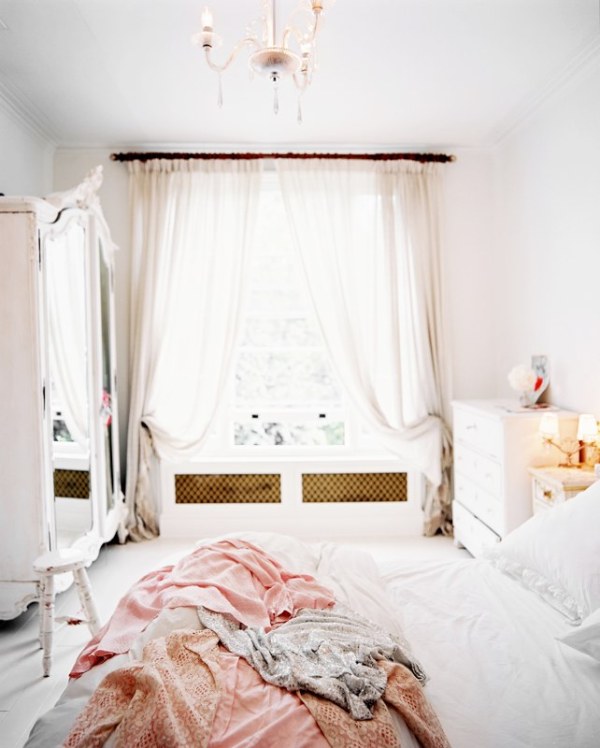 In the next space, a tree by the window serves as a reminder that nature is nearby. The light streaming in from the windows doesn't hurt, either… [from West Elm]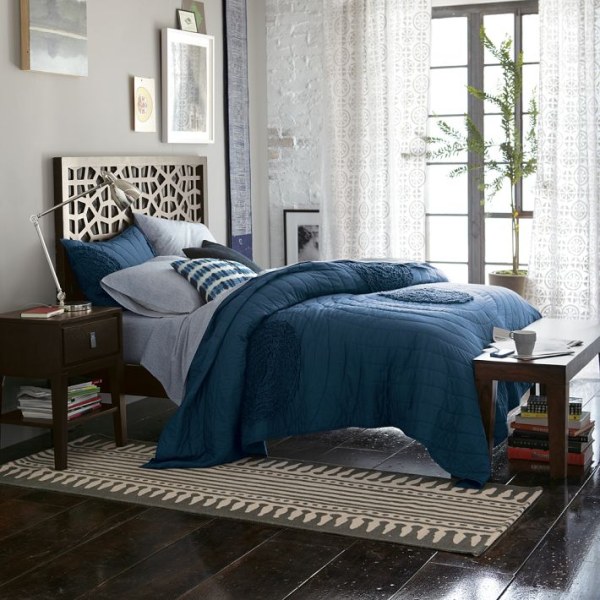 As nighttime approaches, artificial light becomes a necessity (unless it's time to sleep). Keep it soft with gentle overhead lighting or strategically placed lamps. Dimmer switches may come in handy when trying to find just the right level of brightness. A warm glow permeates the room below. [from Culture of Style in Your Home]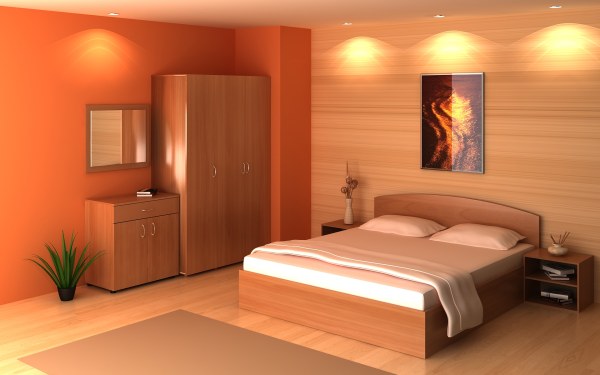 Minimize Clutter
Clutter is an enemy of feng shui design! Draining, confusing, and heavy, excess "stuff" is a setback as well as an eyesore. Being willing to get rid of items that hold a negative association is a positive step toward achieving a restful bedroom space. Also note the importance of cleaning closets. Just because it's hidden doesn't mean it's not an obstacle… Below we see the Dondra Bed from CB2. Note the absence of clutter under the bed!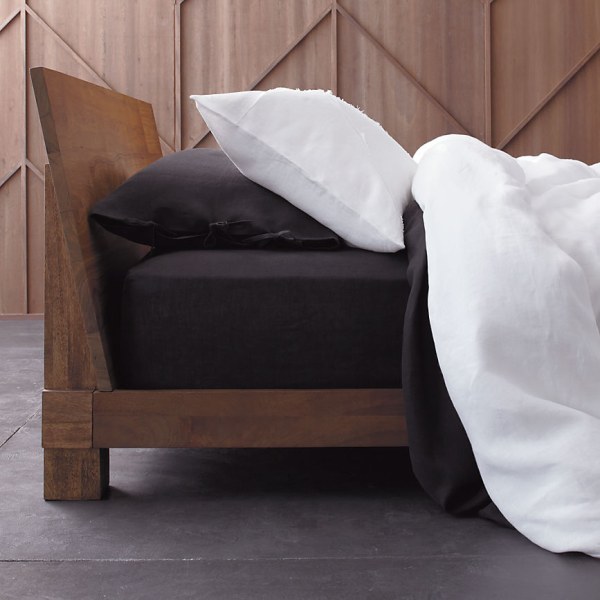 Does a clutter-free room mean a minimalist modern space with few furnishings? Absolutely not! We're human and we have stuff. But making sure everything has a purposeful place can help eliminate excess items. The space below is happily full yet tidy. [from West Elm]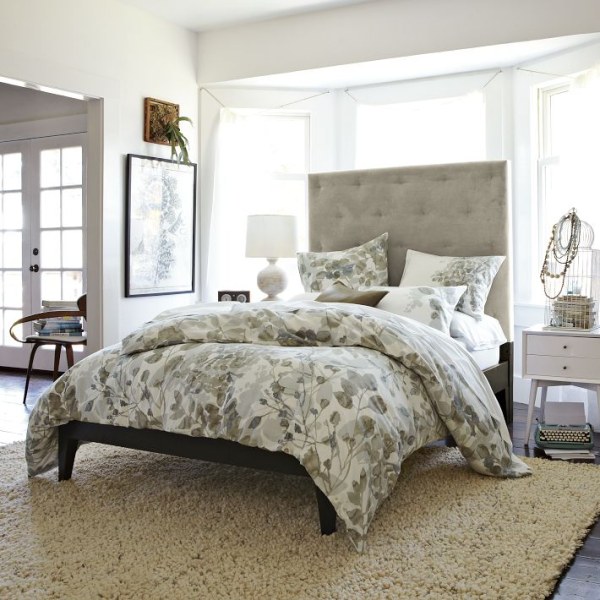 Oh, the joys of clean bedding and clear surfaces! Hillary Thomas designed this next unique bedroom, which is noticeably devoid of clutter. [from Lonny]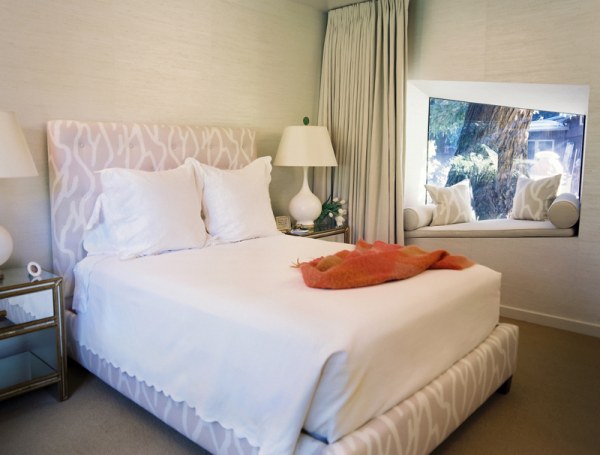 If there are items that you can't part with but they gradually become distracting, consider covering them with a screen or other decorative accent. The room below, designed by Lin Lee, features a folding screen with the power to block a desk or other reminder of daily toil. [from HGTV]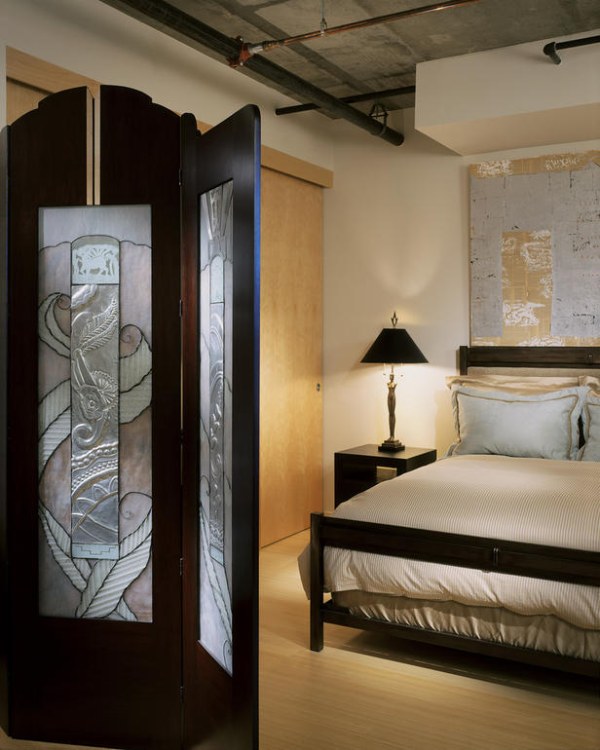 Choose Soothing Colors
A strategic blend between warm and cool colors is suggested for a feng shui-optimized bedroom. For example, tan, yellow and beige are comforting, while light blues and greens are soothing. Check out the pastel bedroom below, designed by Sarah Gilbane. [from Lonny]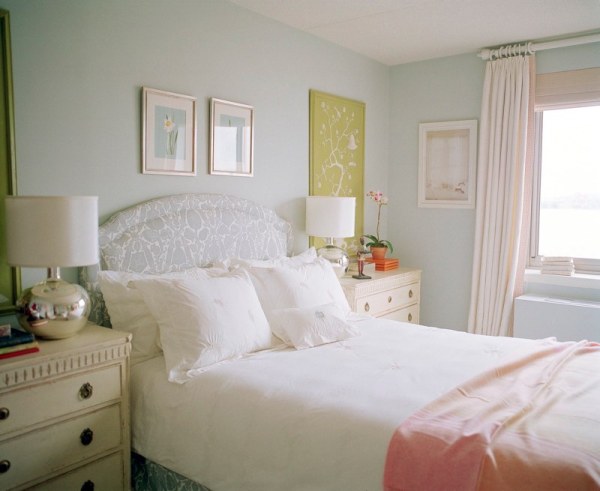 In the next featured space, warm and cool tones combine in a perfect balance of harmony. [from Sally Lee by the Sea]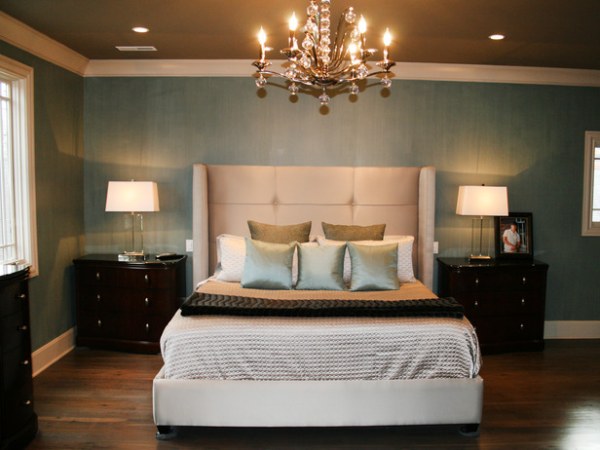 However, a pop of powerful color can be just the dose of energy a room needs! In fact, using passionate colors in moderation can add vibrancy to the bedroom, as shown in the space designed by Douglas Dolezol and Robert Miller. [from HGTV.com]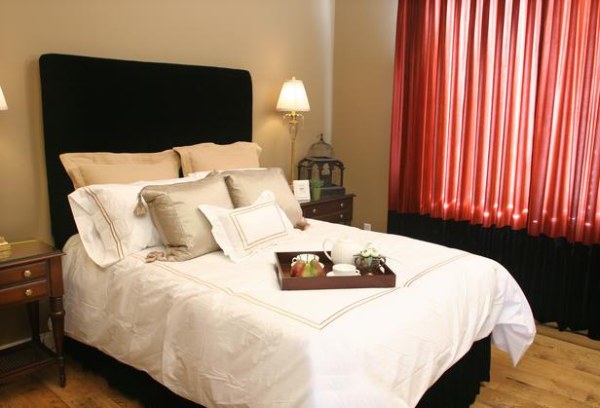 Find the perfect spot for your bed
And what is this perfect spot? One that is against a solid wall–a wall that gives you a view of the door without being right in its path. If your bed disrupts the flow of traffic, it is said to disrupt the flow of the chi as well! According to feng shui philosophy, positioning your bed under a window is also disruptive, as energy can leave through the window. A solid headboard adds support, and the strategic use of features such as a canopy or a footboard to block the view of ceiling fans, heavy beams and doorways can be helpful in achieving a sense of balance. [from HGTV]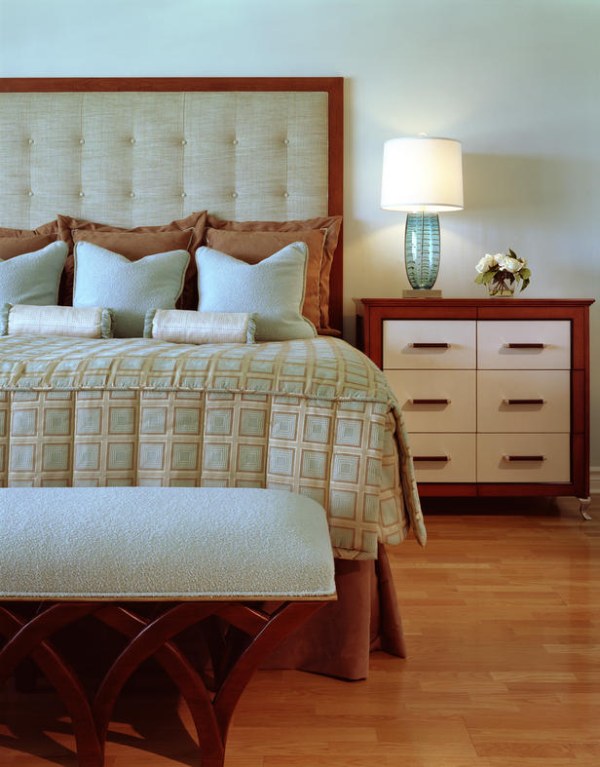 Note how the bed below is placed on the wall opposite the doors and windows, and away from the path created by the main entrance. [from Muaban 365 Design]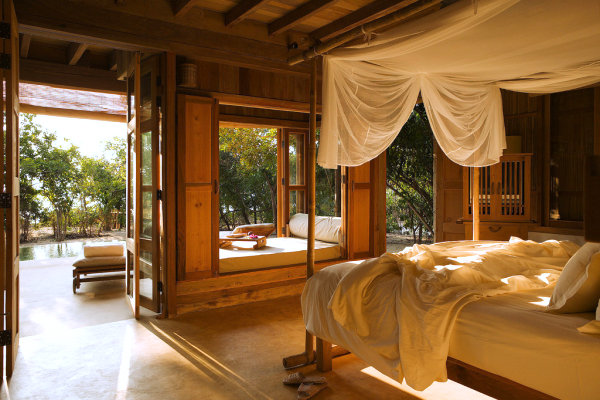 In this next room, a substantial upholstered headboard offers support and anchors the bed, which is strategically positioned away from doors and windows. [from Lonny]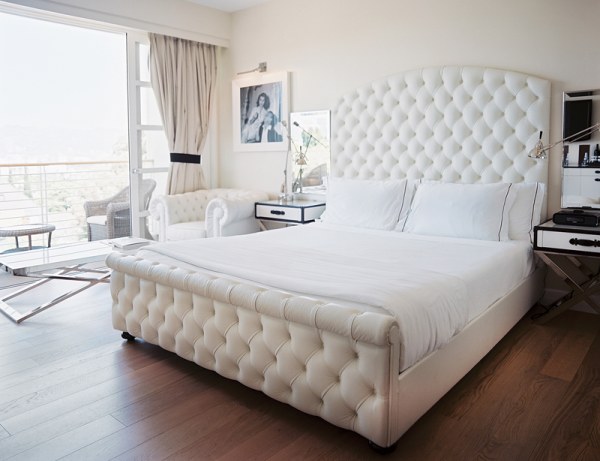 If blocking a view of the door is not a possibility, try a creative solution. For example, bed curtains, shown in the room below (designed by Michelle Adams) provide a soothing barrier. [from Lonny]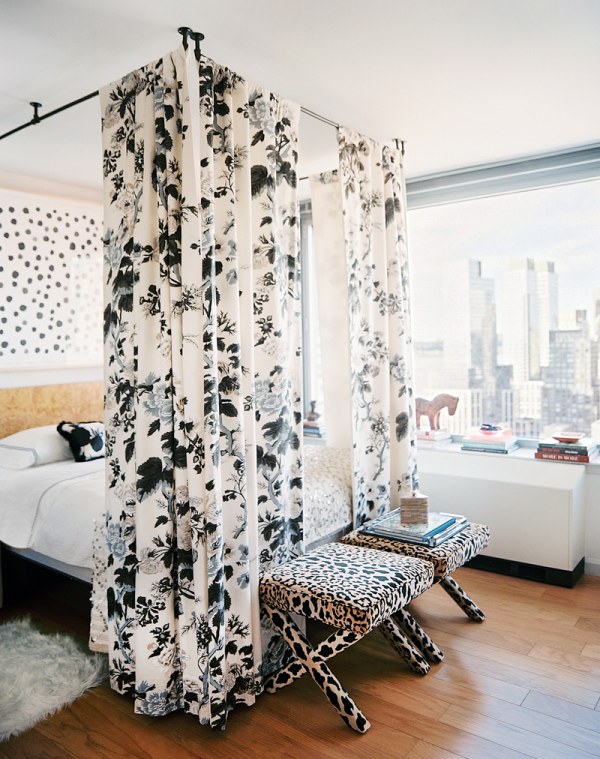 Accessorize with pairs
What better way to achieve balance and design harmony than with pairs of furnishings and accessories? In the bedroom below (designed by Ron Marvin), matching sets of lamps and nightstands create a sense of symmetry. [from Lonny]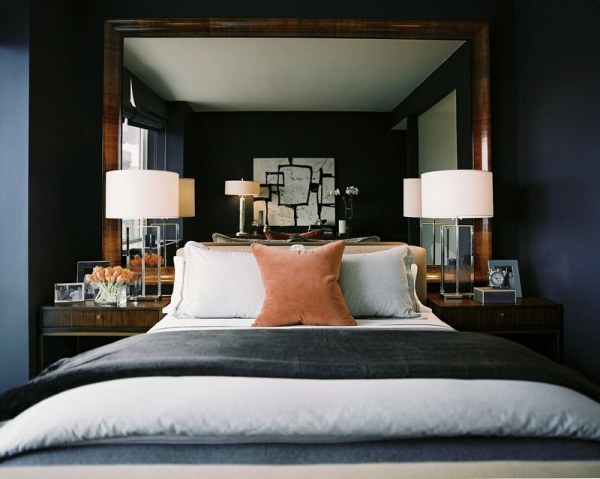 In this next image from CB2, two bright red work lamps balance the space above a clean-lined bed: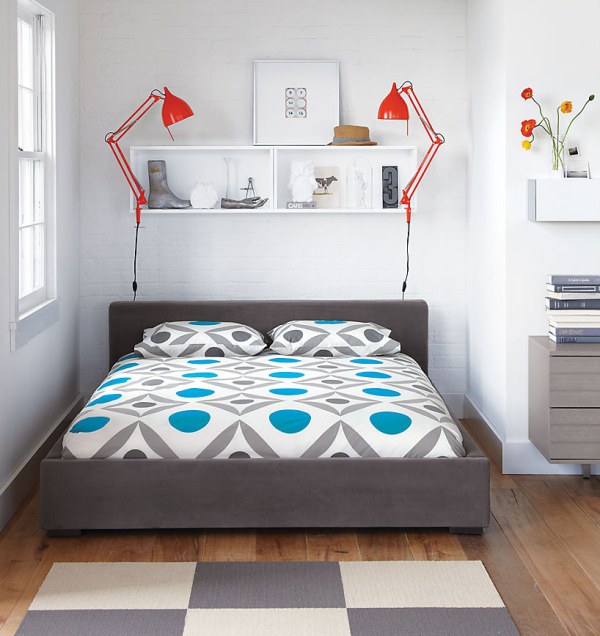 Choose furniture with rounded edges
According to feng shui, sharp corners can battle a sense of tranquility. While it's unrealistic to avoid square and rectangular furniture, adding a dash of the round can help you achieve harmony in your space. For example, in the room below, the fabric and lacquered glass Nottingham Bedside Table is the perfect counterpart to a headboard with rounded edges. [from YDA]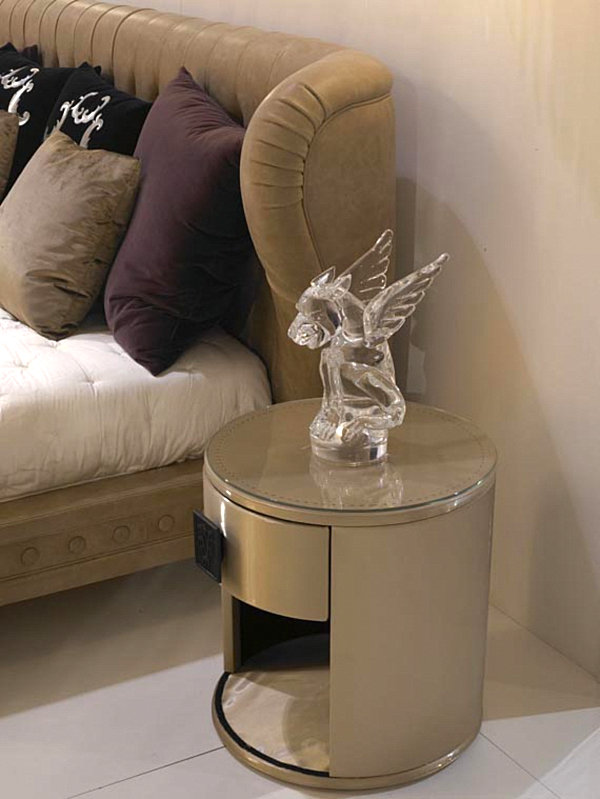 Bring on the curves! In this next featured space, we see a cylindrical vase atop a round bedside table. Soothing colors also enhance the bedroom's tranquil vibe. [from HGTV.com]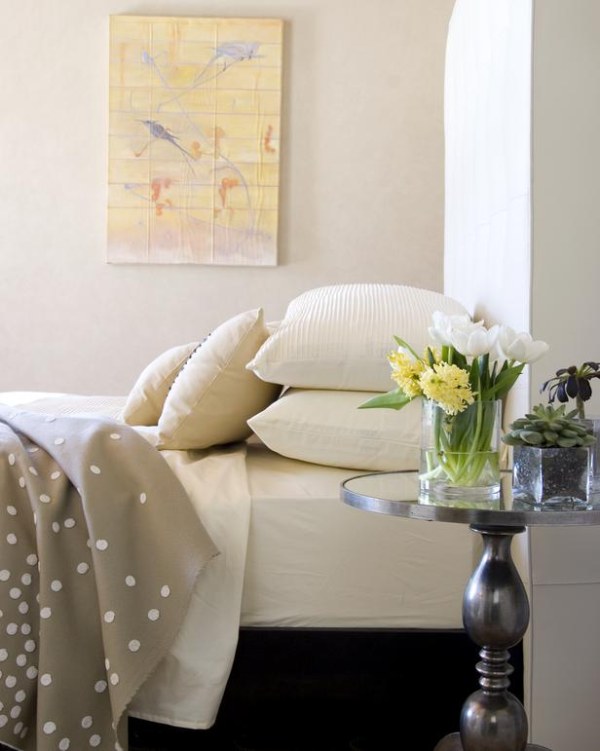 Peaceful elegance reigns in the room below. A minimalist wooden tree trunk-style table and a globular glass lamp soften a navy bedroom designed by Kelley Clark. [from Lonny]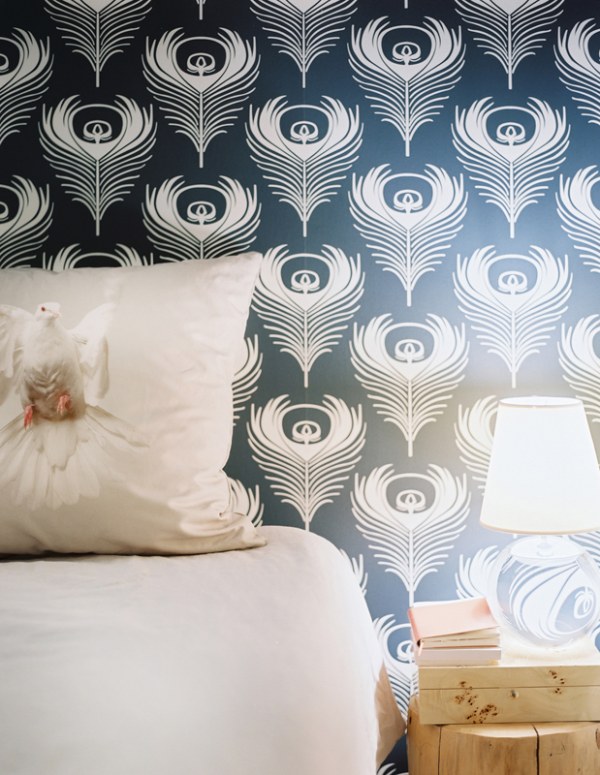 Your bedroom is a place of rest and regeneration. Making a point to keep the space open and clutter-free can do wonders for the environment of your interior. Not to mention, the strategic use of lighting and color can add another layer of calm. Then there's the furniture… Opting for rounded edges and making sure pieces don't block major pathways can help keep your space feng shui-fabulous! We think you'll feel the difference in this intentional take on design!