Reading lamps by the night stand are a must in any bedroom. They are practical objects which do not take up a lot of space. However, there is a plethora of reading lamp designs, from discreet built-1n ones to sculptural light objects that make up the atmosphere of a bedroom. Whether classic with shades or modern with elementary shapes and diffusing bodies, there are many beautiful reading lamps to choose from. Here are eleven that we picked.
Atollo 235N by Oluce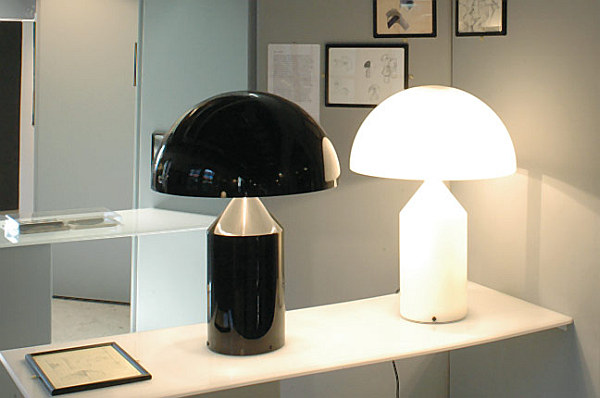 This dark and sophisticated lamp is a creation of designer Vico Magistretti from the year 1977. It has proven timeless, ad while the stylized mushroom shape is the only classical element kept in its appearance, the lamp is modern, fascinating, confusing. It gives practically no indirect or diffuse lighting through the shade, but the lamp filaments glow an incandescent and mysterious violet through the glossy black shade and body, like a hidden force, and I would dare to say the lamp looks kind of Darth-Vaderish. [Oluce]
Panthella by Louis Poulsen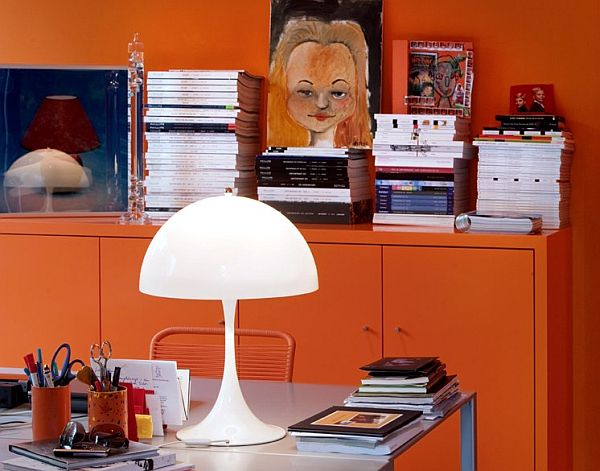 Designed in 1971 by Verner Panton, this purist table lamp is beautiful and elegant. Its perfect, flowing lines, the smooth diffuse glass, the timeless white and the gentle bright light add up to one of the greatest lamp designs and one of the most popular lamps.
If you prefer fantasies, how about an artistic floor lamp? They are sculptural and fascinating, suited to stand on the nightstand or on the floor and offer either reading light or a dreamy softly lit atmosphere. [Louis Poulsen]
Minimalismo by Catellani and Smith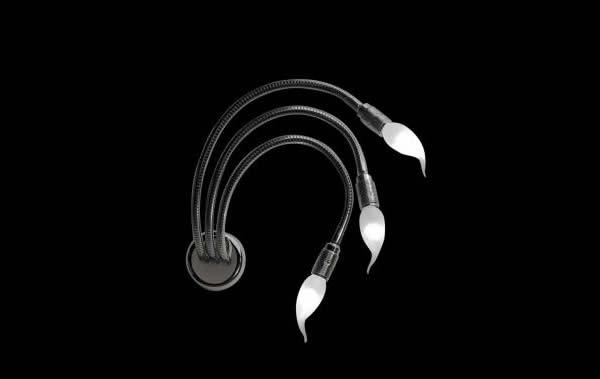 If you're a factual person and put comfort and efficiency above everything else, the way to go is a flexible light tube type of reading lamp that undulates from the wall. The light tube lamp can be built-on to the wall or attached to the headboard in a sophisticated bed design. Its versatility indulges any reading position, which makes it very practical. The small diffusing shade is useful in preventing the light from reaching the other side of the bed, in case the other person is sleeping. [Catellan & Smith]
Pipe by Artemide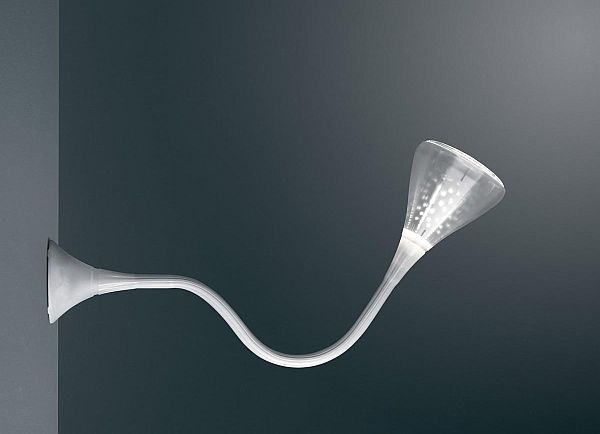 Pipe is a stunning combination of a flexible and practical reading lamp with gorgeous design. It was created by architects Herzog&De Meuron and won the 2004 Golden Compass Design Competition. No wonder, with its purist design, a stylized, almost digitalized shape of what has been a feminine, vegetal element. Going with classic is always a good option. Shade lamps are established design objects that come in various beautiful shade shapes and materials. [Artemide]
Baby Gilda by Palluco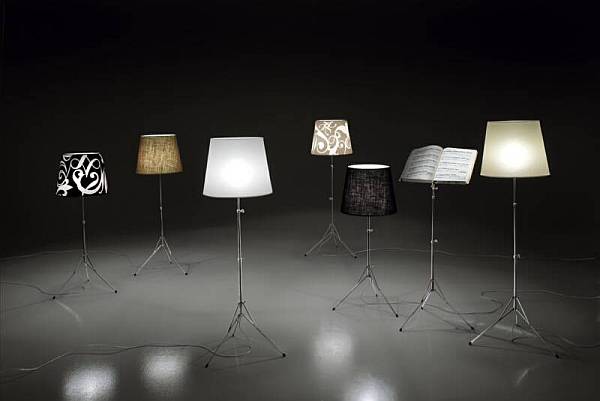 A classical and beautiful floor lamp, Baby Gilda was designed in 2008 by Enrico Franzolini. It comes with a variety of elegantly colored or beautifully patterned, opaque to half-diffuse shades from cotton, artificial parchment paper or jute fiber and with very useful dimming system. A rather tall lamp, Baby Gilda works as a reading lamp in any space configuration, from practical to romantic, by the bed, by an armchair, by the window.
Chaos by MGX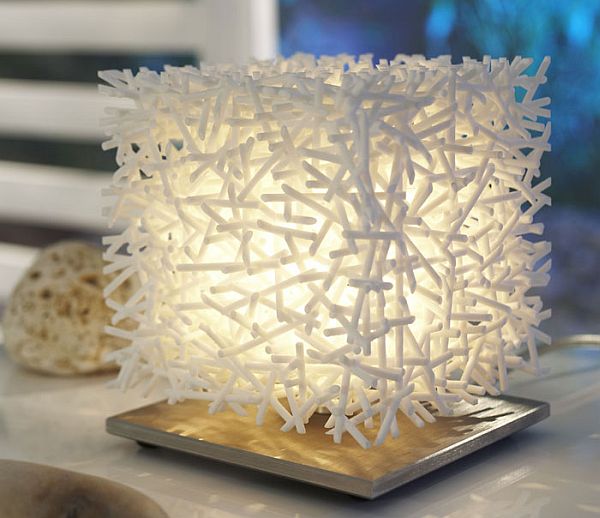 Designed by Strand + Hvass, this very special lamp is a small piece of artwork. The shade is an intricate, deconstructed, cube-shaped bundle of coral-like fibers that filter the light in a magic, warm glow. A rather feminine lamp for reading in bed or in the bathtub and enjoying a pleasant atmosphere with ambient lighting. [MGXbyMaterialise]
Arba by Belux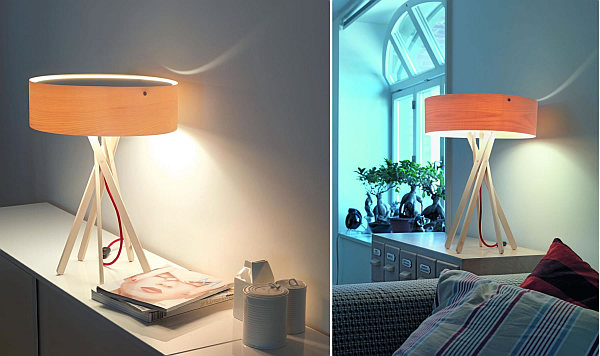 A lamp celebrating wood and nature, Arba was designed by Matteo Thun for the Swiss lighting label. The simple and lovely, slightly retro lamp fits into many a design scheme due to its natural and minimal appearance and the good combination of direct and diffuse light.
Padma by Kundalini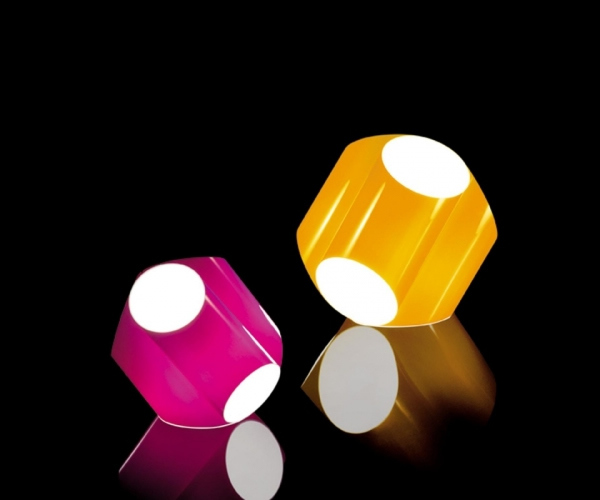 This wonderful concept of a floor lamp by Marzio Rusconi Clerici can be easily installed onto the nightstand and used for reading. Eccentric in shape, the lamp is sculptural, stylish and inspired by pop art. The light does not radiate from the whole body, which makes for nice area lighting, useful in not bothering the other person sleeping in the same bed while you are reading. Kids or teenagers would also highly appreciate this lovely and happy lamp available in 2 sizes and in pink, red, white and orange colors. [Kundalini]
Fato by Artemide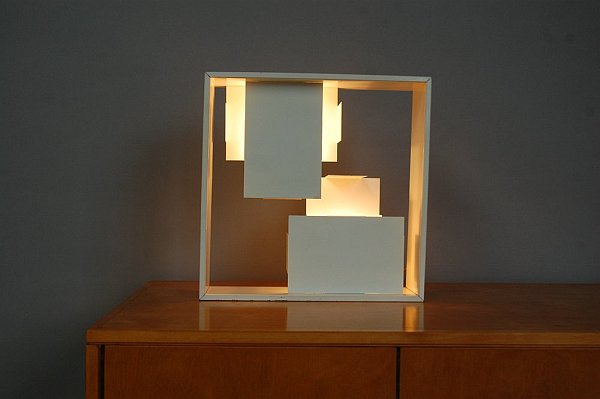 Almost futuristic, this deconstructive table (or wall) lamp from Artemide was designed by Gio Ponti and resembles nothing of a classical table lamp. The highly geometric, almost digitalized shape consists of rectangular lacquered steel elements on a frame, acting as a deconstructed shade and concentrating the light between them like on a miniature stage. Indeed, the object resembles a minimalistic scenography with the effect of light and shadow interplay. The eccentric lighting object has lived only on paper for a long time, until it came to serial product life in 1999. [Artemide]
Aqua Cil by Artemide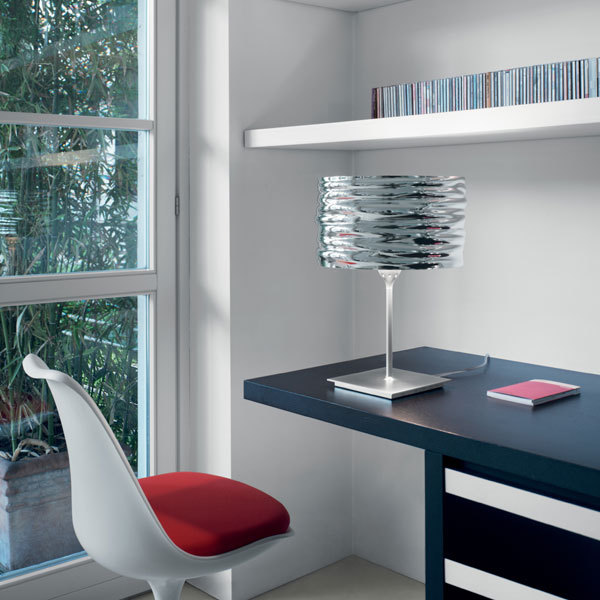 One of the most popular Artemide products, Aqua Cil was designed by Ross Lovegrove as a re-interpretation of the classic shade lamp. It has no diffuse component, but it does give off direct and indirect (upward and downward) lighting. It distinguishes itself through the liquid metal shade that comes in orange, chrome and blue, stylish with a touch of industrial. [Artemide]
Mirror Ball Floor by Tom Dixon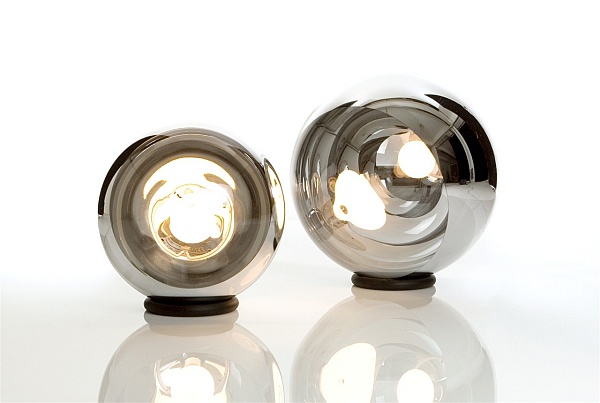 This remarkably multi-functional lamp was designed by Tom Dixon in 2003. With a design line lying somewhere between stylish and trashy, the round and shiny chrome finish lamp is suited for a variety of spaces. It has no diffuse body, but the light is bundled and directed through one side of the lamp, appropriate for local illumination. Kids and geeks would love it as a floor lamp, but it can also constitute the one touch of fantasy on the nightstand in an otherwise practical and rather masculine bedroom scheme.