I went through a stage in life where I considered myself an esteemed picnic connoisseur and was addicted to eating out of doors. Ants, mosquitoes and other bugs – these failed to dissuade me from munching on a hastily made sandwich that lacked the main ingredients as I had eaten my dear mother out of common picnic ingredients. This hobby of mine was serious enough that even one of my brothers recognized and acknowledged my intensity for this method of dining that he purchased a quaint little double flapped picnic basket for me.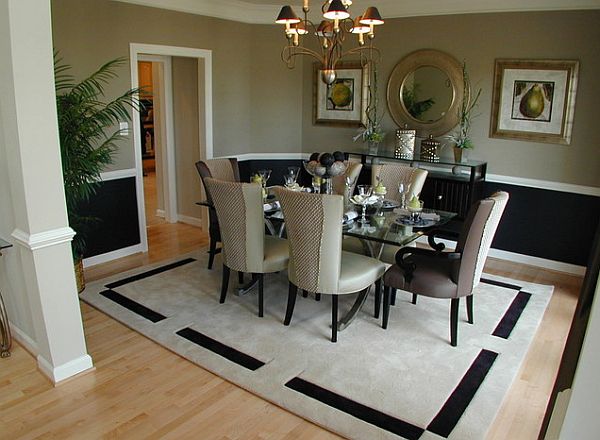 That's not the amazing part. The amazing part is the tenderness of that gift is marked by the complete normalcy of day when I received my green and yellow picnic basket. It wasn't Christmas, it wasn't my birthday or any other national holiday, no it was just a sunny summer vacation weekday made even brighter with my new to me picnic basket.
My picnic obsession has drastically waned over the years due to my awareness of the ants and mosquitoes but I still find picnics a romantic escape as it includes one of my favorite things of all times … food.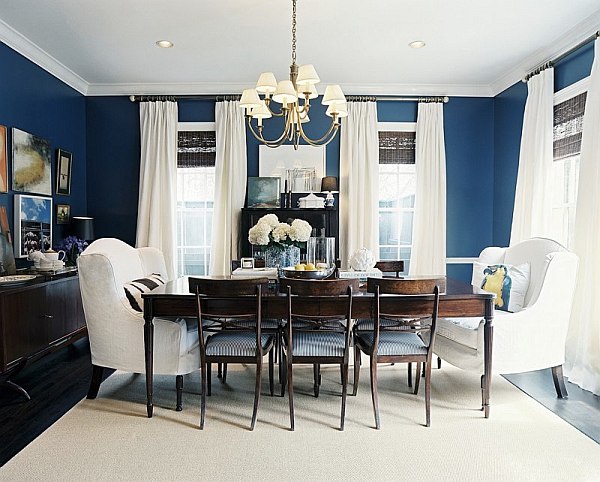 The dining room, the more acceptable place for adults and their loved ones to partake of a meal in, can be that picnic destination when the décor and setting institutes the dining out(side) effect.
Enjoy the carefree spontaneity of the wind in you hair, the blue, blue sky and the grass pricking you beneath your checkered cloth as we rediscover our childhood love for picnics by reestablishing our dining room as the great outdoors in doors.
Step One: Capturing the Sky and Bringing it Inside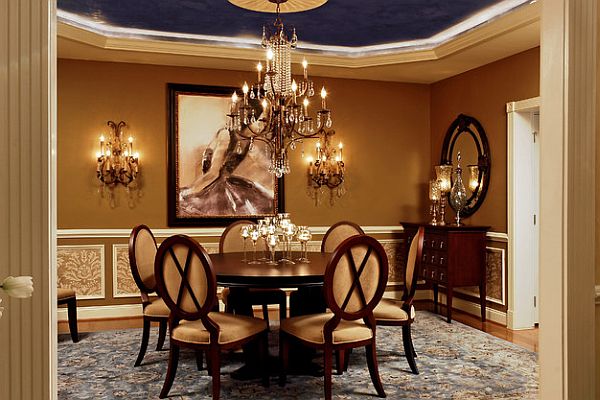 Even though most picnics are stationed firmly on the ground, the sky has an integral job when picnicking, for is the Cable TV sports game to a pizza party. The sky with its mass of fluffy clouds is the entertainment portion of the meal. Leaning back on our elbows we have intelligent conversation as we argue over what the cloud really resembles.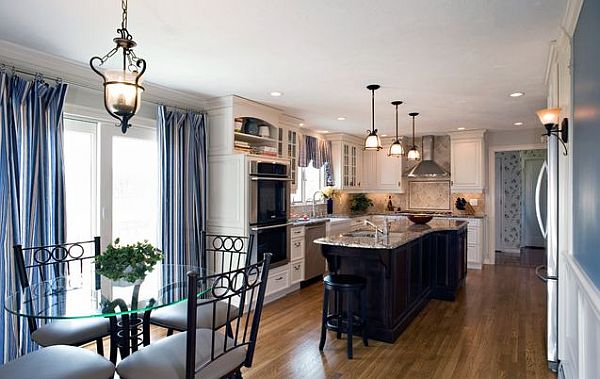 In order to keep your dining room formal we are going to borrow the sky color from a twilight picnic (vampires and werewolves not included) for the color of our walls. You thought I was going to recommend this color for the ceiling, right? Well that's going to stay crisp white in honor of one giant cloud. No sponging to give it the effect of fluffiness and distorted shape, as I really want your future guests to focus on the delicious meal you have concocted rather than all craning their necks backward and tilting your chairs on its hind legs as they debate the shape.
So back to our twilight scenery with our walls a sharp navy blue as our blue foundation.
Step Two: Cultivating the Grass and Bringing it Inside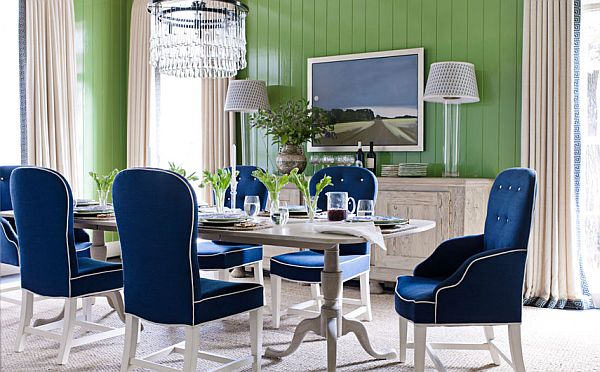 There's that word foundation. Okay so I know you are itching (from the alleged mosquito bites, I presume) to see how we are going to incorporate the grass element without resorting to cutting a patch of turf from the local high school football field. Well, it's actually very similar as far as looks, but without any thievery involved.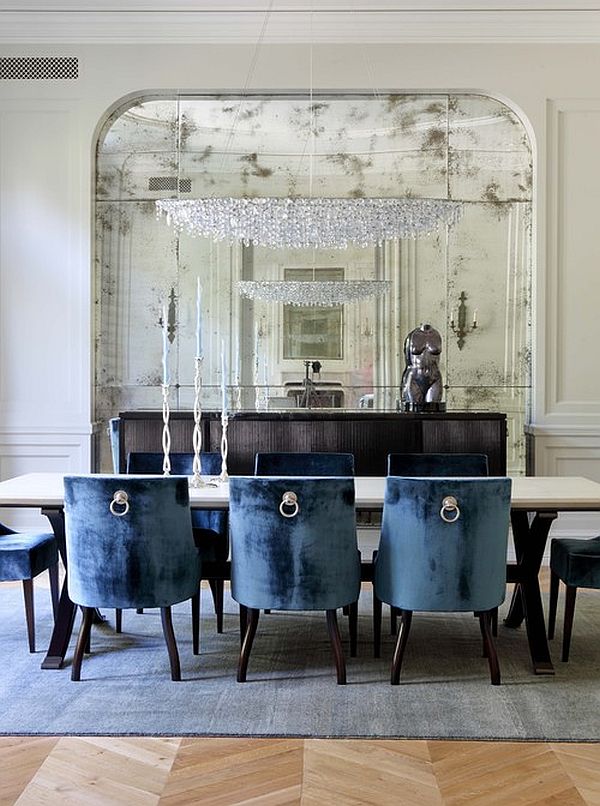 With a grass looking textured indoor rectangular rug you have cultivated your own patch of grass free of weeds and miniscule insects that even though most dinner parties require shoes will entice your guests to idly run their bare feet back and forth as the conversation flows. The bright grass green color will contrast brilliantly with your navy walls and the deep stained walnut of your mid century modern round table with a set of four surrounding pale powder blue Parson chairs will add up points for a room with high interior IQ.
Step Three: Paying Tribute to Nature and Bringing it Inside
The beauty of the picnic is in the artistic elements the birds contribute with their symphonic tunes. With flat cast iron branch and bird wall décor and a glass topped white birdbath as an accent table you can steal a few members of the orchestra for your own personal dinner party. Top your accent table with some live topiary and your dining table centerpiece is a low rotund white epoch planter nourishing some Lemon Button Ferns encased under a glass cloche dome.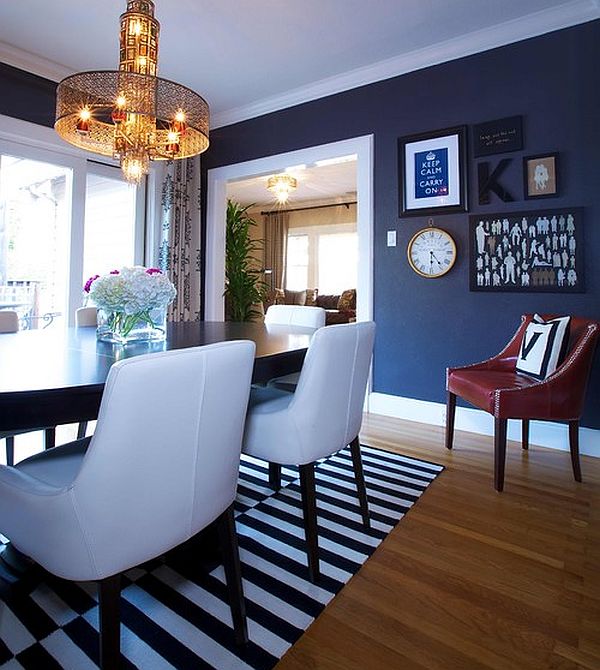 And thanks to companies like Yankee Candle, you can intensify the sense of scent and thus the experience by lighting a Freshly Mowed Grass scented candle. Now throw open your window, dim your Pagoda lantern chandelier and enjoy your tiramisu in this indoor twilight picnic in your new navy blue dining room.