What makes Italian bedroom furniture so irresistible? Perhaps it's the decadent materials, such as leather and lacquer. Or maybe it's the cutting-edge design and ultra-modern presentation. Of course, the occasional Swarovski crystal embedding doesn't hurt either… Whatever the culprit, you just can't beat the appeal of smooth upholstered headboards, glossy nightstands and modern dressers.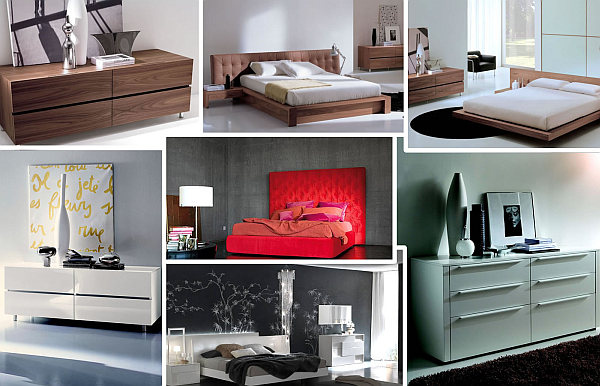 Many Italian bedroom furnishings come in a variety of finishes, colors and materials. For example, it's not unusual to come across a modern Italian bed that can be covered in leather (both real and synthetic), lacquer, or wood. Design enthusiasts can take advantage of the opportunity to select colors and textures that will perfectly complement their space.
Check out these gorgeous Italian pieces below:
Wooden Italian Bedroom Furniture
Many wooden Italian furnishings have a contemporary look, thanks to an abundance of right angles and polished surfaces. We begin with a wooden bed, nightstand and dresser that celebrate the power of clean lines and sleek silhouettes. The light color of the furniture works well in bright and airy spaces like the one below. [from CGS Group International]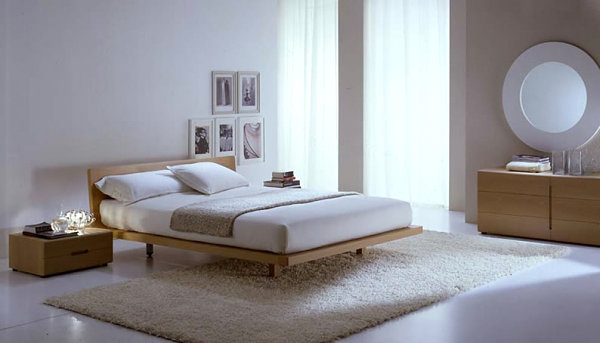 Sometimes one piece can serve many purposes, as shown in our next wooden set featuring a bed with two built-in nightstands. A separate dresser with metal feet completes the modern look. [from Designitalia]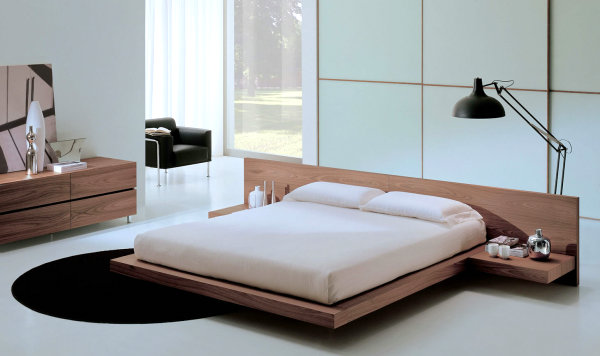 The bedroom set below proudly displays its wood-grain facade, which sweeps in earthy horizontal lines that complement the long lines of the furniture. [from Designitalia]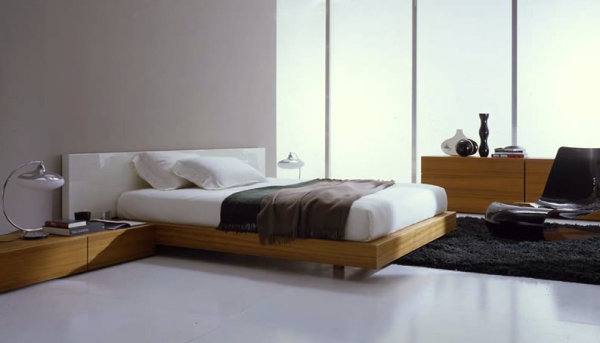 We now move into darker wooden territory with a classy bed and nightstand combo. Note how the rich colors featured in the furnishings and the sheets are a striking contrast to light flooring, curtains and closets. [from Designitalia]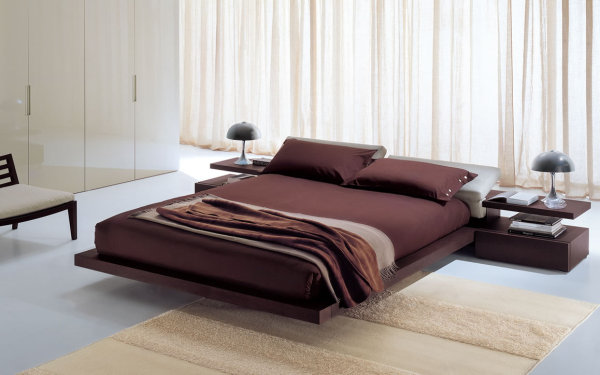 If you're looking for an unforgettable dresser, check out the modern bedroom chest below. The piece is available in a variety of wood finishes, as well as lacquer. Four large drawers leave plenty of room for storage, and metal feet give the chest a polished look. Searching for a set? No worries–you can purchase a matching bed and night table! [from MomentoItalia]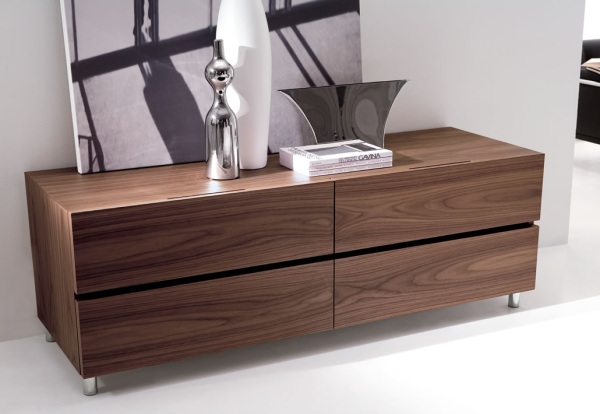 Lacquer Italian Bedroom Furniture
Time for some high-gloss fun! Lacquer furniture adds shine and gives interiors a glamorous look. Manufactured in Italy by Pianca, the People Panel Bed v.4 includes an asymmetric headboard and a frame that appears to float over the floor. Under-bed storage options are available, along with a variety of finishes that include wood, fabric, leather, and glossy or matte lacquer. [from Room Service 360°]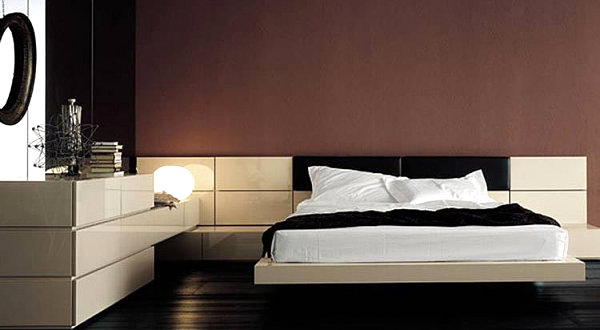 Looking for a little sparkle? The Diamond Bedroom Set by Rossetto should do the trick! Not only are the furnishings available in glossy black or ivory lacquer, optional pillows in a crocodile leather effect can be purchased along with the bed. We can't forget about the inlays and components in genuine Strass Swarovski crystals! [from Room Service 360°]

Somehow the room below makes the Nightfly Italian Modern Bedroom Set look as ethereal as it is angular. A bed, nightstands, dresser and mirror are all available in black, white or ebony. Crocodile-stamped leather details embellish the set in textured style. [from Room Service 360°]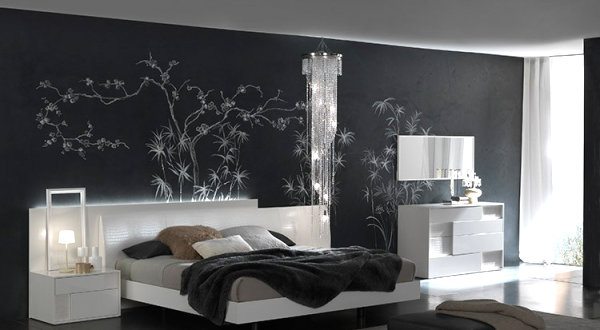 For a contemporary, polished chest of drawers, check out the piece below, shown with a high-gloss lacquer finish. If you're searching for a wooden chest, this item can also be purchased with the finish of your choice. Don't forget the matching nightstands! [from MomentoItalia]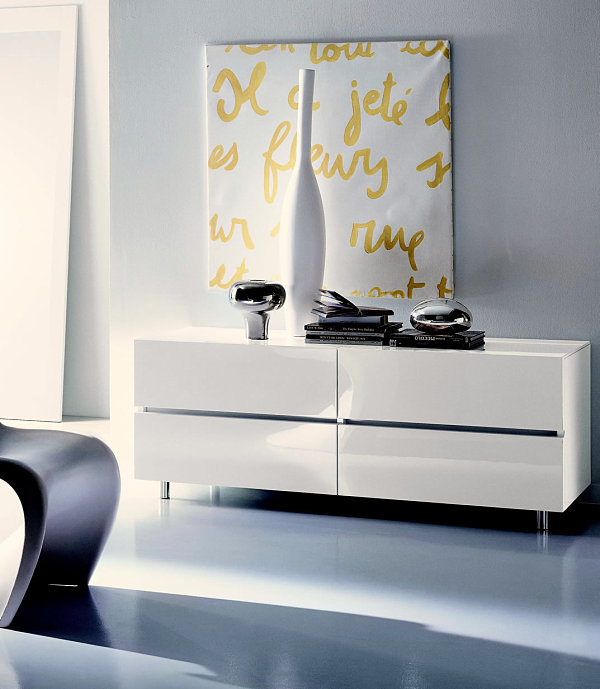 Long handles and plenty of drawer space distinguish the modern chest of drawers below, which is available in an oak, walnut or matte lacquer finish. Looking for a set? Buy the matching night tables and tall dresser! [from MomentoItalia]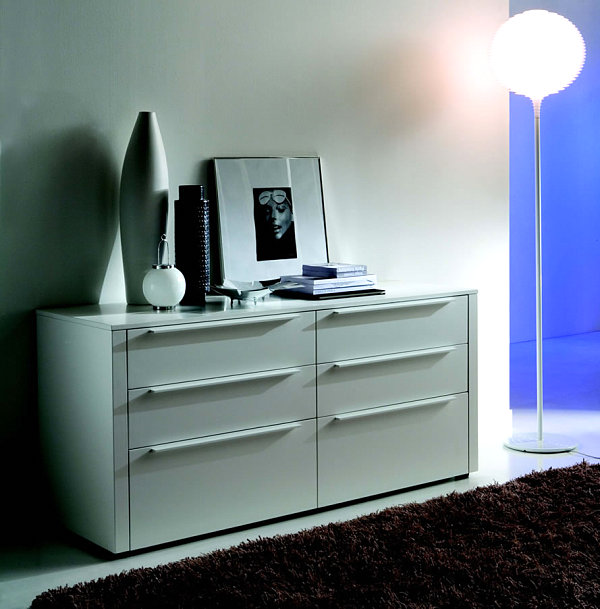 Leather Italian Bedroom Furniture
Sometimes a little leather can add some much-needed texture to a room. The leather and lacquer bed below also adds interest with a series of three cylinders that form a padded headboard. [from CGS Group International]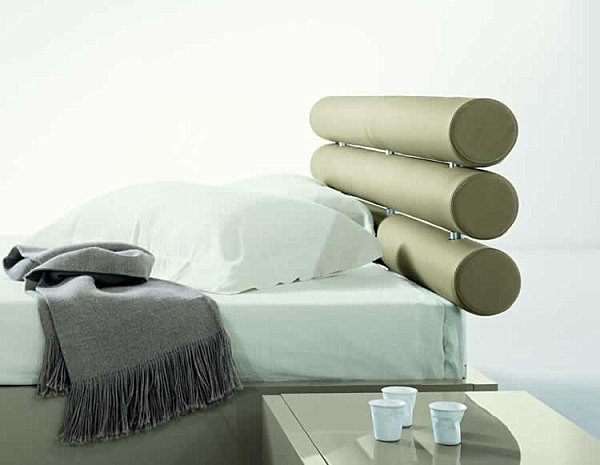 The Logan Modern Platform Bed by Cattelan Italia is available in leather, eco leather or fabric upholstery. Designed by Emilio Nanni, the piece manages to look plush and minimalist at the same time. [from Room Service 360°]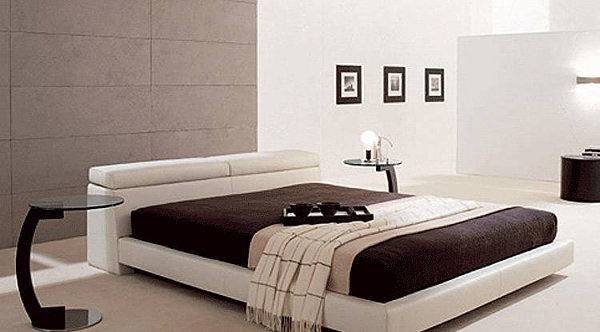 Bring on the tufts! Leather upholstery is the standout feature of the next bed, which matches its padded headboard to the color of the wooden base. [from Designitalia]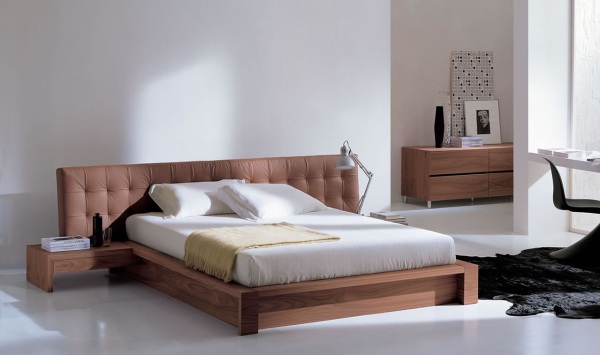 The Alix Contemporary Platform Bed by Rossetto brings a grid motif to leather upholstery. Ultra-modern and ultra stylish, this bed is unique in its use of squares throughout the entire piece. After all, why confine the geometry to the headboard?! [from Room Service 360° via Modern Office Furniture]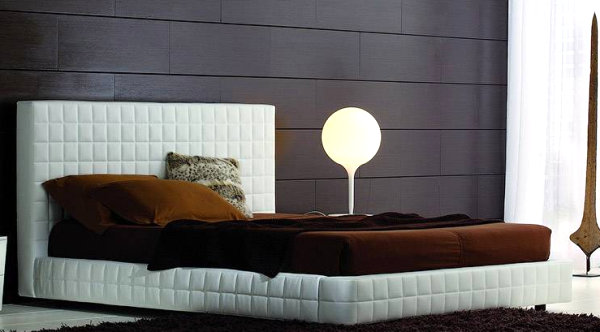 Fabric-Upholstered Italian Bedroom Furniture
We end with a series of fabric-upholstered bedroom furnishings that have a modern yet glamorous effect. The Italian fabric platform bed below brings Hollywood Regency elegance to the lavender room it inhabits. [from CGS Group International]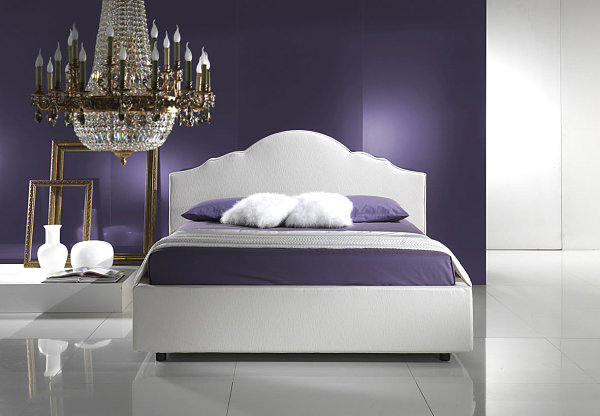 When it comes to the next modern upholstered bed, clean-lined and classic equals fabulous! Dress up the piece with a patterned comforter and decorative pillows, or keep it simple with solid bedding. [from CGS Group International]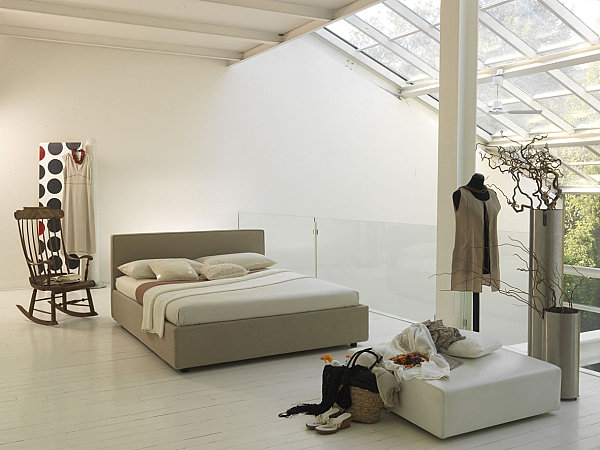 Va-va-voom! The Wing Contemporary Upholstered Platform Bed can be covered in fabric, as well as leather (both real and synthetic). Designed by Peter Ross for Bonaldo, the piece also offers an under-the-bed storage option. [from Room Service 360°]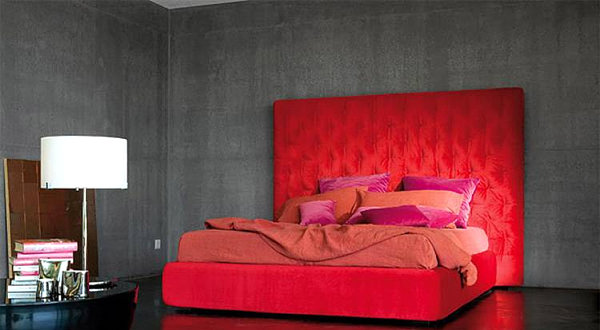 As you can see, Italian bedroom furnishings are true showpieces that blend form and function to create the ultimate in style. Perfect for modern spaces, these beds, nightstands and dressers command attention without being garish. The wide variety of available fabrics and finishes makes them perfect for those who enjoy navigating design decisions and customizing their selections. After all, who can resist the appeal of a touch of leather, a dash of lacquer and a hint of sparkle?