There will be no frilly canopies, no ruffled bed skirts, no unicorn figurines in the pink room we will be designing today. Making pink a part of your home décor without making the feint of heart want to run and hide takes a bit of imagination to be dedicated enough towards creating the masculine hybrid of pink.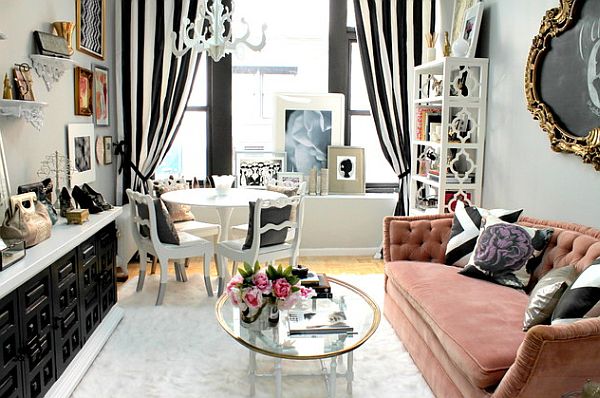 Every time this particular pink memory pops into my head — no pun intended — I can't help but smile at the misguided aspirations of young girl who thought to compete in a bubble gum contest. Contestants had ten minutes to walk around the participating store diligently chewing the audaciously pink gum to the exact consistency needed for exhaling precious oxygen into delectable oversized bubbles. There were a lot of ten years like me eager to win, many whom were younger and many older as well. But even more were the pink wrappers and discarded sticky pink bubblegum wads everywhere. Needless to say, I didn't win.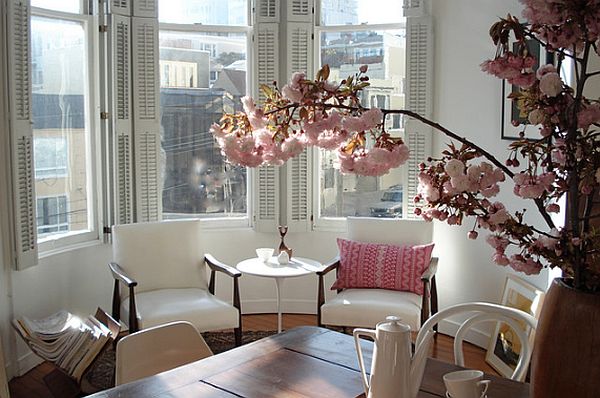 But the color pink is now forever synonymous with bubblegum, and that needs to change. A man can easily pull off a pink tie, I even have pink shoes, but to design a room that will invite all human species in, well it takes a few tricks and tips to manage that great commission.
Step One: Choosing a Neutral Color as Your Main Point
Pink walls? That's a no, unless your goal is to establish a room exclusively devoted to the ladies evening in. From manicures, to tea parties and pillow fights, this is what ambiance pink walls would emit were you to storm forward in confidence without consulting your husband and paint the sitting room pink.
But you can always go for some pale stripes and every man will fancy the design.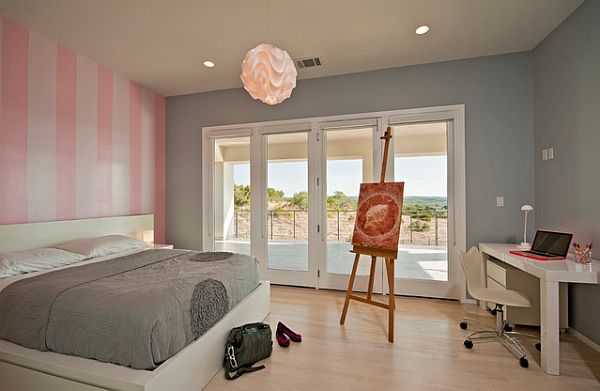 Black, gray, beige, deep cream, or brown are the basis you need to design a room that will enable the pink to have certain precedence without overpowering a perfectly sane room into a senile psychedelic atmosphere.
Step Two: Choosing What's Pink and What Pink
Let's say we went with a rich cream-colored wall with a black accent wall. This already has prepared the setting in such a way with evident levels of class preeminent.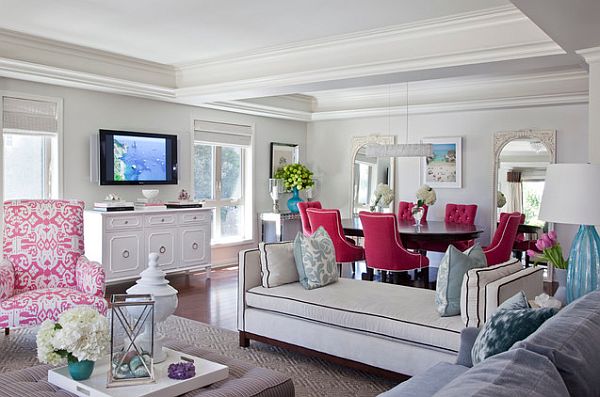 We have to subtly introduce our pale blush shade of pink in non-overt feminine ways. Pink rugs, throws and pillows everywhere would create a system overload. We, instead, begin with some classic art prints, like Piet Mondrian's Composition with Colour Areas which hosts our exact color palette for today's pink interior exercise.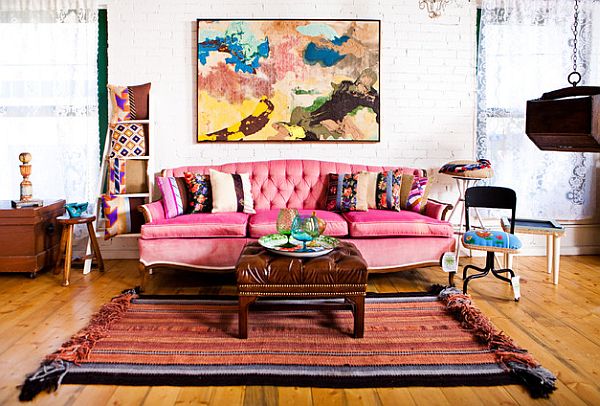 This artwork hanging above your mantelpiece with its abstract lines and colors will give a contemporary edge to your sitting area. Speaking of sitting areas the perfect way to add some more pink is with a blush colored wingback chair clumped with some black and cream ones too.
Step Three: Choosing Other Elements To Grace with Pink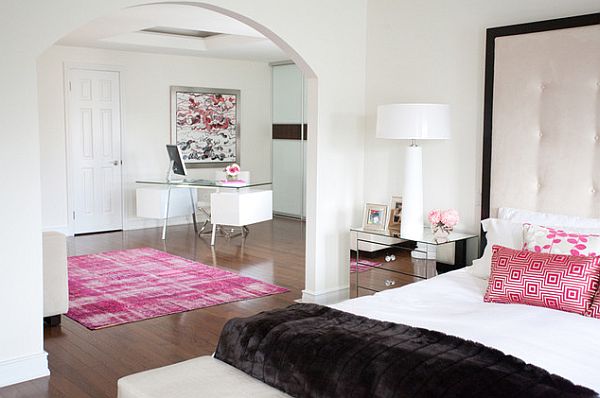 Atop your Windsor oak flooring a black and cream honeycomb geometric rug with some pink floor pillows resting against the golden legs of your black club sofa. A soft rose hued vase collection mingled with golden vases resting on the mantelpiece as the fence work to Mondrian's work and don't be surprised to find this sitting room become the manly man's cigar lighting ceremony room.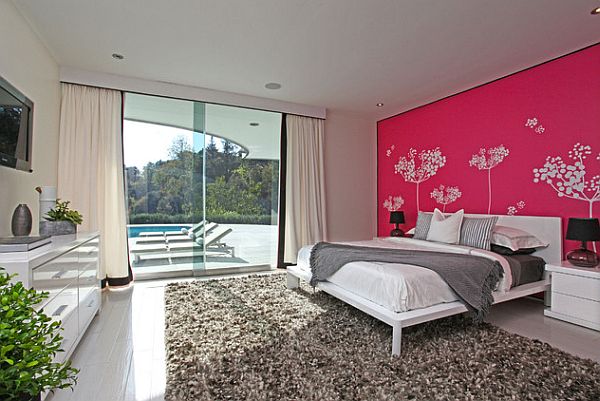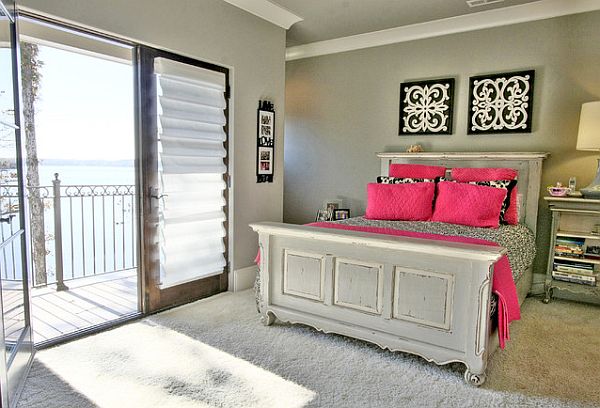 From the gold, to the black and the color of blush, this room innocently incorporates a color body builders are said to shy away from but now the wealth of the arrangement from the sheer cream drapes hanging high from golden rods, to the honeycomb rug you lounge on as you rest your head on none other but a pink floor pillow. And no, this pink floor pillow doesn't represent a wad of gum spit out by a belligerent teenage due to its size.
It is because with the right backdrop, pink can be a sensual color in a masculine world.
But pink is, also, one of the best colors for decorating your baby or teenage girl's room. Here are a few other designs that you might enjoy.
Pink rooms for teen girls or baby girls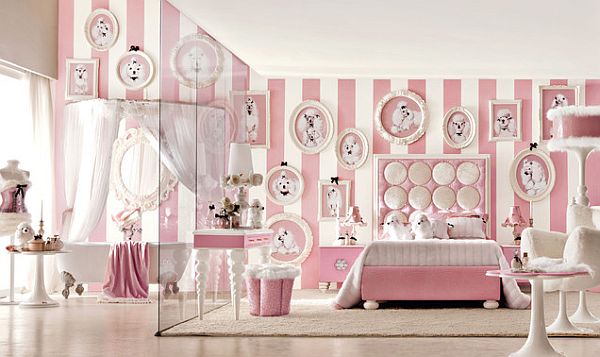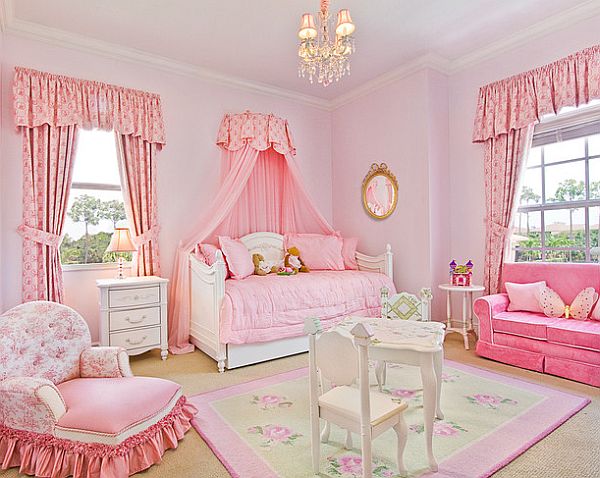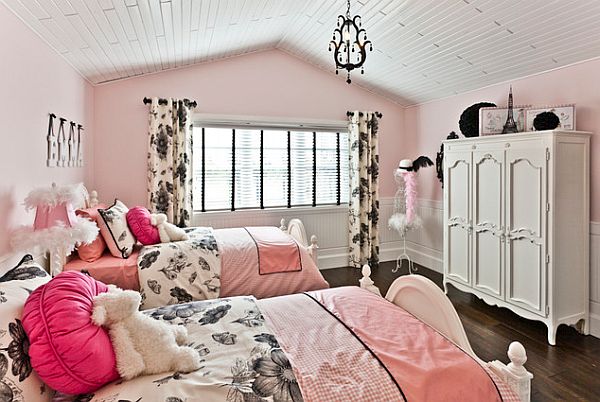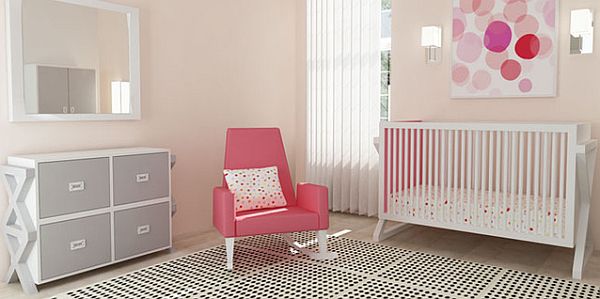 And while we're at it, here's a pink bathroom and a pink kitchen