Orange is a color used for caution, for warning drivers of roadwork ahead, but when you artistically bring it into your room with other interior elements you will see that the only caution to be forewarned it you may fall in love with your remodeled bathroom!
From the streets of New York, to my very own closest this tangerine isn't just a fruit anymore confined to our countertops and refrigerator drawers. It's the happening color, and if you don't want to miss the train, you need to get on board now. This vibrant, juicy color can be that missing spark you are looking for in your home. The room that is utmost essential to the home but gets stuck with creepy seahorses and tacky under-the-sea vinyl shower curtains.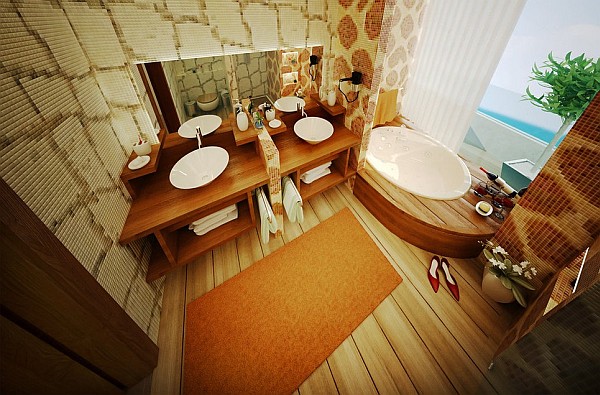 Yes. It's the .5 of your 2.5 bathroom dream house. The third door down the hallway on your left suddenly needs its own character reference, emphasis on character. Come morning time when all the other bathroom doors are locked with the hot scent of the curling iron on high in one, while the shower steams up the other, you can get you own pick me up with the awakening, revitalizing color of tangerines that will turn your .5 bathroom into a 500!
1. A place for the bathroom tangerine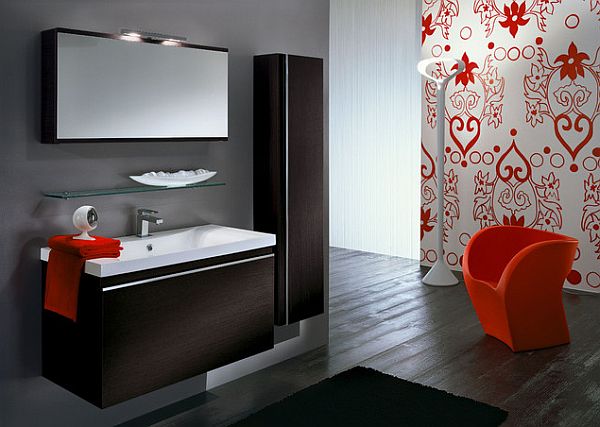 Okay. So we've established that we want to stay tuned to the trend and bring this stylishly bright color into our home but getting that done doesn't just mean running down to your local home improvement store, picking up a gallon of your tangerine paint with your selected finish, a couple of rollers, drive back home and start painting a wall randomly. No, we need to be more deliberate than that. Think how stunning the contrast will be when you paint your walls tangerine against the white pedestal ceramic sink and shower.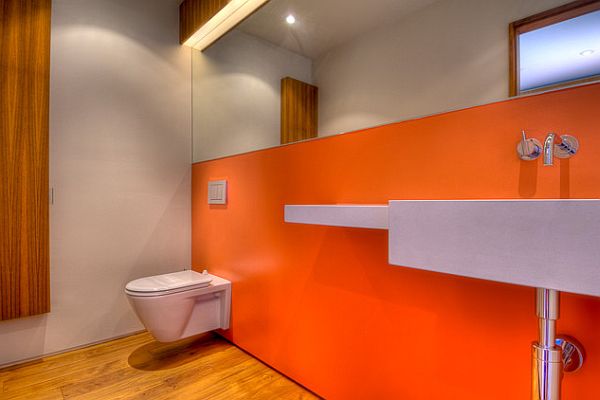 Now put that into action.
When that's dried draw some freestyle white etching or white wall decal stickers in a subtle airy manor, which will create a swirl of intrigue that is like the second bucket of refreshing water to wake you up at 5:30 am and get you up and at them.
2. A place for the bathroom book
Maybe you haven't done it in a public restroom. But this rotund man has. And was proud of the fact, however he wasn't counting on being marked for it throughout all of town in all of the bookstores. That's right, the 173rd comedic episode of Seinfeld explores the delicate issue of George having to buy the book he took into the restroom from a bookstore. Feeling taken advantage of, George devises a plan to return the book elsewhere, but the truth comes out. The book is marked as a book that had been in a bathroom. It's unclean. Unfit for society.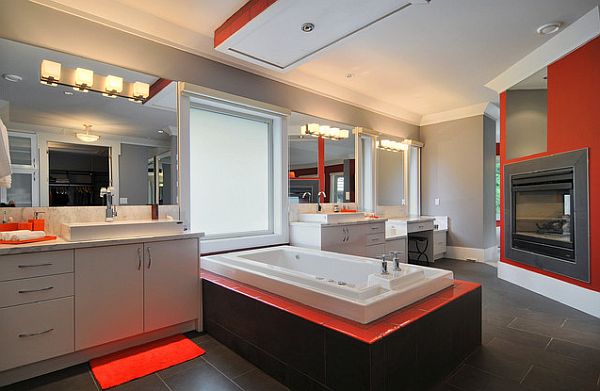 A dramatic story we probably haven't been part of, but this we have experienced. Locking ourselves in our personal bathrooms with a page turning book as we seek solitude from nosy neighbors, inquisitive in-laws and cranky children. A small black ladder shelf will offer you additional storage and give you a place to store some books and other toiletry trinkets. The black against the tangerine and white will look oh so fabulous.
3. A place for the bathroom trash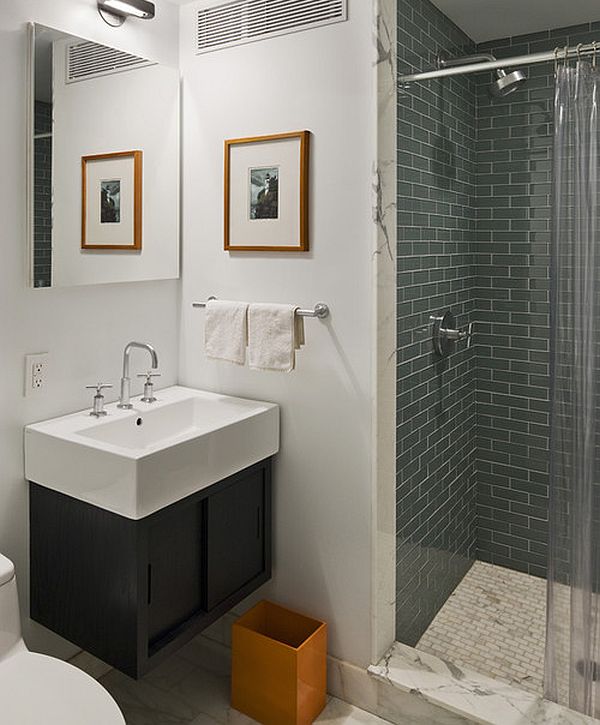 It's happened to me. You have a handful of trash in your friends bathroom, but no obvious place where to dispose of it. Let's be candid for a minute: trash happens. Everyday, in all shape and sizes and it needs its own sacred holding place. So without playing hide and seek with your guests invest in a quirky tangerine trashcan whose outside looks good as it holds dirty, dirty secrets!
4. A place for the bathroom towels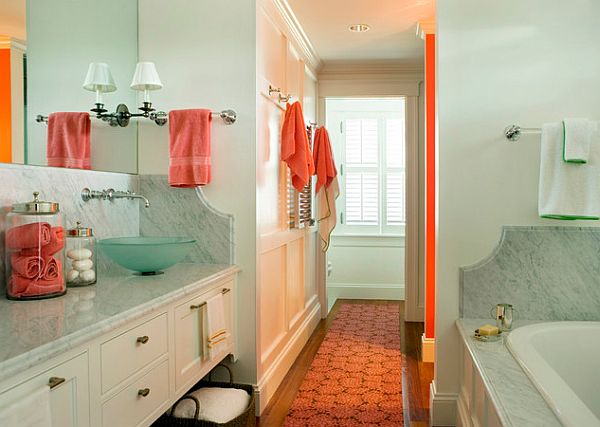 Chrome is a great customary finish for fixtures and towel racks but have you noticed how awesome the black ladder looks against the tangerine wall? It's amazing how being bold in life can be so pleasing when you have opportunity to enjoy it. So it's either all or nothing. Install some new black fixtures so you can proudly hang up your soft gray towels and shower curtain. Wow, it's just wow, right?
5. A place for the bathroom art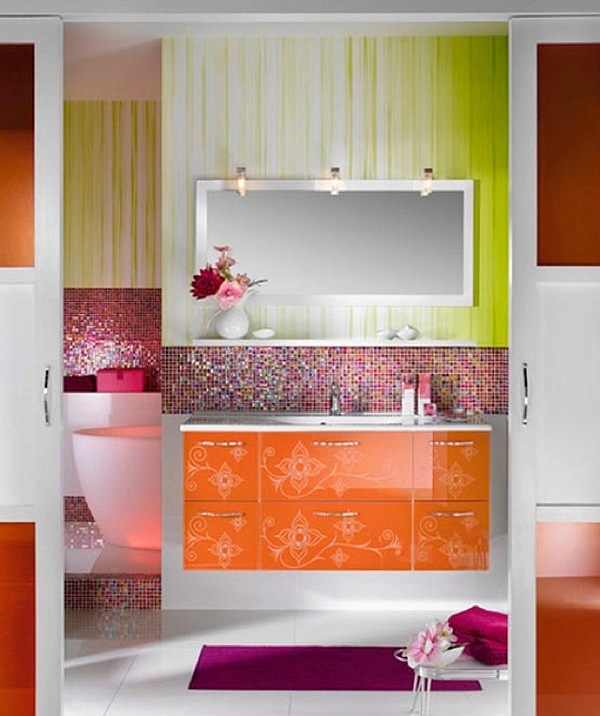 It would seem the room is done. The colors and design itself have more personality than a simple wall hanging could bring to the equation so allow the walls to be free from destructive nails and lopsided frames that attract more dust on the ridge than it would second glances. No, the only art you need is a simple white-framed mirror above your pedestal sink enabling you to see the artist behind the tangerine bathroom. Now as you scrub your hands you can appreciate a new room and the beauty that is only you. Your profile as the art, a striped trashcan, and some touches of black and white against the profile of tangerine; it doesn't get better than this!