Water. Paintbrush. Canvas. A few other assortments of tools and you can make your own beautiful wall adornments. All the ingredients for this project can be found at your local craft store if you don't own them, for this project revolves around something that we all lay claim to.
Everyone has it. Everyone wants more of it. Inventions are designed towards conserving it. Yet when we get it we still seem to waste it and lose it. Although it's an invisible concept there is evidence in so many ways throughout life. The sun, our faces, beliefs, technology, and the list goes on. Sometimes we are only able capture this elusive entity through the lens of a camera.
One word. Time.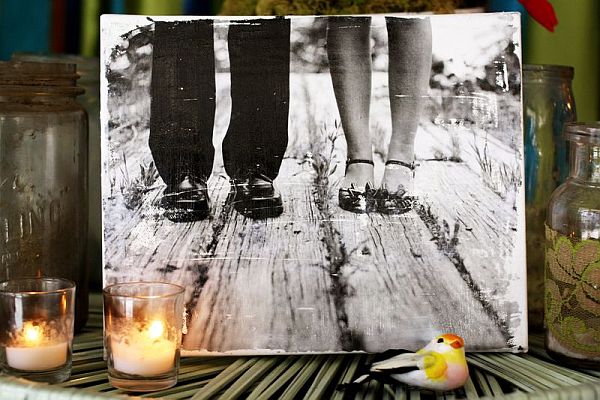 Time is the integral part of the genetics of life but no matter the fast food instant gratification mentality of our era we still have trouble firmly grasping time. But the joy found in time-lapse videos proves that one of the best ways to preserve time-if it's possible at all- is to capture as many moment of it as we can before it passes. All it takes is the blink of an eye and it's gone. We must observe it and burn it to memory with visual aids. Since billboards would look a bit scandalous if they were installed on our walls taking up more space then we can afford.
But what if we could make our own stretched canvas gallery in our home using a few basic materials and turn the bare walls of our house into a time scape that allows for daily trips in a time machine.
Here's how you can invent your own time machine in the form of an art gallery. The main token of this project is your imagination. By the time you follow all the instructions below you will be presented with a beautiful image but in order to capture all the benefits of our time machine you need to turn your imagination on HIGH to filling the blanks of sound, scent and other elements our wall will unfortunately be void of.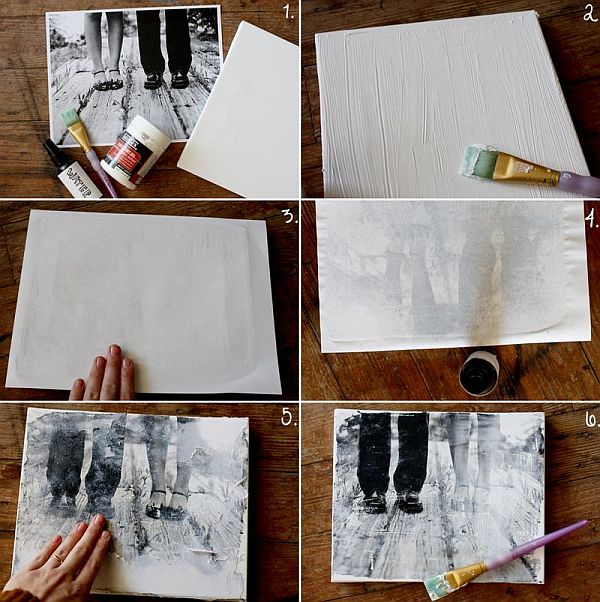 Print out your picture on an 8 ½" x 11" piece of plain white paper. Remember the little tool in any basic photo-editing program? The reverse image flip horizontally button? Well that's what will happen to your picture so keep this in mind when choosing your special picture(s).
Using a good quality paintbrush so the bristles don't detach apply a thick coat of gel medium over the entire surface of your 8" x 10" stretched canvas board. This substance can be found in many craft stores and as all products comes in many brands.
Carefully press the photo on top. Let it sit. (Proceed with a secondary DIY project of your choice. A watched stretched canvas covered in gel medium topped with a black and white image never dries.)
Get back to work. Spray water from a spray bottle onto the picture and gem medium combination. Next with just your fingertips start rubbing the paper surface until it starts resembling a food label on a plastic container that has survived a trip through the dishwasher. (Hmm, seeing that written makes me realize that I can't always convey the images and words floating in my head to legible text for my DIY friends!)
Carefully remove all paper until your image is cleared away. It requires patience and it requires an appreciation for a good wholesome mess. Caution: intense and over exuberant rubbing may cause unwanted image removal! The image will transfer imperfectly which will exude a vintage vibe.
Add one last coat of the gel medium as a protective shield. Give this coat ample time to dry and then click on the 'Open' sign, as we are in business. We can now step into our time machine which will transfer us to our gallery wall, otherwise known as the living room, which will for a few brief moments pause time for us.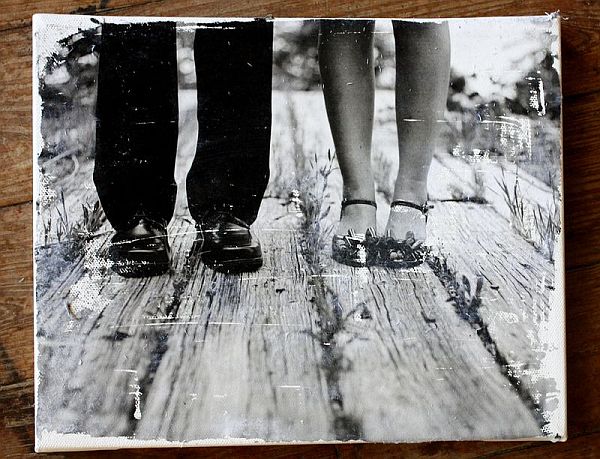 Gift it! This is a great DIY project that you show off. Give those you love the chance to stop time as well with an image that will last for a lifetime. Know you are doing good for those in the DIY world as you help others to dress their walls in beauty when normally they would not! Time travel isn't that unattainable, now is it?
(Images from A beautiful mess)