Kitsch-some mixture or postmodern hybrid ? Or simply manifesto: there is a lot that furniture designers can get away with. What I love about furniture design is the almost unrestrained playroom imagination can make use of.
The Lotus desk by Portuguese company UNDA – Sleepless Design captures exactly that. In its controversial body of both baroque lines and modern deconstructive monolith, the design captures very opposed inspirations.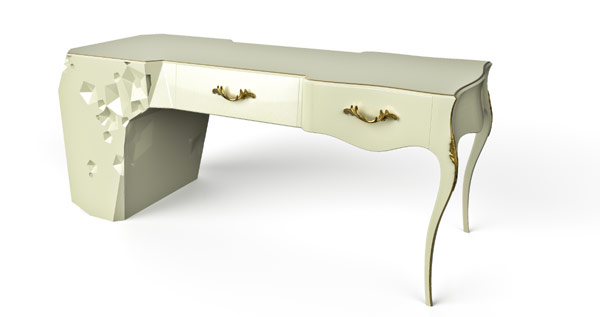 Appropriate in a feminine dressing room, a boudoir to say so, the gorgeous piece offers a decent amount of storage space, but, most importantly, it is a work of art. Its creators can justify and describe the controversial lines flawlessly:
"From new life to death, from purity to passion, Lotus have had many meanings in myths and legends. Swelling from tender bud to full bloom, flowers are associated with youth, beauty, pleasure and the season of Spring: the season of growth and transition. This Desk intends to capture exactly that: the transition from the hard and cold Winter to the blooming and joyful Spring which we love so much. It is a paradox: classicism morphing into deconstruction in a surprising hybrid".
Beyond these more or less marketed layers of interpretation, this mythological creature of a desk surprises through its beauty of detail, from the faceted carvings to the leaf-shaped metallic inlays, the smooth red upholstering inside the drawers… a lot of craftsmanship went into this piece of furniture, along with the philosophy.