White on white on white décor spells disaster and is like a magnet for ketchup, cherries, other food stains and every speck of dirt that needs to find a place to rest as it migrates from room to room. But the beauty of contrasting whites is undeniable in our homes and if we keep some Tide to Go on hand, well the scrubbing that's bound to happen is worth the risk as we rejuvenate our white walls into white walls, floor, ceiling, etc., etc.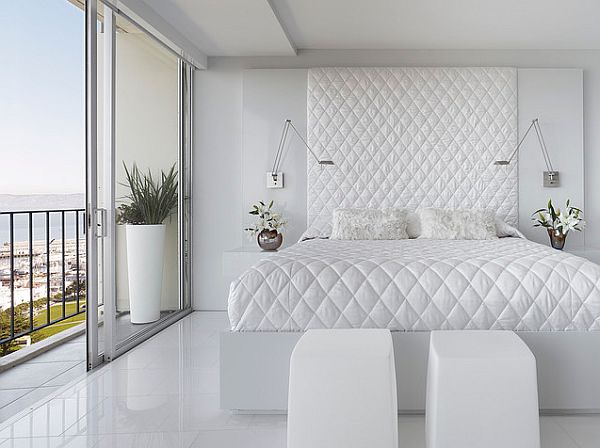 But let's shelve away this subject for a few moments and talk about books and their white pages upon white pages lined with row after row of black letters.
You see, I am a lover of books: Their straight erect spines, their worn, dog-ear pages with notations of the readers comments for the writers opinion. They are a beautiful entity that despite the convenience of electronic readers and books, cannot be replaced as the tangible literal page turning joy of a holding a book is priceless. So that's why I fell in love with my bookshelf headboard that could withstand the weight of my partial collection that had outgrown my nightstand, desk and bookshelf.
I've invested in a bigger bookshelf now thus have outgrown my headboard but I think I want to explore a new concept of headboard that will serve as the color and décor in the white on white on white room bedroom we are going to blueprint today.
Bottom: White Wood Floor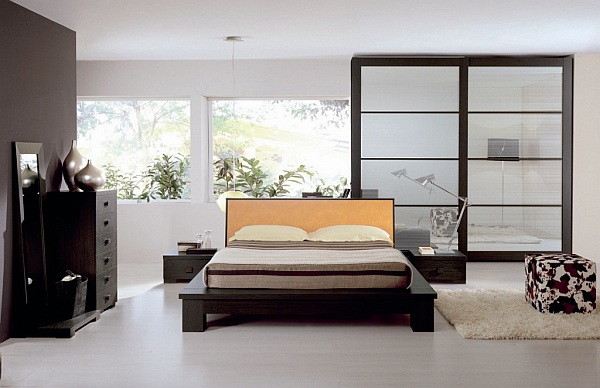 Have you ever entered an old farmhouse and the creak beneath your feet involuntarily draws your gaze downward? A rustic, elemental bare wood floor with knots and splinters, scuffs and marks, but the very organics of it is breathtaking, both in looks, and the way it steals your breath for fear it might capsize.
Now imagine that flooring buffed, stabilized and painted white. The small uneven cracks between each board just another character reference under the category of romantic charmer. Throw down a fuzzy pale cream rug and even if that's all the room had, it would be stunning.
Boundaries: White Non-Institution Walls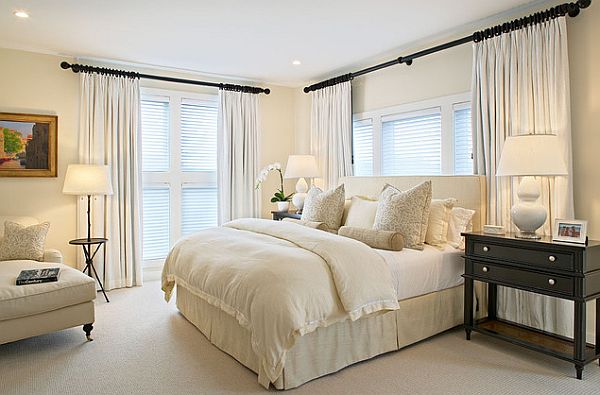 I recently had the pleasure of watching incubated chicken and duck eggs peck their way out of their shells and enter the world. Incidentally the color eggshell has been on my mind. Without forsaking our white theme, you can create a incredible effect when you explore different shades of white. From pale cream, to off white, to eggshell they all synchronize with the others attributes and colors and it's just amazing. It's like I read recently. Restraint is essential; it is prudent when designing a room. This is just one way of showing that restraint by opting for more subdued but equally balanced colors.
Center: A Clean White Atmosphere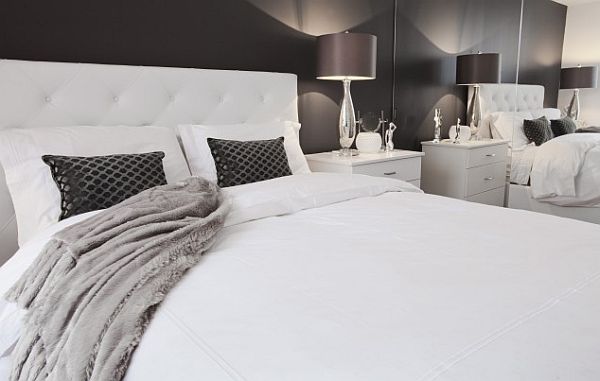 I'm rubbing my hands with glee as we approach the essence of the room: The bed and its efficient, multipurpose headboard and center of attention. We are all made aware of the lack of space conservatories otherwise known as closets when it comes to our bedrooms. A closet let alone one that can be walked in, is a luxury. But maybe our closets are sized fine, and it's our abundance of possessions that are high maintenance? Regardless of the real issue, it's time to step out of the closet and let the world see our dirty laundry. (Well, let's hope that's in the hamper and not gracing your bamboo hanger.)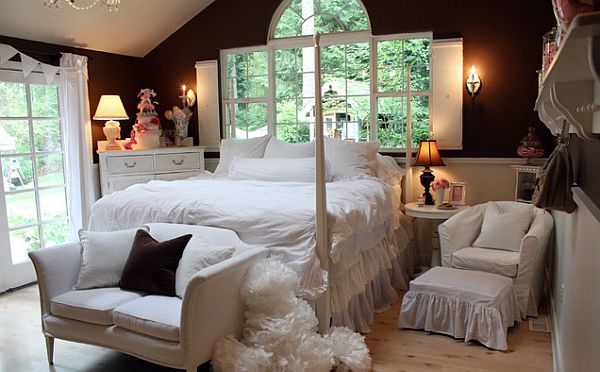 You know what I'm talking about. Exposed closets. With vertical rods secured from the floor to ceiling, shelving units filled with white cloth drawers-which look stunning against our eggshell wall- and horizontal rods at different heights in the center for our wide color selection of clothing (unless you're like Ozzy Osbourne and only wear black?) and voila! You have headboard, instant purposeful color and an interesting element in your room. Situating the head of frameless bed several feet in front of your closet apparatus start layering the bedspreads. White duvet, cream pillows, eggshell pillows and throw and a crocheted bed skirt of cream and you have white fireworks, baby!
Twin nightstands with a few of my donated books and small lamps and tonight's story time couldn't come fast enough, am I right?
Top: Big White Circus Tent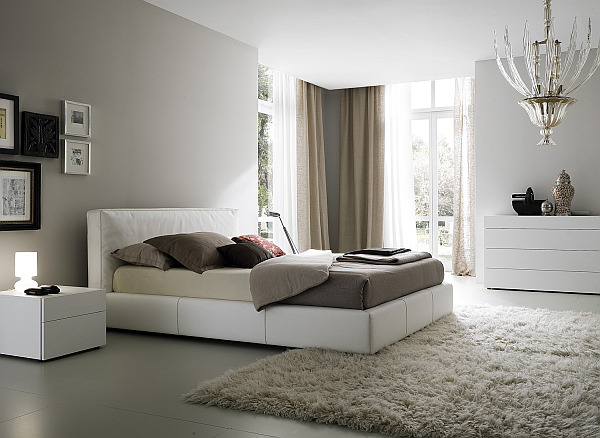 White ceiling with centered white candlestick chandelier. Somewhere from this upward vicinity hang sheer white curtains floor to ceiling length and it's done. It's that simple. But the statement it makes is profound. That's the difference between spicing your dish with only salt and pepper or in today's case, exotic spices: Profound results, simply profound results.