The sound of the waves battling as they rise higher and higher competing for the right to wash ashore the glass bottles whose corks safely encapsulate the love letters that have traveled the distance of time and space. The seagulls spreading their wings wide, calling out their celebratory songs as they flock united, prepared to sweep down to the stray pieces of litter that shame the flawless beach. They momentarily block the striking rays of sun as they circle overhead. Down they come. Wind on their backs they bring wind to your hair. You scrunch your toes in the sand. As the sun slowly sinks into the fathomless horizon and disappears into the depths of the angry sea, clammy sand envelopes your body where you are lounged, peacefully soaking up one of the greatest wonders of life.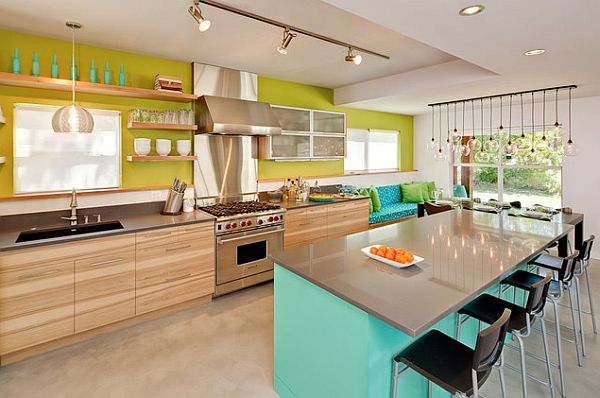 by Loop Design
Open your eyes. It's time to get back to reality. The beach is miles from home, your schedule is booked and overflowing and the kids are pulling on your worn apron strings or loosened tie demanding cuisine finer than the once accepted peanut butter and jelly.
Tomorrow, tomorrow you can escape to your dream destination again. I promise. Or, or today you can bring the beach to you. When cradling a seashell between head and shoulder trying to capture the sound of imaginary waves doesn't cut it anymore, you must bring the beach to you, and using five key elements you can build your own beach…
One: Embrace the crisp look of clean cotton. Bring those fluffy clouds that depict exotic creatures into your home and brighten your furniture with pure white sofa slipcovers. This will add instant vibrancy and began to pave the way for more beach themed décor. And while white is often impractical for the popsicles we'll suck on come summer's hottest day, the practicality of slipcovers is that you can wash them. Bleach them. Repeatedly.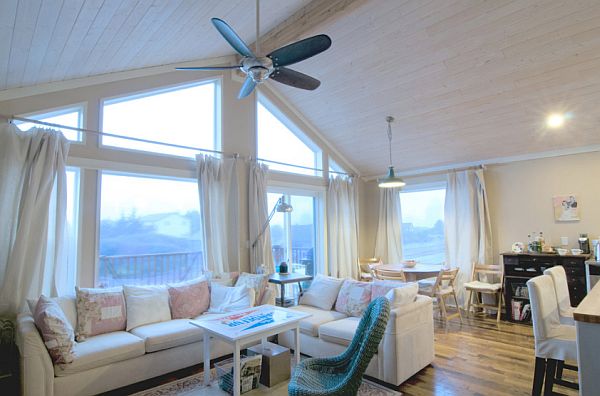 by Louise Lakier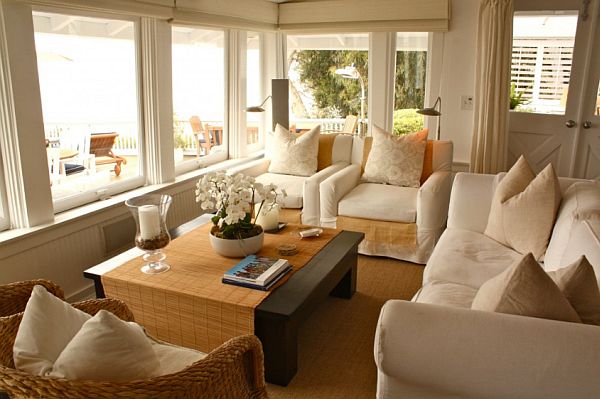 by Shannon Malone
Two: Rattan side tables and chairs. Palm trees don't survive or thrive in all climates, but with some rattan furniture you can have opportunity to cherish the palm trees within the very walls of your home. This flexible, adaptable wood is very kind to paint and can even be woven as wicker. Keeping it in its raw organic state, however, will lend you the perfect fluidity of the seashore.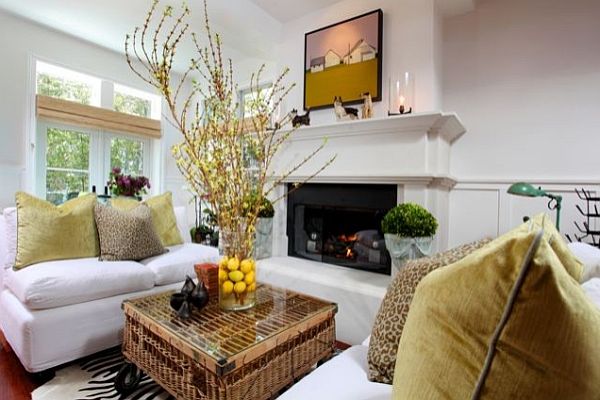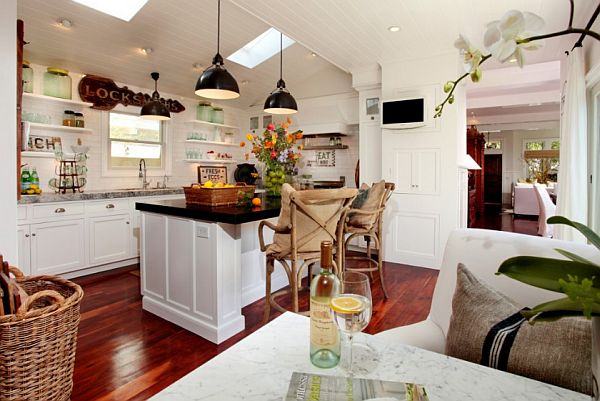 Above two images by Kelley & Company Home
Three: Contrasting walls and ceiling of softened pastel yellows, tans, whites and sky, alice or tiffany blue. These colors will bring in the cooling effects of a breezy beach day without overpowering your senses. Because isn't that what the seaside inspires? Getting away from the humdrum. Soaking up moments of purity and oneness with nature and complete disregard for your makeup, or if your gut sags over your beltline. It's about you and the water with no distractions but perhaps a retro, itsy bitsy, teenie weenie, yellow polka dot bikini.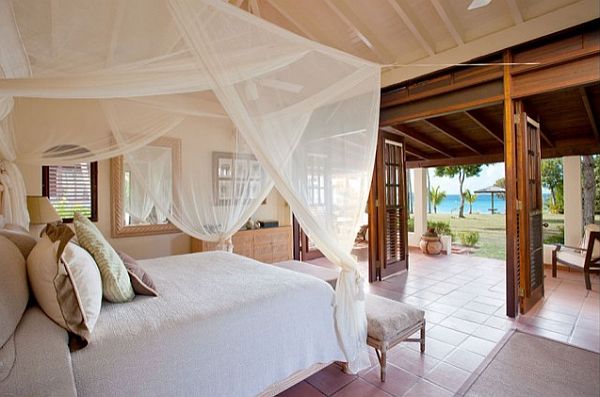 by MCM Architects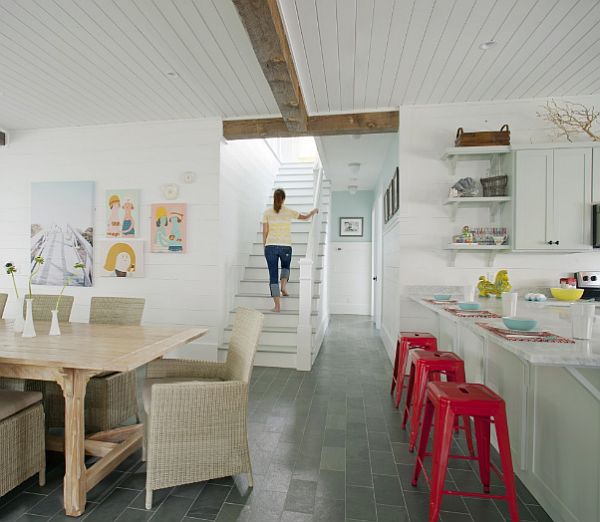 Four: Authentic décor. Start with some boardwalk signs with distressed paint in slightly brighter shades than the rest of the room's. Bright white shells and coral, textured star fish, and glass bottles in sea green and blue. You don't need to paint flamingos on the wall, or hang several fishnets from the ceiling. The shoreline is pure. With your back against the stilted beach homes, you face a body of water, a landmass that is endless to your eyes. It is deep, dangerous with a calm surface. That calm surface and pure shoreline is what needs to be translated when choosing your décor for the room.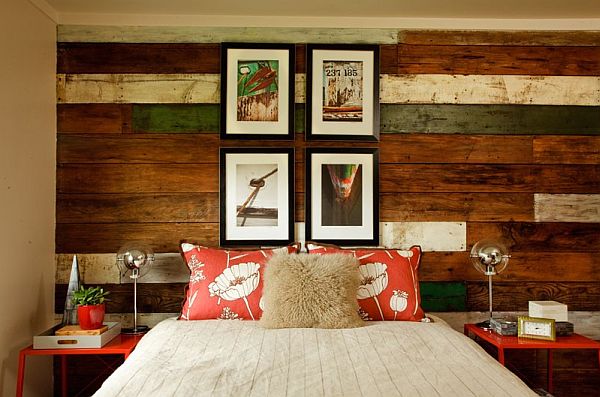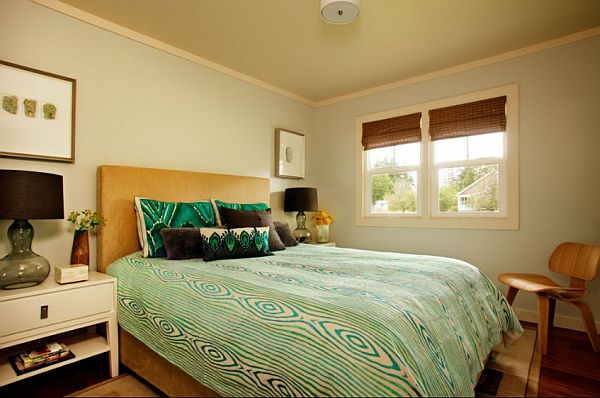 Seahound Ranch / by Garrison Hullinger Interior Design / photo credit: blackstoneedge.com
Five: Light. And lots of it. Don't hide your room from the outstretched rays of the sun. Let it be open and all encompassing. The perfect way to bring inside the outdoor feel of your favored beach is by choosing white interior shutter window treatments. With their hinges that allow you to throw them wide open you can get maximum lighting as well as maximum privacy when closed all while infusing the tropical vibe.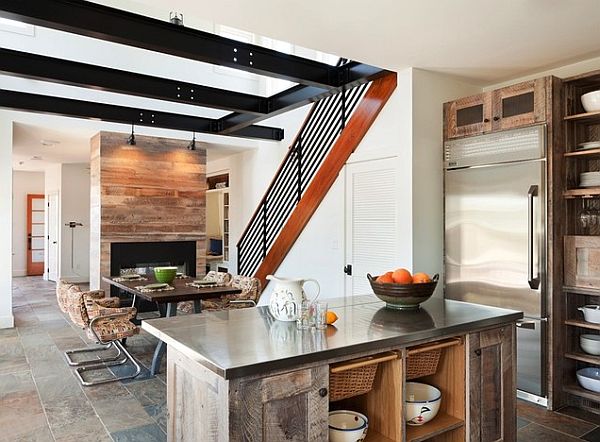 by Richard Bubnowski Design / Photography: Sam Oberter Photography LLC
From these charming windows to your hardwood floors with worn rugs you can almost feel the sand stuck in your cutoff jean pockets, in-between your toes and the salt water in your hair. Surf's up, my friend. Enjoy the waves of happiness that emit from your new beach home!